All products featured are independently chosen by us. However, SoundGuys may receive a commission on orders placed through its retail links. See our ethics statement.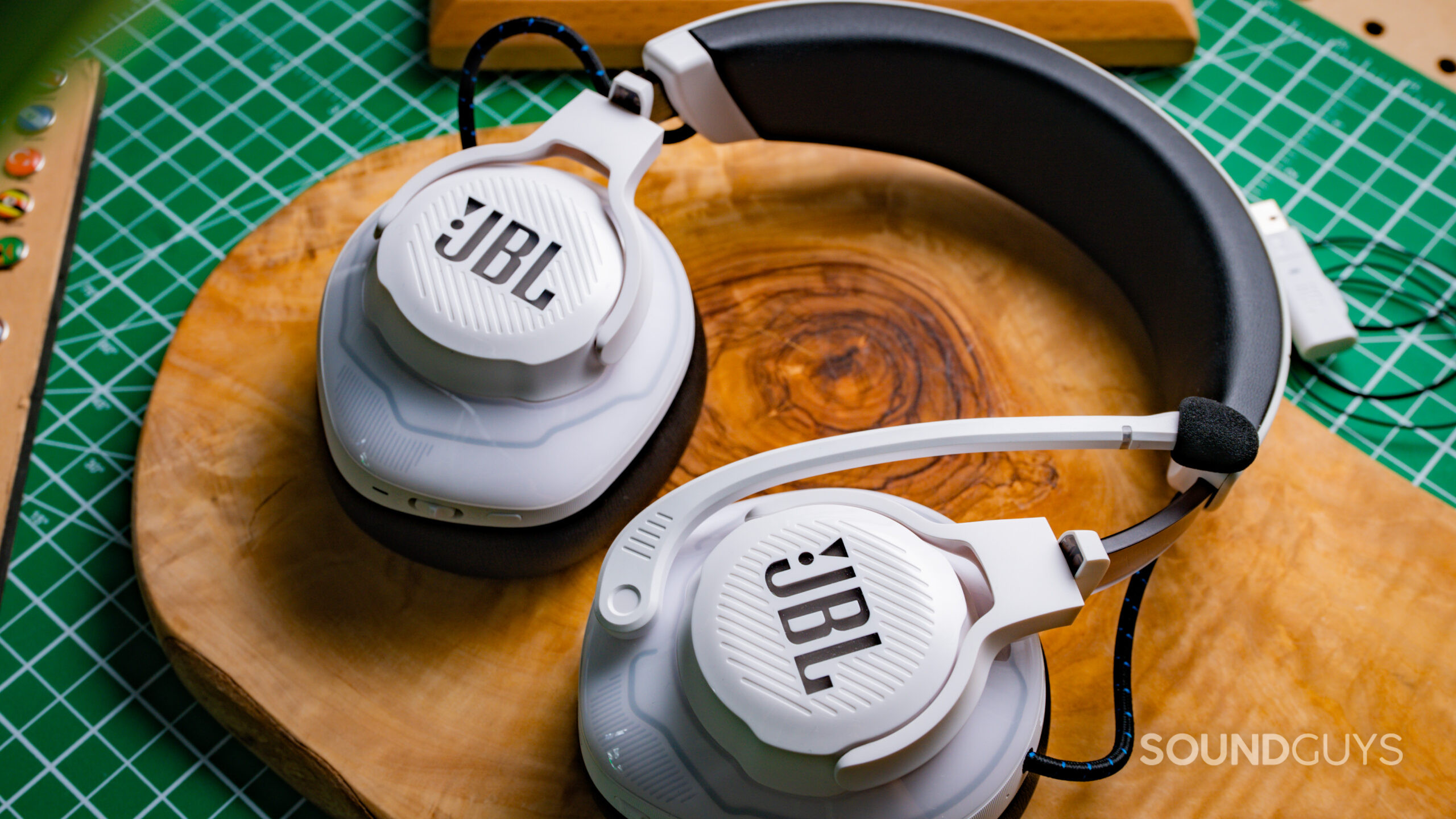 The bottom line
The JBL Quantum 910P is a feature packed headset with pretty good sound quality, but it falls short due to some small pain points with weight and usability. It's hard to justify this price for a headset with so many small compromises.
JBL Quantum 910P
The JBL Quantum 910P is a feature packed headset with pretty good sound quality, but it falls short due to some small pain points with weight and usability. It's hard to justify this price for a headset with so many small compromises.
Dimensions
Box: 251 x 221 x 98 mm
Ear cup: 60mm x 50mm
What we like
Extensive connectivity options
Sound quality
Well padded
Many features
What we don't like
Price
Weight
Non-detachable microphone
Rating Metric
Sound Quality
9.6
Bass
9.5
Midrange
9.9
Highs
9.3
Isolation / Attenuation
5.2
Active Noise Cancelling
7.2
Durability / Build Quality
6.5
Value
5.9
Design
6.0
Connectivity
6.5
Portability
5.0
Feature
8.5
Comfort
8.0
The JBL Quantum 910P is a new premium gaming headset from JBL. As such, it features active noise canceling (ANC) and full wireless connectivity. Focusing on PlayStation and PC players, this gaming headset has a high price, but does it have what it takes to justify that?
Editor's note: this is the first version of the article. Updates will follow as the market changes.
About this JBL Quantum 910P review: We tested the JBL Quantum 910P over a period of one week. It was running firmware version 0.4.0.0, and the JBL QuantumENGINE app ran version 1.14.0.1652. The company provided the unit for this review.
The JBL Quantum 910P is primarily aimed at gamers, but people looking to use it for online meetings might also get something out of it. However, it's a poor choice for commuters due to the bulky design and non-detachable microphone.
What's it like to use the JBL Quantum 910P?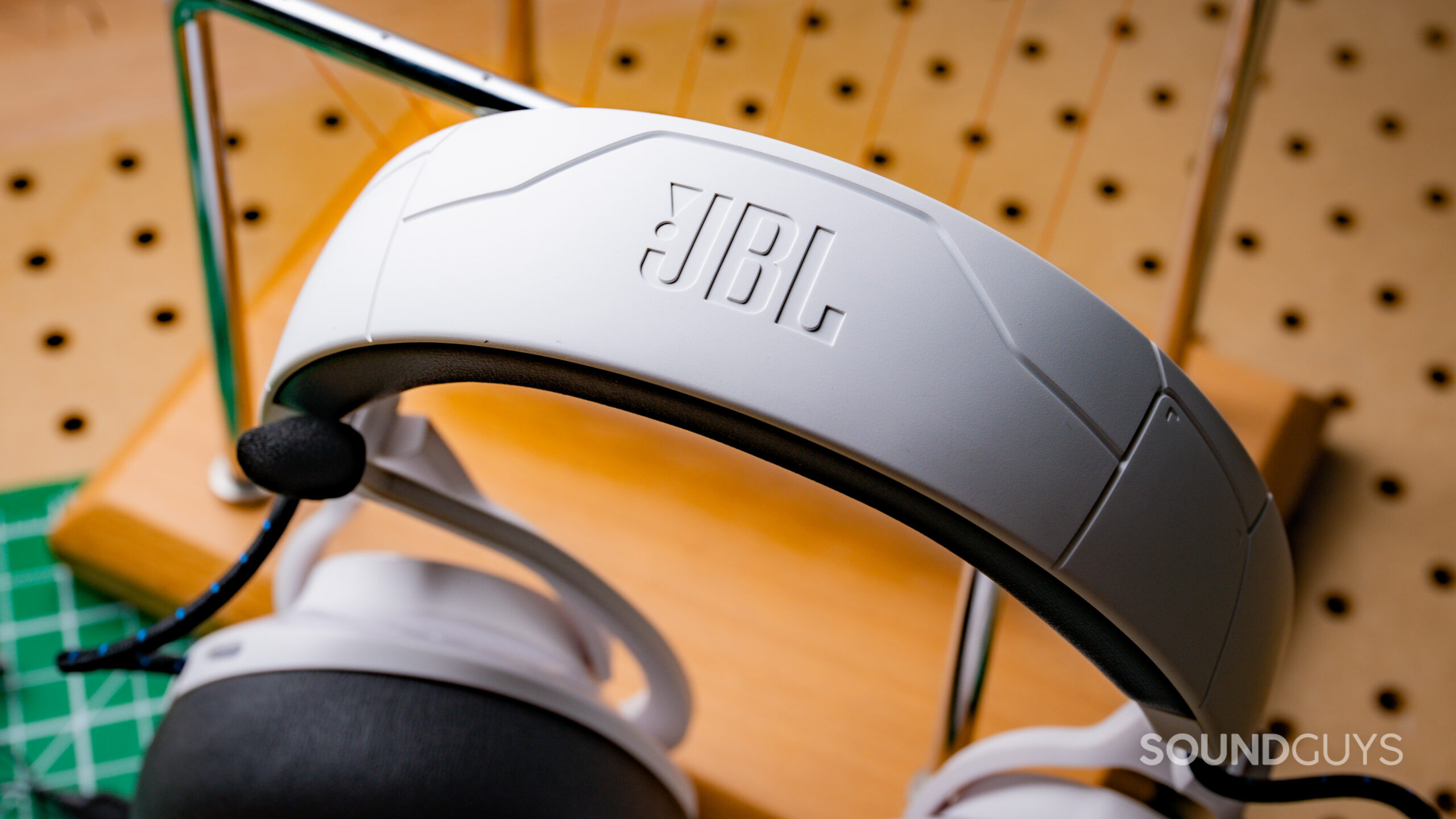 The JBL Quantum 910P has some fairly extensive leather padding to make up for its hefty weight.
The JBL Quantum 910P is a primarily plastic affair, with sharp angular styling—the visuals are clearly tailored to its gaming-oriented audience. There's ample leather padding on both the headband and the ear cups. The headset is adjustable, with the ear cups moving up and down as well as swivelling to better fit your head or to lie flat on a desk. There are also two exposed and well insulated wires connecting the ear cups to the headband.
The JBL Quantum 910P is on the heavier side as far as headsets go, weighing in at 420g. This does impact the comfort for long-term wear, but overall it's still comfortable to use for a few hours at a time. The JBL logo is prominently displayed on the outside, and the headset features customizable RGB lighting.
How do you control the JBL Quantum 910P?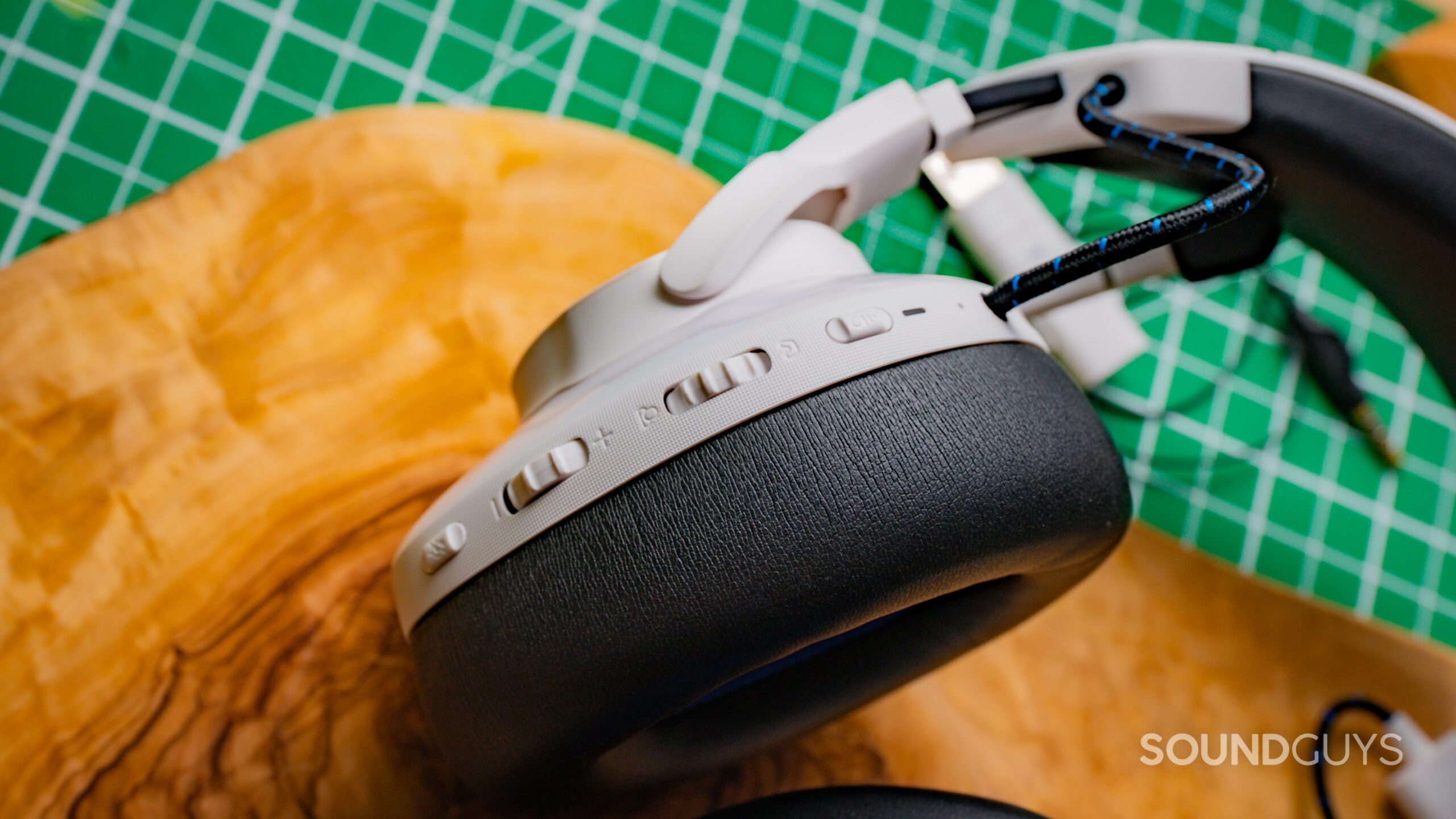 I was frequently confused by the numerous controls on the headset, and was disappointed by how easy it was to jostle the volume slider when taking the headset on and off.
The JBL Quantum 910P controls are extensive and slightly confusing at first blush. On the left earcup are the following: ANC toggle button, a chat/game balance slider, a volume slider, and a microphone mute button (which can be held down to turn off the RGB lighting). On the right earcup are the power/Bluetooth slider and a button that enables head tracking with spatial audio.
While the amount of control available is very impressive, I frequently get confused by which button does what, or by how to enable or disable certain settings. I also find it far too easy to accidentally jostle the volume sliders. It's also disappointing that those sliders don't adjust the volume on a system level—a little more understandable though, considering that this headset is meant for use with consoles.
Should you use the JBL QuantumENGINE for the JBL Quantum 910P?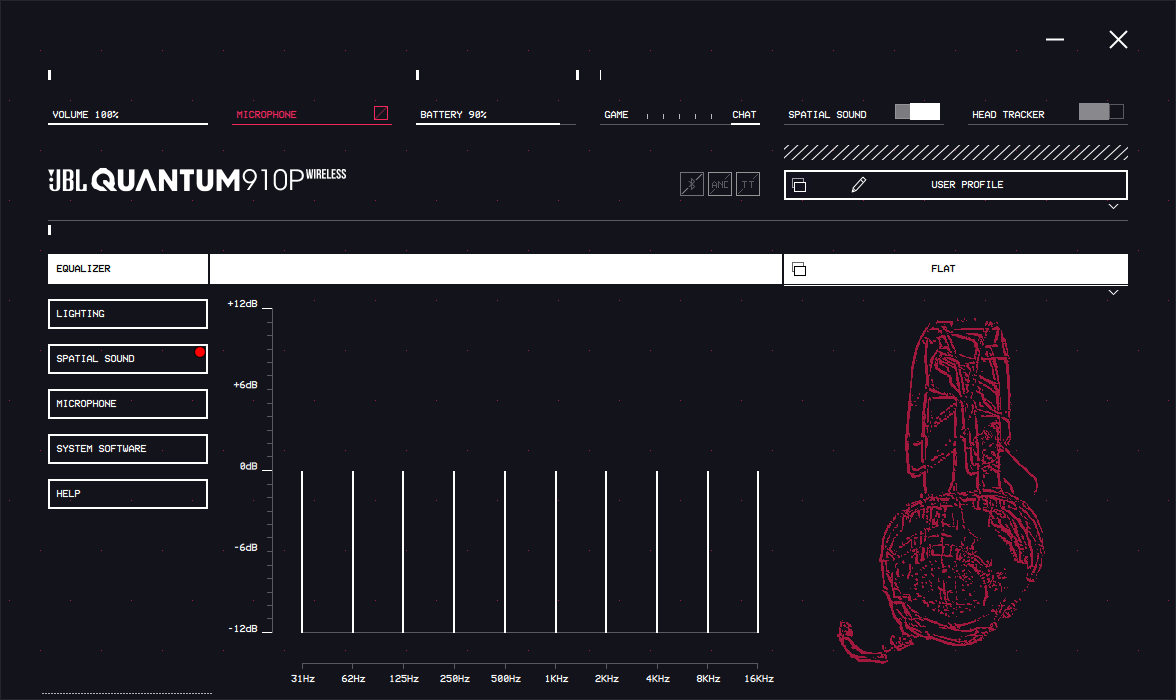 The JBL QuantumENGINE software does have a lot of features and is important for getting the most out of this headset on PC.
If you're using the JBL Quantum 910P with a computer, it is fully supported by JBL's QuantumENGINE software. Like many gaming headset apps, this one allows for more granular control over the RGB lighting, spatial audio, EQ profiles, and firmware updates. QuantumEngine is one of the simpler apps out there, with most menu options laid out on one page. Overall we would recommend using this app if you have a Windows computer. If you use Linux or Mac OS however you're out of luck though.
How do you connect the JBL Quantum 910P?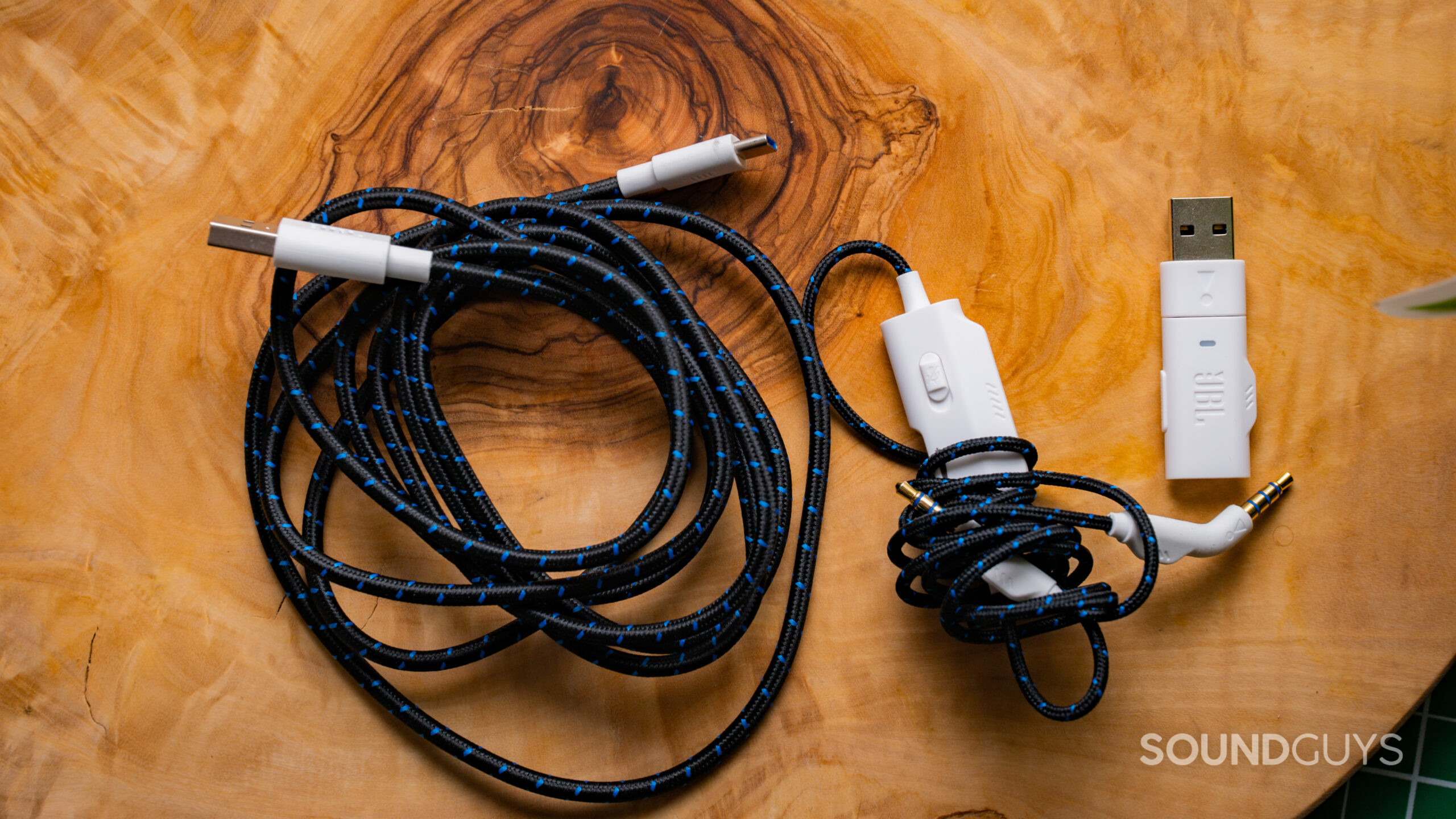 The JBL Quantum 910P comes with several different ways to connect it to your device of choice, which ensures wide compatibility.
The JBL Quantum 910P can operate wirelessly either using the included 2.4 GHz dongle—which connects via USB-C and includes a USB-A adapter—or using Bluetooth 5.2, with support for the SBC and AAC codecs. The headset defaults to the USB mode and can be paired with the included USB dongle very easily. To pair via Bluetooth you need to hold down the power slider for two or more seconds to enter pairing mode. Additionally, the headset works with a regular 3.5mm headphone jack connection in a pinch, and the required cable is included in the box.
Thanks to this wide array of connection types, this headset supports a wide variety of consoles (the PS4/PS5 in particular), as well as PCs, laptops, and smartphones. As a minor drawback the USB-C port on the headset is recessed slightly, which makes it difficult to use with any USB-C cables that aren't made by JBL for this headset.
Yes, however I noticed during my testing that the USB-C dongle sometimes isn't recognized by Pipewire without rebooting the system. This might impact how usable the headset is with the Steam Deck, but will hopefully be fixed by a patch soon.
How long does the JBL Quantum 910P's battery last?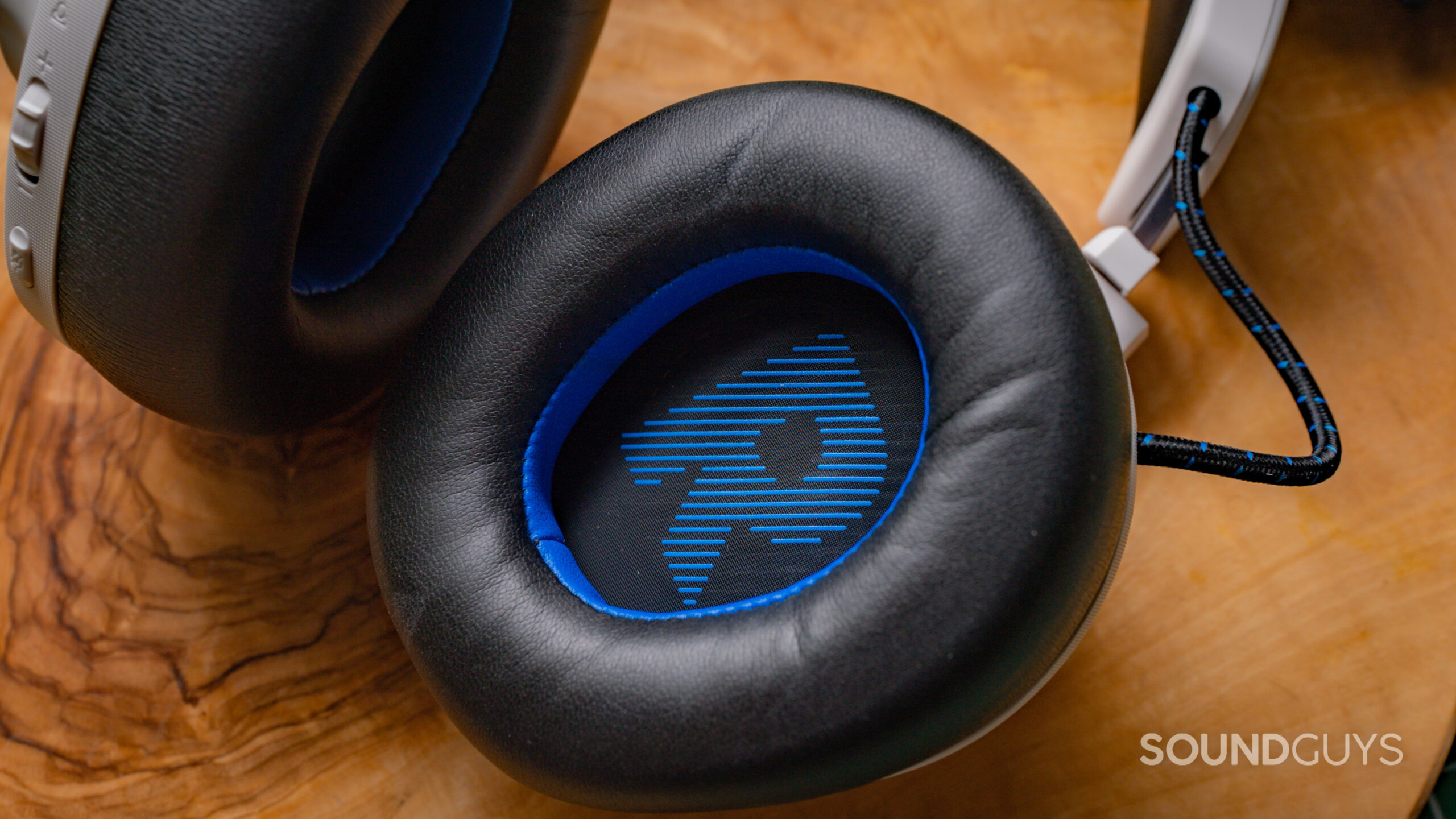 The JBL Quantum 910P's battery will drain faster when using the optional active noise canceling.
According to JBL, the Quantum 910P's battery is supposed to last 39 hours. In our testing it slightly exceeded this number and ran for 40 hours and 4 minutes with noise canceling turned on. Keep in mind that battery performance will degrade over the lifetime of the device, but nonetheless this is excellent performance for a gaming headset. You can also charge the headset while you use it, or use a 3.5mm headphone cable sans power in a pinch.
How well does the JBL Quantum 910P attenuate noise?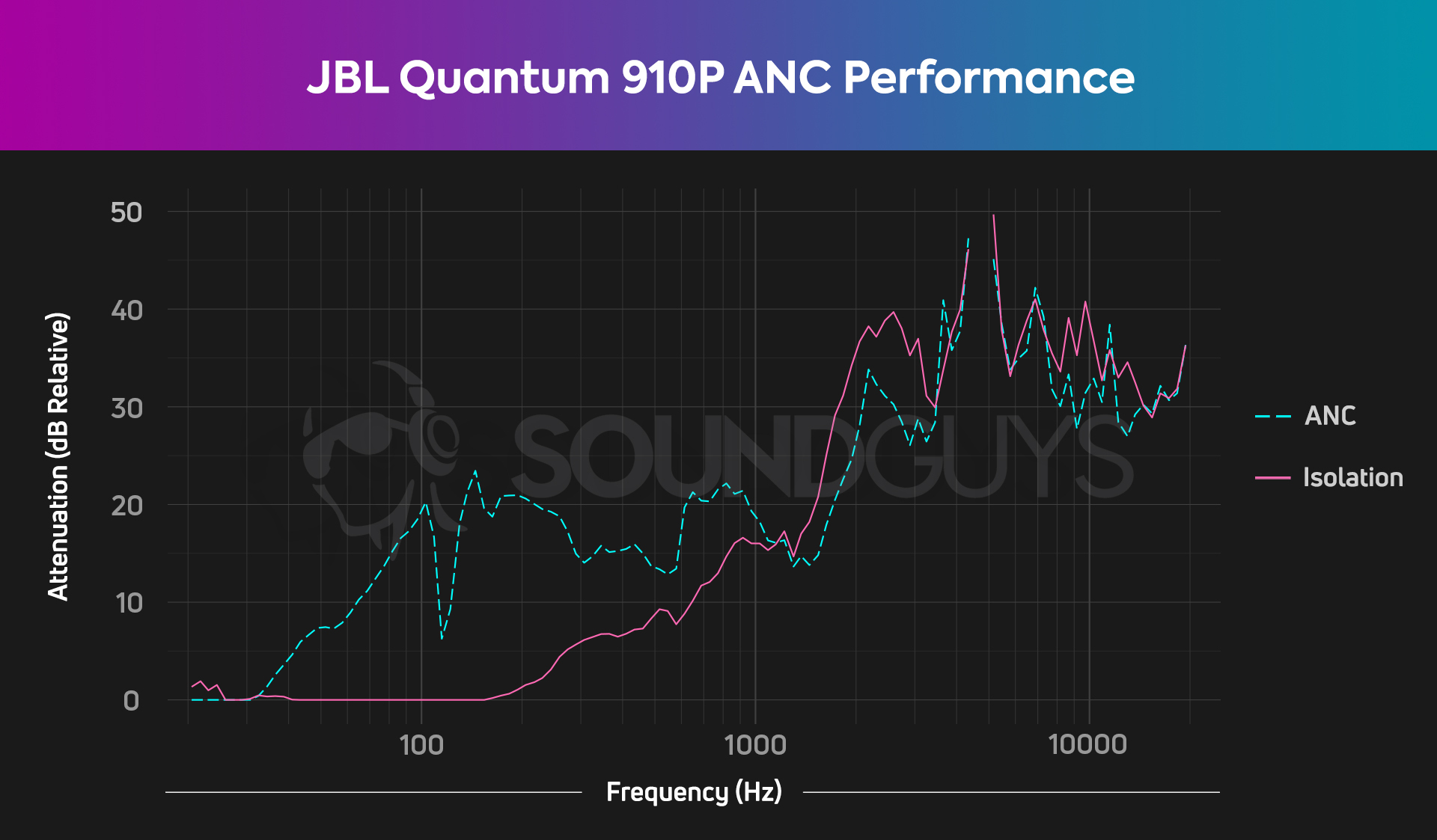 The JBL Quantum 910P features active noise canceling that can be toggled on and off with the press of a button.
The JBL Quantum 910P features active noise canceling (ANC) and it's fairly effective. It's not quite on the same level as some of the best ANC headphones on the market, but it gets the job done, and it's easy to toggle on and off with the press of a button. While we wouldn't recommend taking the headset on a commute due to its design, the ANC does a great job of tuning out hums from AC units and the like. Additionally the headset has decent noise isolation overall and does a good job of blocking out conversations and quiet music, but struggles with anything louder.
How does the JBL Quantum 910P sound?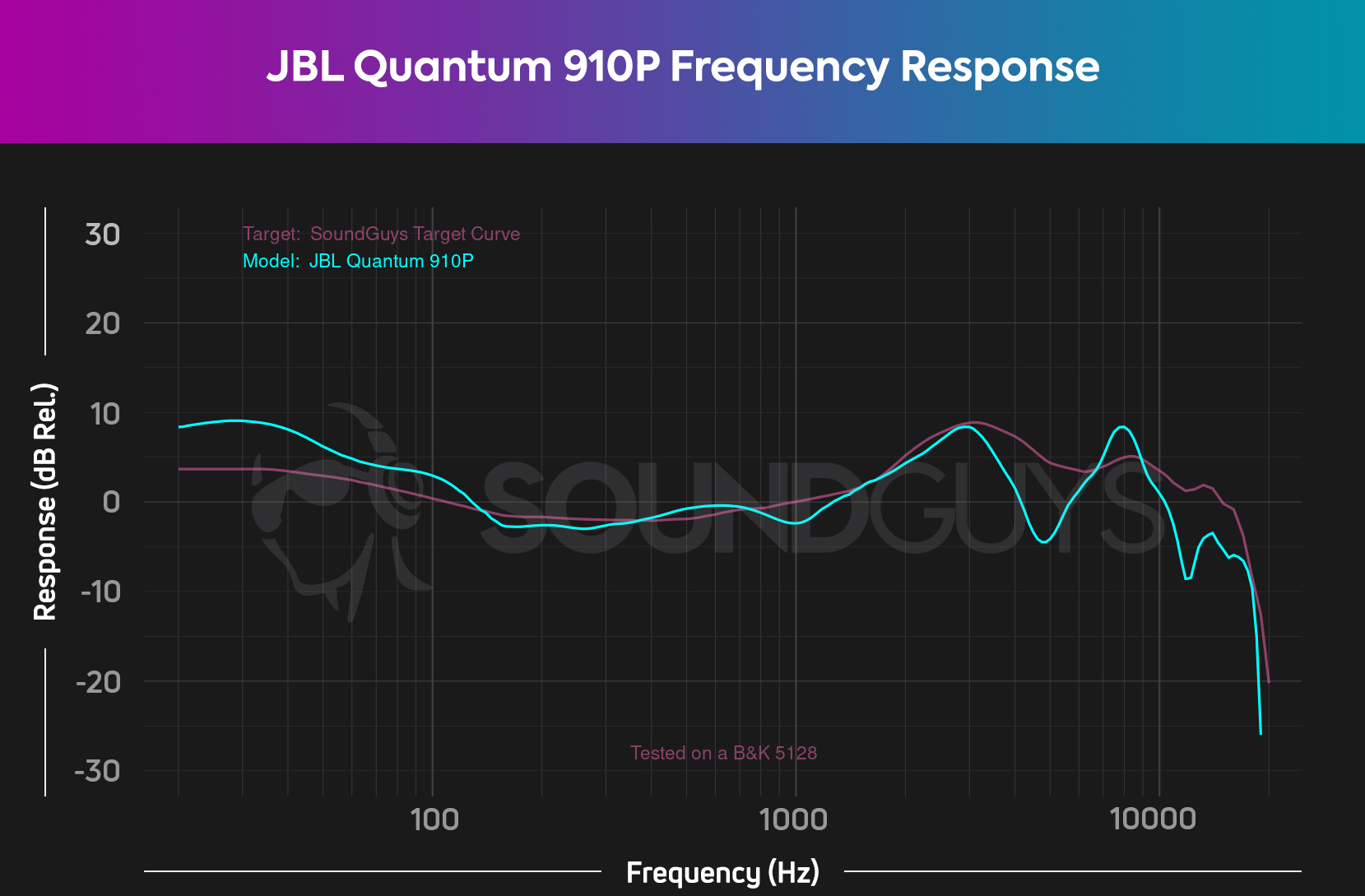 The JBL Quantum 910P is fairly bass heavy, which is common on gaming headsets, although it can be a detriment.
The frequency response of the JBL Quantum 910P is generally pretty good, and follows our preferred headphone curve with a few deviations. Like most gaming headsets, it has a notable bump in the bass frequencies, usually meant to enhance the louder, action-oriented sections of video games. This can sometimes feel overwhelming when listening to music, such as with Blockbuster Night, Pt. 1 by Run The Jewels, but if you're used to headphones with lots of bass then this might be exactly to your taste. The high end also has some peaks and valleys that can color the sound of the headset, audible in songs like Infinity Guitars by Sleigh Bells where the hi-hats sound overly present and the song's distortion is over-emphasized. This can also be heard in Bellbottoms by The Jon Spencer Blues Explosion where the guitar distortion sounds excessively bright and sparkly.
In games the headset sounds fairly good. The gunfire and action of a game like Halo Infinite comes across excellently. It's also a great headset for online lobbies and Discord voice calls thanks to the included microphone and the ability to change the balance between game and chat audio with a slider on the left ear cup.
One of the major advertised features of this headset is support for spatial audio and VR-esque head tracking to go with it. It's designed to immerse the listener in a surround sound environment and depends on the JBL QuantumENGINE app. The headset also includes a calibration microphone meant to be put in your ear to get more accurate measurements for the surround sound.
This feature isn't really to my taste, as I feel it distracts from the intended aural experience and in-game sound design. I wouldn't recommend playing or listening with it enabled. However if you've enjoyed spatial audio features in gaming headsets in the past, the implementation in JBL Quantum 910P could be an attractive option. If you're playing on a console, the feature isn't available to you.
How good is the JBL Quantum 910P's microphone?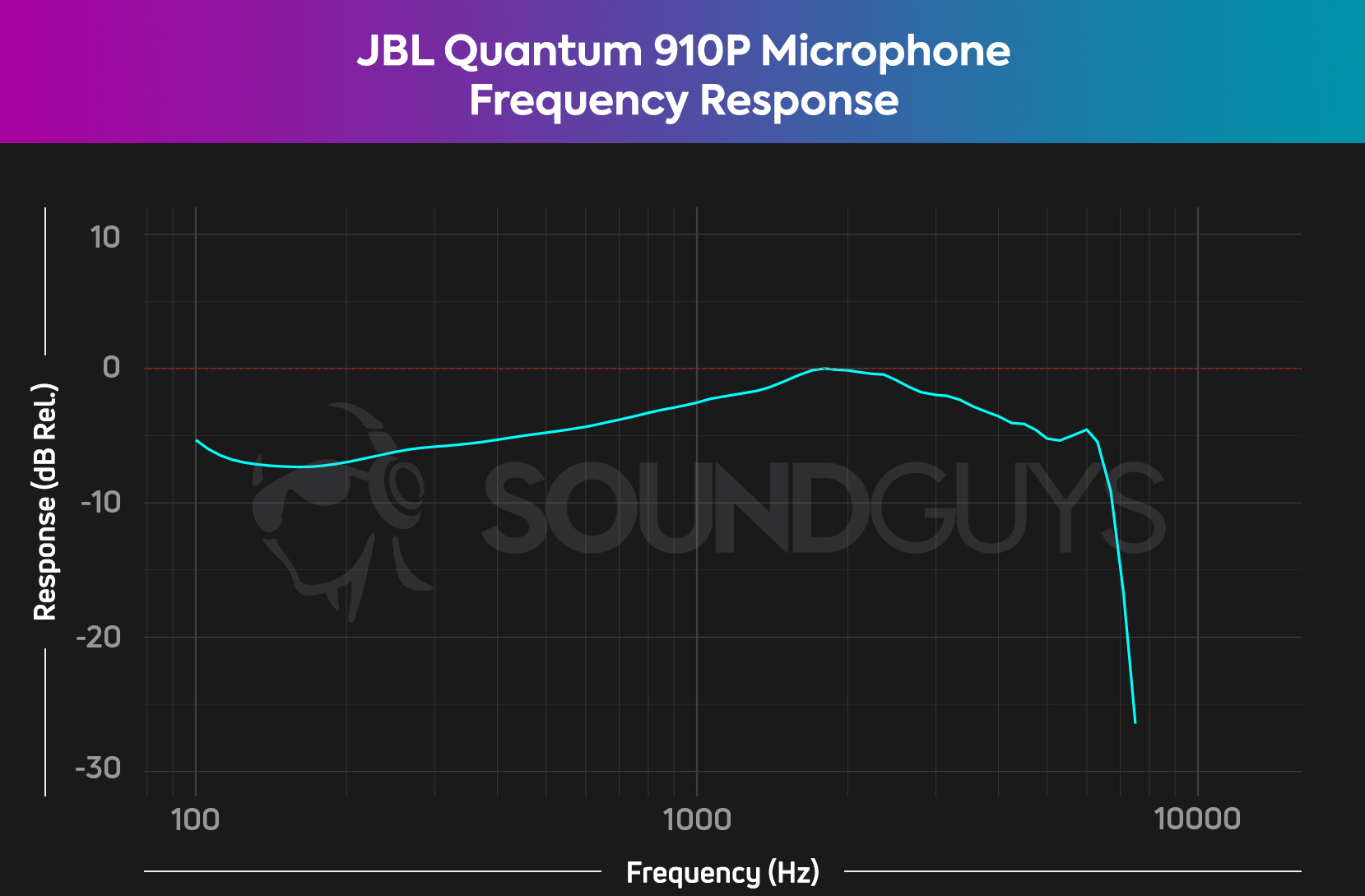 The JBL Quantum 910P microphone frequency response is well tailored for speech.
The JBL Quantum 910P features a boom mic you lower and raise to best pick up your voice. It's surprisingly small, and includes a removable foam shield to filter out plosives. The microphone boom features a red LED to let you know when it's muted. Unfortunately the microphone is not detachable or retractable, making this headset really only fit for gaming. You can listen below to how the microphone sounds and judge for yourself its quality, as well as vote in the attached poll.
JBL Quantum 910P microphone demo (Ideal conditions):
JBL Quantum 910P microphone demo (Office conditions):
How does the microphone sound to you?
111 votes
Should you buy the JBL Quantum 910P?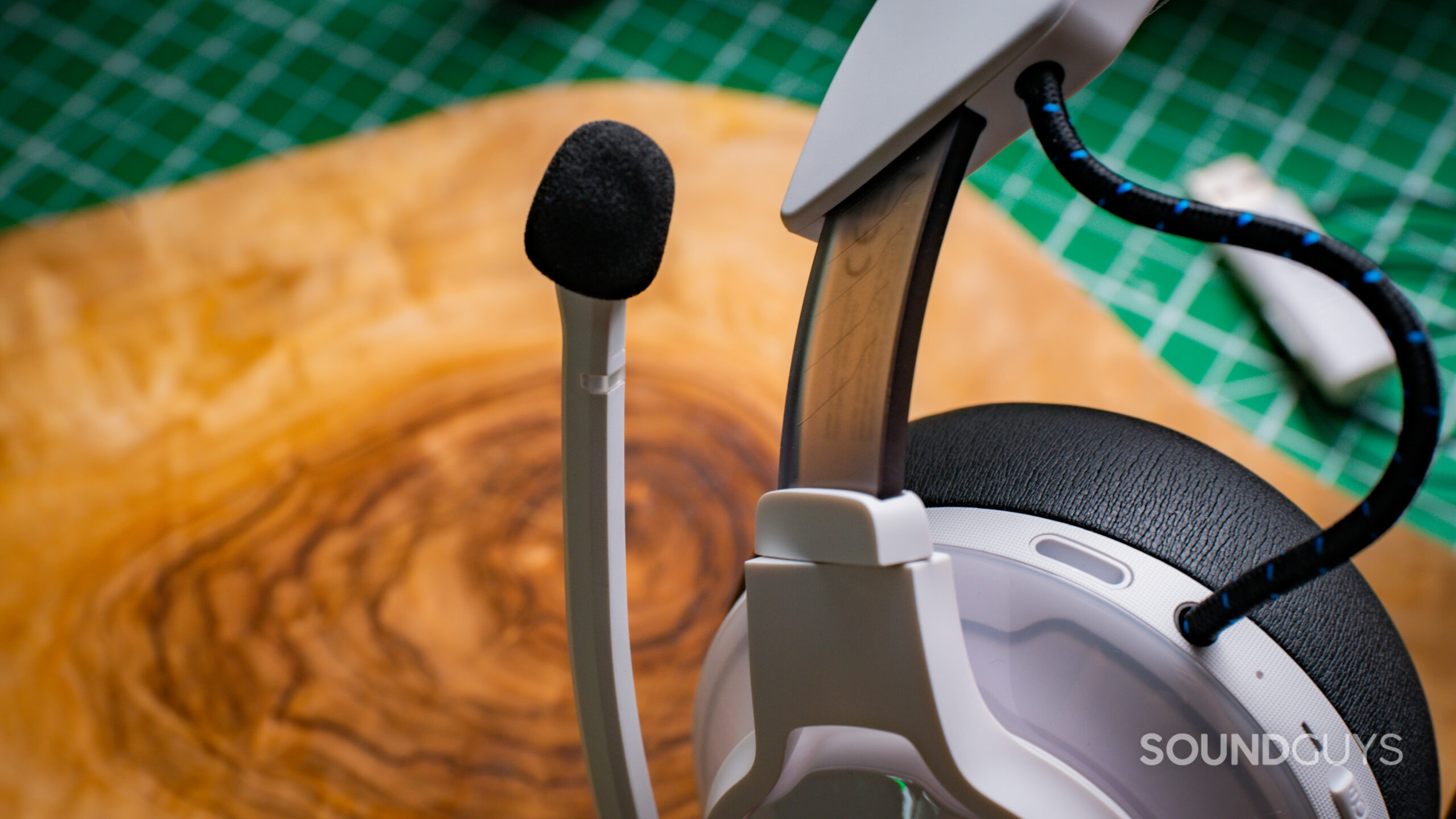 Since the microphone isn't detachable it feels fairly impractical to use the JBL Quantum 910P anywhere except your living room.
The JBL Quantum 910P is a great gaming headset, especially if you're on PlayStation or PC. However, its high price and focus on features like spatialized head tracking, which most people won't get much out of make it a little difficult to recommend. It's a well-built headset with good wireless connectivity and generally pretty enjoyable sound, but it's simply too expensive. The confusing controls and heavy weight don't help much, either.
This isn't a bad choice if you have the money to spare for a high quality gaming headset, but generally there are better alternatives sitting in the same price range.
JBL Quantum 910P
JBL Quantum 910P
What should you get instead of the JBL Quantum 910P?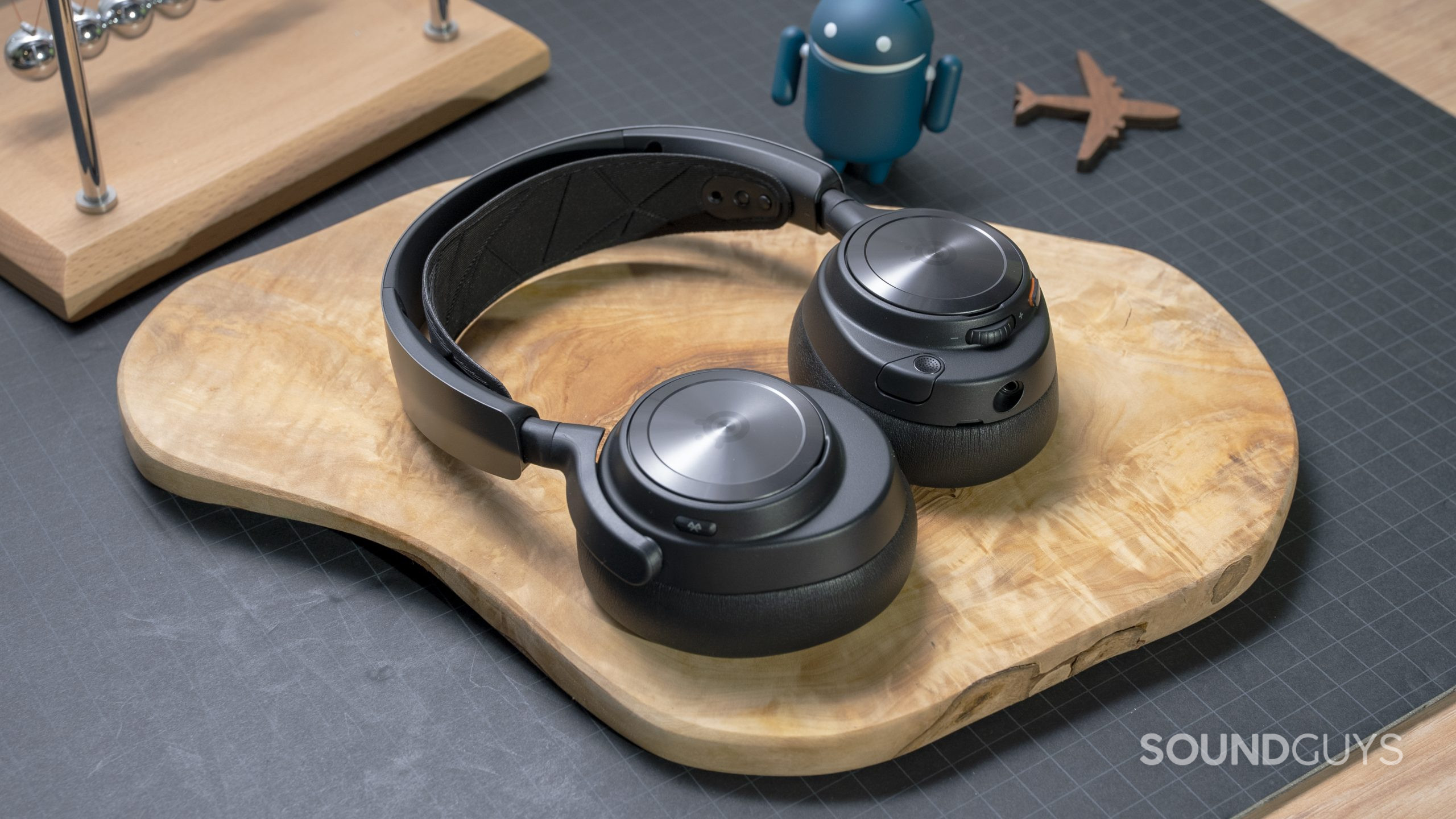 Although it may be on the pricey side, the SteelSeries Arctis Nova 7 Wireless delivers on everything from features and sound  to build quality.
Frequently asked questions about the JBL Quantum 910P
The JBL Quantum 910P actually includes an extensive amount of accessories in the box. Included is a calibration microphone, USB charging cable, 3.5mm headphone cable, the USB dongle and USB-A adapter, and the foam cover for the microphone.
The JBL Quantum One has many of the same features as the JBL Quantum 910P but is a wired gaming headset. It's also primarily meant to be used with PCs instead of consoles (although it should still be compatible thanks to its support for USB and 3.5mm headphone cables).