Affiliate links on SoundGuys may earn us a commission. Learn more.
The bottom line
The E55BT is a perfectly fine headset for commuters, but JBL has discontinued it. If you can find this used or renewed, it will likely be priced very affordably. However, in today's market, you're better off buying something new with better hardware and codec support.
JBL E55BT
The E55BT is a perfectly fine headset for commuters, but JBL has discontinued it. If you can find this used or renewed, it will likely be priced very affordably. However, in today's market, you're better off buying something new with better hardware and codec support.
What we like
MultiConnect
Cable includes in-line mic/remote
Comfortable with glasses
Lightweight
What we don't like
No virtual assistant access
Audio-visual lag
Unreliably connectivity
Materials feel cheap
Rating Metric
Sound Quality
7.3
Bass
7.5
Midrange
7.0
Highs
7.4
Durability / Build Quality
7.0
Value
7.5
Design
7.0
Connectivity
7.5
Portability
7.7
Battery Life
8.7
Feature
6.9
Comfort
7.9
JBL thoughtfully approaches consumer audio demands with the E-Series line. This plastic collection seeks to meet our needs by providing affordable Bluetooth products without sacrificing sound quality or functionality. The E55BT model is a jack of all trades; they do everything well enough, but they're not the best JBL headphones out there. Is that the case for the JBL E55BT?
Editor's note: this JBL E55BT review was updated on December 6, 2021, to include a contents menu, address its discontinuation, and add context to the sound quality section.
Who is the JBL E55BT for?

Anyone in the market for affordable headphones that put sound quality above build quality. In a perfect world, the two would always be top-notch, unfortunately, many budgets—mine included—don't always allow for that kind of financial liberty.
Students could enjoy this headset with its five colorways (black, red, blue, teal, and white) there's bound to be a look for you. The Bluetooth is convenient, so you don't have to worry about wires when packing up from one class to another.
Commuters will enjoy the good sound isolation is impressive with the E55BT. Clamping force keeps out a good chunk of ambient noise without inducing headaches. The ability to switch from one device to another is helpful if you're watching a video on your tablet and receive a call on your phone.
What's it like to use the JBL E55BT?
The plastic doesn't hinge reinforcement is an apparent weak point of the JBL E55BT headphones.
This headset is technically classified as a pair of budget headphones and it shows. Though the plastic housing squeaks and creaks when you place them on top of your head. It's cool that the fabric headband matches the tangle-free cable, but it fails to provide any sort of cushioning. Normally, this would be problematic as most of us have a low tolerance for headphone discomfort, but due to ergonomic weight distribution, the E55BT can be worn for an hour and a half without fatigue. After that, the cushion-less headband becomes a real pain. Similar to the Audio-Technica ATH-M30x, JBL opts for synthetic protein leather earpads. Not only does this keep costs down, it appeals to a wider range of consumers.
Design-wise, this is nothing to write home about. It makes sense that JBL would forgo pandering to aesthetes in order to please ears. But the proportions are just silly. The 50mm driver housing protrudes too much relative to the flat headband. Features are slim.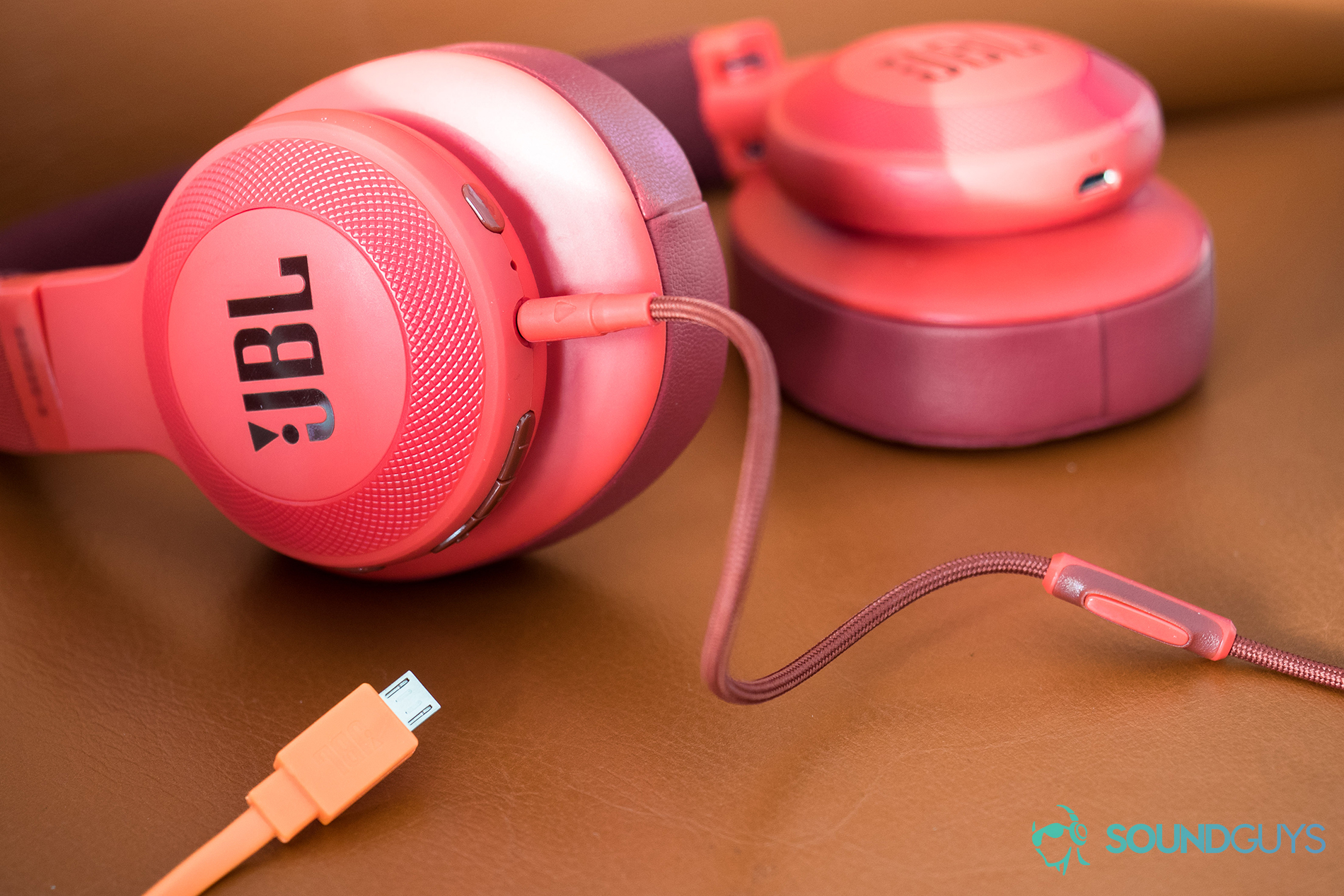 The JBL E55BT includes a micro USB charging cable and 3.5mm removable cable with an in-line mic and a one-button remote.
That said, the headphones do fold flat and up at the hinges, so that's nice. The right ear cup is outfitted with the power switch, basic playback controls, and a MultiConnect button. All three of the playback controls sit perfectly flush with each other, making it nearly impossible to distinguish between them. Using them was a complete "guess and check" process. I didn't like it in high school algebra and don't like it now.
How do you connect the JBL E55BT?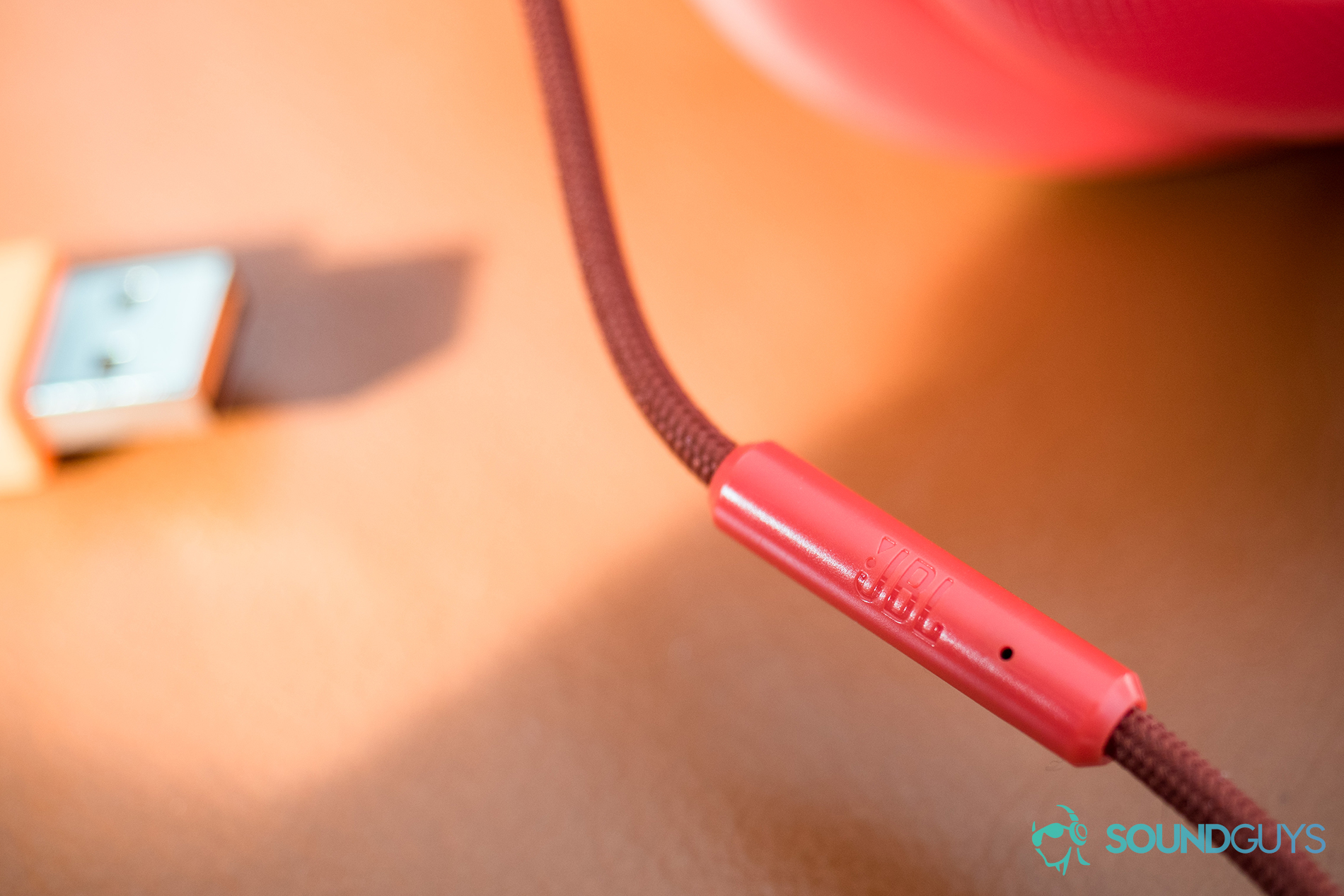 The included 3.5mm removable cable is wrapped in the same cloth material as the headband. The one-button remote grants basic playback/call controls but doesn't let users access virtual assistants.
The headset uses Bluetooth 4.0 and supports just SBC for wireless streaming. This isn't ideal, but you can always use the 3.5mm cable to stream lossless audio files. Connection stability is poor: even with the source device no more than three feet from the headphones, static interrupts the signal multiple times a minute.
How long does the JBL E55BT battery last?
Located on the right ear cup are playback controls. Their flush positioning makes it difficult to actually control anything.
With the volume at 50%, I was able to exhaust the full 20 hours of music playback from the headphones. Note: even at 50% volume, the headset is loud. When you do run out of juice, it takes two hours via microUSB for the headphones to top back up.
How does the JBL E55BT sound?
Looking beyond the iffy connectivity, JBL has tuned the E55BT to boost bass notes. This isn't necessarily a bad thing, as it's enjoyable and meets what most consumers like: emphasized bass and highs, relative to the mids. Just don't expect to get a good mix out of them; this isn't a set of reference headphones. The supra aural design helps create a seal, isolating the listener from the environment, contributing to the bass response.
Lows
A distorted sound signature isn't always a bad thing. JBL's E55BT headphones emphasize the bass over all else, but this makes for a generally more enjoyable listening experience.
The JBL E55BT deliberately distorts the bass, and Katy Perry's Swish Swish is a prime example of how this altered sound can be advantageous for certain genres. This song relies on an energetic (120 bpm) tempo to carry the nightlife-inspired beat.
Overemphasis of the lows masks vocal clarity for the sake of a more "fun" sound. This phenomenon is most apparent 1:14 to 1:22 when the bass does double time under Perry's "-ire" rhyming pattern. The bass is much more energetic than listening with something like the Audio-Technica ATH-M40X.
Mids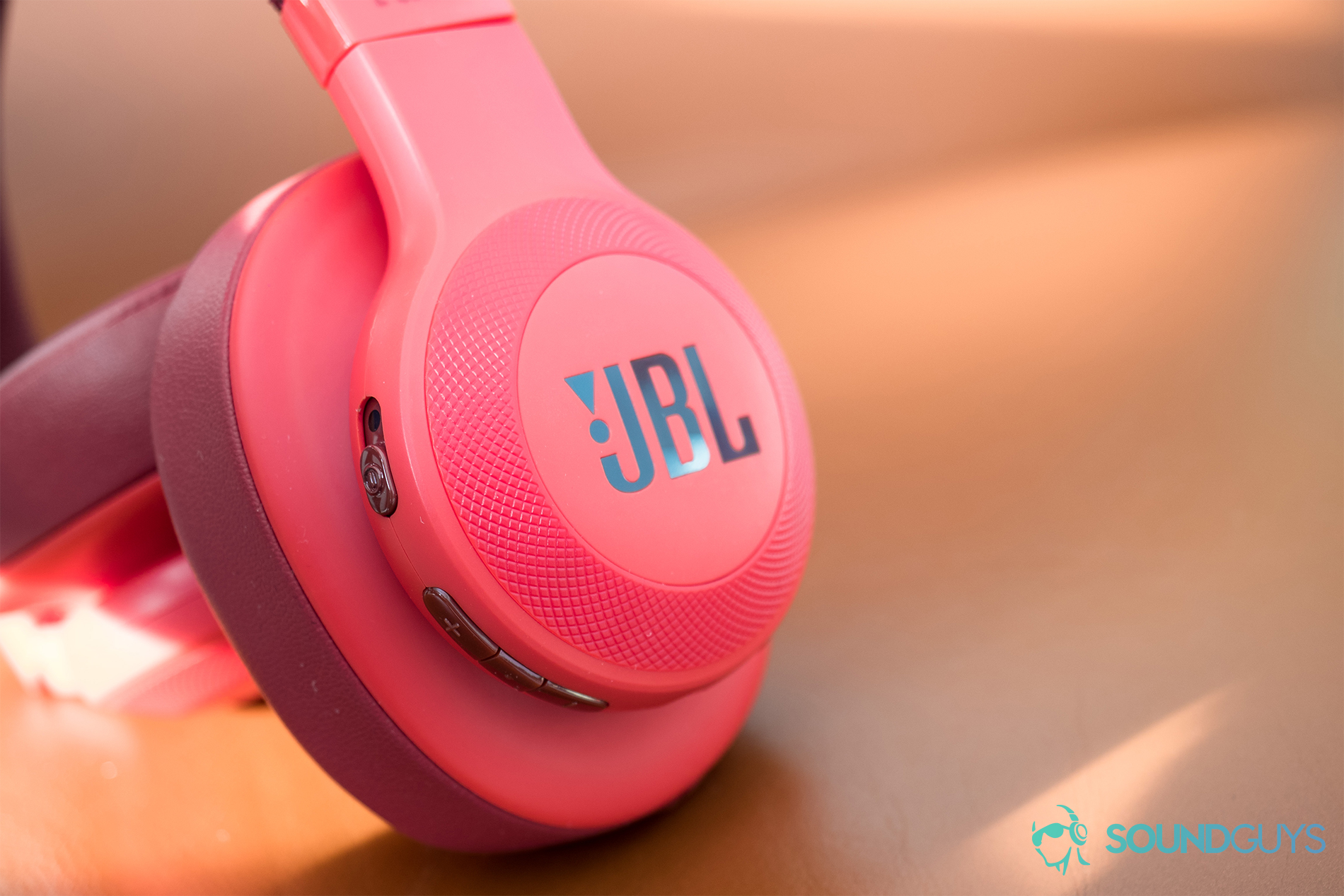 The power switch on the JBL E55BT is easy to accidentally push, resulting in a lot of unintentional shutdowns.
Though not a radio hit, Lorde's Sober has plenty of dynamic range to test the fidelity of the mids. Like Swish Swish, the loud bass masks vocals and higher pitched sounds. Hindering the vocals isn't typically a huge issue with poppy rhythms like this, but the song itself is so lyrically driven that it just doesn't work.
Highs
Edgar Meyer and Chris Thile perform a deft duet in Why Only One?. The bass and mandolin pairing is another example of the headset's boosted bass nature. The two artists play in tandem from the 12-second mark on. JBL's E55BT reproduction of Meyer's upright bass performance perceptibly masks Thile's agile mandolin picking.
Upon initial listening, the higher end of the spectrum comes through clearly. However, this is the highest end of the frequency range that we're hearing in the song. Hence why it sounds so appealing at first.
Should you buy the JBL E55BT?
JBL has labeled the inside of the E55BT headphones with "L" and "R," respectively.
Though the rickety plastic is often a little too malleable, the fact of the matter is that if you're on a budget but want to dip your toe, or even your whole foot into the next echelon of audio, the JBL E55BT is a worthy adversary of similarly priced options.
Rendered more open than the ATH-M40X, the E55BT reproduces a superb soundstage. Good sound quality is always a gamble with Bluetooth headphones, especially due to unpredictable interference issues, but when the E55BT makes things work. Yes, yes, yes. The sound isn't "flat," but it's not meant to be. If the poppy color options didn't signal this well enough, the E-series line is a fun, affordable collection that brings MultiConnect capabilities, comfort, and good sound to the table.
Next: Under Armour Project Rock Over-Ear Training Headphones by JBL review