All products featured are independently chosen by us. However, SoundGuys may receive a commission on orders placed through its retail links. See our ethics statement.
Jaybird X2 vs Powerbeats2
Wondering which pair of wireless 'buds is better between the Jaybird X2 vs Powerbeats2? So were we.
Since we last put the Powerbeats2 in a cage match with the Bluebuds X, Jaybird has released a new pair of headphones. They're called the Jaybird X2s, you may have heard of them before. Seeing as Beats hasn't refreshed their Powerbeats line just yet, we thought it'd be good to see how the new Jaybirds stack up against the Powerbeats2.
These two are arguably the best workout headphones and in the exploding market of workout headphones, these are thriving. We've put both the Powerbeats2 and the Jaybird X2s through the ringer in the past, so if you want a more in depth look at either one make sure to the check out those full reviews. If you're in the market for a pair of workout 'buds you can't go wrong either way here, but we're going to choose one anyway. Without further ado, the Jaybird X2 vs Powerbeats2 showdown begins.
Build Quality
When it comes down to getting a pair. most of this section is going to come down to preference. Do you prefer in-ears or clip-ons? Going beyond that there are some tangible differences between the two. For one, the Jaybird X2s come with multiple different accessories to get the best fit possible. There are six different ear tips (3 of them memory foam) and multiple wing sizes too so the chances of you not finding a great fit are very slim. That said, the Powerbeats2 bypass this issue by having a fairly flexible around the ear hook. It grips on to the ear virtually eliminating the possibility of them falling out.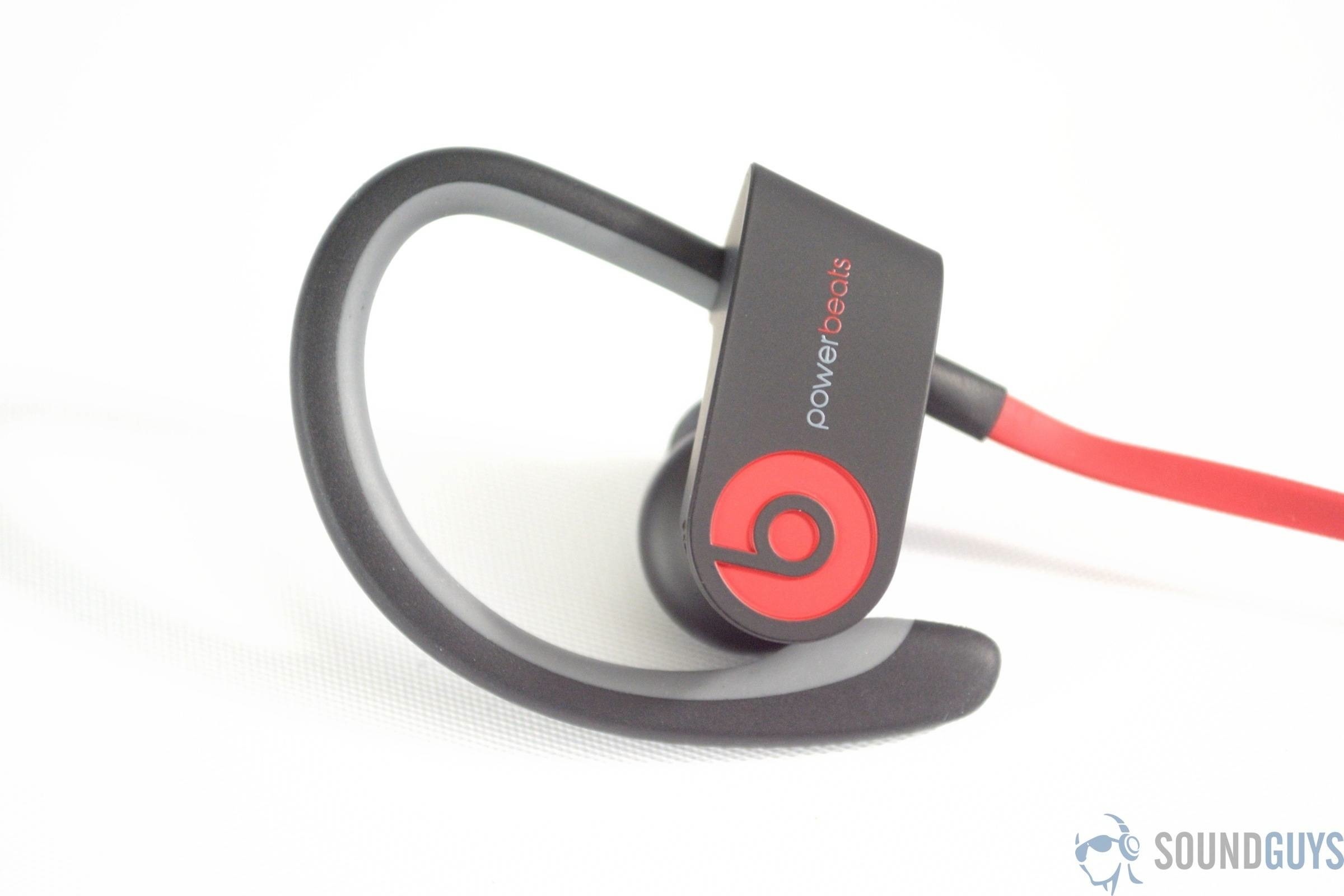 Both are made of durable plastic and both have a built-in control module/mic on the wire connecting the two 'buds. As the two leading headphones for sweat related activities you would assume that they're at least sweat-resistant and you'd be right. That said, the Powerbeats2 do boast an IPX4 rating while Jaybird simply offers a year of protection against sweat-related damage. Taking either one of these to the gym won't be a problem at all assuming you don't do your workouts in a swimming pool. Even if you're not using them for exercise both are comfortable enough for daily music enjoyment as well, but one has to win right?
Correct. The IPX4 rating and secure over-ear design give the Powerbeats2 a slight edge. Still, this just depends on what you prefer since neither product has too many complaints regarding comfort.
Winner: Beats Powerbeats2
Connectivity
The X2s use Bluetooth 2.1, which could be looked down upon by some but versions after 2.1 don't have much to do with sound quality. In any case, Beats doesn't even specify the Bluetooth version in the Powerbeats2 so it's hard to use those specs as a reference. Instead we'll simply have to rely on our personal experience with each pair of 'buds. The X2s did have a noticeable improvement over the previous generation Bluebuds X in that there wasn't any skipping during playback. Not that the connection was horrible in the previous version, but they're simply better in these new X2s.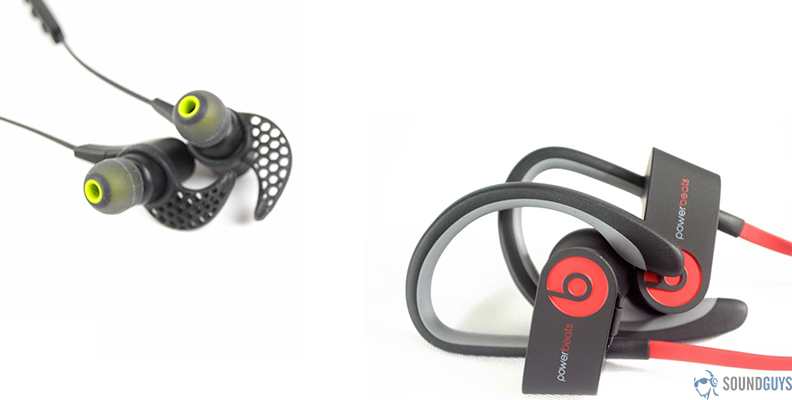 That said the Powerbeats2 didn't have that issue to begin with, and still don't. The connection stays strong with minimal skipping just like the X2s. Both also claim the standard Bluetooth range of about 30 feet which was fairly accurate in our testing. They also both have similar playback options with volume controls, play/pause functionality, track skipping, and phone call answering all being one touch away on the control module. But again, one has to win right?
Wrong. This one is too close to call even for us.
Winner: Tie
Battery Life
Neither the Powerbeats2 or the Jaybird X2s have what you would call "an amazing battery life", so it puts them on a somewhat level playing ground. That said, physics and chemistry has taught us that the only way to make a battery last longer is to make it bigger and we'd much rather the small design. The Beats Powerbeats2 have a mediocre six hour battery life, but do have a 15-minute quick charge feature which gets you an hour of playback time.
That could definitely come in handy for those days when you forget to charge them. that's all well and good, but the Jaybird X2s have an 8-hour battery life. If given the choice we'd always prefer a longer battery, the winner here is clear.
Winner: Jaybird X2
Sound Quality
This is where differences between the two begin to show. Just to get it out of the way let's be clear that both sound good. The difference lies in their intended usage cases. The Powerbeats2 are meant for, and designed for athletes that are listening to music while training. Therefore these do let some sound from the surroundings. You can see how this is a useful feature if someone tends to train in public areas where they would need to be aware of passing cars and other people. Beats also has a reputation for a super strong bass, and though the low end in the Powerbeats2 is bass-heavy, it's not really to their detriment. If you prefer a stronger bass these were meant for you, they're far from accurate but also far from terrible.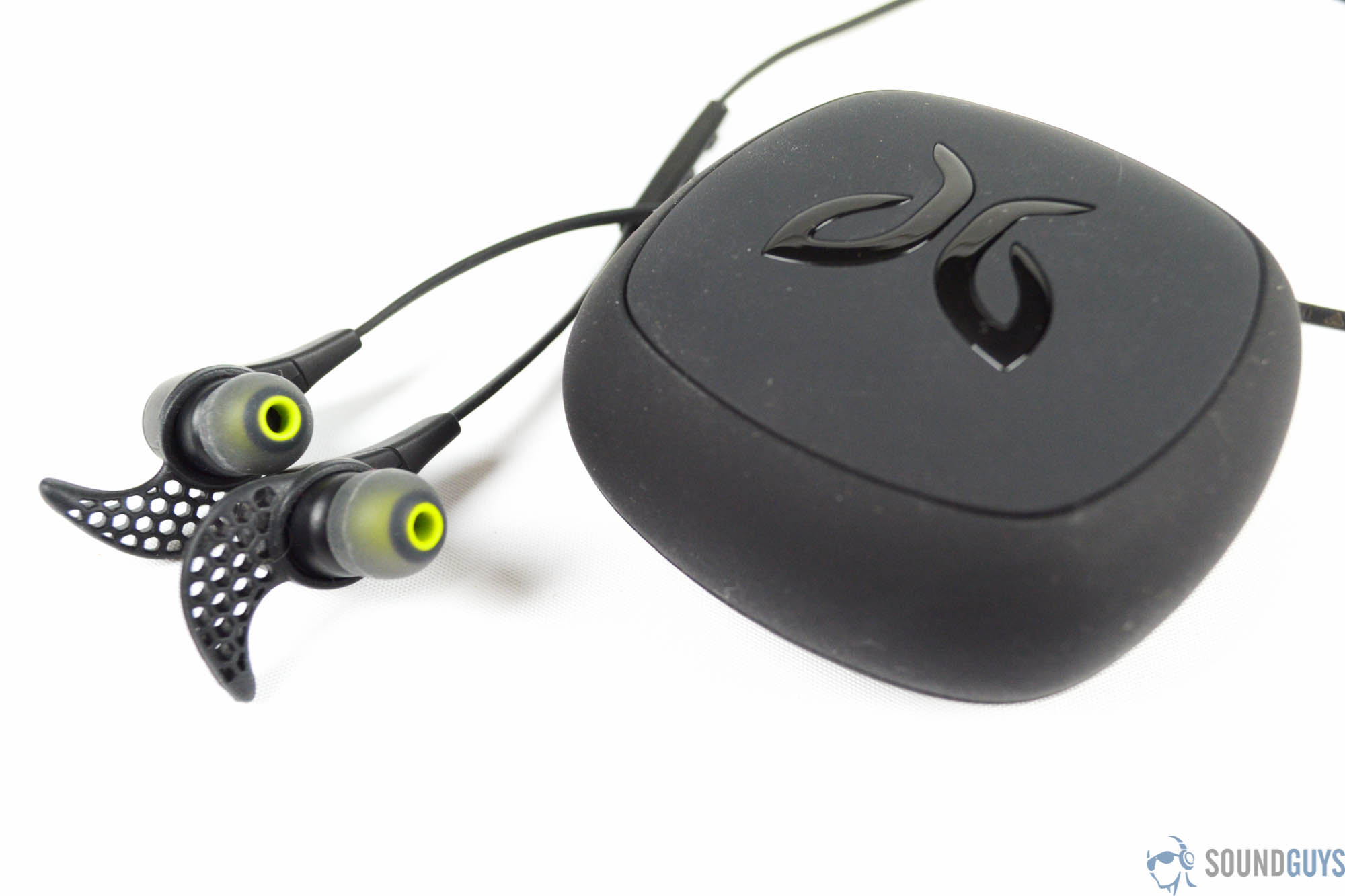 The Jaybird X2s aren't exactly accurate either, but they're bassy to a lesser extent than the Powerbeats2. The low end is there and defined but these aren't going to embellish any of your favorite songs with a soft layer of low end boom like the Powerbeats2. If you want bass but aren't interested in any excess, then these might be for you. On top of that these aren't designed to let ambient noise in, they even come with new memory foam tips to help get a better seal for stronger noise isolation. again, this isn't necessarily better than the Powerbeats2, just different. The X2s also have a slightly clearer and less crowded mid-range than the Powerbeats2. Not by much, but enough to make us lean in the direction of the Jaybirds to take the prize in this category.
Winner: Jaybird X2
Conclusion
If/when new Powerbeats get released it'll be fun to see if this comparison changes, but for now it seems that the improvements Jaybird made has again given it the edge over the Beats Powerbeats2. It seems like it was mentioned a million times already but one more just to drive the point, this could definitely go either way depending on your preferences. These 'buds are similar enough to be compared, but different enough that they target different types of people. To quote a line from the last versus we did between these two companies, "While one of these pairs of earphones must certainly lose, we all win."
Overall Winner: Jaybird X2
Buy from Amazon: