All products featured are independently chosen by us. However, SoundGuys may receive a commission on orders placed through its retail links. See our ethics statement.
Jabra Sport Pulse Review
The Jabra Sport Pulse ear buds sound great and have awesome fitness tracking features, but the battery life could be better.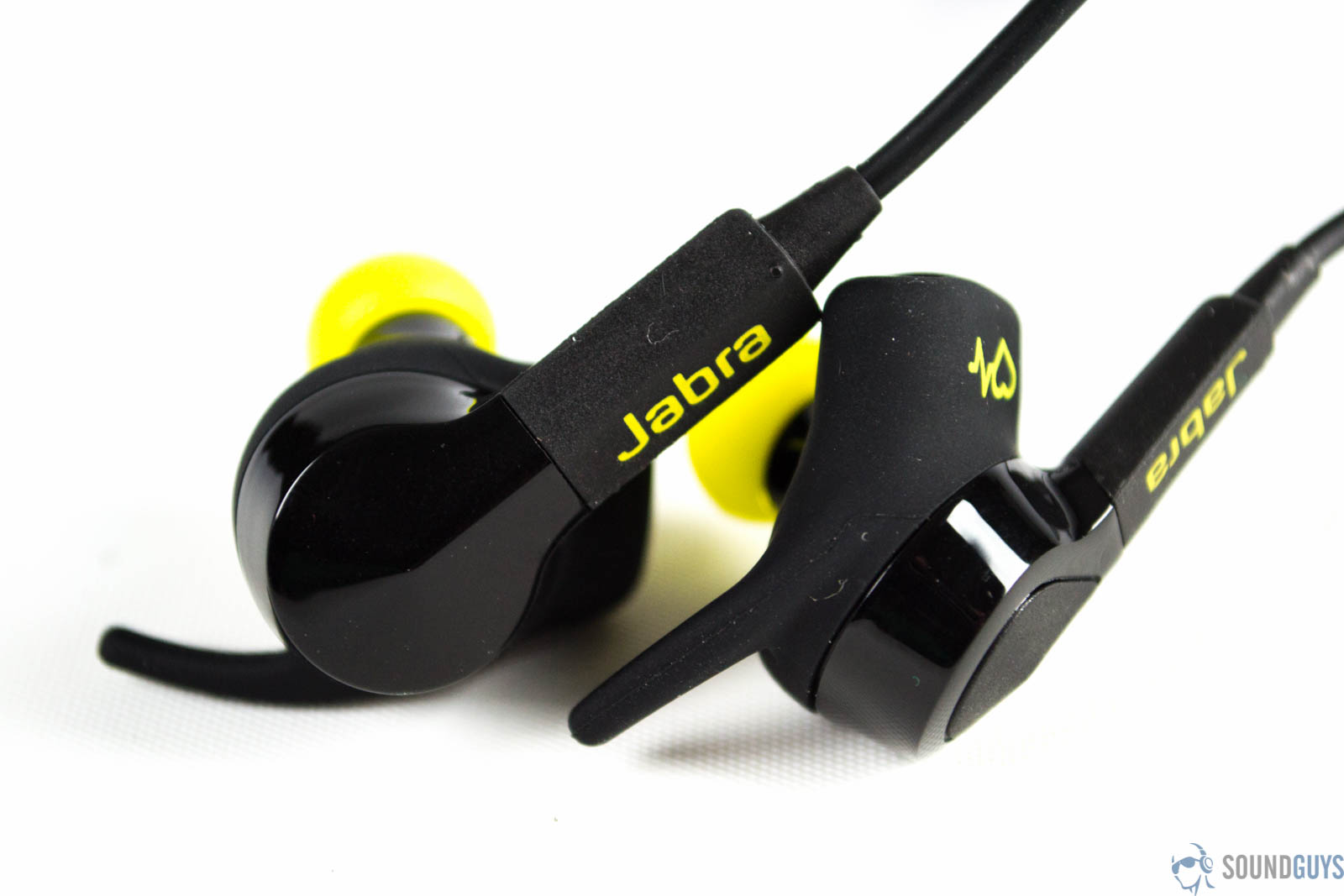 One of the first products we reviewed here at Sound Guys were the Jabra ROX ear buds. I personally loved them, but there were some issues with the magnetic clasps and the battery life. Still, they remain one of my favorite sounding pairs of ear buds.
While Jabra sells other products, like Bluetooth speakers and their popular Sport ear buds, what really caught my eye were the more recent Jabra Sport Pulse ear buds. Designed specifically to be worn during a workout, these earphones offer fitness tracking features in addition to all the other features you'd expect from sport-focused earphones.
What's In The Box?
Opening up the box, the first thing you'll see are the headphones, mounted on cardboard backing. Next to this is a box, which holds the carrying case. Everything else is packed inside the case: a USB charging cable, different sized ear tips, and the wings.
Build & Design
With good reason, Jabra makes a point of saying that you should take your time and carefully select the right ear tips and ear wings for your ears. This is always important for a proper fit, but given that one of these ear buds monitors your heart rate, a good fit is essential for accurate tracking.
As long as you do select the proper tips and wings, the Jabra Sport Pulse feel very comfortable and stay that way. When you first launch the Jabra Sport app (which we'll talk about more below), it instructs to either run in place or jump up and down. I chose the second option because it was far more ridiculous, and the ear buds didn't even budge.
The Jabra Sport Pulse may not boast the same metal / kevlar construction of the ROX, but they're still pretty tough. The ear buds are IP55-certified resistant to drops, dirt and humidity. Luckily, they manage this without feeling like you're strapping a piece of farm equipment to your head.
Connectivity
Turning the Jabra Sport Pulse on for the first time causes them to automatically enter pairing mode, and a friendly voice prompt reminds you to pair from the Bluetooth menu on your mobile device. At least on an iOS device, I was automatically prompted to install the Jabra Sport software, which controls the Sport Pulse's fitness tracking functionality.
The Sport app uses the ear buds to track your heart rate, and your phone's GPS to measure distance for running / walking. The heart rate monitoring was accurate and remained so throughout testing. While distance tracking was fine, using the phone's pedometer to measure distance "traveled" didn't seem to work as well, which is unfortunate for those of us who use a treadmill.
The remote works well, meaning you won't have to fumble around in your pocket for your phone while on a run. The middle button is a multifunction button, pausing and resuming playback or answering and ending calls with a tap, while holding it powers the Jabra Sport Pulse on and off. The plus and minus buttons raise and lower volume with a tap, while holding them skips tracks. Call quality was very good using the built-in mic.
Battery Life
One of the main issues we had with the Jabra ROX was the battery life, and while the company's similarly named Sport Wireless earphones have better battery life, that isn't the case with the Jabra Sport Pulse. Maximum battery life is advertised as just five hours. In our testing, we got closer to 4.5 hours, though this is usually the case due to our testing process.
Charge time was around two hours, though this will depend on what you plug in to. While a USB charging cable is included, no charger is included, and charging the Sport Pulse via a computer will result in a slower charge.
Sound Quality
As I mentioned earlier in the review, the Jabra ROX remain some of my favorite wireless ear buds when it comes to sound, so I had high hopes for the Jabra Sport Pulse. I wasn't let down.
While they may not be bassy enough for some, the Jabra Sport Pulse offer up solid, accurate low end. Kick drums and bass guitars are well represented, and synth bass sounds full and expansive.
The mids continue the trend of accuracy. Unlike many earbuds, which feature a bump in the 1-3 kHz area, the Sport Pulse seem to have a flatter response, which is a matter of taste, but I prefer it.
The highs offer plenty of detail without being stinging, though I did notice the occasional bit of harshness as I pushed the volume toward maximum.
Soundstage is surprisingly good here. I actually jumped and looked to see what was behind me while listening to Tortoise's 'Seneca' – a rare occurrence for ear buds.
The outside world isn't fully shut out by the Jabra Sport Pulse. Considering a lot of people will use these while running or jogging, this is probably a good thing.
Conclusion
The only major mark against the Jabra Sport Pulse earbuds is the battery life. Five hours max just isn't that much, and during testing, we barely managed that. Still, if you're mainly wearing these during workouts, they should treat you fine as long as you charge them frequently. Just don't be surprised if they run out of juice nearing the end of a marathon.
Buy now from Amazon ($199)