All products featured are independently chosen by us. However, SoundGuys may receive a commission on orders placed through its retail links. See our ethics statement.
How to use AirPods on a plane
Class up your air travel with seamless multimedia enjoyment using AirPods.
When it comes to travel, bringing along your AirPods can level up your flying experience. But before you press play on your favorite playlist, ensure your airline allows you to take AirPods on the flight. In this guide, we'll cover that and explore what to consider before taking your AirPods on a plane.
QUICK ANSWER
You can use AirPods on a plane by turning on Airplane mode on your phone to deactivate its cellular radio. Then turn on Bluetooth to connect your AirPods for uninterrupted enjoyment during your flight.
---
JUMP TO KEY SECTIONS
Can you use AirPods on a plane?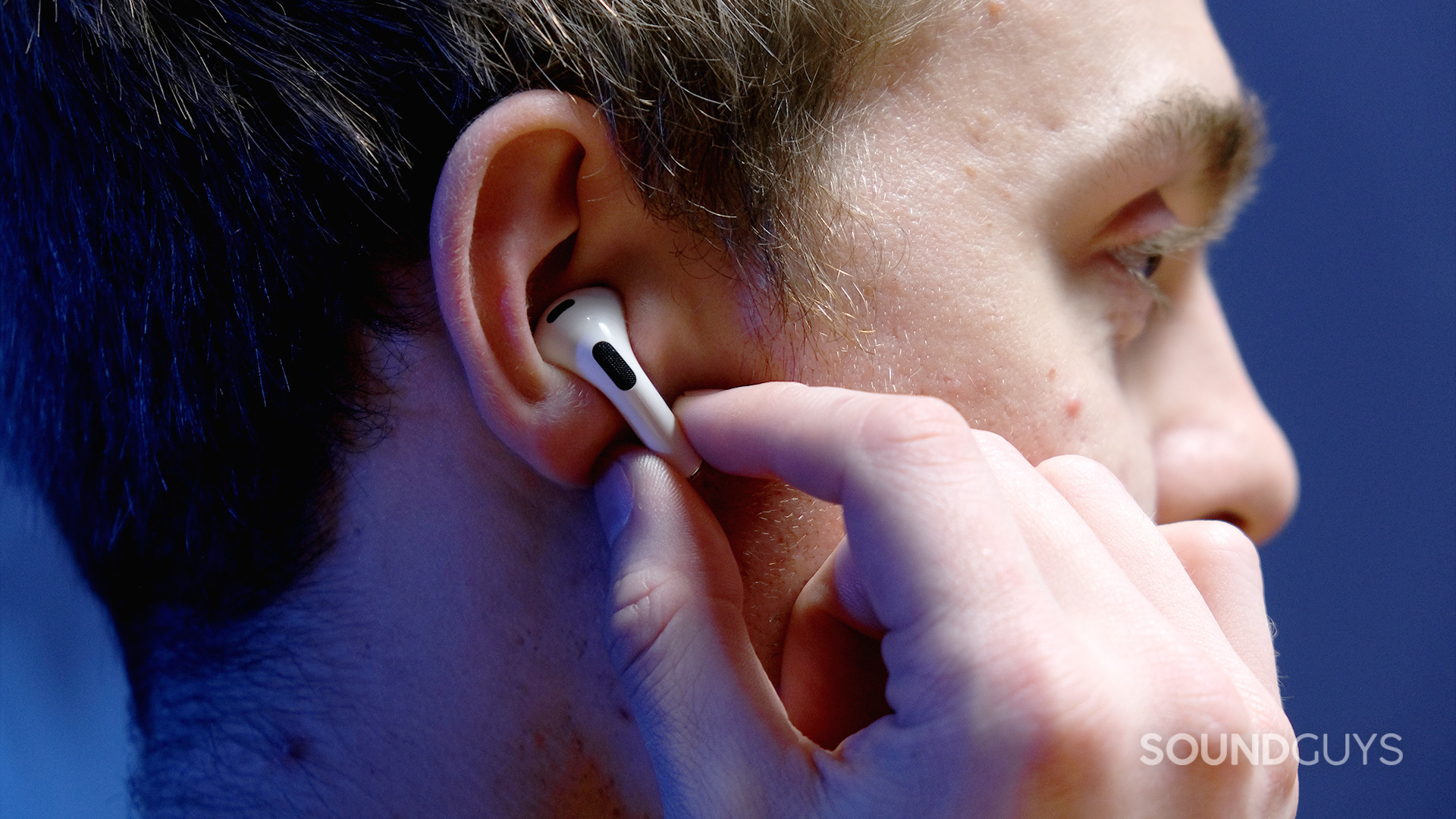 Yes, you can indeed use your AirPods on a plane. Generally speaking, airlines treat AirPods like any wireless earbuds, so you can enjoy your favorite tunes or podcasts while cruising at 30,000 feet. However, you need to follow a few essential steps for a seamless in-flight audio experience.
First, enable the Airplane Mode on your smartphone to disable its cellular radio.
Next, remember to turn on your cellular Bluetooth to connect your AirPods. This way, your wireless connection won't interfere with the plane's communication systems, and you can listen to your media seamlessly.
If you want to connect your AirPods to the airplane's in-flight entertainment system, you may need an AirPod airplane adapter. Most airlines come with a standard 3.5mm headphone jack so you can plug in your Bluetooth adapter and enjoy wireless audio in-flight.
Regarding security screening, note that the Transportation Security Administration (TSA) generally doesn't require you to separate your AirPods during screening.
Unlike larger electronic devices, you can keep them in your bag while screening. Though uncommon, you may be requested to take your AirPods from the bag for personal inspection by the airline crew.
Things to consider when taking your AirPods on a plane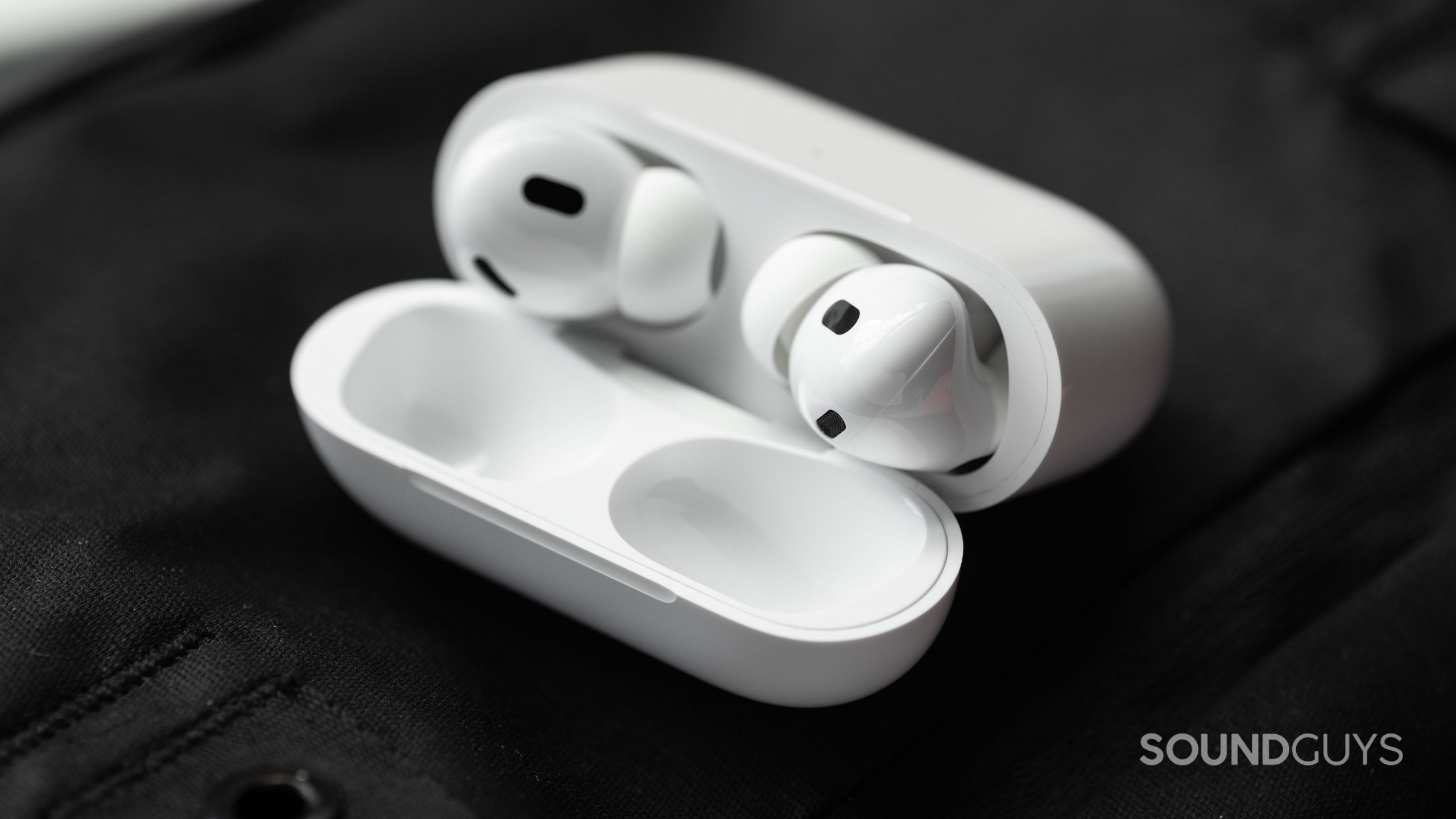 The AirPods Pro (2nd generation) has much better noise canceling than its predecessor.
Here are some tips to help you make the most out of your AirPods when up in the air.
Charge your AirPods before getting on the flight
It's always worth ensuring your AirPods are fully charged before heading to the airport. If you're going on a long journey, fully charging your AirPods ensures you get a prolonged listening time for calls, multimedia, and music.
Download content on your phone or laptop
Before boarding a plane, consider downloading the content on your phone or laptop. This precaution is quite effective for seamless entertainment on the go, as you'll need to enable Airplane mode on the plane, which cuts off internet access.
For music lovers, make sure your Spotify, YouTube Music, or other platform playlists are available offline. Likewise, download your favorite movies or TV shows to your device in advance for uninterrupted entertainment in the skies.
Put your charging cable in your hand-carry
It's a good idea to always stow your essential tech items, like charging cables, in your hand-carry for easy access during the flight. That way, you can charge devices like AirPods and phones conveniently.
It's incredibly useful, particularly on long-haul flights where keeping your gadgets powered up is important.
Consider a USB-A to Lightning connector
When traveling, consider packing a USB-A to Lightning connector. Many planes provide USB-A ports to support various Android and iPhone devices for charging.
If you already have a Lightning to Lightning or USB-C to Lightning cable for your AirPods, having a USB-A to Lightning cable on hand will ensure compatibility and hassle-free charging during your flight.
---
Frequently asked questions about AirPods
Yes, you can use your AirPods on a plane without Wi-Fi. AirPods rely on Bluetooth for audio streaming, which remains operational even with Airplane mode enabled on your phone. Simply activate Airplane mode and then reactivate Bluetooth for uninterrupted use of your AirPods during the flight.
Yes, AirPods can work with on-plane entertainment systems, but you'll need a suitable adapter for syncing them with the system. Different airlines have different setups, so having the right adapter ensures compatibility. Apple AirPods are usually a great option for in-flight entertainment due to their versatile use.
Yes, it's safe to use AirPods on a plane. They're pretty much like regular wireless headphones, and airlines allow taking them on a flight.