All products featured are independently chosen by us. However, SoundGuys may receive a commission on orders placed through its retail links. See our ethics statement.
How to connect speakers to your TV
Feel a little lost in a sea of ports? Let us help you connect speakers to your TV.
So you've joined the 21st century and upgraded your TV's tinny-sounding built in speakers. Now what? Time to make the connection and match up your inputs with your outputs. Whether it's a soundbar, a stereo, or a surround receiver, let us help you connect speakers to your TV.
Editor's note: this article was updated on January 30, 2023, to note the use of HDMI eARC.
Step 1: Look at the back of your TV
If you can see and access the panel where your TV's inputs and outputs reside, then great! Move on to step 2 immediately.
If your TV is already mounted to the wall and you can't see the outputs, you may want to check the user manual or do an online search for your specific model. This way, you can reference the paperwork and rather than go through the process of dismounting your TV. Alternatively, consider getting a new mount that will allow you to move the TV into different positions so you can access the ports in the future without much fuss.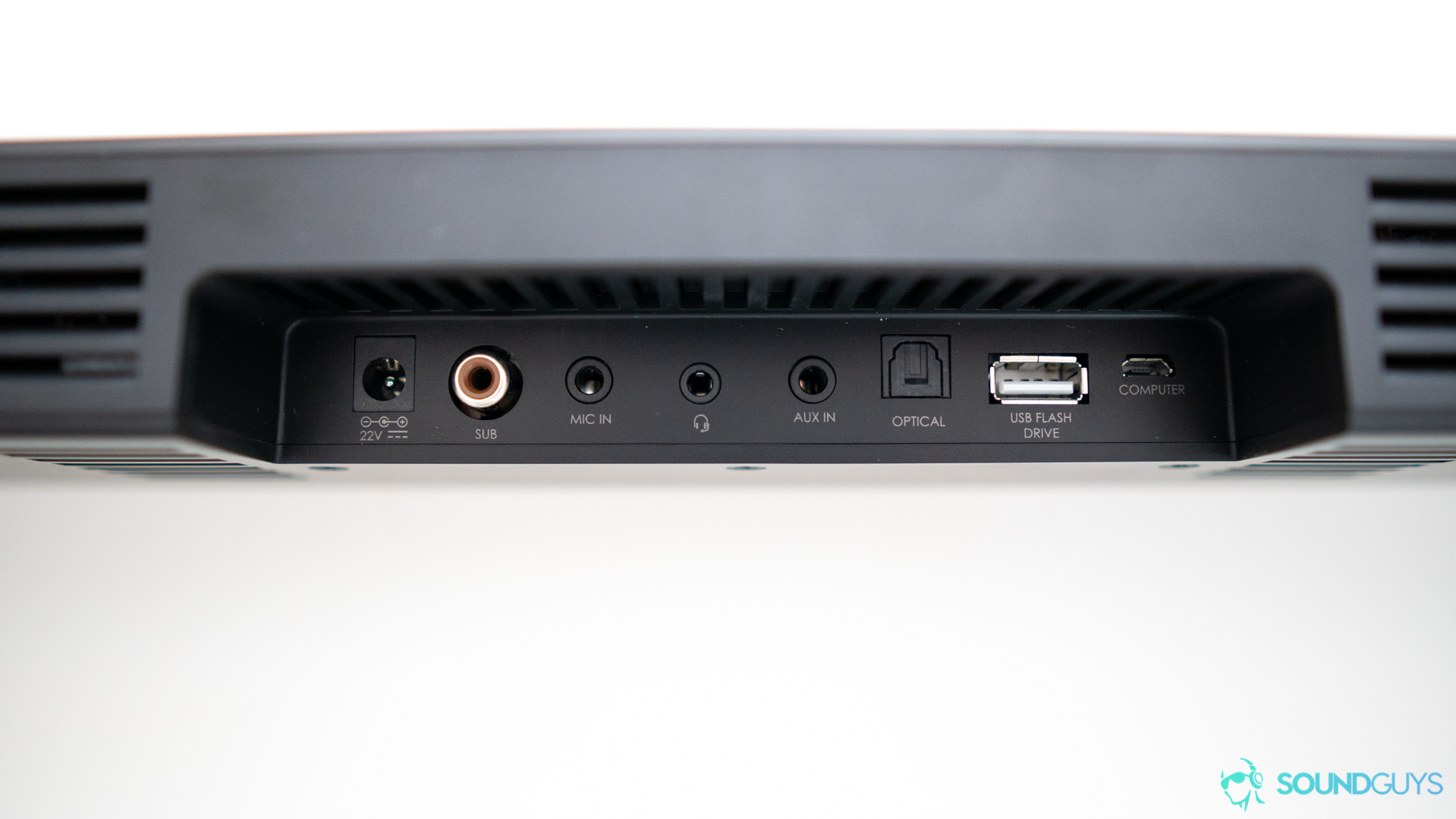 Pay close attention to the ports on the back of your soundbar or receiver. You'll need to match them to your TV.
Of course, you may just have to take the screen off the wall. Grab a blanket and place it on a flat plane like a floor or a table that's big enough. If you don't have blankets, find an area of clean carpet devoid of clutter. Now unlatch the TV from the wall mount, place it face down on your prepared area, and take a look at what outputs it has available.
Step 2: Identify your audio output options
What we're looking for is something that says "audio out," or any other port that sends audio out of your TV. This could be HDMI, optical, coaxial, RCAs, or a 3.5mm socket—it just has to be an output port that your receiver or soundbar also has available for input. Here are the types of ports we're looking for to connect an external audio system to a TV:
Digital audio: HDMI, optical, or SPDIF (single coaxial RCA)
Analog audio: "Line Out" RCAs, "Aux Out"(3.5mm TRS), or a "Headphone Out" (3.5mm TRS)
Note: If your TV and external audio system have more than one of these connections in common, you only need to pick one. They are listed in order of preference above. Digital connections are preferred over analog as they allow for cleaner signal transfer, and your external sound setup can better handle audio processing, rather than just using the TV's analog feed.
If your TV or receiver are of the older variety, an analog connection may be your only option. Keep in mind that if one only offers RCAs and the other only offers a 3.5mm TRS socket, all is not lost, adapters do exist.
Step 3: Reconnect your TV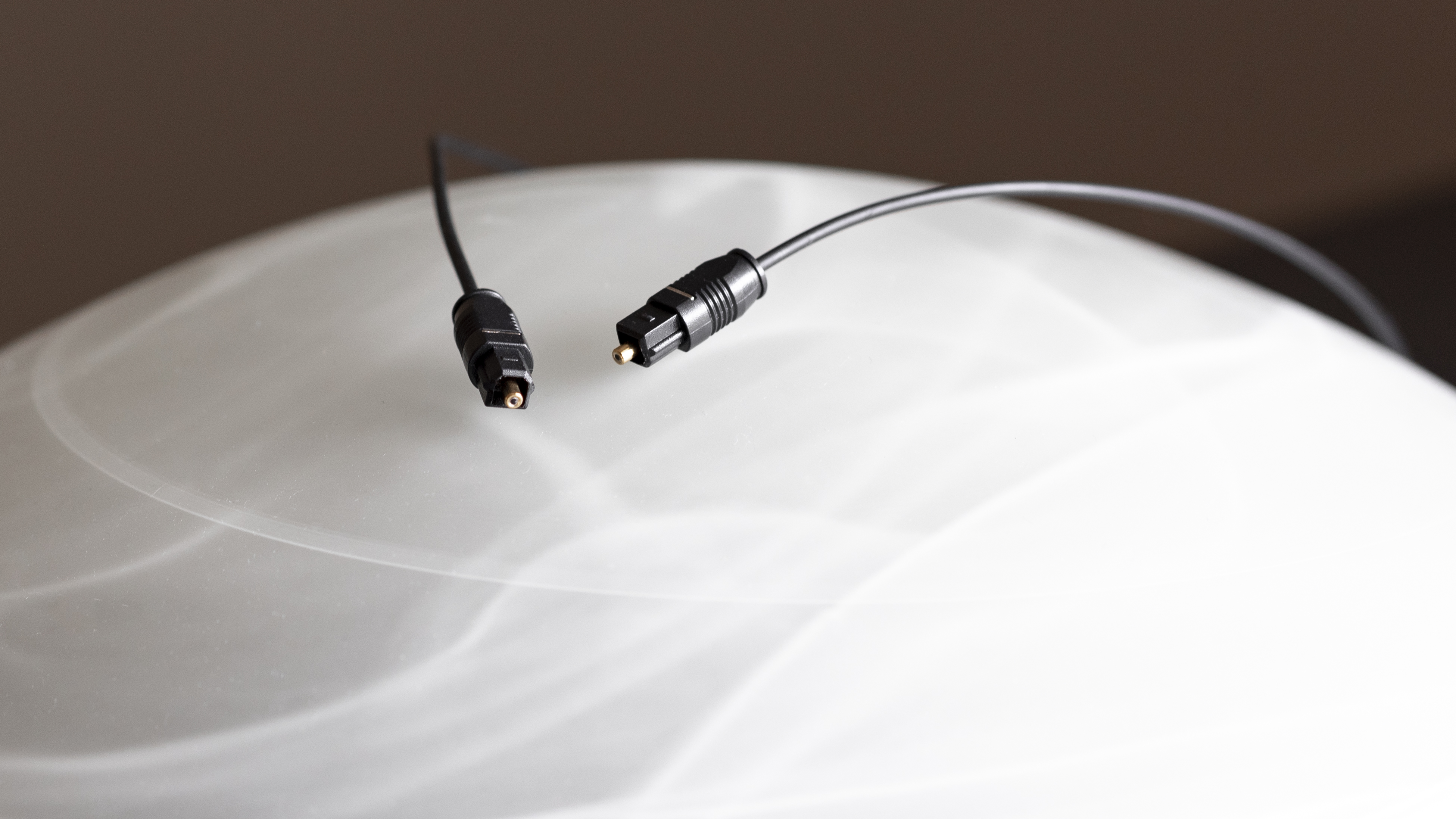 An optical cable is the best way to transmit audio data over short lengths.
If you've had to remove all the cables from your TV in the first step, now's the time to make sure everything's back the way it's supposed to be; with the addition of whatever cable you will use to transfer audio to your sound system. Once you've plugged in the audio cable to the right audio output port, we can get a better sense of the best place to put your receiver or soundbar.
Step 4: Connect audio system to TV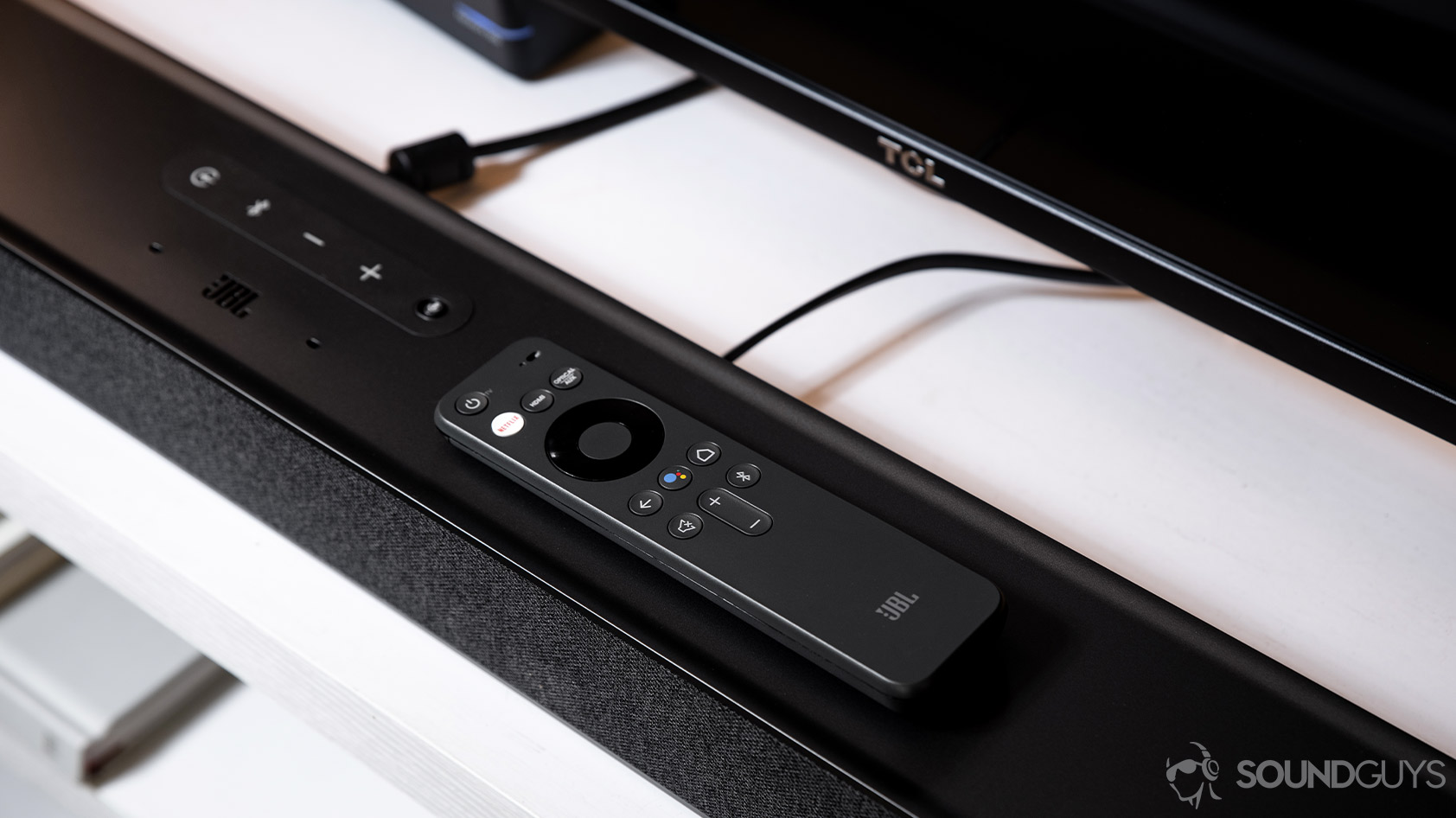 Placing your audio system close to the TV helps hide unsightly cabling.
With the audio output cable connected to the TV and presumably dangling in the breeze, we're ready to connect your receiver or soundbar of choice. The cables these products include are likely short, so putting your hardware directly underneath the TV on a stand, shelves, or entertainment center will be ideal. This also has the added benefit of fewer cabling rat's nests.
If you have a soundbar
Congratulations! After you hook up the power cable and the other end of the audio cable to the appropriate input, you should be basically ready. All that's left is for you to follow the manufacturer's instructions and setup notes. If you have a Dolby Atmos or MPEG-H enabled soundbar like the Sennheiser AMBEO Soundbar, you may need to do a little more setup to enable the 3D sound features.
If you don't want to hook up multiple things to your TV, many soundbars now support HDMI eARC, a feature that allows you to use the soundbar as a sort of receiver where you can plug in many devices to it and pipe the signal from the TV via a single HDMI cable. On the back of the TV there should be an HDMI port with an eARC label to identify the correct place to plug in your soundbar to the display.
If you're hooking up a receiver
Ensure you've hooked up your main channels and satellite speakers using the provided cables. Place your speakers the way you'd like them to be arranged, then use the shortest length of speaker wire you can to connect them to your receiver. You probably won't run into any power issues, but read up on it first just in case.
Once you're done with this, you should be all set with the physical connections.
Step 5: Check the audio out in the TV's menu settings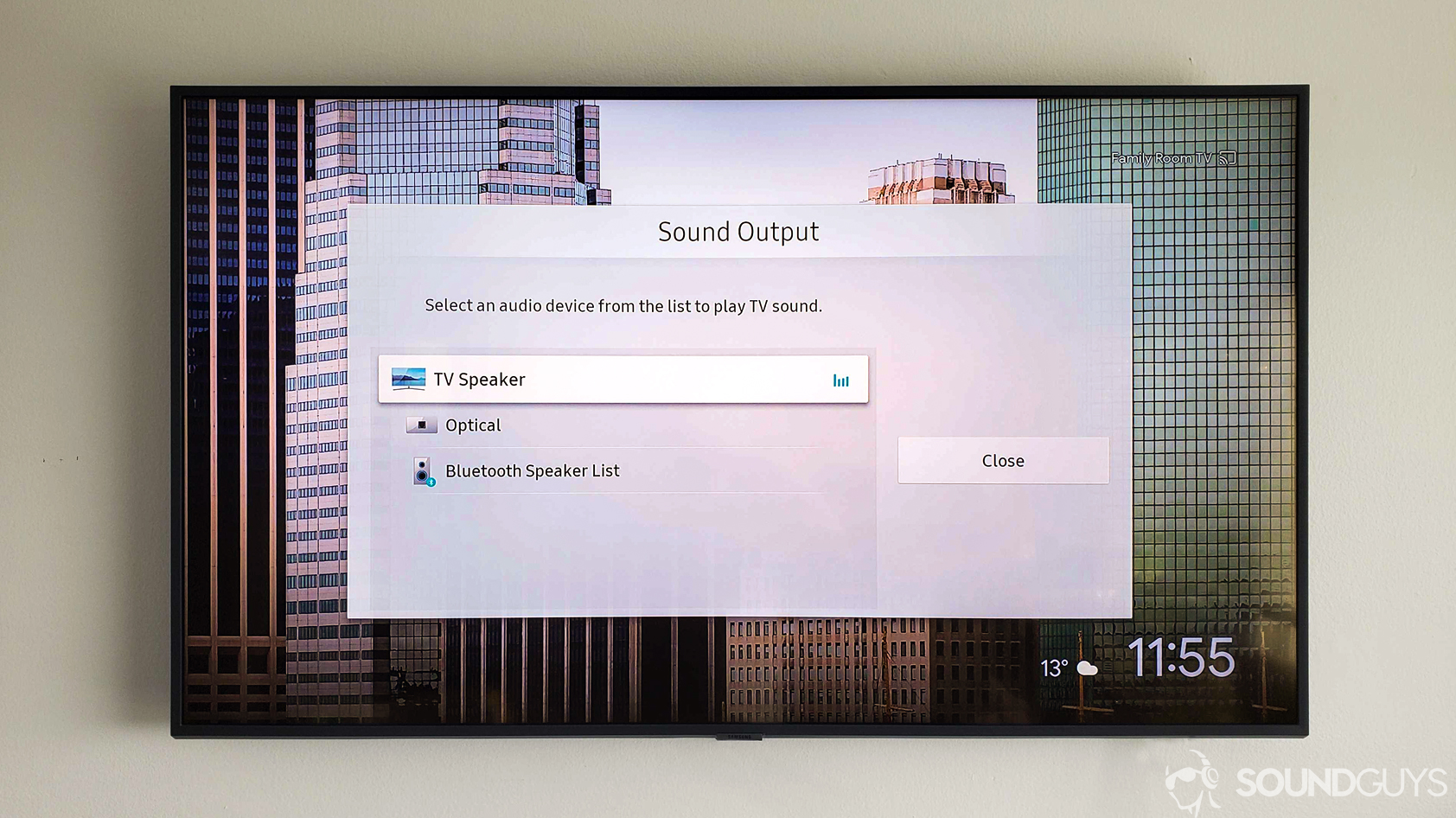 For Samsung TVs in particular, the audio output menu is easy to find.
On many TVs, the back panel audio outputs will be active by default. Ideally, you won't need to do anything except turn the volume for the TV's internal speakers all the way down. If you don't decrease the TV speaker's volume and sound plays through the TV and external audio source simultaneously, you can run into some strange and unpredictable audio effects caused by interaction between the two which can sound weird.
If your TV can't send an audio signal to your external device, locate your TV's audio settings through the "menu" button on your remote. Once you've done this, look for the "sound options" or "sound" menu, and select an item called "sound output," or just "output." From there, you should be able to toggle which output you want the TV to use to feed your system.
When the settings on both the TV and the system are correct, slowly turn up the volume on your new system until you hear whatever's playing on the TV, grab some snacks, and you're good to go.