All products featured are independently chosen by us. However, SoundGuys may receive a commission on orders placed through its retail links. See our ethics statement.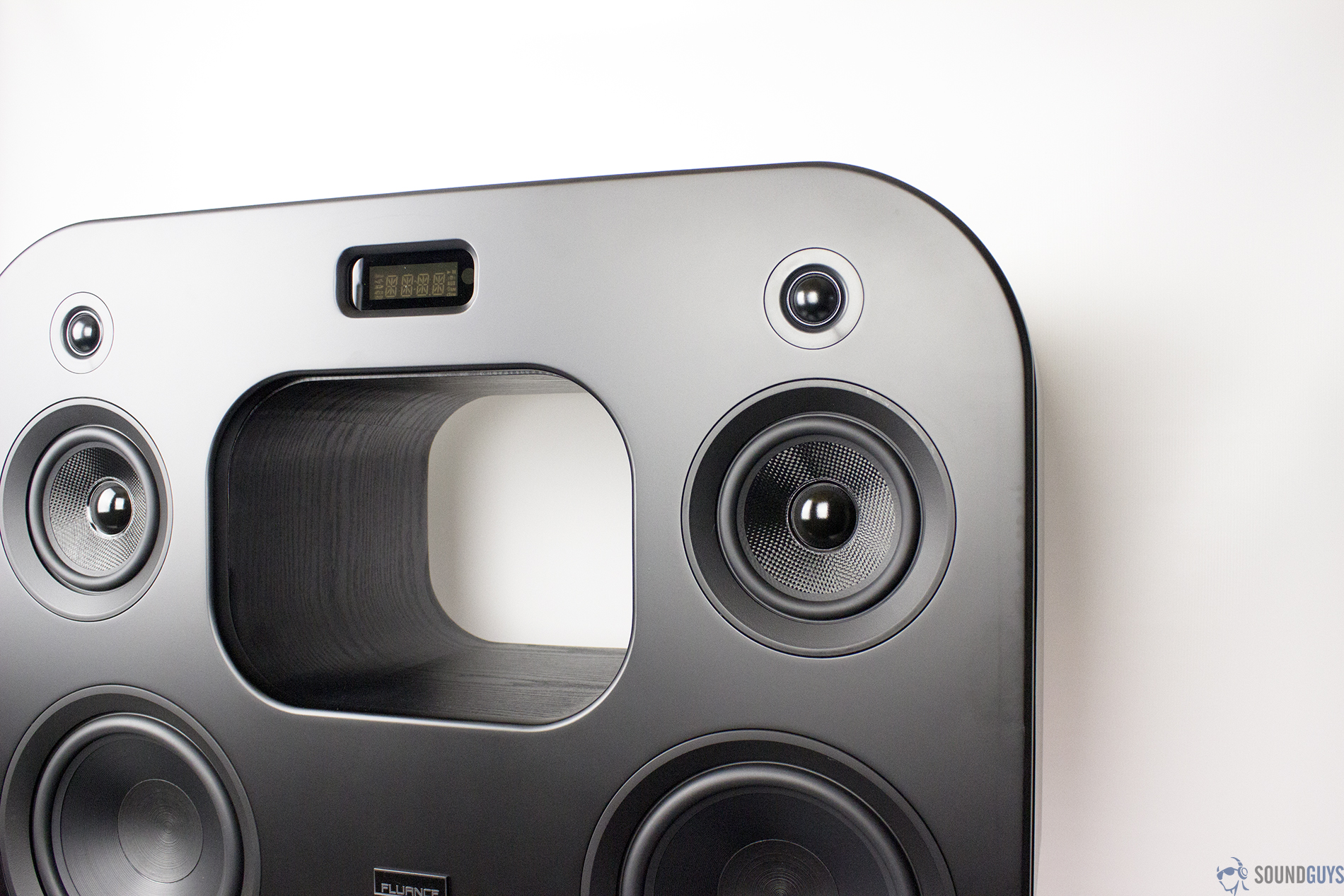 The bottom line
If you have the space for it, this is a great speaker for the money.
If you have the space for it, this is a great speaker for the money.
What we like
Sound Quality
Design
Price
What we don't like
Size
Bluetooth strength
Rating Metric
Sound Quality
8.8
Bass
9.5
Midrange
8.3
Highs
8.5
Durability / Build Quality
8.1
Value
9.0
Design
8.8
UPDATE [February 2022]: While still available, if you find that this speaker is a bit too big and too pricey, have a look at the Soundboks Gen 3, bookshelf speakers, or portable Bluetooth speakers instead.
The last Bluetooth speaker we reviewed from Fluance was the Fi50, and in that review we made it clear that though it sounded good it wasn't exactly portable. Well their new Fi70 makes that speaker look like a JBL Clip. Though the Fi70 has Bluetooth compatibility, it isn't portable by any means. In fact it doesn't even have a battery and needs to be plugged in to an outlet while using it. So why would you want such a large and stationary speaker and what are the benefits? 
What's in the box?
First off let's be clear, this is a big speaker that comes in a bigger box. So getting it inside your house or apartment might be an issue. Thankfully I don't live in a 5 story walk-up, but my condolences to whoever does. In the box is a remote control, two AAA batteries to power the remote, the plug, a 3.5mm audio cable, warranty information, instruction booklet, and a bag that contains the AM/FM antennas and some screws. Why the screws? Well the speaker doesn't come mounted, so you'll have to take a good 10 minutes to set it up on the stand. Thankfully, Fluance didn't take their instruction booklet inspiration from IKEA and it was fairly easy to get up and running.
Build & Design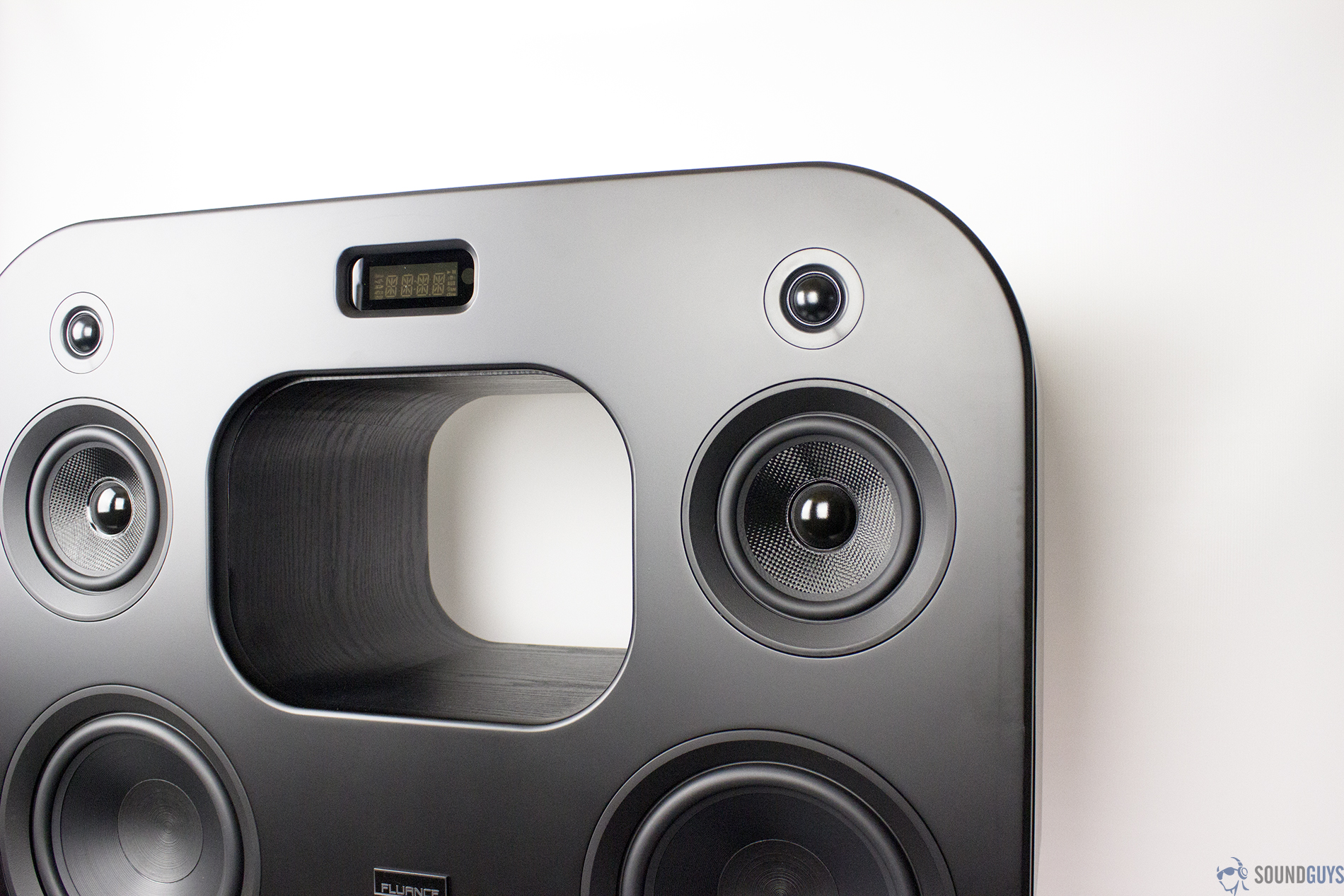 The speaker weighs 81 lbs and stands 36 inches tall which puts it slightly below waste height. It's made almost entirely of wood and has a gorgeous finish that makes it nicer than most of the other pieces in my living room. Without a doubt it's an eye-catcher, but the problem with the Fi70 is also its greatest strength: its size. After getting it out of the box and all set up, it was still difficult finding a place to put it that would allow for maximum sound without getting in the way. If you have a small apartment or already have some bulky furniture, you're going to have a problem finding a spot for this.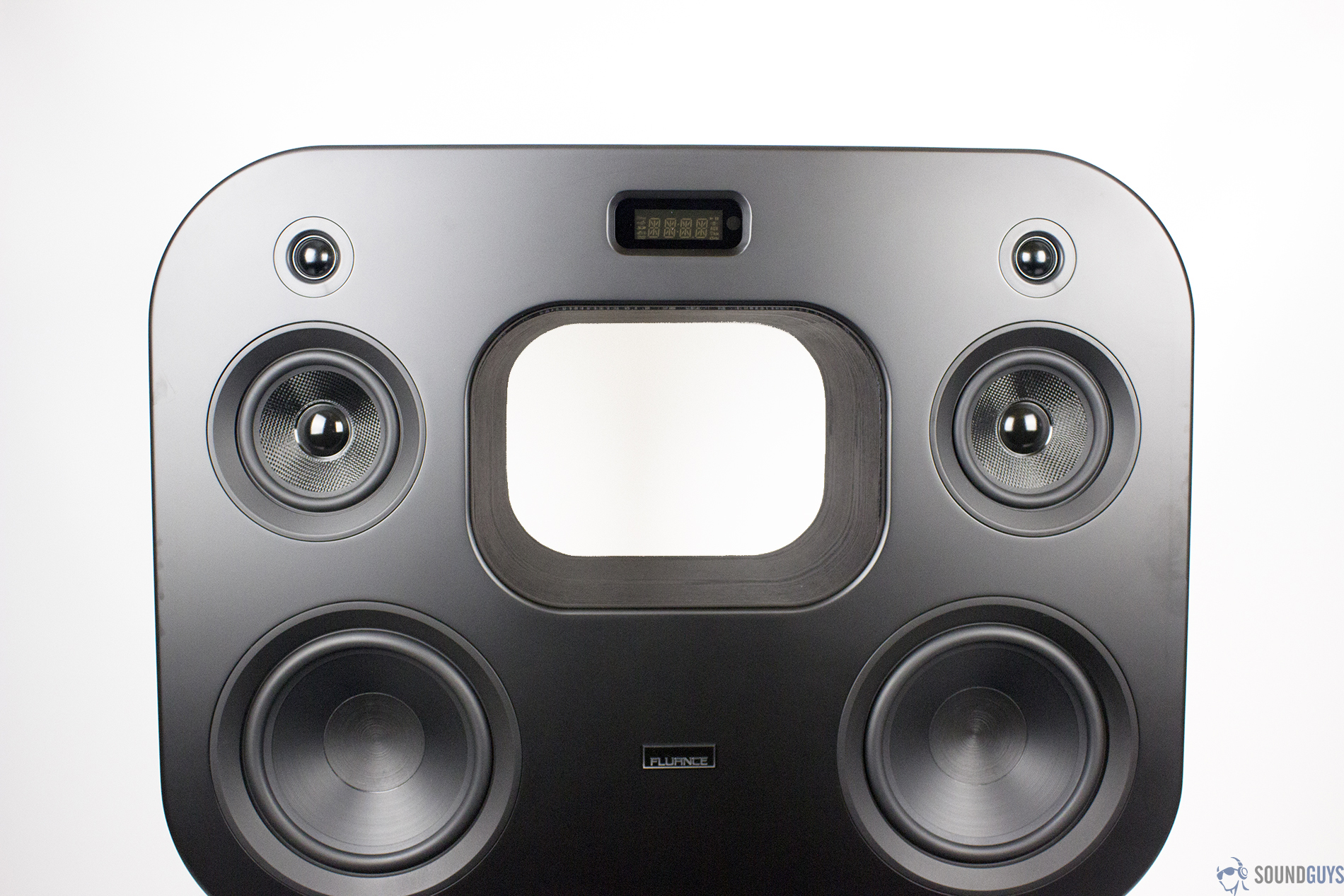 The front of the speaker has a small display that tells you what mode you're in as well as the time, and that's pretty much all there is. The speaker fabric is actually held on by small magnets, so gently popping that off reveals what the Fi70 is working with. Two tweeters, two mid range drivers, and two 8″ woofers to take care of the low end. On the back are all of the inputs and that you'll need to get the most out of this speaker as well as the switch that turns it on. There's an aux in, optical input, FM and AM inputs, and even a USB output so you can charge your devices. This was a little odd to me since the speaker needs to be plugged in at all times, so you'll always be near an outlet when using it anyway. But if the speaker is taking up the only outlet, I can see how this feature can be useful. 
Up top are a few touch sensitive controls built right into the wood. Besides bringing the overall design of this speaker up a notch, they also work great and I never had to tap it a few times to get it to work like some other touch sensitive surfaces. You can raise/lower the volume, skip or return to tracks, pause playback, change some settings, switch inputs, and power it on with a simple tap.
Connection
The AM/FM and optical inputs worked fine, but this is mainly a Bluetooth speaker and we used it as such. Connection when in Bluetooth was decent but once a few walls get in the way it does become a slight issue. Nothing too bad but for a speaker that's meant to be a major part of your home audio setup, we would've liked to see a stronger connection since it's doubtful that the source device will always be in the same room.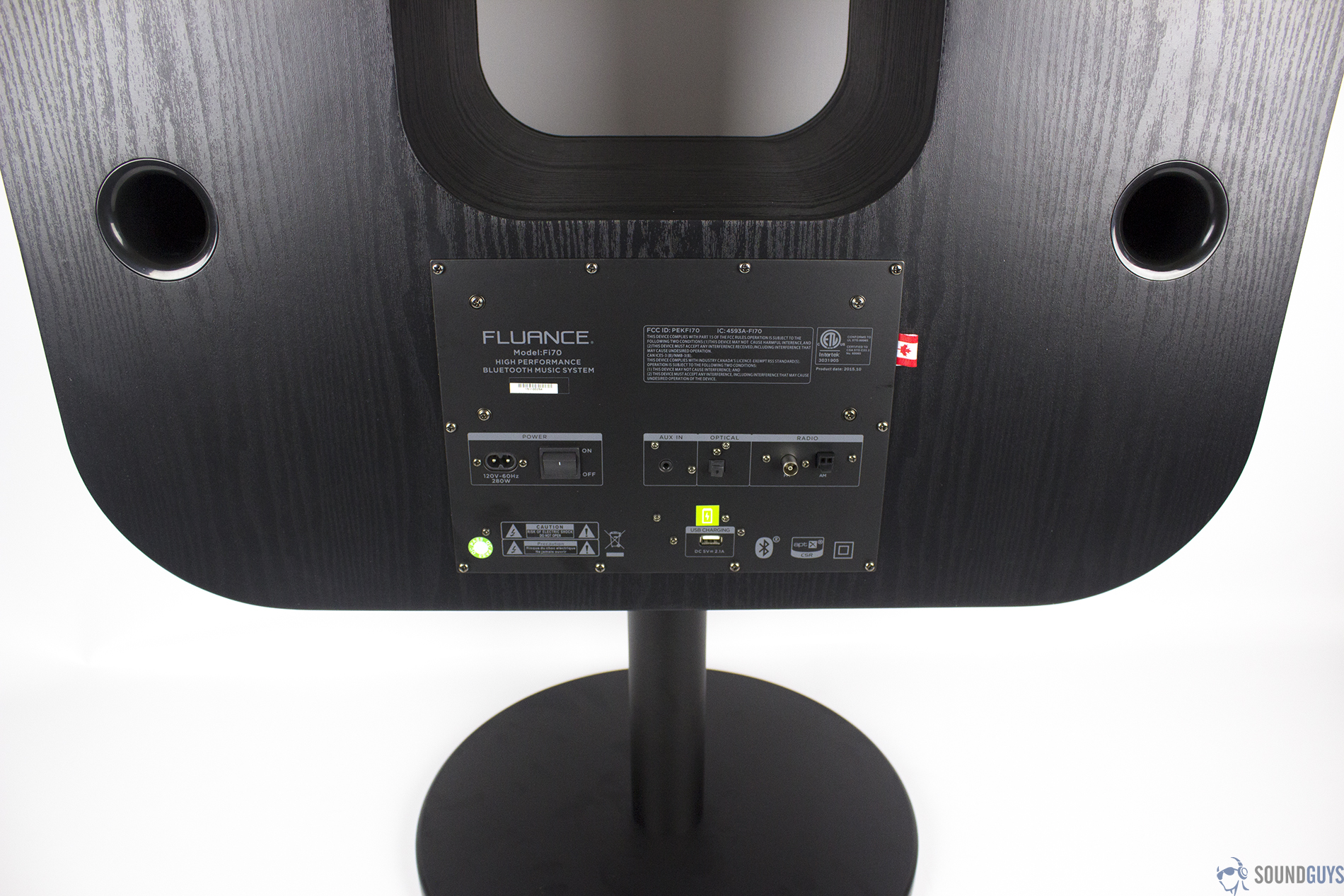 On the brightside the included remote is sophisticated enough to compete any task remotely (see what I did there?), but minimal enough that it won't get in your way. There's no "figuring it out" with this remote, it just works. Still, the last thing many people want in their living room is another remote to lose, but I really enjoyed using this one.
Sound Quality
As previously mentioned we did most of our testing using Bluetooth, but we tested all of the other inputs as well. Except AM/FM because by now, I'm pretty sure everyone knows how that works.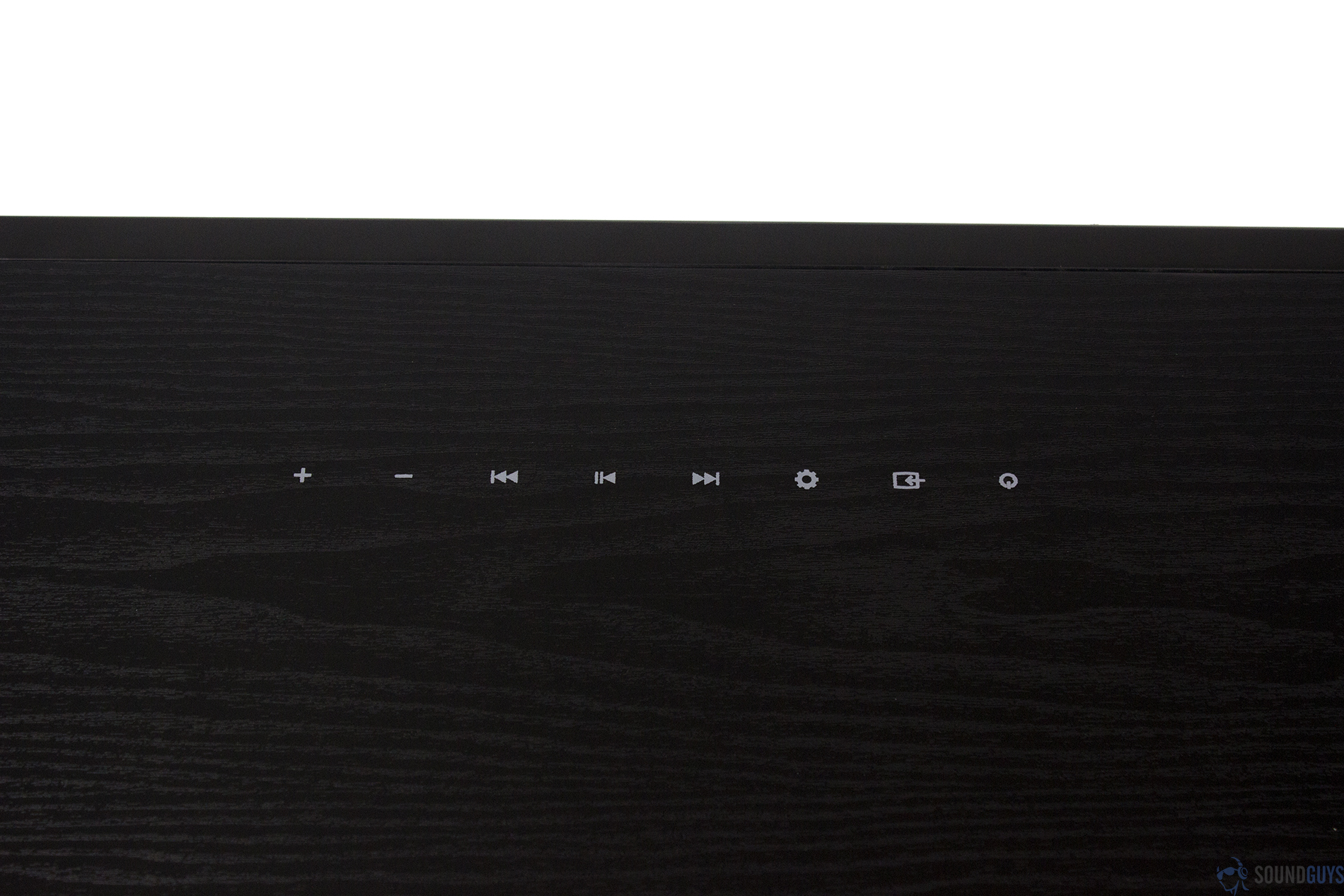 Lows
If you needed a reason to get this speaker, this is it. The lows are powerful, deep, and any other adjective used to describe a strong low end. Songs had tons of bass and you can feel the rumbles in action movies. In fact, it's almost too powerful and does sometimes overstep its boundaries when it comes to music in particular. Luckily, you can control the bass with the remote, so any issues I had with the bass were quickly dispelled with a few clicks of a remote. 
Mids
Mids were fine but they weren't anything to write home about. Instruments had a solid amount of detail and grit, but they weren't spaced apart too well. A good example of this was in "Lover Come Back" by City and Colour where guitars came through clear but snares didn't seem to have any depth. 
Highs
The highs were pulled back a fair amount, which took away from some of the detail in the highs but made it very enjoyable to listen to music on max volume since nothing sounded harsh or piercing. "Youth Group" by Slow Magic has a lot of the high piercing sounds throughout, but none were too hard to hear even when standing close to the speaker. 
Conclusion
In the end, the Fi70 delivers on what Fluance always does: great audio at a cheap price. $700 isn't cheap, but it's not overpriced considering the quality of the speaker that you get. In fact if it weren't for a few things, this would be a "must have" for sure. One of the main issues is the size of the speaker. It serves its purpose delivering a solid experience, but it's just so big. Getting it into your livingroom is a task in itself, but finding a decent spot for it is even tougher. The other issue is the strength of the Bluetooth which is decent, but not great. Still, if you want quality sound, don't want to spend too much, and want a seriously pretty piece of art in your house then the Fi70 is a no-brainer.