All products featured are independently chosen by us. However, SoundGuys may receive a commission on orders placed through its retail links. See our ethics statement.
The bottom line
The Creative Nova portable smart speaker can do almost everything. Unfortunately, this feature-packed speaker falls short in nearly every way, save for the multitude of connection options available. If you prioritize versatility and affordability over all else, get this; otherwise, keep looking.
Creative Nova
The Creative Nova portable smart speaker can do almost everything. Unfortunately, this feature-packed speaker falls short in nearly every way, save for the multitude of connection options available. If you prioritize versatility and affordability over all else, get this; otherwise, keep looking.
What we like
IP55
Amazon Alexa integration
Bluetooth and Wi-Fi
Multi-room playback compatible
What we don't like
Connection stability
Battery life
Bluetooth 4.1, SBC only
Rating Metric
Sound Quality
3.6
Bass
2.7
Midrange
8.0
Highs
0.1
Durability / Build Quality
8.1
Value
8.5
Design
7.5
Portability
6.0
Battery Life
5.7
Creative's products range from affordable and high-value to expensive and, well, still high-value. Today we're looking at its Alexa-enabled smart speaker, the Creative Nova. This tumescent egg is IP55 rated, features a five-driver array, and can be used in or out of the home. On paper, it's a true Swiss Army knife of a speaker. In practice, though, it performs more like a butter knife.
Who is it for?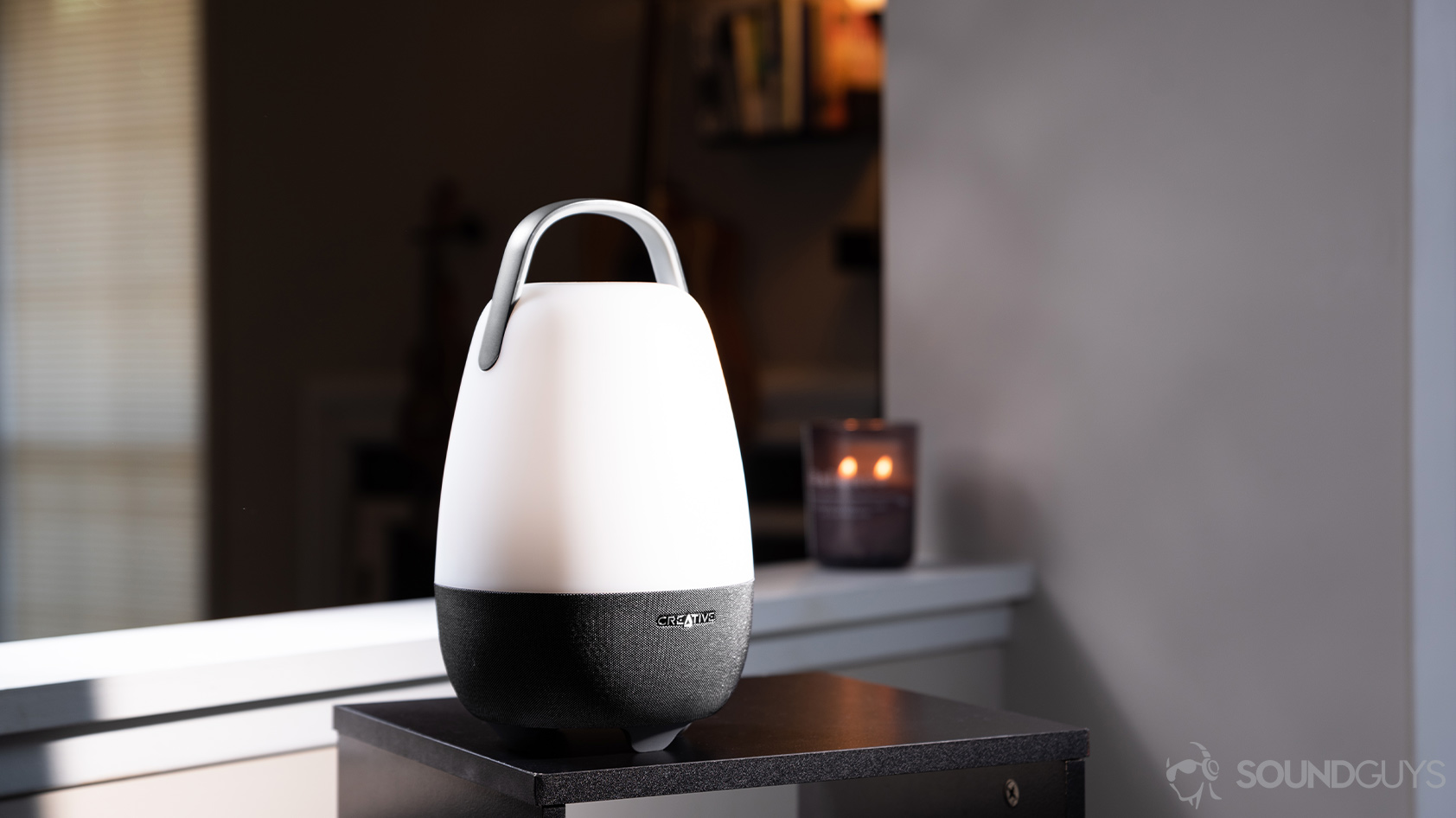 The Creative Nova is lightweight for its size.
Chefs are no stranger to smart speakers. They're convenient for having a recipe recited to you step-by-step. What's more, you can set timers and reminders, so you never miss a step in a recipe.
Budget smart home enthusiasts may consider this speaker for its versatility. The Nova is Alexa-enabled, meaning it can be directed to stream music from your favorite services, relay the weather, and more.
People who have trouble sleeping will be charmed by the array of nature sounds built into the speaker. By pressing one of the buttons on the control panel, you can cycle through a few ambient soundscapes. If you pair this with the 16.8 million color LED show, it can make for a relaxing bedtime routine.
What's it like to use the Creative Nova?
The Nova can be taken on the go or from the kitchen to the office via the hard-plastic handle.
The Creative Nova may not be the most exciting smart speaker to hit the market but there's plenty it can do. The top panel, a greyed out circle, houses 11 buttons. You can alternate light settings, prompt nature sounds, enter Bluetooth/Wi-Fi listening modes, and more. It's easy to navigate.
You can access Alexa from the top panel, but it's easier to say, "Alexa." There were only a few times out of my weeks with the Nova that the hot word went undetected. Of course, to actually use Alexa, you have to connect the device via Amazon's proprietary app, which takes only a few moments. From then, you can stream over Wi-Fi from various services like Spotify. Creative's Sound Blaster Interconnect app, on the other hand, isn't necessary but is useful for things like controlling multiple Nova speakers throughout your house.
I'm not enamored with the design. It sticks out more than it blends in. Granted, this may speak more to my interior design choices than the speaker itself. Regardless, the hard-boiled egg look isn't my aesthetic. It does, however, emit a nice and bright multitude of colors from the translucent shell. Plus, the four rubberized feet effectively reduce any unwanted sliding on even the slickest surfaces.
The microphones do an excellent job at picking up voice commands from afar.
A thick, plastic handle protrudes from the top of the Creative Nova, making it easy to bring from room to room or out on a short adventure. I do mean short because battery life isn't great especially for a speaker of this size. The IP55 rating means you can take it to the beach without too much worry. However, if you want something more durable and portable, look into the JBL Flip series instead.
How long does the battery last?
According to our testing, the speaker's 2200mAh battery lasts 5 hours, 12 minutes on a single charge before needing to be returned to the included 18V adapter. Seeing as this is intended to be an at-home speaker with the option to take on short adventures, the truncated battery life shouldn't pose too much of an issue. That said, if you are keeping this at home, it demands a consistent power supply. Standby battery life is nearly non-existent.
What's the best way to connect the speaker?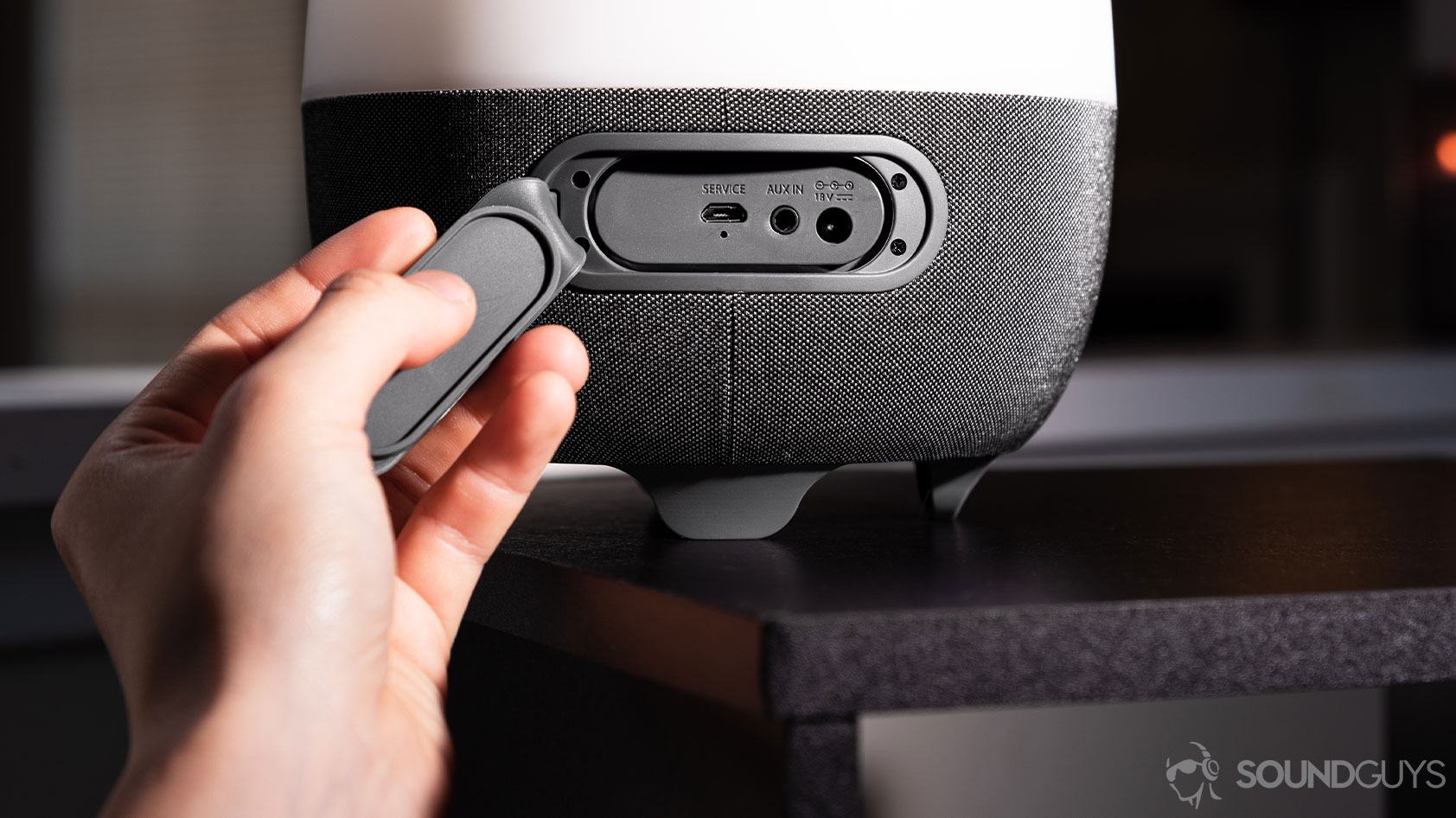 Wi-Fi connectivity is a great compromise between convenience and audio quality.
To get the best audio quality, connect via 3.5mm input. Of course, doing so requires your phone to have a headphone jack, so your mileage may vary with that option. Most of us will likely opt for connection over Wi-Fi. This affords much better streaming quality than Bluetooth, especially because this only supports SBC. It's also necessary if you want to direct Amazon Alexa to execute any commands. Additionally, speaker placement doesn't really matter when connected via Wi-Fi, but you're limited to a 10-meter wireless range over Bluetooth.
That said, our review unit struggled to stay connected to the Wi-Fi network. There were a handful of times I was streaming from Spotify and the speaker disconnected out of the blue. However, my computer's internet connection was unaffected.
What does it sound like?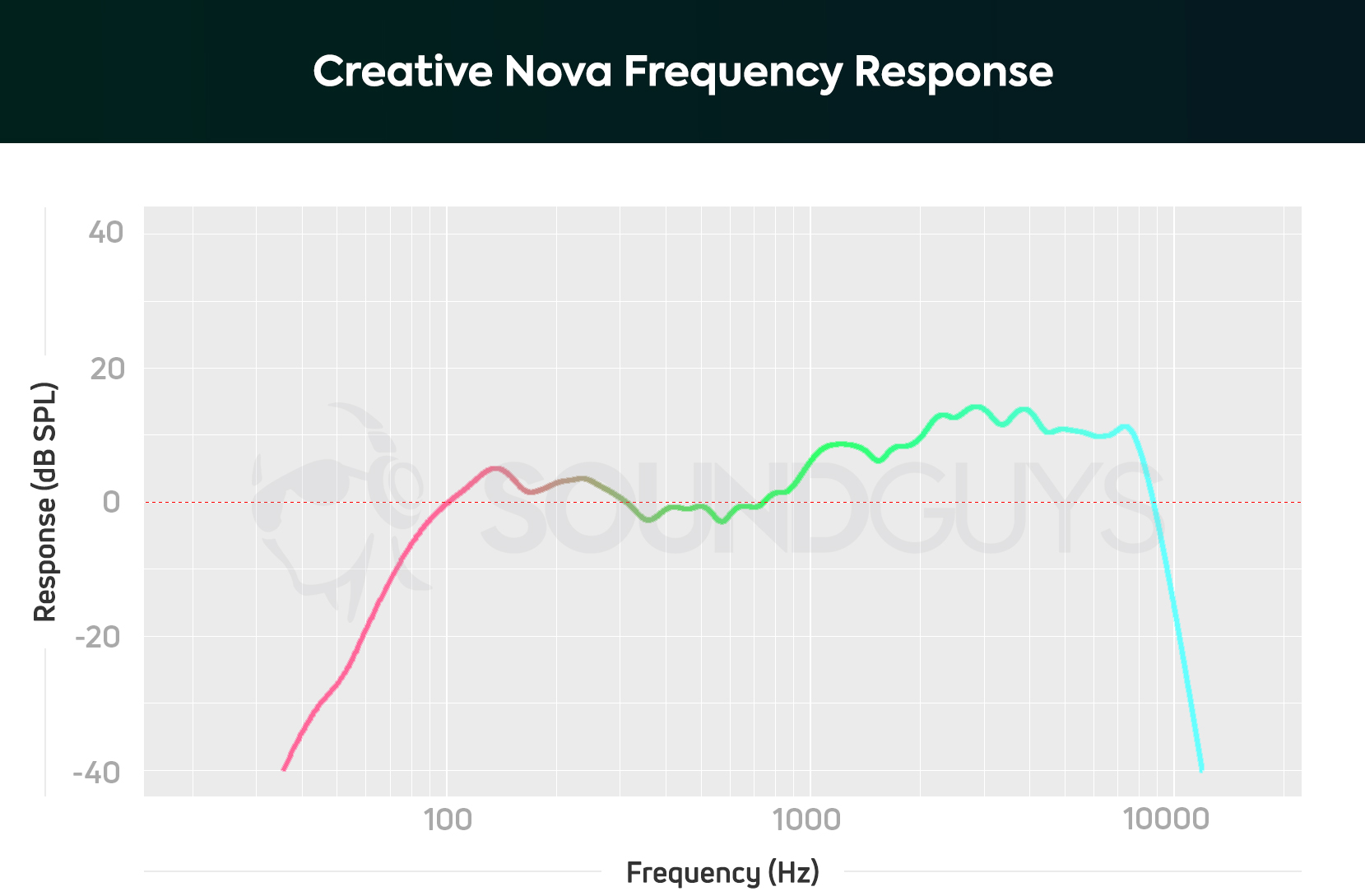 The Creative Nova doesn't excel in sound quality. It lacks clarity, which is further degraded as volume increases.
The speaker gets loud and sounds fine. It features a five-driver configuration, one of which is a downward firing woofer. As you can see from the frequency response chart, bass frequencies are emphasized due to the woofer and dual passive bass radiators. With volume maxed out, you can feel the soundwaves' vibrations reflecting off of nearby surfaces. While this is effective for filling a room with sound, it doesn't do so with great clarity. Midrange frequencies are relayed quieter than their low-end counterparts, making it difficult to hear vocals and instrumental nuances.
Billy Raffoul's raspy timbre in the song Mental Health (Can't Do This By Yourself) is difficult to appreciate when listening with the Creative Nova. This is unfortunate since midrange frequencies are technically the most accurate part of the speaker's sound signature.
Unfortunately, his vocal register is overshadowed by cymbal clashes which are reproduced with twice the loudness of his voice. Now, to be clear, the fundamental frequency of his vocals are audible. It's the nuanced details of his reverberating tone that's lost by the Nova. This emphasis may be forgivable if treble reproduction was done so with remarkable clarity. As we know, this isn't the case: the five-driver array can't parse apart various frequency ranges.
That said, bass response, while not accurate, is great for outdoor use. It's loud and easy to discern above outside ambient noise like wind, passing cars, and rustling leaves. What's more, for pool parties its loudness and bass-heavy response is exactly what you want.
Is the mic good for phone calls?
The integrated microphone adds a healthy amount of amplification to voices.
The dual far-field microphones are capable of carrying you and your friend through a brief call. It relays most vocal ranges at a relatively equal loudness. However, the audio quality isn't the best: voices sound muffled, likely a consequence of the attenuation from 20-100Hz. It does amplify the voice quite a bit, though, which may be nice if you're multitasking while talking. That way, you don't need to shout in order to be heard.
Creative Nova microphone demo: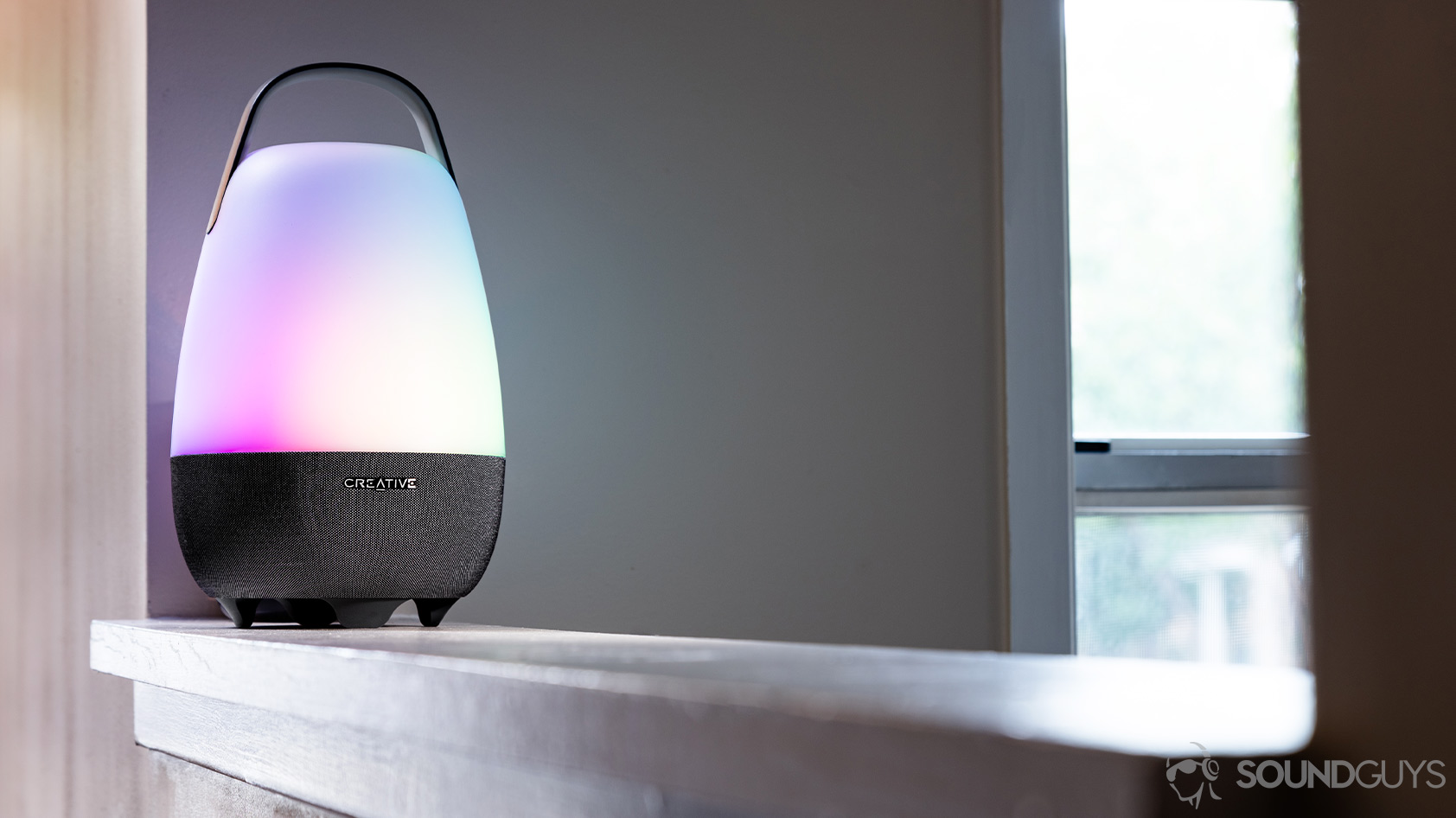 The light show is relaxing and can be set to a 15, 30, or 60-minute timer.
If you need a speaker that can do seemingly everything, yes. However, just because it can do a lot, doesn't mean it does it well. It's a speaker first and foremost, however, sound quality isn't remarkable; it's just fine. Additionally, the nature sounds are cool and can be relaxing, but as someone who has a hard time falling asleep, I didn't find this to be a real aid, more of a gimmick.
That said, there's plenty to love about the Nova: the LED color show is relaxing and the speaker is lightweight for its larger footprint. That said, if you're willing to spend a little more, you can get a much better bang for your buck in terms of sound and build quality.