All products featured are independently chosen by us. However, SoundGuys may receive a commission on orders placed through its retail links. See our ethics statement.
CES 2023 Dispatch from the show floor: Part 1
We're at CES this year, and here's some of what we saw and heard!
CES is the world's largest annual consumer technology expo, and the 2023 edition is now in full swing, with thousands of exhibitors and media representatives descending on Las Vegas from around the world. Here are a few of the things SoundGuys has been checking out at the various locations and events so far!
CES Unveiled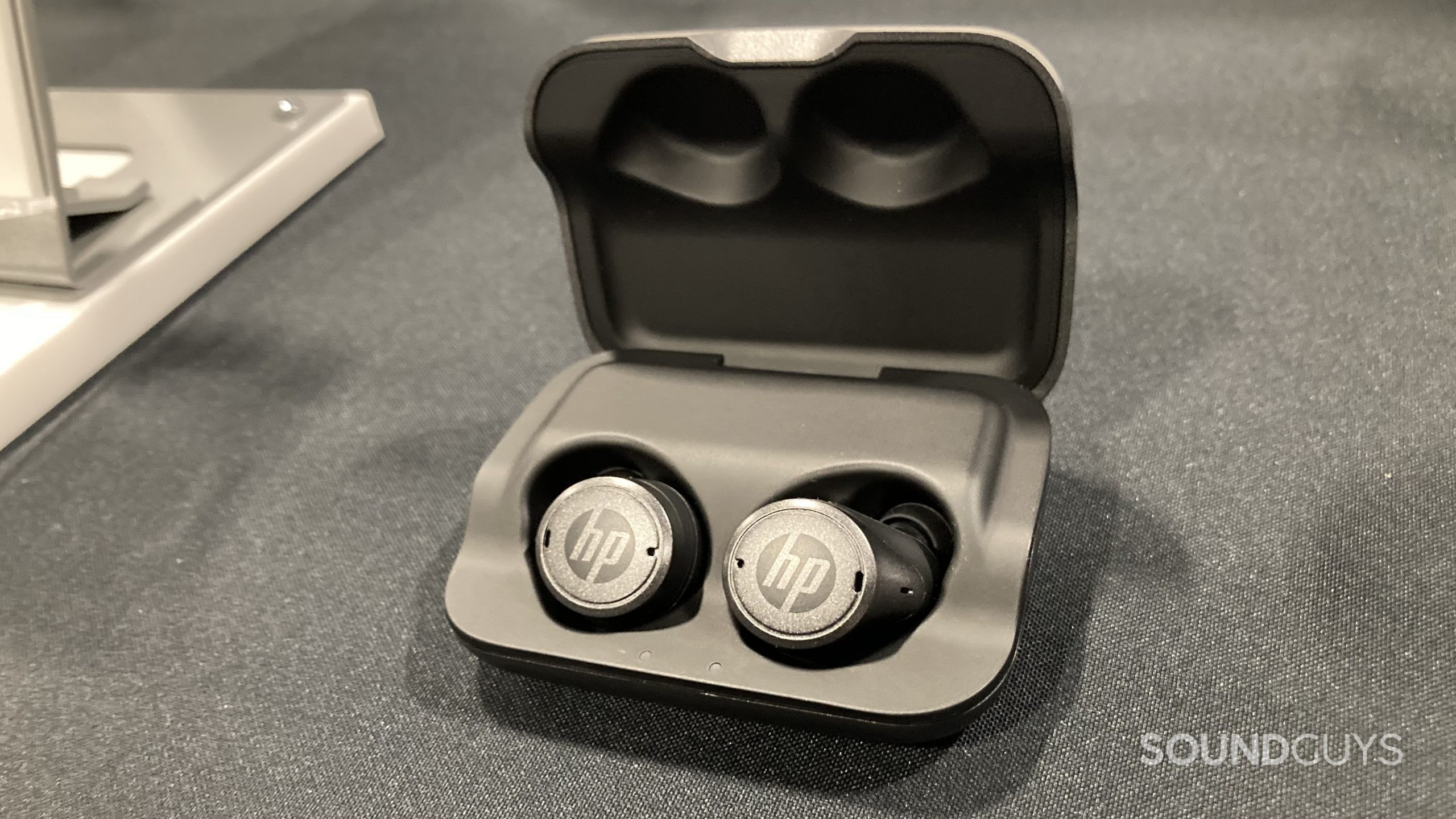 While the concept of hearables has been around for a while, 2023 is the first CES since the FDA established the over-the-counter (OTC) hearing aids category for adults with mild-to-moderate hearing loss. We've seen a number of these products at the show so far, some from brands that are likely already familiar, and some that may not be. Nuheara, partnered with Hewlett Packard, has launched the FDA approved, HP Hearing PRO. There's the seventh generation device from Eargo, a very discreet in-canal hearing assistance device that adds sweat resistance to the Eargo 6 feature set. We also saw the Jabra Enhance Plus on show.
DeeBee's new wireless ANC headphone as worn by AJ at "CES Unveiled."
We took an opportunity to hear a demo from DeeBee, a new French audio company offering quality sound in wireless ANC headphones with appealing fashionable color options with magnetic, changeable leather ear pads.
While HyperX didn't have any new headphones to show, it did have some amusing customizable headphone accessories. Called HX3D, the new service uses the 3d printing prowess of HP (who acquired HyperX from Kingston in 2021) to offer custom keycaps—the first available design will be the Cozy Cat keycap, which you'll be able to get for $19.99 USD sometime this month.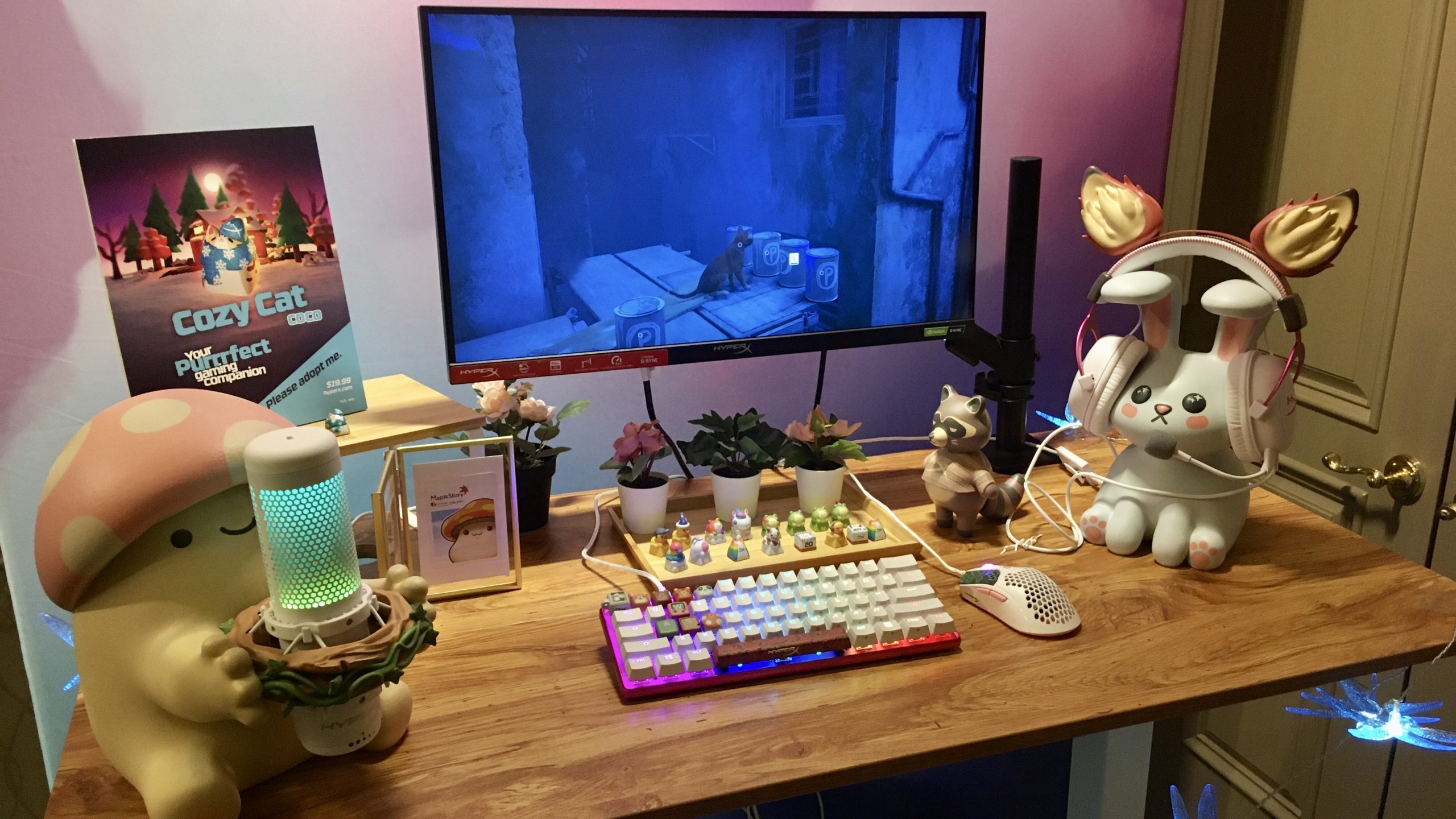 3d printed keycaps mean you can eventually have a dragon or a penguin or a cat living on your keyboard, if you like.
Razer was kind enough to show us two new gaming audio products. First up was the Razer Leviathan v2 Pro, a computer-oriented soundbar with an external subwoofer. The desktop soundbar incorporates head tracking together with beamforming loudspeakers to create a personalized audio experience for the user that can create soundfields that can replicate the experience of using headphones, or a 5.1 or 7.1 surround sound system, with THX certification. During a brief demo we got to hear the effect the signal processing has on stereo music, game audio, and surround sound enabled video content, and were very impressed by what we heard.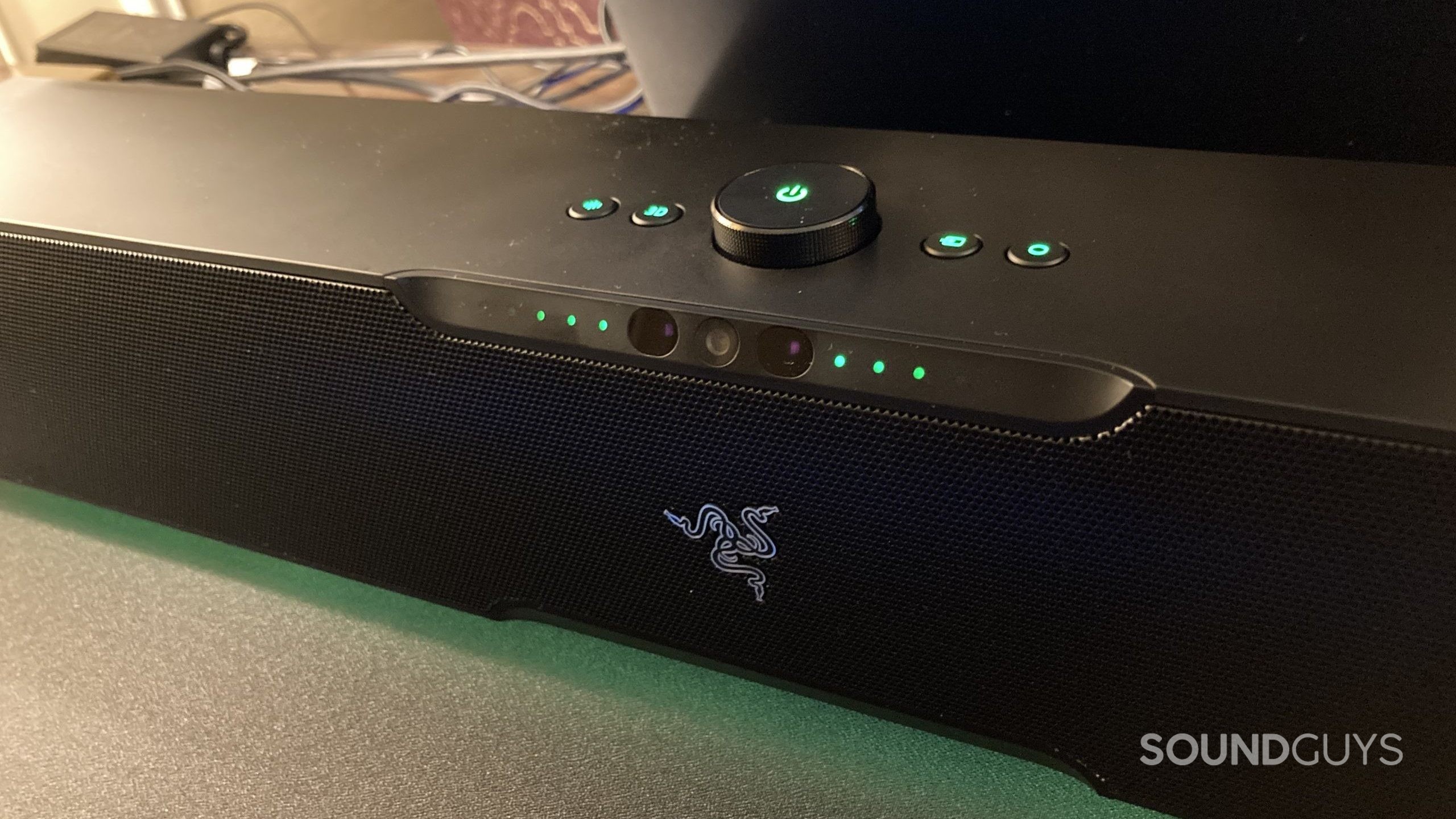 Razer Leviathan v2 Pro soundbar (subwoofer not shown).
Razer also had an attachable headrest accessory for gamers that incorporates two loudspeakers mounted behind the ears to provide the rear channel surround elements, part of an immersive gaming experience. There's no official title, but Project Carol, as it's currently known, should be compatible with all Razer gaming chairs when it eventually comes out. No demo was available during our time at the Razer booth.
Wisear gave a private demo of its effective and impressive jaw clench detection and eye tracking earbud technology, together with a pitch for its handsfree, voiceless control system concept for hearables. The jaw clench detection feature means that you'll be able to do things like play or pause music or answer phone calls just by clenching your jaw, perfect if your hands are full of groceries and your phone starts ringing.
Meze Audio at the show providing demos of its flagship Elite headphones, as well as the slightly more accessible 109 Pro model shown, which left a very positive impression.
Urbanista announced its Phoenix earbuds in September 2022, with an official release here at CES. These buds have a standout feature that appeals to us at SoundGuys since we're always happy to see any efforts made to environmental reduce the impact of consumer electronics: the case charges using an integrated panel made of Powerfoyle solar cells. It charges when exposed to all forms of light for a truly wireless audio experience.
Solar powered earbuds. What will they think of next?
The Harman Experience
Since the Samsung brand umbrella is apparently a big enough entity, it now needs its own event outside of the main CES venues. SoundGuys went along and received a guided tour of its latest offerings. This included a lineup of new products from JBL, featuring brand-new true wireless and gaming headphones: the Tour PRO 2 TWS earbuds with the world's first smart charging case; the Tour ONE M2 over-ear ANC headphone; and the Quantum TWS Air, featuring JBL Quantum Surround and dual source connection.
New JBL gaming headset designs are now inspired by XBOX and Playstation, with variants for each, allowing gamers to match their headphones to their consoles.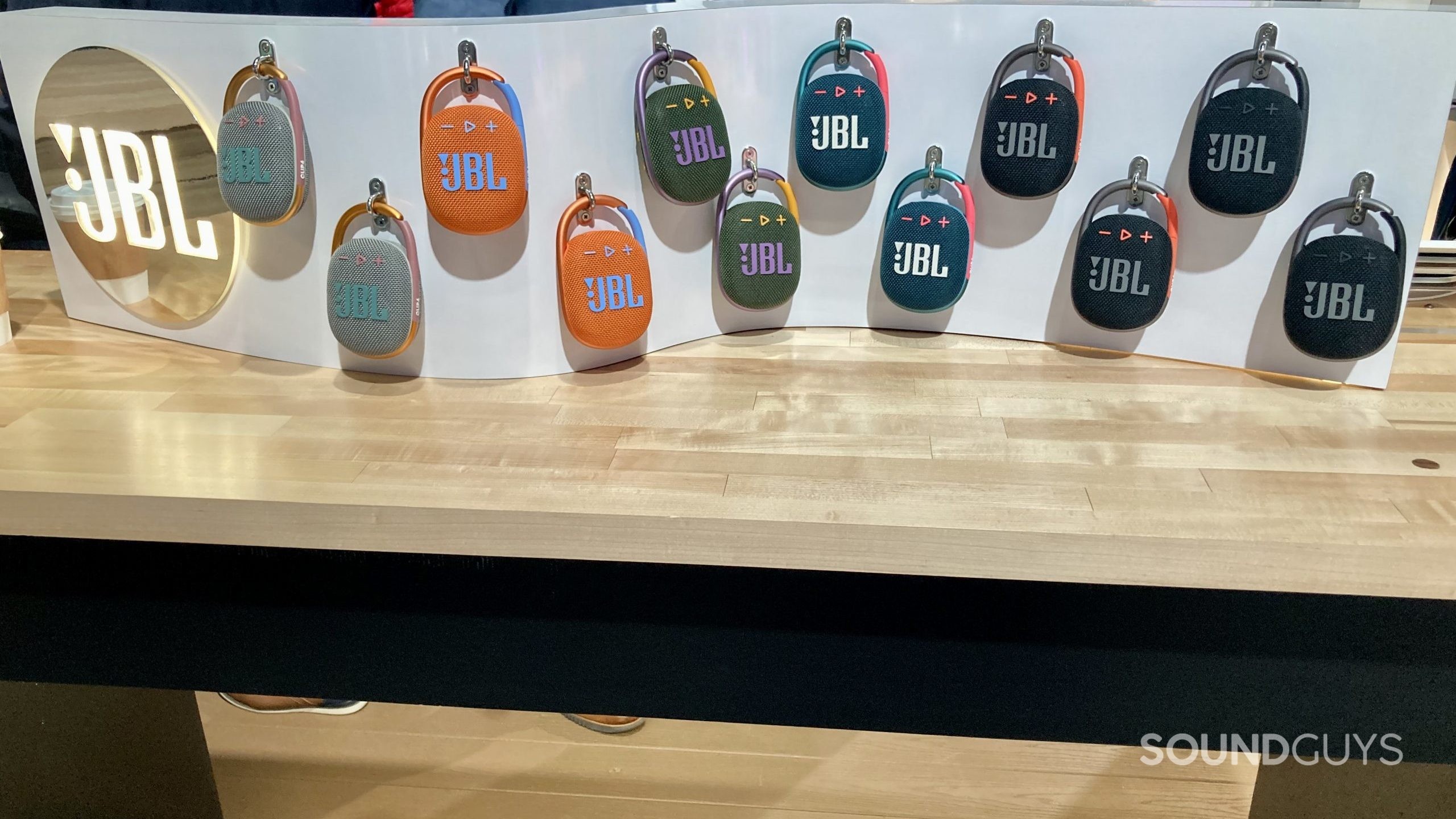 We also saw eco-friendly editions of popular portable JBL Bluetooth speakers, like the Clip 4 seen above.
There was a demo of JBL's most advanced soundbar yet, the flagship of the Bar Series: the Bar 1300X. This 11.1.4-channel home theater speaker includes Dolby Atmos and DTS:X onboard for immersive 3D sound. Inside, there are 21 total drivers, receiving up to 1,170 watts of power. This includes six up-firing drivers and HARMAN's unique MultiBeam technology to create the illusion of multiple sound source locations in the room.
Clear plastic case rendering of the JBL Bar 1300X showing the speaker driver arrangement.
The soundbar includes a 12-inch wireless subwoofer, and detachable wireless surround speaker modules that include an upfiring speaker and can last up to 10 hours on a charge (they charge when you reattach them to the main bar). Being wireless, you can position them wherever you like. They also double as Bluetooth speakers, either individually or a stereo pair, which is a very nice feature. For connections, there's one HDMI ARC to connect to your TV and three additional HDMI inputs. We also heard the JBL Spinner Bluetooth turntable in action.
Now see hear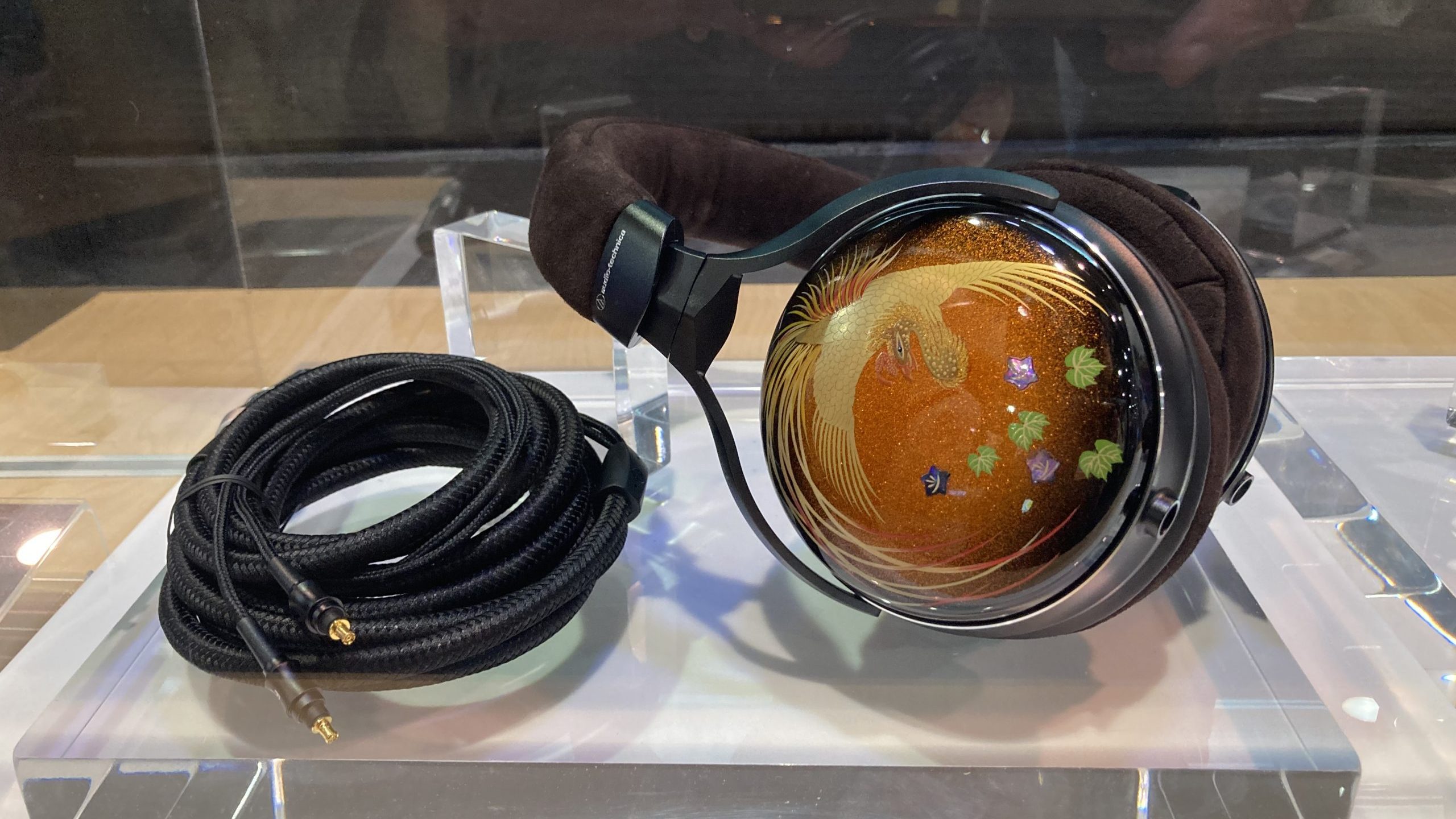 Our first glimpse of the $9,000 USD Audio-technica ATH-W2022 headphone.
Turntable maker Victrola granted us private demos of its new Victrola Stream Onyx, the newest addition to its Stream lineup. The Onyx is Sonos-verified and allows you to listen to your vinyl collection wirelessly, with no additional equipment, on your Sonos sound system. It seems wireless turntables are hot right now.
Victrola Stream Onyx Turntable
Sonical is another company betting on hearables and what it calls Headphone 3.0, and is very active in making it happen. We received demos of a few technologies it is working on, including its CosmOS operating system, app store, and high resolution, uncompressed audio sent over UWB (Ultra WideBand), which sounded great.
Knowles provided us a chance to listen to its KN-2 reference design TWS earbuds, incorporating both balanced armature and dynamic drivers. These are acoustically tuned in accordance with Knowles' consumer preference research, which indicates that listeners prefer more high frequency output above 10kHz than previously thought, and the difference was appreciable. We're hoping to measure these ourselves to see where our respective headphone target curves fall relative to each other.