All products featured are independently chosen by us. However, SoundGuys may receive a commission on orders placed through its retail links. See our ethics statement.
8.6
Bowers and Wilkins P7 Wireless
The bottom line
If you want a pair of high-end headphones that sound as good as they look, it's tough to argue with the Bowers& Wilkins P7 Wireless.
Bowers and Wilkins P7 Wireless
If you want a pair of high-end headphones that sound as good as they look, it's tough to argue with the Bowers& Wilkins P7 Wireless.
Dimensions
15.3 x 11.8 x 14.2 inches
What we like
Outstanding Design
Sound quality
Comfort
Optional wired listening
What we don't like
Price
Bass heavy
Mediocre isolation
Rating Metric
Sound Quality
8.6
Bass
9.3
Midrange
8.8
Highs
7.7
Durability / Build Quality
8.7
Value
6.9
Design
9.6
Microphone
9.1
Portability
8.2
Battery Life
8.7
If you're reading this review, chances are good that you're either already familiar with Bowers and Wilkins, or you've been sucked in by the stunning-looking hero photo. The long and short of it is: this headphone company makes their name on a combination of rock-solid audio quality and a striking design, centered around retro theming and soft sheepskin leather. Aimed at the buyer with some money to throw around, their headphones are no joke.
Enter the P7 Wireless. For $50 more than their wired-only little brother, you can grab a pair of well-regarded cans that offer top of the line Bluetooth connectivity, high fashion, and commendable performance.
But are they right for you? Well, that all depends.
What's inside
When you crack open the box, you'll find your P7 Wireless, a leather carrying pouch, a USB charging cable, a 3.5mm audio cable, and assorted documentation.
Build & Design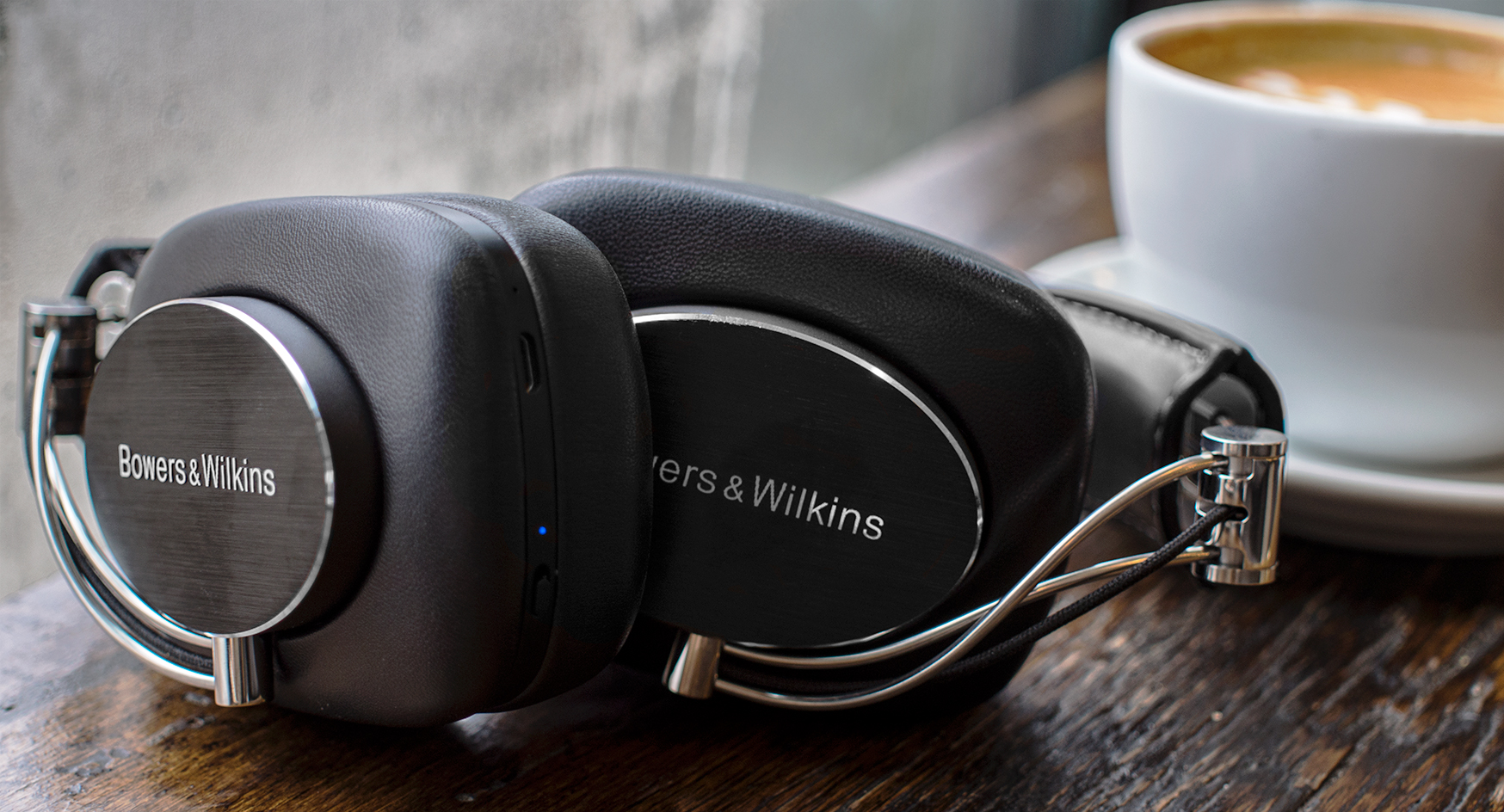 Able to fold up, the P7 Wireless is as portable as over-ears get.
It's hard not to gush a little when talking about the design of the P7 Wireless—as we've done in the past—because they don't sacrifice much function for form. Despite the obvious investment into aesthetics, I never really get the feeling that I'm going to break the aluminum-clad headphones, and they are hefty enough that they feel like they can take a little rough treatment from time to time. These are definitely fine to toss into a bag; just be sure to fold them up and stow them in the case first.
But that design, man. It's downright gorgeous. The leather looks great right out of the box, and the chamfers around the exposed aluminum glitter with the right lighting. I don't see these ever going out of style.
Where many leather-bearing headphones have some sweat and friction issues, the sheepskin on the band and pads of the P7 Wireless is super soft. Should anything get grimy, you can easily pop off the magnetically-secured pad structures to wipe down with a cloth. Should you want to use the wired capability of the P7, the left ear pad hides an angled jack where you can plug in the wire. Having a removable cable is the single most important thing you can do to improve the longevity of wired headphones, so it's a really great feature even if you're going to be using Bluetooth to jam out most often.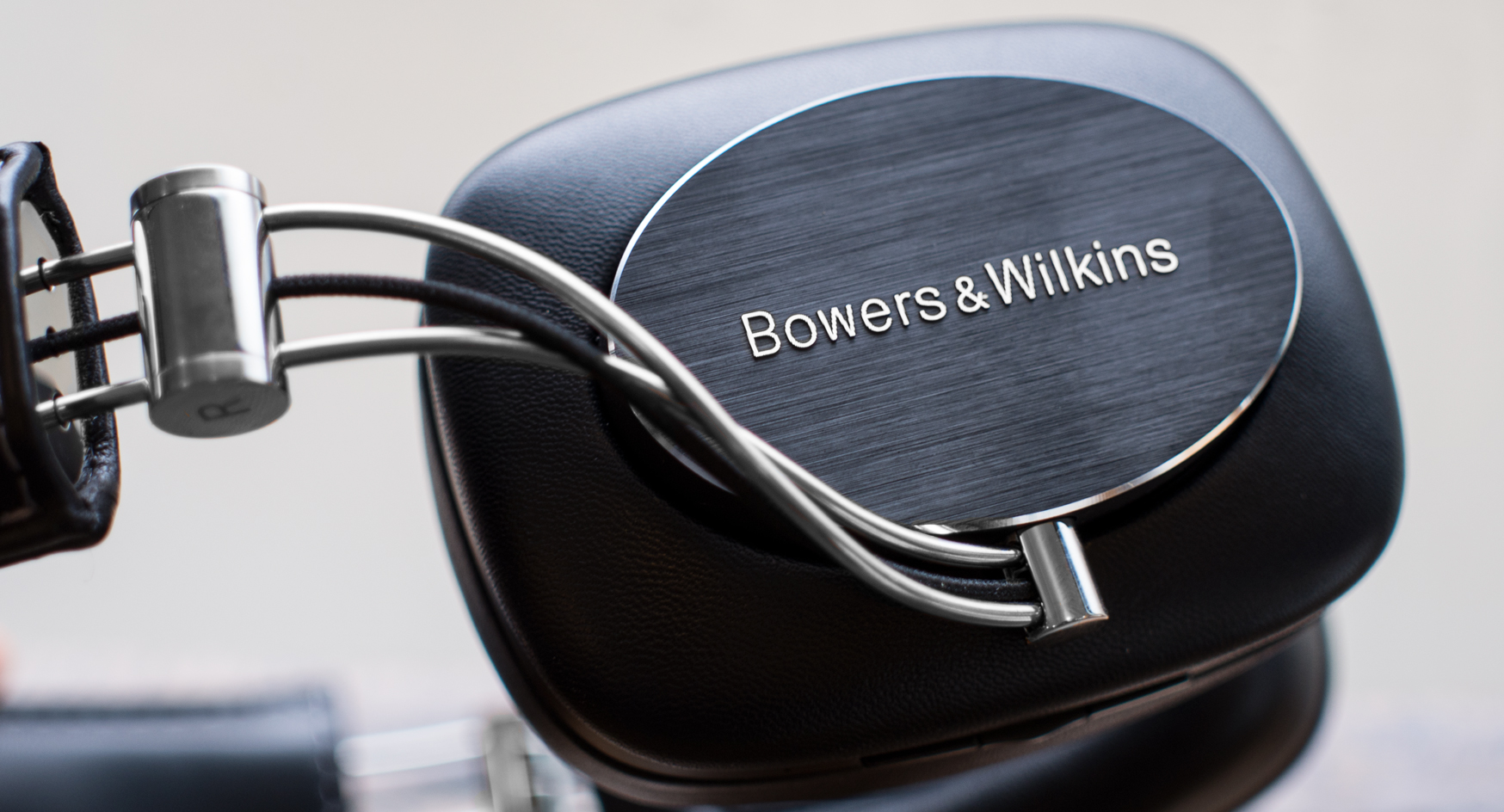 Striking a mix between retro themes and modern accoutrements like removable cables, the P7 Wireless has a timeless design.
If I'm forced to pick a nit with the closed-back design of the P7 Wireless, I have to venture into territory that's unfair to Bowers & Wilkins. An issue inherent to the nature of closed-back headphones, you may find that using the P7 Wireless for hours on end leads to really toasty and uncomfortable ears. This is due in part to the seal the sheepskin leather provides, but also it's because very little air can get in or out of the chamber. Like I said, unfair, but something to be aware of. You'll find that this is the case with most closed-back over-ear headphones that have a good seal.
Speaking of good seals, some users have found that these headphones don't particularly isolate all that well—but I disagree. If you've ever used a set of V-Moda cans, these remove you from the world similarly well, and better than the venerated Audio-Technica ATH-M50x. To help with this, Bowers & Wilkins uses a trick of sound performance to help out, but I'll explain that later.
Connectivity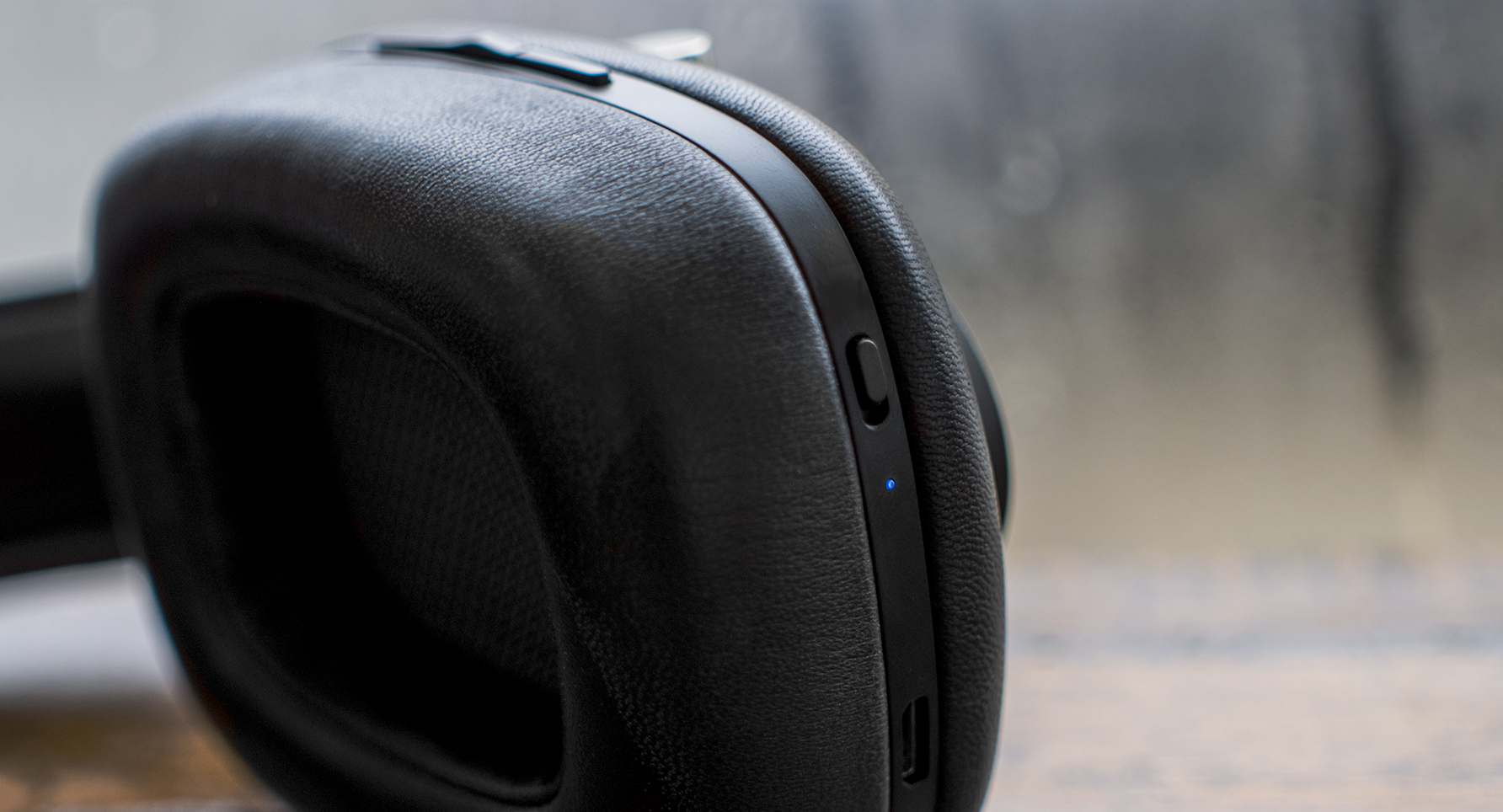 The Bowers & Wilkins P7 Wireless' Bluetooth toggle is unobtrusive and easy to operate.
In terms of wireless connectivity, the P7 Wireless is loaded to the gills with all the latest tech. Supporting a laundry list of Bluetooth profiles including AAC, aptX, and A2DP, you can bet the farm on this set of headphones making the most out of your phone's radio without any trouble. Really, in order for the headphones to really struggle, you have to be trying to make it fail by putting walls in between you, moving over 30 feet away, or riding that battery to the very last milliwatt.
Controls are limited in scope to just a play/pause button and volume up/down, but that's fine. You can also toggle Siri/Google Assistant by holding down the play/pause button, which is making the most of a limited control scheme. Said buttons are hidden on the back of the right ear cup to blend in with the black-colored areas of the headphones. On the bottom of the right ear cup is the microUSB charging port, the microphone, and the power/pairing slider. To pair the P7 Wireless to your phone, turn the unit on, then press the slider in to enable pairing mode—the rest is handled on your phone.
On the back of the P7 Wireless' right ear cup are the simple controls for volume and playback.
Battery
Though the product specs list a battery life of about 17 hours, in my experience it's closer to 15 with some phone calls and barking orders at your smartphone. But honestly, that's more than enough to cover a week's worth of commutes, or about two days of listening nonstop at the office. Considering you could very easily charge these bad boys at night (or just switch to wired listening), that's not really a knock against them a all.
Sound Quality
Sound quality is rock-solid for this type of cans, without audible distortion, clarity issues, or obvious flaws in Bluetooth or wired listening. However, some may find that the heavy emphasis on bass is a little off-putting for them. If listening in an ultra-quiet environment most of the time, you may want to equalize your music a bit, but these cans do passably well on a noisy commute. Just don't go too crazy with the volume, as the P7 Wireless does tend to leak sound (annoying bystanders in some situations).
The P7 Wireless aren't studio cans, they're made to sound good for casual listening. That means that rather than make everything sound clinically perfect, Bowers & Wilkins artfully tailored the emphasis on some notes so they stand out over others, and after 50 years of doing so: they've got a knack for it. Additionally, closed back headphones tend to lack the capability to fool your senses into thinking you're actually standing amongst the band. So if you're looking for a more at-home critical set of headphones, this isn't it.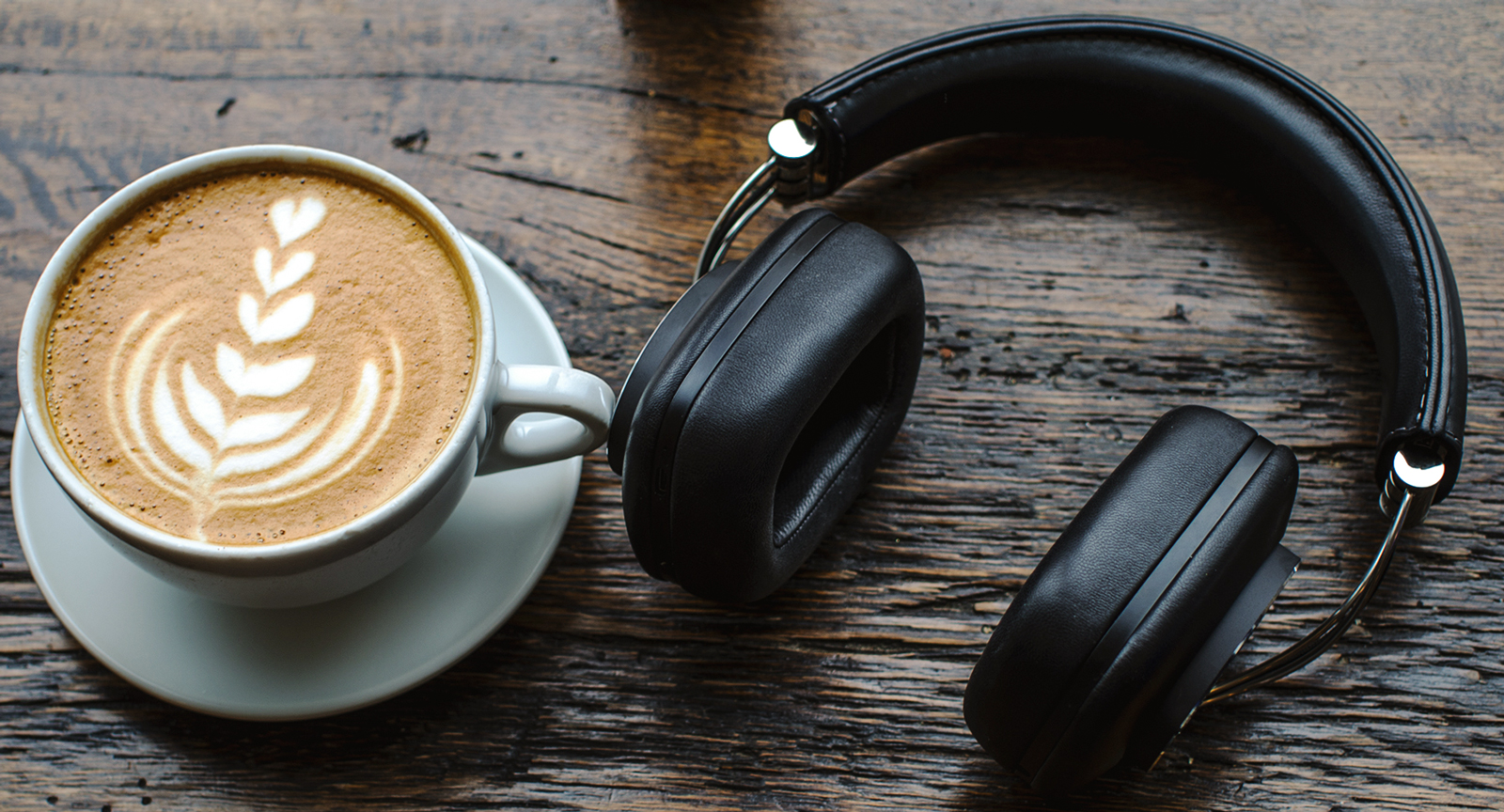 These are headphones built for chilling out.
Remember how I said these headphones were bass-heavy? Well, that has the added benefit of using a physiological concept called auditory masking to cover the headphones' weakness in noise isolation when listening to music. Provided the sound pressure level of outside engine noise is lower than your music when it reaches your ear, it'll be easier to ignore—while reducing that bass boost in your tunes. But that's a big if, and probably not the greatest thing for your long-term hearing. To be blunt, it's probably best to avoid cranking the volume for long.
If you're a fan of bassy music, you'll feel right at home with the Bowers & Wilkins P7 Wireless. You'll find that most music's basslines will stand out among the cacophony of instruments and vocals, while they don't completely drown out everything else. However, this really depends on what music you're listening to: rock and hip hop will sound great, but genres that rely on mostly mid and high notes (trap, classical) may sound a little differently than you're used to.
Taking a trip outside of bass-land, we find that mids sound pretty good. If I were a betting man (and I'm not, but let's just go with it), I'd say there seems to be a bit of a bump at the upper end of the mids to accentuate things like cymbal shimmer, drum and string attack, and help vocal harmonics stand a chance against that emphasized bass. If you desire perfectly-balanced sound you may not want this, but most consumer headphones will take artistic liberties with which notes they emphasize over others. Really, it's for the better in this case, and it helps.
Once you go any higher than that, performance is a mixed bag. Thankfully, what most people think of "highs" is actually "high mids," so what I'm talking about here is mostly just harmonics and incidental noises you seldom hear anyways. Though the P7 Wireless does de-emphasize many of these sounds over others, it does have a fairly sharp emphasis in the uppermost ranges of human hearing. You're probably not likely to notice this outside of a few fleeting shrill sounds like in World Order's Machine Civilization, or really brassy music for example.
Conclusion
These are supremely posh and premium headphones absolutely worthy of the pricetag. While some may balk at the $400 list price, what you're getting is a set of cans that feel and sound fantastic, either wired or wireless. Compared to some of the other options on the market, $400 is a little on the upper-end for this kind of quality, but worth it nonetheless. It doesn't hurt that they look great, too.
Obviously, the P7 Wireless isn't for everyone—no set of headphones is. It's a poor solution for anyone looking to mix tracks, or even for people like me who prefer a less bassy sound. But if you've got the money and want a set of bassy headphones that are a true luxury item, the P7 Wireless is as safe a choice as you can possibly make. On a commute or at home, they work commendably well—just be sure to fight the temptation to crank the volume too hard.