All products featured are independently chosen by us. However, SoundGuys may receive a commission on orders placed through its retail links. See our ethics statement.
The bottom line
If you have $699 to invest in a unique pair of great sounding headphones the Ella's won't disappoint you. But don't expect to use these comfortably anywhere but a desk.
If you have $699 to invest in a unique pair of great sounding headphones the Ella's won't disappoint you. But don't expect to use these comfortably anywhere but a desk.
What we like
Good sound quaity
Amazing build quality
Built-in amp
What we don't like
Large and bulky
Expensive
iOS compatible cable
Rating Metric
Sound Quality
9.3
Bass
9.5
Midrange
9.0
Highs
9.2
Durability / Build Quality
9.5
Value
7.5
Design
9.0
Microphone
8.0
Portability
7.0
Battery Life
8.0
UPDATE [March 2022]: This headphone is still available, but five years on, it might not be worth its price tag anymore (if it ever was). If you're just looking for a pair of wireless headphones, you can spend much less for equally good sound. Great-sounding studio headphones are pricey, too, but even the Beyerdynamic DT 880 PRO will cost you less than half of the Ella.
Blue Microphone is a company that has made a name for themselves in quality audio gear (mainly microphones as you might have guessed). But it's only in the last few years that they've added quality headphones to their line-up. The most premium of which are the Ella over-ears which are planar magnetic headphones that feature an internal amplifier so you can plug them into a mobile device.
What's Inside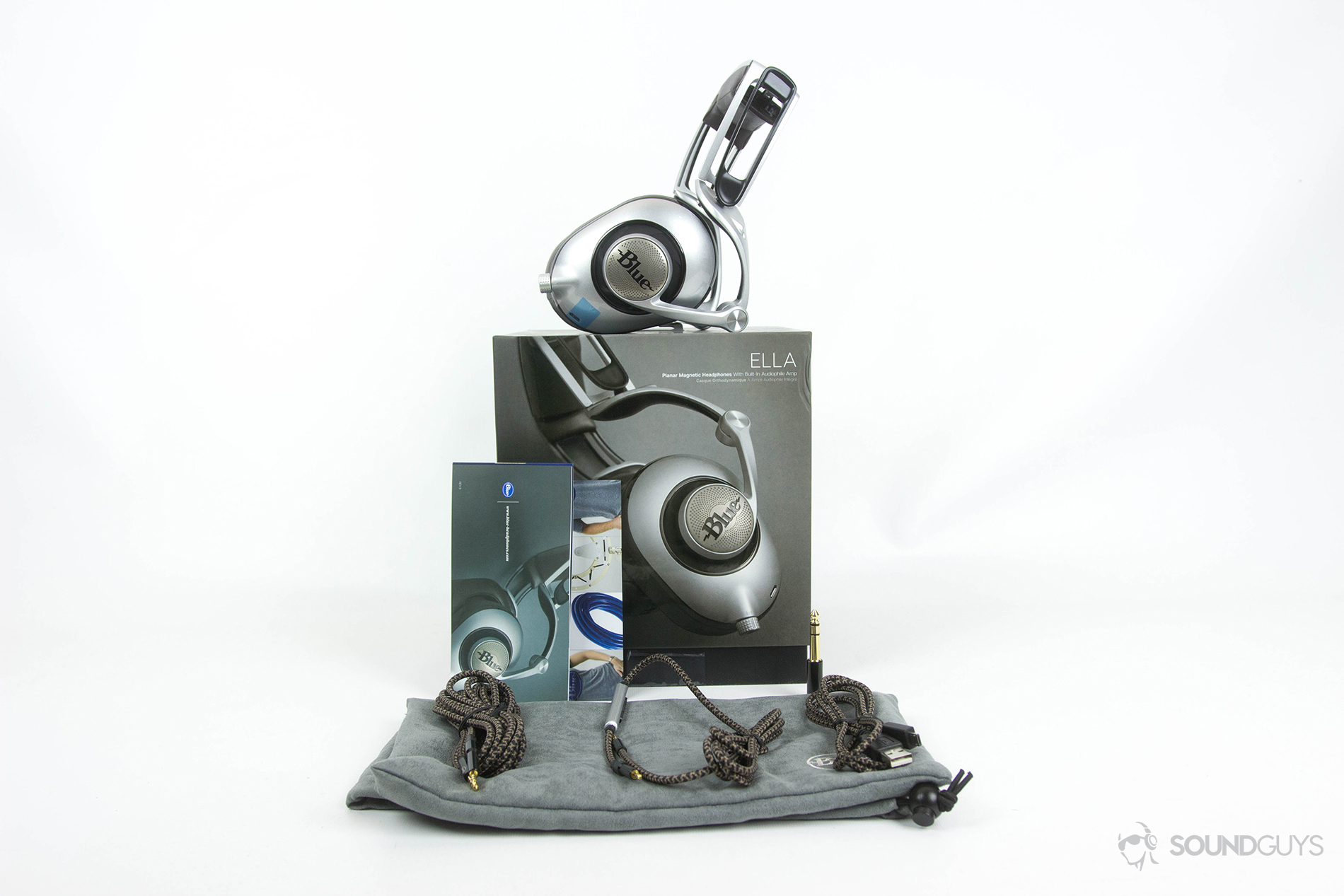 In the box you'll get the headphones, a soft carrying case, a 3.5mm audio cable 3m in length, and a standard 1.2m audio cable with a control module and mic on it.
Build & Design
At first glance, you'll notice that these don't look like your average pair of headphones. They use the same multi-jointed design that you'll find on the Lola's, which was the last pair of headphones we reviewed from the company. The metal frame has a unique method of adjustment which allows them to fit comfortably on your head. Pair that with the plush padding of the ear cups and on the bottom of the headband and these are super comfortable. That said, they aren't the lightest pair of headphones and in warmer weather you will have to take them off every now and then since ventilation isn't the greatest.
As far as listening sessions go these have the perfect amount of clamp to keep them from falling off your head without being too tight. The ear cups also completely surround my ear, helping provide an impressive passive noise isolation. Looking at them from a design perspective and it's hard to not like the way they look, even if it isn't the most practical for people on the move. The metal frame and leather padding makes for a dignified look that won't look out of place next to a collection of vinyls.
Speaking of which, these have a built-in 250mW amp in them and on the bottom of the left earcup is a rotating switch that lets you choose between three analog amp modes. One of them being specifically for bringing out the low-end character of vinyls. The second mode adds more power to music coming from a mobile device, or you can turn the amp off and plug these into a dedicated music player. The audio cable is also made of a gorgeous fabric that looks and feels great, but the control module on the mobile audio cable is a little too bulky for my taste. Still, overall these headphones look and feel great.
Connection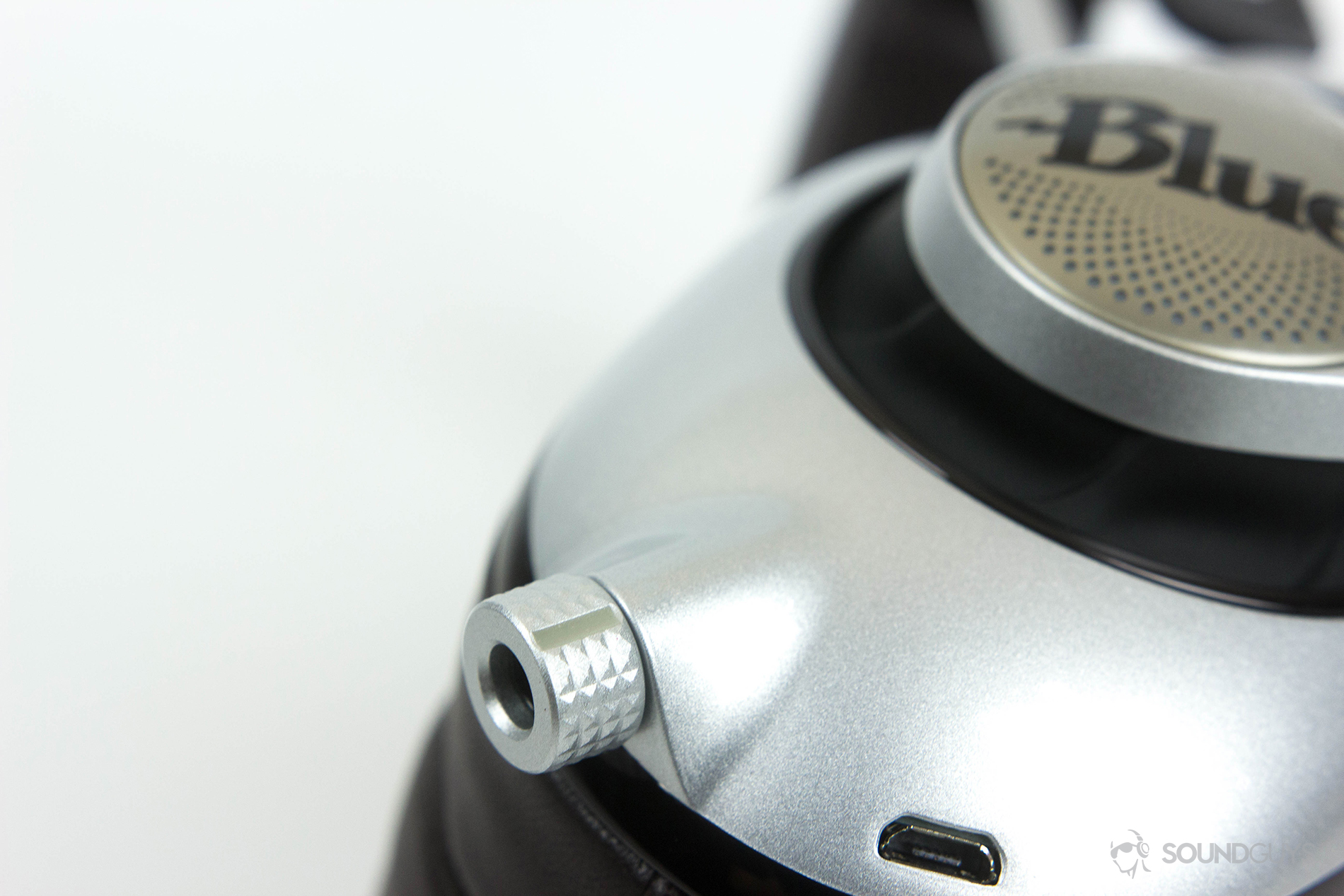 On the bottom of the left earcup is a 3.5mm input where you can plug in one of the included audio cables. For most of testing we used the cable that had a built-in mic and playback controls to see how they on mobile (should you decide to wear these out during a commute).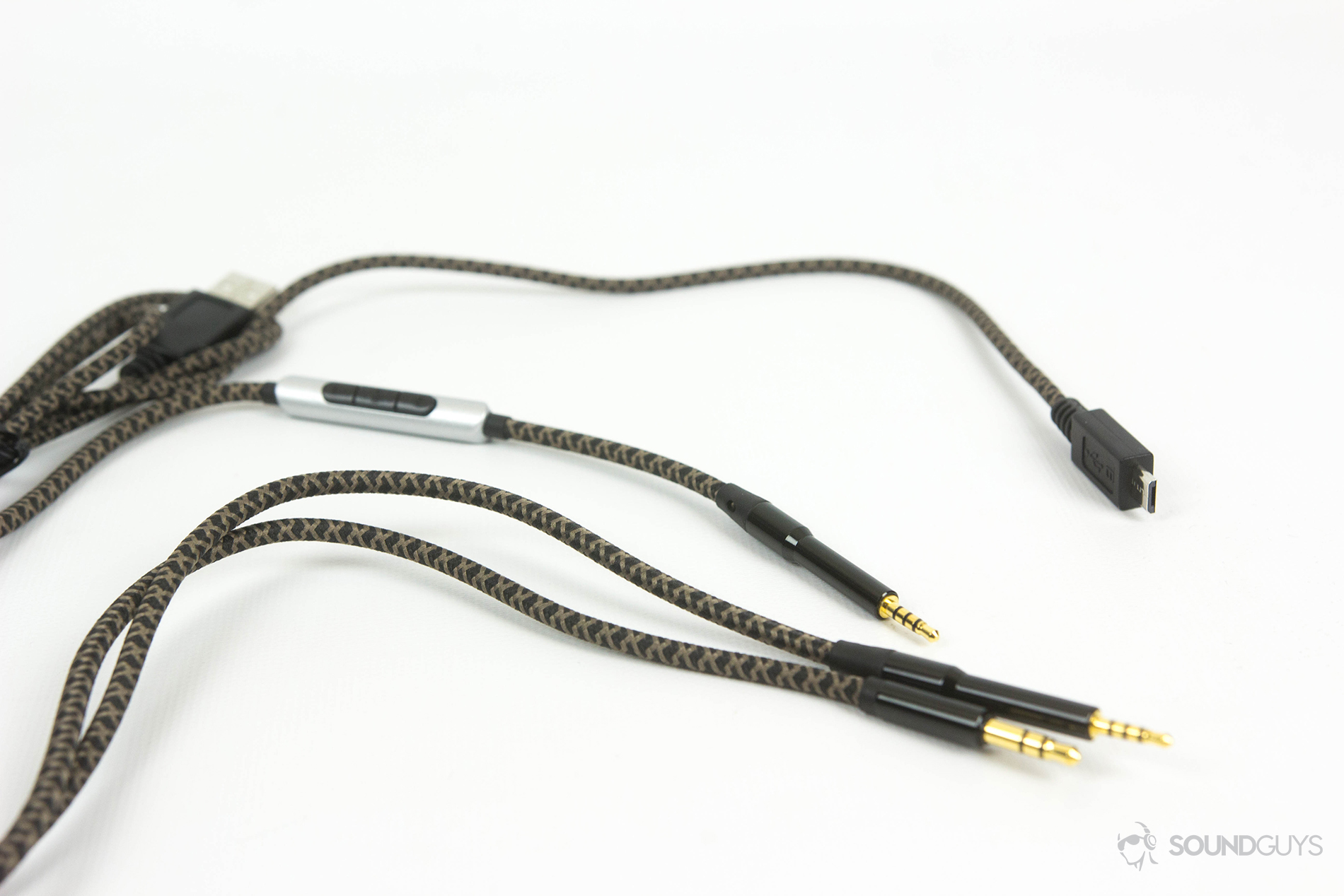 If you're rocking an iOS device this cable is perfect thanks to the 3-button mic and remote. With a few simple combinations of taps and holding buttons you can control volume, pause or play music, skip between tracks, fast-forward or rewind within songs, and also access Siri. Unfortunately that isn't the case if you're on Android. You'll only be able to pause or play music, skip to the next song, and access the Google Assistant.
Battery Life
Blue Microphones claims that the Ella's have a battery that will power the internal for 12 hours of constant playback. We have to say this is accurate because in about three weeks of testing we weren't able to get them to die thanks to a few smart ideas Blue had about energy conservation. For example, the amp will automatically power down after an extended period of time of not listening to music.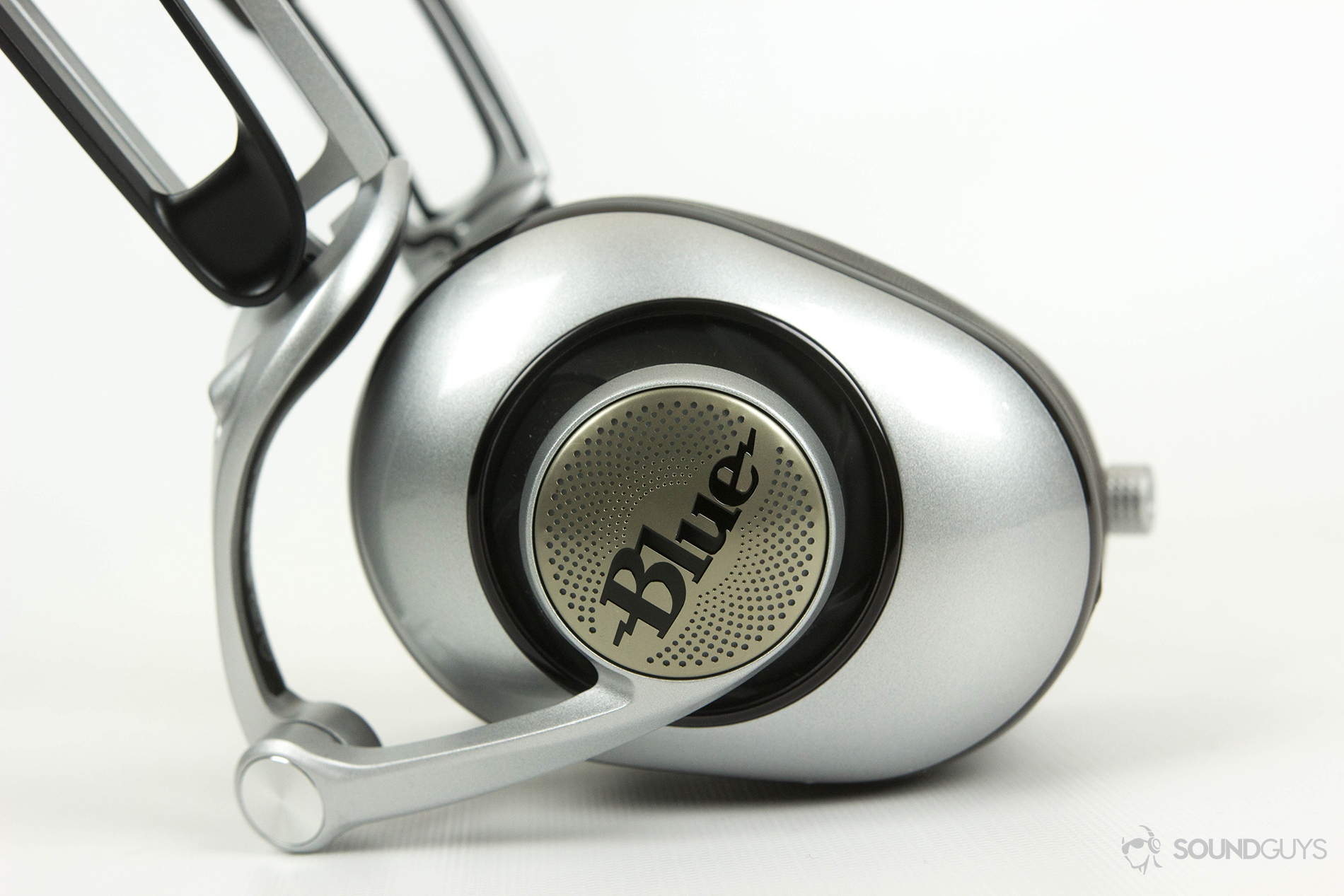 The headband itself can also sense when you take them off your head and cuts off audio playback when you do so, resuming playback when you put them on again. The microphone also has really good quality where people on the other end couldn't tell that I wasn't using my phone.
Sound Quality
As we mentioned earlier the amp has three modes: off, on, or on+. On+ adds a little extra low end so if you're a bass-head that's good news for you, but I did most of my testing with the amp on. One thing I noticed was that even with the amp turned on these didn't get as loud as I'm used to. It could just be that I've blown out my ears over the years but still, if you're one to blast your music that might be a deal breaker for you.
Lows on the Ella's are a perfect combination of strong but controlled. They never rise into the mids and the sub-bass in "Saturnz Barz" by Gorillaz keeps all of its grit in the background away from the vocals. Needless to say, it made for a very bumpable experience.
My go-to song for testing out the mids is usually "So Many Details" by Toro y Moi because even though there are hard hitting kicks and a groovy bassline (I love this song), the dreamy vocals and piano synth effects in the mids are equally important. Luckily, the Ella's did them justice. There's plenty of room for all of the instruments to coexist peacefully. One thing that really surprised me was how well the headphones handle spatial cues. It feels like you can really pinpoint the female vocals floating from the right earcup to the left one at 1:51.
The highs are handled just as delicately but with plenty of air to breathe. In the song "Night Air" by Jamie Woon the rhythmic hi-hat pattern playing in the background throughout the song has good detail and there's even a slight reverb to them that I never noticed was there before (cliche I know, but true nonetheless).
Conclusion
Blue Microphone really made an excellent pair of headphones with the Ella's. Sound is a very personal experience but I can easily say that these are one of my favorite sounding pairs of headphones. I do wish they would get a little louder, but everything about them sounds amazing. They even have impressive spacing for a pair of a closed-back headphones. Of course they aren't perfect.
I personally love the design, but it's one that's definitely meant for the stage, desk, or studio. Even though they come with an audio cable and built-in amp to help power them when listening to mobile devices, they're not too portable. Throwing in a backpack takes up a good chunk of space and leaving them hanging around your neck makes for an awkward earcups-on-your-cheeks situation just because they're so large.
But if you're looking for a great sounding pair of headphones for a desk or listening station, these sound great. Unfortunately, that greatness come at a price of $699. Though the build materials are about as premium as you can get and I can't say enough about the sound quality, that's an absurd amount of money to anyone who isn't really invested in finding a great pair of over-ear cans.