All products featured are independently chosen by us. However, SoundGuys may receive a commission on orders placed through its retail links. See our ethics statement.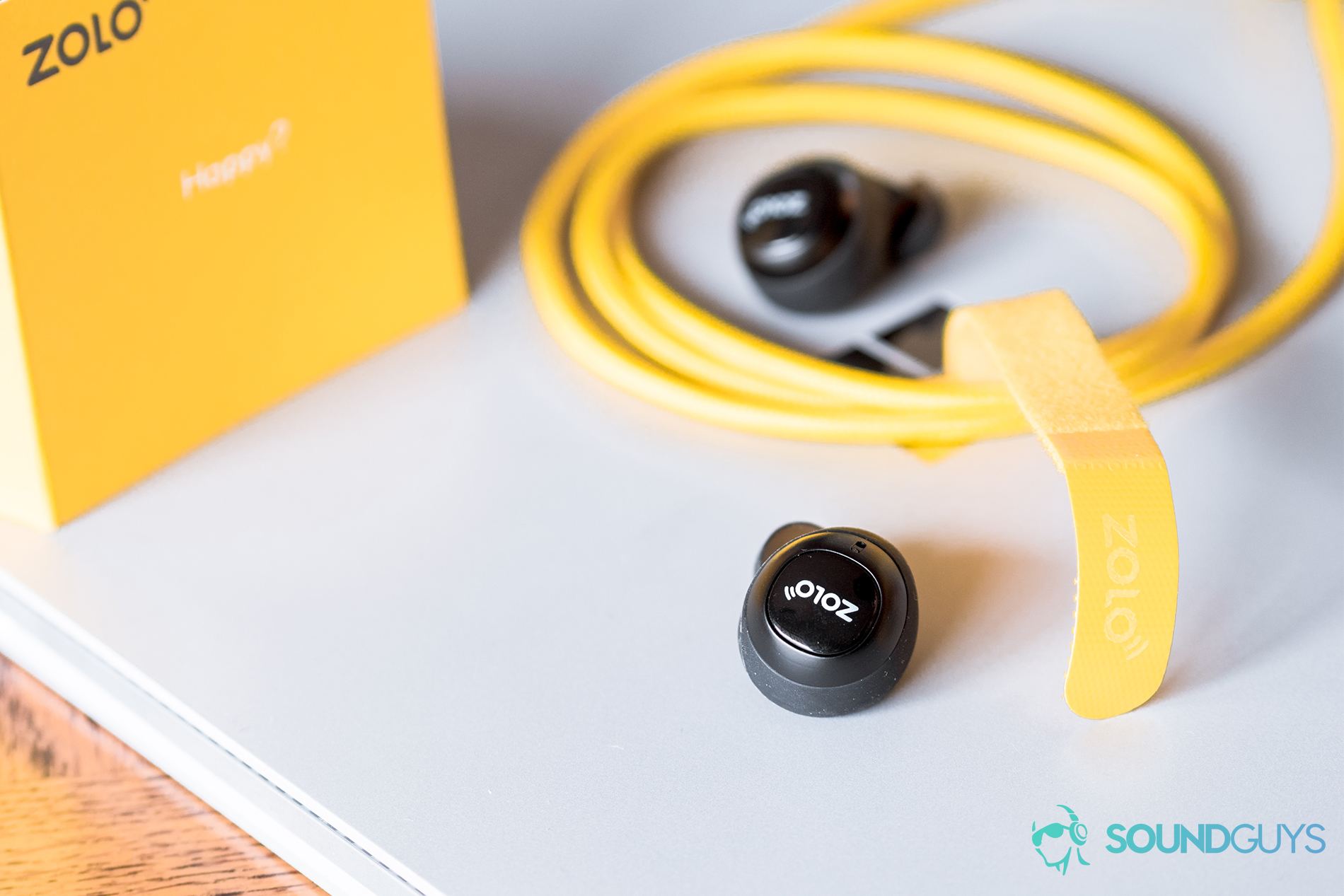 7.1
Anker Liberty Total-Wireless Earphones
The bottom line
For under $100, the Zolo Liberty are appealing. If you can overlook the low-humming interference, these are a bargain pair of true wireless earbuds.
Anker Liberty Total-Wireless Earphones
For under $100, the Zolo Liberty are appealing. If you can overlook the low-humming interference, these are a bargain pair of true wireless earbuds.
What we like
24-hour battery life (includes charging case)<br>
Sweat-resistant (IPX5)<br>
Excellent sound isolation<br>
Smart Assistant control<br>
Protective charging case<br>
What we don't like
Poor connection<br>
Audio lag<br>
Constant hiss<br>
Mic registers excessive background noise<br>
Rating Metric
Sound Quality
7.3
Bass
7.2
Midrange
7.5
Highs
7.4
Durability / Build Quality
7.7
Value
6.8
Design
7.6
Microphone
7.0
Portability
8.3
Battery Life
4.6
Similar to the Spanish Armada of 1588, the Anker Zolo Liberty are unbeatable on paper. That said, King Phillip II and Anker both overestimated their holdings. Despite the Zolo Liberty's drawbacks, Anker implements useful features into the design. The $99.99 question: Are the Zolo Liberty worth it, or are we better off investing in miscellaneous chatchkes instead?
Anker Zolo Liberty Total-Wireless: What's Inside
The Zolo Liberty supply plenty of ear tips, a charging case and micro USB cable.
Anker includes plenty of goodies for consumers. Like the earbuds and charging case, packaging is sturdy. The articulating tri-fold cardboard depicts a fit, 20-something female focused on stretching her hamstrings in what one can only assume is a gray-walled warehouse. The earbuds and charging case are proudly displayed behind a plastic panel. Beneath the main components are three pairs of ear tips, four pairs of Grip Fit™ jackets, a wasp-yellow micro USB cable and tinder for your next bonfire formal documentation.
Build & Design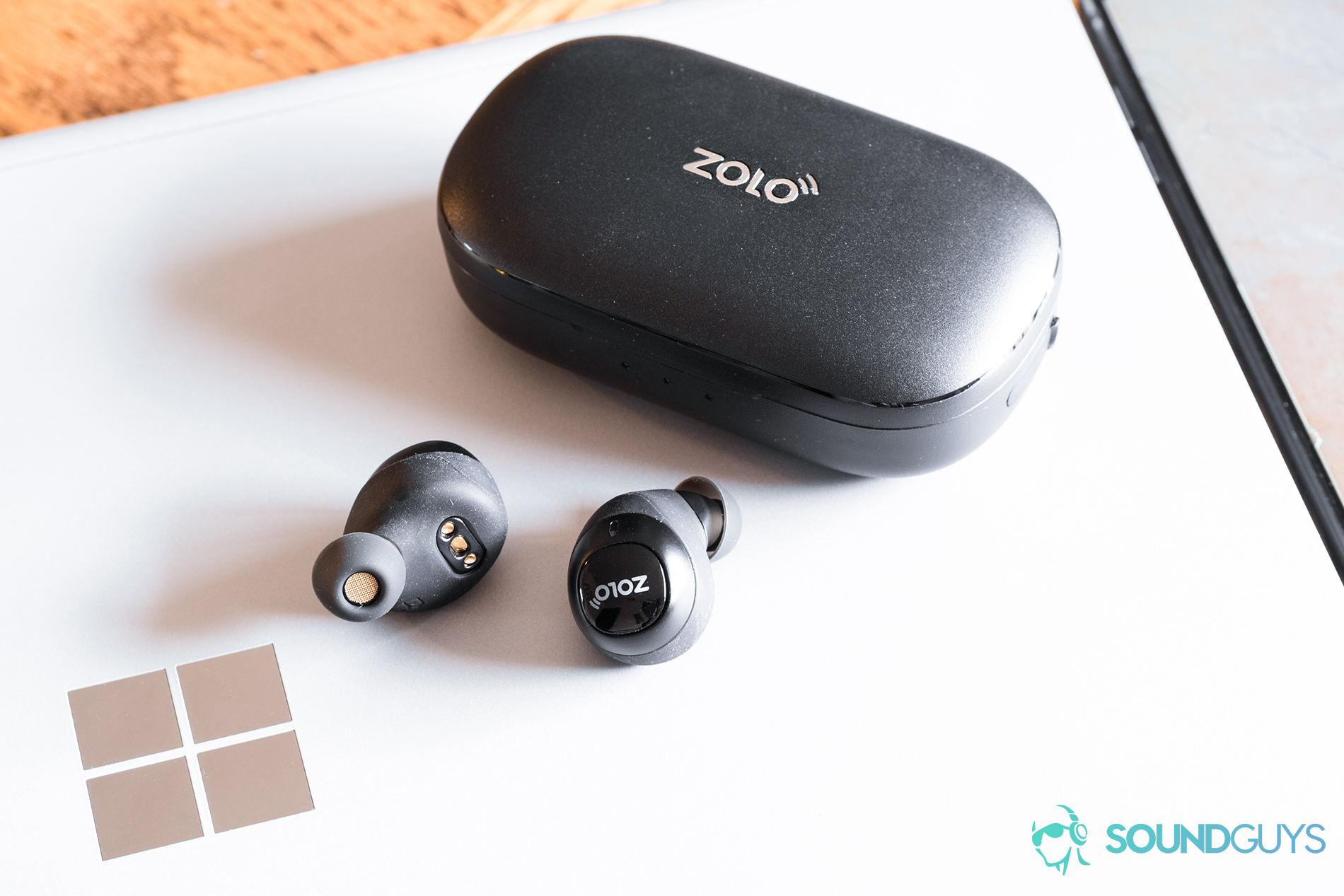 Both the case and 'buds are bulky and durable.
Forethought went into the design of the Zolo Liberty. The conspicuous yellow accents and PUSH AND GO™ setup make these fun. As some may be familiar, Anker is known for their power banks. Naturally, the included charging case is well-built and sturdy. (Good thing too, since it's laughably slippery.) Reminiscent of a beached pebble, the magnetized clamshell case latches securely; its interior is also magnetized for storing the earbuds.
Durable plastic gives the earbuds their bulbous shape. Crediting the IPX5 rating, they can stand even the most profuse perspiration. A single LED indicator is located on each earbud and conveys connection status. Above each LED sits the Zolo logo in a whimsical typeface. The logo, which cutely springs from the second "O" in Zolo, brings to mind the iconic WiFi symbol.
Anker boasts its implementation of "graphene-powered sound." Compared to traditional dynamic drivers, graphene technology theoretically produces better sound with greater efficiency. As discussed in the following sections, the Zolo Liberty suffer from constant hissing. This, unfortunately, renders any benefit of the graphene technology null.
Connectivity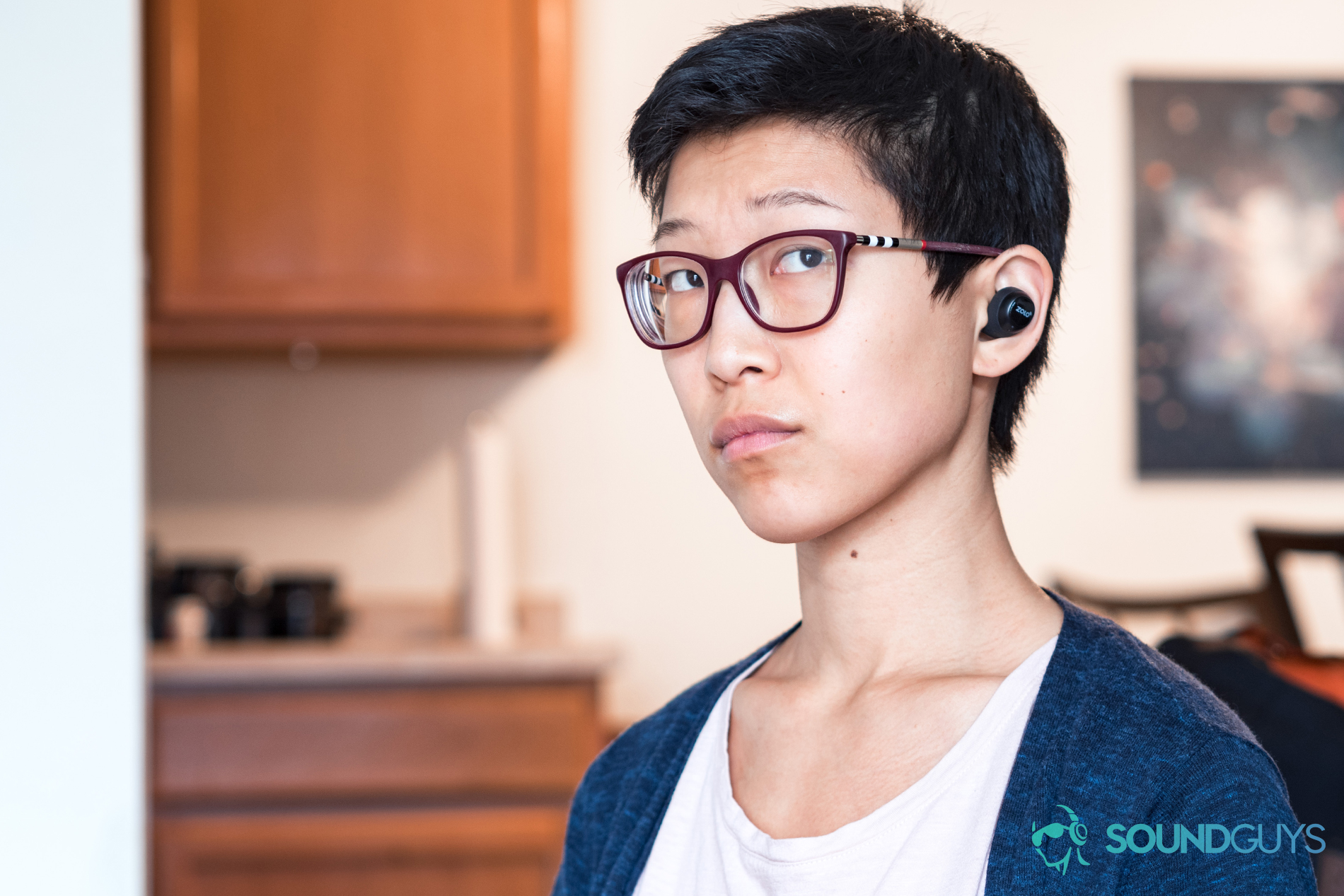 Connectivity is dubious at best.
Unreliable connection proves itself the norm rather than the exception with true wireless earbuds. The Anker Zolo Liberty? They're the norm. A shame since Anker asserts that the 'buds are "held together by an almost unbreakable Bluetooth connection." With a claim like that, Anker is begging to be lambasted. Half the time interruptions afflict the left earbud—a persistent issue, according Amazon reviews—and static underlies audio transmission. When a stable connection does form, annoyances still arise.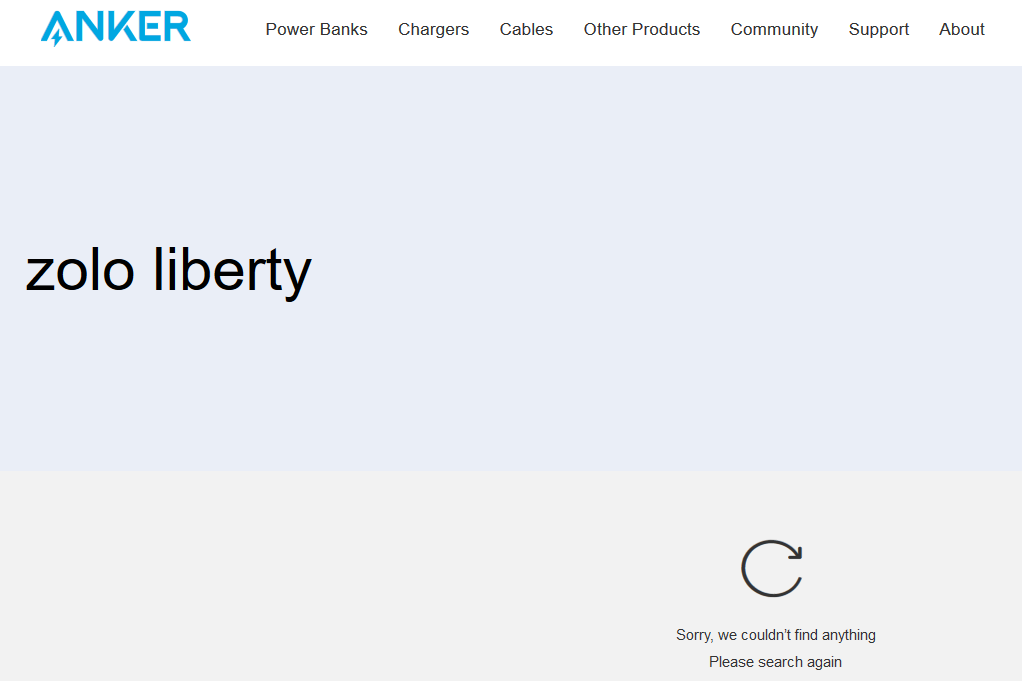 When conducting a search for the Zolo Liberty on Anker's site, no results are available.
Any song exceeding three minutes takes on a new form, which is marred by auditory pock-marking pops and hisses, courtesy of the Zolo Liberty. Hopefully Anker and other manufacturer's will remedy this in future iterations of Bluetooth products. On the flip side, Anker's PUSH AND GO™ technology successfully connects the earbuds to the source device upon removal from the charging case.
As with other true wireless earbuds, calls are relayed over one earbud. The mic quality is okay when indoors. A brief step outside, however, means that call clarity is gone with the wind. For consumers who plan to use these while watching video, think again. Horrendous lag, ranging from a two to three second delay, plagues the earbuds. They presumably rely on SBC, rather than a low latency aptX codec. Anker's website doesn't specify. Actually, Anker's website doesn't list the Zolo Liberty at all. Curious.
The greatest redemption of the Zolo Liberty's connectivity: Smart Assistant access. With a double tap of either earbud (I could only get it to work with the right), an AI assistant is immediately prompted. (I only have access to Google, which worked flawlessly. Anker explicitly states in the manual that the Zolo Liberty are compatible with Siri too.)
Battery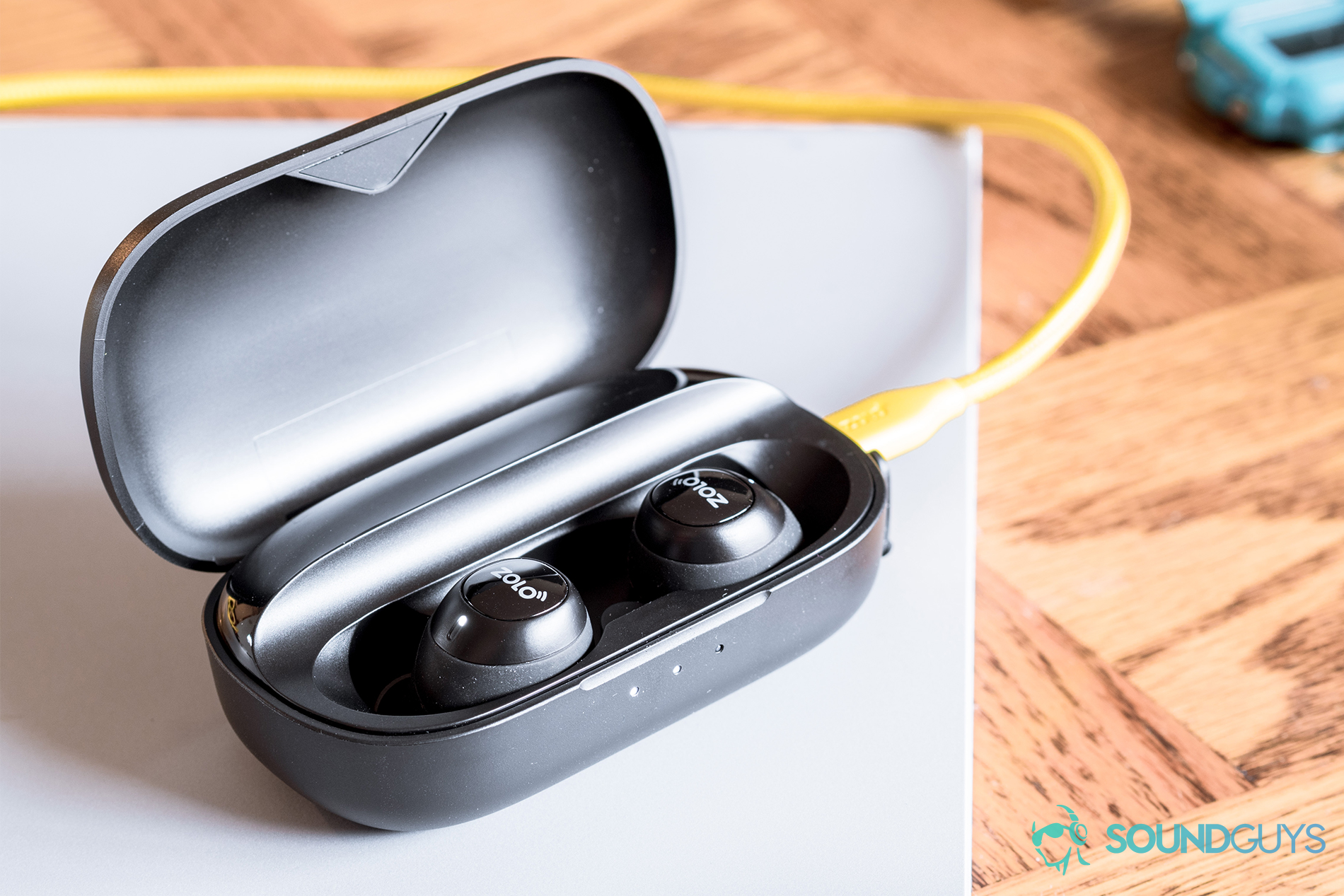 With the charging case, the Zolo Liberty have enough juice to last over 24 hours.
For true wireless earbuds, the Zolo Liberty have a fine battery life as standalone earbuds. After accounting for the reservoir power provided by the case, more than 24 hours of playback time is available. This outlasts the Optoma NuForce Be Free8 true wireless earbuds by eight hours. Corresponding to battery availability, three external LEDs line the case, indicating the charge in odd increments (30-70-100 percent).
Worth noting, a neat feature of the Zolo Liberty is their ability to automatically turn off when placed in the charging case. Powering on follows suit when removing the 'buds from the case.
Sound Quality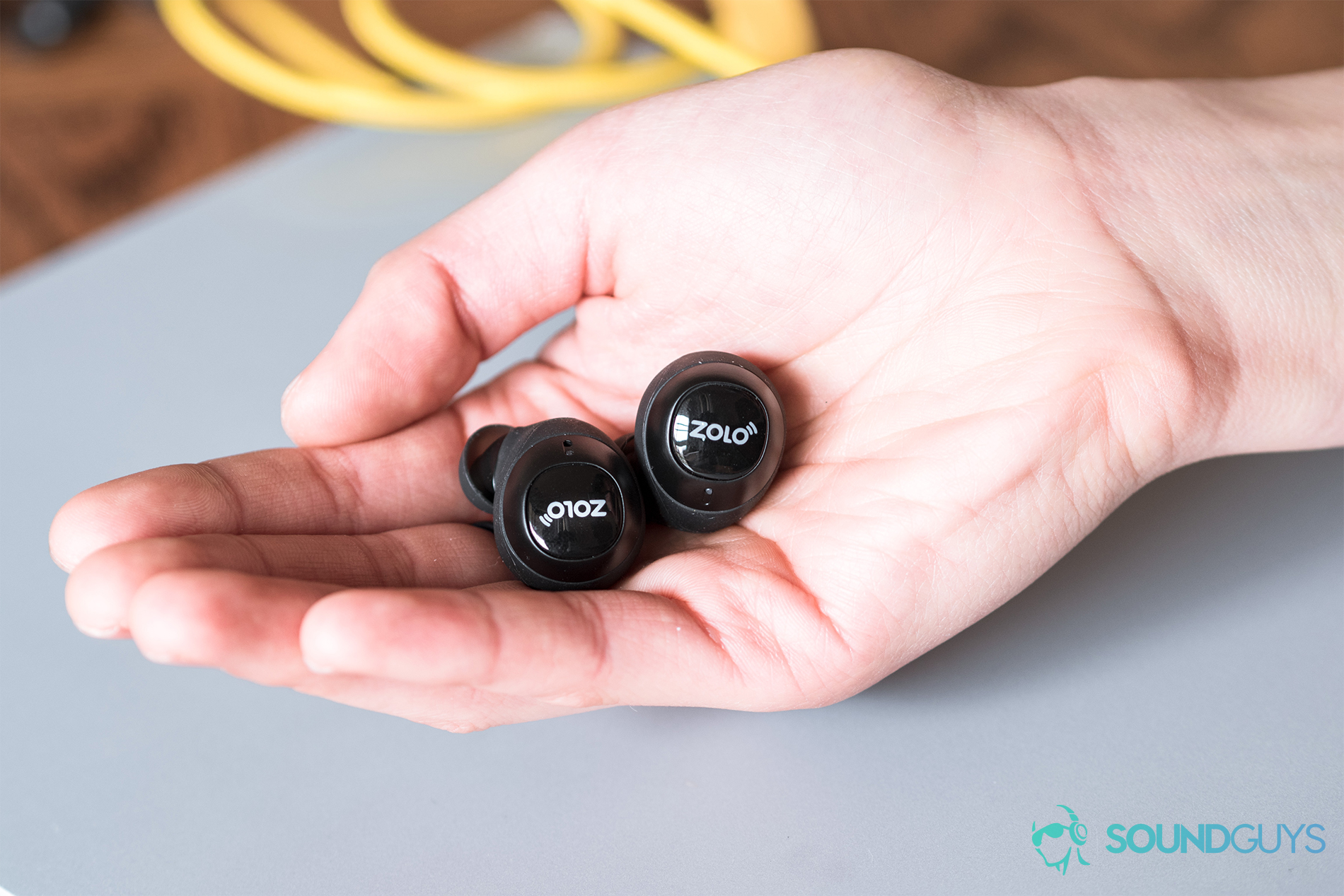 The Zolo Liberty earbuds suffer from constant humming.
Accurately addressing sound quality is difficult. As mentioned in the "Connectivity" section, a pervasive, steady hiss impairs what could have been a fine listening experience. Per contra, the GripFit™ sleeves are effective. The least invasive pair, which happen to be preinstalled, maintain a cogent seal.
Jackie Wilson's "(You Keep Lifting Me) Higher & Higher" ropes the listener into its fun beat with some bass plucks. Though the Zolo Liberty reproduce lows lazily, there's some decent extension. Deep-bass doesn't make up for the lack of differentiation between notes. If passively listening, as many do, the repeating G-G/D-Em/D-D pattern is difficult to hear. At times, it sounds as if just G and maybe Em/D are played.
In "New Year's Eve," Mal Blum's pitch remains steady, ideal for determining the quality of mids. Blum's voice sounds muffled when reproduced by the Zolo Liberty, proving difficult to distinguish between their voice and the guitar. It's also hard to parse apart muffled sounds caused by connection-related humming as opposed to insufficient graphene-powered sound.
Christmas may have passed, but retail stores everywhere won't realize that until mid January. For better or worse "All I Want for Christmas Is You," serenaded to Hallmark shoppers by Mariah Carey, is, like the aforementioned songs, muffled. Surprisingly, the highs are well-defined here. At least compared to the lows. They sound more nuanced even with the interference.
Pertaining to soundstage, all of the instruments sound like they're drunkenly vying for center stage when, really, the stage is a Denny's and the mic is a collection of rolled up "specials" menus.
Conclusion
Anker includes a folded sheet inquiring: Happy? / Unhappy?
When handing over a Benjamin, we expect things to work well. Not without flaws but a near-$100 product should function well more than 50 percent of the time. Though I desperately wanted to praise the Zolo Liberty—and did upon unboxing—they just aren't good enough to justify buying.
Consumer's are better off investing in the Apple AirPods, which have solid connectivity because of Apple's proprietary W1 chip, or the Jaybird Run for audio playback sans white noise. Yes, those options are significantly more expensive, but spending money on an unreliable product is a frustration and a waste. Hopefully Anker's next true wireless product will be an improvement because, like Monoprice, the company produces above-average equipment at a below-average cost.