All products featured are independently chosen by us. However, SoundGuys may receive a commission on orders placed through its retail links. See our ethics statement.
8.1
Anker Soundcore Vortex
The bottom line
Though its appearance is somewhat uninspiring, the Vortex offers excellent features like aptX-compatibility, a 20+ hour battery life, and stable connectivity. For $50, the Anker Soundcore Vortex is a rare breed of value-packed headphones.
Anker Soundcore Vortex
Though its appearance is somewhat uninspiring, the Vortex offers excellent features like aptX-compatibility, a 20+ hour battery life, and stable connectivity. For $50, the Anker Soundcore Vortex is a rare breed of value-packed headphones.
What we like
aptX-compatible<br>
20+ hour battery life<br>
Excellent value<br>
Comfortable<br>
What we don't like
Weak bass and treble<br>
Lacking clarity<br>
Difficult to find controls<br>
Rating Metric
Sound Quality
7.8
Bass
7.7
Midrange
8.4
Highs
7.7
Durability / Build Quality
8.2
Value
8.8
Design
8.0
Microphone
7.6
Portability
8.6
Battery Life
8.5
Many of us may recognize Anker as a portable power bank company before touting its audio product prowess. It appears that the company has taken a vested interest in all things audio with its new Soundcore lineup. We recently reviewed the Soundcore Motion Q—a waterproof, portable speaker—but today we're taking a crack at the Anker Soundcore Vortex. These circumaural cans are just $50, aptX-compatible, and have a long-lasting battery that rivals the nightmarish Energizer Bunny's stamina.
Editor's note: This review was updated on January 17, 2021, to adjust formatting to match SoundGuys' current style.
Who are the Anker Soundcore Vortex for?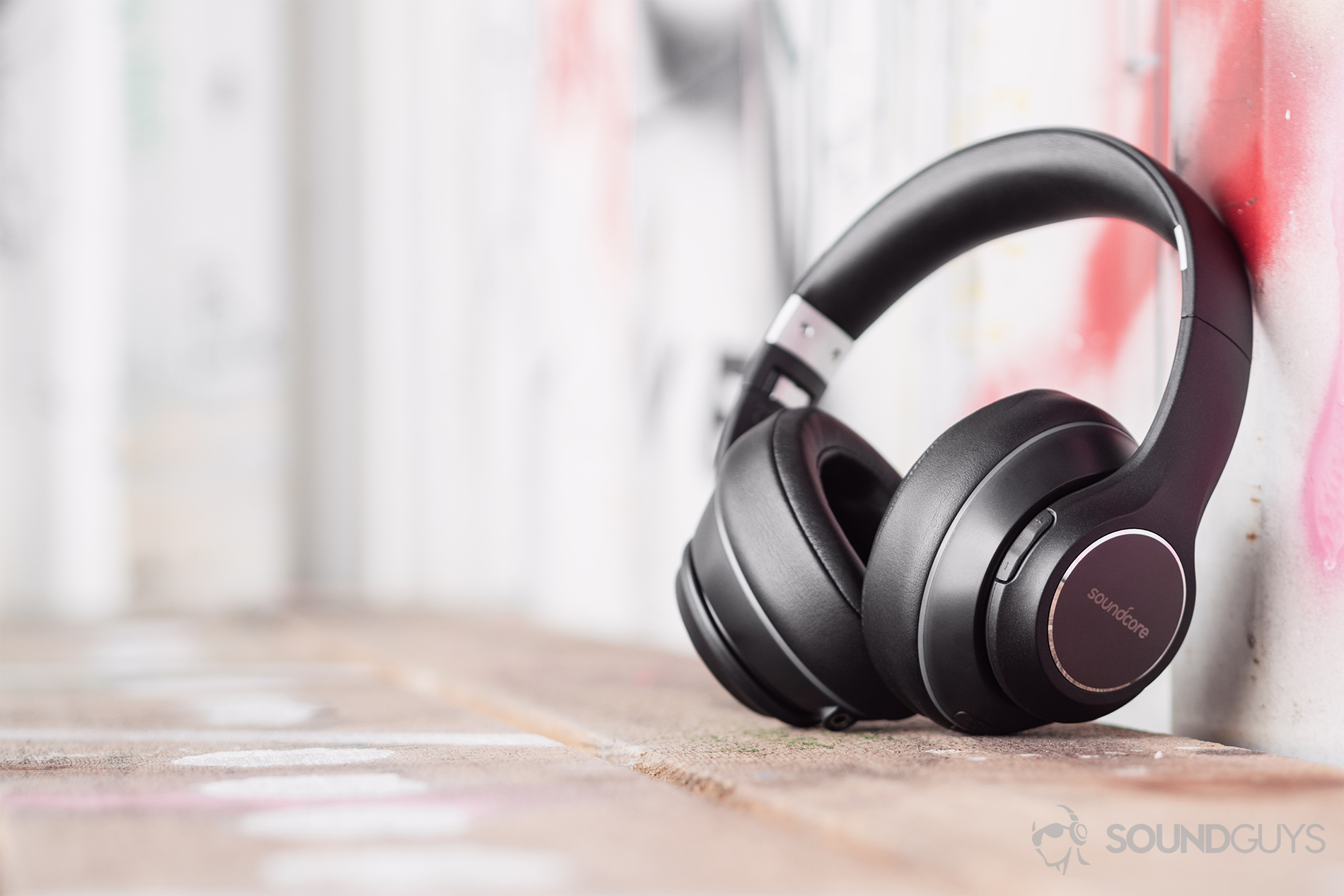 The Anker Soundcore Vortex bring aptX-compatibility to budget consumers.
Budget-conscious shoppers. The Vortex are packed to the gills with features for a pair of $50 headphones. If you tend to scour the internet for value-packed deals, you should keep the Vortex on your radar.
Vegans. As one may expect from sub-$50 headphones, the Vortex ear pads and headband cushioning are derived from synthetic materials to cut costs. Not only does this save Anker money, but it also saves us—the consumers—some pretty pennies.
Mid-centric music lovers. The Anker Soundcore Vortex is an odd bird. They place a great deal of emphasis on the midrange, bringing out the detail of vocals while benching the bass and treble.
What's in the box?
Anker includes a 3.5mm cable with an in-line mic and remote, a micro-USB charging cable, a carrying case, and the Soundcore Vortex circumaural headphones. The case is a cross between full-on hardshell and carrying pouch. Plus, it's lightweight and resistant enough to be tossed into a book bag—maybe on the ground.
The build quality is okay
Though the bulk of the Vortex are plastic, the hinges and headband support benefit from metal construction.
Like you'd expect, these budget headphones are made from inexpensive materials like plastic and synthetic leather. The headband support and hinges are both constructed from metal. Oddly enough, they reeked of polyurethane for the first two days—but just like new car smell, that passed pretty quickly.
Taking comfort into account, things are about average. Like other headphones, these pain the crown of the head after just an hour of wear. To be frank, this likely due to poor weight distribution. Looking down to read or up to daydream results in a slow but inevitable slide of the Soundcore Vortex off of my head. It would be nice if the headband architecture were more fleshed out to take full advantage of the lightweight build, but it's not too much of a compromise.
The folding hinges of the Anker Soundcore Vortex allow for the headphones to become compact for travel.
Granted, Anker does get some things right pertaining to the build. For one, the ear cups are afforded rotation along the X and Y axes. Why is this important? Well, if the headphones happen to fit your head properly—in that they don't slide off—you'll achieve a proper seal and comfortable fit for extended listening periods. These also fold up and can fit in nearly any backpack or moderately-sized purse. And, it's great to see an included cable decked out with a built-in mic and remote, considering that this is no longer a given with Bluetooth headphones.
Though not faulty, the on-board controls of the Anker Soundcore Vortex are mediocre at best and are difficult to blindly locate. If you're caught wearing gloves, well, best of luck to you. Once found, the buttons are easy to press and give a tactile response. Having the power button serve multiple functions like play/pause and virtual assistant access keeps the right ear cup from becoming overpopulated with toggles.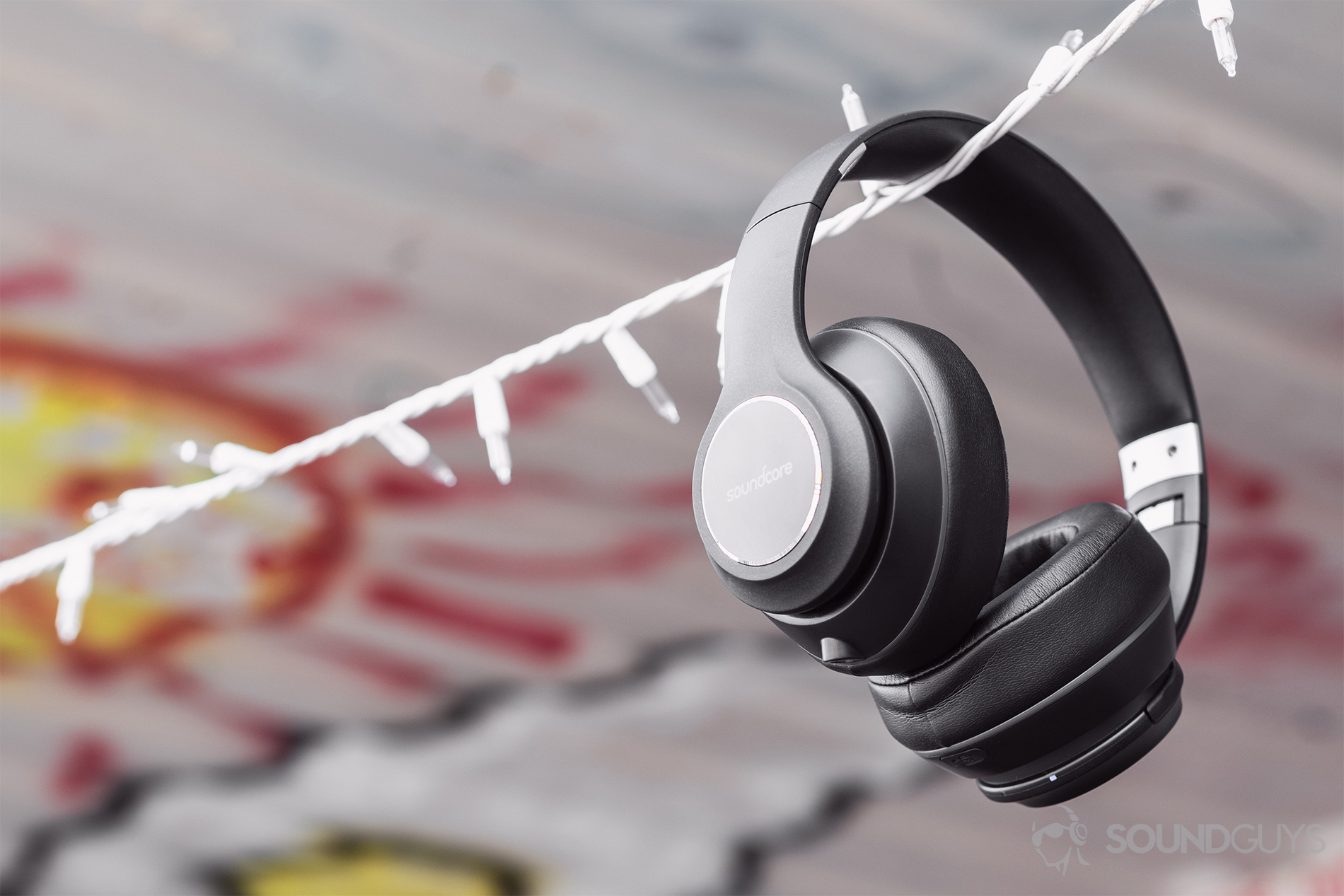 The on-board microphone is functional and above-average, but it still allows an excessive amount of ambient noise through.
Now, the microphone is fine: it records your voice like it's supposed to, but doesn't filter out much ambient noise.  Admittedly, most of aren't planning to use these as a premium microphone. If you need something for work, check out the Plantronics Voyager 6200 UC. Otherwise, you'll be happiest just accepting that the mic quality is just acceptable.
These cans have exceptional battery life
It should come as no surprise that the battery life of the Anker Soundcore Vortex exceeds expectations. Anker reports that the Vortex yields 20 hours of playback; yet I found this to be an underestimation. The encased lithium polymer battery only takes a hair under three hours to top up when connected to an appropriate power source.
The headphones charge via micro-USB and grant upwards of 20 hours of playback.
With volume levels at 50 percent, the battery lasts anywhere from 22 – 24 hours. If we're to go to great lengths to quibble over something it's that the battery life—though excessive—is inconsistent. In the grand scheme things, this is hardly something to turn your nose up at.
The Anker Soundcore Vortex have reliable connectivity
The Anker Soundcore Vortex operate on Bluetooth 4.1 with a 12-meter connectivity range—two meters more than what's typically allowed. Though the following is purely anecdotal, it's curious that the $50 Vortex struggled less to maintain a connection outdoors than the Focal Listen Wireless, which retail for just under $300. To the Focal's credit, the Vortex don't support multipoint connectivity like the Listen Wireless do.
Wired listening still grants control functionality through the in-line mic and remote.
Latency is no issue with these headphones
Directly on the packaging, it states low-latency aptX audio and it's true: binging Evil Genius was a breeze with these. However, your source device needs to be aptX-compatible, too; if not, you'll experience lag due to the elementary SBC codec.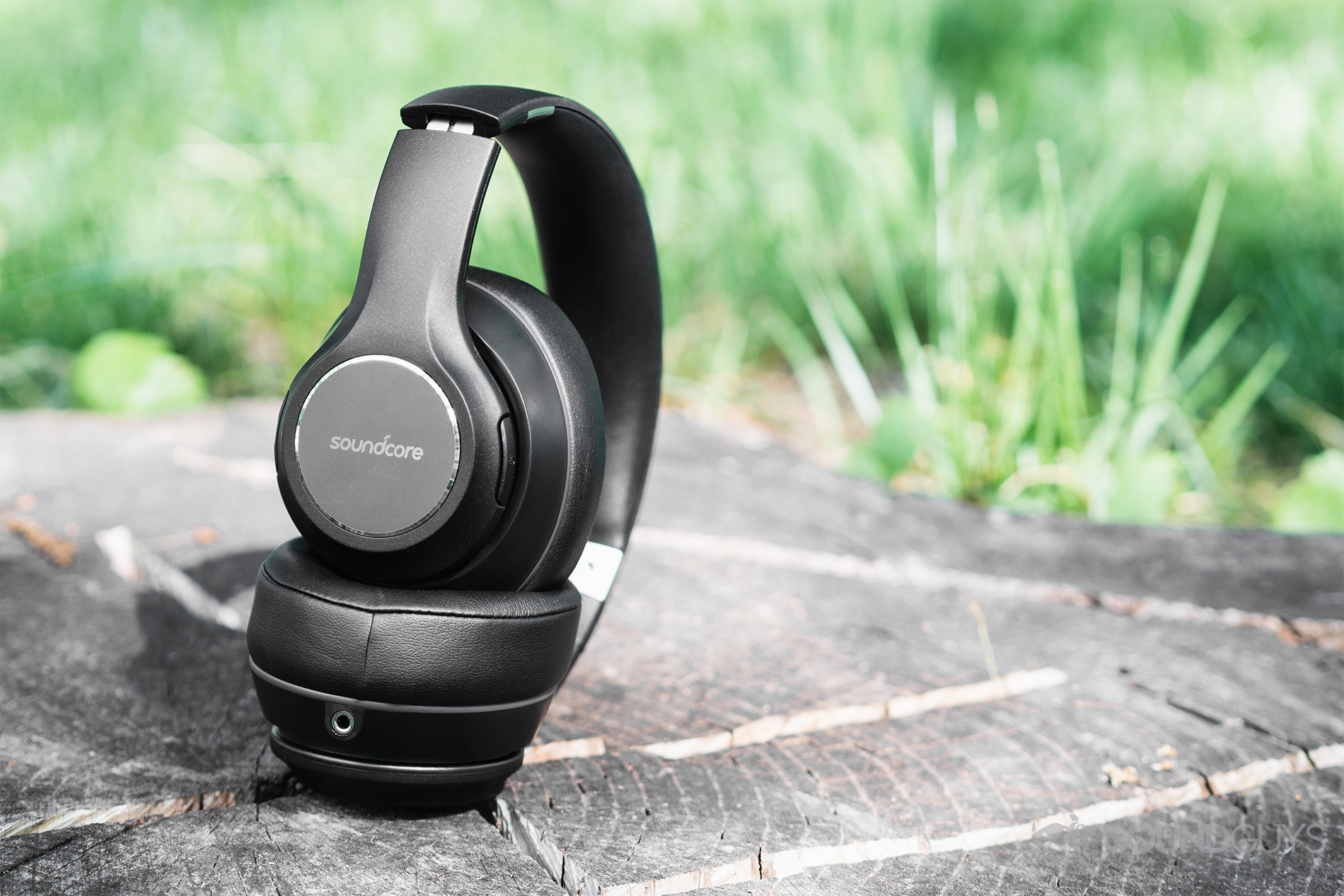 The Vortex maintain a solid, reliable connection regardless of whether you're listening inside or outside.
Moreover, operating the playback controls is a lag-free process. Click the pause button and your music will immediately stop, as opposed to the Jlab Rewind Wireless Retro where it takes one or two seconds to respond. As a matter of fact, the Anker Soundcore Vortex really knocked the ball out of the park when it comes to connectivity.
The Anker Soundcore Vortex do not isolate well
Before diving into the sound quality, it's important to understand part of why these sound good but not great. We stress how important isolation is to optimal sound quality. Unfortunately, the Vortex isolation capabilities are lacking—and could benefit from improved dampening materials.
The Focal Listen Wireless are able to properly filter out ambient noise due to their dense, 22mm memory foam ear pads.
As an example, I was at a nearly-empty library testing the real-world isolation capabilities. With volume levels at 70 percent, I was ready to ignore the world, but two guys were having a conversation at a typical speaking level—approximately 60dB according to a study published in The Journal of the Acoustical Society of America—and I could still hear them from roughly 10 meters away.
"So? Just crank up the volume."
You're right. That is an option, just not a healthy one. OK, OK. Increasing the volume won't give you the flu, but it will increase your risk of noise-induced hearing loss (NIHL). Ideally, headphones that are purportedly travel-friendly should be able to do a better job at eliminating ambient noise, so as to avoid causing unwitting, self-inflicted harm to your cochlea. If isolation is something you deperately need, consider getting a pair of in-ears, or noise-canceling headphones.
How do the Anker Soundcore Vortex sound?
Vocals are especially prominent when listening with the Vortex, but this is at the expense of the low-end and treble.
As I mentioned earlier, they sound good—not great. It's not that a certain frequency range is grotesquely reproduced within the cans' range; rather, the bass and treble are attenuated and clarity is lacking. This is jarring because sub-par clarity doesn't stem from bass overemphasis—the usual culprit—even with the volume at 80 percent, the low-end is what you'd expect from the volume at a much lower level, say 50 percent.
Lows
Vulfpeck's song Conscious Club opens with five consecutive, staccato drum kicks. When listening through the 1More Triple-Driver Over-Ear headphones, the passive bass reflector system facilitates low-end reproduction, allowing for you to feel the sub-bass from the kicks. The Soundcore Vortex, however, lack this nuanced approach—as they should for such an affordable price—and the drum kicks fall short, denying our ears of the low frequency resonance that we expect to hear.
Mids
Each ear cup houses a 40mm dynamic driver.
The mids are the Vortex's best and most emphasized (sound) quality. They 40mm drivers successfully replicate Ellan Allis' raspy vocals in The Distance as performed by Iron Eyes Cody. Prior to listening through the Vortex, I'd never heard the understated reverb on Allis' vocals in the second verse (2:02). This isn't a newly discovered song. I've been listening to it for three years and am dumbfounded that a $50 pair of headphones introduced me to a new aspect of The Distance.
Highs
Mal Blum's autobiographical song New Year's Eve is a great example of the little dynamic range given to the Anker Soundcore Vortex. The first note Blum plucks on their guitar is C followed by concurrently plucked E, G, and C notes. It's the B string—the second highest-pitched of the six-string guitar—that gives away the Vortex's treble reduction. When heard through the Soundcore Vortex, it's apparent that detail is missing. This absence is magnified due to the overemphasized midrange.
Should you buy the Anker Soundcore Vortex in 2021?
Due to aptX Bluetooth codec support, the Soundcore Vortex are a great lag-free option for video streaming.
Did any of the earlier descriptions resonate with you? Yes? Then, yes; yes, you should. The Anker Soundcore Vortex aren't the best headphones under $50. No, that spot is still reserved for the Monoprice 8323. But the Vortex are more cosmopolitan, while the Monoprice 8323 serve a more utilitarian purpose. If you have just $50 to spend on a new set of headphones and need something well-rounded and portable, the Anker Soundcore Vortex are a good option.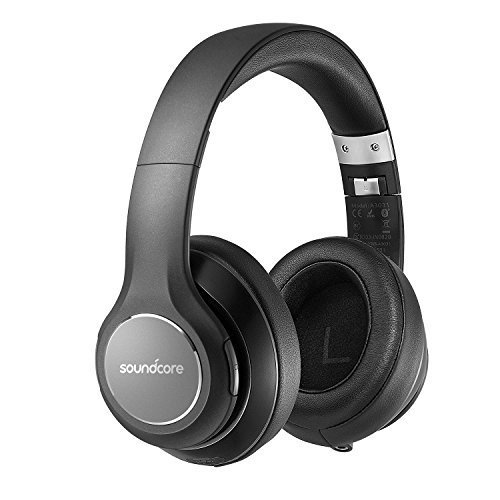 Anker Soundcore Vortex
All prices listed in USD unless otherwise specified. Prices may change over time, and vary by region. Unfortunately, we cannot list Amazon prices on the site, as they vary greatly by currency.
All that being said, the Anker Soundcore Vortex are a pretty old set of headphones. If you're looking for something that offers the latest and greatest features, such as Bluetooth 5.1 or USB-C quick-charging, you may want to look for something released in the last year or two.