All products featured are independently chosen by us. However, SoundGuys may receive a commission on orders placed through its retail links. See our ethics statement.
The bottom line
Though the Focal Listen Wireless aren't the best value when it comes to Bluetooth, over-ear headphones, they're comfortable, aptX-compatible, and provide 20 hours of CD-quality playback.
Focal Listen Wireless
Though the Focal Listen Wireless aren't the best value when it comes to Bluetooth, over-ear headphones, they're comfortable, aptX-compatible, and provide 20 hours of CD-quality playback.
What we like
Great isolation<br>
aptX-compatible<br>
Multipoint connectivity<br>
20-hour battery life<br>
Clear Voice Capture<br>
15m Bluetooth range<br>
What we don't like
Bulky<br>
Poor control layout<br>
Expensive<br>
Rating Metric
Sound Quality
8.6
Bass
8.5
Midrange
8.8
Highs
8.4
Durability / Build Quality
8.4
Value
8.0
Design
8.3
Microphone
8.7
Portability
8.6
Battery Life
8.5
When I think of Focal, I think of financially unattainable audio products that I would love to have on my ears. With the Focal Listen Wireless, however, the company brings hi-fi audio to consumer shelves. These cans weigh in at 300g, and have larger than life ear cups with fabulous sound reproduction to match. If you're wary about the notion of "high end" Bluetooth; our very own Chris Thomas probably is, too. That said, these are aptX-compatible and provide impeccable passive noise isolation for an uninterrupted listening experience.
Who are the Focal Listen Wireless for?
The Focal Listen Wireless retail for $299 and are available in three colorways: black, olive, blue, and purple.
Vegans. Focal has opted for leatherette ear pads. Though leatherette may connote cheapness, this isn't the case with the Listen Wireless. Both cushions are 22mm thick and are heat sensitive, meaning they won't make your ears as sweaty as leather models do.
Those who need good noise isolation but don't like active noise-canceling headphones. Despite their size, these aren't equipped with ANC technology, but they manage to effectively filter out environmental brouhaha.
What's inside?
Focal includes a 3.5mm cable that terminates at a 45-degree angle, a micro-USB charging cable, a neoprene carrying case, and the Focal Listen Wireless headphones—which are available in four colors: black, olive, blue, and purple. This may err on the side of overly critical, but for headphones retailing at just one Washington shy of $300, it would have been nice to see a hardshell or hybrid case, instead of a squishy neoprene one.
How are Focal Listen Wireless built?
If these were a character in the Mario world, they'd be Wario. They're stocky, sturdy, and probably wouldn't be my first choice based on looks alone. From the ear cups, to the ear pads, and even the headband, everything about the Focal Listen Wireless is chunky. But don't let the bulk fool you: these feel much lighter than they look. Plus, the headband architecture is designed to evenly distribute weight, reducing fatigue.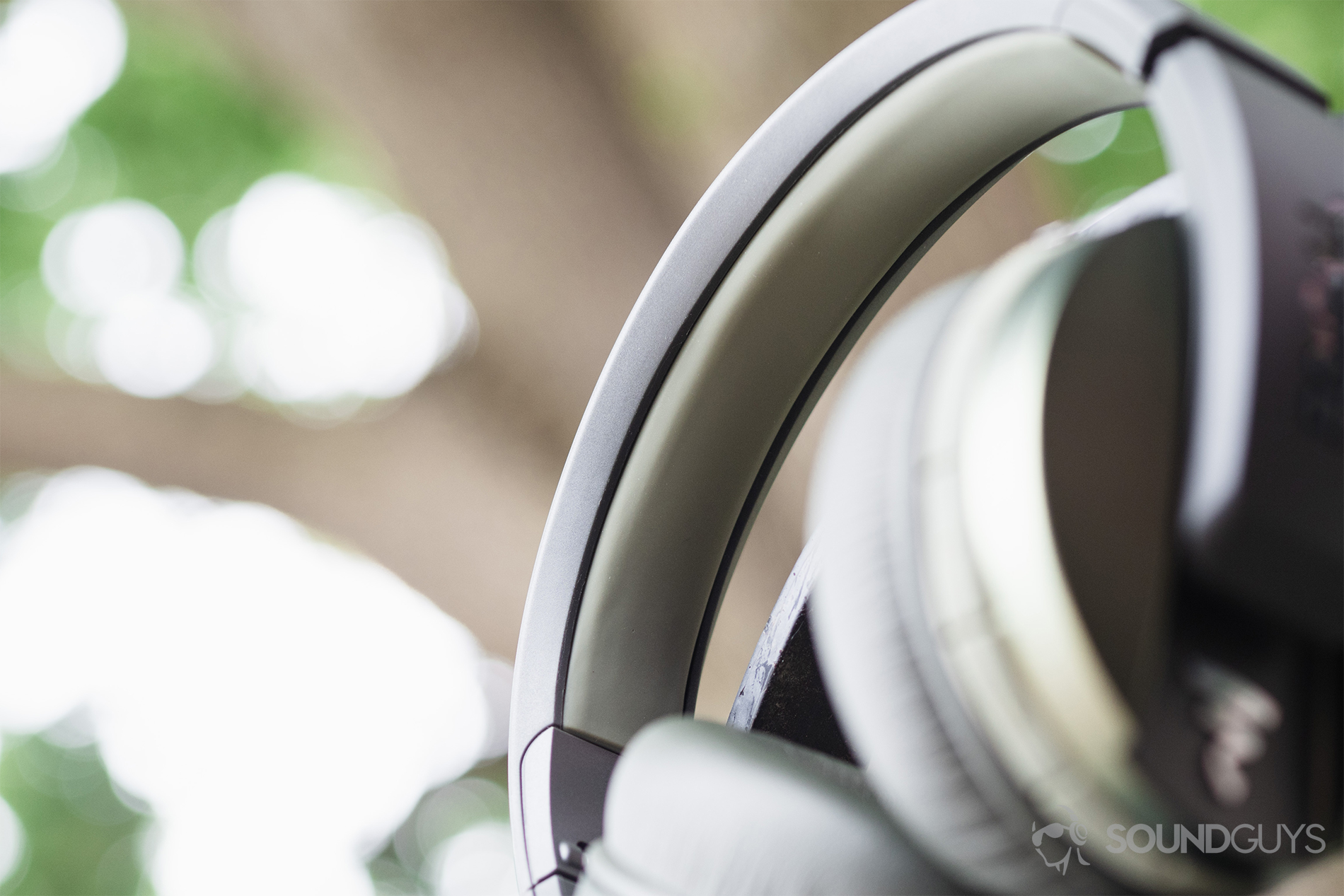 On the interior of the headband is a silicone, air-filled cushion that evenly distributes the 300g weight of the Focal Listen Wireless headphones.
"Listen beyond" is embossed in all-caps font onto the headband exterior and is given a glossy finish to complement the surrounding matte plastic. Flip the headphones over and you'll find an air-filled silicone rail stretching across the headband interior. This promotes a comfortable fit that grips the head, without the use of hair-shredding metal components.
Fashioned with plastic hinges, the ear cups fold up for transport. Though, you need to pack with caution. The material choice is confidence inspiring, but the paint job isn't. After just two days of use, the paint started to scratch off from being tossed in my bag. If you want to keep these looking fresh, you're best bet is to use the case—even if it means an extra step when packing or unpacking the headphones.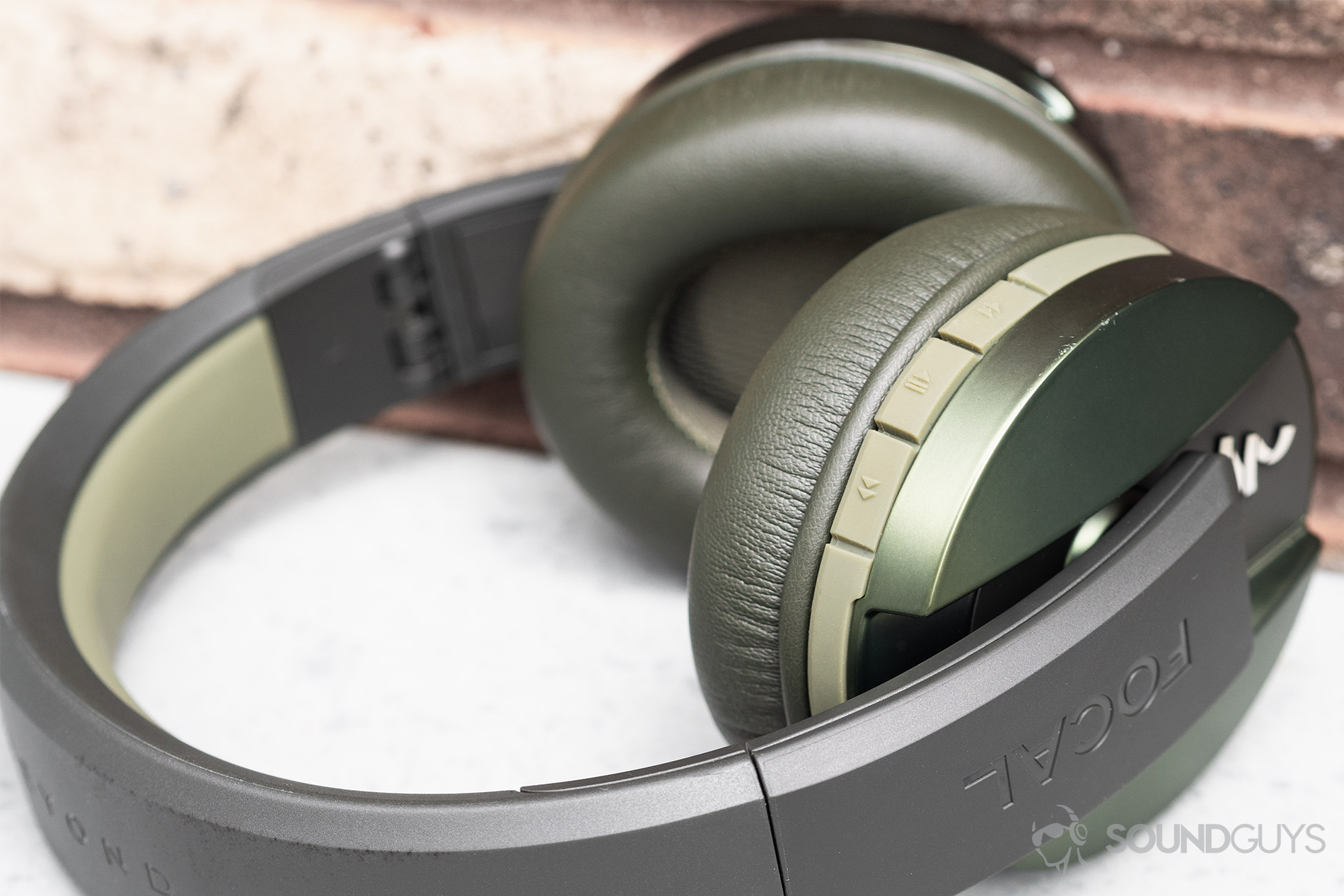 The controls of the Focal Listen Wireless are nice and large, but the placement of the playback controls on the upper half of the front-side of the ear cup paired with the volume and pairing buttons on the lower half of the back-side of the ear cups makes it difficult to press one control without accidentally pressing the opposing control.
Each ear cup allows for vertical and horizontal adjustment. Getting the fit here is paramount to good sound. Though not ideal for optimal sound quality, the Focal Listen Wireless are supremely comfortable with or without glasses. And the heat-sensitive ear cups? They help keep ears cool but don't expect any miracles. If you live in a place like Florida or Louisiana, your ears will still be sweating.
Poorly placed playback controls, great dual-mic system
The playback controls are a bit of a mystery. Since the buttons are large, you'd think that they'd be easy to press. I suppose that's true; except whenever I press either of the volume toggles, I inadvertently hit the rewind button. To avoid this, I have to consciously think, "Okay, move your index finger to the outer edge of the ear cup so you don't replay the last song."
The controls are effective; however, future iterations may benefit from consolidated and more ergonomically placed controls.
On the other hand, the omni-directional dual-mic system is fantastic. Clear Voice Capture works in tandem with the mics to produce a clear voice with excellent ambient noise attenuation. Unfortunately, there's one quirk. Every 10 seconds or so, static feedback is relayed through the microphone. It was salient enough that most people who I tested the mic with asked about the static.
"Why should I care about mylar titanium drivers?"
The plastic build of the headphones keeps things light and flexible; the Focal Listen Wireless are able to accommodate virtually any sized cranium.
For one, "mylar titanium" just sounds cool and like something that Captain America's shield would be made of. Aside from that, mylar titanium is a perfectly lightweight and resilient combination. Let's break it down by component: Mylar is derived from Polyethylene Terephthalate (PET) and is a thin, heat-resistant polyester film or plastic sheet. It was used in NASA's Project Echo back in 1960, and is still used for space blankets.
Now, titanium is something that we're more acquainted with. It has the highest strength-to-weight ratio of any element. By reinforcing the mylar with titanium, Focal has created drivers that are built to endure. Not only that, but they efficiently reproduce sound with minimal distortion due to the lightweight nature of the combination.
Battery life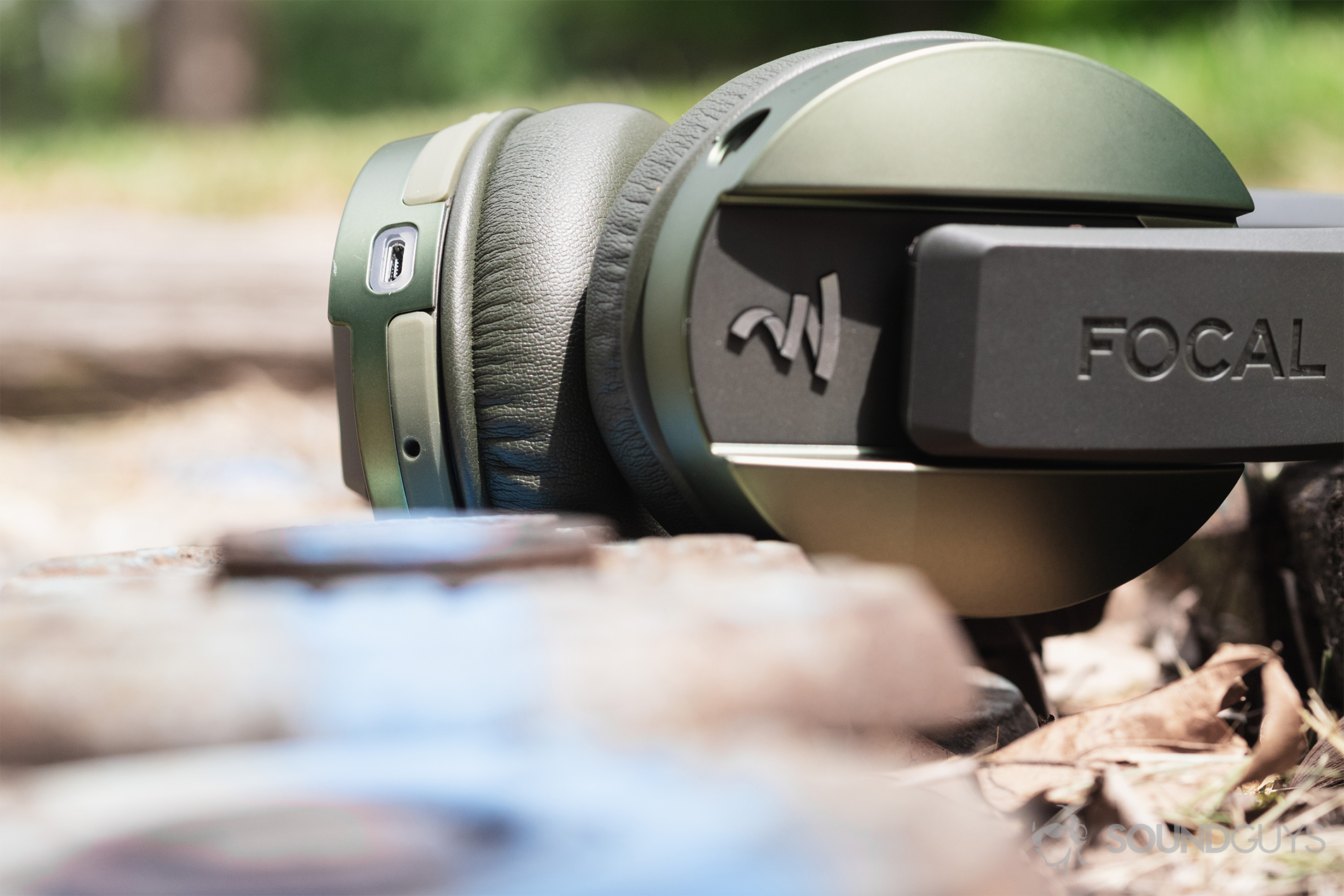 A full charge cycle takes three hours via the included micro-USB cable. After just a few days, the paint began to chip from around the micro-USB input.
Focal's specifications for the Listen Wireless state that they afford 20 hours of playback and require three hours for a full charge cycle. During testing with volume set to 50 percent, the battery provided just under 21 hours of playback. If you're OK with an estimated battery level readout, this is communicated via an icon in the notification bar of your smartphone. While these don't feature any quick-charge capabilities, they do provide 240 hours—or 10 days—of standby.
Connectivity
Worth noting: the headphones are allowed an extended connectivity range of 15 meters, rather than the typical 10-meter range. This worked quite well, even through a few layers of walls. Where the connectivity struggles—as many Bluetooth headphones do—is outdoors. In these instances, connectivity is interrupted about every five minutes. However, there was never a complete drop in connection.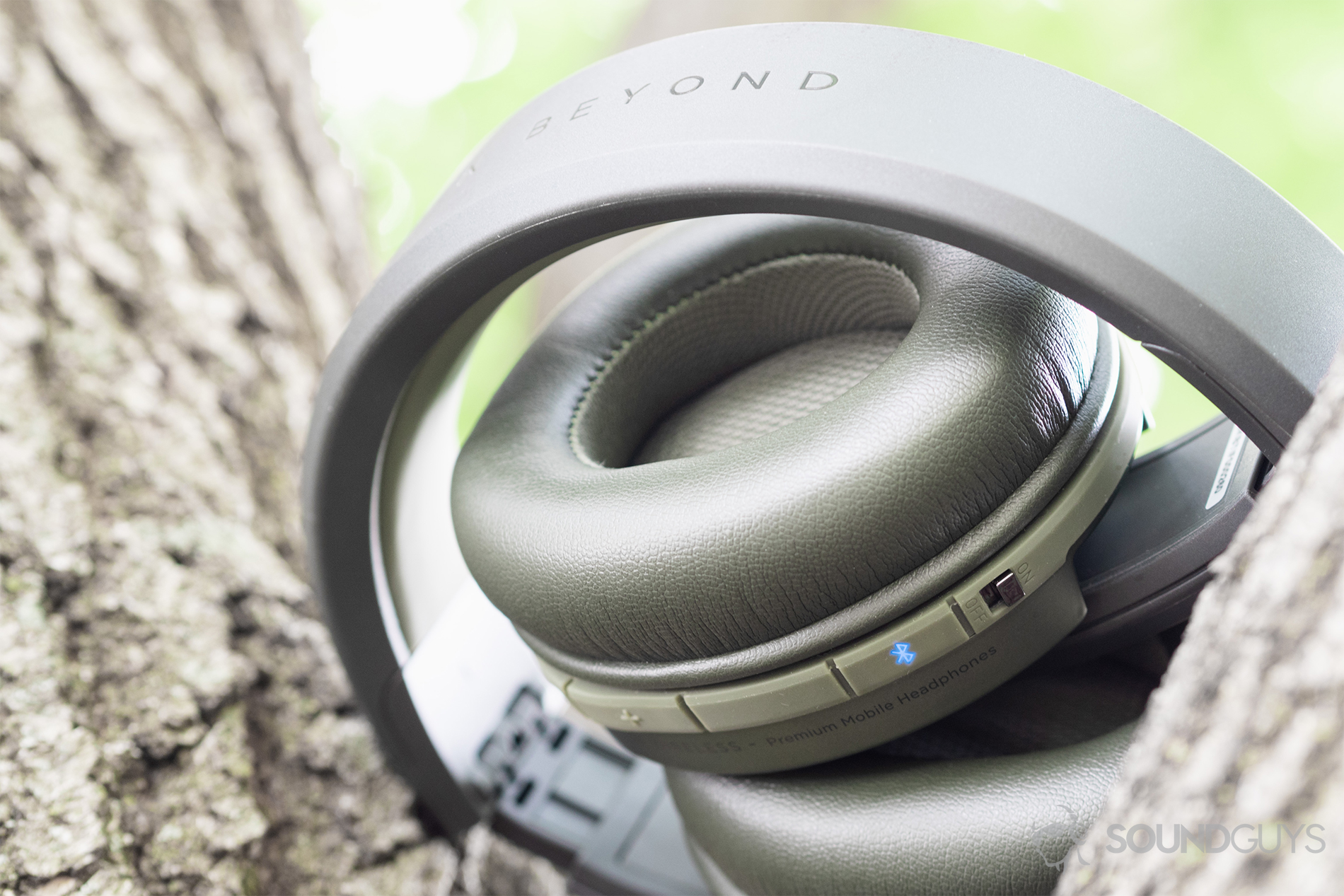 Equipped with Bluetooth 4.1, aptX compatibility, and an extended Bluetooth range of 15m (60ft) these headphones stand out from the competition.
There are a few ways to connect the Focal Listen Wireless to your phone:
NFC. This is the easiest way to connect so long as your source device is NFC-compatible. With a single tap of a phone to the right ear cup, you're ready to rumble.
Bluetooth. This is the most obvious way of connecting. Swipe and tap your way into your phone's Bluetooth menu, put the headphones in pairing mode, and select the Focal Listen Wireless. Since the headphones operate via Bluetooth 4.1, it's an immediate process.
You can always kick it old school by using the included 3.5mm cable, too. The Focal design team outfitted the cable with a twist-to-lock mechanism, which is nearly identical to the one found on the Sennheiser 598 CS and Momentum. When using the cable, though, you lose fall function of playback and volume controls.
"I hate audio-visual lag. Is latency an issue with these?"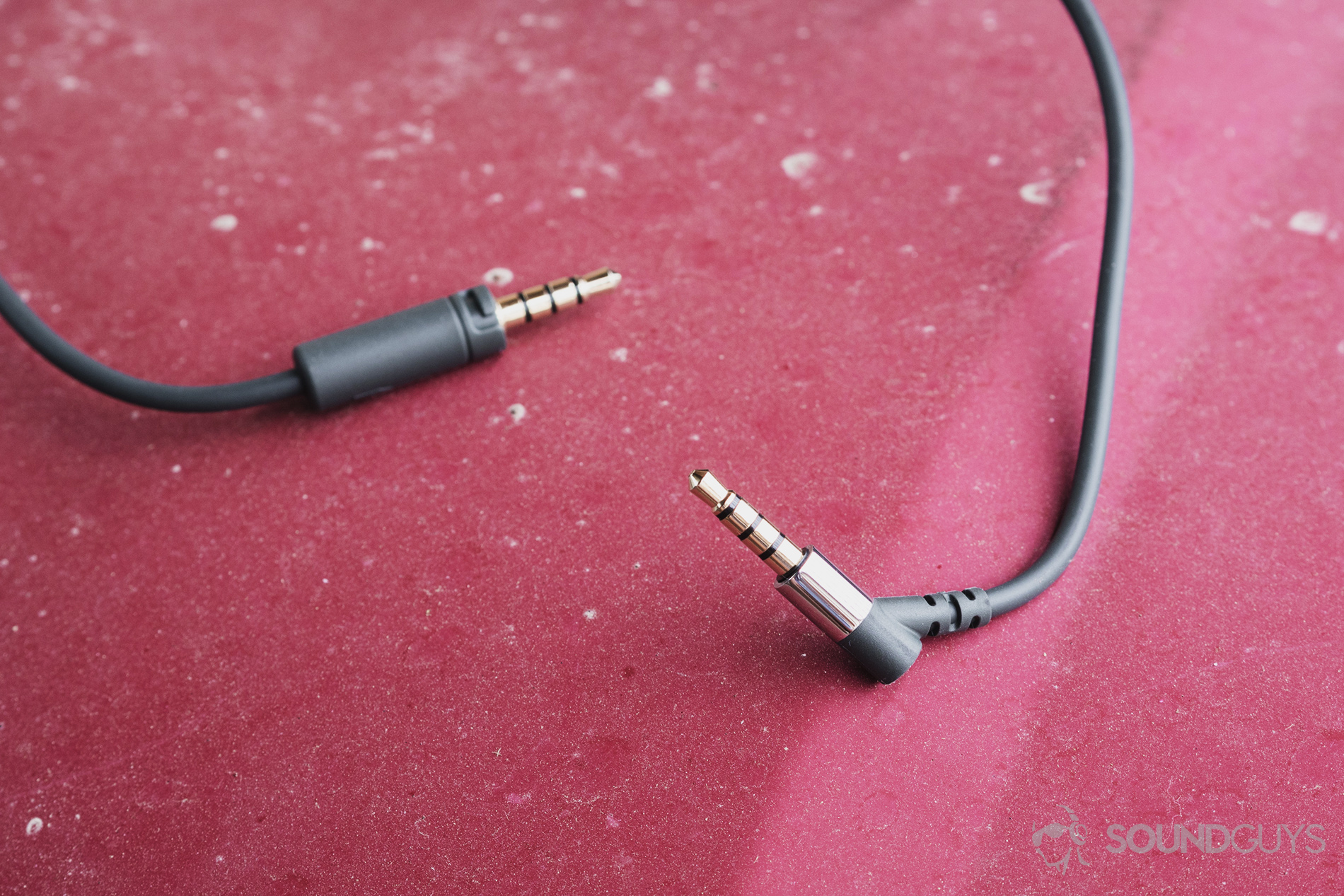 Included is a 3.5mm cable. On one end, a basic twist-to-lock mechanism can be found and on the other is a reinforced jack that's angled at 45 degrees.
Not at all. Thanks to aptX compatibility (and AAC), the headphones can stream video sans audio-visual hiccups. That said, your source device also needs to be aptX-compatible. If not, you may still experience lag as the headphones will fall back to the elementary SBC codec.
How do Focal Listen Wireless sound?
Excellent for the price. Not a single aspect of the sound signature is exaggerated to the point of grotesque reproduction, but the low-end receives a slight bump and, on occasion, you'll hear unpleasant treble spikes. If you frequently listen to classical or folk music, you may find the treble reproduction to be too emphasized.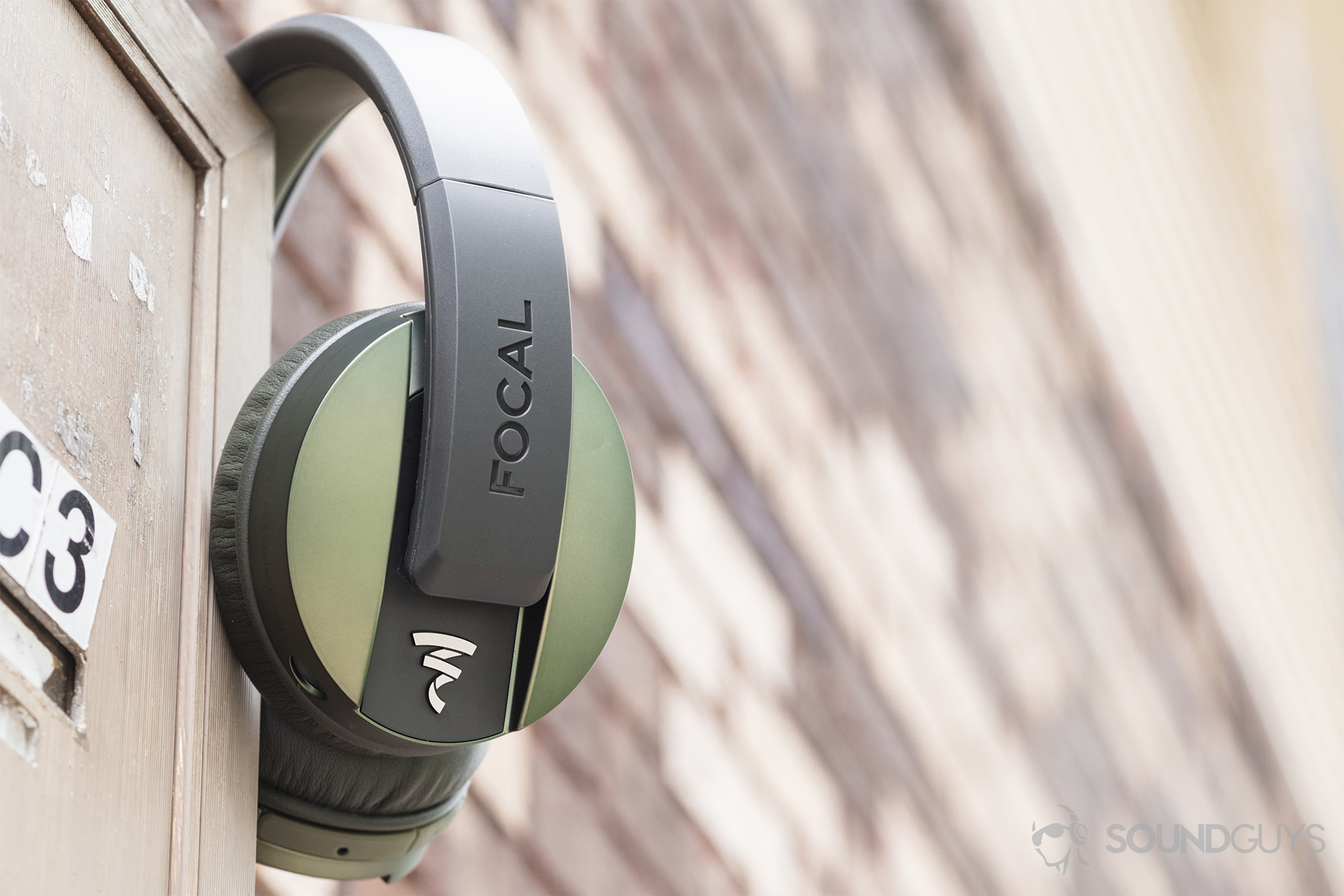 The Focal Listen Wireless are a great headset for commutes since they are able to effectively attenuate ambient noise due to the 22mm ear cushions.
The reproduction of 3-D space is difficult to master, but the Focal Listen Wireless do a fine job when it comes to imaging. The trumpets in Feel It Still by frustratingly-punctuated band Portugal. The Man are easy to separate from the guitar solo that travels up from the 12th fret of the high-E string to the 11th fret of the D string. Not only that, but the electric bass—a constant throughout a majority of the song—can be effortlessly separated from the hi-hats and drum kicks.
To break the specifications down, the 40mm electrodynamic mylar titanium drivers reproduce a frequency range of 15Hz – 22kHz. If you're wondering, yes, this extends beyond that of the human ear, and they get awfully loud with a maximum output of 122dB SPL. Warning: Prolonged exposure to this could undoubtedly damage your hearing, so we advise against maxing it out.
The low-end is clearly reproduced and articulated; this is easy to hear in the intro of Denim Jacket by Maroon 5. The beautiful resonance of the bass drum is emphasized just enough to stand out from the background instrumentals without masking Adam Levine's tenor or the steady beat of snaps throughout the song.
Listeners can easily extend or retract the headphones to fit appropriately. What's more, the ear cups rotate vertically and horizontally at the yolk.
Better known as Lorde, Ella Marija Lani Yelich-O'Connor's vocals are forward with minimal masking from the bass in The Lourve. Though vocal fry is a polarizing phenomenon, there's no doubt that the Focal Listen Wireless are able to adroitly navigate midrange frequencies, because every bit of rasp can be heard in the reproduction of Lorde's voice. This is most apparent in the reiterated lyrics, "half of my wardrobe is on your bedroom floor."
Though the emphasized treble can be grating, it works to the benefit of Conscious Club by Vulfpeck. In the outro, the reproduction of the piano's Fm and G# chords are particularly pronounced which is good because with other headphones, like the RHA MA750 Wireless, the highs in Conscious Club are nearly imperceptible. Additionally, the D7/F# and Dm7/G guitar chords in the outro are easier to hear as a positive consequence of the treble emphasis.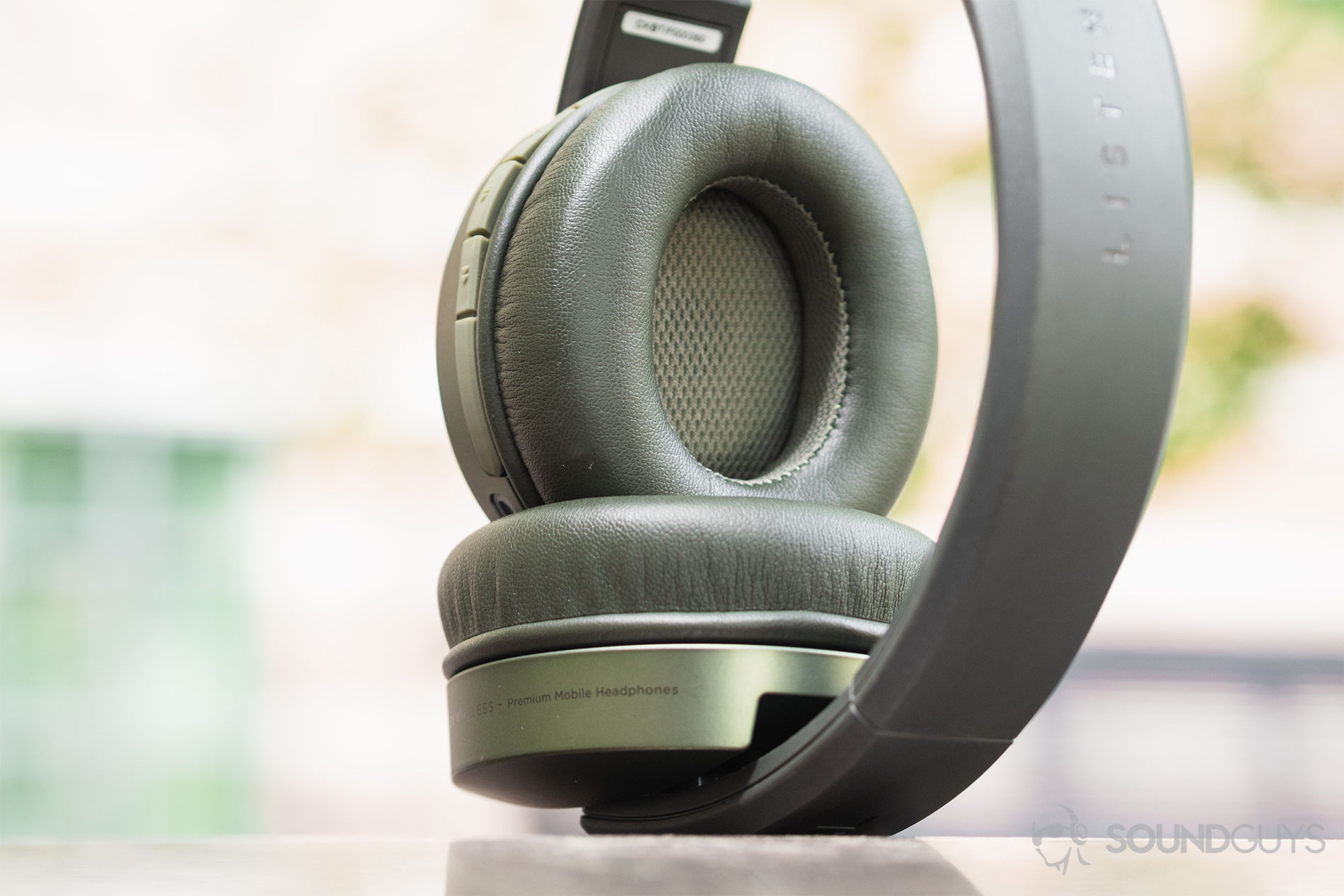 The Focal Listen Wireless leatherette ear pads are heat sensitive to counteract excessive heat build-up between the ears and the ear cups.
That's right, just like Pandora's box—well, before it was opened—nothing comes in or out. Rotating the rotund ear cups allows for anyone to achieve a proper seal, resulting in a grade-A job at filtering out environmental noise. Things like low humming air conditioners and fans are easy to passively drown out, but higher frequencies—like the female voice, which typically ranges from 1.6kHz – 2.5kHz—are harder to mitigate.
Should you buy them?
If you have the budget and demand at least CD-quality audio reproduction, yes. Focal is a brand that many of us audiophiles and enthusiasts have grown to love and trust with good reason. The company knows how to produce high quality products, albeit at a very high price point. Whether it's for convenience or because your phone manufacturer thought it en Vogue to remove the headphone jack, the Focal Listen Wireless are a phenomenal set of Bluetooth cans that can get painfully loud.
Thick plastic constitutes the bulk of the Focal Listen Wireless headphones, which can be folded up for transport.
Though there are a range of reasons that you'd be interested in these, they should appeal to you if you need top-end passive noise isolation. Putting these on feels like stepping into the Cone of Silence from Get Smart. Your environment fades into the background, meaning that you get to enjoy your music unimpeded. Sure, treble emphasis can be jarring at times, but it's a small price to pay for such impeccable isolation.