All products featured are independently chosen by us. However, SoundGuys may receive a commission on orders placed through its retail links. See our ethics statement.
The bottom line
If you want to minimize spending and maximize value, the Monoprice 8323 are the headphones for you.
Monoprice 8323
If you want to minimize spending and maximize value, the Monoprice 8323 are the headphones for you.
What we like
Price<br>
Foldable design<br>
Sound quality<br>
What we don't like
Build quality<br>
Synthetic ear pads<br>
Stifled soundstage<br>
Rating Metric
Sound Quality
8.1
Bass
7.9
Midrange
8.5
Highs
7.9
Durability / Build Quality
7.2
Value
9.0
Design
8.5
Microphone
8.0
Portability
8.5
The Monoprice 8323 are the blind date your friend set up against your will. You like being single, life is fine. Yet somehow, Joe Sixpack convinces you to go. You look at a photo and think, eh, not my type. But it's a Thursday, and I've already watched Stranger Things. Twice.
You go. You sit down. First impressions confirm preconceived notions. Drab, says your inner monologue, yawning. Your stomach growls, hungry, and tongue trips. One beer. Two plates of sweet potato fries, some medium-talk and a few Guinesses later, the two of you are set to see each other tomorrow night.
Editor's note: This review was updated on January 17, 2021, to reflect SoundGuys' current formatting style.
The build quality isn't great, but it's what we'd expect for $23
Synthetic ear pads are comfortable but hot.
With all of the creaking made by the 8323, every song was a remix. Truly, it's a toss-up on what's sturdier, a six-pegged Lego or the Monoprice 8323. Actually, I'm going to go with the former. Although dubious structural integrity may concern listeners who are rough with headphones, the Monoprice 8323 are a rock-solid value. For under $30, Monoprice packs 50mm drivers into a slim, albeit uninspiring, housing. Said drivers produce a full range of sound (20 Hz-20 kHz) with the same ease that Bob Ross once soothed souls with while making pleasing paintings. The impedance of 40 Ω means no need for an amp. Plus, DJs can rejoice! The ear cups flip up, swivel and collapse for maximum comfort and usability. Nevertheless, build quality could be better, so use at your own discretion.
I appreciate the choice of 3.5mm cables. Even if you couldn't care less about having an inline mic or not, a spare comes in handy. Worth noting: The ear cups are rather comfortable, until you remove them. The synthetic material gets hot and, when taking them off, leaves my ears bothered. Think, lifting hot thighs from a pleather car cushion on an Alabama summer's day. Mmm. I can feel myself parting from the outer layer of my dermis now.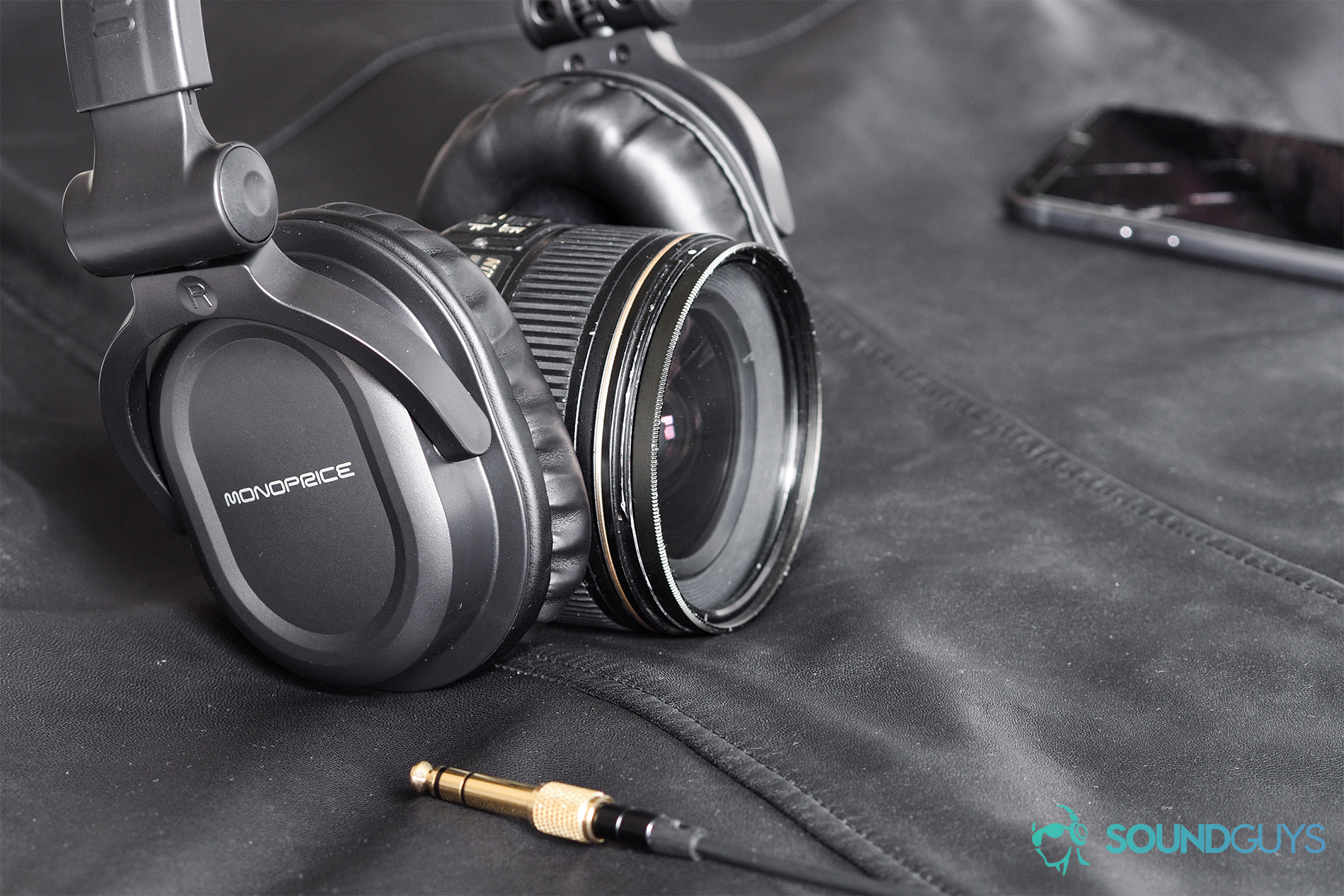 The 1/4 in. adapter fits snugly over the standard 3.5mm jack.
The unboxing experience of the Monoprice 8323 foreshadows the headphones' build quality. Upon lifting the cardboard flaps, you're presented with an economical plastic mold that holds the circumaural headphones, two 4-foot long 3.5mm audio cables—one with a microphone and one without—and a gold-plated quarter inch adapter. That's it, can't get much more run-of-the-mill.
Do the Monoprice 8323 stay connected?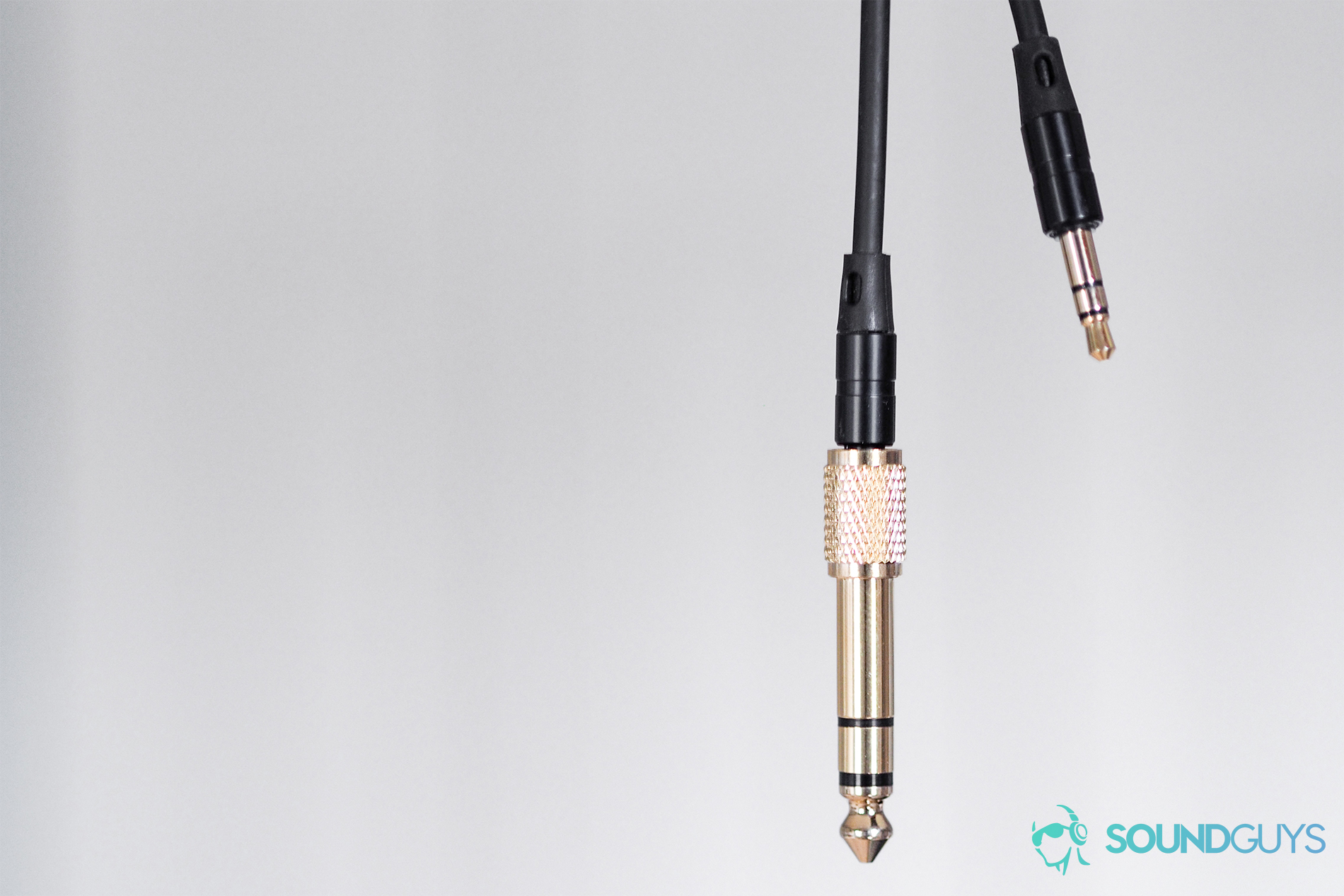 The headphone jack may soon be a thing of the past for general consumers.
Both cables work. They fit securely without wobbling. I thought the microphone was fine. Things were a little muffled, and it transmitted more ambient noise than I, or my interlocutor, would have liked. But for $25, I'd be a fool to complain. The ¼ inch adapter also worked well and relayed coherent sound from my guitar amp to the 8323. Pretty straight forward, just like the termination on both cables.
How's the sound quality?
The frequency response of the Monoprice 8323 is relatively neutral in that no one frequency range is emphasized to extremes, and it produces a consumer-friendly sound.
Bass
The bass doesn't shake me with an eagerly forward presence. Yet, I won't classify it as neutral. It toes the ever-popular line of somewhere in the middle, naturally pleasing casual listeners and emerging professionals. In Flipturn's Beep, a song laden with what could easily be turned into rumbling din, boosted bass urgently carries the listener through the ballad. Nevertheless, the bass signature is far from clear. What's more, the soundstage can be illustrated by picturing a game of solitaire. Cards are stacked, overrunning each other, but you can still differentiate between where one card ends and the next begins. It's not that the soundstage is a littering of noise, but it could be cleaned up.
Mids
Vocals are solid on Arcade Fire's Good God Damn. The album's self-referential lyrics imbue a plaintive tone which is emulated brilliantly by the affordable 8323. Likewise, a quick and dynamic response makes songs with nuanced vocals a pleasure while giving headphones in the $100 bracket to a run for their money.
Highs
The highs were relaxed. Thankfully, notes don't attack my eardrum with vengeful sibilance. Instead, I can listen to these for hours at a time without fatigue. High frequencies in the XX's VCR are distinct and pleasurable. Though, plucking of the electric guitar overshadows the delicate resonance that I've grown familiar with. Overall, the highs could benefit from by being more acute. However, I'd rather wish highs were sharper than wishing they were sanded down five grades.
Should you buy the Monoprice 8323 in 2021?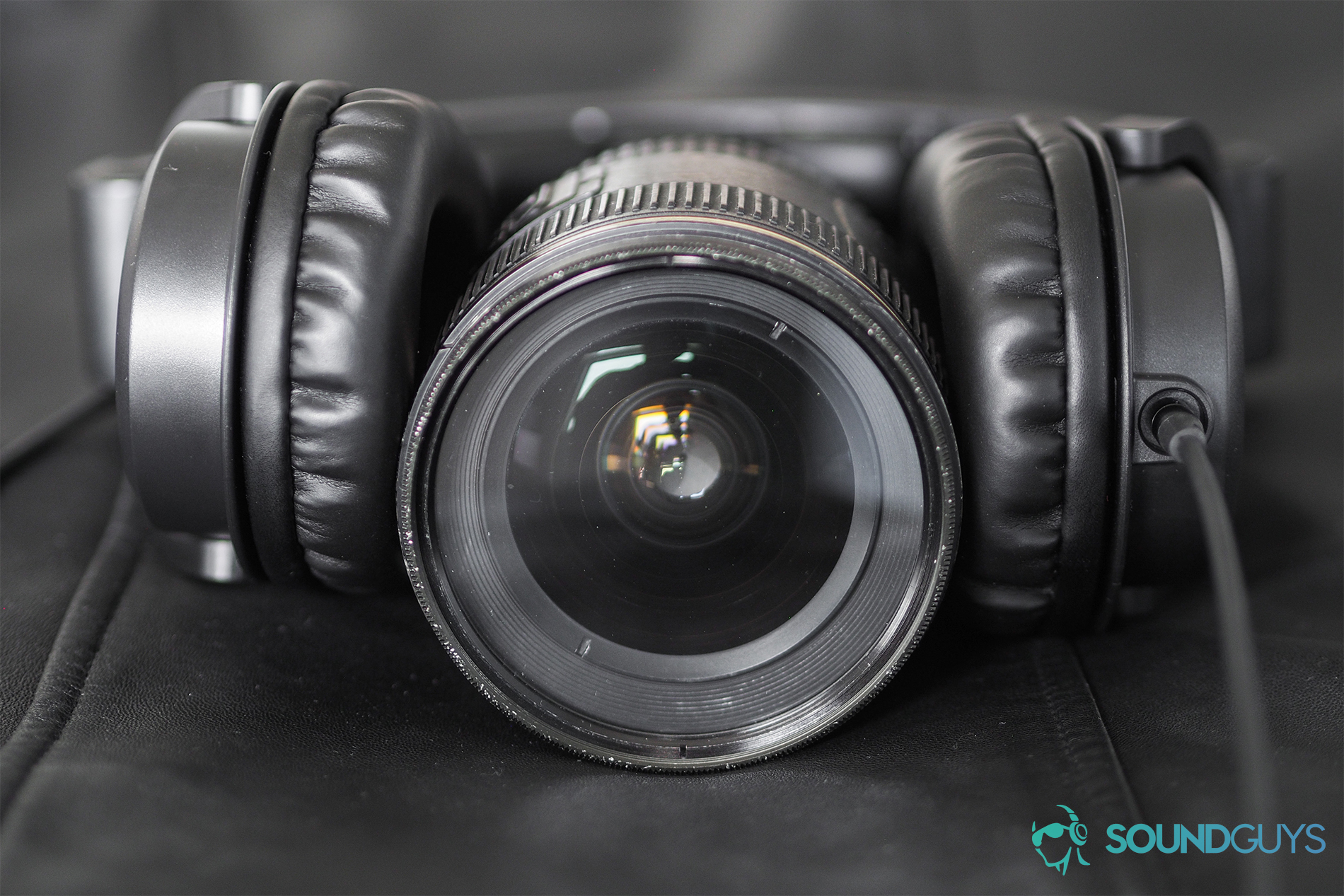 Don't let my brash criticism of the Monoprice 8323 build quality scare you away. These are, according to our best headphones under $50 list, the best of the best when it comes to affordable 'cans, even in 2021. The spare cables mean product longevity, while the 50mm drivers mean there's no shorting on sound quality. If you can accept that the ho-hum design, Monoprice's 8323 model are a technical, economic feat of sound engineering.