All products featured are independently chosen by us. However, SoundGuys may receive a commission on orders placed through its retail links. See our ethics statement.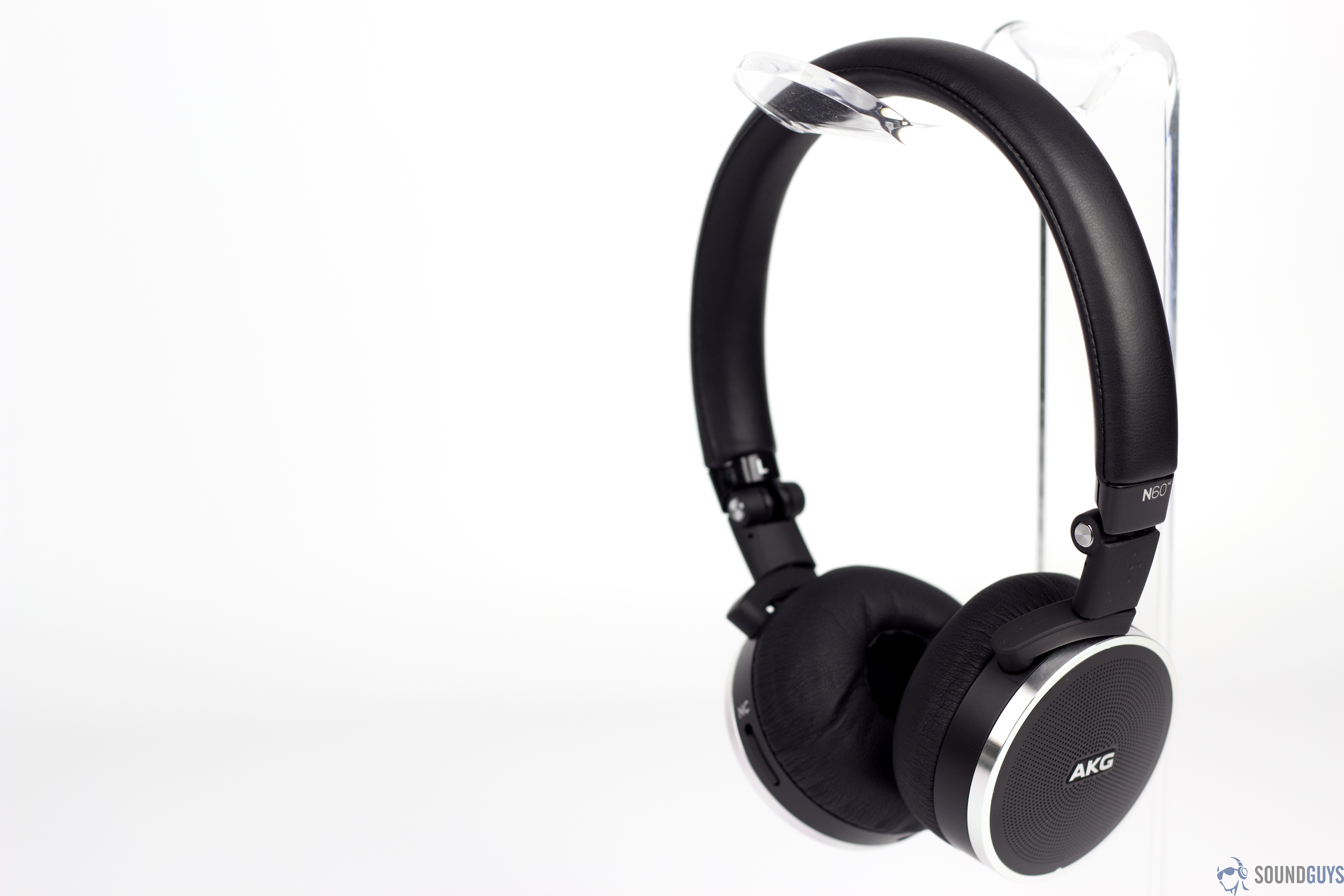 The bottom line
If you want great sound in a portable form factor, AKG doesn't disappoint with the N60 NC's. Unfortunately, they're not without their cons and the whole package doesn't come cheap.
If you want great sound in a portable form factor, AKG doesn't disappoint with the N60 NC's. Unfortunately, they're not without their cons and the whole package doesn't come cheap.
What we like
Great sound
Portable
Nice Design
What we don't like
Weak ANC
Price
Rating Metric
Sound Quality
9.4
Bass
9.4
Midrange
9.0
Highs
9.7
Durability / Build Quality
8.7
Value
8.0
Design
9.0
Microphone
8.0
Portability
8.7
Battery Life
9.3
We haven't reviewed anything from AKG since they teamed up with Quincy Jones for the AKG N90Q's. Those were so good, we didn't want to ruin our memories of them. Still, the AKG N60 NC on-ears have been getting some positive feedback as well so we thought it'd be a good idea to check them out and see what hey have to offer. Of course it's impossible to compare them to a pair of headphones that cost more than $1000, but AKG wouldn't release something that doesn't sound good right?
Hey! This review is outdated!
This review was originally posted in the beginning of 2016, and as such, the scores aren't comparable with those assigned after 2018. For models that are still relevant, we're working on getting units into the lab to test—for those that are retired from lineups, we'll sunset the reviews when the new site goes live.
Thanks for your understanding, and happy listening.
What's inside?
In the box you'll get a soft carrying pouch, the headphones, a charging cable, audio cable, a flight adapter, and the warranty information and instruction manual. The half-circle shape of the carrying pouch was a little weird at first but considering the headphones can fold into a pretty compact shape it makes sense.
Build & Design
The AKG N60 NC's have some really nice build materials and a great build quality, but that doesn't exactly mean that they're not unbreakable. We didn't test out their durability to the limits, but I can say I didn't feel comfortable throwing them in my backpack even with the carrying pouch. That said, I did anyway and they came out in one piece so even if they're not the most durable of things, it's good to know that they can survive the tumbles and bumps of an average day.
The headband is made of plastic but wrapped in a premium leather and the ear cups follow suit. The main part is a hard plastic and has an aluminum trim while the padding is made of memory foam and is also wrapped in the same leather as the headband. Fair warning, the outside of the ear cups are fingerprint magnets so make sure you have a micro fiber cloth handy to wipe off any fingerprints.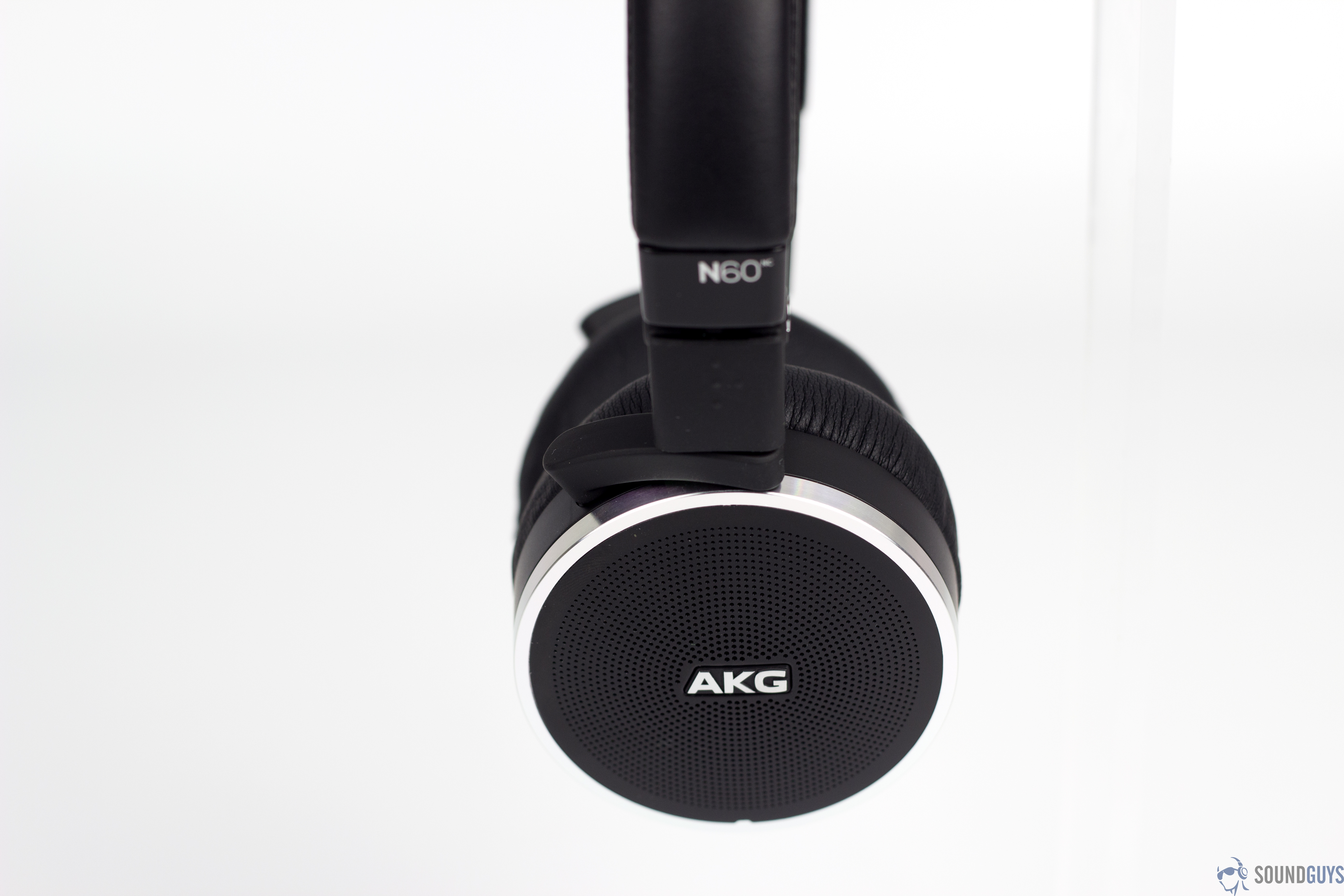 Design-wise these come in a minimal black and steel color option that definitely adds to the classy aesthetic. They were also made with commuters in mind and can fold to half (if not more) of their original size. AKG did a good job making sure these are super comfortable as well. The longest listening session during testing was about 7 hours and they never got uncomfortable at all. Pretty impressive considering that most noise canceling on-ears try to grip your head as tight as possible to help passively block some outside noise.
Connection
As far as connections go there's not much to talk about since there's only one way to connect: the audio cable. It's a 2.5mm to 3.5mm cable and ends in a 90 degree connector so if you have large cases your phone it's something to pay attention to. The non-standard cable is also less than helpful if you're looking to replace it since you're going to have to go through AKG. On that cable is a small one-button remote and mic for controlling your music and answering phone calls. The mic works with every device, but the controls differ depending on the OS of your source device.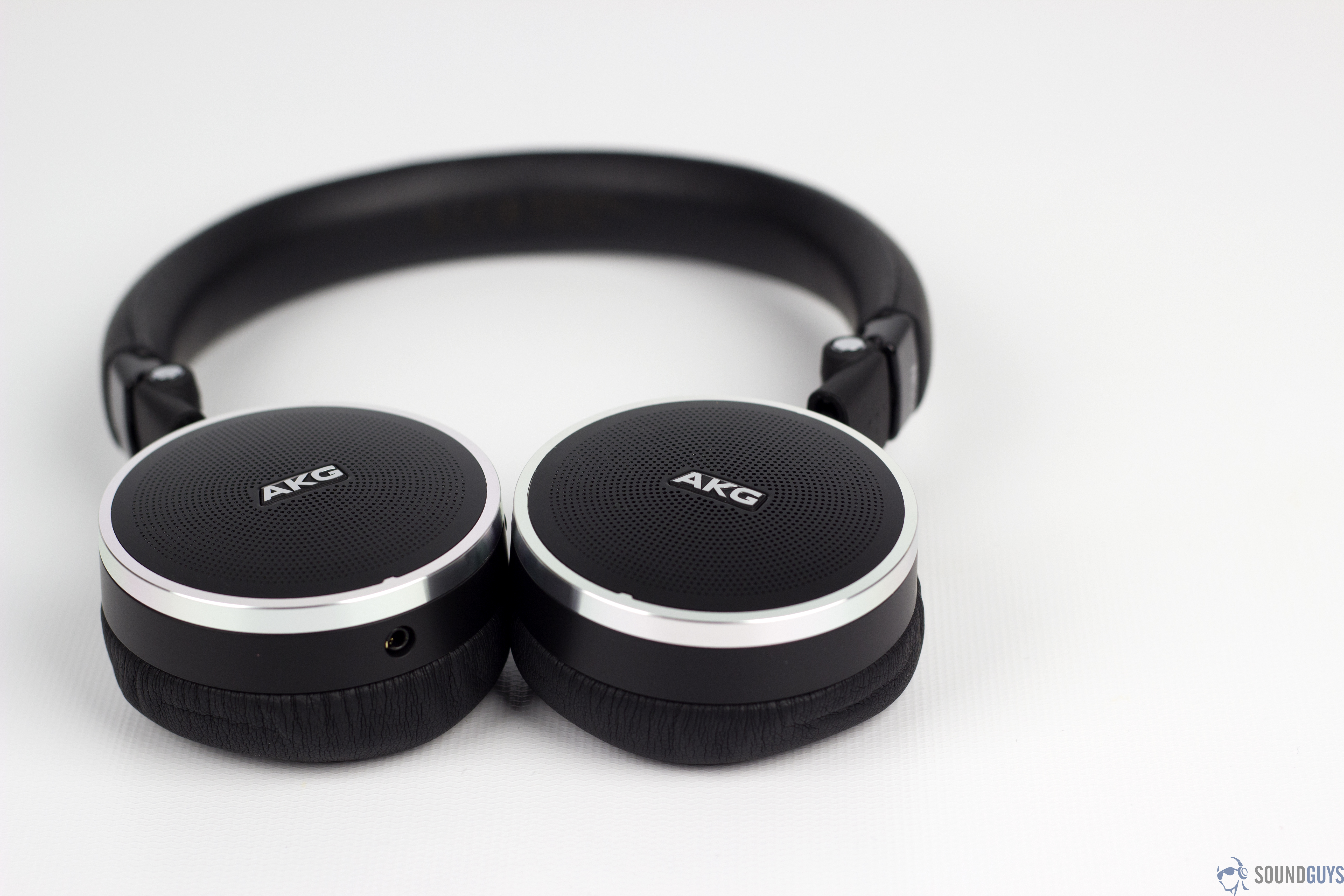 On iOS devices double clicking will skip tracks, triple clicking returns to previous tracks, and you can even fast forward or rewind through songs by holding down the button on the second or third click. Unfortunately that doesn't translate over to Android devices, where then only thing you can do is pause/play music or skip to the next track.
Battery Life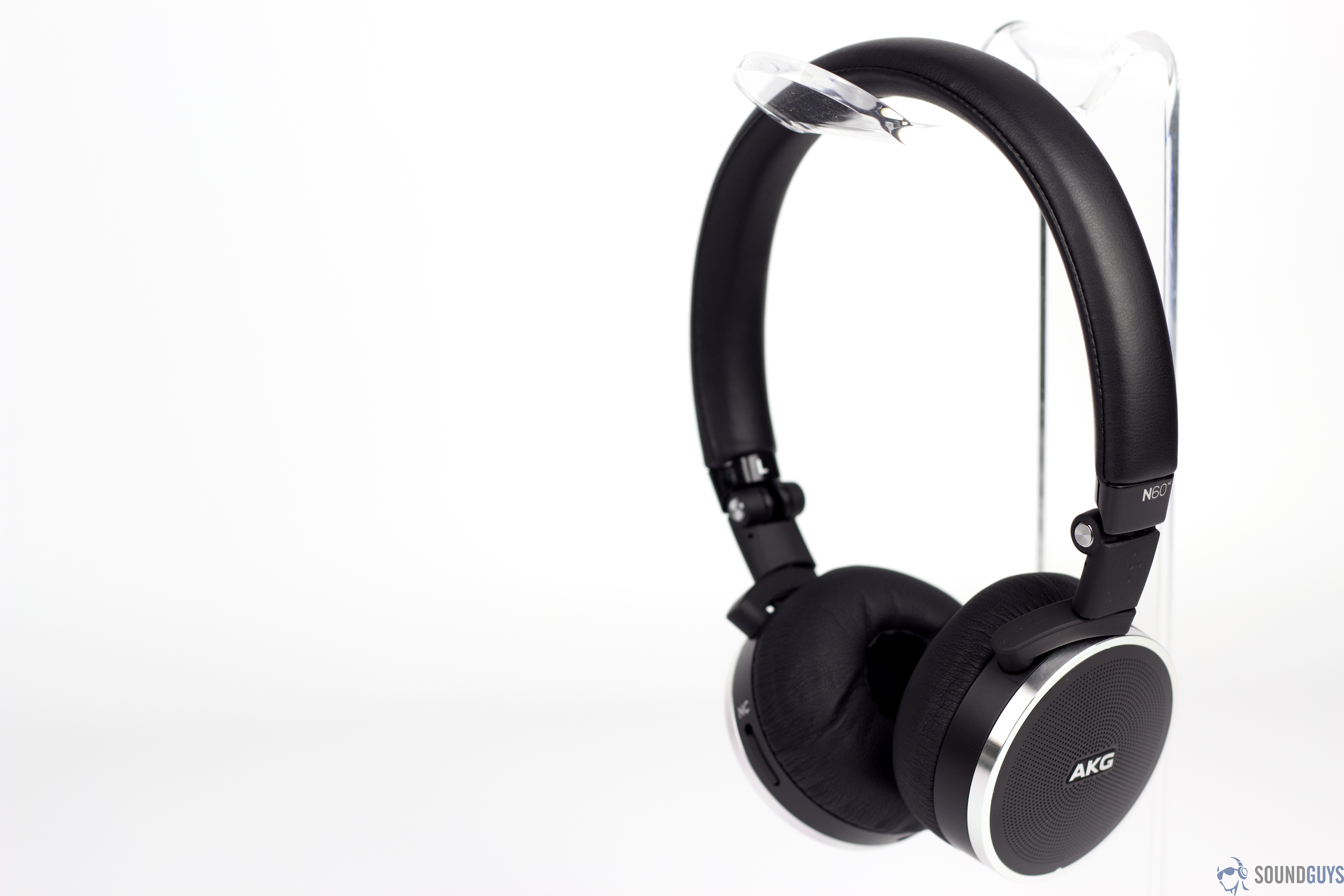 AKG claims that these have a battery life of 30 hours, and we're going to have to take their word on this one. Even though we tested them for about a week for hours at a time we still couldn't get them to die, so even if it's not 30 hours exactly it's close enough to conclude that they have amazing battery life. Besides, even if you do run them down to zero you can still use them with ANC turned off in passive mode.
Sound Quality
The AKG N60 NC's aren't your average on-ears. There's a switch on the left cup that when turned on activates the Active Noise Cancelling. We already weren't expecting much from a pair of on-ears, but even we were surprised at how little they actually did. Do they work? Sure. It cancels out some sounds enough that you'll notice it but things that completely disappear in other high end noise canceling headphones like the low hum of trains were still completely audible leaving us to wonder why they even included the ANC.
That said even the weak ANC couldn't stop us from being very impressed at how great these sounded, and they sound great. We're pretty sure these were meant for portable devices, but because we could also see people using these in an office setting we decided to do a good amount of testing plugged into a Scarlett 2i2 audio interface as well.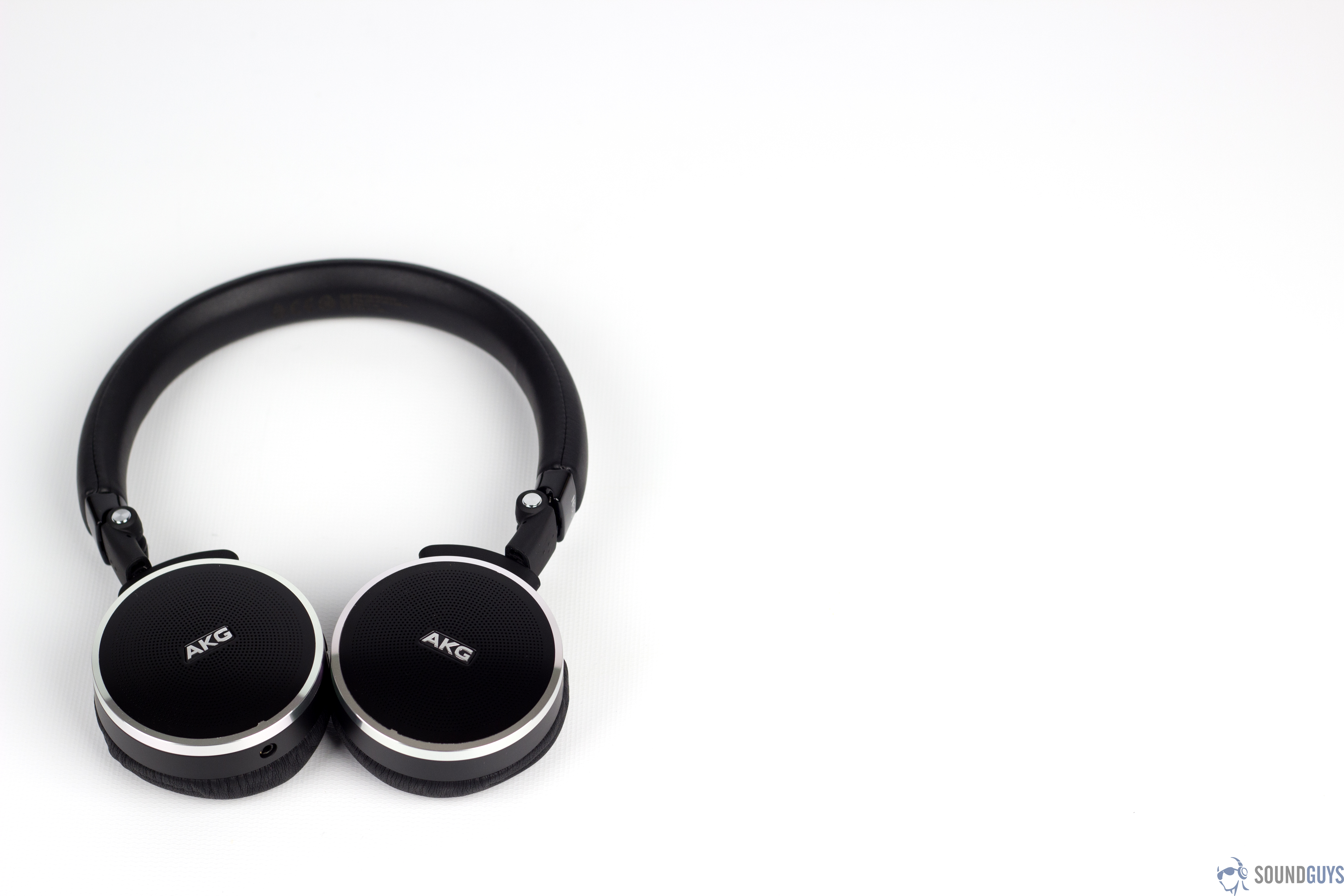 The AKG N60 NC's aren't going to blow you away in terms of low end, but there is a surprising amount of depth and detail to the bass even if there is a slight emphasis put on them. The smooth bossa nova bass of 'Lady – Acoustic Version' by Modjo is perfectly distinguishable among the other elements of the songs.
Mids were good, but they weren't the best part of the headphones. The snares and guitars in 'Gimme All Your Love' kept their grit but they did sound a little cramped like they were sharing the same space. Vocals however came through crystal clear regardless of the song or genre, so if you like singing along to songs this is good news for you.
As hard as I listened, I couldn't find anything wrong the highs. They were just perfect to me. The detail in the guitar scratches and cymbals in Jon Bellion's 'Wake The F*ck Up' all sounded great no matter how loud I cranked the headphones, and they can get pretty loud.
Conclusion
In conclusion we're going to chalk this up as another W in the win column for AKG. These headphone sound great, made all the more impressive by the fact that they're on-ears. Still, we didn't find the ANC to be all that necessary and if they removed that and knocked a couple bucks off the price these would be a must-have without a doubt. As it stands, it does have ANC and they aren't cheap. If you're looking for portability, great sound, and don't mind paying premium price then you should get these hands down. Put them at the top of your short list. On the other hand if you're going to be using them mainly at your desk and don't care about size or portability, there are some over-ear cans you can choose in this price range that might suit you a little better.