All products featured are independently chosen by us. However, SoundGuys may receive a commission on orders placed through its retail links. See our ethics statement.
The bottom line
These are without a doubt a great pair of headphones, but what else would you expect for $1500?
AKG N90Q
These are without a doubt a great pair of headphones, but what else would you expect for $1500?
What we like
Great sound
Solid Build
Fancy color
What we don't like
Expensive
Bulky
Rating Metric
Sound Quality
9.8
Bass
9.8
Midrange
9.7
Highs
9.7
Durability / Build Quality
9.4
Value
8.8
Design
9.4
Microphone
8.7
Portability
8.6
Battery Life
8.9
Buy now from AKG ($1,499)
UPDATE [February 2022]: This product has sold out. Our current favorite pair of AKG headphones is the AKG K371. You'll find more alternatives on our list of the best studio headphones.
If you live on planet Earth I'm going to assume you've encountered the work of Quincy Jones at some point in your life, knowingly or not. The man is a living legend and has produced many of the worlds greatest hits obtaining 27 Grammys and 79 nominations along the way. When AKG decided to make a top-of-the-line pair of studio headphones, he's the guy they called.
The headphones in question are the AKG N90Q and have been in production for 5 years. They feature AKG's new TruNote technology which is responsible for customizing the sound specifically for your ears (more on that later). The new features and specs look great on paper, but is it worth the $1500 price tag?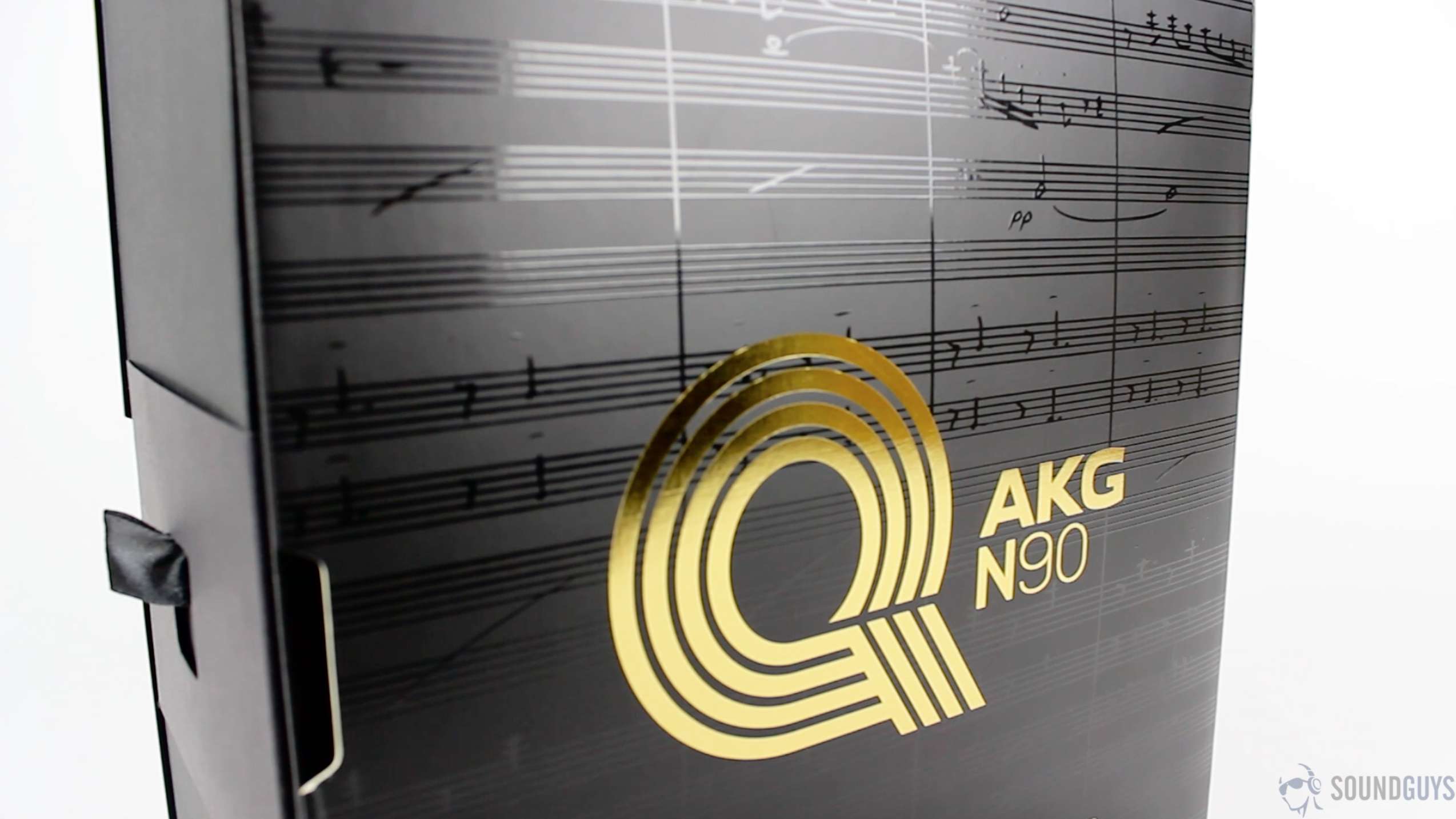 Normally, I'd skip over the unboxing but opening these is like unwrapping a Christmas present. The cardboard sleeve has a sleek black and gold design with the front having the name of the headphones with a giant "Q" in bold lettering on top of discretely placed sheet music. The back has a picture of the headphones and all of the features and the included contents. Taking the box out of the cardboard sleeve reveals a second minimal box with only the logos inscribed in a darker black. Removing that reveals yet another box wrapped in another sleeve with a golden quote by Quincy Jones that says, "Music holds the world together". After that you'll get to the case which is less like a case, more like a goodie box.
The case is solid and has a golden lid with a golden logo inscribed on it. Lots of gold here in case you haven't noticed. Opening the case you'll find the headphones as well as a portable powerbank, a cleaning cloth, and a small oval box with three different audio cables and 1/4" adapter inside (golden of course). Besides that you'll get a premium sheep skin leather carrying case for the headphones, and a smaller one for the accessories as well. Of course we can't forget about all of the fun warranty information you'll get to go along with a small booklet describing the headphones. The fun doesn't stop there as the case has a micro USB port on the back of it so that you can plug directly into the case in order to charge the powerbank or headphones. Completely unnecessary but very cool nonetheless.
Build & Design
The headphones have sheepskin leather adorning the ear pads and the top of the adjustable headband to go along with the smooth aluminum that makes up the remainder of the headphones. The gold and black theme present on the box is blatantly carried over to the headphones and accessories as well. Each ear cup is black with a golden "Q" in the middle. If this much gold isn't your thing, they also come in all black with minimal gold accents.
The ear cups rotate a full 90-degrees outward allowing you to rest these flat on your chest when they're not in use. That's very helpful considering that these headphones are huge. That said, they're surprisingly lightweight and don't feel heavy on your head at all. They also need to be big considering the huge 52mm drivers in them to go along with all of the new technology AKG put into these.
The AKG N90Q's are fairly flexible and I'm confident that they'll fit any size head without a problem. Though I didn't push them to the limits of their flexibility since I don't have $1500 to replace them, they held up fairly well against my usual twists and stretches while putting them on. On the bottom of the right ear cup is where you'll find everything you need to get started including the power switch, auto-calibration button, micro USB port, and the 2.5mm audio jack.
The ear cups are also made of dual-density memory foam which is fancy talk for really freaking comfortable. I wore these for hours and, though I was very aware that they were on my head, they were still insanely comfortable. They do more than just add comfort though as their size allows them to also passively block any outside noise from entering the ear cup.
Connectivity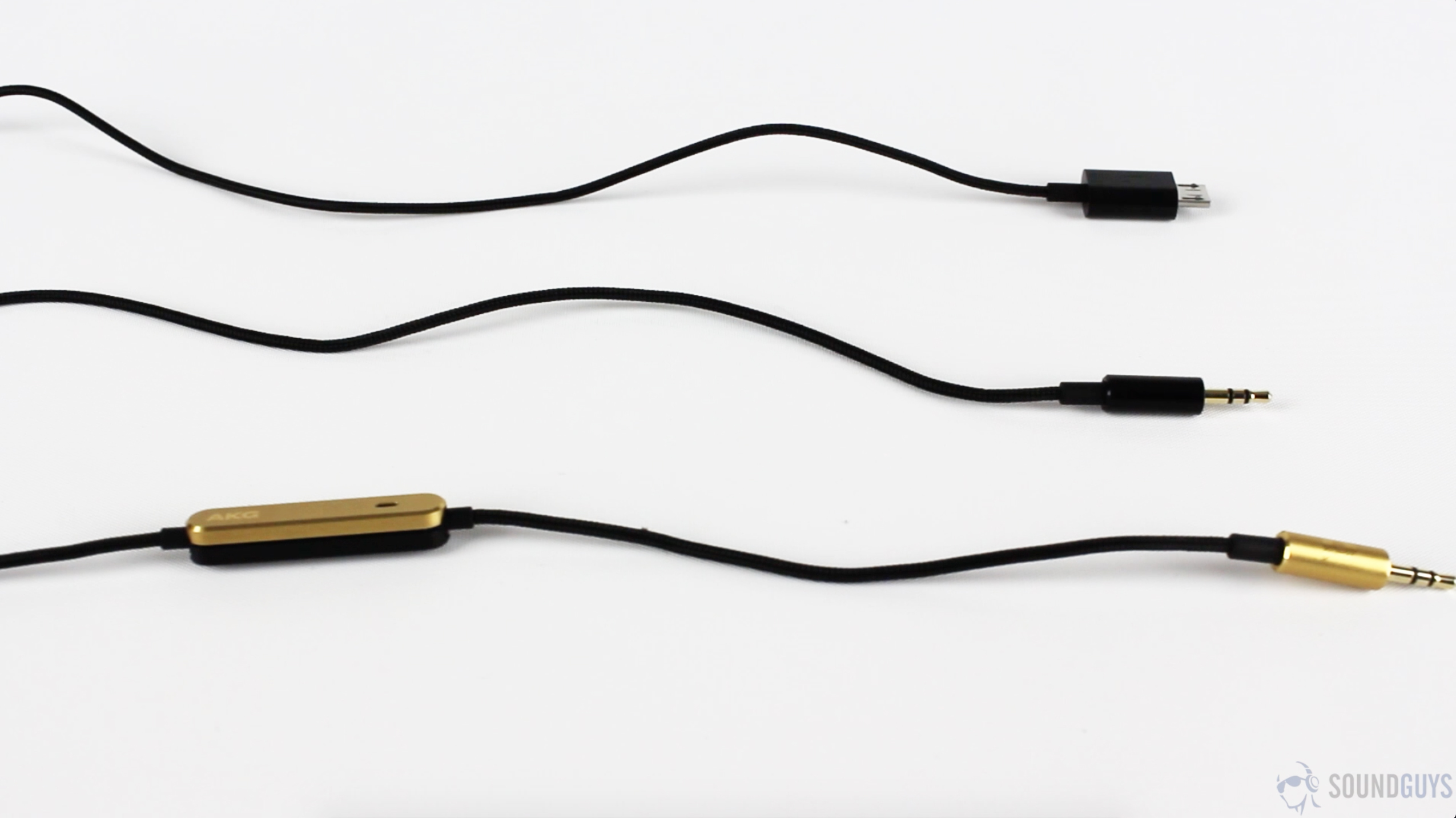 Which leads us to all of the ways that these headphones can connect to your source device. It comes with three audio cables: two 2.5mm to 3.5mm auxiliary cords and one digital cable. The 2.5mm end goes into the right ear cup while the 3.5mm goes into your device. One of the cords is strictly for audio with no in-line mic or playback controls and measures 3m in length. This is the one you'll want to use if you're mixing down a track in the studio, while the second aux cord is more suited for portability.
It measures only 1.2m in length and comes with an in-line mic and a single-button remote. The remote gives you complete control over playback and volume assuming you're using an iDevice. One click will pause and resume playback while two clicks will skip to the next track and three clicks will return to a previous track. If you have an Android or any other device you'll only be able to play or pause a song and skip to the next one.
That said, you don't have to rely on the in-line controls to raise the volume. You can simply rotate the control rings on the right ear cup in order to control the volume. I encountered no hiccups when doing this and after you get used to it, it feels very intuitive. The rings move smoothly and you the clicks that sound while rotating are oddly satisfying.
The last cable is a micro USB to USB cable and allows you to connect directly to a computer to listen to music as the AKG N90Q's have their own built-in DAC for when you want to bypass the one in your device. They're supposed to also work on Android phones but I couldn't figure out how it was supposed to connect, maybe I was doing something wrong.
Battery Life
AKG estimated 12 hours of battery and this was fairly accurate in our testing. We were able to push it closer to 11.5 hours with active noise canceling turned on. Unfortunately, you can't use the headphones at all once the battery is depleted so it's a good thing they packed in a portable powerbank so you can charge them up on the fly. One other useful feature that is absent from these headphones is an indicator to tell you how much battery life is left. There were a couple of times when the headphones would simply die on me without warning and although the button on the right ear cup does blink red to let you know when the battery is running low, it doesn't give you an accurate reading as to how much is left.
Sound Quality
Here's where things get interesting. These are the first headphones to use AKG's new custom technology called TruNote. To do this you have to hold down the single button on the right ear cup for 5 seconds. After doing so you'll hear a soft click followed by two successive beeps. This enables the headphones to calibrate the sound best suited for you based on your ear shape and the pressure distribution in the ear cup via two tiny microphones in each ear cup. Pretty great.
Aside from that these also have amazing active noise canceling even though it does take a second or two to turn on with an audible "pop". How good is it? Well when I first tried them on in midtown Manhattan, it was slightly disorienting when the city around me went silent. Only the occasional yell or honk of the horn was discernible when there was music playing.
Besides that the right ear cup also has a button that you can press for the three "stage control" settings that best suit your needs. The first is called "Standard" and disables the DSP spatial processing while holding back on the volume and some of the bass, allowing for a more casual and laid back listening experience. The second setting is called "Studio" and, as the name says, is meant for the most natural reproduction of sound possible as it was mixed by the engineer in the studio.
The last setting is called "Surround" which increases the soundstage remarkably. Though I did most of my testing in the "Studio" mode through a Scarlett 2i2 audio interface, I found that the "surround" setting was amazing when listening to classical pieces and jazz. It added a nice reverb to instruments and vocals that made it sound like I was sitting on stage with the orchestra. It was a pleasant experience considering that some other headphones simply throw tons of reverb and echo on everything to simulate soundstage. I also did some testing via a smartphone and tablet, but that was mainly just to test the playback controls since I don't see too many people using a $1500 pair of headphones for their daily commute.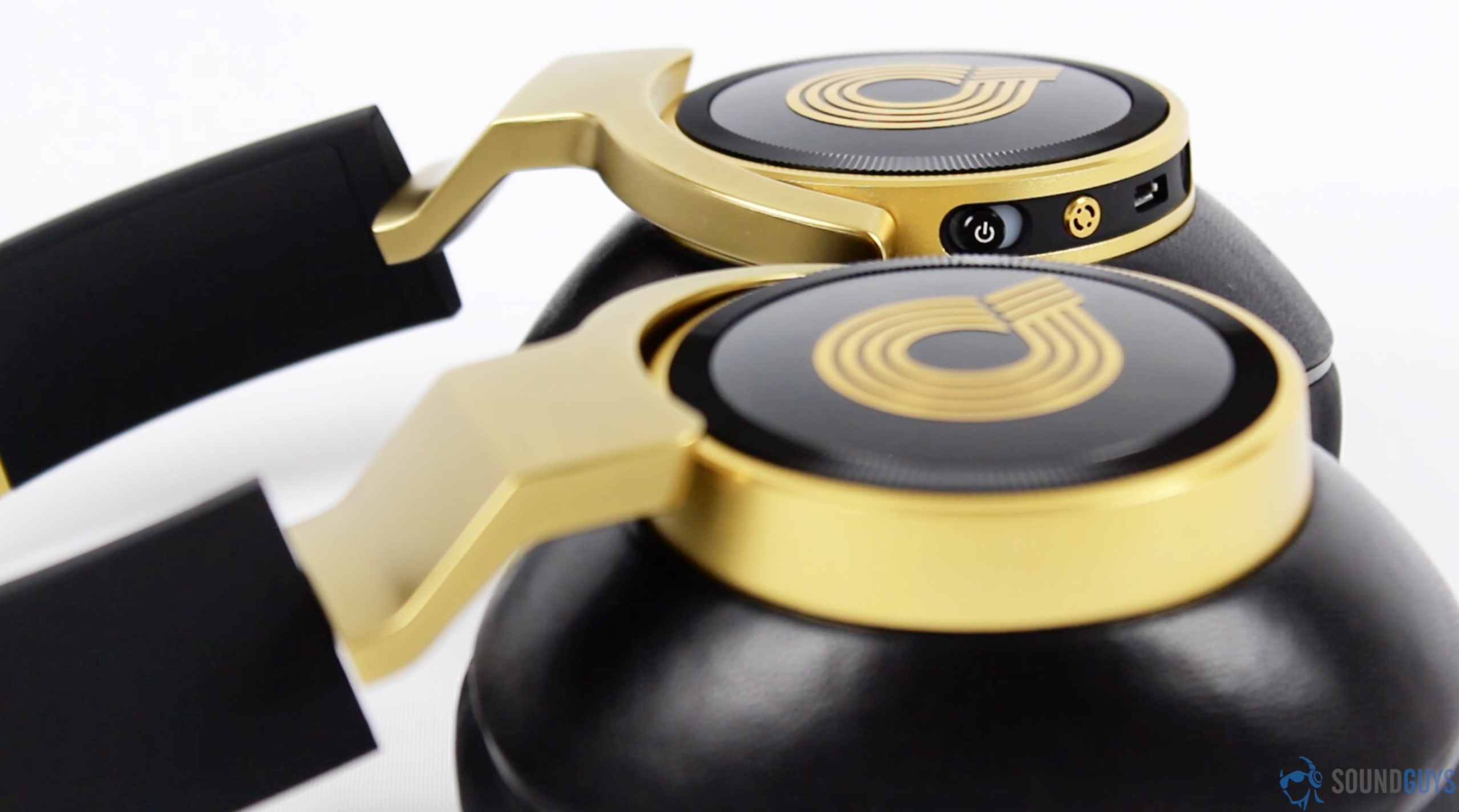 The low end was well represented with bass kicks and bass guitars clearly defined throughout a number of different genres. Towards the end of 'Rapture' by Tropics the added percussion during the solos kept a steady beat and didn't muddy up anything at all. As that's normally a problem I have with my other headphones, I felt like I was hearing that part of the song for the first time.
Same as the lows, I was blown away by how clear and crisp vocals were in some of my favorite songs. For example, 'Iron' by Woodkid has an orchestra with horns and strings throughout the song and they sometimes sound like there's a cloud hovering over his vocals, but that was not the case here. Vocals came through crispy clear floating on top of the instrumentation.
Highs came through clear with no harshness that I could detect at all. They were held down a little too much for my liking, but that was an easy fix by simply cycling through the control ring on the left ear cup that controls tonality. Cymbals and hi-hats make definitely make their presence known, but not to the point of discomfort at all.
Conclusion
These are pretty much the best sounding headphones I've ever heard. That said are they worth $1500? If you have a deep pocket and want the best of the best then yeah, they are. However, there are plenty of options out there, like the MOMENTUM wireless headphones, that also have amazing sound quality at a third of the price. So if you're looking to spend upwards of $1000 anyway you should definitely put these in your considerations, since you're the intended demographic. For the rest of us, pocket that money and go on a vacation. We're giving the AKG N90Q a 9.3 out of 10.
Buy now from AKG ($1,499)