All products featured are independently chosen by us. However, SoundGuys may receive a commission on orders placed through its retail links. See our ethics statement.
The bottom line
Buy these for the audio quality and high end feel, but only if you have money to spare. And buy ear tips that you know will get a good seal.
Buy these for the audio quality and high end feel, but only if you have money to spare. And buy ear tips that you know will get a good seal.
What we like
High end construction
Easy to listen to
Great audio quality
Lots of ear tips
What we don't like
Being touted as monitor earphones
Packaging
No in-line mic
Uncomfortable over time
Ear tips did not make a good seal
Rating Metric
Sound Quality
9.0
Bass
10.0
Midrange
9.0
Highs
9.0
Durability / Build Quality
9.0
Value
7.0
Design
8.0
Portability
9.0
Thinksound is a small audio company focused on creating high quality products with an emphasis on creating a natural sound using sustainable materials. Their headphones have gathered awards since the brand's inception in 2010 and they are working to continue that magic with the ms02, the evolution of their ms01 in-ear monitors. With the ms01 holding awards for 3 years, will the ms02 hold up to its predecessor, or will it fall to the wayside in a market flooded with more than capable earphones at lower prices?
What's Inside?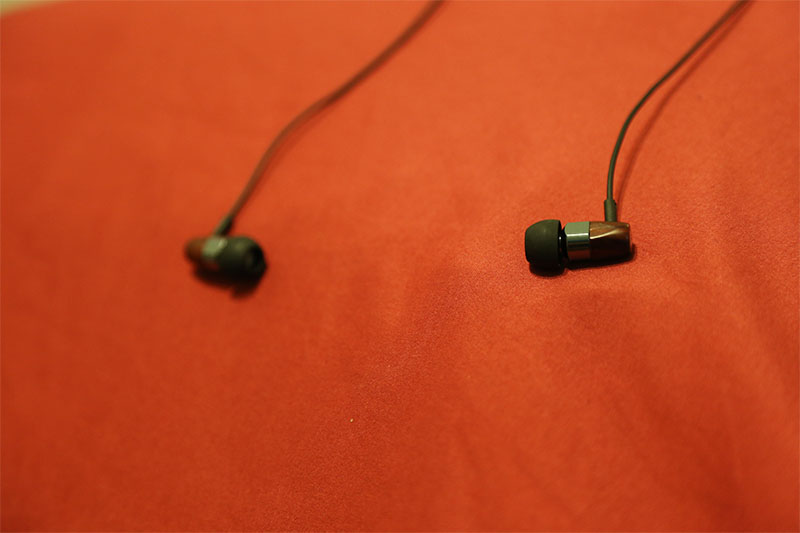 The thinksound ms02's are packaged pretty modestly. They are in a simple cardboard box which houses a small cloth sack. Inside this packaging are the earphones, four spare earbud tips of varying sizes, and an optional clip for the cable. There is also the standard warranty card and information.
Overall, for the price point, it felt like I was opening something very cheap. It's understandable that the packaging falls in line with the company's goal of being sustainable, but for spending $100 on a set of earphones that I could potentially be using everyday, I would be expecting a little more drama in the reveal of the product that just separated me from my hard earned money. But at least you can use the sack that comes with the earphones to carry the spare ear tips with you if you want to share the quality audio with a friend or you have a replacement if you happen to lose an earbud tip.
Build & Design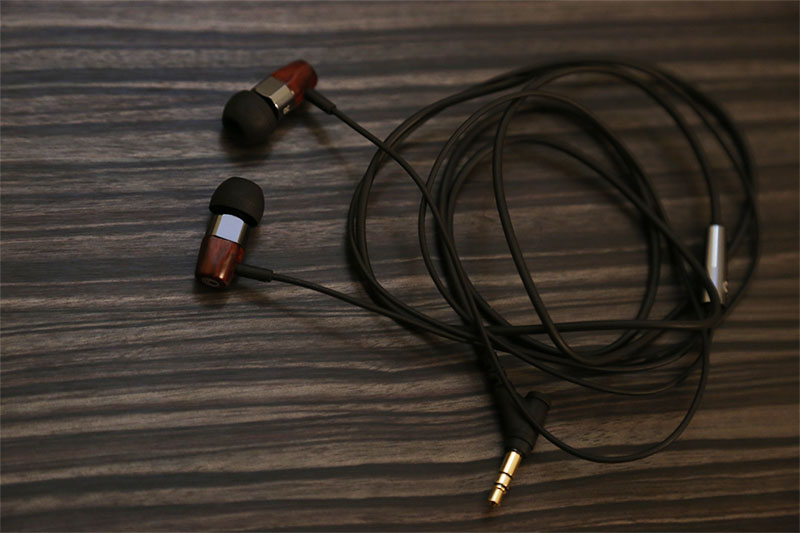 Saying the ms02 earbuds feel of very high quality is almost an understatement. The bud housings look quite exceptional and the color combination of gunmetal and chocolate makes me think of beautiful speaker cabinets made from real hardwood. The earbud tips are decent out of the box and the fact that they fit my ears out of the box was positive, but they did not create the best seal. Using other earbud tips did not provide any better experience in this respect. Perhaps different materials could improve this or providing memory foam tips for a better fit. These are monitor earphones, and I honestly would expect that thinksound would be trying to make positively sure that their listeners get the best experience out of the earphones, especially if they were being used in a professional setting.
Connection
Outside of the earbud tips, the earphones as a whole feel high end. The kevlar-reinforced cable is tangle free, even after shoving it into various pockets filled with keys, chapstick, and a pocket knife. The gold plated plug was a nice inclusion that should allow for cleaner audio. The earbud housings are relatively long and actually press on my earlobes a bit, and if not positioned properly can cause some discomfort. I would not use these as a daily headphone mostly because I would prefer to use something with an inline mic. The earphones were comfortable for the most part, but when they poked at my ears they felt sharp and annoying. This would happen over time as they would slip out every once in a while.
Overall, the units look good enough to match their sound, but lacking things like inline mic and audio control notably because they are billed as in-ear monitors. That said, thinksound does produce a set of in-ear headphones with the microphone which is readily available as well, the ts02+mic.
Sound Quality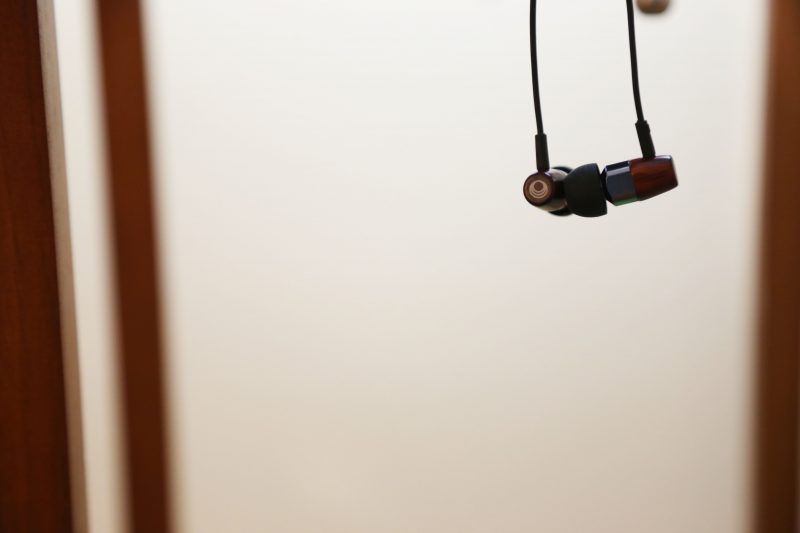 In all the songs I subjected this set of earphones to, the overall feel was that the highs felt good and accurate, but notably felt a little softer than I had expected. This is most likely because of the wooden housing of the earphones. As a result the sounds are pleasant and not harsh. Listening to the brass instruments in Brasstracks "Say U Won't" felt nice to listen to and makes me want to follow up the listen with their whole album which contains tons of brass instruments perfect for listening to the highs.
Mids follow with the highs, feeling noticeably softer than most other earphones. It is not a bad softness, just easier to listen to. This is especially apparent when listening to today's heavily produced popular music which generally lack instruments and have sharper sound profiles when listening. This was heard in the whispy and dreamlike sounds from The Chainsmokers -"Don't Let Me Down" and listening to Bruno Mars  "24k Magic" and realizing there are actually a lot of effects used to help fill in gap space in the track. The mids feel clean and are not muddy or muffled and help with creating a good sound space for the listener.
Lows felt surprisingly hefty for a set of earphones with drivers on the small side (8mm). Having a good seal made me feel the bass, which I often struggle with in earphones. Whether it was placebo or not, the bass felt great. Again, as with the highs and lows, I felt like the overall sound was softer but encouraged longer listening periods. The best example for the ability of the earphones to separate bass sounds was "Alone" by Marshmello. The track is so bass heavy and without excellent audio tuning, you can lose the differentiation in the different bass sounds and they sound like a giant muffled hum. The ms02's definitely give that separation and allow the listener to feel the subtle ups and downs of the bass track in the song. Alternatively, listening to the bass guitar in "Just Friends" by Musiq Soulchild was pleasurable and offers a more natural sound. It is easy to feel that and subtle twangs from the strings as well as the soothing thump of the bass drum.
Conclusion
My overall thoughts on the earphones are that they produce a clean, accurate, full, deep bass. The most surprising thing was actually feeling the bass hit. The audio feels a little softer overall, but the experience is rich and encourages continued listening. Sounds are full and clean, very pleasing to listen to, even when listening to harsher EDM and alternative tracks because of the fact that they are slightly soft. The ms02's actually do music very well. The earphones have made my head bob without my noticing and, if a good seal is made, they block ambient noise really well. 
Contrary to the earphones' namesake, I do not believe I would use them as a monitor because sounds lean on the soft side. For a studio monitor I would want the sound profile to be a little flatter and a little more sharp just for accuracy of the audio. Of all the criticisms that i have listed are actually very small in the grand scheme of the headphones. They are primarily a listening device and they do that exceptionally. I would definitely purchase these headphones just to sit and enjoy listening, which I definitely did during my time with the earphones. But I would only do so if I had the money burning in my wallet.