All products featured are independently chosen by us. However, SoundGuys may receive a commission on orders placed through its retail links. See our ethics statement.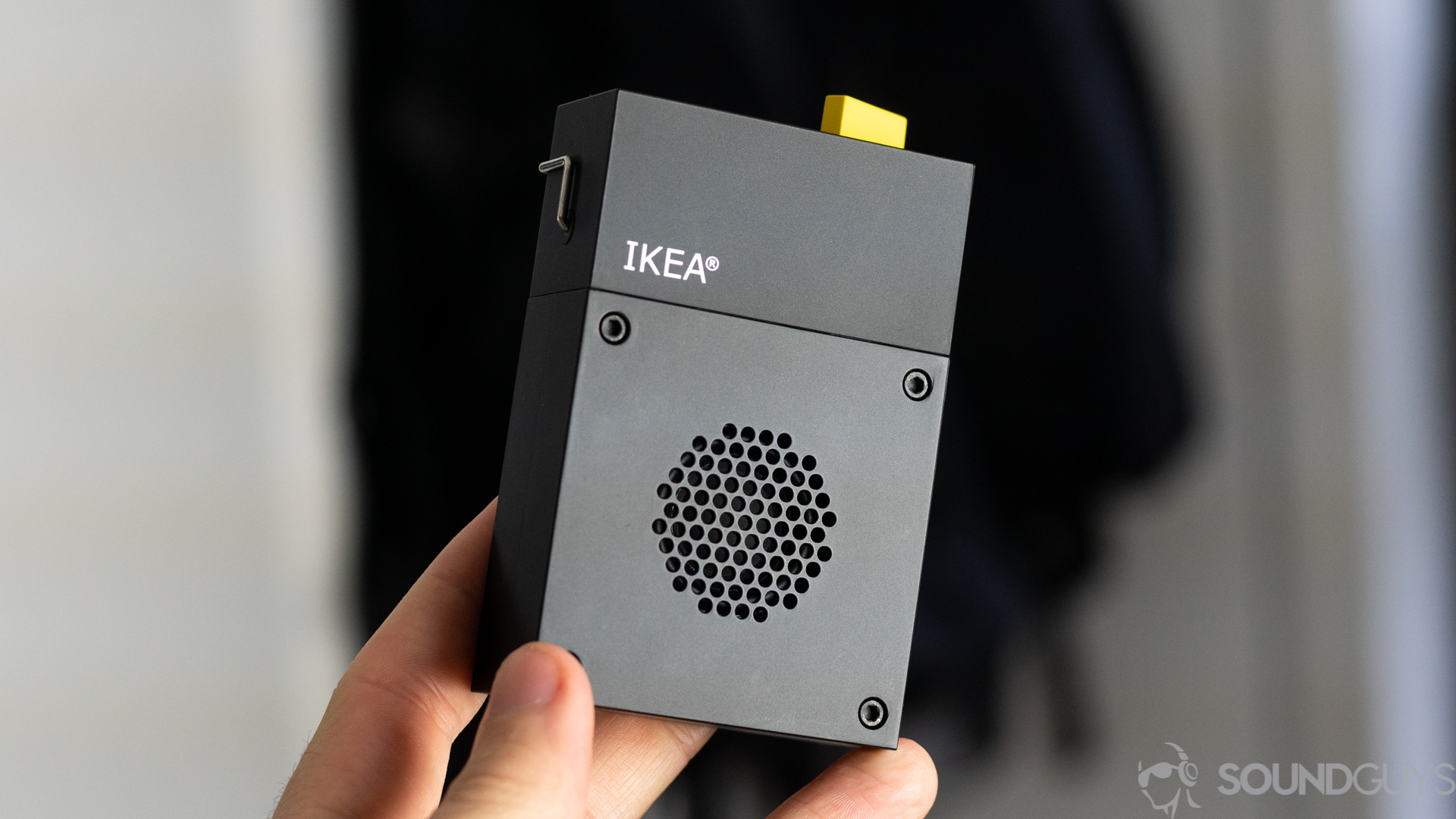 The bottom line
For the price, everyone that sees the Portable speaker by Teenage Engineering at your local IKEA won't regret picking up one (or two).
Frekvens Portable
For the price, everyone that sees the Portable speaker by Teenage Engineering at your local IKEA won't regret picking up one (or two).
What we like
Price<br>
Great design<br>
Battery life<br>
Great quality in the mids<br>
3.5mm input<br>
What we don't like
Bass is severely lacking<br>
Charges via microUSB<br>
Not many playback controls<br>
Clip is useful but not universal<br>
Only available in store<br>
Rating Metric
Sound Quality
6.4
Durability / Build Quality
6.5
Value
9.0
Design
9.0
Portability
9.0
Battery Life
6.4
You know when you're trying to be conscious about what you buy because you're already over budget for the month, but then you see something that you just have to have? That's what happened with me when I saw that Teenage Engineering (the company behind the OP-1 and OP-Z synthesizers, which i also love) and IKEA partnered up for the release of a few unique gadgets, including a few speakers. The one that caught my eye almost immediately, was a small, pocketable black speaker that reminded me of something like a prototype Walkman from back in the day. So when my local IKEA opened at 10am, I was one of the first people to walk through the doors to check out the new Frekvens (Swedish for frequency) collab. I've had it for about a week now and put it through its paces, so let's dig in.
Editor's note: This post was updated on July 20th, 2020 to add links to helpful information. 
Who's Teenage Engineering x IKEA FREKVENS Portable Speaker for?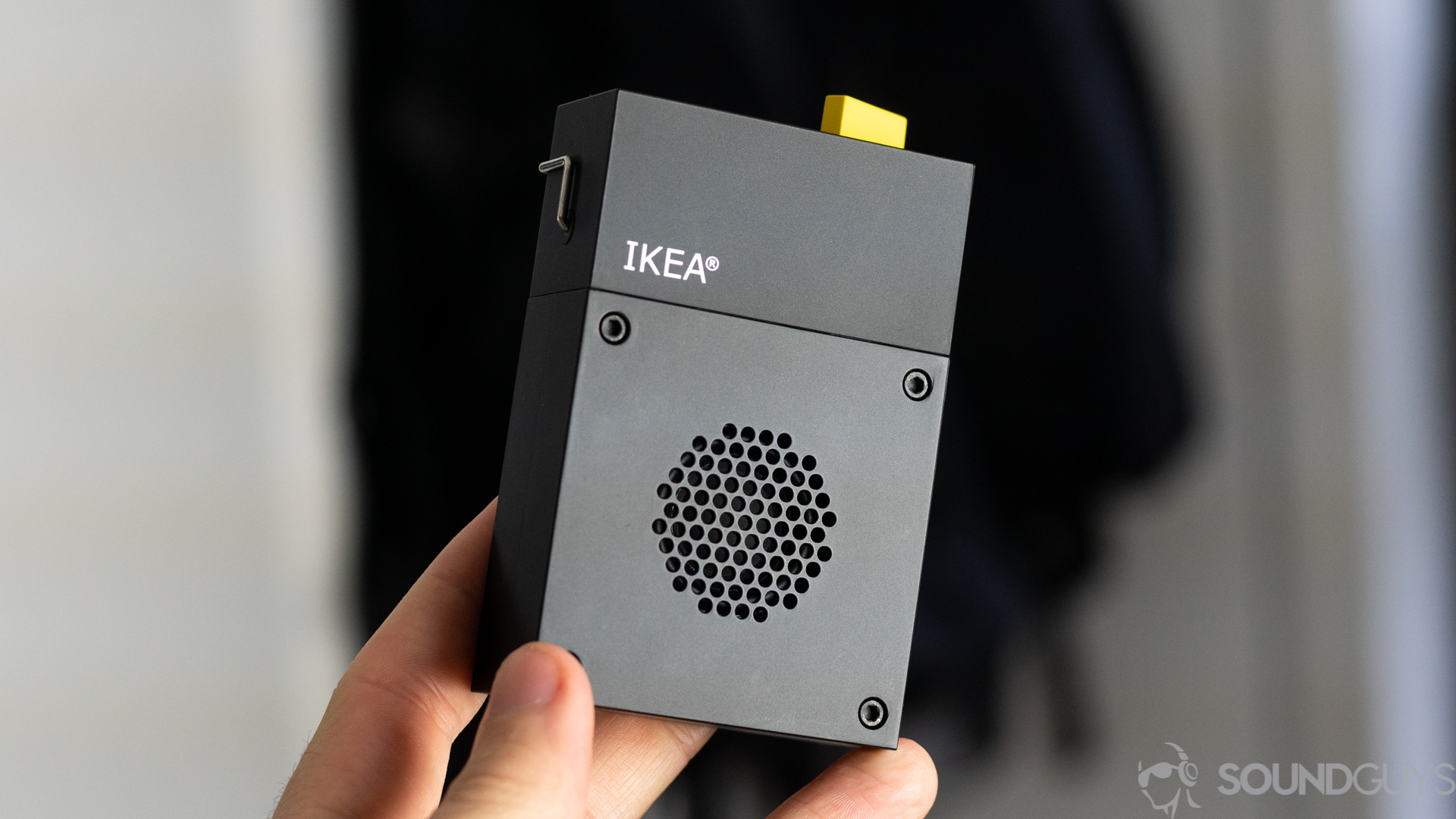 Where most other products are rounded off, the Frekvens Portable speaker is a bold, square block.
Fans of Teenage Engineering. The company is known for their quirky designs and synthesizers, and if you're a fan of those then this will be right up your alley.
People looking for a cheap Bluetooth speaker. While it isn't the most durable speaker, I can easily recommend picking up a few of these and just scattering them around your life. One at home, one at the office, one in the car, one in your bag, etc. If you're the type of person that doesn't like to be caught without a speaker, this will get the job done and look cool doing it.
What's it like to use the Frekvens Portable speaker?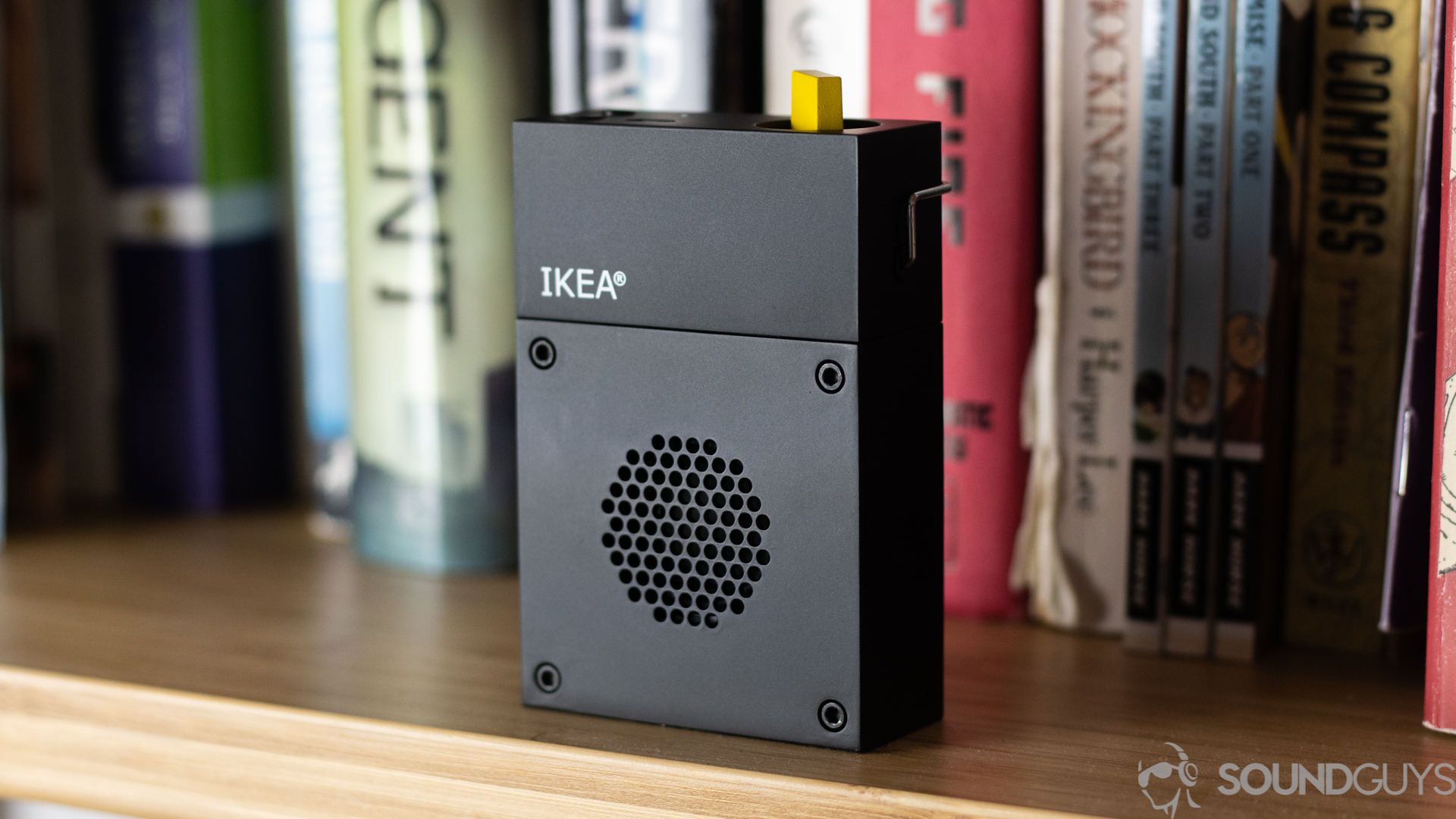 The speaker has a minimal, all-black design with just a hint of yellow accent.
If you're a tech nerd, you'll likely enjoy the design of the Portable Speaker. It's a barebones, simple design that is the hallmark of Teenage Engineering product design. It's the same aesthetic that earned OP-1 synthesizer a spot in the MoMA, and it's the reason I'm so attracted to it. In a world where everything has rounded edges and a soft squircle-shaped design, this is the complete opposite. It's an all-black hard-edged box with the screws still plainly visible. Even the metal clip along the back of the speaker is square. The front of the speaker is mostly taken up by a single full-range driver, with just barely visible behind the plastic of the speaker.
One interesting thing of note is that there is no branding from Teenage Engineering anywhere on the speaker. Keeping with the minimalist Swedish design of both Teenage Engineering and IKEA, the only logo you'll find is a small, white "IKEA" logo along the front. Up top is a bright yellow knob that for volume control along with a small back multifunction button that lets you do everything from power it on and off to skip between tracks. Aside from that, the features of the Frekvens Portable speaker reflect its design and are super minimal.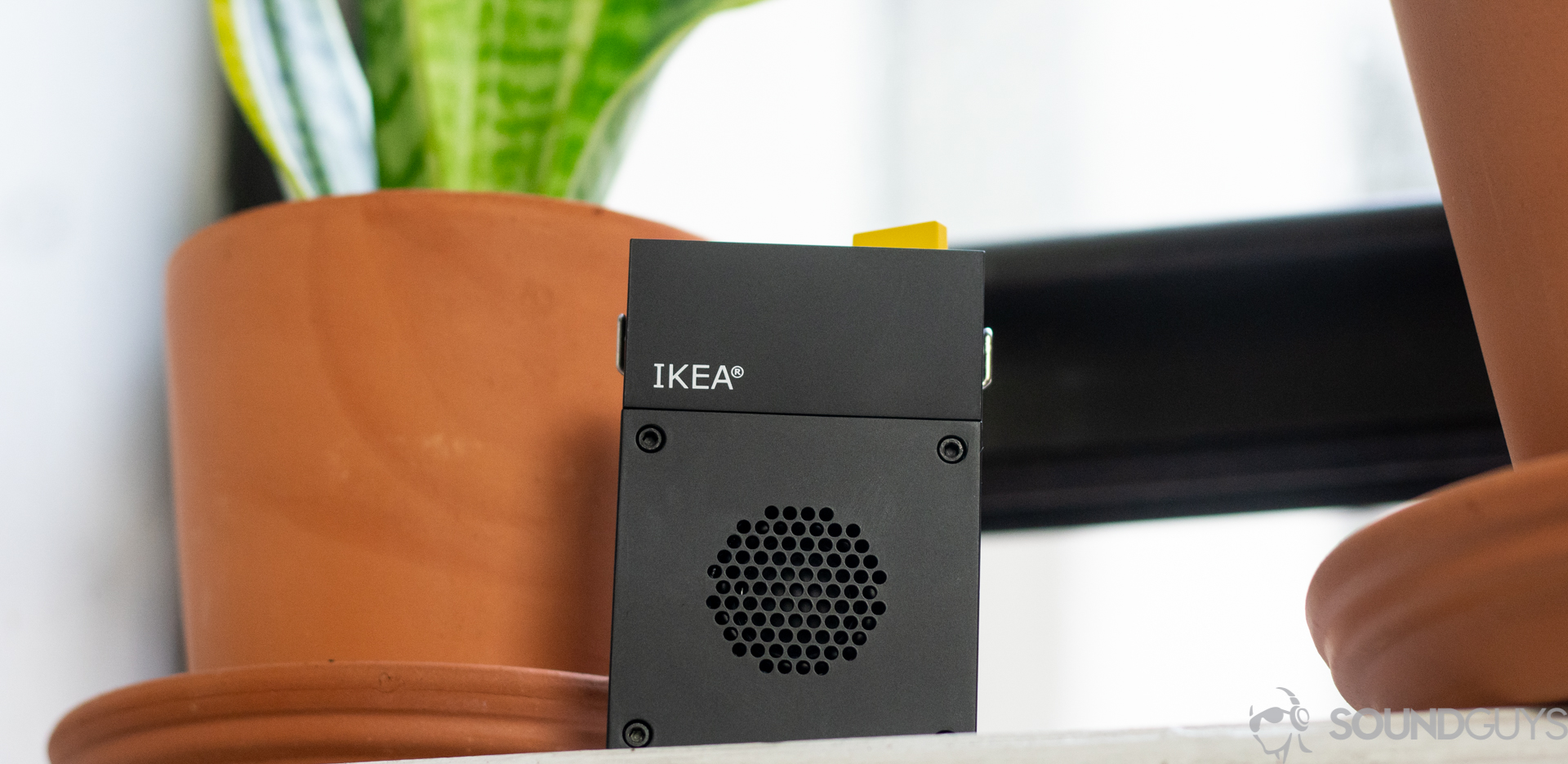 The Frekvens Portable speaker is small enough that moving it with you around the house is easy, it just isn't tough enough to handle the weather.
Oddly, the Portable speaker isn't built like other great portable speakers on the market. Despite having a metal clip for attaching to your jeans or a backpack, the plastic build of the speaker doesn't inspire much confidence. It's lightweight, cheap, and feels like you can definitely break it if you tried hard enough. It also doesn't have any IP rating, meaning that it isn't protected from sand or water. So if you plan on taking this outside, make sure to keep an eye on the weather. I'm going to wager that even a drop of water in this thing will likely destroy it.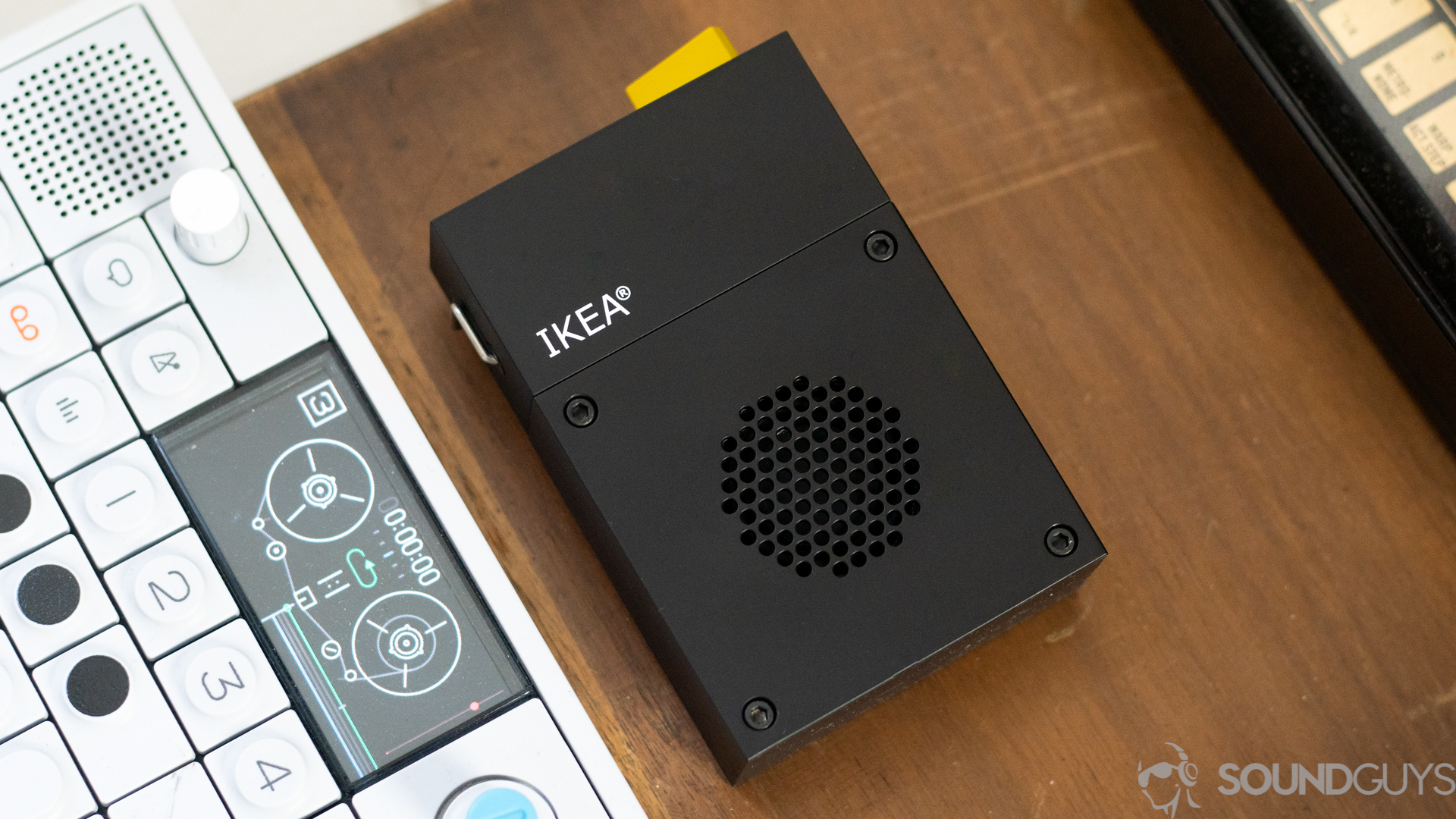 Teenage Engineering is the same company that designed the famous OP-1 synthesizer.
Luckily for me, the bipolar weather was actually behaving when I was using this while visiting family over the weekend so I was able to use it in the yard without a problem. But if you're looking for something to bring to the beach, you're better off getting something like the JBL Clip 3 which has an IPX7 build that makes it completely water and dustproof. Using this around the house though was great. I don't live in a giant three-story townhouse, so for listening to a podcast or a new album while doing chores around my apartment this did the job perfectly. It's light, it has a decently functional clip, and looks freaking cool. Just looking at this thing brings me joy, as Marie Kondo would say. Just to reiterate though, it isn't a tough speaker at portable. It's almost like you're listening to your music through a really nice looking toy.
How do you connect to the Frekvens Portable speaker?
To connect to the speaker you need to hold down the multifunction button up top which will power on the speaker and then enter pairing mode. You'll know it's pairing when the LED indicator light starts blinking. From there, you should be able to find the speaker in your Bluetooth settings, though it comes up as "FREKVENS 6×10" for some reason. Once connected, the experience is fairly average.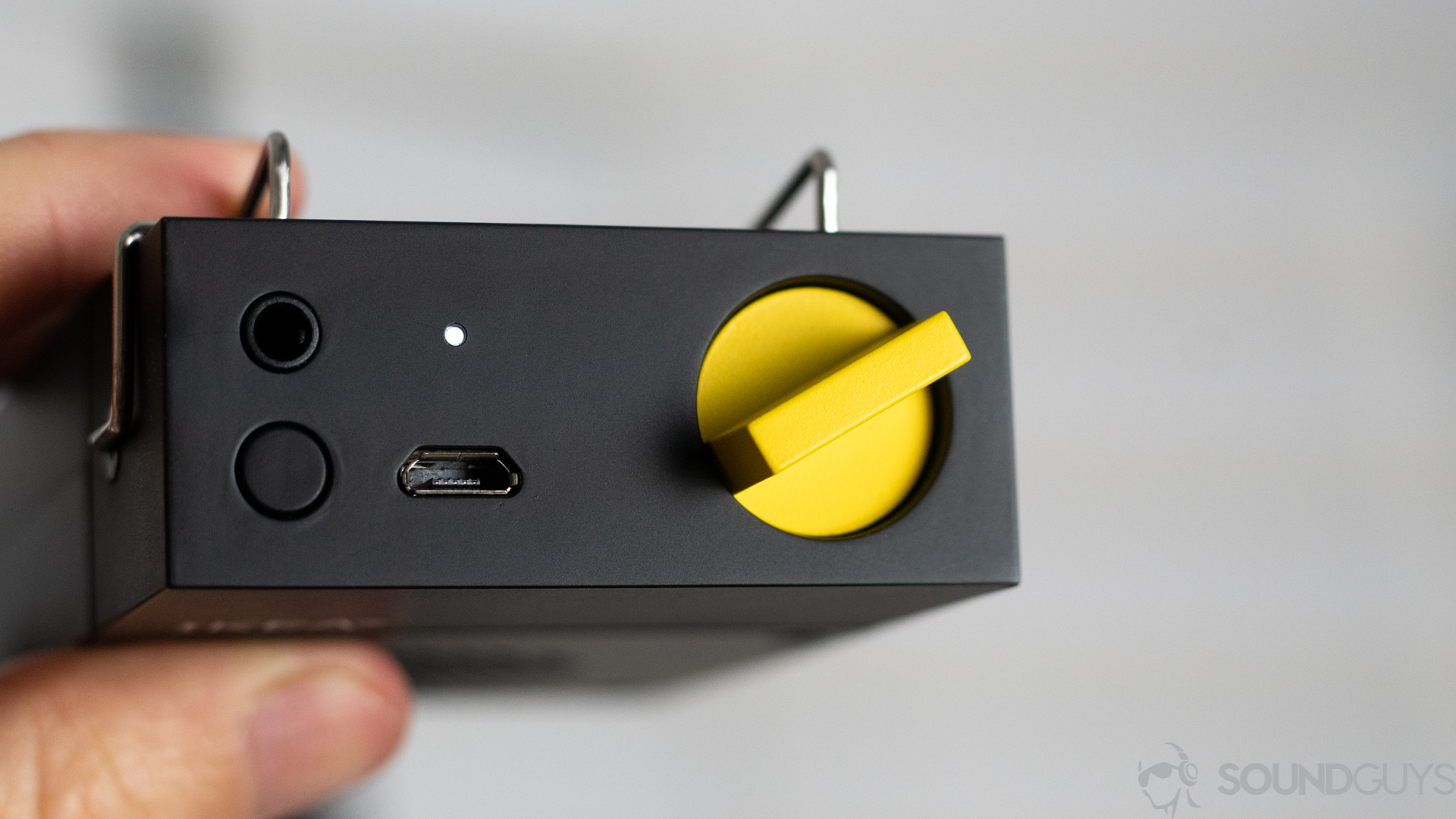 Up top is where the playback controls and inputs are.
There's no high-quality codec support so you don't have to worry about that, and the range is also around 30 feet with a few walls in the way. Again, nothing to write home about. It's fine. I did experience a few skips when I began to push the limit of the range, but while the source device and speaker were in the same room i didn't have any problems. The speaker can also remember up to eight paired devices, but switching between them can be annoying as you'll need to manually disconnect on one source device before connecting on another. If you use up all your memory slots, you can always factory reset the speaker by holding down the multifunction button for ten seconds when turning it on. This will free up all eight slots for you.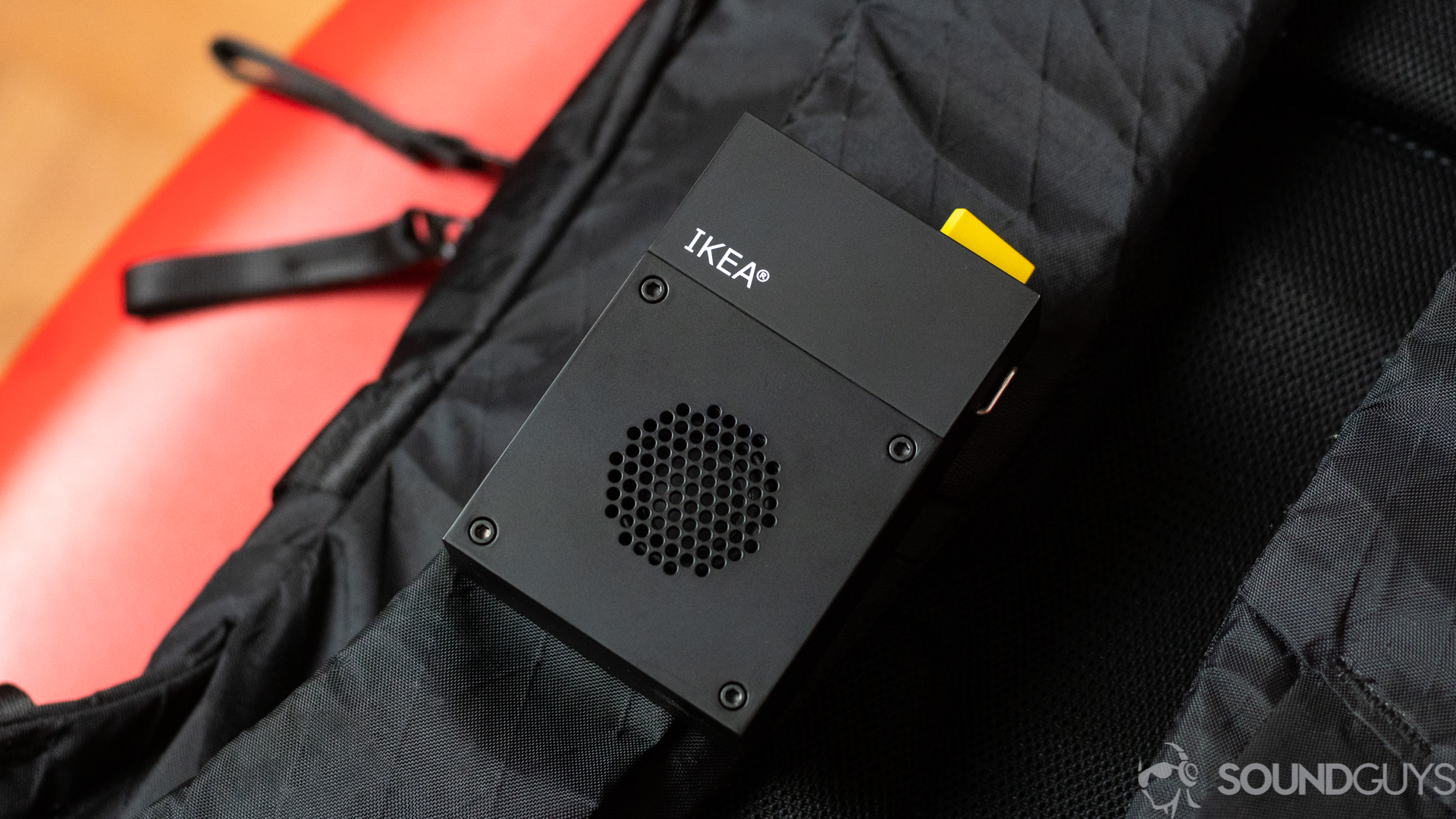 The belt clip works perfectly for attaching to things like backpacks as well.
Playback controls function are, unfortunately, very limited here which I wasn't expecting. A single press of the multifunction button will pause or play music, and that's pretty much it. Of course, you can control volume by turning the bright yellow knob, but there's no skipping between tracks. So if you want to go to the next song in your playlist you're going to have to reach for your source device. On the brightside, there is a 3.5mm input next to the multifunction button. So if you have a source device that you want to hardwire in you can do that with a good 'ol audio cable.
How's the battery life?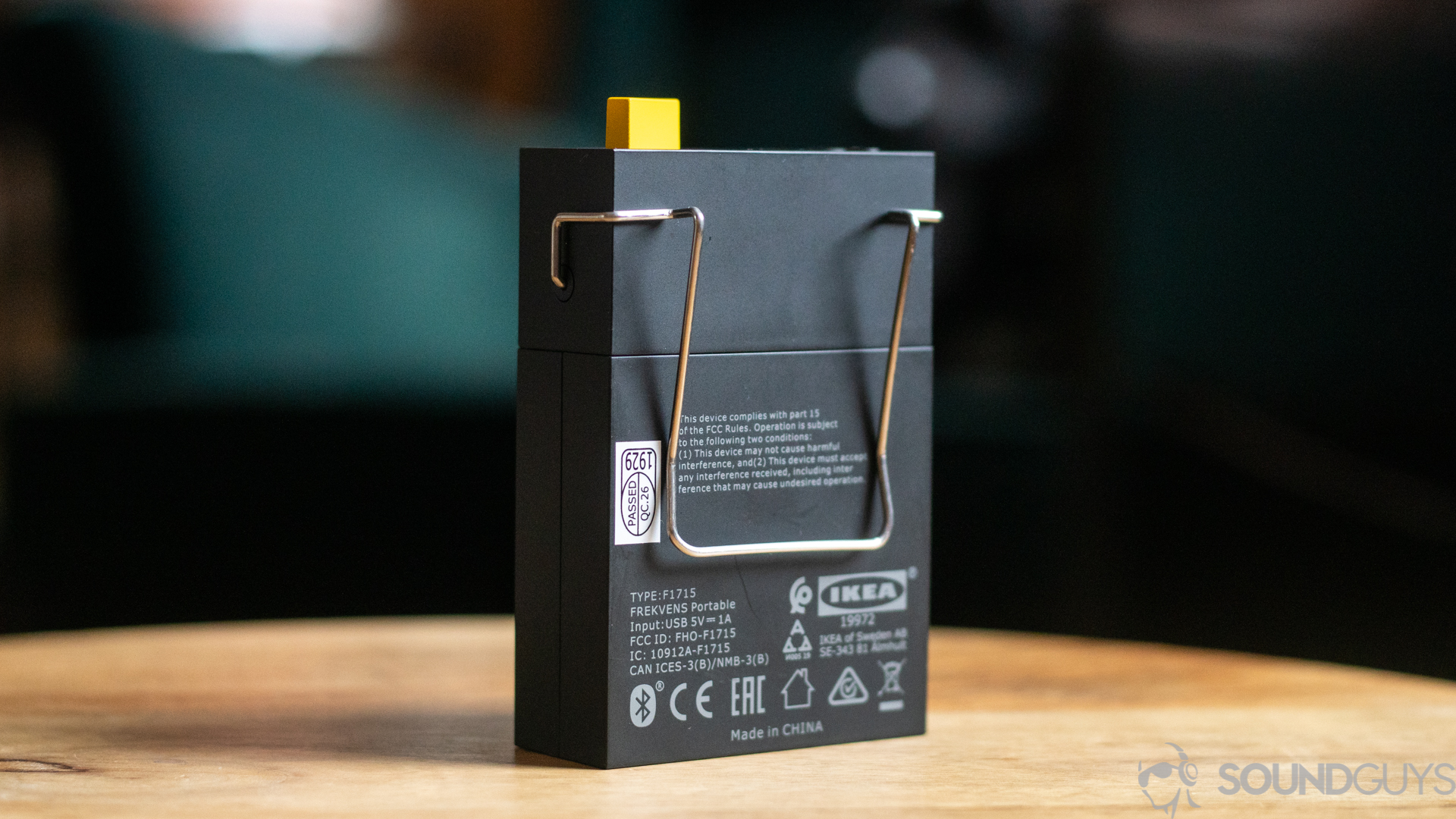 The thin metal belt clip is great for hanging the speaker off of most things.
Nowhere on the IKEA or Teenage Engineering websites do they give an estimation for battery life, so we ran it through our battery test to figure it out for ourselves. For our test, we make sure that the volume is at a constant output of 75dB when measured from one meter away. Then we let music play on a loop until the speaker gives out. Doing this, we found that the Frekvens Portable speaker has a battery life of six hours and 30 minutes, which isn't bad at all considering its size but still not great. Even more unfortunate is the method of charging, which is microUSB. While I get that the aim was the keep the cost of this device down, not adding a USB-C port is a bummer.
How does the Frekvens Portable speaker from IKEA and Teenage Engineering sound?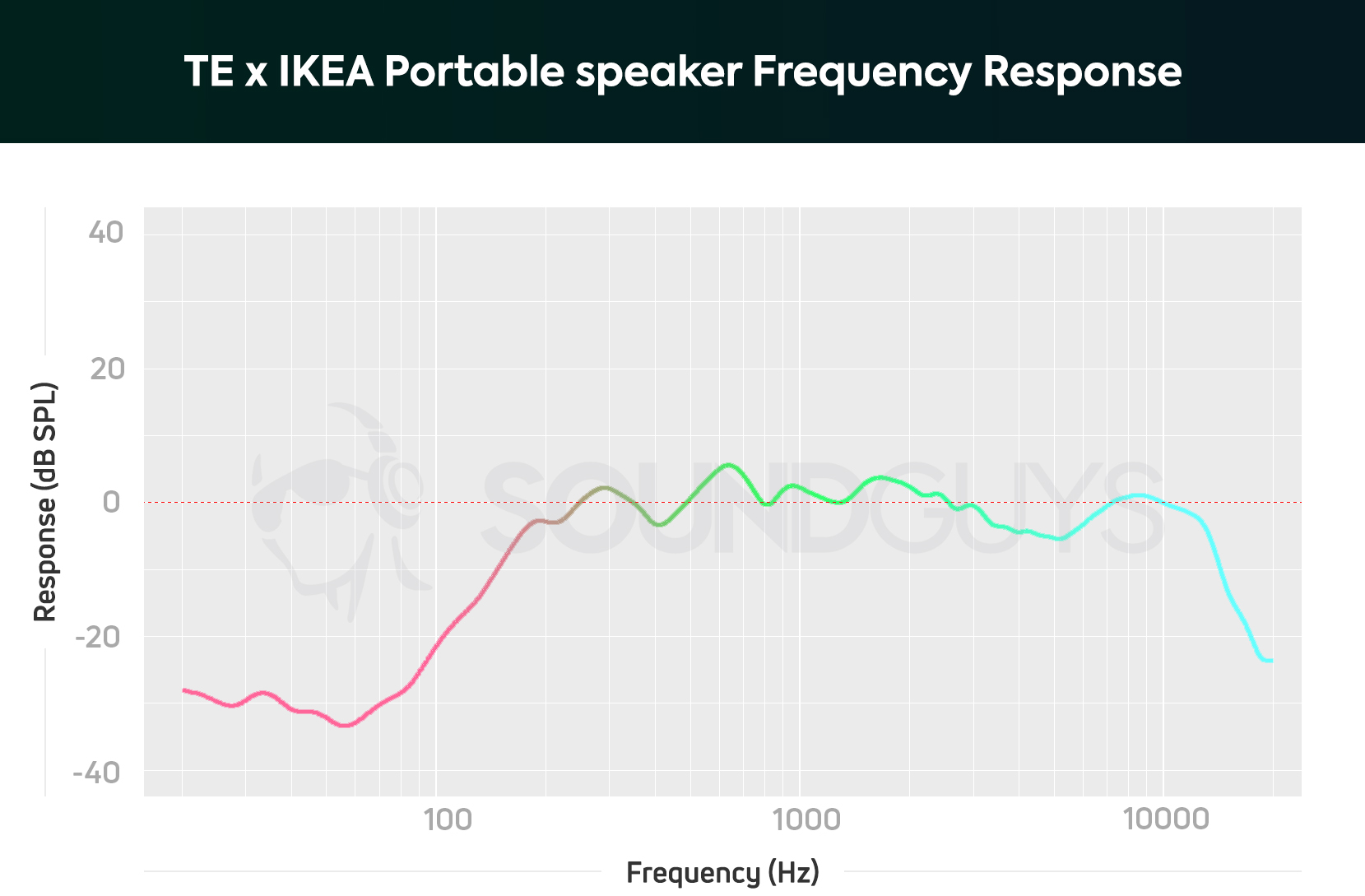 The IKEA and Teenage Engineering speaker doesn't have much low end, but that's expected from a speaker of this size.
When it comes to sound quality, the Portable speaker isn't great. Unfortunately, this is another place where the $19 price tag begins to show its head, but considering the price its not entirely unexpected. The low end is very underwhelming here, so if you were hoping for a bass-heavy sound profile look elsewhere. Still, I don't mind it. With full-range speakers of this size, there's only so much air it can push before it becomes overpowering. And I've found that too much low end coming from a single driver usually ends up sounding worse than too little.
The speaker struggles to output the bassline in the song Black Crow by Louis Baker, which is just barely audible. The song is obviously still great, but the missing groove affects the overall experience significantly. Thankfully, the focus in the tuning of this speaker excels in the mids which is important as that where most of the vocals lie in the songs we listen to. For example, the vocals in Englishman in New York by Sting are perfectly audible over the track, and the sax solo at 2:12 is as great ever.
Highs are also surprisingly good considering the size of the speaker. While the bells and hi-hats in the song Thoughts That Give Me The Creeps by Hellogoodbye don't have the same reverb I'm used to, the finger scratches on the ukulele and the notes in general don't seem harsh or piercing in any way.
So should you buy it?
Absolutely. While the sound quality isn't as good as something like the JBL Clip 3 or the Anker Soundcore Flare, it still isn't bad considering it's only $19. Plus, the 6.5 hour battery life isn't bad at all for someone just looking for a Bluetooth speaker to play music or podcasts in a pinch. Should you be taking this on your next hike with you? No, definitely not. But you probably will anyway because, after all, it's spectacularly priced. You're not getting this speaker for the sound quality anyway. If you got to this point of the review you either love the design or you're a huge fan of Teenage Engineering. And if you feel like either of those descriptors could be applied to you, then you'd love this thing.
Its quirky minimal design, pocketable form factor, and versatility make it an easy splurge that you won't regret. Of course, the problem is that it's only available if you go to IKEA yourself to pick it up which may not be advisable at the time I'm updating this review thanks to the quarantine. But once this is over this can definitely be a fun speaker to throw keep around for a rainy day when you just want to play some music louder than your smartphone will allow.