All products featured are independently chosen by us. However, SoundGuys may receive a commission on orders placed through its retail links. See our ethics statement.
The best Sony WF-1000XM5 feature is how it puts listeners in control
If you want a pair of earbuds that will accommodate how you want to listen, from any device, pick up the WF-1000XM5.
Over the past few years, the audio industry has taken a liking to limiting earbud features to certain handsets and ecosystems. While this has been frustrating to witness as a reporter and consumer, some brands stand out for giving their customers choice and control over their products. Sony is one of those brands, and the Sony WF-1000XM5 covers everything you could imagine.
Let's dive into the WF-1000XM5's customizable features, why they matter, and explore other companies that are doing right by their customers.
The Sony WF-1000XM5 let you customize almost everything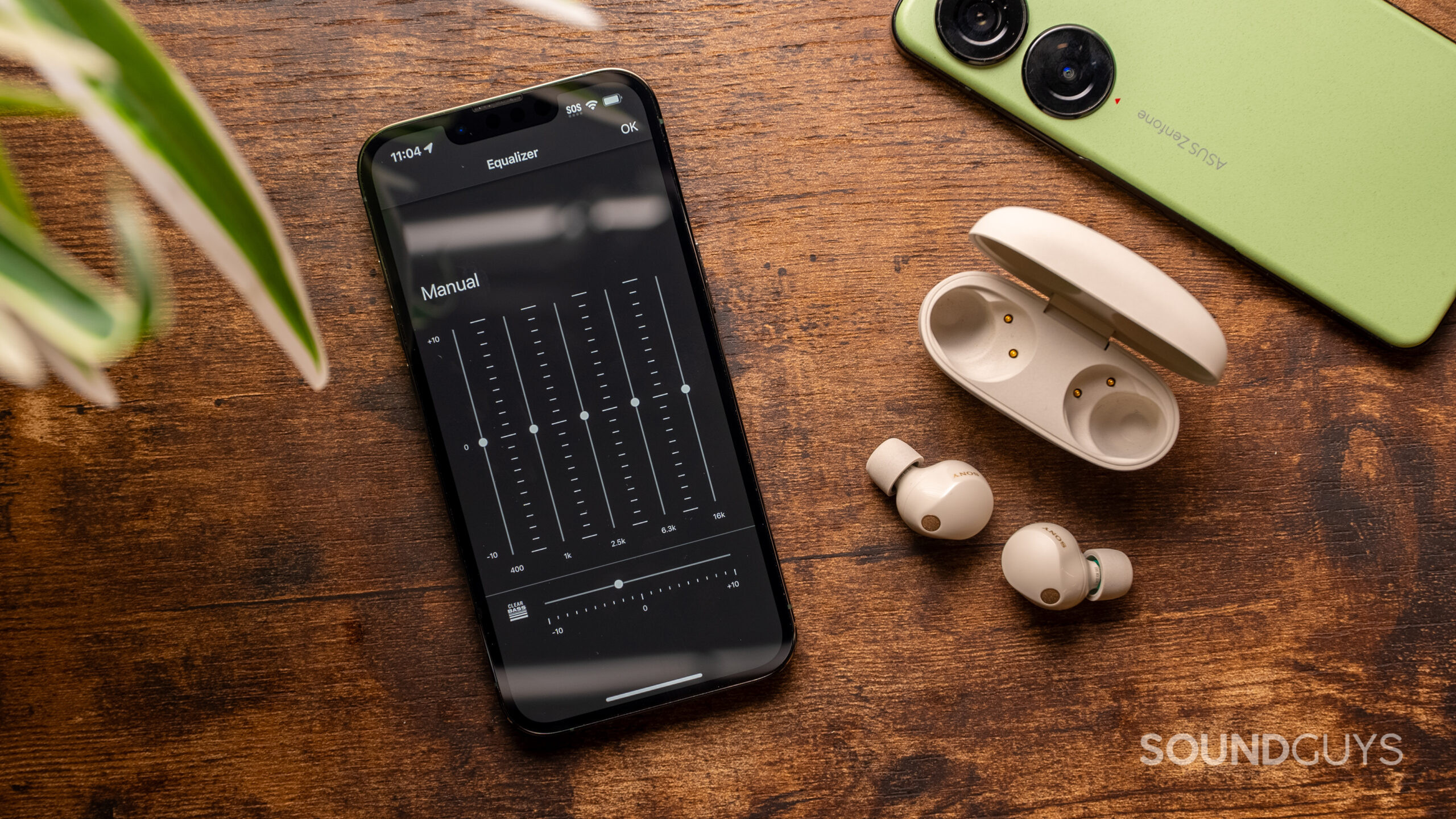 Harley Maranan / SoundGuys
The Sony Connect app includes a six-band equalizer for fine-tuning your sound.
Adaptive Sound Control is one of the most remarkable things about the WF-1000XM5 and an excellent showcase for configurable features. Toggling this on through the Headphones Connect app (available on Android and iOS) cues the buds to detect your actions and environment. The WF-1000XM5 automatically adjusts Ambient Sound Mode and active noise canceling (ANC) to suit your situation — the buds can even combine the two modes. The software recognizes four actions: staying, walking, running, and riding in a vehicle. You can dive deeper and assign specific Adaptive Sound Control settings for various locations.
Before reviewing the Sony WF-1000XM5, I didn't realize automatic ANC and transparency were things I wanted. However, Sony's user control menu came in clutch. Admittedly, I was initially frustrated with the default Adaptive Sound Control setting. Out of the box, the earbuds enable Ambient Sound Mode when "staying." This may be good for some people, but I don't want to hear the distracting loud "whooshing" of my A/C unit while standing at my desk.
While many brands offer Adaptive Sound Control, Sony's software makes the transition between listening modes smooth and responsive.
Fortunately, Sony lets users tweak the Adaptive Sound Mode per action. Since discovering this, I disabled Ambient Sound Mode for the "staying" action. It's been great to zone into work and know the earbuds will automatically cancel out the din of my neighbor's home improvement project. Likewise, when I walk around the neighborhood, the earbuds filter noise without the need to fiddle with the onboard controls or app settings. This major convenience keeps me aware of my surroundings when outside and focused when at work. Since receiving them, I've hardly removed the WF-1000XM5 from my ears, and I credit that to Sony's granular user options.
Adaptive Sound Control is just one of the customizable Sony WF-1000XM5 features. The company also includes a custom equalizer to adjust the level of six frequency ranges in +/-10 increments. I used this to cut the bass a few notches under the horizontal Clear Bass slider, but thousands of EQ permutations are at your fingertips. While it's great for us audio nerds to have a wealth of choices, Sony also provides a handful of EQ presets for the less inclined. You can choose from eight EQ presets with descriptive names like "Speech" and "Bass Boost." You can even use these presets as a starting point and tweak them to your liking.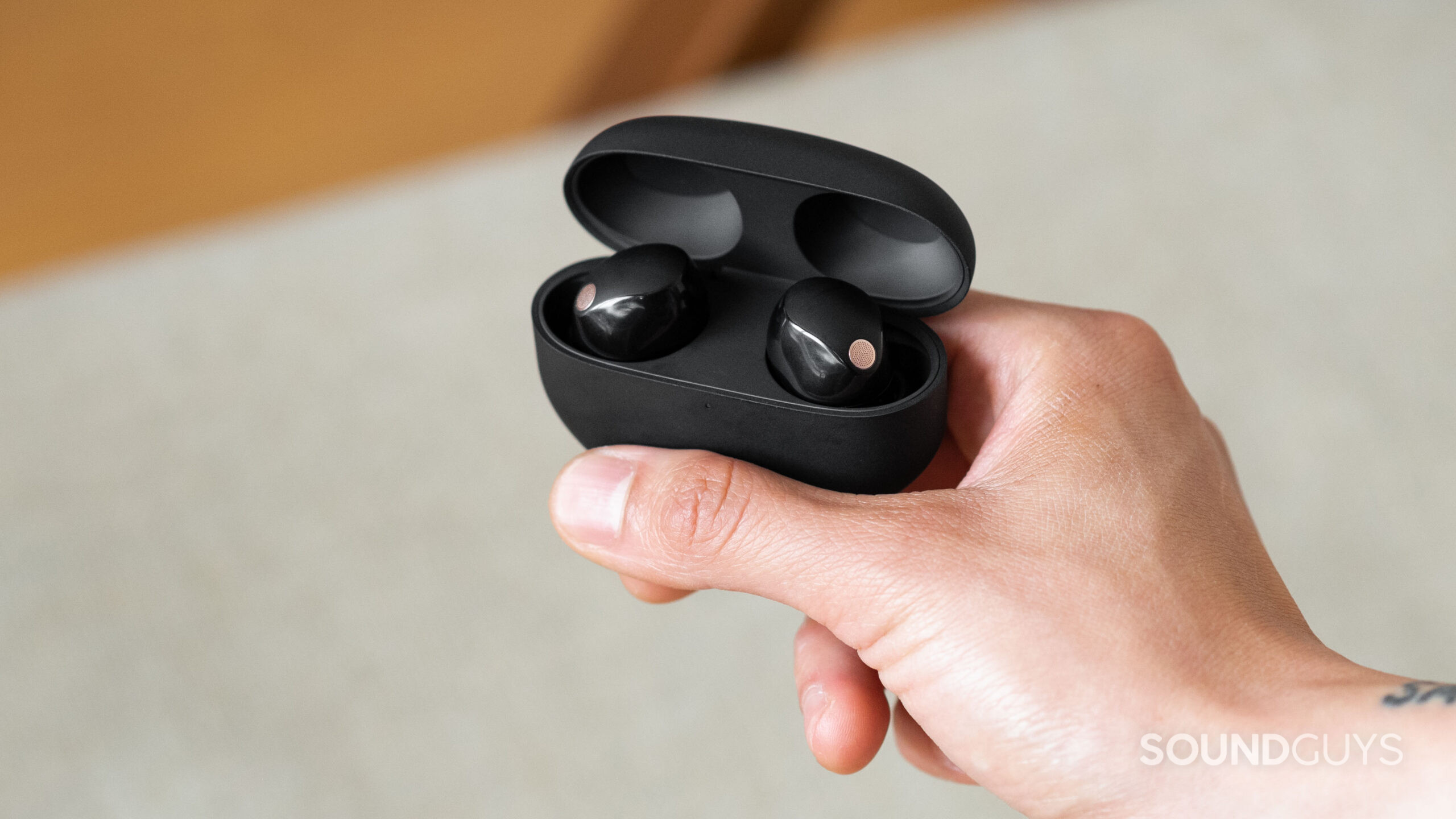 The earbuds are small, pocketable, and customizable.
Alternatively, you can use the Find Your Equalizer feature. This interactive test requires you to play music and pick the best audio EQ. It's in beta mode, but it's a fun test to mess around with.
Sony is one of the first companies to offer spatial audio personalization, which works on any device. This contrasts the Galaxy Buds 2 Pro or AirPods Pro 2 experience, which requires a compatible handset. Spatial audio support doesn't rank in my top 10 features when picking out earbuds, but Sony does it well. Plus, personalization means that compatible content from specific streaming services will sound much better after applying your unique head-related transfer function (HRTF).
The Sony WF-1000XM5 are the ideal earbuds for listeners who want a say in everything.
Bluetooth connection prioritization is another handy feature. This is the least provocative on the list, but its utility is much needed in our modern world. When you're in an area filled with other wireless products, like on a train, it's easy for Bluetooth earbuds to drop their connection with your phone. Sony circumvents this disruption by allowing you to prioritize connection stability over audio quality with its variable bitrate LDAC Bluetooth codec.
Aside from that, Sony offers Speak-to-Chat, multipoint connectivity, and some control customization. You can even enable head gesture recognition so the buds will answer or reject calls if you nod or shake your head. These features aren't quite as impressive, but they help the WF-1000XM5 stand out from other flagship earbuds. Ultimately, the new Sony buds offer the greatest feature selection of any flagship earbuds.
Why user control matters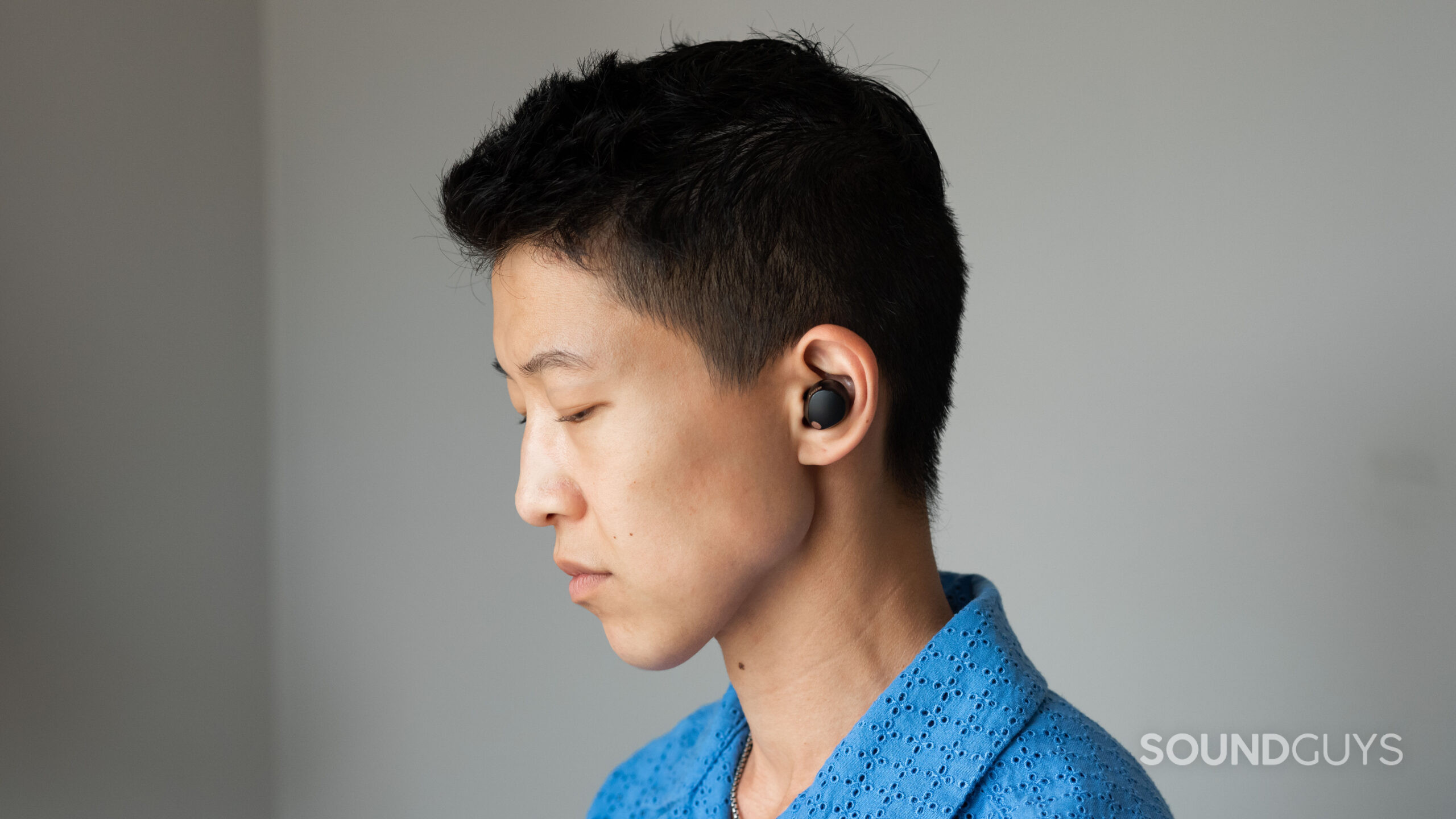 The Sony WF-1000XM5 are one of few premium earbuds that work equally well across all smartphones.
User control matters because, frankly, these earbuds are expensive. It should work exactly as you expect and want when you're paying hundreds of dollars for something. I commend Sony's software because it allows for a dynamic listening experience and supports evolving preferences. My listening habits and preferences — both in how I use ANC/transparency and my sound settings — have changed over time, and it's nice to have room to grow with Sony's buds.
While I could continue to wax poetic about the expansive feature set, interoperability is one of Sony's most important features. In a time where many companies — looking at you, Apple and Samsung — deny access to certain features if you don't have a matching smartphone, Sony goes a different route. This open system has let Sony carve out a strong niche in the premium headphone market.
Sony's confident in its product and doesn't need to lock a user into its ecosystem to ensure success.
You're not tethered to a particular operating system with the WF-1000XM5. If you use them with an iPhone today, you can just as easily use them with a Samsung Galaxy phone tomorrow. A Samsung fan today isn't guaranteed to be a Samsung fan tomorrow, and Sony makes room for that evolution.
Sony WF-1000XM5
Sony WF-1000XM5
Great ANC • Improved sound quality • Comfortable fit with four ear tip options
The Sony WF-1000XM5 have even better noise canceling than the WF-1000XM4. Sony made these its most comfortable earbuds by shrinking them and including XS-L memory foam ear tips. The WF-1000XM5 support advanced features like multipoint connectivity and spatial audio with head tracking. You also get plenty of customization options through the free mobile app.
What other earbuds offer customization?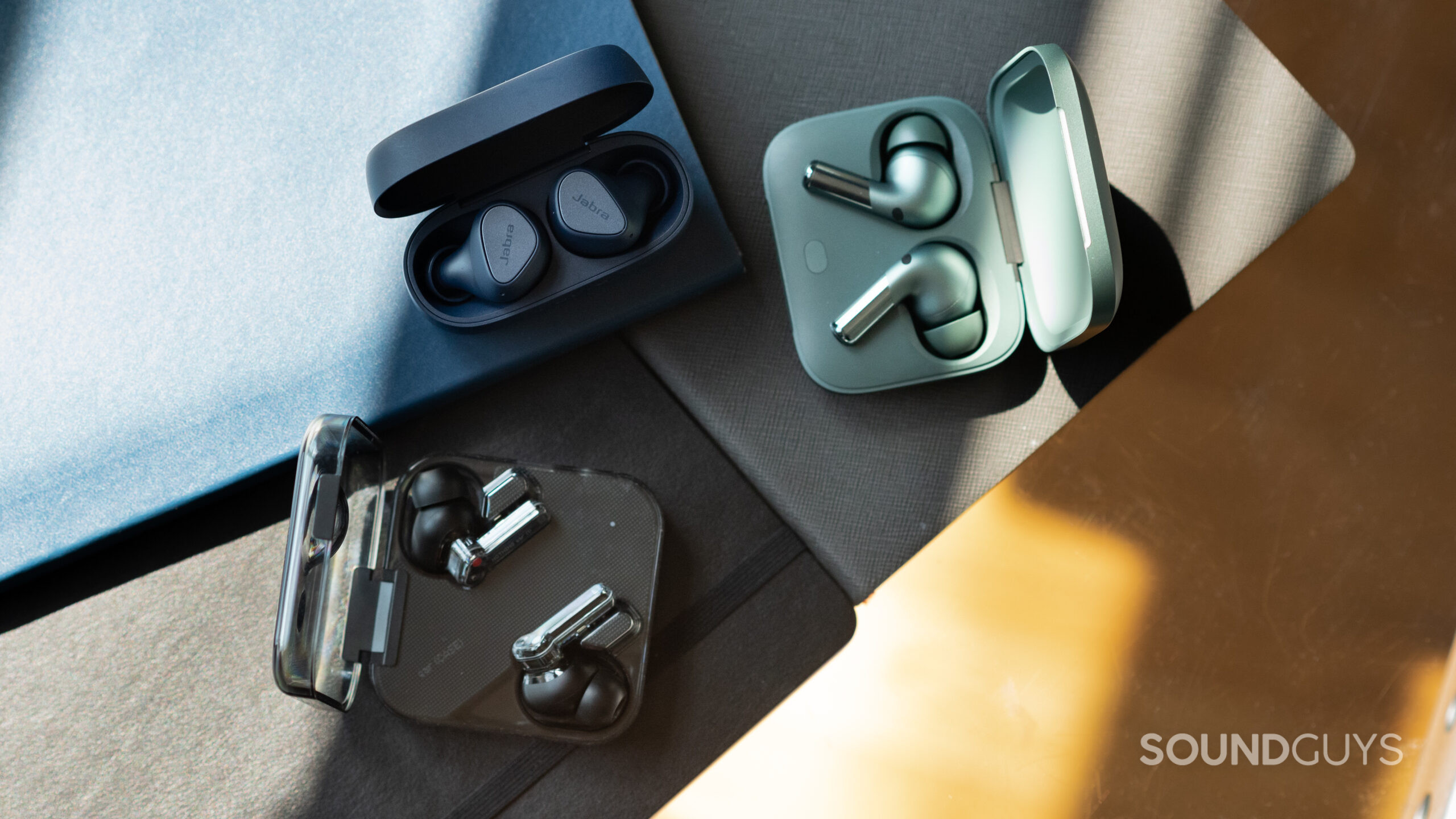 Jabra, Nothing, and OnePlus all offer apps that work on iOS and Android.
Like Sony, Jabra champions a versatile user experience with its MySound+ app that works on Android and iOS. Jabra's earbud lineup is a bit confusing, but the Elite 4 ($79 at Amazon) are some of my favorite budget buds. These come with a custom EQ, multipoint connectivity, and aptX. For our Jabra Elite 4 review, I enjoyed using these earbuds when exercising because they stay in place and have a durable dust and water-resistant build.
The Nothing Ear 2 ($149 at Amazon) also offer an OS-agnostic experience that we laud for being so robust and easy to navigate. You can customize many of the controls along with the equalizer settings. There is a personalized ANC option, but the effect isn't all that different from the standard ANC performance.
Then there are the OnePlus Buds Pro 2 ($149 at Amazon). A while back, I harangued OnePlus for limiting its OnePlus Buds features to OnePlus smartphones, but the company has since changed its ways. The Hey Melody app works on iOS and Android, offering a virtually identical user experience. Like Sony, OnePlus offers a custom EQ and a handful of presets. You can also take a test; the app will optimize the sound according to your hearing abilities. These earbuds are a bit pricier than the other two options but include many of the same features as the WF-1000XM5.