All products featured are independently chosen by us. However, SoundGuys may receive a commission on orders placed through its retail links. See our ethics statement.
The bottom line
Now that it's dropped in price, it's hard not to like the Sony SRS-XB40. The changing colors might not be for everyone but if they're for you, then you'll like the rest of the speaker as well. The extra bass button might do a little too much for my taste but the low end in general lives up to the name just fine on its own.
Sony SRS-XB40
Now that it's dropped in price, it's hard not to like the Sony SRS-XB40. The changing colors might not be for everyone but if they're for you, then you'll like the rest of the speaker as well. The extra bass button might do a little too much for my taste but the low end in general lives up to the name just fine on its own.
What we like
Clear mids<br>
The bass isn't overpowering by default<br>
Music playback is seamless and connectivity is strong<br>
What we don't like
Extra bass button takes over<br>
Not the most portable<br>
App experience needs work<br>
Rating Metric
Sound Quality
8.0
Bass
8.5
Midrange
8.5
Highs
7.0
Durability / Build Quality
8.5
Value
7.9
Design
6.0
Portability
6.5
Battery Life
9.5
If you like bass, most people will tell you to go with Beats by Dre. But what if you also want your music to sound good? (zing) One speaker that keeps popping up in this conversation is the Sony SRS-XB40, with the XB standing for "extra bass." I'm not going to say that I hate bass, but I will say that usually when a company tried to put the emphasis on the low end, things tend to get messy. But Sony has been getting plenty of praise for doing it right, so with the release of the new SRS-XB41 (full review coming soon), we thought we'd go back and check out the XB40 to see what all the jazz is about.
"Why review the first speaker if you have the brand new one?"
Mainly because, as is the case with technology, a new version means that the older one drops in price. Now, you can find the XB40 for significantly less than it was just a few weeks ago. With speaker season (summer) right around the corner, deciding whether or not to spend a few hundred dollars on a speaker is a decision that shouldn't be taken lightly. Trust us. Seeing as we just spend a couple hundred bucks getting these guys in for testing, we know it isn't an easy decision.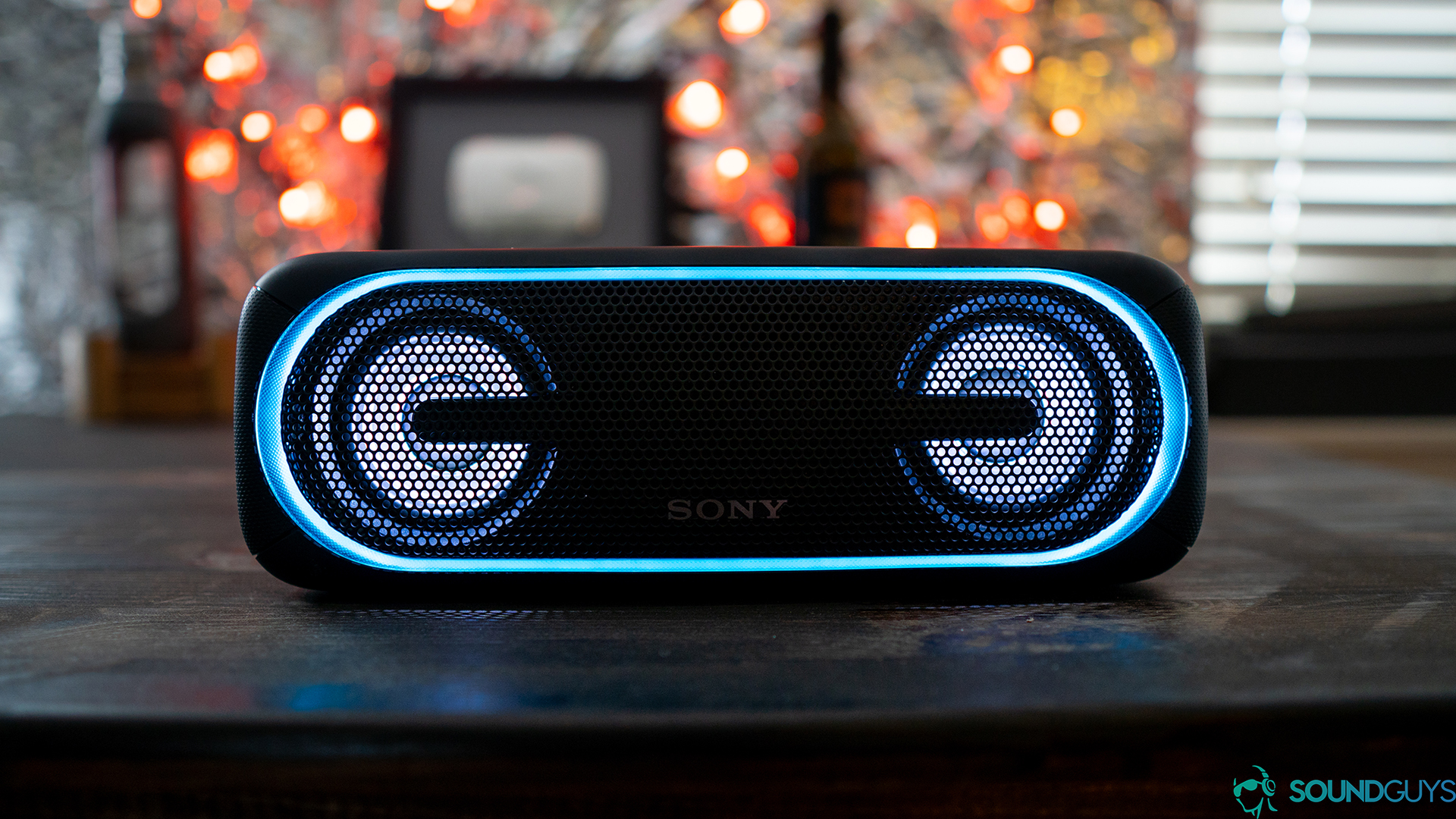 The lights on the front of the Sony SRS-XB40 change color.
Who's the Sony SRS-XB40 for?
People who throw parties. To be clear I'm not talking Project X-level ragers, but for the average BBQ or backyard pool party, the XB40 gets loud; has clear sound; and is—without a doubt—fun to look at.
Anyone who hates charging their devices. Having a speaker die on you mid-song is a pain, and the Sony SRS-XB40 has a 24-hour battery life, so the chances of that happening are reduced significantly.
Let's talk build
The Sony SRS-XB40 is a little bigger than I thought it'd be.
First off, the Sony SRS-XB40 is bigger than it looks in pictures. I was expecting something similar in size to the JBL Flip speaker, but it's actually closer to the JBL Xtreme—though obviously not as round. If you're looking for something lightweight and easy to bring with you on your next hike, this might not be the one for you as it weighs about 1428 grams. That said, if you're going to the beach and have a bag to toss this in to help you carry it, then it's definitely worth the haul. The larger size also means that Sony was able to sneak an extra driver around the back of this thing, which is responsible for the "extra bass" part of the name. It's a clever workaround to needing to add more bass that I think is worth the larger size.
With all that said, I'm going to be blunt. I mostly hate the way this speaker is built. At least how it feels. There are a few things I like about it like the buttons and IPX5 protective rating, but for the most part, the entire thing is a matte plastic, fingerprint magnet that looks like it was made in the '80s (and not in a good way). It's slippery and doesn't really have a good grip unless you hold it from the sides, which have a slightly more textured plastic. On the front, you have a grill that lets you see right through to the drivers behind them which is cool, but what's cool are the color changing lights up front—because why not? I do think that Sony went a little overboard though.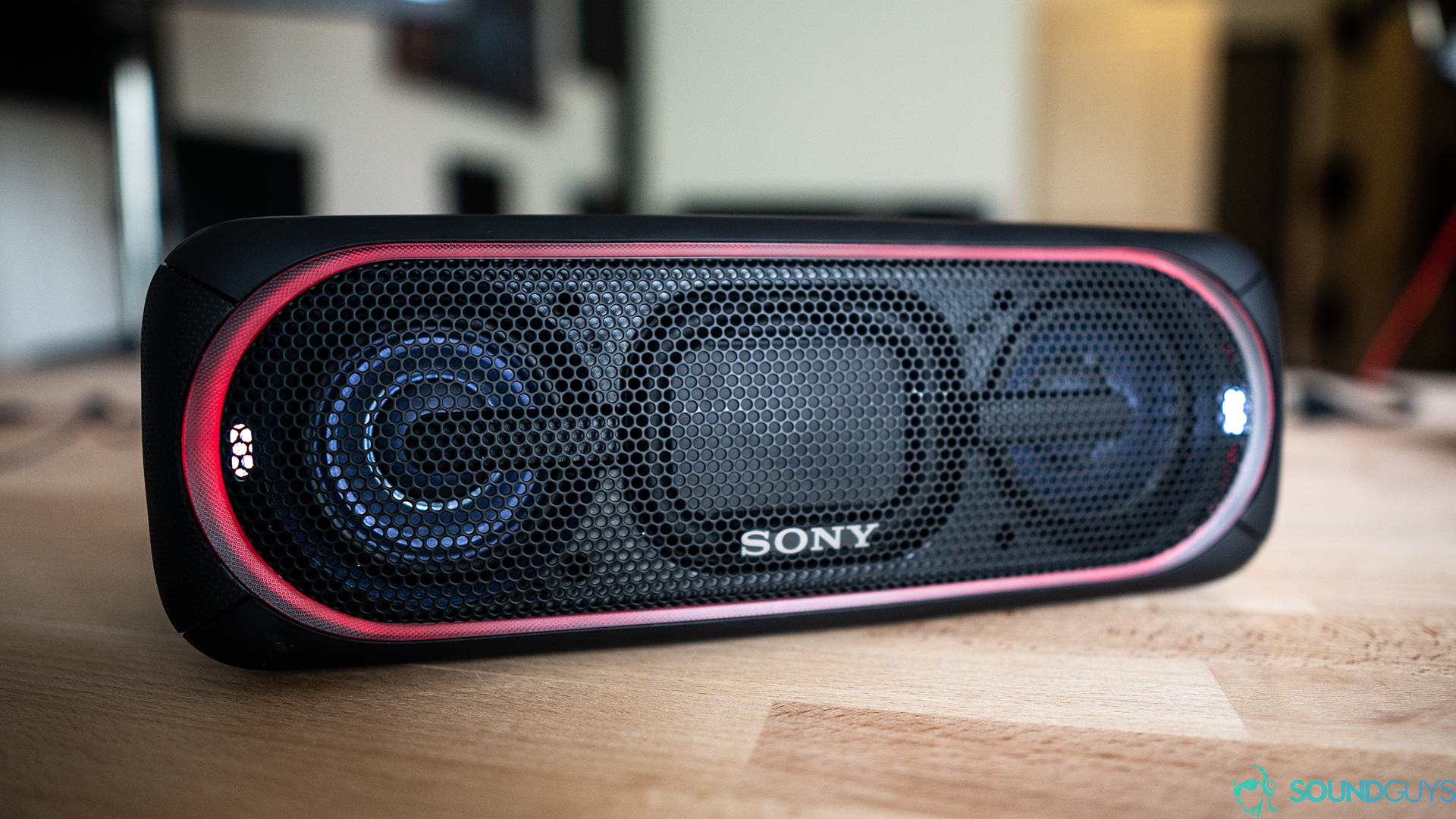 Sony packed a 24-hour battery life into this thing, lights and all.
The gradual gradient of colors around the speaker is fine, and I'm even okay with the tiny lights that illuminate the drivers to the beat of the bass. It's the flashing lights on the side that make it all too much for me, especially since they lack any rhyme or reason to what makes them flash. Up top are all of the playback buttons, which I think are damn near perfect. They're big enough and spaced far enough apart that you won't accidentally press one. Plus, they're labeled clearly and don't make you do a finger push-up every time you press them down. They're perfectly tactile. Also, on the back is a flap that exposes all of the inputs for the speaker, which actually segues perfectly into the next section.
Connectivity options
The playback buttons up top of the Sony SRS-XB40.
The Sony SRS-XB40 is rocking Bluetooth 4.2 which gives it a range of about 30 feet, and I found it held a strong connection anywhere within this range. Pairing is as simple as finding it in the Bluetooth settings or tapping an NFC-compatible phone to the logo. Now, because this is Sony that we're talking about, you get the LDAC codec. This can stream data at speeds up to 990kbps if you have a compatible device. You can learn more about codecs in general by reading our codec article, but let's just say that—unless you're playing super high-quality source files from your phone—you shouldn't have a problem.
If you're one of the three people with a Sony phone, this is good news for you since LDAC is built right in. For the rest of us, though, the absence of aptX and aptX HD is a bit of a bummer. Sure, LDAC compatibility is built into Android 8.0, but unfortunately, not every phone has or is getting that update. So it's on a case-by-case basis whether or not you can use LDAC. And if you have an iOS device, just forget about all of this. You'll be using AAC as both the iPhone and the SRS-XB40 use that codec. Luckily Sony included a 3.5mm input along the back, so you can always go that route. There's also a USB output on the back if you need to charge your devices and buttons up top that let you control playback.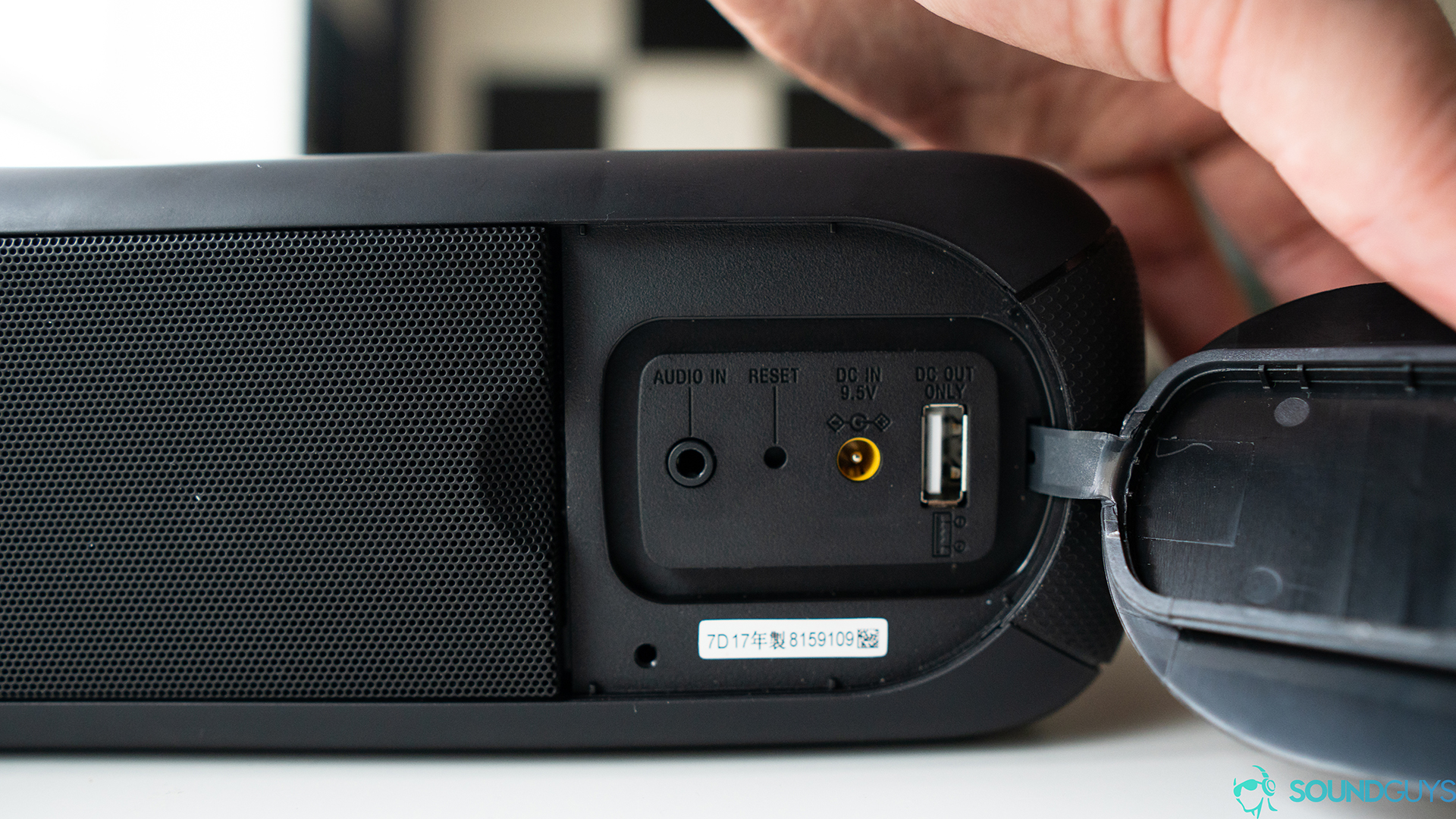 The inputs on the back of the Sony SRS-XB40 are covered by a protective flap.
You get the volume buttons on the far right, a button to answer phone calls on the far left, a pause or play button, and an "add" button in the middle for when you want to pair another speaker, because you can pair up to 10 of these together if you have them available. Then there's all the fun stuff you can do in the app, which is both good and bad. It's good because you can do a ton of cool things like choosing the color you want the lights to display, go into the DJ mode, and add certain sound effects to really get the party started. You can even alter the way the speaker sounds via the EQ settings. It's bad because not only do I think they go a bit overboard with the controls, but also because after exiting the app, turning off the speaker, and coming back to it later, everything is gone. The color that I chose reset, which meant I had to go back into the "Feistable" app to choose a color. Whatever, no big deal. Except the app is no longer anywhere on my phone or in the Google Play Store. I literally have no idea what happened to it. So, yeah, that needs work.
Battery Life
Because it's such a large speaker Sony was able to stuff a pretty large battery in here that lasts 24 hours on a single charge. In about a week of testing I've been playing this speaker at 50-percent volume for about seven hours a day (as long as I can without my neighbors hating me more), and it hasn't died. On the last day of testing, I upped it to 80-percent volume and it still didn't die. That's a good sign if you care about battery life.
Sound Quality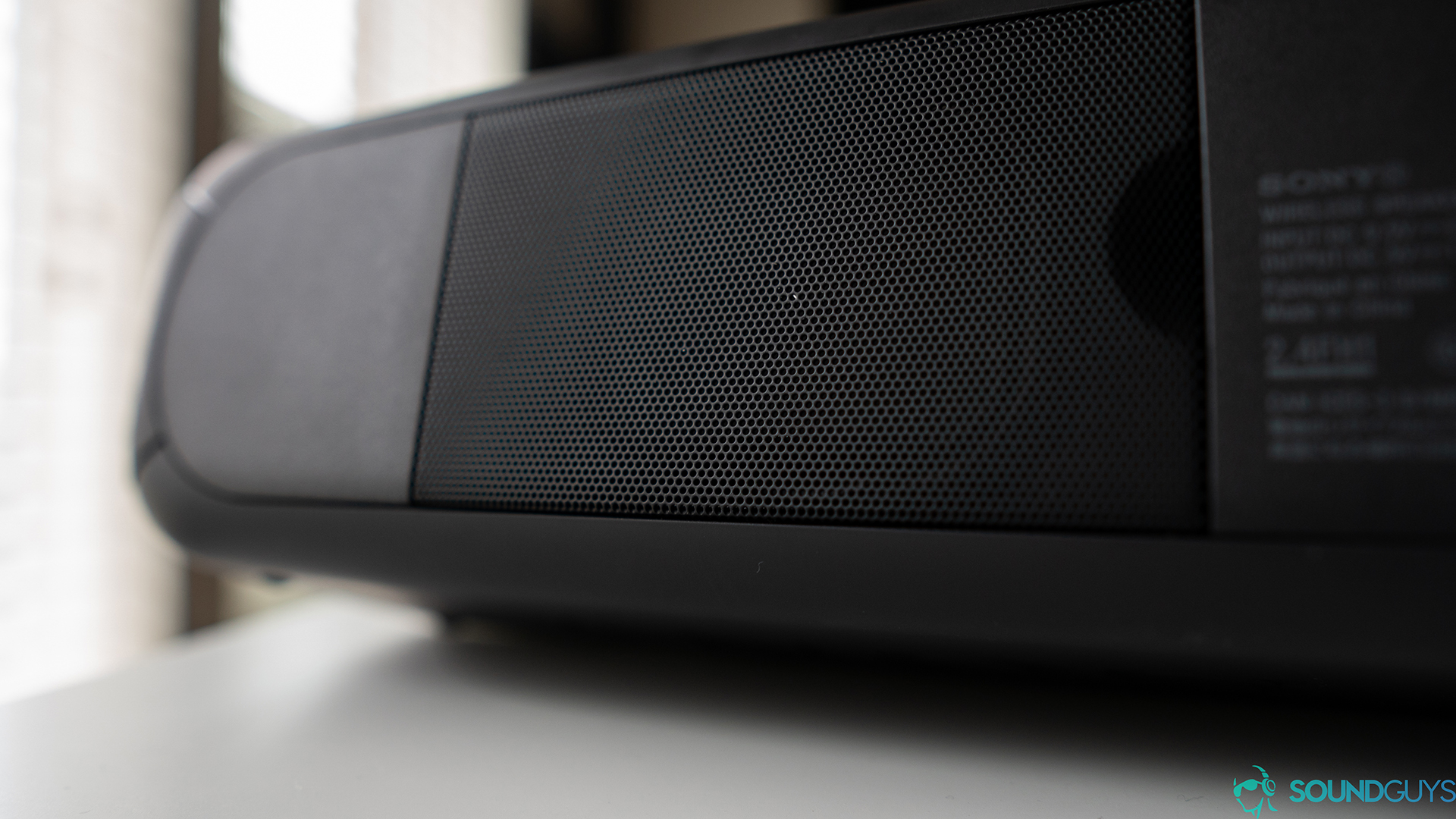 On the back of the Sony SRS-XB40 is an extra driver for when you activate the "extra bass" button.
The difference is this one is turned off by default, but you can turn it on by hitting the extra bass button up top and—voila—more bass. Pretty smart of Sony to add a separate driver entirely to handle this instead of making the standard drivers up front work overtime whenever someone wants more bass.
For a speaker with a name that includes the words "extra bass," I actually really like how Sony handled this. Because of its size, the low end is already pretty good. The bass kicks throughout Intro by The XX having all the right amount of depth and detail. The problem for me was the bass guitars in most songs were a little overemphasized, resulting in a lack of clarity in the lower-mids. It's more of a nitpick than a huge problem, but a good song to hear this in action is Para Que Sufrir by Natalie Lafourcade. The bass line is pushed out in front of places when it shouldn't. On the bright side, vocals sound pretty clear. So if you're looking to learn a little Spanish, this is a good song/speaker combo to start with.
My least favorite part of this speaker was the highs. Instruments that reside in the highs like cymbals and hi-hats weren't impressive at all. I couldn't even really tell that the hi-hats in the song Cold Little Heart by Michael Kiwanuka were even there (1:10). It just sounds like Sony really under emphasized the highs to avoid harshness at loud volumes, but I'll trade some of that harshness for some detail back. Needless to say, none of this applies if you hit that "extra bass" button up top. But, hey, at least you get that extra bass.
Conclusion
So this speaker is pretty good, and I do like it. In all honesty, though, I wouldn't say it was a must-have speaker for a price of $249. Yes, it's good, but that's just overpriced to me. I feel like most of what you're paying for are the cool lights. But now that the new one is out, you can find this speaker for well under $200, and to me, it's definitely worth the money. The extra bass button might do a little too much for my taste; the low end of the Sony SRS-XB40 lives up to the name just fine on its own.