All products featured are independently chosen by us. However, SoundGuys may receive a commission on orders placed through its retail links. See our ethics statement.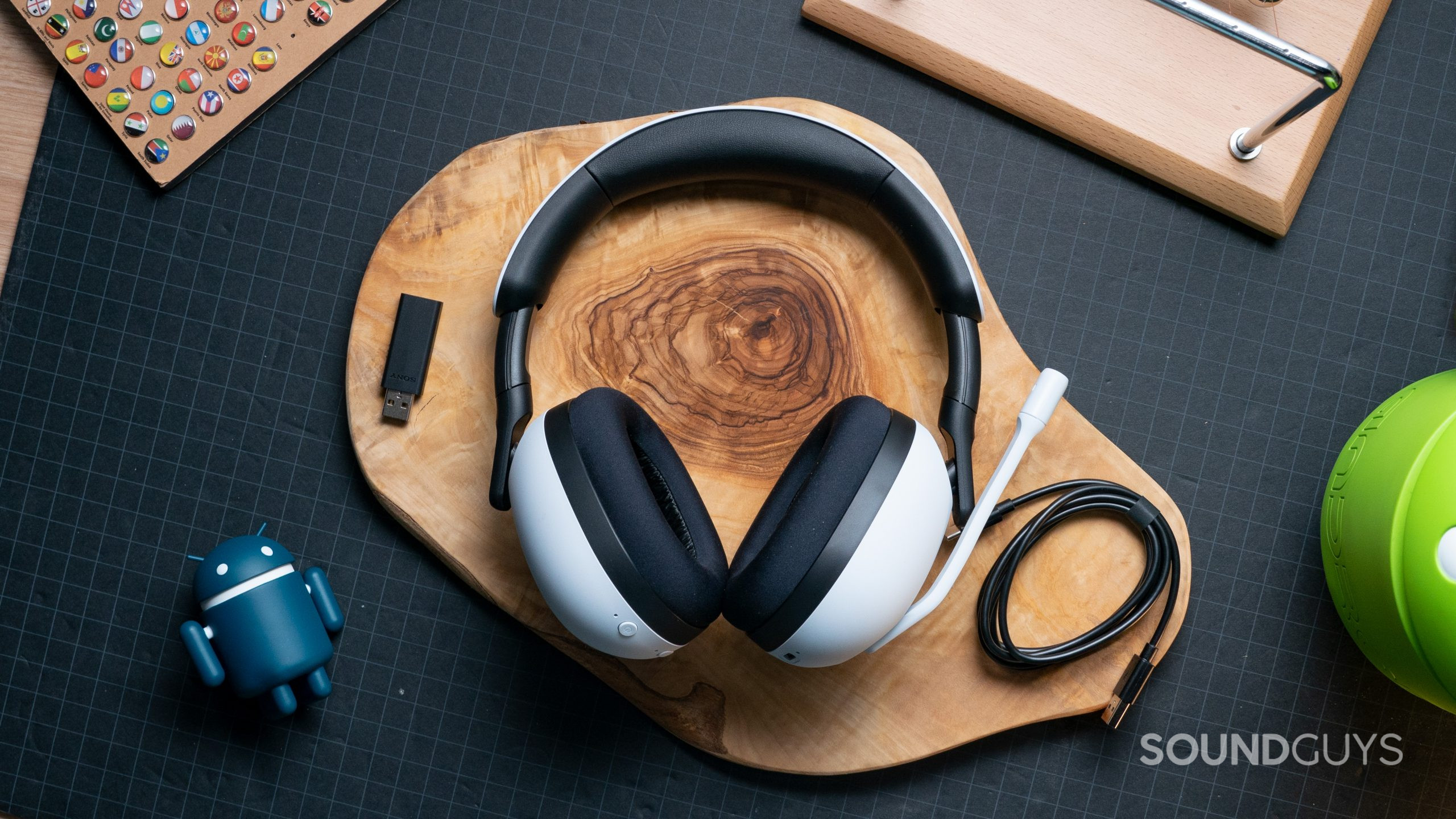 The bottom line
The Sony INZONE H7 does deliver quality where it counts with an excellent frequency response. Unfortunately the high price isn't really justified by the anemic feature set, poor fit, and extensive use of plastic throughout.
Sony INZONE H7
The Sony INZONE H7 does deliver quality where it counts with an excellent frequency response. Unfortunately the high price isn't really justified by the anemic feature set, poor fit, and extensive use of plastic throughout.
Dimensions
10.84 x 4.26 x 12.02 inches
What we like
Sound quality
Comfortable for hours
Good wireless quality
Simultaneous USB and Bluetooth
What we don't like
Loose fit
Overpriced
Non-detachable microphone
Rating Metric
Sound Quality
9.5
Bass
9.0
Midrange
9.9
Highs
9.6
Isolation / Attenuation
5.6
Durability / Build Quality
6.0
Value
5.0
Design
7.0
Connectivity
6.5
Microphone
5.7
Portability
4.5
Feature
5.5
Comfort
8.5
The Sony INZONE H7 is the midrange option from Sony's new INZONE range of gaming headsets, designed with the PlayStation 5 in mind. This model features a wireless USB dongle and Bluetooth support, and it certainly delivers on sound quality, but is that enough to justify the high asking price?
We spent one week with the Sony INZONE H7 to find out everything you need to know before you consider buying one.
Editor's note: this article was updated on May 26, 2023 to address formatting changes, add a microphone score based on the results of our reader feedback poll, and to update the alternative recommendations.

The Sony INZOHE H7 is ideal for PlayStation 5 owners looking for a headset built with that specific console in mind. Additionally anyone that plays games and wants a gaming headset with solid performance might be interested in this headset, so long as they don't want to take it on the go with them.
What is the Sony INZONE H7 like?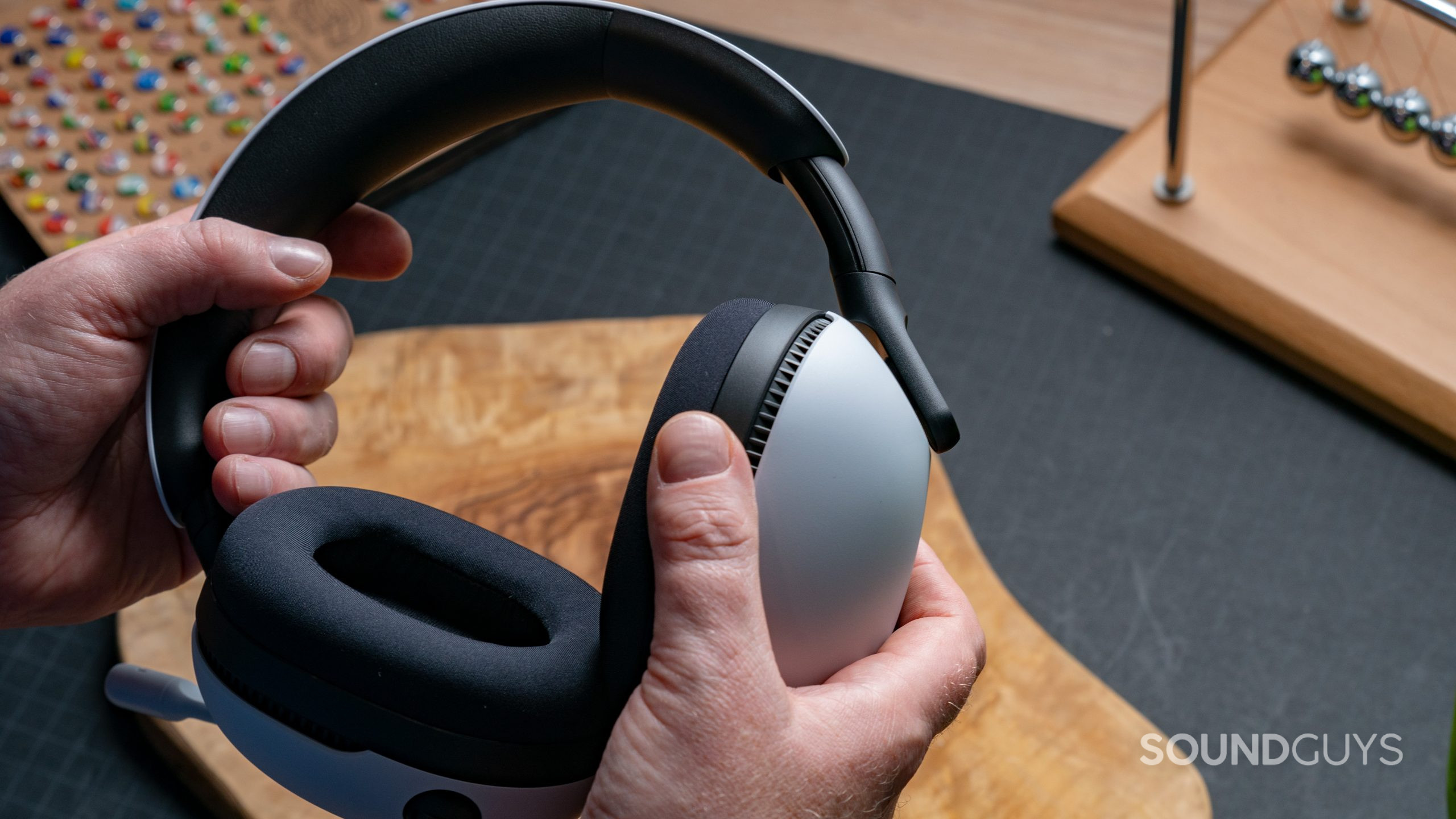 This is a pretty bulky gaming headset.
The Sony INZONE H7 is made primarily out of plastic, with a pleather padded headband at the top along with nylon-padded ear cups. The headset itself is fairly light, and doesn't grip the user's head too tightly. This makes it comfortable for long term use, but sometimes it slides around on my head more than it should. As with most headsets, the length of the headband is adjustable, making it comfortable for people with different head sizes. The ear cups are not exceptionally breathable, but they don't noticeably heat up too much during use. The noticeably large ear cups and large, non-detachable boom mic make this headset difficult to recommend for anything other than gaming at home. Overall the flexible plastic design makes the headset feel a little on the cheaper side.
How do you control the Sony INZONE H7?
Controls run along the bottom edges of each headphone, and they're pretty straightforward.
The Sony INZONE H7 is primarily controlled using buttons on the bottom of the ear cups. These include a volume knob on the left side, as well as a power button, Bluetooth button, and chat/game balance buttons on the right ear cup. Overall these controls are useful, but Sony doesn't really do much to make each button different from each other. Luckily the volume knob (which scrolls infinitely in either direction) is very easy to differentiate from the other buttons, and feels enjoyable to manipulate (its tactile feedback resembles a mouse scroll wheel). One of my least favourite design decisions here is actually with the audible response you get when pressing certain buttons. Instead of using voiced responses like with Sony's WH-1000XM5 headset, the INZONE H7 instead uses a synthesized buzz which I found quite annoying and occasionally unhelpful.
How does the INZONE Hub software work?
If you choose to use the Sony INZONE H7 with a PC, you can use INZONE Hub with it. This piece of software is optional, but gives you some options to extend the usefulness of the headset. From here you can adjust the EQ settings to change the frequency response of the headset as well as enable spatial audio using the Sony 360 Reality Audio. Aside from that the software mostly controls features that already have dedicated buttons on the headset. This software is definitely in its infancy, but it's a good way to get the most out of the headset. It's also how you'll get firmware updates for the headset, if Sony ever releases them.
How does the Sony INZONE H7 connect?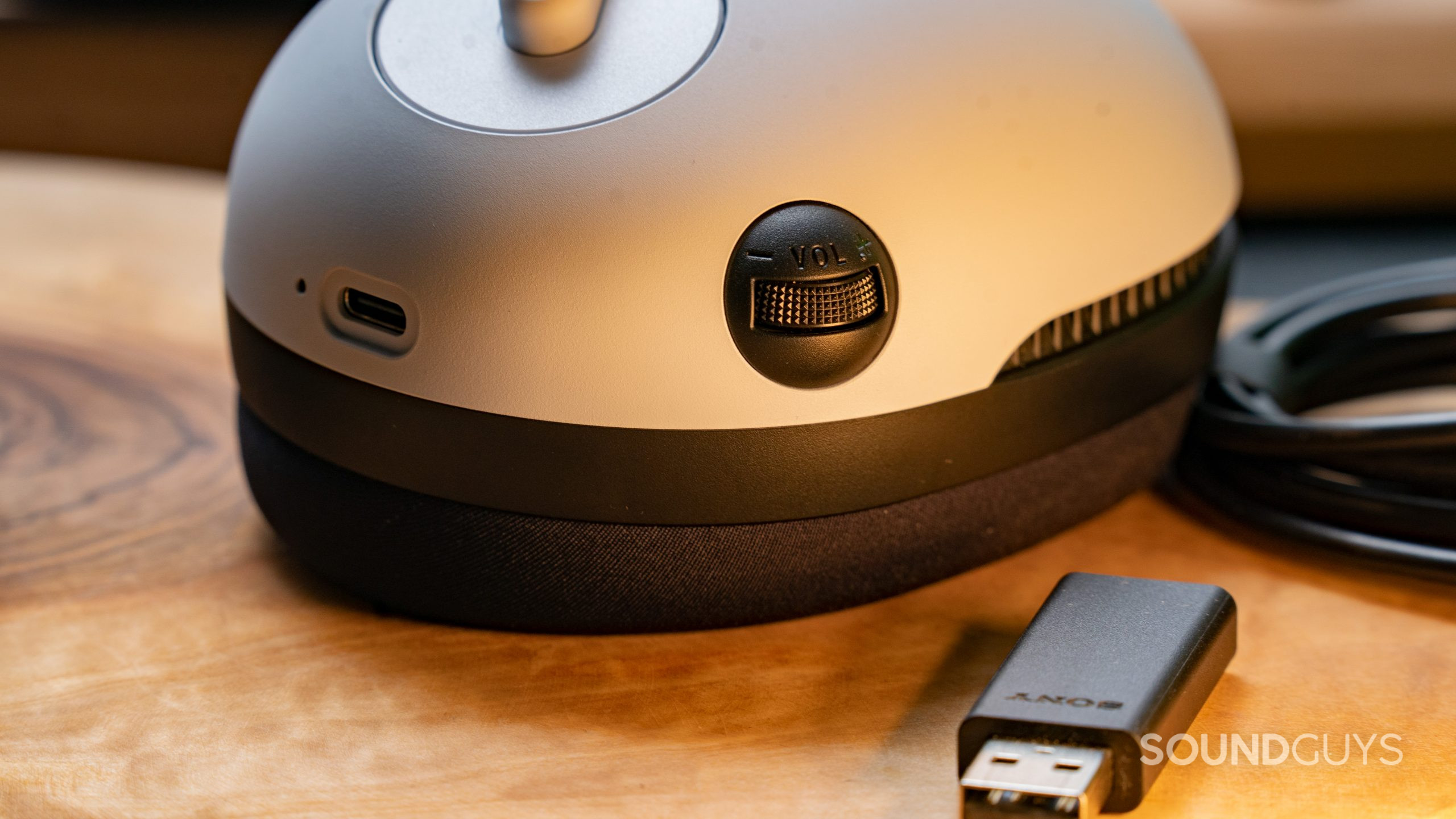 There's a USB-C port for charging, but it won't work for a wired audio connection.
The Sony INZONE H7 is an excellent choice for gaming. Thanks to its support for more than just the PlayStation 5 it's useful with a wide variety of games consoles. The headset connects either via a 2.4 GHz USB-A dongle or via Bluetooth. Bluetooth is primarily intended to be used for systems where the USB dongle isn't suitable, as the USB dongle offers preferably lower latency. Thanks to these two connectivity options the headset has full support for a wide variety of consoles including the PlayStation 5, PlayStation 4, Nintendo Switch, and PC. There's no wired option, which means this won't work on Xbox consoles, given Microsoft's requirements for wireless gaming headsets. Additionally the headset allows you to use simultaneous USB and Bluetooth audio.
How good is the battery life of the Sony INZONE H7?
Sony advertises a 40 hour battery life for this headset, and in our standardized testing we found it to exceed that number at 51 hours and 35 minutes. The headset also charges quite quickly, with Sony advertising that 10 minutes of charging will give the headset enough juice for an hour of gaming. Overall the battery life is fairly admirable, and generally in the same ball park as many other gaming headsets. It should provide plenty of time for gaming in between charges.
How is the sound isolation on the Sony INZONE H7?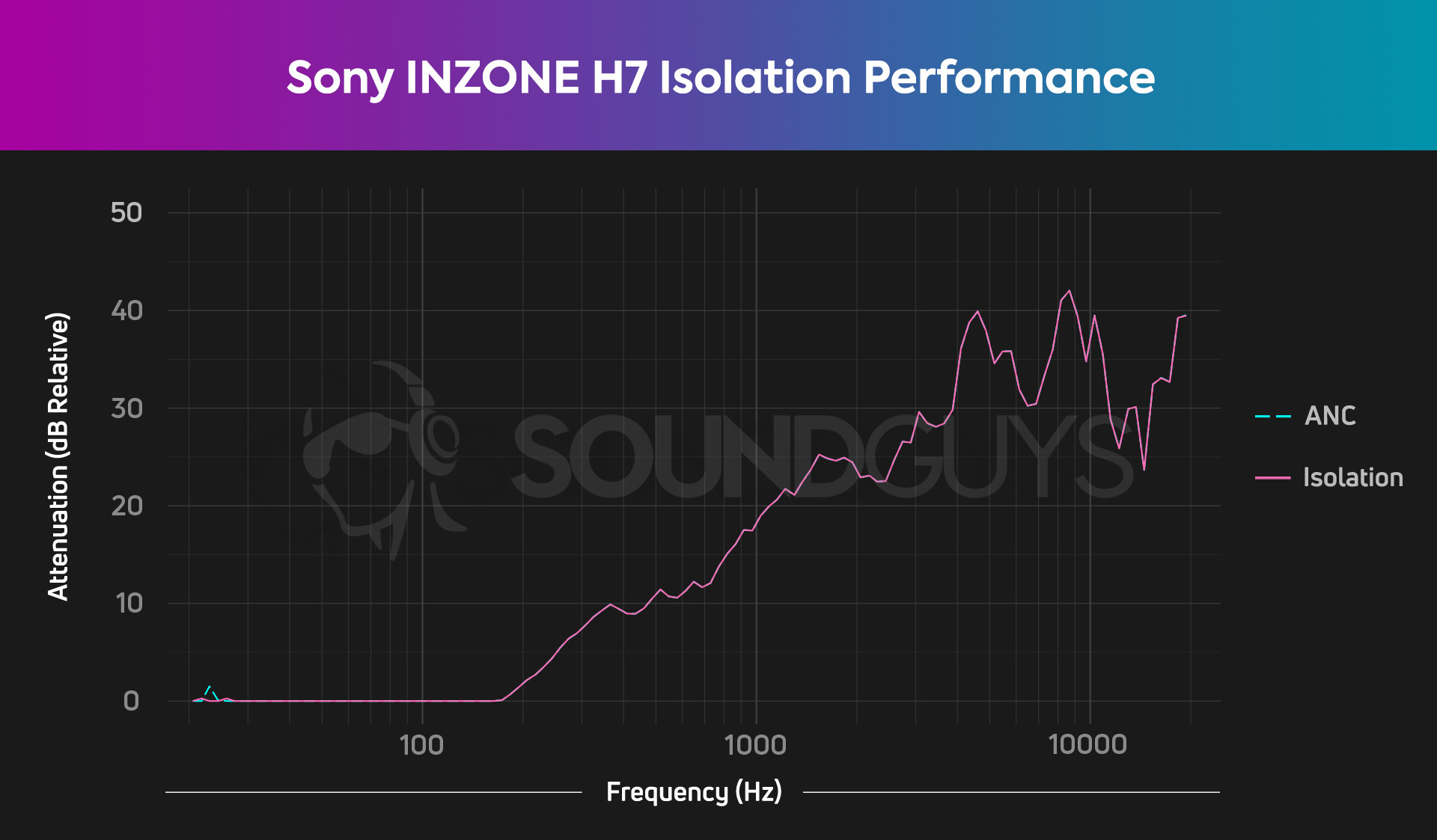 The Sony INZONE H7 won't win any awards for isolation due to its lightweight design, but it's still fairly effective at blocking out some quieter noises.
Overall the noise isolation on the Sony INZONE H7 is fairly average for this type of headset. You'll be able to hear voices or outside music with the headset on, but background noises like AC or nearby highway traffic get adequately reduced in loudness. It's similar to the isolation on plenty of other gaming headsets. It differs from the Sony INZONE H9, which features a full active noise canceling system, the primary feature that differentiates these two models.
How does the Sony INZONE H7 sound?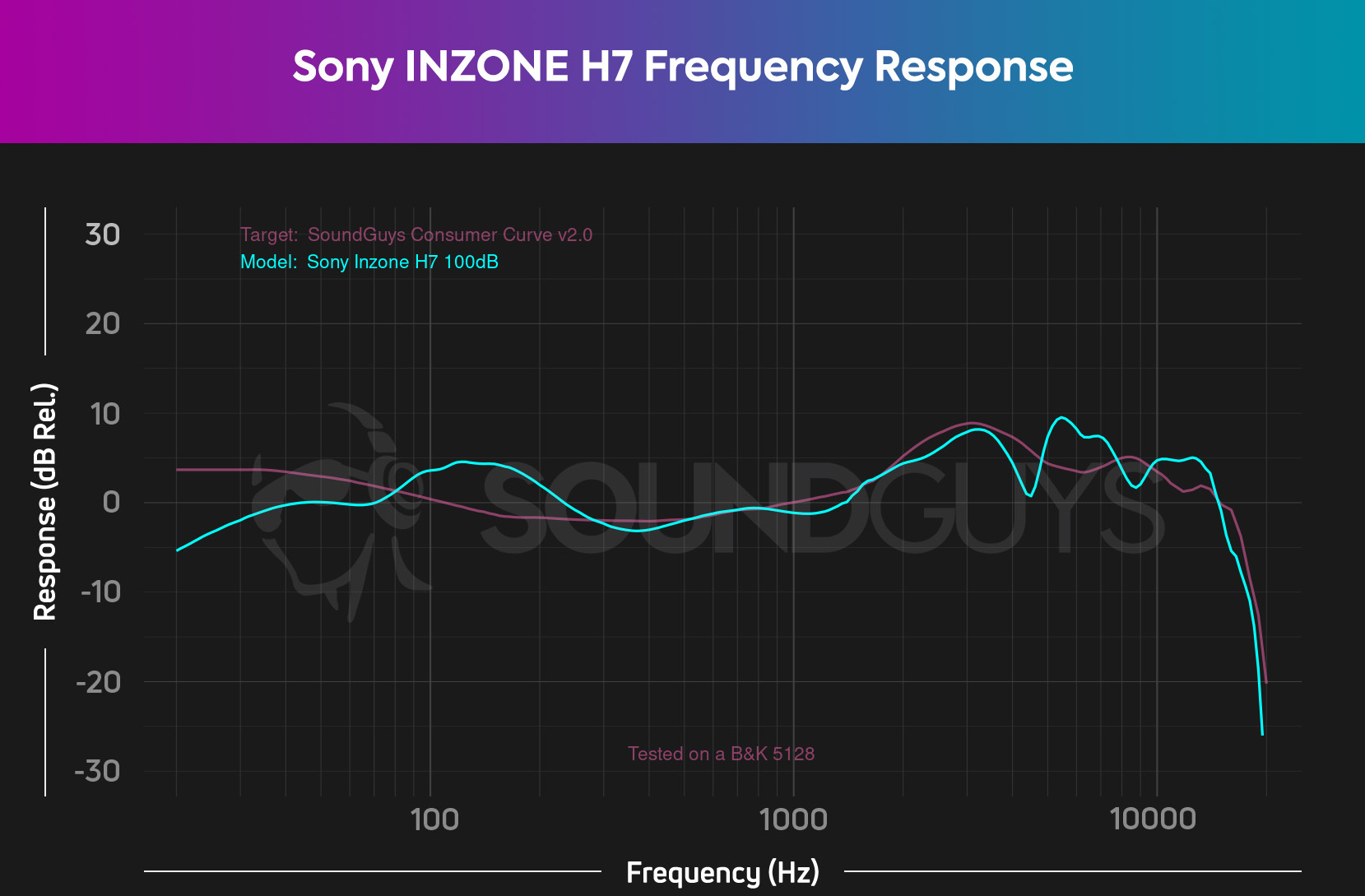 The Sony INZONE H7 has a pretty good sounding frequency response.
The Sony INZONE H7 has a frequency response curve that generally follows our ideal consumer curve pretty closely. It does have some slight exaggeration from 100 to 200 Hz, as well as some peaks and dips in the high end, but for the most part it makes for a very enjoyable sound. There is also a slight dip in the sub bass, which can make some dance music or first person shooter gunfire sound slightly less impactful. The enjoyable frequency response is probably this headset's best feature, it sounds very good.
Lows, mids, and highs
In testing the headset with several different songs it generally performs pretty well. Both Paranoid Android by Radiohead and Hotel California by The Eagles sound excellent, with all of the instruments coming across well thanks to the headset's solid frequency response. The slight dip in the sub bass harms the experience a little bit, such as with the kick drum in Raise Your Weapon by Deadmau5, which sounds slightly less present than it does on other headsets. Additionally the string section in a recording of Beethoven's Seventh Symphony, Second Movement sounds slightly worse than what I'm used to, due to the deviation from our ideal curve in the high end.
We experimented with using it on a PlayStation 4 with Bloodborne, a Nintendo Switch with Legend of Zelda: Breath of the Wild, and even on Sony's forgotten PlayStation Vita using Bluetooth to play Persona 4 Golden. Each of these games worked quite well and sounded good on the headset. Additionally the microphone makes the headset very useful for online multiplayer and party chat.
How is the Sony INZONE H7 microphone?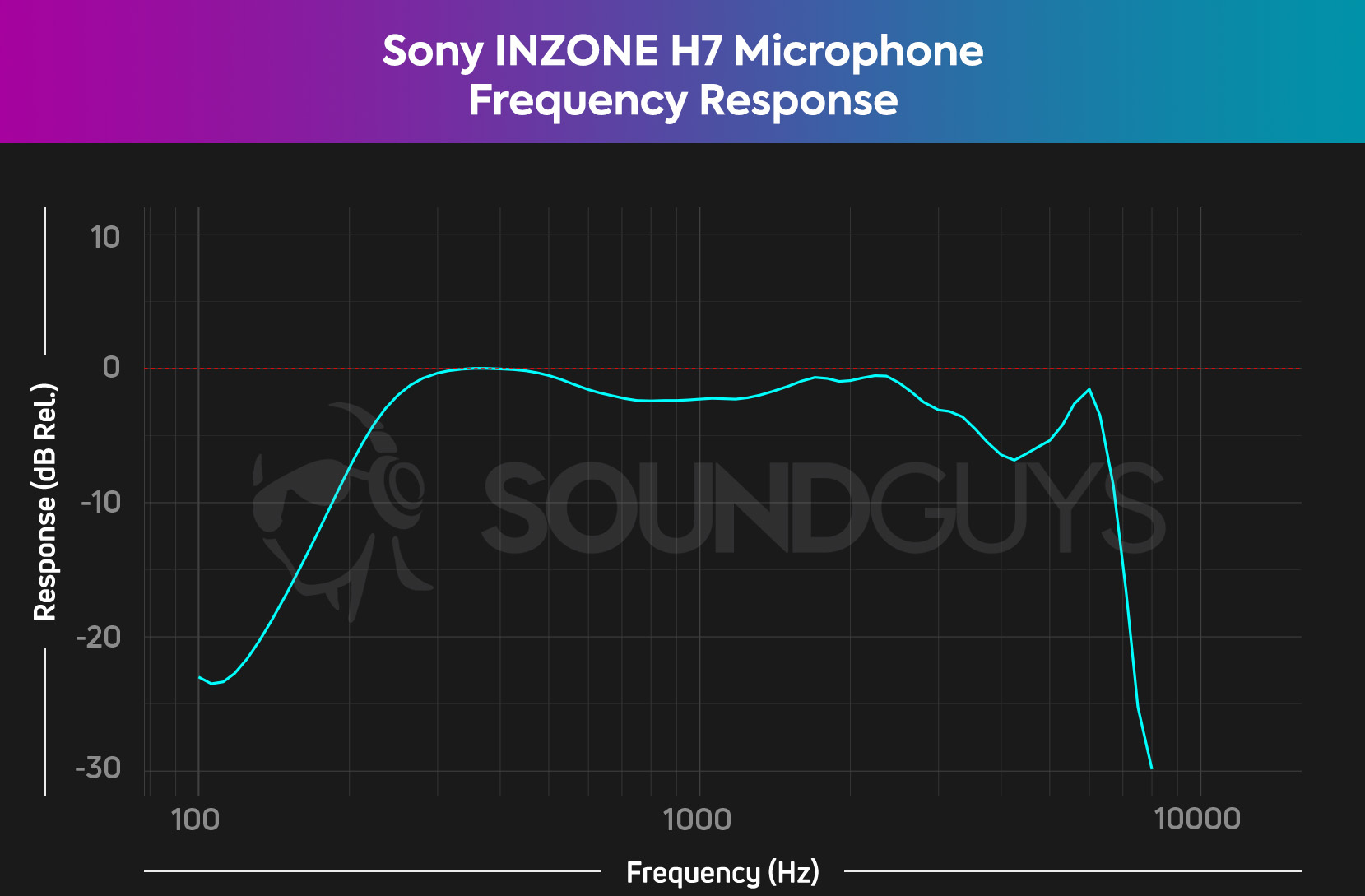 While it's certainly not perfect, the microphone on the Sony INZONE H7 is pretty good for a gaming headset.
The headset features a non-detachable boom mic that can be easily manipulated up and down as well as forward and backward. When flipped up the microphone is automatically muted, and when it's pulled down it activates. When active the microphone provides some amount of sidetone, which allows you to hear your own voice as you speak. Overall the frequency response typical for a gaming headset microphone, with a lack of bass response and a sharp rolloff in the high end. It's certainly not suitable for high quality recordings, but it's more than adequate for online gaming.
You can listen and vote below to judge for yourself the quality of the microphone.
Sony INZONE H7 microphone demo (Ideal):
Sony INZONE H7 microphone demo (Office):
How does the microphone sound to you?
668 votes
Should you buy the Sony INZONE H7?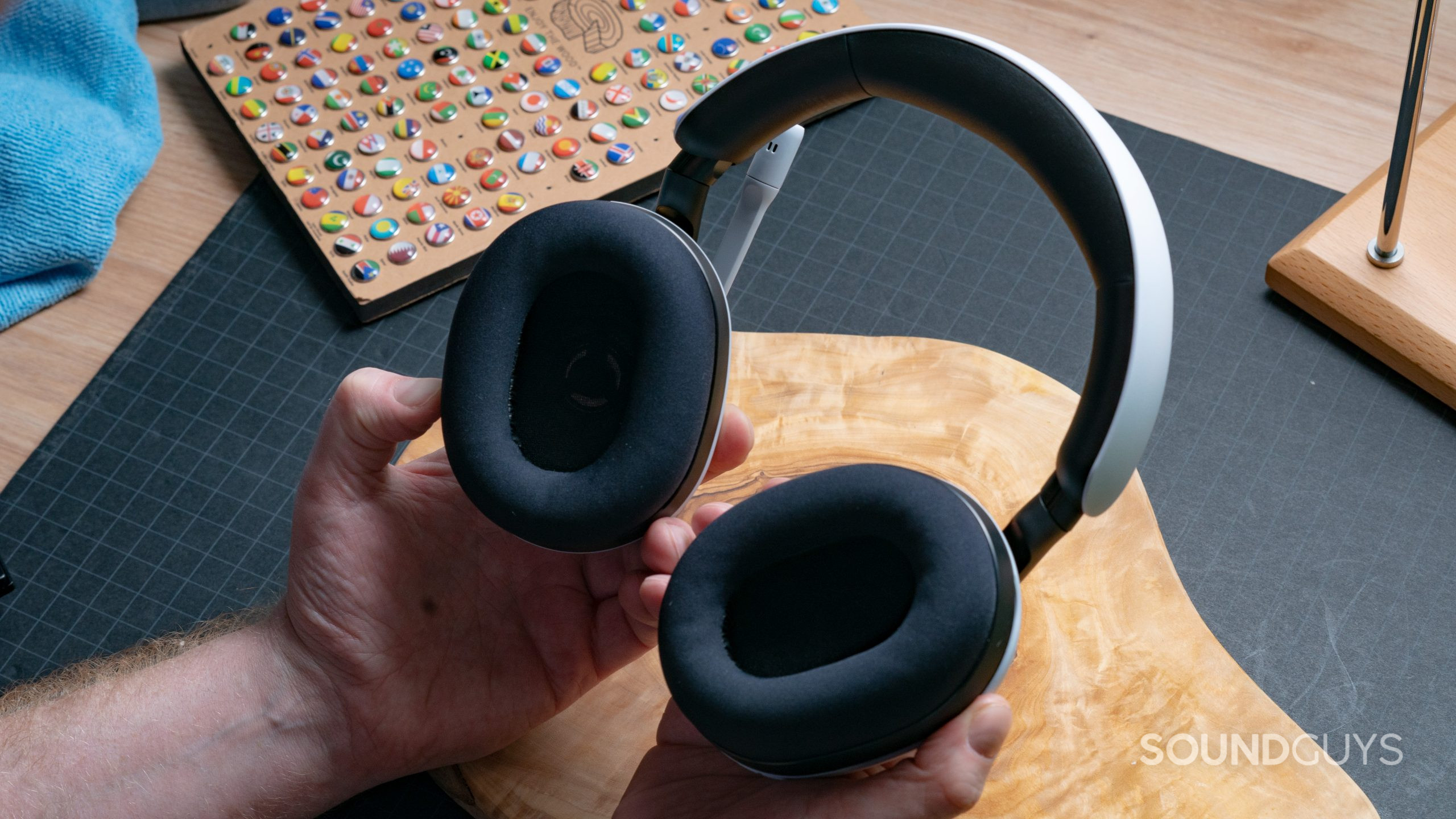 The nylon pads are smooth and don't build heat like leatherette does.
Overall the Sony INZONE H7 is simply too expensive for what it offers. It does what it sets out to do well, it's a fairly well rounded midrange gaming headset. It has a good frequency response curve, has a fairly solid low-latency wireless connection, and is comfortable for long periods of time. Unfortunately it's also very clearly a headset designed only for gaming. Taking this anywhere other than your living room would be a bit outlandish due to the non-detachable microphone and oversized ear cups. The use of plastic makes it feel cheaper than it is, and prevents it from clamping onto the listeners head as well as other headsets. It's certainly not a bad option, and if you are specifically looking for a headset built with the PS5 in mind this is a solid choice. However, it's simply more expensive than other headsets that offer similar features.
Sony INZONE H7
Sony INZONE H7
Sound quality • Comfortable for hours • Good wireless quality
Think of this as the wireless Inzone H3 -- it offers a mid-range setup with good audio quality and an adjustable mic, but it might cost a bit more than it needs to. Sony nailed the style, however, and it matches the Playstation 5 aesthetic perfectly.
What should you get instead of the Sony INZONE H7?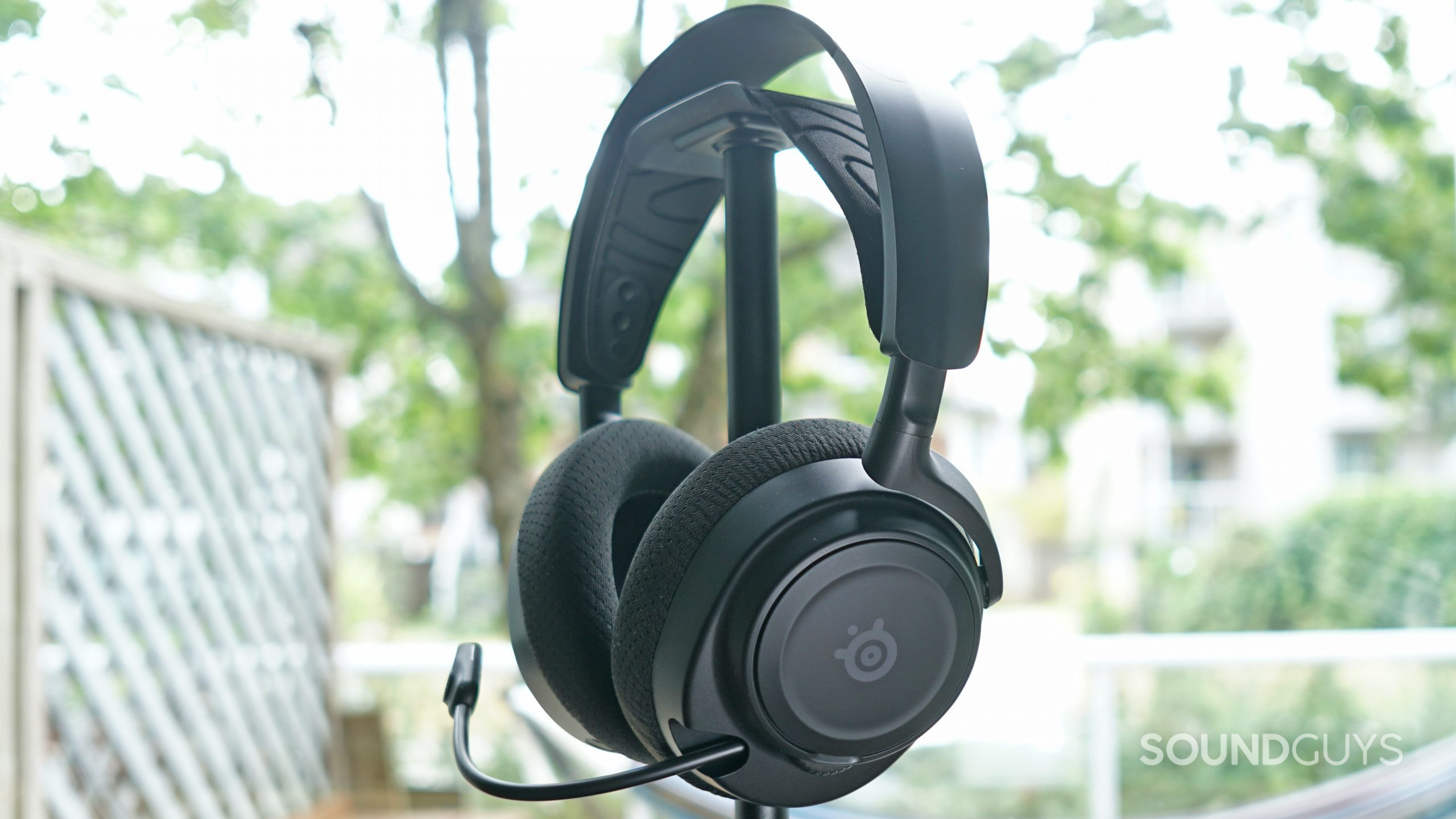 The SteelSeries Arctis Nova 7 Wireless has excellent padding as well as an elastic headband that makes it really comfortable for hours of use.
If you're looking for another wireless gaming headset with similar features to the Sony INZONE H7 then the Razer Barracuda X would likely be the first place to look, the price is noticeably better whilst still having good features and build quality. Another solid option would be the SteelSeries Arctis Nova 7 Wireless, which is still less expensive than the H7 while delivering on comfort and quality. If you're looking for something more expensive than the H7 that exceeds it in terms of features and build quality, the best place to look would probably the the SteelSeries Arctis Nova Pro Wireless.
Frequently asked questions about the Sony INZONE H7
The Sony INZONE series currently comes in three different configurations. The cheapest option is the H3, which features a wired, analog 3.5mm jack cable. The H7 is the middle tier and features a 2.4GHz wireless USB dongle. Finally the H9 is the most expensive option and adds noise canceling, in addition to wireless connectivity. Each of these models share their design style and form factor.
In our testing, no. The Sony INZONE H7 is incompatible with Xbox Series S/X and Xbox One consoles using the USB dongle. This is consistent with other gaming headsets due to the different way that Xbox consoles handle USB headsets.