All products featured are independently chosen by us. However, SoundGuys may receive a commission on orders placed through its retail links. See our ethics statement.
The bottom line
When streaming over WiFi this Chromecast speaker is amazing, but the Bluetooth 2.0 connectivity is so poor that it makes it impossible to recommend.
Solis SO-7000
When streaming over WiFi this Chromecast speaker is amazing, but the Bluetooth 2.0 connectivity is so poor that it makes it impossible to recommend.
What we like
Easy setup<br>
Chromecast built-in<br>
Sleek design<br>
Stream over WiFi<br>
What we don't like
Bluetooth 2.0<br>
Constant connectivity drops over Bluetooth<br>
No remote<br>
Rating Metric
Sound Quality
8.6
Bass
8.6
Midrange
8.2
Highs
8.5
Durability / Build Quality
7.7
Value
7.2
Design
8.2
Microphone
7.5
Portability
7.0
As some of you may know, "solis" is a Spanish name with Latin roots. No need to dust off that Etymology 101 textbook quite yet, as it's simply Spanish for "sun." However, today we're addressing the brand Solis and its new SO-7000 Bluetooth speaker. The cube is a smart speaker with Chromecast built-in, so you can stream high quality audio from Spotify, Google Play Music, and more.
Who is the Solis SO-7000 for?
The Solis SO-7000 is a wireless speaker that's available for $249.99.
This speaker is for someone who to fill their apartment with sound, without shaking down the whole complex. The discreet form allows the SO-7000 to be set in nearly any living arrangement. The square shape isn't just for modern looks, though; it also serves to facilitate three-dimensional sound to evenly disperse sound throughout the room. It could be unappealing for some to ensure that the Solis SO-7000 is always connected to an outlet, but it allows for the five-speaker system to be appropriately powered at 20W RMS x 2 and 60W RMS for the subwoofer.
How long does the Solis SO-7000 take to set up?
No time. Setup is much like that of any other Bluetooth speaker in that you unbox it. Of course, the additional step is connecting the power brick to an outlet and back to the speaker, but after that just enter pairing mode by depressing the dedicated Bluetooth button for a few seconds. From there, open up your phone's Bluetooth menu and search for the SO-7000. That's all there is to it.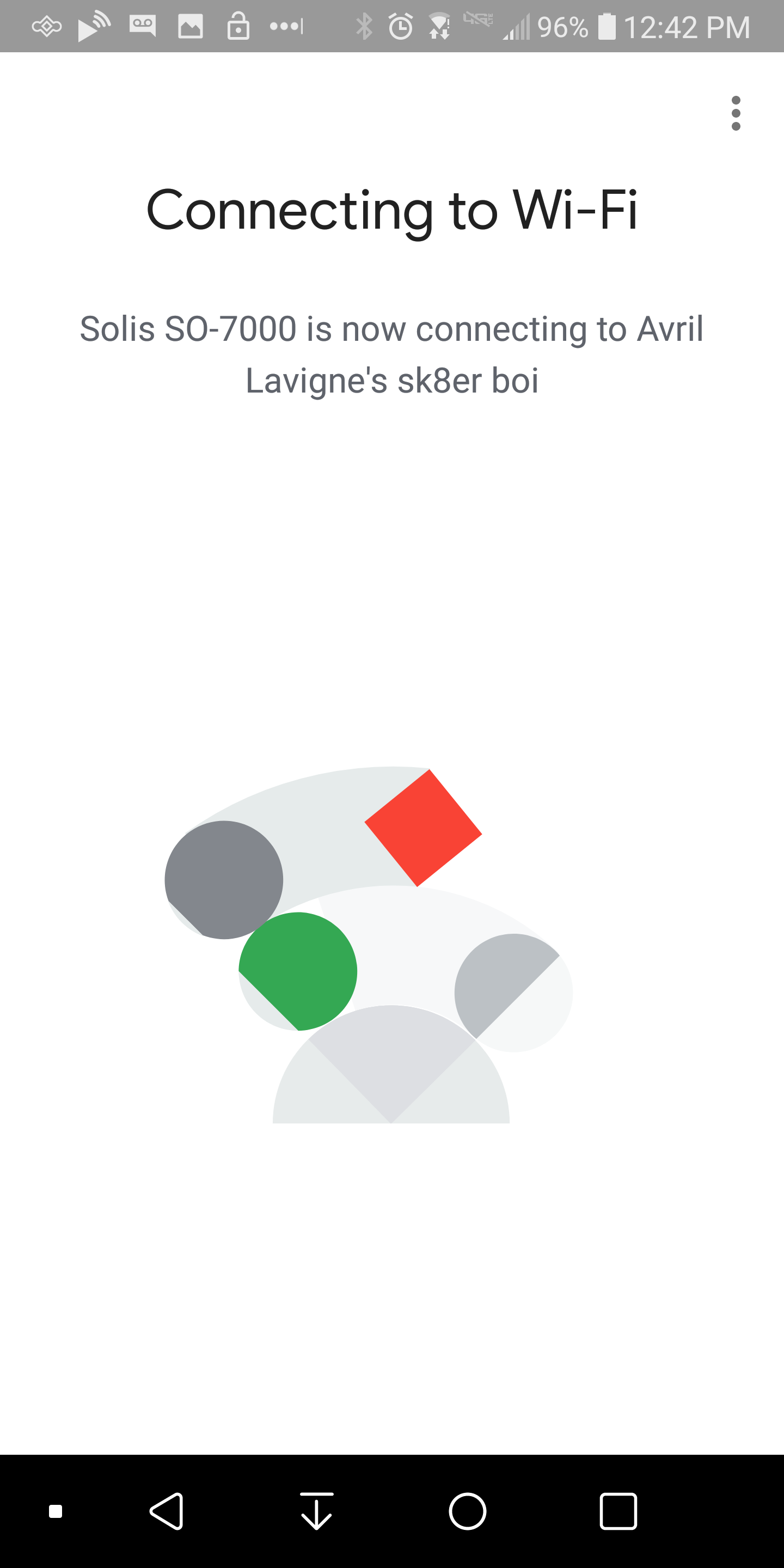 Although the Bluetooth connectivity is disappointing, the WiFi connectivity is reliable.
If you want to connect it to your home WiFi, launch Google Home and it will guide you through the pairing process, which includes selecting what room the speaker's in and naming it. If you're familiar with other Google Assistant-friendly products like the JBL Link 300, then you're already well acquainted with this process.
What's included
The packaging is pretty bare bones; you get the Solis SO-7000 speaker, a 120V AC adapter, and an aux cable. I was spoiled by the Fluance Ai40 bookshelf speakers and missed the convenience of having a remote for basic playback and volume controls. For $249.99, it doesn't seem like a stretch to expect an OK remote control.
Build and design
From the days of awkward proportions and kickball on the blacktop, we've been told that to be square is to be uncool. Solis takes that elementary school insult and turns it on its head with the SO-7000 cube speaker. The wood cabinet contains four 2-inch, varying-angle speakers and a 5.25-inch subwoofer driven by a 50W amplifier. This arrangement allows for an all-encompassing sound which will be more immersive than a front-facing-only speaker.
The rubber feet on the bottom of the Solis SO-7000 make it easy for the speaker to grip onto surfaces without leaving an unappealing mark.
The fabric covering looks nice but feels like it could tear from a careless gripping of the cube, something that I worried about when moving it throughout my apartment. At first glance, the plastic panel may look cheap. However, after three weeks of daily use, it has yet to show anything more than fingerprints… which, by the way, the Solis SO-7000 is an absolute magnet for. If pristine upkeep is part of your routine, get ready to break out the microfiber cloth regularly.
If you're not one for constantly cleaning fingerprints, the SO-7000 will quickly become your enemy.
Since this speaker comes with Chromecast built-in, it's no surprise that it's ready to work with Google Assistant straight out of the box. This does make up a bit for the lack of remote since you can just use voice commands to skip tracks and adjust the volume. Sometimes, though, I just want to click a button without getting up or having to engage in some pseudo-social interaction. The microphone does do a good job picking up voice commands, which is nice since it can be a pain to endlessly repeat yourself.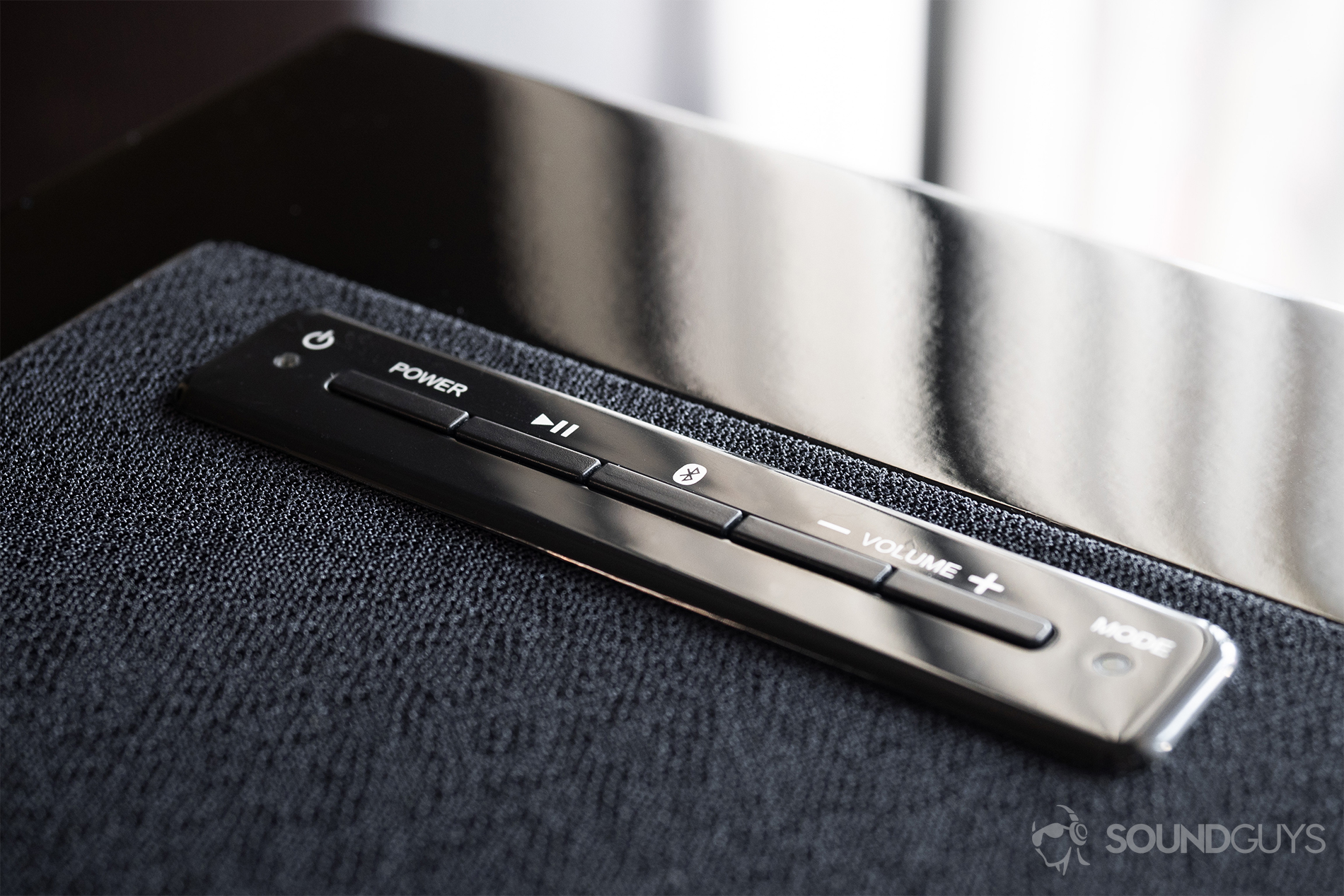 The buttons on top are slick and sleek, but difficult to use in a dark room.
The playback controls are easy to operate via the top panel. From there, you can power on or off, pause/play, enter pairing mode, and adjust the volume. The buttons are thin and made from the same plastic as the panel's framing. It's hard to tell the difference between them in the dark since none of them are physical distinct from the others, but if you have a light, the painted icons will guide you.
Connectivity
The Solis So-7000 operates on Bluetooth 2.0, which in the technological world, ancient.  And to no one's surprise, it shows. Listening to music via Bluetooth was agonizing. OK, you're right, let's reel things in a bit. It was a huge pain when paired to my LG G6 or Microsoft Surface Book, though; audio drops occur multiple times a minute, making Bluetooth streaming too distracting to be enjoyable.
If you're not one for fussing with wireless technology, you can always opt for the aux input on the rear panel.
Fortunately, there are other modes of connecting one of which via a good, old fashioned auxiliary cable. If you're against all things wired, then you still have one more wireless option: WiFi. By using the built-in Chromecast function, you can bypass the pain of Bluetooth pairing and connectivity. Just tap the Cast button on an streaming app like Spotify or Pandora and adjust the song from your phone.
Easily stream from your favorite audio app with the built-in Chromecast functionality.
Since your audio is taken directly from the cloud and transferred over WiFi, you're getting the highest possible sound quality. Plus, there won't be any breaks in audio from phone notifications, so you can feel free to start a volley of messages between friends without constant volume dips. It's not just phones though, if you're using Chrome, you can mirror what's playing from it directly to the speaker.
Sound quality
First off, this cube gets loud. With the volume maxed out my sound meter measured a 93.1dBA readout. To solidify this, consider that a powered lawn mower emits 96dBA—pretty loud stuff we're dealing with. Loudness aside, how is the actual audio quality? Well, since the Bluetooth is just a nauseating frustration, we'll be addressing the quality of audio streaming over WiFi.
The low-end of the SO-7000 is remarkable, not to mention that it gets loud at 93.1dBA.
In brief, this speaker sounds excellent. The all-encompassing audio output is much more immersive than I expected. If you're only experience with 360-degree sound is something like the Anker Soundcore Motion Q, then have to try this. The quad-driver configuration evenly emits sound and the subwoofer ensures ample bass emphasis.
The dance hit One Kiss by Calvin Harris depends on solid bass reproduction to recreate a party atmosphere. Fortunately, the 5.25" inch subwoofer is able to supply this without issue. The predictable rhythm hardly deviates from the beat, making responsiveness that much more important. Dua Lipa's vocals stand out from the kick drum, which has a residual frequency range of 20Hz-100Hz. This literally bump that we expect to feel is easy to pickout from the many synth noises, too.
The midrange frequencies are well reproduced and best illustrated through 100 Years by Florence + The Machine. During the first 37 seconds of the ballad, Florence Welch is accompanied only by a piano. Her haunting tone is relayed clearly, especially during her initial refrain of "… and never turn to night" at 0:30.
However, once the kick drum barges into the song it masks the delicate nature of Welch's vocals that many Florence + The Machine fans have fallen for. Her voice isn't completely masked, but it takes effort to hear her above the sub-bass. Then again, one could argue that it works well within the context of the song since it illustrates the speaker's resilience as revealed in the first verse, "Try and fill us with your hate and we will shine a light." The over emphasized low-end elicits a greater feeling of empowerment from listeners.
Even with a bit of vocal overshadowing, there's plenty to be said about the overall clarity of the Solis SO-7000. We the listeners aren't introduced to the violins until, but harmonic resonance of the violins comes in clearly while maintaining the song's intended subtle introduction. When listening to this song through the Sennheiser HD 598 CS, I'm unable to hear the high-E until 3:21, but this speaker makes it clear that the high-E begins resonating at 3:10. As the song builds to its climax, the violin becomes even more agitated, and remains easy to hear above the business of 100 Years.
Should you buy the Solis SO-7000?
The speaker must be plugged in at all times to operate.
Although the speaker sounds excellent over WiFi, the fact that the Bluetooth connectivity is so poor makes the speaker a no-go. Sure, it's a sleek design and easy to setup; plus, the 360-degree sound is pretty neat. But unless you know that you're only going to listen over WiFi, it's just not worth the headache. And for the few who are only going to use the WiFi function, it could be worth it… but even still, don't you want a product that performs every listed aspect well?
What should to get instead?
The Sonos One blends into the room it's in with its minimal design.
OK, so what do we at SoundGuys recommend instead? Well, you have a few options.
If you like the low-end found in the Solis SO-7000 but not the spotty Bluetooth, you'll like the Sony XB41. Yes, it's a much different build than the speaker in question, but the "XB" in "XB41"—yeah, that stands for extra bass.
If you love having Chromecast integration, look at the JBL Link 300. Since this, too, can stream over WiFi, you get FLAC and WAV file support. Sure, the bass isn't quite as bumping, but it's no slouch. Additionally, the Link 300 provides two far-field microphones for excellent voice recognition.
But maybe you're thinking, "I like the modern design, but want something just a bit smaller." In that case, it looks like it's time for you to pick up the Sonos One. For those who don't want to mess with WiFi, there's actually an ethernet port built-in to the back of the Sonos One. It's still classified as a home speaker but is about half the size of the SO-7000.