All products featured are independently chosen by us. However, SoundGuys may receive a commission on orders placed through its retail links. See our ethics statement.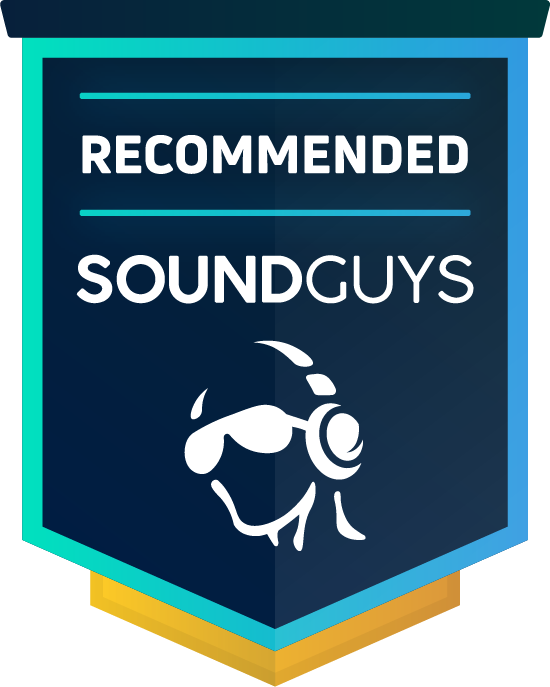 The bottom line
If you want comfortable earbuds with good functionality and a companion app, the Skullcandy Rail ANC are a reliable option. If you can get along with the chunkier size, they reward with reliable touch controls and decent noise canceling.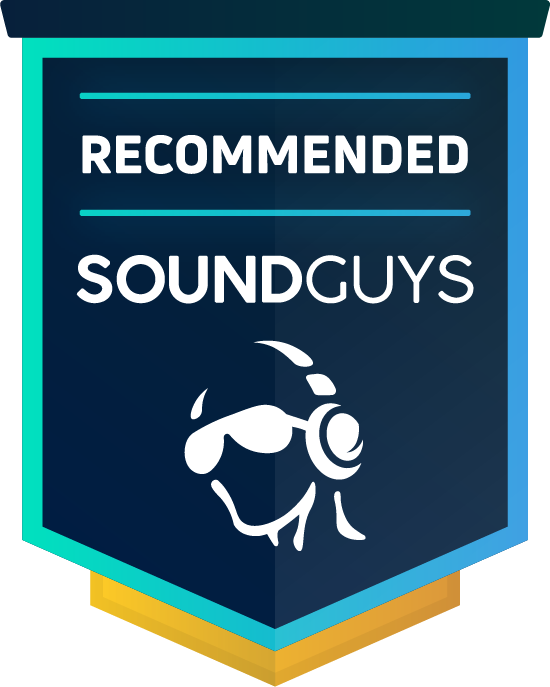 Skullcandy Rail ANC
If you want comfortable earbuds with good functionality and a companion app, the Skullcandy Rail ANC are a reliable option. If you can get along with the chunkier size, they reward with reliable touch controls and decent noise canceling.
What we like
IPX4 water resistance
Battery life
Personal Sound by MIMI
Good app
Tile locating on board
What we don't like
Chunky
Mic is only okay
Bassy by default
Rating Metric
Sound Quality
9.4
Bass
9.2
Midrange
9.8
Highs
9.3
Isolation / Attenuation
7.0
Active Noise Cancelling
8.0
Durability / Build Quality
8.0
Value
8.0
Design
6.5
Connectivity
5.0
Portability
8.0
Battery Life
6.6
Feature
8.8
Comfort
8.7
Skullcandy shows up with the Rail ANC, a set of stemmed active noise canceling (ANC) buds with touch controls. Sneaking in at a hair under $100, the Rail ANC are not the most inexpensive offering from the Skullcandy family, but they're still undoubtedly affordable. Let's see what these can do for a reasonable price tag.
Editor's note: this is the first version of the article. Updates will follow as the market changes.
About this Skullcandy Rail ANC review: We tested the Skullcandy Rail ANC over one week. The Skullcandy Rail ANC firmware version 1.0.1, and the Skull iQ app ran version 2.2.1. The company provided the unit for this review.
Folks looking to get decent noise canceling for under $100 will like the straightforward operation of these buds. Students and budget-minded office workers can get most of what they need without unnecessary extras. Fans of bassy earbuds who still want to EQ for times when they want less bass will like the app's flexibility.
What's it like to use Skullcandy Rail ANC?
Looking rather conventional as compared to Skullcandy's typical wacky aesthetics, the combined buds and case weigh a hair under 50g. In the box, you get three sets of ear tips measuring 11mm, 12mm, and 14mm approximately. Popping the Rail ANC buds in with the 12mm ear tips, the fit is secure, not particularly invasive, and comfortable overall for a few hours.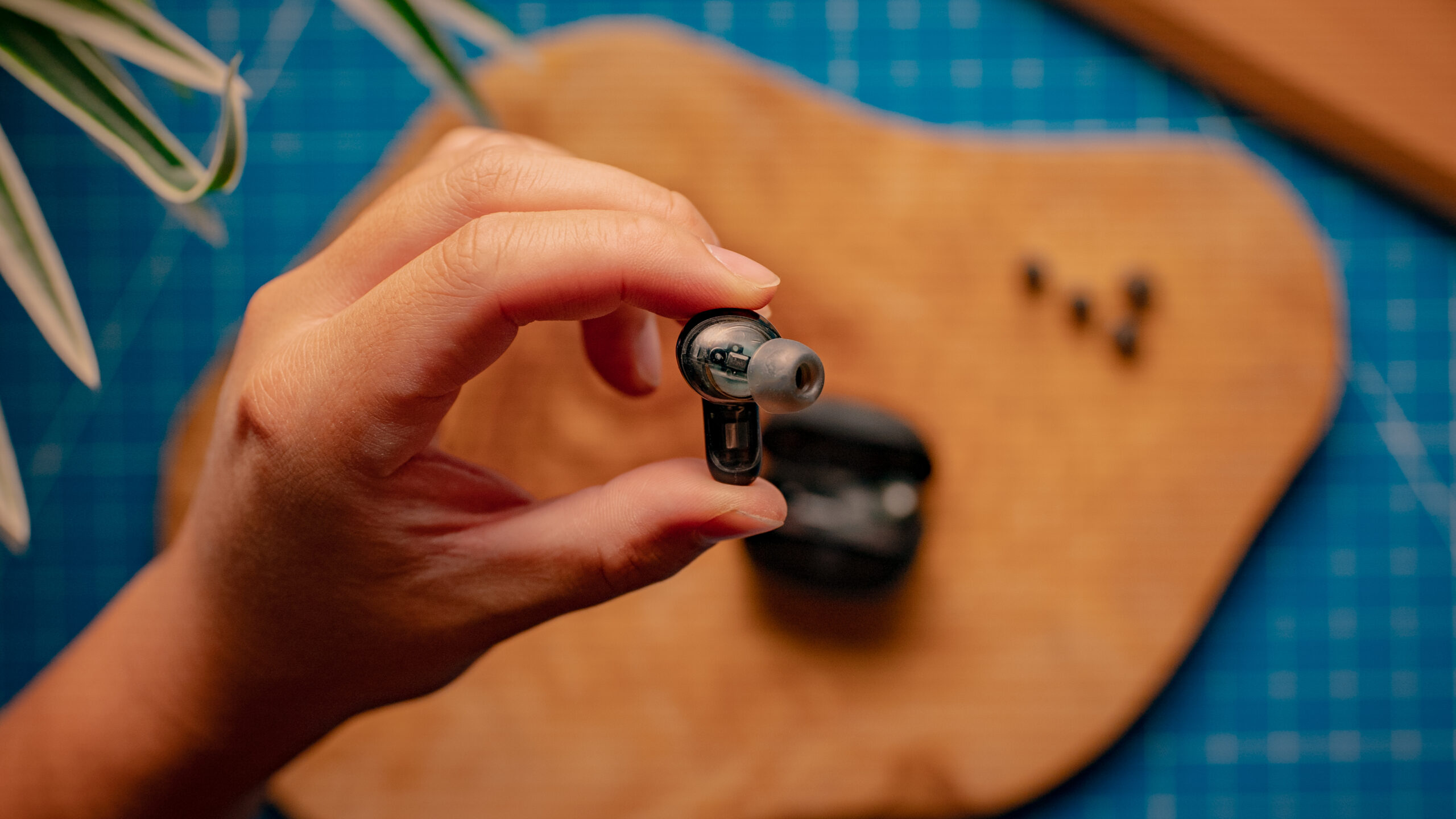 The semi-translucent look is a trend kicked off by Nothing, and Skullcandy adds it with subtlety here.
Given that fit is highly individualistic, I can go for a jog with the Rail ANC, but without additional stabilizers or other features to lock in the buds, that is not a sure thing for everyone. These buds are more at home as a daily driver for working at a desk, walking, doing errands, and commuting. They satisfy the brief in that capacity, but the IPX4 rating is enough for most folks.
The touch control sensor is near the top of the stem, where it meets the body. These have about the right amount of sensitivity, but in-ear detection would be nice to avoid accidentally triggering a command when replacing them in the case. That only comes up when hurriedly putting the Rail ANC away, say at a checkout.
Chunky case
The case is on the chunkier side to accommodate the somewhat large Rail ANC buds. You can still pocket it in most jeans. The lid closes with a reassuringly strong magnet, and when you open it, the semi-translucent interior plastic lights up with a helpful blue light for the times when visibility is low. To open the case there's a concave relief on the lid which arcs up into a lip, perfect for flipping the lid up with a thumb. Unfortunately, after a week, the hinge loosens up significantly.
How do you control the Skullcandy Rail ANC?
Skullcandy uses touch controls for the Rail ANC. The sensor is located towards the top of the buds. Interestingly, you can turn an earbud on or off by pressing and holding, which is handy if one of the buds isn't connecting.
Action
Both earbuds

Single tap


Play / Pause
Answer call


Double tap


Skip forward


Triple tap


Cycle ANC and Stay Aware modes


Long tap


Spotify Tap
Reject / End call

In addition, you can set up voice controls through the Skull iQ app. You may need to ask yourself if you want to say, "Hey, Skullcandy…." What's nice is that you can use this to turn on or off ANC, for instance, or open Spotify. The only issue with this feature is you need to use precise language, unlike most voice assistants that can figure out what you mean.
Skullcandy supports English, Spanish, French, German or Chinese for the Hands-Free Voice Control function via the Skull iQ app.
Should you use the Skull iQ for the Skullcandy Rail ANC?
Skullcandy has organized the functions nicely in the Skull iQ app, and updates proceed efficiently without a hitch. If you're concerned about privacy, you'll have to sign away your data. Like other Skullcandy buds compatible with the Skull iQ app, the Rail ANC includes Tile for tracking your buds.
The app is pretty comprehensive, with listening mode controls and Personal Sound by MIMI, which basically measures your hearing and "optimizes" the EQ for your unique hearing. This assumes you will like the default tuning when compensating for your hearing loss as measured by the setup process.
You can even set up the Skull iQ app to control your camera, but you do need to say, "Skullcandy take a picture," which might make you want to take it silently instead. This works more reliably with Android than iOS, as does saying "accept" or "reject" when a call comes in. You can always turn off the Hands-Free Voice Control in the app.
How do the Skullcandy Rail ANC connect?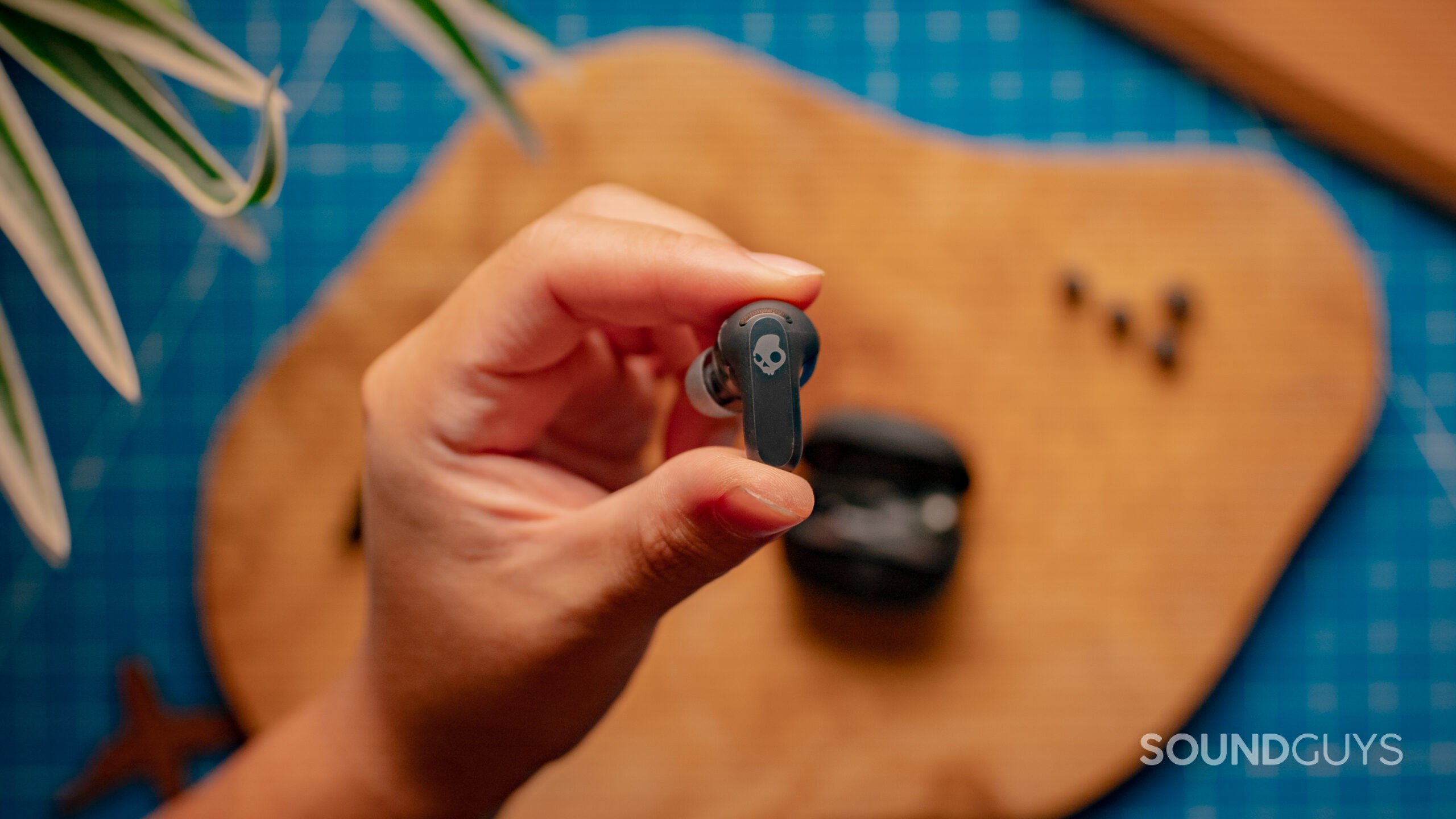 If your buds disconnect, you can press and hold for about 2 seconds to turn them off, and a second time will turn them on again.
In use, the connection breaks a couple of times during an hour-long jaunt and reconnects immediately. Otherwise, they partner with your device quickly, and the buds announce they've connected and which listening mode you're on. They also have Bluetooth multipoint, which you can turn on or off in the app.
Pairing the Skullcandy Rail ANC is simple.
Remove any plastic covers over the charging contact points.
Replace the buds and close the lid.
Enable Bluetooth in your device's settings.
Open the case and remove the buds to enter pairing mode.
Select the Rail ANC in the available devices menu.
How long does the Skullcandy Rail ANC battery last?
Charge them up in about 2 hours with the tiny cable.
With ANC enabled, the Skullcandy Rail ANC last 7 hours and 3 minutes. That's a bit better than average for budget noise canceling earbuds, and pretty much dead on the 7-hour figure Skullcandy claims. The buds are slightly chunky, so there's room for larger batteries.
Meanwhile, the case charges via the USB-C cable included in the box. The Rail ANC does not charge wirelessly, which is unsurprising for sub-$100 earbuds with noise canceling. Skullcandy claims it only takes two hours to completely charge the case and one hour to fully charge the buds in the case.
According to Skullcandy, the Rail ANC can fast charge for 10 minutes to yield 2 hours of playback.
How well do the Skullcandy Rail ANC cancel noise?
For under $100, the combined ANC and isolation on the Rail ANC does the job reasonably well. The isolation blocks high-pitched environmental sounds if you get a good fit.
Interestingly, the ANC filtering of lows is reminiscent of (although not as powerful or as adjustable as) the flagship Jabra Elite 10. They do a solid job of getting rid of pesky low-pitched rumbles, but you'll still hear those mid-frequencies poke through. On a walk, low-pitched noises are reasonably quiet, but some traffic sounds still reach your ears. So, while that's useful for air conditioners and deep hums, it doesn't wholly conquer the whooshing of cars accelerating noisily.
How do the Skullcandy Rail ANC sound?
The Skullcandy Rail ANC follow our headphone preference curve roughly. They have some exaggerated low-end output and are about 4dB quieter in the mids than we'd like. Treble loosely apes our curve, except between 5kHz and 7500Hz, where it peaks at 6dB louder than our preference. All of these ingredients lead to a fun tuning with too much bass.
Lows, mids, highs
With Skullcandy's reputation for prominent bass responses, I try a dance pop track, Out of Time by Slayyyter. If you like a lot of bass and feeling the oomph of a given song, the Rail ANC delivers that. It's a bit too much low end if you want to hear the detail of other elements of a song. For instance, the synth melody in the chorus plays quietly, you can still hear it, but you'll have to focus to notice it. Slayyyter's heavily processed vocals come through with a good amount of volume relative to the other instruments.
Switching tactic: I throw on If Not for You (2014 Remaster) by George Harrison, and the effect is that the exaggerated low end of the frequency response is not overwhelming, but it makes it harder to hear other instruments. I am tempted to turn up the volume, which won't solve an issue that an equalizer can. The guitars, the piano, and Harrison's vocals are all audible if lacking in some detail. These parts, alongside the harmonica, sound distant compared to the present bass guitar and kick drum.
Can you use the Skullcandy Rail ANC for phone calls?
The Skullcandy Rail ANC captures deeper voices better than higher-pitched ones in all situations. In office settings, the noise gets attenuated okay, and voices remain intelligible, if a bit muffled. The same goes for street conditions with a seemingly more intense high-frequency cut. Have a listen below and let us know what you think.
Skullcandy Rail ANC microphone demo (Ideal conditions):
How does the microphone sound to you?
81 votes
Skullcandy Rail ANC microphone demo (Office conditions):
Skullcandy Rail ANC microphone demo (Street conditions):
Skullcandy Rail ANC microphone demo (Windy conditions):
Skullcandy Rail ANC microphone demo (Reverberant conditions):
How does the microphone sound to you?
81 votes
Should you buy the Skullcandy Rail ANC?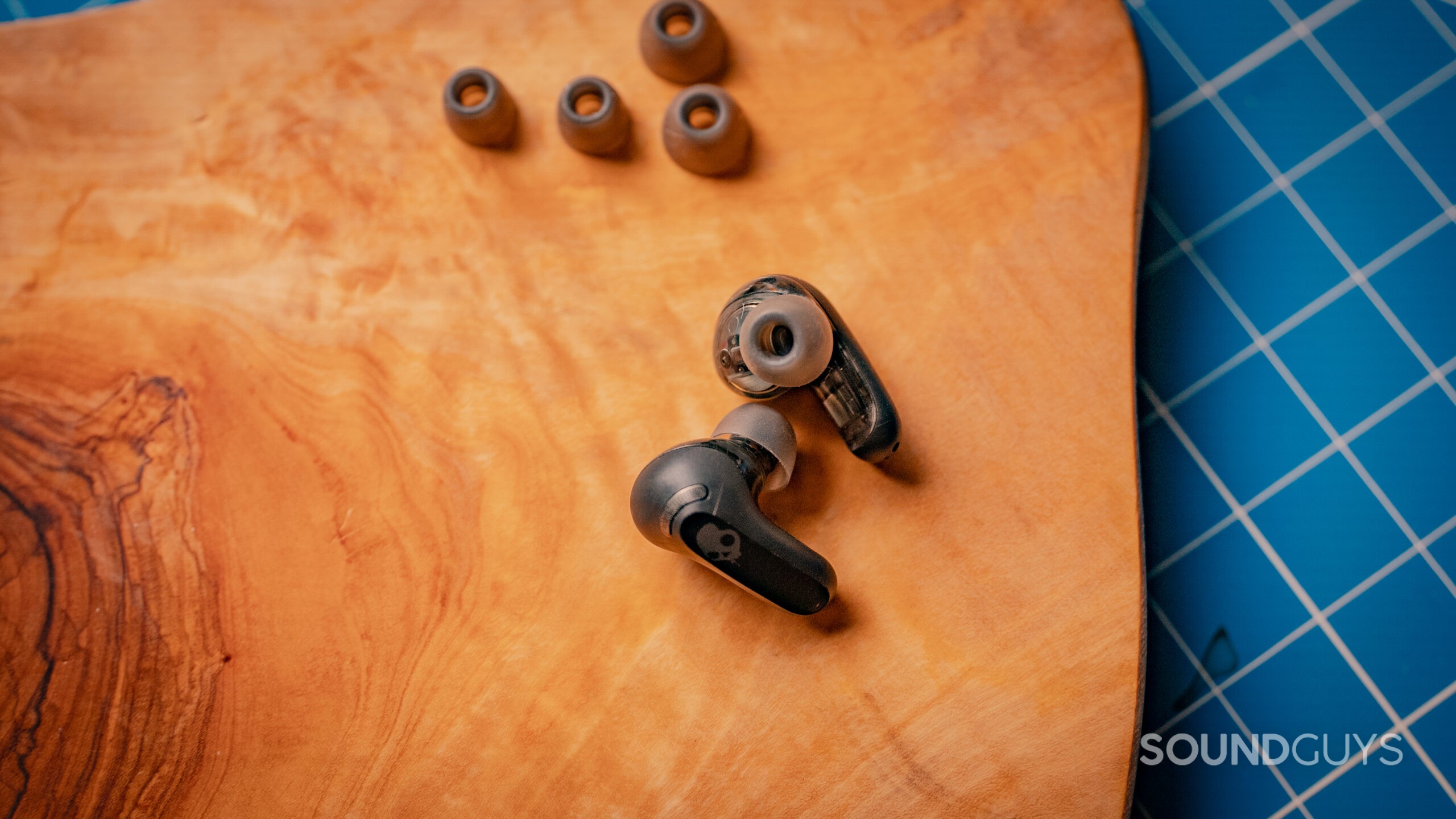 For $100 or less, the Rail ANC is worth a look.
Landing in the middle of the road, the Skullcandy Rail ANC performs most tasks relatively well and few exceptionally. What's good includes the touch control sensitivity, the comfortable fit, and battery life. The app offers solid features, works easily, and getting connected and started is notably less clunky than the Sony WF-C700, to use a recent example.
The middle-of-the-road stuff includes decent noise canceling. Similarly, the microphone performance is acceptable but not impressive. Unless you're seeking bass-focused earbuds, the Rail ANC buds sound mediocre by default, but you can use EQ. In sum, for under $100, you won't get the best earbuds, but you could do much worse, and frankly, these don't have any glaring flaws. Keep your expectations realistic, and the Skullcandy Rail ANC are totally fine.
Skullcandy Rail ANC
Skullcandy Rail ANC
Good sound • Long battery life • Noise cancellation
Hop on the Skullcandy train
If you want comfortable earbuds with good functionality and a companion app, the Skullcandy Rail ANC are a reliable option. If you can get along with the chunkier size, they reward with reliable touch controls and decent noise canceling.
What should you get instead of the Skullcandy Rail ANC?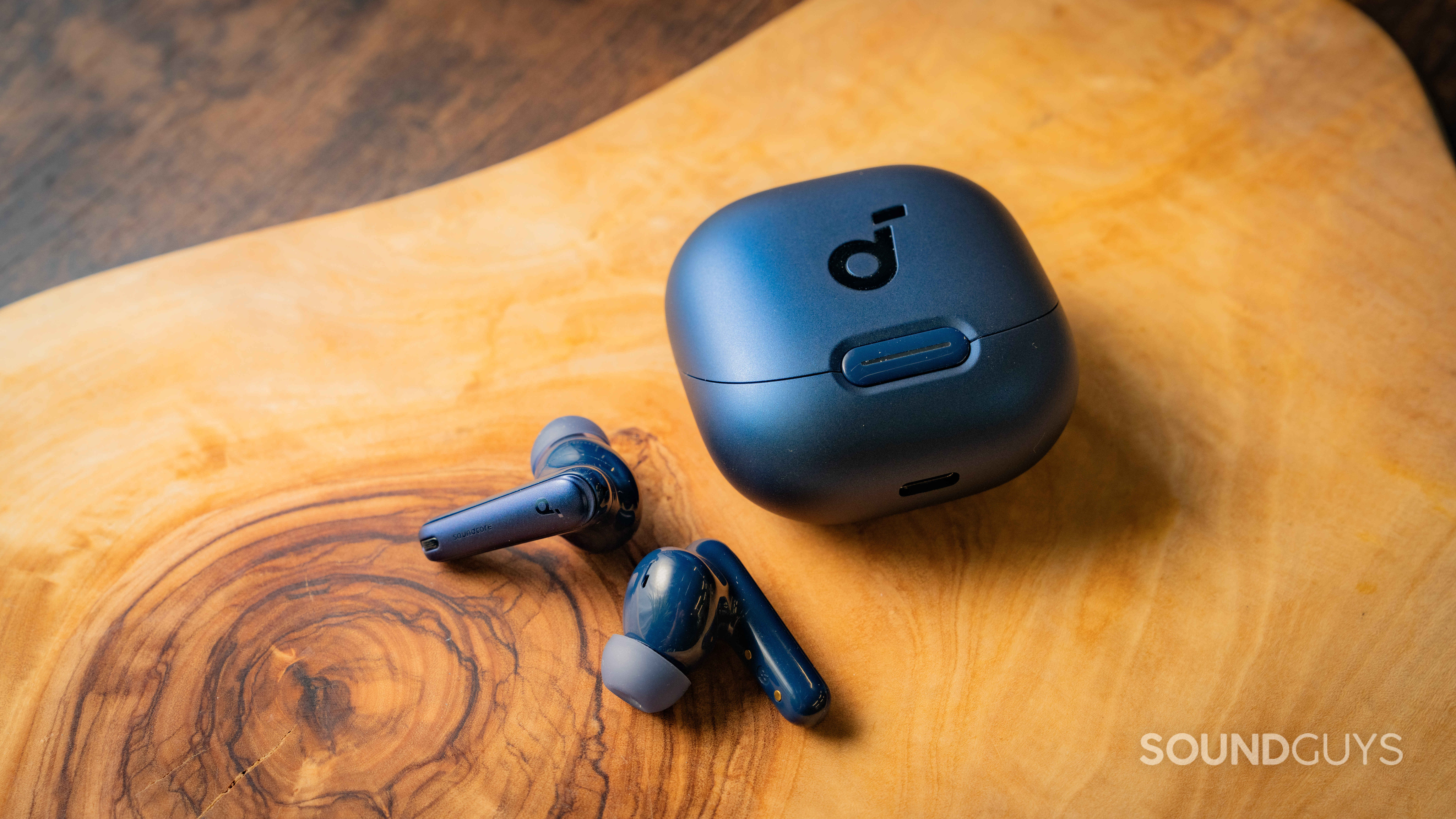 Harley Maranan / SoundGuys
As good as the Skullcandy Rail ANC are for the same list price, the Anker Soundcore Liberty 4 NC do virtually everything as well, or better in some cases. For example, the ANC on the Soundcore Liberty 4 NC is more comprehensive than the Rail ANC. You'll want to EQ the Anker buds with the app to get better tuning, but the battery almost reaches 10 hours, which is worth your attention for$99.99 at Amazon.
If the IPX4 rating on the Skullcandy Rail ANC isn't durable enough for your needs, or if the lack of stabilizers or hooks concerns you, try the JLab Epic Air Sport ANC. With these, you get an IP66 rating against dust and water. Additionally, those over-ear hooks will get you through any workout. Pick a set up for $89 at Amazon.
Frequently asked questions
Our full review of the Skullcandy Rail is forthcoming, but for starters, the Rail does not have noise canceling and sells for less money.
It's convoluted, but to factory reset the Skullcandy Rail ANC follow these steps.
Power off the buds by pressing both for 6 seconds.
Once off, press for 15 seconds or until the LED goes blue.
When blue, double-tap the control pad on both buds.
If the LED flashes purple, the factory reset is complete.