All products featured are independently chosen by us. However, SoundGuys may receive a commission on orders placed through its retail links. See our ethics statement.
Sennheiser Urbanite Review
The Sennheiser Urbanite headphones sound very nice, but the comfort isn't up to par with the Urbanite XL.
[button type="link" link="https://geni.us/Y0Z" size="btn-lg" variation="btn-primary" block="btn-block"]Buy now from Amazon[/button]
UPDATE [January 2022]: You can now get the Sennheiser Urbanite at half the price. When they sell out, have a look at these on-ear headphones.
While they make plenty of different types of audio gear, for many people the Sennheiser name has been synonymous with headphones since they released the world's first open headphones in 1968. While their open-back headphones are still lauded by audio pros, the company also produces plenty of closed back over-ear and on-ear headphones for average folks who don't want every one around them to hear what they're listening to.
The company hasn't always made the most stylish headphones, focusing instead on sound quality, but the Sennheiser Urbanite line is a bold step toward more Beats-inspired territory. Style-wise, anyway. The headphones may look different than what we've come to expect from Sennheiser, but do they uphold the company's reputation for excellent sound?
What's In The Box?
Opening the box, the first thing you'll lay eyes on is the headphones themselves, encased in a foam cushion. Everything else is tucked into a small cutout in the same cushion. Here, underneath the manual, you'll find the locking cable with mic and remote, a carrying bag.
Build & Design
The Sennheiser Urbanite headphones are available in a variety of colors, with only one of the options being conventional. We're looking at the Nation color choice, which is red, white and blue, but other color options are Blue Denim, Plum, Sand and finally, Black. Even though we're looking at possibly the flashiest option, the look is bold without being gaudy.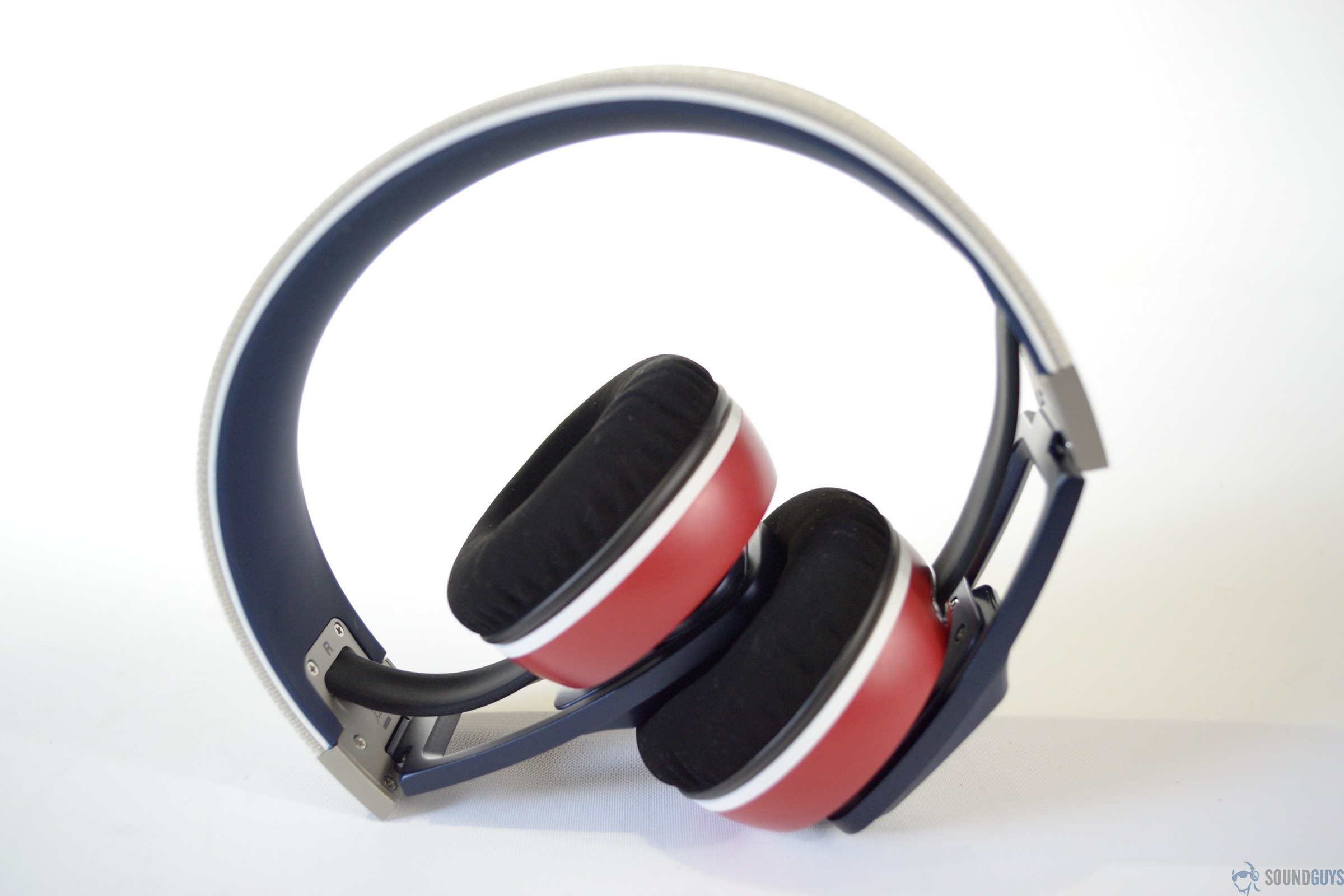 The Sennheiser Urbanite headphones come in two variations: the on-ear model, which we're looking at in this review, and an over-ear model, called the Urbanite XL. The headphones are fairly adjustable, which makes for easy fitting, but the ear cushions were surprisingly stiff. As expected, this didn't make for the most comfortable experience. While the headphones were comfortable enough initially, after an hour or so, my ears started to hurt. This shouldn't be an issue with the larger Urbanite XL.
Connectivity
These are strictly wired headphones, so the included cable is the only connectivity option. Like the Bose QuietComfort 25, these use a 3.5 mm to 2.5 mm jack. Unlike the Bose headphones, the Sennheiser Urbanites go a step further, with the 2.5 mm end using a locking connector on the end that plugs in to the headphones. While this does keep the cable from ripping out of the headphones when snagged, it also makes replacement cables harder to find and more expensive.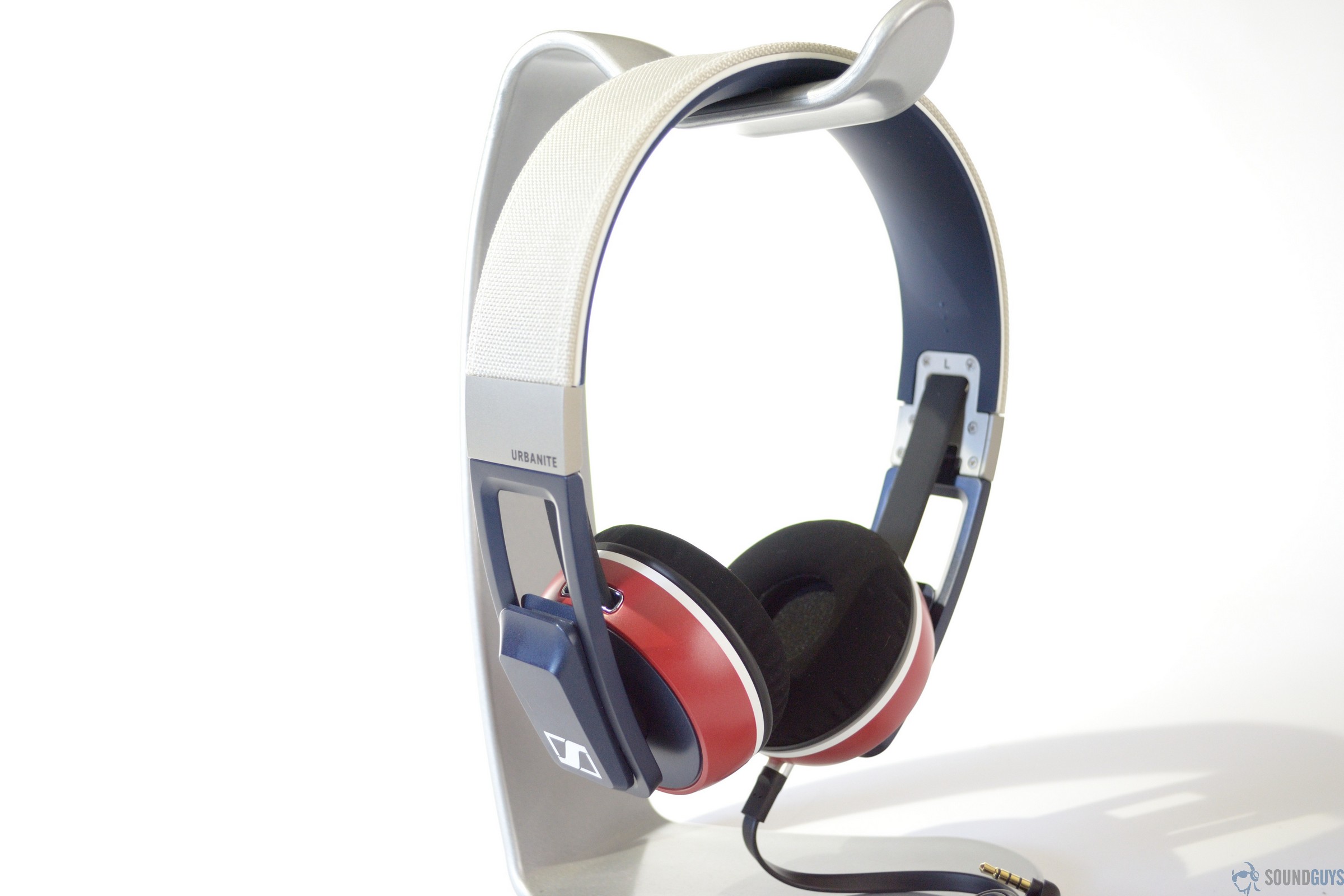 Unlike most headphones which offer a single button "clicker" or focus on compatibility with iOS devices, Sennheiser takes a different route with the Urbanite line. The headphones are available in two models, an iOS model and a Galaxy model, which offers compatibility with Samsung Android devices. Our review unit was an iOS model, and like most headphones, the middle button worked with Android devices to play and pause playback, but the other two buttons did nothing. The Galaxy model isn't compatible with all Android devices, but it's nice to see Sennheiser make this concession to Android users.
Sound Quality
While we did test the Sennheiser Urbanite headphones with mobile devices, we did the vast majority of our testing playing lossless files and CDs from a computer through a Focusrite Saffire Pro 40 audio interface. While playback was fine in both cases, audio did seem cleaner using the latter option, likely due to the better source, but this is still worth mentioning.
Bass is fairly well represented – not overpowering, but not weak either. It is also relatively even across the lower frequencies without any super-apparent peaks or valleys.
This is definitely a mid-forward pair of headphones, well-suited to genres like pop and rock, and guitar-heavy music in general. That said, vocals can cut through too much at times, and the mids seem a bit too strident in the 2 kHz – 3 kHz range.
The highs are crisp, at times almost to a fault. High hats and cymbals have plenty of detail, but distorted guitars could sound crackly at times. This was far more noticeable through a mobile device than playing music through the audio interface, so the source could have been causing most of the issues.
Despite how well vocals cut through the mix, podcasts and audiobooks could sound muffled at times, and movies suffered similarly, but not as much. Soundstage on the other hand was very nice for closed-back on-ear headphones, with a nice, wide 3D quality. Sound leakage isn't horrible, but it's more of an issue with these than the XL over-ears.
Conclusion
While the Sennheiser Urbanite headphones do indeed deliver the sound that the company is known for, there are a few drawbacks. The locking cable is a minor flaw, but this does have its benefits as well so we're willing to overlook that. The comfort, on the other hand, just isn't there. We've tested plenty of on-ear headphones that are much more comfortable than these.
Of course, this is only an issue with the smaller Urbanite headphones. If you're really a fan of on-ear headphones, or you don't want to spend an extra $50, these might be worth a look. Other wise, the Sennheiser Urbanite XL are superior in nearly every way.
[button type="link" link="https://geni.us/Y0Z" size="btn-lg" variation="btn-primary" block="btn-block"]Buy now from Amazon ($199.95)[/button]