All products featured are independently chosen by us. However, SoundGuys may receive a commission on orders placed through its retail links. See our ethics statement.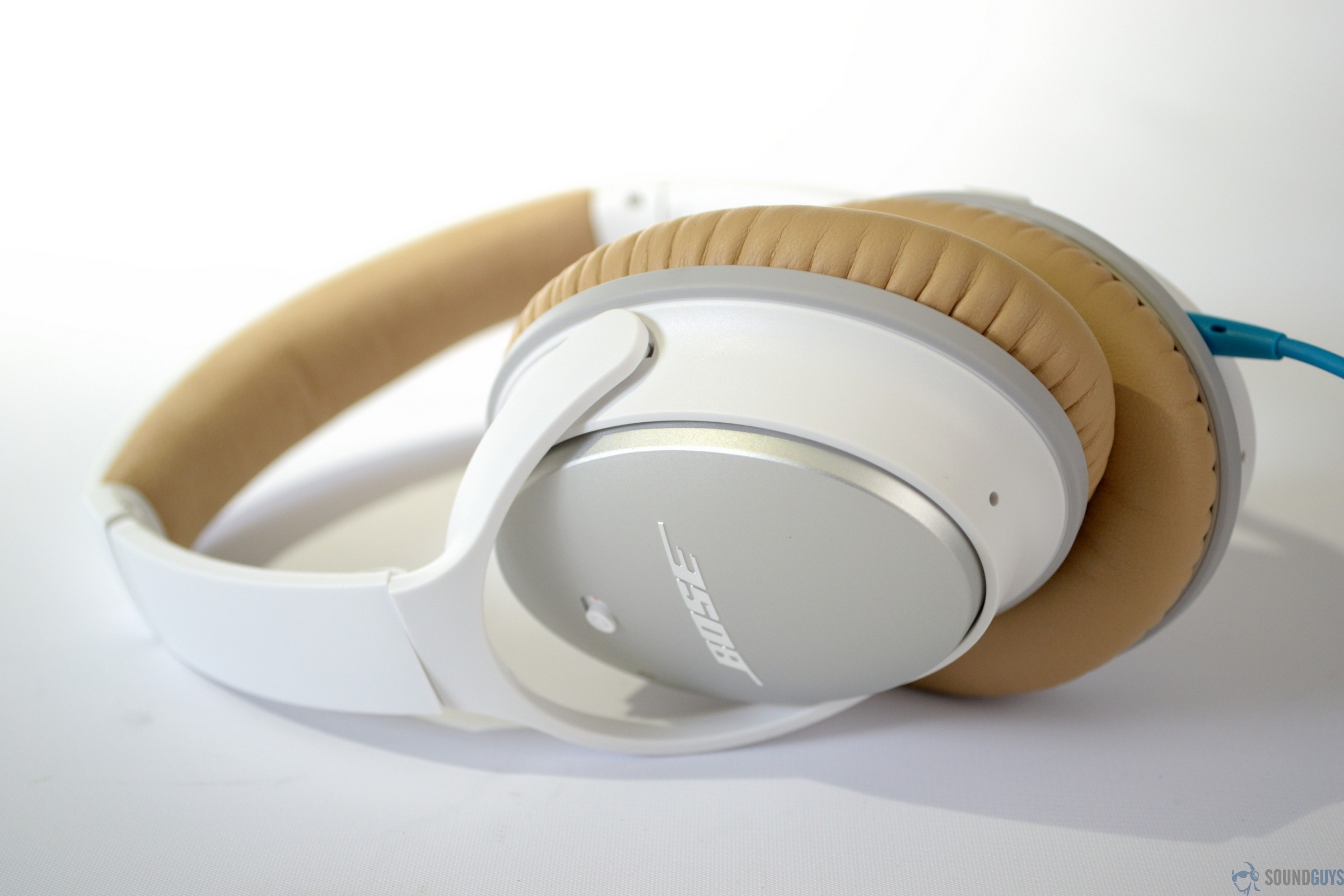 Buy now from Amazon ($299)
Active noise cancellation (ANC) doesn't come cheap in headphones, so it's not a big surprise that one of the biggest brands when it comes to this type of headphones isn't exactly known for being easy on the wallet. The Bose QuietComfort line has been one of the most recognizable names in active noise canceling headphones for quite some time now. Don't believe us? Try taking a trip on a plane or train without seeing at least one pair.
These headphones are very old at this point, and even Bose has moved on with newer options like the QuietComfort 35 II. Are the Bose QuietComfort 25 still worth the money, even though they're wired-only?
Editor's note, this article was updated on April 13, 2019 to reflect market changes.
What's In The Box?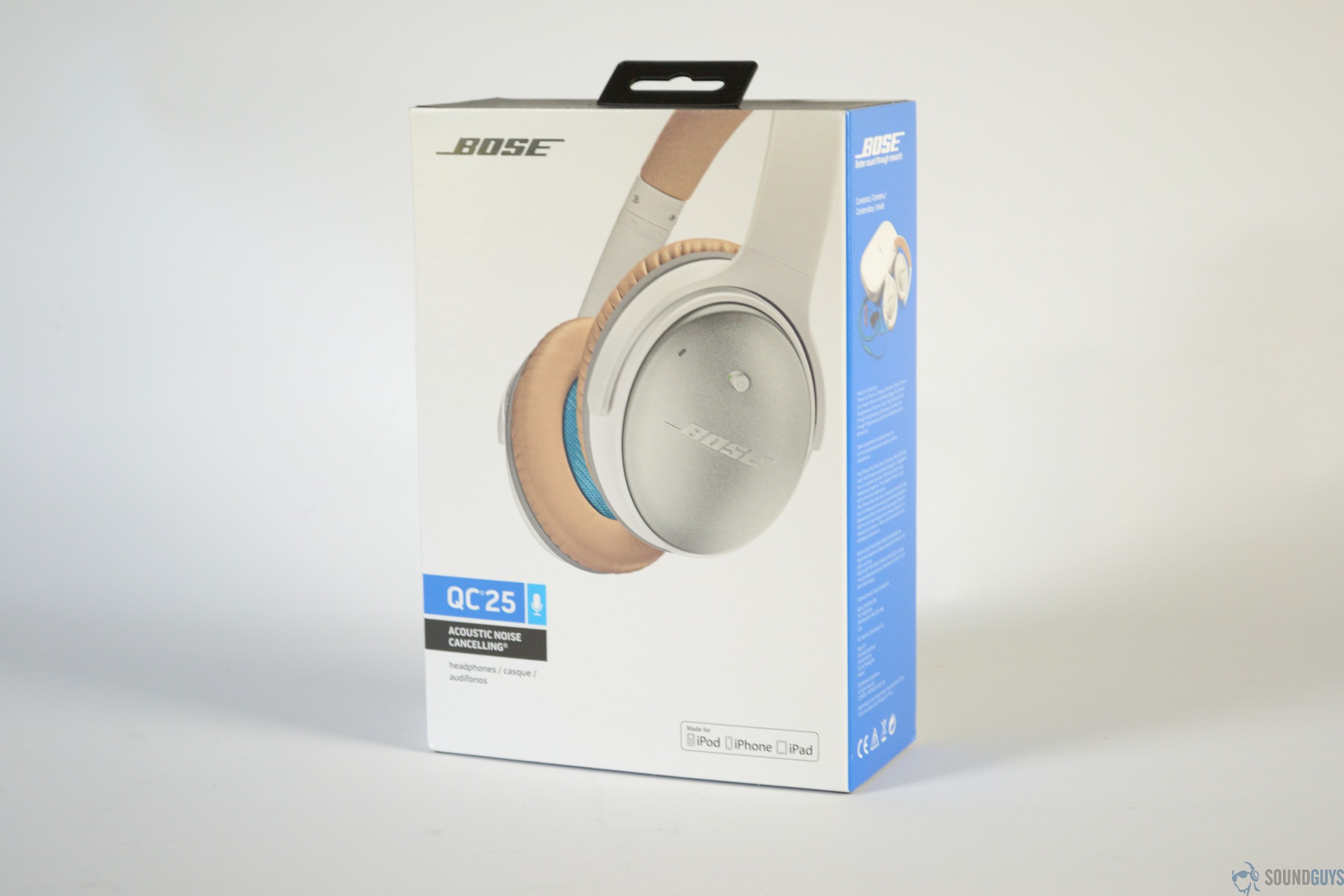 The basic-looking box of the Bose QuietComfort 25 contains headphones, and other accouterments.
While we've seen other Bose products include nothing but a speaker in a box, there are actually a fair amount of extras here. Open up the box and you'll find the manual and a handy carrying case. Inside this case you'll find the QuietComfort 25 headphones, a cable with mic and remote, and airplane adapter, and one AAA battery. More on that later.
Build & Design
If you walk into a store looking for the Bose QuietComfort 25, you'll find two colors: white (the color of our review unit) and black. If that sounds boring—or if you're just a fan of bold colors—you can actually order the QuietComfort 25s in any color you like. There is a catch, however: that custom color will cost you an extra $100.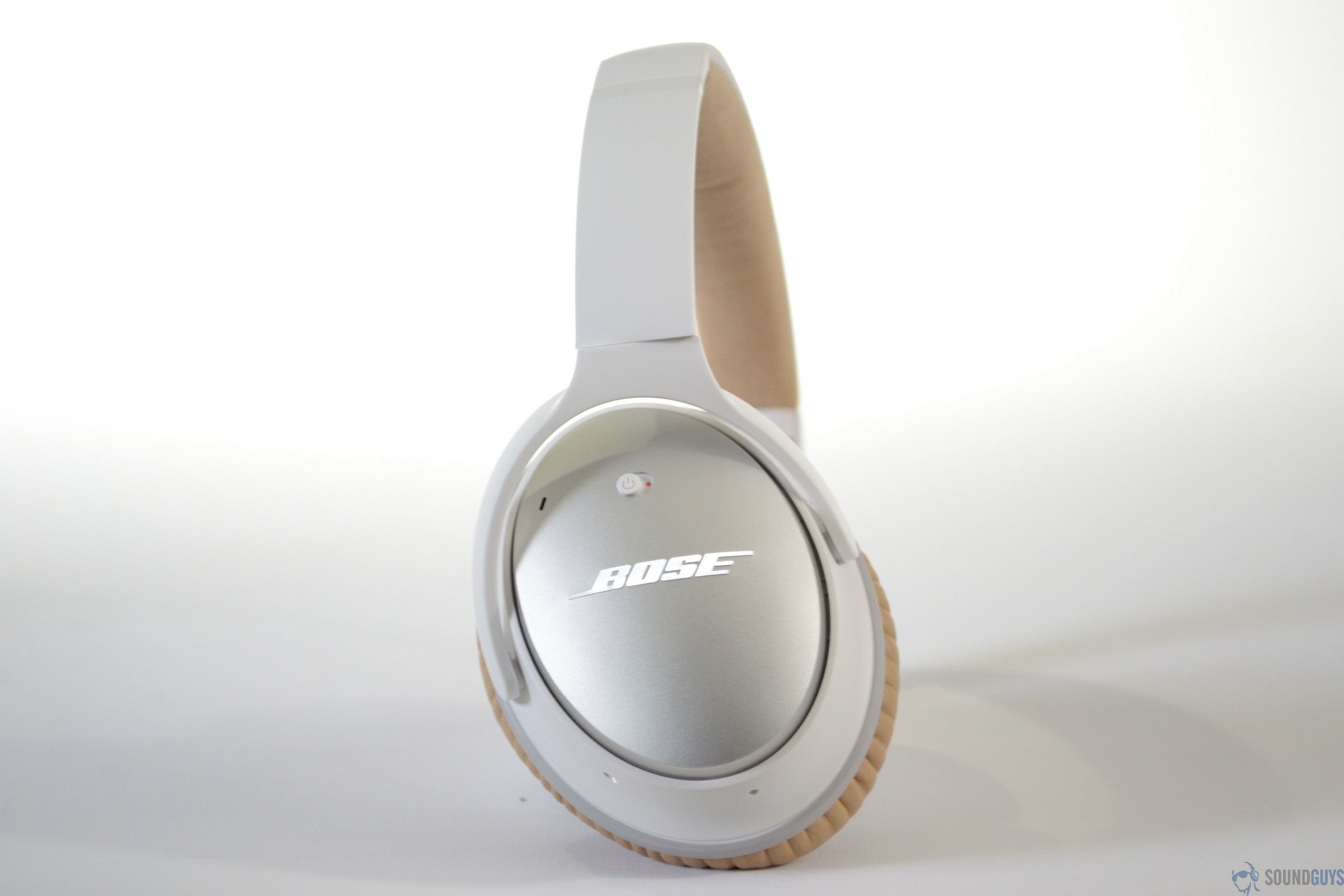 Despite a prominent logo the Bose QuietComfort 25 are fairly unassuming in the right light.
Looking at the build, the pads on the earcups are smaller than those on the QuietComfort 15, putting them more in line with the Bose SoundTrue we reviewed a while back. If you're worried about the comfort, don't be; these are every bit as comfortable as the SoundTrue were, and we found those to be quite comfortable. While those headphones had a crazy pattern inside the earcups, the QuietComfort 25 instead use these to mark the left and right sides of the headphones, which is very handy.
These are adjustable enough to get a nice fit fairly easily, but given the light weight we found ourselves wondering about durability. Luckily, Bose does include a case, but the build is tough enough that it seems that these headphones could survive a trip outside the case in a backpack without coming out any worse for the wear.
Connectivity
There is no Bluetooth functionality here; the only connectivity option is the included cable, which includes a mic/remote. Like other Bose products and most other wired headphone remotes out there, this remote only provides full functionality when used with iOS devices. Plug it into an Android device, and only the middle button works, providing play/pause functionality. Again, this is par for the course, but it is worth mentioning.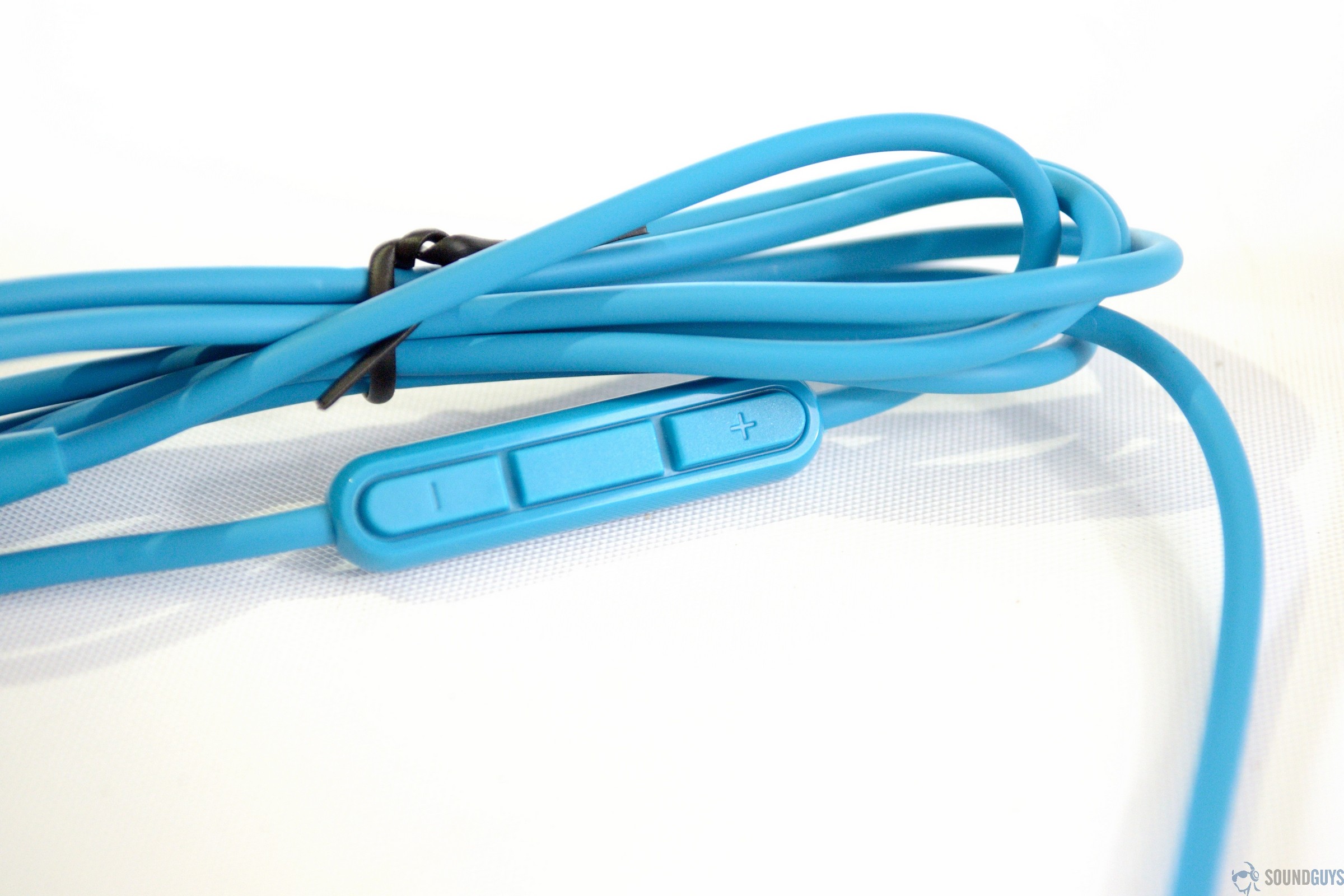 The removable 3.5mm cable of the Bose QuietComfort 25 is bright blue, and punctuated only by a remote.
In a touch that isn't as common (though we are seeing it more and more), this cable does not use a 3.5 mm jack at both ends. Instead, the end that plugs into the headphones is a 2.5 mm micro jack. While you can find replacements for this cable, they aren't anywhere near as common as 3.5 mm to 3.5 mm jacks, and this leaves us wondering why Bose made this choice.
Because of the lack of wireless on these headphones, you'll have to plan for a contingency if you pick up a phone without a headphone jack. While that's not a dealbreaker to everyone, iPhone users will be left out in the cold ever since Apple started shipping phones without a dongle. Be sure to pick one up if you need to.
Battery Life
The Bose QuietComfort 25 does not use a rechargeable battery, but instead opts to use a single AAA battery to power the active noise cancellation. Though this may seem decidedly last-decade to some people, throwing a few AAA batteries in your bag is easy (the included case even provides a slot for an spare battery) and means you can replace the battery as needed rather than plugging the headphones in to charge.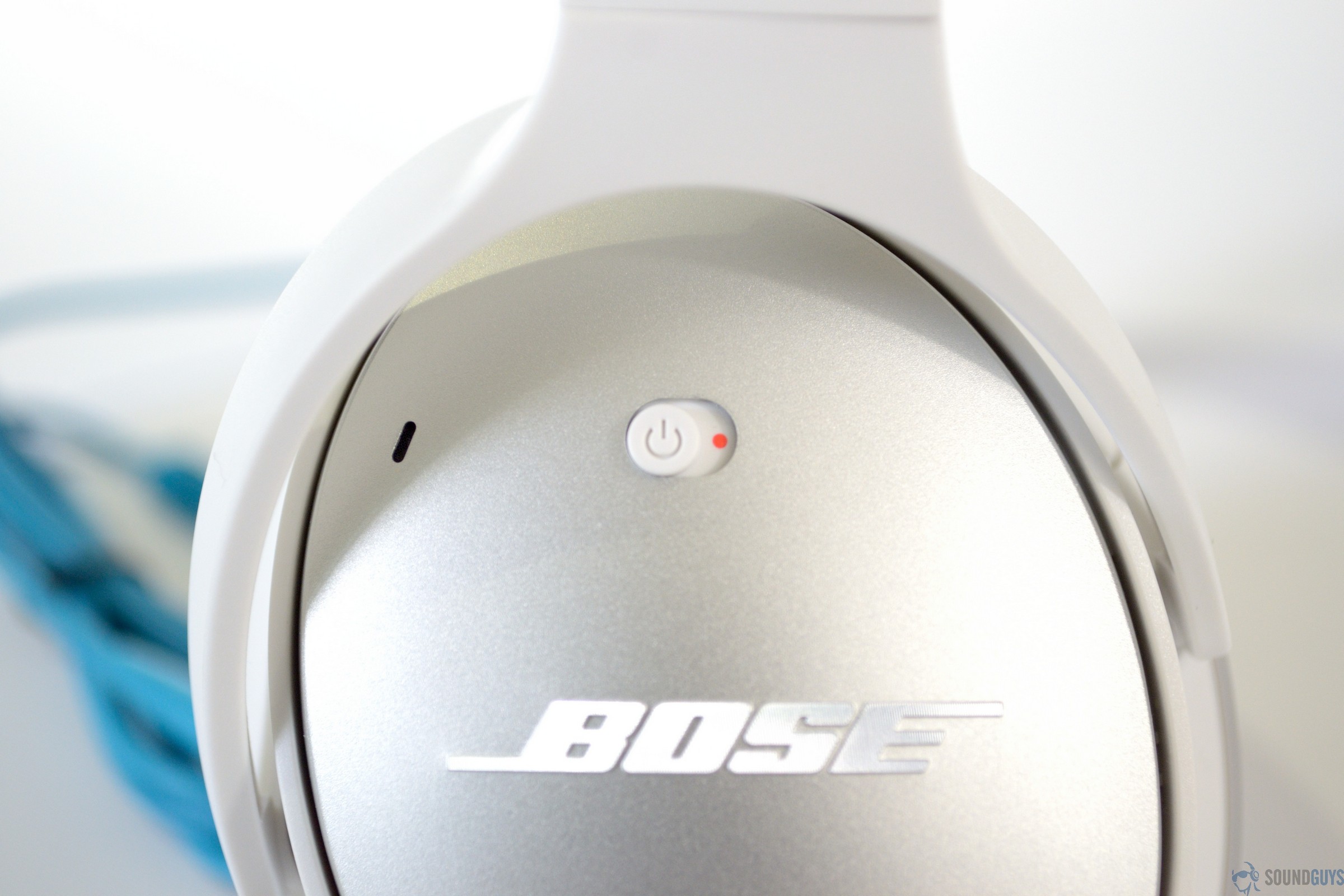 Flip the switch for ANC.
Bose claims up to 35 hours of battery life on a single AAA battery, which isn't bad, but there's more. Unlike the QuietComfort 15 which were rendered useless once the battery ran out of juice, the QuietComfort 25 will work without a battery. Of course, you can't use the active noise cancellation, and the sound quality takes a hit, but they do still work.
Sound Quality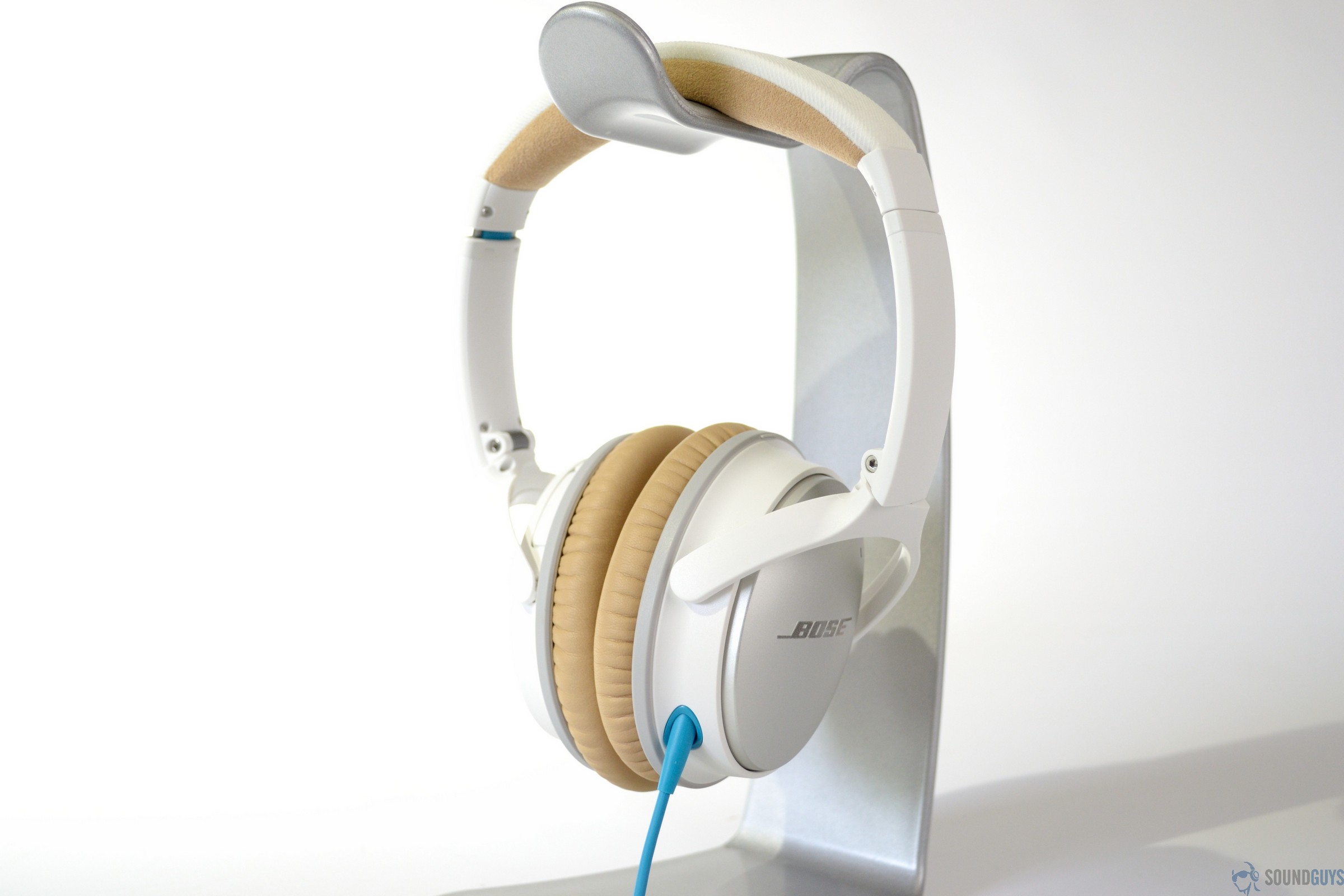 The Bose QC25 are comfortable and were one of the first great ANC headphones.
In testing the Bose QuietComfort 25 headphones, we first looked at audio fidelity by playing lossless audio through a computer into a Focusrite Saffire Pro 40 audio interface. Then, as the Active Noise Cancellation is such an integral part of these headphones, we plugged them into a Motorola Moto X and found some noisy environments to see how well they work.
Like other Bose headphones, the QuietComfort 25s pump out enough bass to properly represent what is going on in a song, but don't go beyond that. Crank the volume and kick drums have plenty of impact, but if you're looking for enough bass to rattle your eyeballs, you won't find it here.
People often forget how important midrange is to all music, but the QuietComfort 25s carry it well, adding a nice depth to guitars and clarity and intelligibility to vocals.
The highs offer plenty of detail, but don't add any extra harshness. Hi hats and cymbals cut through dense mixes nicely, and if a song is badly mixed, you might notice some harshness, but the blame wouldn't fall on the headphones themselves.
The active noise cancellation certainly is impressive. Turning it on and talking to someone, their voice sounded like it was coming from a tinny AM radio in the other room. With music playing, I couldn't hear them at all. Car horns and other sounds you do want to hear cut through fine, but you still may want to pay extra attention to your surroundings if you're using the ANC while out and about.
Conclusion
The Bose QuietComfort 25 are long in the tooth now, and their main appeal over other options like the Bose QuietComfort 35 is price (and a removable battery). You may be able to snag quite a deal if you're looking for a travel buddy to block out airplane noise, but they're showing their age in the era of disappearing headphone jacks.
If you're looking for headphones with ANC but aren't happy with the price tag, there are cheaper options out there. For example, we really like the Edifier W860NB for about $10 more, as it offers a lot that the Bose cans do, plus they're wireless. The Sony WH-CH700N too, are also a great all-around set of cans.
Buy now from Amazon ($299)
Frequently asked questions about
An easy way to maintain the earpads is by wiping them off after a long listening session. All you need is a towel, a toothbrush, and some detergent. Remove the ear pads and set them aside. Dampen the towel with some water and detergent and wipe down the ear pads. If there's a resistant buildup in the cracks of the ear pads, use a dry toothbrush to loosen any material and then wipe it down with the same cloth. Once you've done this, let the ear pads dry and then reattach them to the headset. You don't have to do this every time you listen, but it's good practice especially if you've sweat in them. Bose has a great page care specific for its products.