All products featured are independently chosen by us. However, SoundGuys may receive a commission on orders placed through its retail links. See our ethics statement.
The bottom line
At $99, these could be great IF you can get them to stay in your ears.
At $99, these could be great IF you can get them to stay in your ears.
What we like
The magnetic ear buds are not only cool, they're quite useful.
Sound quality is solid.
What we don't like
Almost impossible to keep in the ear.
Comes with unadvertised "neck guides" to keep them from falling off your neck.
Rating Metric
Sound Quality
7.8
Bass
8.2
Midrange
7.0
Highs
8.0
Durability / Build Quality
8.4
Value
6.0
Design
4.0
Battery Life
8.0
Samsung has their foot in every door of the tech industry, from TV's to smartphones. We've reviewed a bunch of their products in the past here at Sound Guys, but never have we taken a look at the company Bluetooth earbuds: the Samsung Gear Circle. They retail for only $99 (currently $64) which got us wondering, does Samsung have a hit on their hands or is it too good to be true?
What's in the Box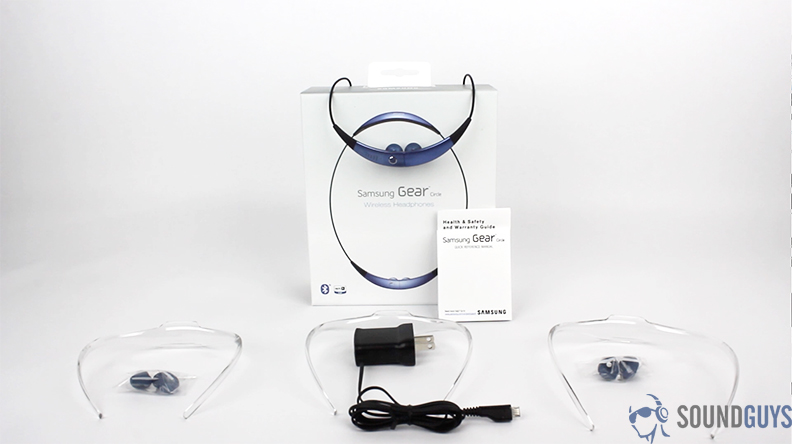 The box itself is relatively minimal with the only decoration being the Samsung logo to go along with a picture of the headphones on the front in the color you purchased, as you can see our review unit was the blue one. Upon opening the box you'll find the Gear Circle front and center and nothing else catches the eye. After removing the headphones and digging through to the bottom of the box you'll find the rest of the goodies, including two pairs of extra ear tips (small and large), a micro USB charger, warranty information and the manual, and three different sized neck guides (more on these later).
Build & Design
As far as build quality goes these are put together very nicely. Yes they're made of plastic, but that doesn't mean they look cheap. They actually look like they have a metallic sheen to them and if I never held them in my hands before I would believe it if you told me that they were made out of some kind of aluminum. However, being made out of plastic makes them very light and that's useful considering they're hanging around my neck most of the time. The Gear Circle has magnets at the ends that when connected to each turn the headphones into, you guessed it, a circle.
Personally my favorite thing about these headphones are all the cool features that Samsung threw into these. At first they seemed gimmicky, but upon testing I found that they were actually insanely useful. For instance, when you connect to the two magnetic ends together while listening to music it automatically pauses the music. I didn't realize how useful this was until I had it. If I needed to do something I could simply connect the two magnetic ends and let it hang necklace style, then put them back in and continue listening right where I left off.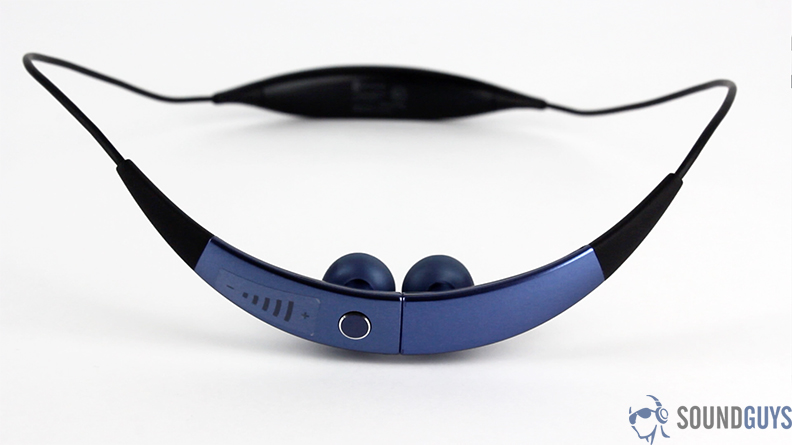 It's been great so far, but here's where things go south: the design. As much as I like the build quality of these headphones, Samsung completely missed the mark with their design. I'll try to explain my experience through a story. I was running late for class one day and quickly snatched them out of the box, putting them on and stuffing them into my ears. As I went about my day I was constantly adjusting the earbuds and the neck piece kept falling down my back, dragging the earbuds out with them. It got to the point where I had to take them off and use a different pair of earbuds for the rest of the day. I figured I must've been wearing them wrong, and I was.
Going back to the box later in the day, I realized that there were three plastic neck guides in the packaging. The neck guides have an important unadvertised purpose: to keep the neck piece on your neck. It felt like they realized last minute that it's impossible to wear these without some added support, so they threw in some plastic neck guides to fix the issue. However even with the neck guide (which wasn't too comfortable) the earbuds still fell out, and I was never able to get around that issue. If you don't plan on never moving they're great, but any movement at all slowly pushes them out of your ears. Unfortunately I didn't get a chance to test them out while jogging mainly because I couldn't even get them to stay put while walking.
It's worth noting that this is simply my personal experience and it could just be my ears, hopefully they fit well for others.
Connectivity
Pairing with the Samsung Gear Circle is a breeze, all you have to do is switch them on. They automatically enter pairing mode making it easy to connect to regardless of which device you're using. My macbook, iPad, and Android phone all paired quickly and with no issues. They have a range of about 30 feet and I found this to be fairly accurate during testing, give or take a few feet.
The right ear piece has a touch sensitive part that allows you to swipe up or down for volume controls and lets you know when you've maxed out by gently vibrating which is a nice touch. Above that is the multifunction button, which is the only button on the headphones. It lets you pause/play music or answer calls by pressing it once. It's worth mentioning that if you're not using them and letting them hang around your neck when you get a call, pulling apart the magnetic ear pieces will automatically answer the call also.
Holding down the multifunction button for one second will ignore the call while holding it down for three seconds will force it into pairing mode in case you need to connect to another device. If you tap it twice you can skip to the next song, but there is no option for going back to a previous song.
Battery Life
Samsung claims a battery life of 9 hours with constant playback, and that was fairly accurate. During testing I got around 8.5 hours which was enough to last me two days of commuting to and from class without needing to charge them. Considering it's only packing a 180 mAh battery it's not a bad deal if battery life is your primary concern.
Assuming you can get them to stay in your ears, you shouldn't have an issue with battery life if you're going for a run or taking them with you as your primary headphones for a commute.
Sound Quality
Lows
Personally, I like to know that the bass is there without feeling like it's shaking my eyes. The Gear Circle is right down my aisle  allowing me to easily follow bass notes in my favorite songs without forcing them on to me. For example, in  'Sound & Color' by Alabama Shakes the bass guitar's presence was felt while staying out of the way of the bass kick.
Mids
The lower mids do get a bit muddy sometimes and in 'My Brother Taught Me How to Swim' by Passion Pit it was sometimes hard to distinguish the organ-like synth from the rest of the track. On the other hand the high mids weren't too much of a problem with snares and vocals coming through nicely, if a little bit forward.
Highs
Normally the highs floated nicely on top of everything, though I did find that they could get a little harsh when the volume was maxed out. The  high back and forth guitar notes in the chorus of 'Deep Sea Divers' by Darwin Deez usually caused me to lower the volume.
Sound stage was fairly average for ear buds in the Gear Circle. I usually don't expect too much from in-ears and though certain guitars and bells sounded like you can point to them, everything else seemed to just sit on top of each other.
Conclusion
IF you can get these to fit, I would definitely recommend them. They have a solid sound quality and very useful features and at $99 ($64 now) they're a steal. That said, getting them to fit is a big IF and if your ears are as stubborn ears as mine, wearing these for an extended period of time might be more frustrating than rewarding. If price is your biggest priority these are definitely worth the money (again assuming they fit), but with so many other options out there aimed at your neck you might be better off skipping these entirely.
Buy now from Amazon ($64)