All products featured are independently chosen by us. However, SoundGuys may receive a commission on orders placed through its retail links. See our ethics statement.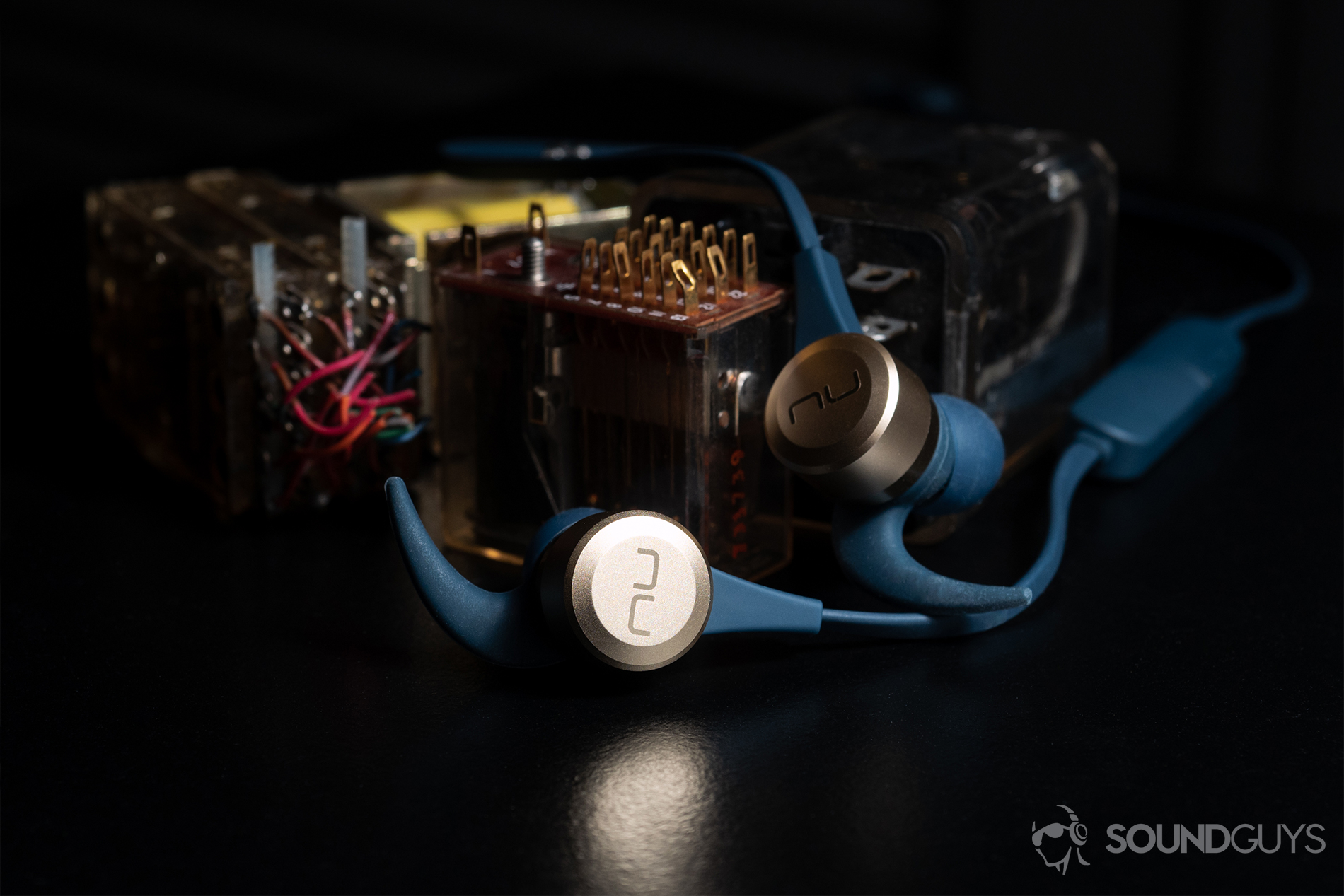 The bottom line
For daily use, these earbuds can handle nearly any situation. Being less than $100 makes them one of the better deals available.
Optoma NuForce Be Live5
For daily use, these earbuds can handle nearly any situation. Being less than $100 makes them one of the better deals available.
What we like
IPX5<br>
aptX and AAC support<br>
Multipoint connectivity<br>
Comply memory foam ear tips<br>
Superb noise isolation<br>
Durable build and magnetic housing<br>
Quick charge<br>
What we don't like
Poor mic quality<br>
Bulky<br>
No wire clip for exercising<br>
Rating Metric
Sound Quality
8.4
Bass
8.2
Midrange
8.5
Highs
8.3
Durability / Build Quality
8.3
Value
8.4
Design
8.0
Microphone
6.9
Portability
8.8
Battery Life
6.4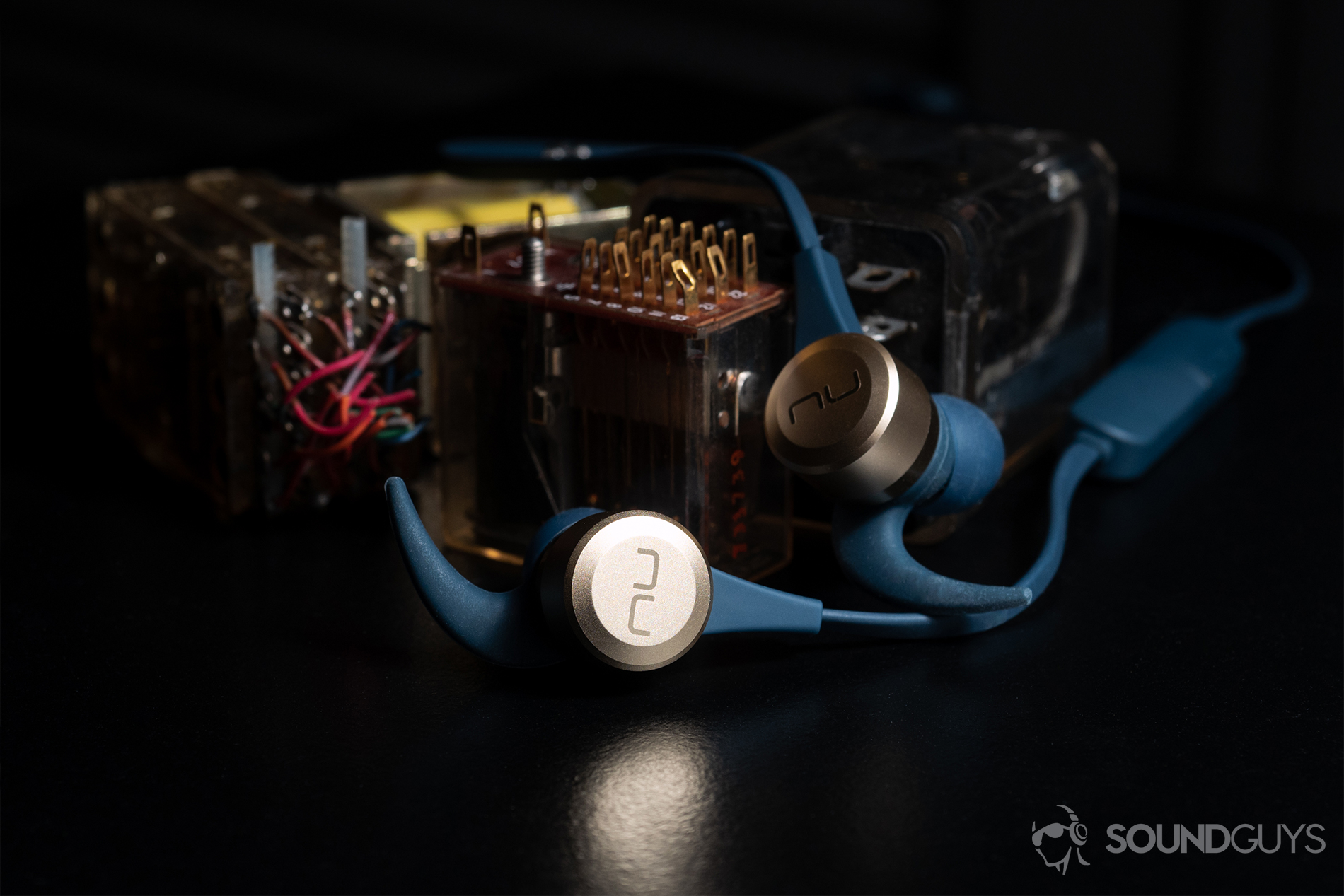 The Optoma NuForce Be Live5 offer aptX and AAC support, IPX5 water-resistance, and are available for $99 on Amazon.
Sometimes all it takes is looking at a pair of earbuds to know whether you'll love them or hate them. Well, the Optoma NuForce Be Live5 may sport a stocky build, but at least they shine. With so much competition in the wireless earbud market, it's hard for companies to distinguish their products from the others. Aside from the sparkle, does anything make the Be Live5 special or are they just another product to scroll past while online window shopping?
Who are the NuForce Be Live5 for?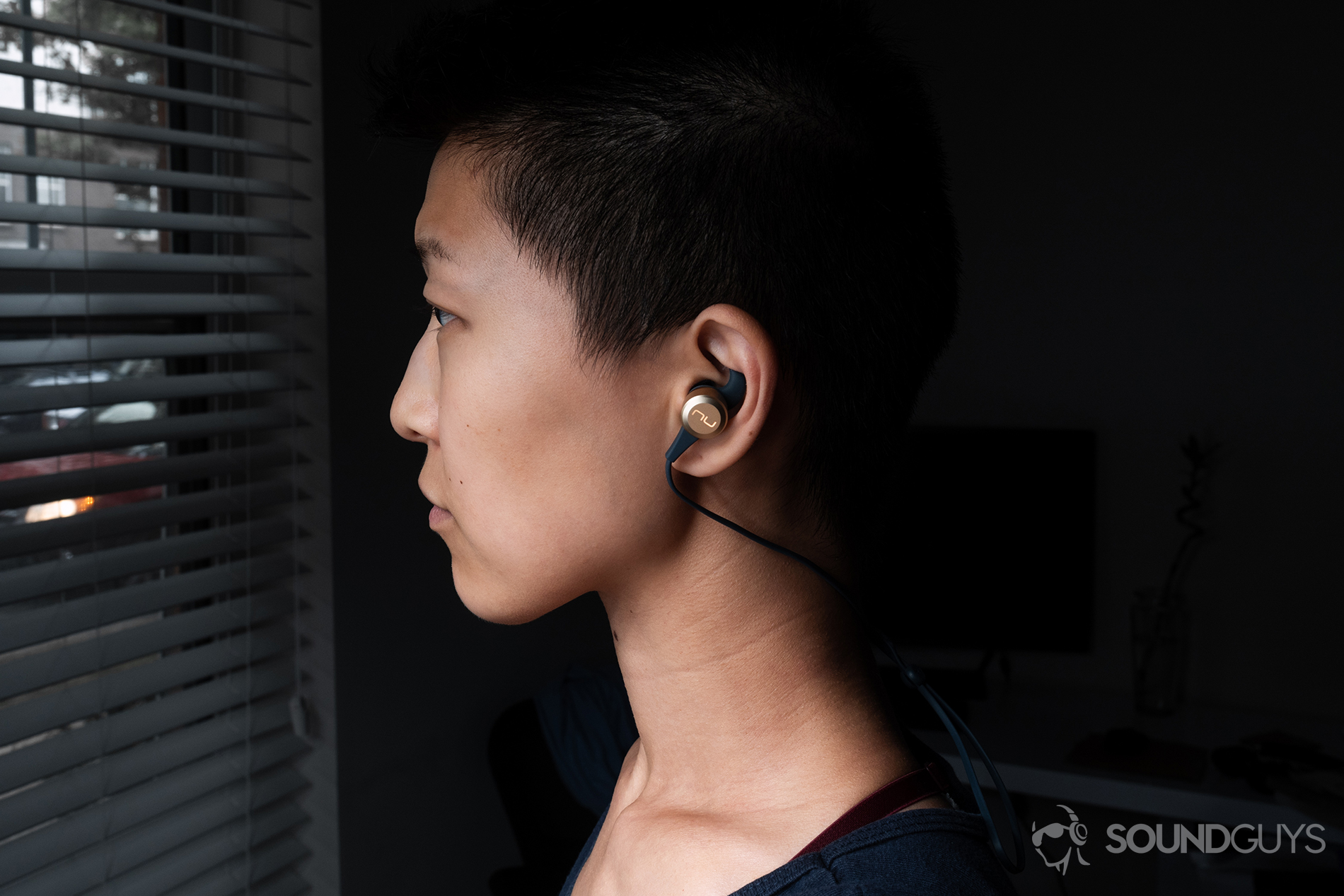 Wearing the Be Live5 with the wing tips installed improves fit stability but may be uncomfortable for some.
Listeners who need versatility. Though these are generally for daily use, the IPX5 rating keeps them functioning during downpours and work out sessions. Plus, they provide aptX and AAC support; regardless of what operating system you use, you'll get solid audio quality.
Athletes. If for whatever reason, you don't like the company's Be Sport4 earbuds, you can always exercising in these. Like the alternative, the Be Live5 are IPX5-rated, so they can handle your hard working pores just fine.
Anyone looking to make a fashion statement. If you like to make big statements with your clothes, makeup, and accessories, these are for you. The chunky earbuds are certainly noticeable. But if passersby didn't notice the Be Live5 due to their large size, they'll notice them due to their sparkly, gold-painted aluminum housings. Sure, it may not go with every outfit, but clashing is in.
What's inside?
Included are plenty of wing and ear tips, including Comply memory foam ear tips, but the Be Live5 don't provide nearly as many options as the company's Be Sport4 earbuds.
The Optoma NuFroce Be Live5 earbuds include three pairs of silicone wing and ear tips; two pairs of Comply memory foam ear tips; a micro-USB charging cable; a compact, zipper carrying case; and the earbuds themselves. Unless you're touring busy city streets, we highly recommend using the included Comply memory foam tips as they outperform their silicone counterparts. By creating a better, more molded seal, you reap the benefits of noise isolation and, thus, improved audio quality.
How are NuForce Be Live5 built?
Our gold and navy blue review unit looks sorority-girl nautical, but the navy tones down the gold-painted aluminum's sheen. Though these are in the same Be-line as the Be Sport4, the housings look quite different: these being more commercial and less athlete-oriented. As the adage goes, however, don't judge a book by its cover. Just like the sporty iteration, these too are IPX4-rated. Summer showers be damned.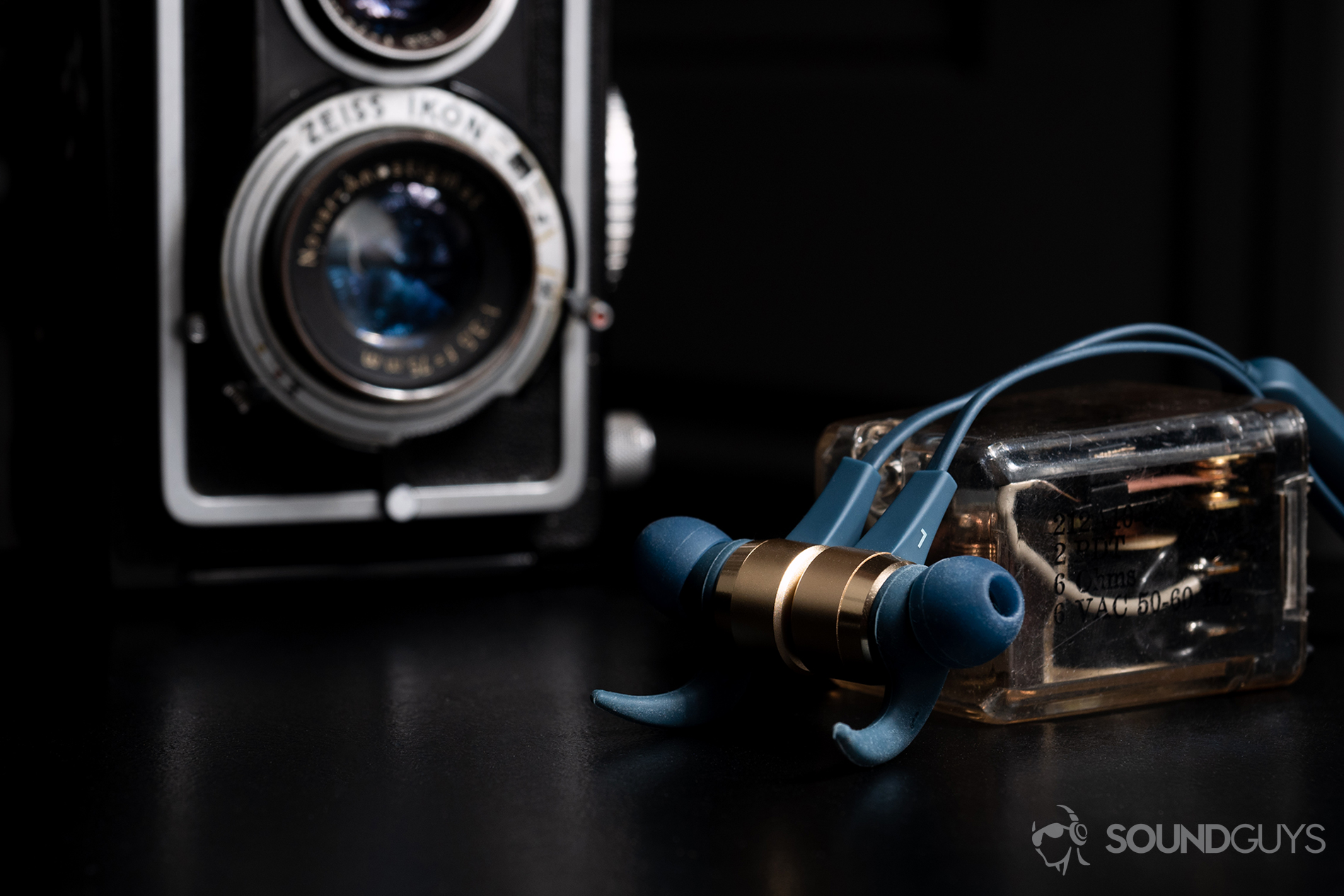 The aluminum housings are magnetized and feel durable.
Magnetized aluminum housings keep the earbuds connected when you want, even though the magnets aren't very strong. Simply taking off a jacket the wrong way can end with the Be Live5 on the floor. Fortunately, the magnets are the weakest aspect of these earbuds. Angled earbud nozzles grants an ergonomic fit for your ear canals, resulting in longer, more comfortable listening sessions.
Another thing aiding in the comfort of these earbuds is the flat cable, it sits nicely against the neck and its tightness can be adjusted with a NuForce-branded bead. This is necessary when working out, since it keeps the cable from flailing around your face. And, oh, don't be worried if the cable detaches from the bead when you're adjusting it. It's easy to pop the cable back in. Granted, it's preferred to avoid this altogether.
Although the included in-line mic and remote module is a nice touch, it's not the best quality microphone as it picks up plenty of background noise.
Sitting in-line with the right side of the cable is a mic and remote module that's identical to the one found on the Be Sport4. You can control playback functionality, make volume adjustments, take calls, and access your respective virtual assistant all from this oblong piece of plastic. The microphone is nearly identical to that found in the Sport4, meaning that it's sub-par and picks up far too much ambient noise. Though it's not specified in the manual, it's likely an omnidirectional microphone.
What's the difference between the Optoma NuForce Be Sport4 and the Be Live5?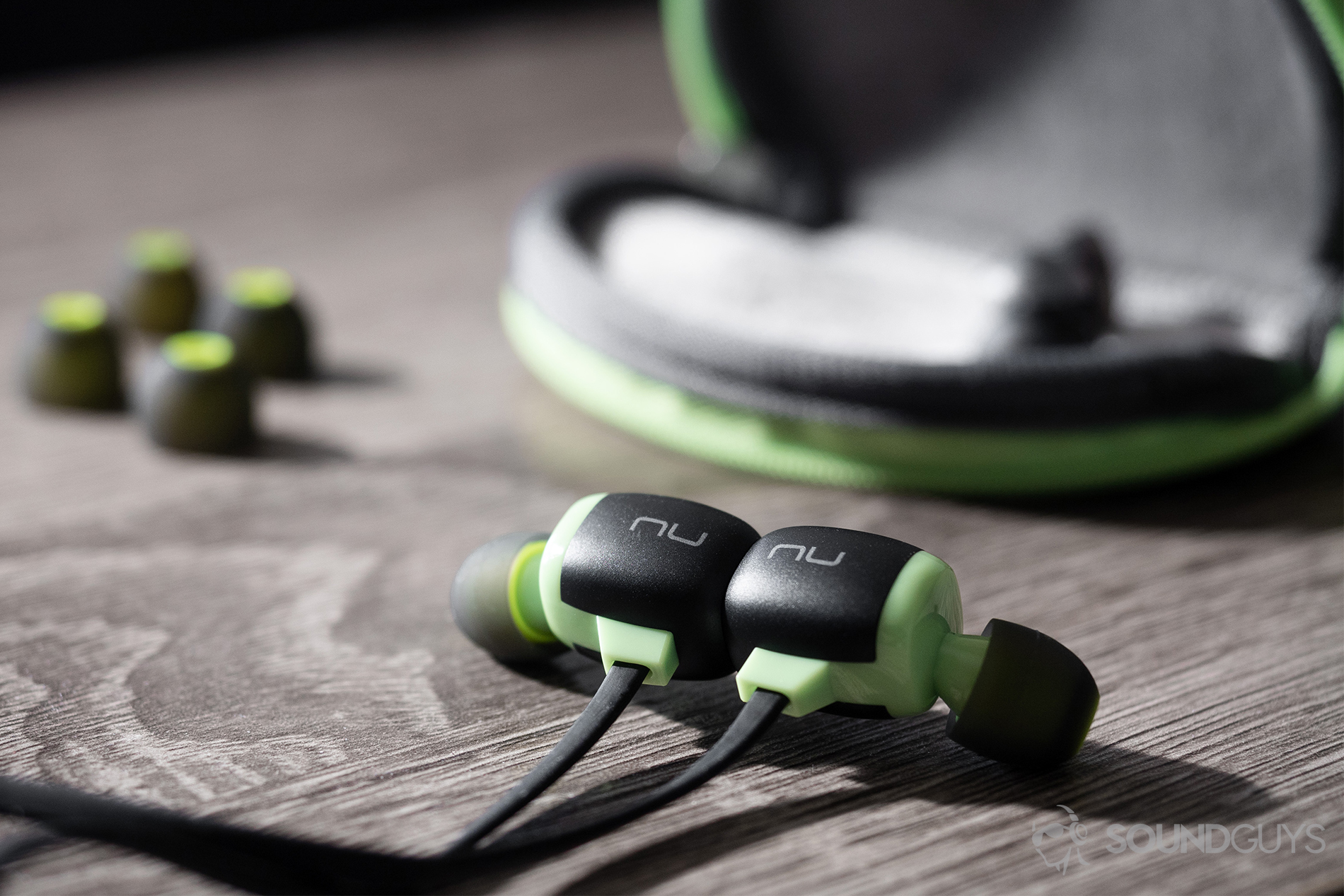 Both earbuds feature magnetic housings, an overlooked convenience that ensures you'll always know where your earbuds are.
Though they may be similar in name, there are a handful of marked differences between the two Optoma NuForce models. First things first: aesthetic. The Be Sport4 look less flashy and more durable, the neon green is a nice touch often seen in athletic wear too. Additionally, the Be Sport4 include far more pairs of wing and ear tips to nearly guarantee the perfect fit. Why? Because when exercising, you—and, in turn, the earbuds—are subject to much more movement, so you need accessories to necessitate a stable fit. Additionally, the Sport4 support quick charging, while the Be Live5 don't.
The Be Live5 and Be Sport4 have plenty in common. It's reasonable to think of the Spoort4 as a more specialized version of the Be Live5.
Ok, but what do the Optoma NuForce Be Live5 have over the Be Sport4? Namely, audio quality. Due to the more consumer-friendly frequency response (somewhat emphasized bass and treble), the earbuds in question are easier to listen through without suffering from fatigue. The strong low-end of the Be Sport4 quickly becomes annoying when outside of the gym. What's more, the Be Live5 sport a trendier aesthetic; of course, that can be good or bad depending on your preferences.
The Be Live5 earbuds are slightly bulkier than their sportier counterpart, the Be Sport4.
On the whole though, there aren't many differences between the two earbuds. Both are IPX5-certified, have identical in-line control modules, and are adorned with magnetic housings. If you need something exclusively for working out, well, what are you doing in this review? Click over to our in-depth look at the Be Sport4. But if you want something for daily use that you can bring to the gym, keep reading.
Battery life
It takes just 1.5 hours to complete a full charge cycle for the Be Live5 earbuds. During our objective testing where we subjected the earbuds to looped audio streaming via the aptX codec at 75dB, we found that these have a 6.4-hour playback time. Yes, this is shorter than the listed eight hours of playback time, but most of us won't listen to media that loudly. Real world use will likely result in closer to eight hours of playback.
Connectivity
aptX and AAC support provides high-quality audio streaming to you, regardless of what operating system you use.
True to the nature of wireless earbuds, these use Bluetooth to connect to your device and support aptX and AAC codecs—no need to make the split between Android and iOS users any more divisive. They also support multipoint connectivity, allowing you to connect to two devices simultaneously.
Regarding connectivity range, the Be Live5 can maintain a good connection within the 10-meter range. After that, things start to crackle a bit, but the earbuds manage to stay connected—albeit poorly—up to the 12.5-meter mark.
How do the NuForce Be Live5 sound?
The Be Live5 are enjoyable for daily use. Though their frequency response isn't quite neutral, the emphasized treble is pleasing.
Compared to the company's Be Sport4 wireless earbuds, the Be Live5 are much more pleasing for daily use. While they don't boast the same boosted bass as their sporty brethren, these benefit from a much more neutral frequency response. Sure, there's an increase in treble response, but most ears perceive this as increased clarity.  In turn, it makes for a more pleasing listening experience for most.
Worth noting, since these do include Comply memory foam ear tips, you'll want to use those instead of the silicone ones. As you can see from the charts below, the memory foam ear tips greatly improve isolation. Not only will you benefit from optimal low-end reproduction, but you'll also be less likely to incur damage leading to noise-induced hearing loss, because it won't be necessary to pump up the volume in order to feel the bass bump.
If need be, you can store all of the included accessories in the case's internal mesh pouch.
Time of Our Lives—a Pitbull and Ne-Yo classic—enjoyed 27 weeks on Billboard's Hot 100 back in 2015. Seeing as the bass is the most prominent aspect of this song, this party hit depends on proper low-end reproduction. Fortunately, the Be Live5 perform exceptionally. As illustrated by the chart above, things stay pretty neutral until the 2kHz mark, which is higher than most instruments' fundamental frequencies anyway.
As the congenial Mr. Worldwide takes the mic 30 seconds in, the bass drops. Other earbuds may struggle to prevent the bass from masking Pitbull's vocals, but the Be Live5 handle this tricky situation splendidly. Even with the prominent bass, you can still hear the Pitbull's rasp as the bass bumps. That's impressive. ¡Dale!
In Jason Mraz' song You and I Both, there are plenty of cymbal clashes to test the Be Live5 treble reproduction. At 1:09, the hi-hat harmonics resonate clearly without masking Mraz' vocals. In the seconds before the song takes an acapella turn as he utters, "See I'm all about them…" It's the next word, "word," that he sings when the cymbals hit. However their reverberations are controlled, and don't make it difficult to hear the subsequent guitar strummer either.
Should you buy them?
Yes. Ok, ok, you're right. Nothing is particularly innovative about the Optoma NuForce Be Live5 earbuds but, hey, these are darn good at nearly everything. Aside from providing aptX and AAC support, the aluminum housings are durable, the playback controls are easy to operate, and they sound regardless of what operating system you're using. What's more, the flat cable rests comfortably around the back of the neck and resists knotting. Of course, it would be nice if the cable wasn't so easy to remove from the adjustment bead, but maybe the next iteration will include that minor improvement.
Although the Be Live5 aren't groundbreaking wireless earbuds, they're a great value from a lesser known brand.
On the whole, these earbuds perform well. Yes, the sub-standard mic quality is glaring and the chunky design isn't for everyone. But if those things aren't of supreme importance to you, then you'll find love these earbuds.
Still looking? We have a list of the best wireless earbuds