All products featured are independently chosen by us. However, SoundGuys may receive a commission on orders placed through its retail links. See our ethics statement.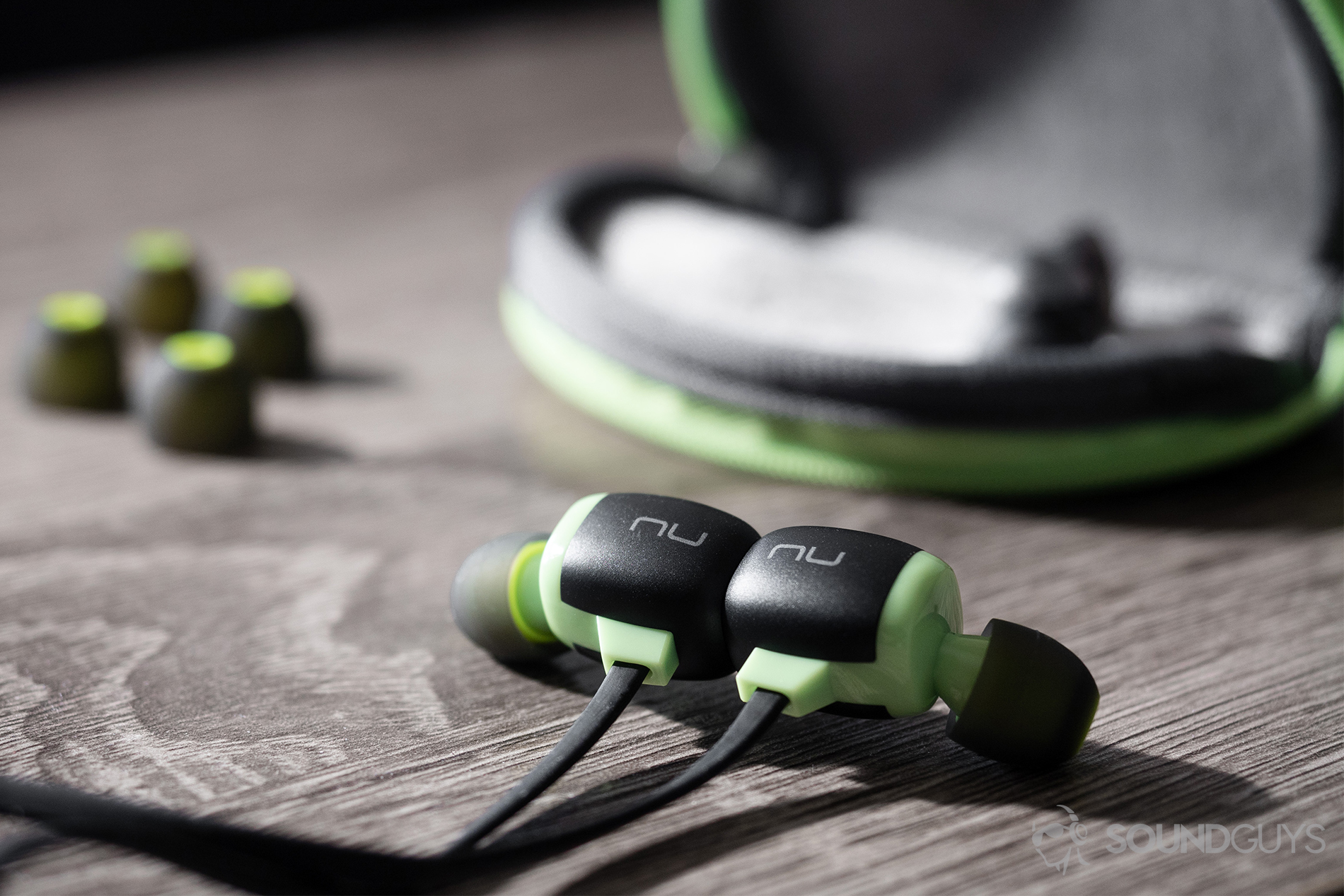 The bottom line
If you consider yourself a basshead and need something IPX5-rated that's durable and provides excellent passive isolation, these are for you.
NuForce Be Sport4
If you consider yourself a basshead and need something IPX5-rated that's durable and provides excellent passive isolation, these are for you.
What we like
IPX5<br>
aptX and AAC support<br>
Wide array of wing and ear tips<br>
Superb noise isolation<br>
Durable build and magnetic housing<br>
Quick charge<br>
What we don't like
Poor microphone quality<br>
Housing rubs against outer ear<br>
Ineffective SpinFit ear tips<br>
Rating Metric
Sound Quality
8.1
Bass
8.5
Midrange
8.0
Highs
7.7
Durability / Build Quality
8.3
Value
8.6
Design
8.3
Microphone
6.9
Portability
8.8
Battery Life
7.6
The recently released Optoma NuForce Be Sport4 are the company's second iteration of its Be Sport earbuds. The Be Sport4 like the earbuds before it are aptX and AAC compatible, IPX5-rated, provide SpinFit TwinBlade ear tips, and a listed 10-hour battery life. The most obvious update from the third to fourth generation is the exterior design. The Sport4 earbud housings are squared off (rather than circular) but on the surface, all else seems similar.
Who are the NuForce Be Sport4 for?
The aluminum housing looks good and feels durable. After two weeks of testing they show no signs of wear and tear.
It's in the name. If you like to listen to music while exercising and need something that can withstand the sweatiest of workouts, then the NuForce Be Sport4 is for you. They're IPX5-rated which means they can withstand strong streams of water being directed at it, but can't survive complete submersion. Optoma NuForce provides plenty of ear and wing tip accessories for you to mix and match, allowing for the perfect fit.
Water-resistant
Waterproof
Can withstand

IPX0


Water-resistant




Waterproof




Can withstand

Not water-resistant


IPX1


Water-resistant

✓


Waterproof




Can withstand

Dripping water (1 mm/min)
Limit: vertical drips only


IPX2


Water-resistant

✓


Waterproof




Can withstand

Dripping water (3 mm/min)
Limit: Device max tilt of 15° from drips


IPX3


Water-resistant

✓


Waterproof




Can withstand

Sprays
Limit: Device max tilt of 60° from sprays


IPX4


Water-resistant

✓


Waterproof




Can withstand

Splashes, omnidirectional


IPX5


Water-resistant

✓


Waterproof




Can withstand

Water jets (12.5 L/min)
Example: Squirt guns


IPX6


Water-resistant

✓


Waterproof




Can withstand

Strong water jets (100 L/min)
Example: Powerful water guns


IPX7


Water-resistant




Waterproof

✓


Can withstand

Complete submersion
Limit: 1 m. for 30 min


IPX8


Water-resistant




Waterproof

✓


Can withstand

Complete submersion
Limit: 3 m. for 30 min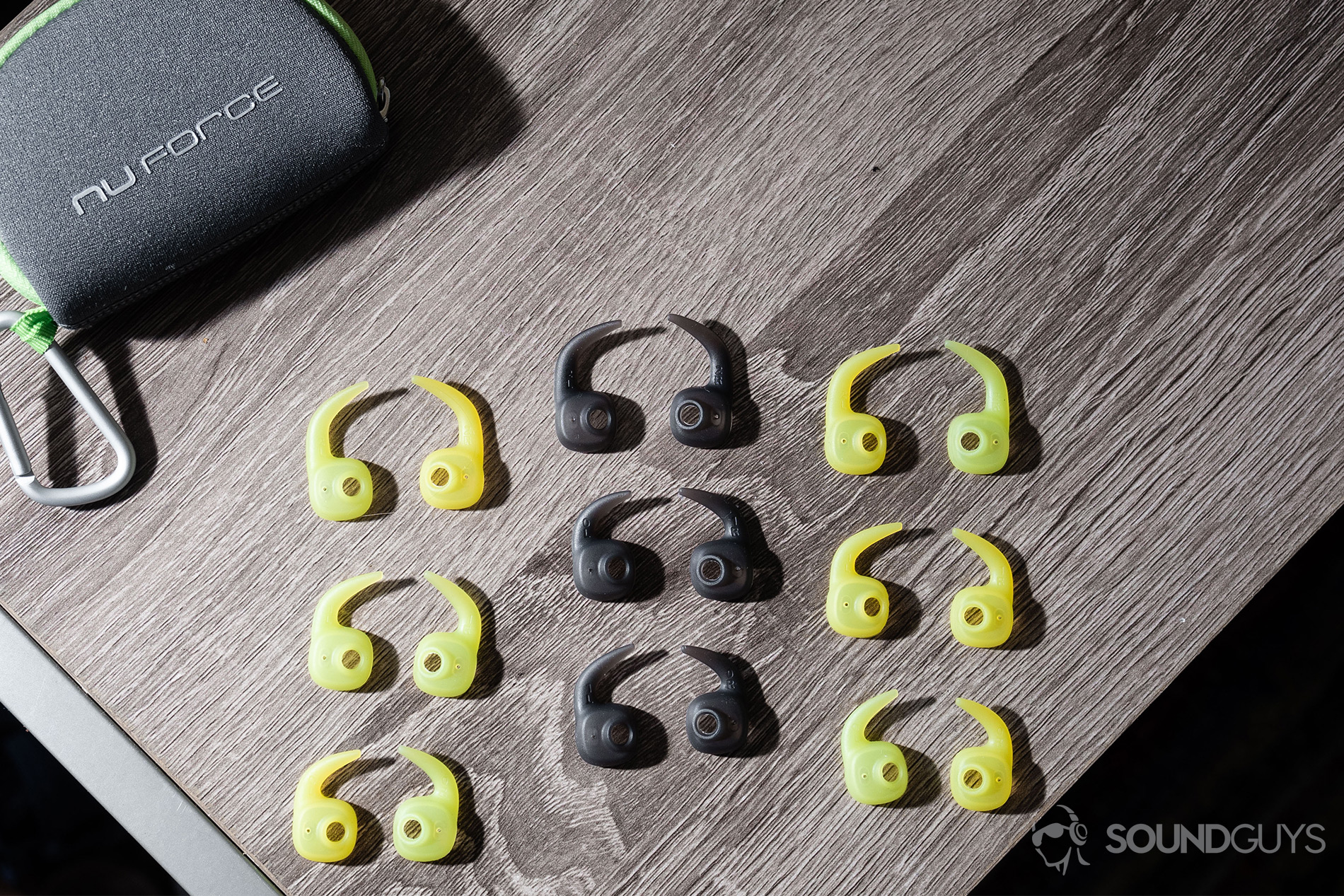 The NuForce Be Sport4 include nine pairs of wing tips that vary in density.
You get a zipper carrying case with a carabiner for clipping onto your gym bag, nine pairs of ear and wing tips that vary in size and density, one set of SpinFit CP230 ear tips, a micro-USB charging cable, and the NuForce Be Sport4 earbuds.
How are NuForce Be Sport4 built?
For all of the features packed into these earbuds, it's astounding that they can be had for less than $80. The aluminum housing comes in white and grey and looks slick. Plus, the understated design is inconspicuous and can easily transition from the office to the gym. And when they're not in use, you can keep the earbuds around as a strong fashion statement, thanks to the magnetic housings.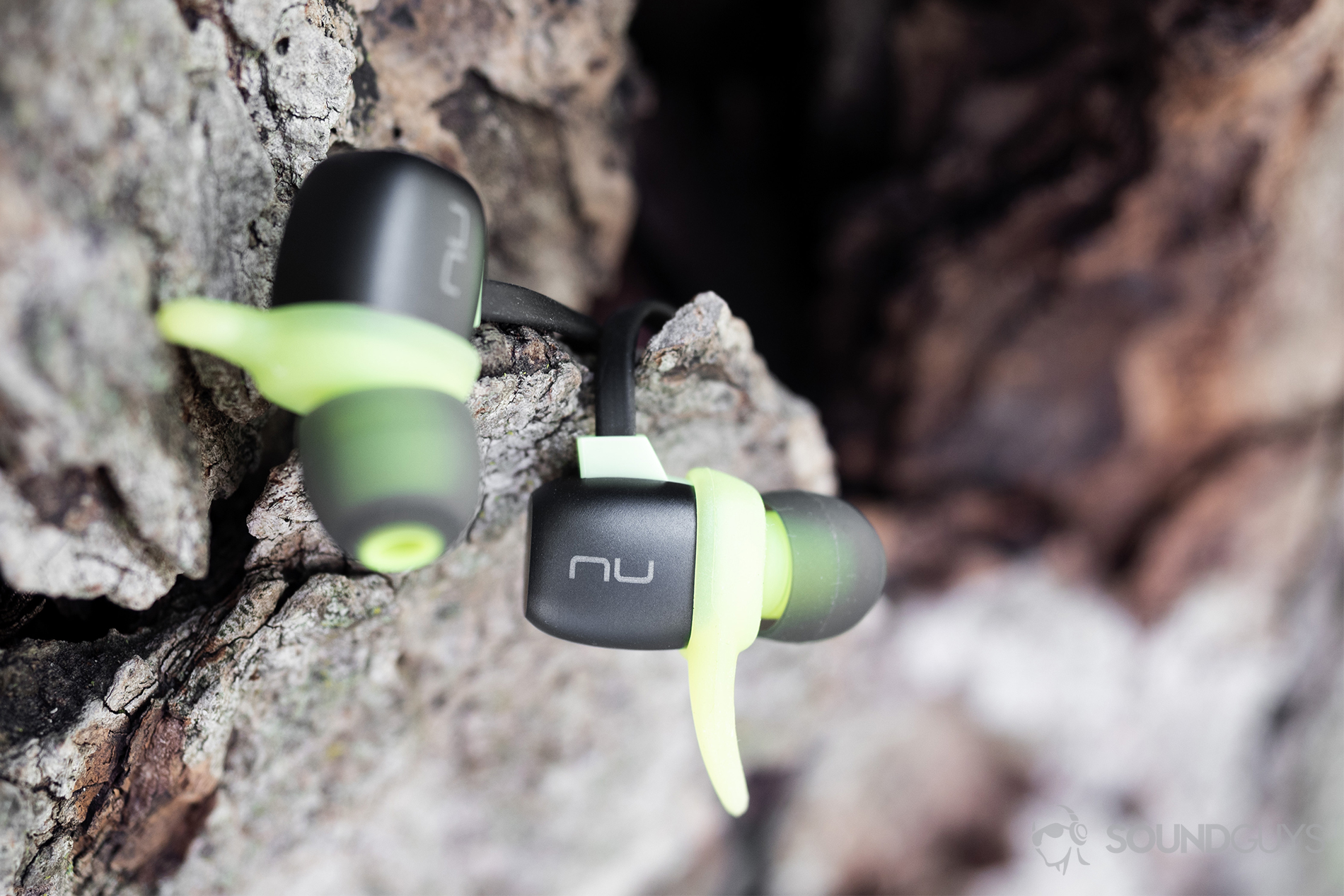 The earbuds are small and easy to throw into a bag or pocket. If you don't have either of those, just latch them together via the magnetic housing and wear them around your neck.
Each earbud has a cut front cavity tube, which is angled for an ergonomic fit. Running from one housing to the other is a flat cable with an in-line remote and adjustable bead. Beneath the cable, is DuPont Kevlar bulletproof fiber, which sounds cool and means that the cable will resist fraying. If you need more evidence that the NuForce Be Sport4 are a long-lasting product, you'll be happy to know that each unit undergoes rigorous swing and tensile tests.
How are the playback controls?
The mic and playback controls rest on an oblong module that interrupts the cable. It's closest to the right earbud and aside from vaguely raised "+ O -" symbols, it's nearly impossible to differentiate between the buttons. Though it looks sleek, this design isn't great for blind adjustments while running. There were plenty of times when I increased the volume instead of pausing a song. That said, it's a small price to pay for such a solid product.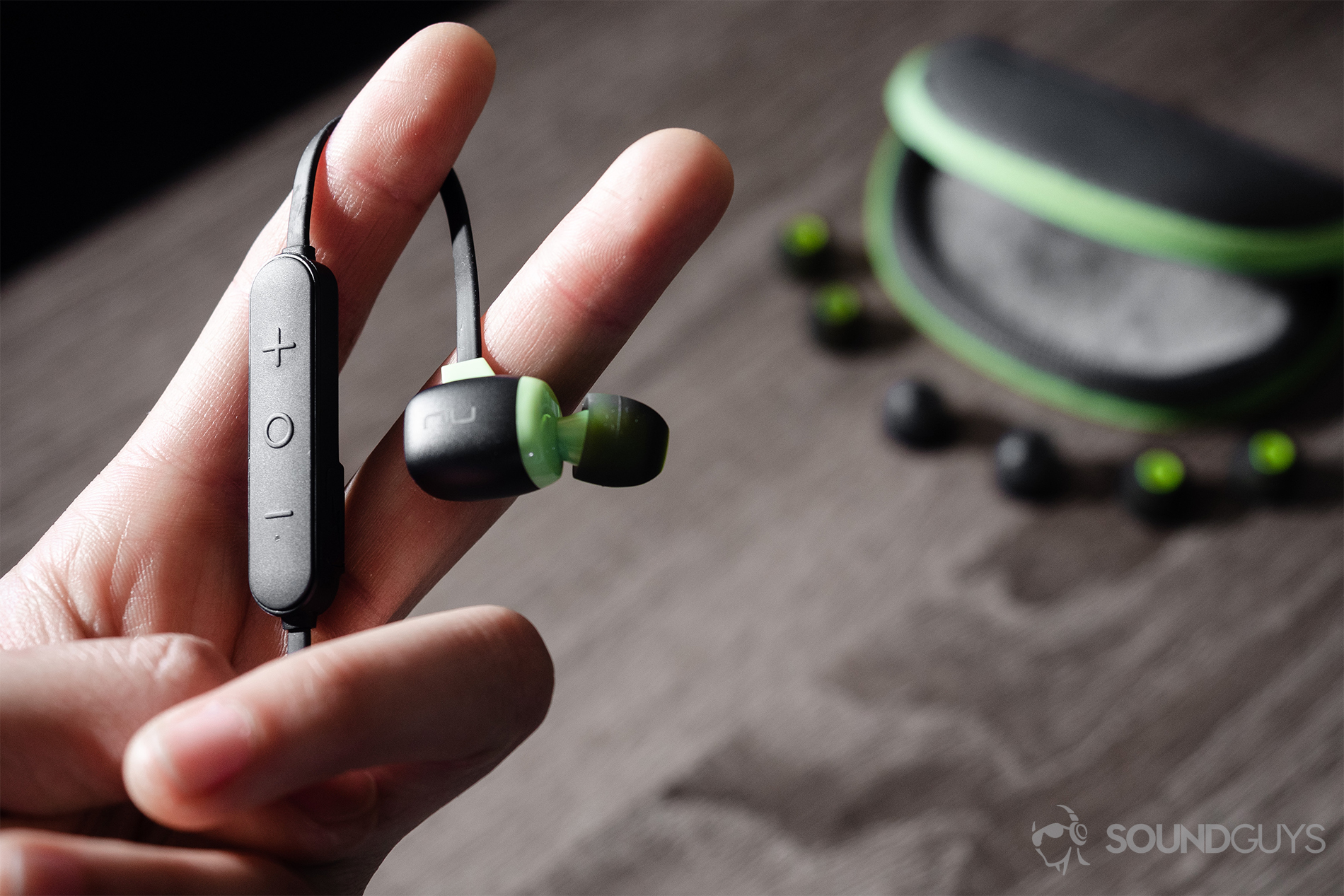 The control module is nice and spacious but the buttons are difficult to differentiate.
It is nice, however, to access voice assistants like Amazon Alexa, Google Assistant, Siri, and Cortana. To do so, just depress the center "O" button for a few seconds and you'll be prompted to speak. Side note: The command for skipping tracks goes against the grain. Instead of double-tapping the center button, hold the volume up button to skip. A double-tap of the "O" will dial the last number in your recent calls.
The microphone picks up excessive amounts of ambient noise, making it difficult to use the 'buds for even casual calls.
Unfortunately, the mic is disappointing. When testing the recording abilities in various environments (the gym, library, and a few coffee shops), I found that the mic indiscriminately picks up ambient noise along with the intended voice. Sure, this is annoying, but it's more than that. The poor performance renders the mic nearly unusable unless you want to remove the right earbud, unwrap the cable from your neck, and place the mic two inches from the front of your mouth. Yes, you can do it, and, yes, I did it, but it's not idea.
Battery life
It takes 2.5 hours to complete a full charge cycle of the 3.7V lithium-ion battery. But if you're short on time, you can rely on the quick charge technology to give you two hours of playback time.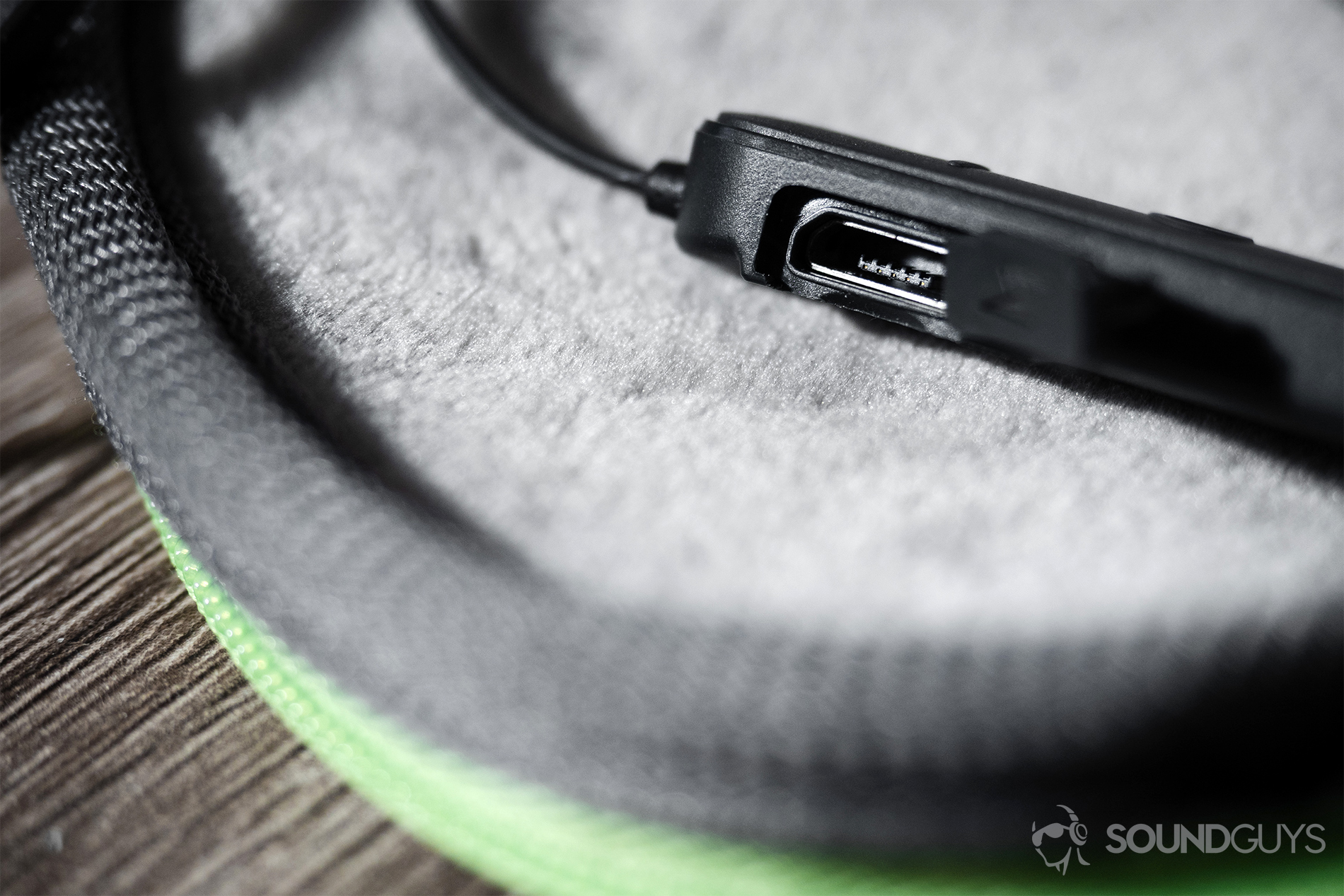 The earbuds use quick-charge technology to afford two hours of playback from a 15-minute charge.
During our testing, we found that with an output of 75dB—louder than most people will listen to music for an extended period of time—the headphones lasted 10.3 hours. This means that in most cases, battery life should last even longer than this. Plus, we advise against getting much louder than this since you'll be putting yourself at risk of noise-induced hearing loss. By keeping the volume a little lower, you get more than 10 hours of playback time and keep your ears happy—it's a win-win.
Connectivity
Each pair of NuForce Be Sport4 earbuds operates via Bluetooth with a 10-meter connectivity range. To my delight, these maintain a connection far beyond that at around 16 meters. Anecdotally speaking, I was in a coffee shop and walked down to the lower level and the headphones were still able to stay connected—albeit there were a handful of sporadic drops. But that's to be expected when you're already exceeding the reported range by 60 percent.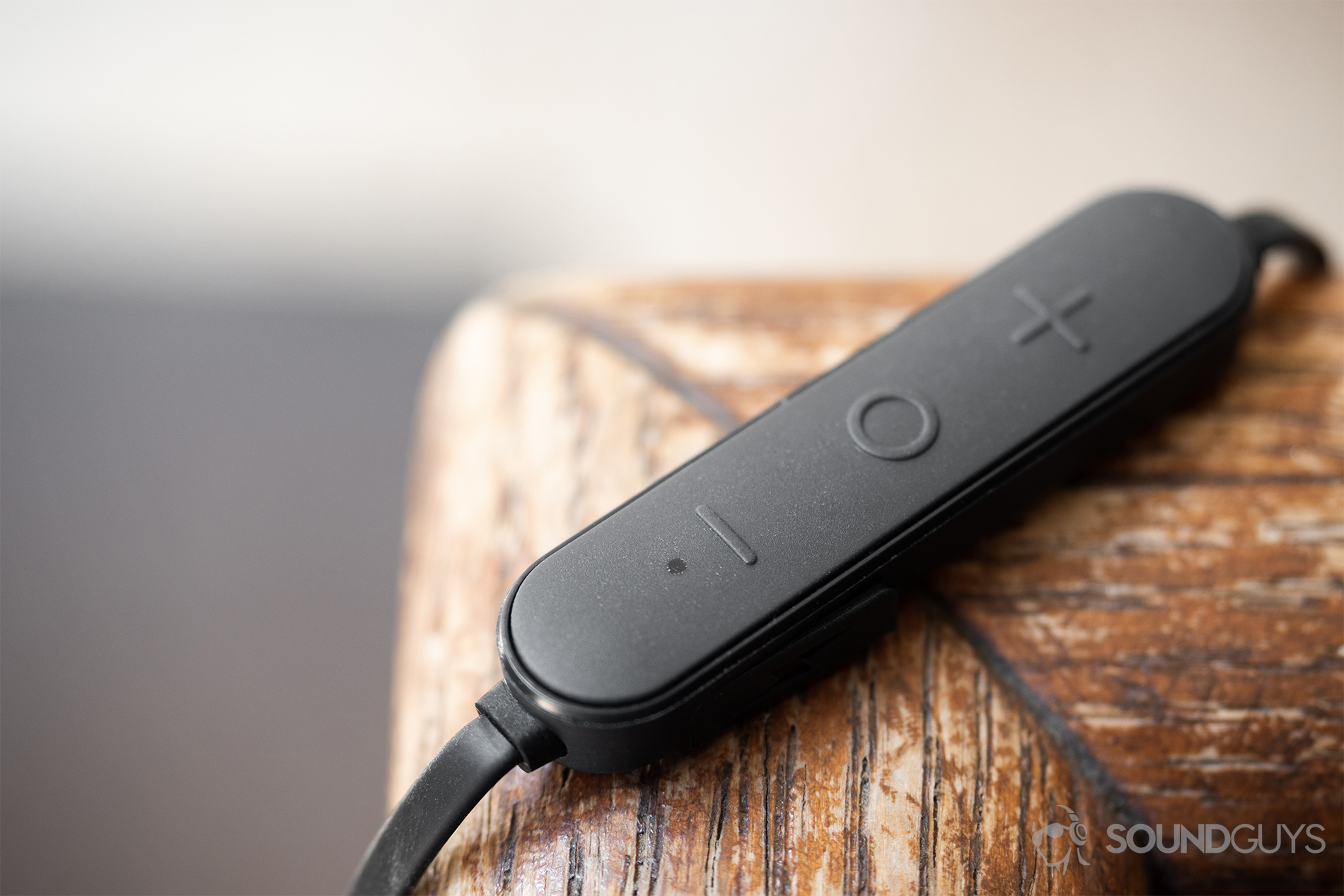 The universal in-line mic and remote allows listeners to access Amazon Alexa, Google Assistant, and Apple's Siri.
If you're concerned about audio quality due to Bluetooth codec issues, worry no more, because these support aptX and AAC codecs. Whether you operate within the Android or Apple ecosystem, you'll be able to stream high quality audio. If you're using aptX, then you'll enjoy CD-like audio quality.
How do the NuForce Be Sport4 sound?
These sound good for the purpose of working out. Initially, I was surprised by the emphasis placed on the low-end and lower midrange but, again, it makes sense if you're using these to pump you up. Overall, the sound signature leans heavily on the bass and under emphasizes the treble. This may seem like an odd deviation from the standard "V-shaped" frequency response, and that's because it is.
We can see above that the frequency response drops off as you move up the frequency range spectrum. Lower notes are afforded more prominence while things like clapping and tambourines are more difficult to hear.
These really are primarily intended for gym use as far as audio quality goes since the low-end is overpowering and, thus, fatiguing. On the flip side, though, once you get proper fit with the plethora of ear and wing tip options provided, the bass emphasis and seal create an excellent barrier from the outside world. The engineers over at Optoma NuForce deserve a pat on the back for how well these earbuds passively isolate you from external din. Even at a nearly full coffee shop, these did a great job at muffling voices and clattering dishware.
In Django Jane by Janelle Monae, the sub-bass is astounding. I have to remind myself that these are 6mm drivers. This is especially apparent at 2:40 when the bass guitar kicks in. The accompaniment is forward and lively. If you like a more fun and less analytical listening experience, these are good for short bursts. For reference, the lowest end of the frequency spectrum that a bass guitar can hit is ~30Hz, which is pretty low considering that your average male will have a fundamental frequency between 86-180Hz.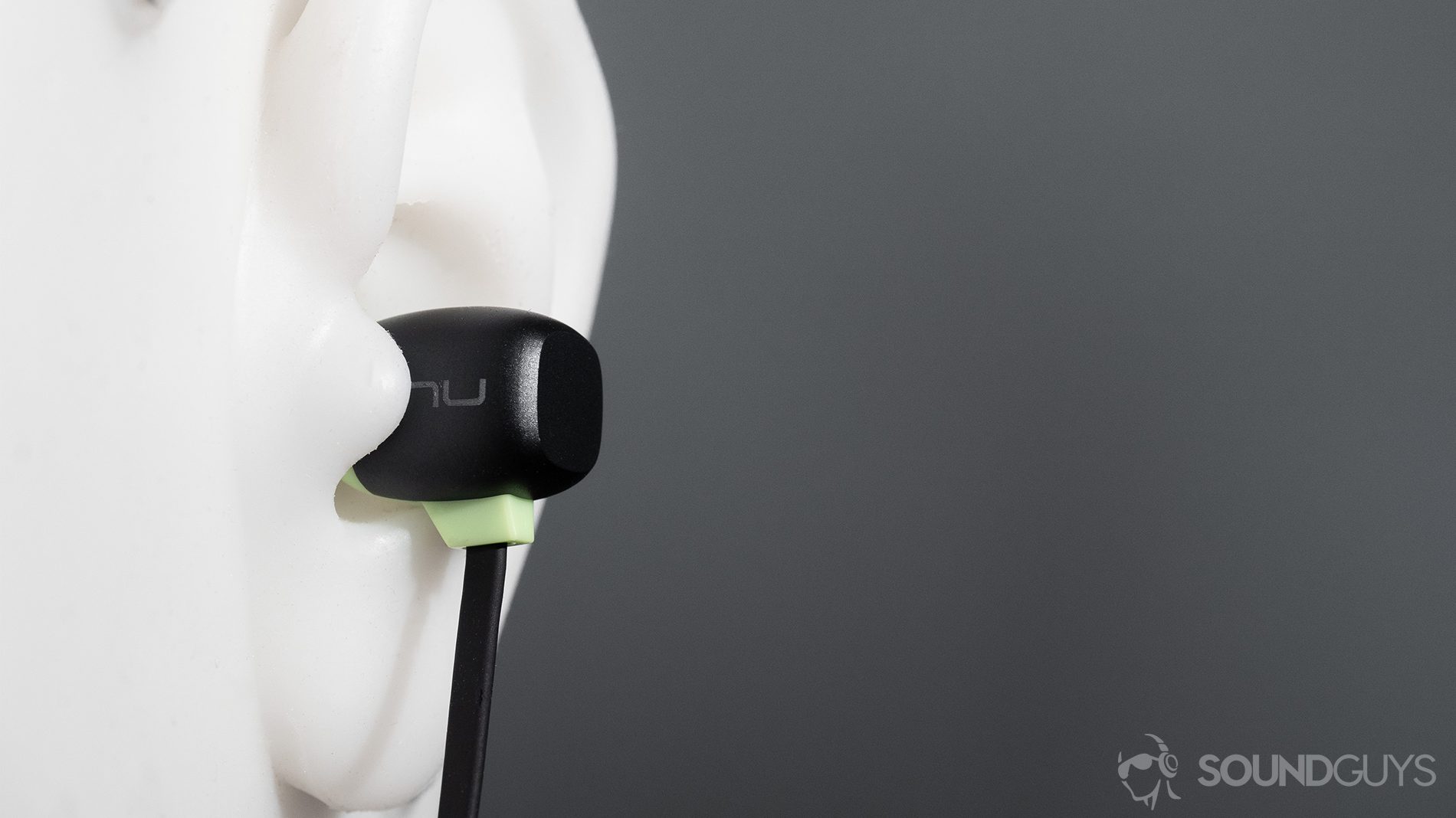 We use objective readouts to determine the earbuds' frequency response.
Speaking subjectively as someone who has listened to this song countless times, it's eye-opening to really feel the oomph of the bass as much as the NuForce Be Sport4 are able to reproduce. It's a completely different, more engaging experience than what something like the RHA MA750i are able to recreate.
The midrange frequencies are impressive in their own right, but audio quality begins to drop off here as mids are less emphasized than the eardrum-rattling bass response. That said, there were few instances when the low-end masked Monae's vocals in Django Jane. As a matter of fact, the rasp and reverb applied to Monae's voice  at 1:26 when she raps, "Black girl magic…" and later the phrase, "I cut 'em off like Van Gogh," was reproduced clearly. I was surprised by the audible subtleties, given the bass response.
Here's where things start to literally drop off. If you go back up and look at the frequency response graph, you'll notice that the earbuds' frequency response continues to dip even more around 2,000Hz. This is where you hear your flutes, violas, and xylophones.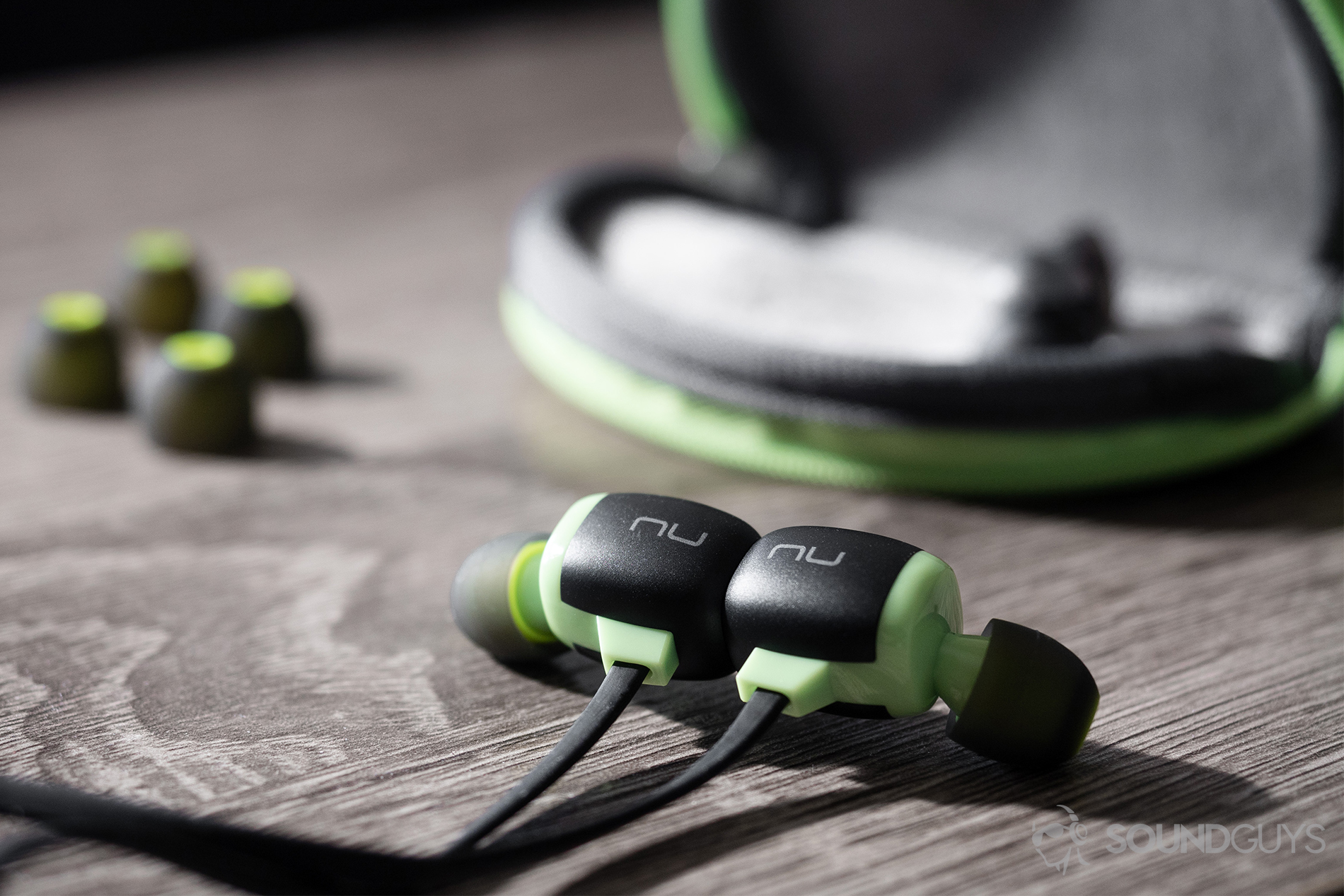 The magenetic housing is an overlooked convenience that ensures you'll always know where your earbuds are.
In Django Jane, the highs are severely maksed to the point where I struggle with picking out the song's recurring, synthesized jingles. With typical, "V-shaped" frequency responses, this is easy to do, however. And it's a bit jarring to hear just how attenuated this fundamental element of the song is.
Another example of the under emphasized treble is in Make Me Feel by Janelle Monae. Throughout the song, she keeps a beat by snapping, but the attention-grabbing harshness is masked out by the overpowered low-end frequencies. In the same song during each chorus, Monae sings, "… powerful with a little bit of tender." The bass drop in the first chorus draws attention away from the consecutive guitar slides at 1:02, 1:06, and 1:10.
Should you buy them?
If you're in need of wireless workout earbuds or just consider yourself a die-hard bass lover, then yes. Though there are a few things sacrificed due to the bass emphasis, like the clarity of the mids and treble frequencies, the NuForce Be Sport4 maintain a strong connectivity range beyond the listed 10 meters. What's more the IPX5 rating serves its purpose and allows listeners to workout in confidence knowing that no amount of sweat will harm the internal components.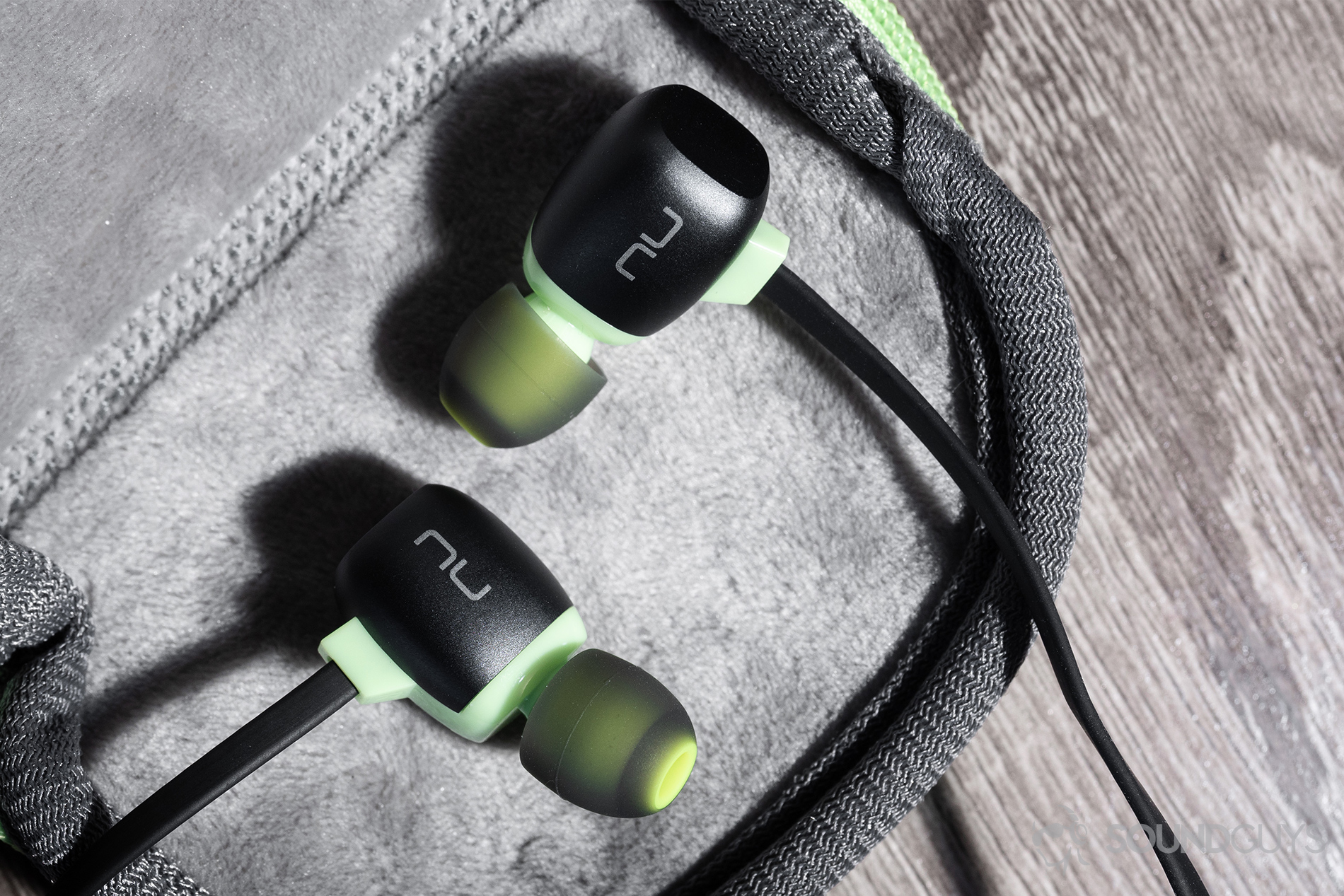 The NuForce Be Sport4 retail for $79 and come with a wide range of features including water-resistance, a tangle-resistant cable, an in-line mic and remote, and much more.
The design is discreet and let's these work as daily drivers, but the lime green accent is eye-catching enough to look gym-appropriate. One of the best design elements of these earbuds is the adjustable bead slider that zips the cable together or allows for a some slack and a loosened fit. For the money, it's hard to find a better all-around pair of workout earbuds. That said, if you're really going for the best bang for your buck and are enamored with the Optoma NuForce style and value, the Be Sport3 are nearly identical in specs to the Sport4. Although, there were user-reported quality control issues with the Be Sport3, so be weary when saving a buck.
Next: Best workout earbuds