All products featured are independently chosen by us. However, SoundGuys may receive a commission on orders placed through its retail links. See our ethics statement.
The bottom line
While the Marshall Minor II 'buds nailed some of the more important features expected from premium Bluetooth earbuds like battery life and sound quality, they slipped up on a few of the basics. The poor isolation and uncomfortable fit make these hard to use daily, even if they do sound good.
Marshall Minor II
While the Marshall Minor II 'buds nailed some of the more important features expected from premium Bluetooth earbuds like battery life and sound quality, they slipped up on a few of the basics. The poor isolation and uncomfortable fit make these hard to use daily, even if they do sound good.
What we like
Classic design<br>
Clever multifunction knob<br>
Sound quality<br>
Battery life<br>
Bluetooth 5.0<br>
What we don't like
Poor fit and isolation<br>
Build quality<br>
Rating Metric
Sound Quality
8.6
Bass
8.5
Midrange
8.5
Highs
9.0
Durability / Build Quality
6.0
Value
6.5
Design
7.5
Microphone
8.0
Portability
8.0
Battery Life
7.7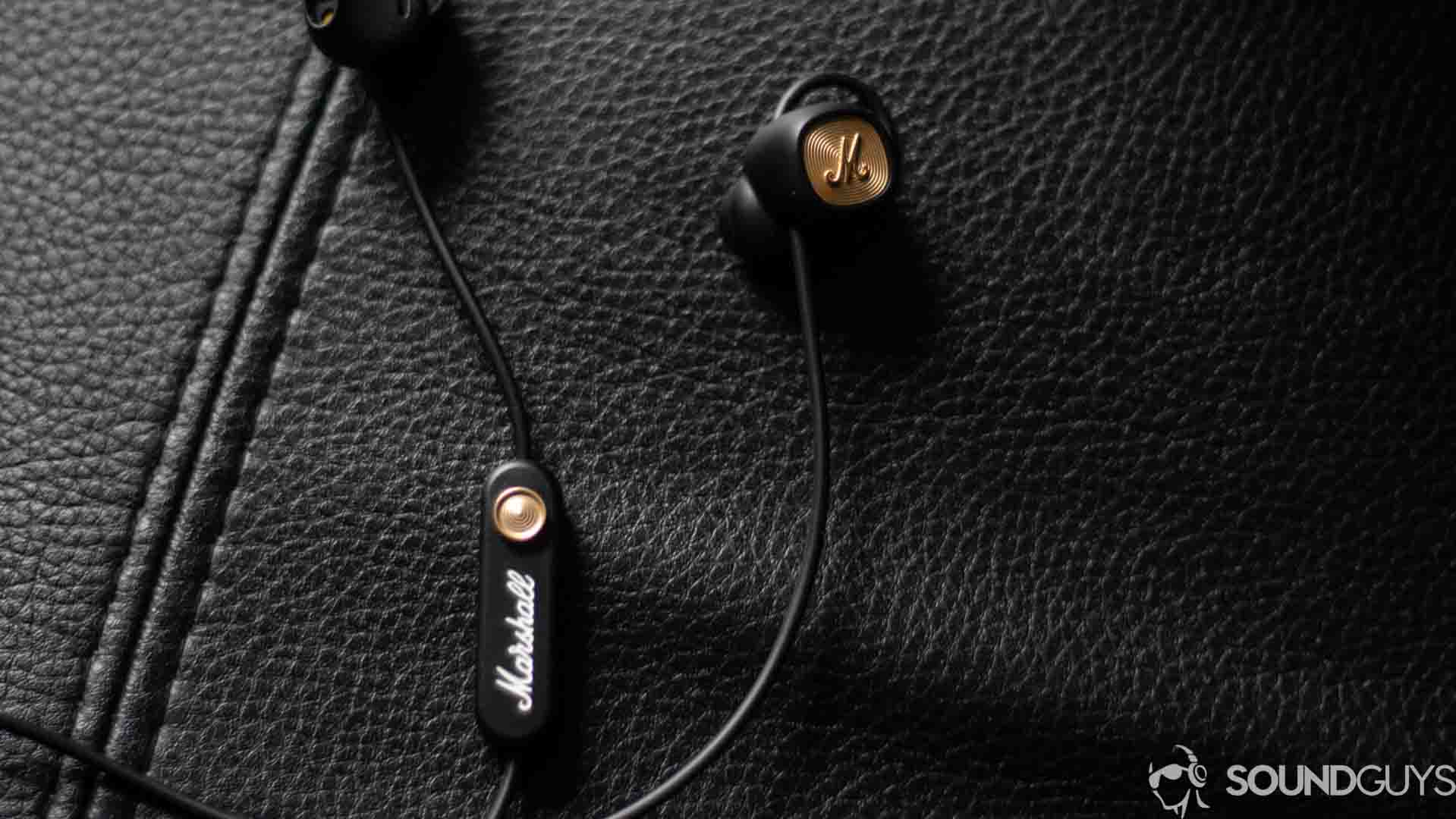 The earbuds have brass accents that make the important parts of the headphones pop out from the all-black design.
It's impossible to deny that Marshall is one of the most iconic brands in audio, and just seeing the logo brings a smile to my face—as it was one of the first guitar amps I ever owned. So every time they release a product, I can't help but hope that it's a game-changing product that I can love as much as that first amp. This time, that hope comes in the shape of the all-new Marshall Minor II Bluetooth earbuds. Yes, the company finally has a pair of wireless earbuds with specs enough to catch anybody's interest, but how are these earbuds in practice?
Who are the Marshall Minor II for?
People who prioritize sound quality. While there are some negatives to these headphones, one thing that I can't knock is the sound quality. The Marshall Minor II Bluetooth earbuds sound good, and if that's all you're looking for then look no further.
Not commuters. It's an odd thing to say that a pair of Bluetooth earbuds isn't for commuters, but due to the lack of proper ear tips, isolation on these is terrible. It isn't a problem if you're going to just be sitting at your desk, but if you want to use these on your commute to work be prepared to hear everything going on around you as well.
How's the build of the Marshall Minor II?
As I mentioned in the intro, my first amp ever was a Marshall, and it's easy to see the resemblance when you look at the Minor II Bluetooth earbuds. The design team at Marshall does a great job at making their products instantly recognizable, with an all-black design accented by brass. These earbuds are no exception, with a golden brass multifunction knob on the control module, and gold logos on either earbud. Normally, I'm not a fan of companies being overly flashy on earbuds—but I actually like how it's done here for two reasons. The first reason is that having a bit of flashy brass is entirely on brand for Marshall. That's what their products are known for, but the second and more important reason is that it also serves a practical function. The golden logos are magnetic and stick together, making it easy to keep these around your neck when you're not using them. As an added bonus, music automatically pauses when they click together which is nice.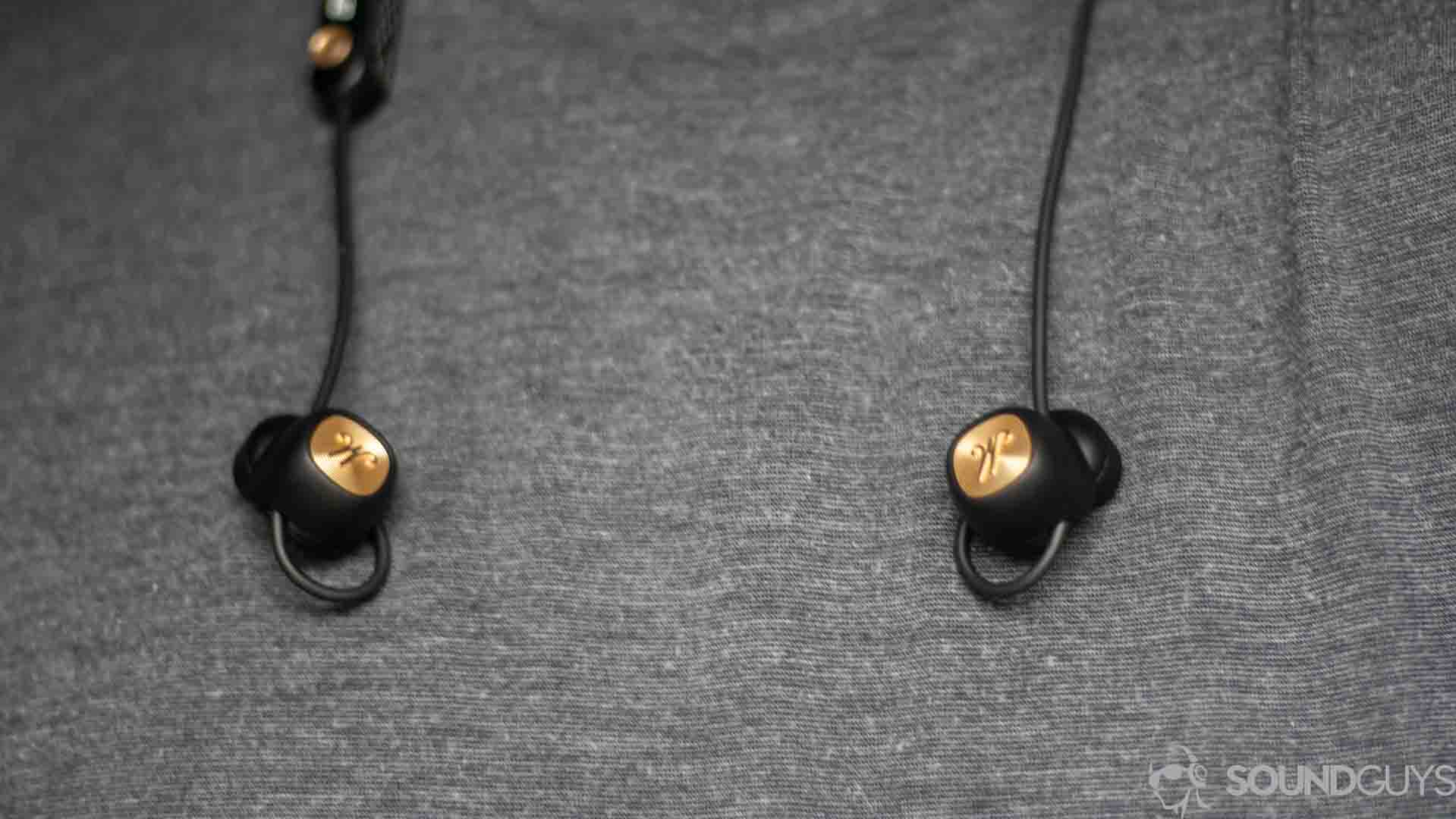 The brass backs of the earbuds are magnetic and can connect together when not in use.
In practice, this works well for me, but I have to say I don't think it'll work for everyone. If you have a thicker neck than I do, these might be a little tight. That's not the only problem with fit either, because rather than have a myriad of ear tip options like other earbuds: the Minor II earbuds have an adjustable cable design. It's almost identical to the original wired Minor earbuds or even the Google Pixel Buds. At first, I really liked this because it seemed like a simple solution to getting a universal fit, but it doesn't work as well as I hoped. Where the original Minor earbuds had a fabric cable, the Minor II Bluetooth earbuds are all plastic. So while you can easily adjust them to get a better fit, I find that it becomes uncomfortable way too soon. Within two hours of wearing them, I had to take them out to give my ears a break.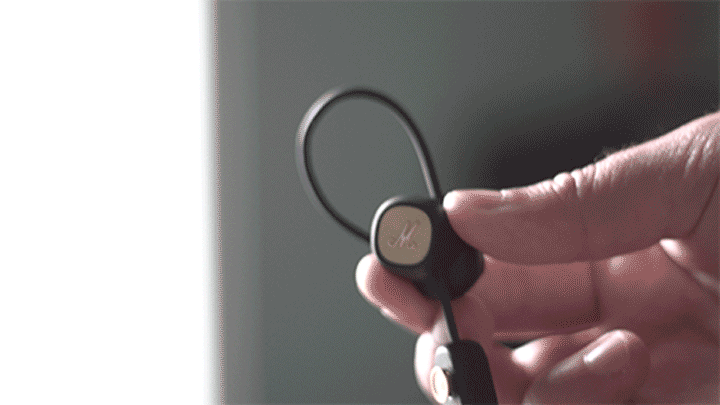 The adjustment method means these are one-size-fits-all, but that doesn't mean it's comfortable.
It doesn't help that the ear tips are made of a hard plastic, and even though they're molded to fit most people: it's not a perfect fit. They're not as bad for me as something like the Apple Airpods (which I could not get to stay in my ears to save my soul), but it's not too much better. They don't fall out if I'm sitting at my desk, but while commuting on buses and trains I found myself needing to constantly adjust them in my ears so they wouldn't fall out. The size of the earbuds also don't help, which are bigger than competitors because of the 14.2mm drivers packed inside. The control module is also abnormally large, but here I think the pros outweigh the cons. It's made of plastic so it isn't heavy, and the large battery really helps extend battery life (more on that later).
Excellent Bluetooth specs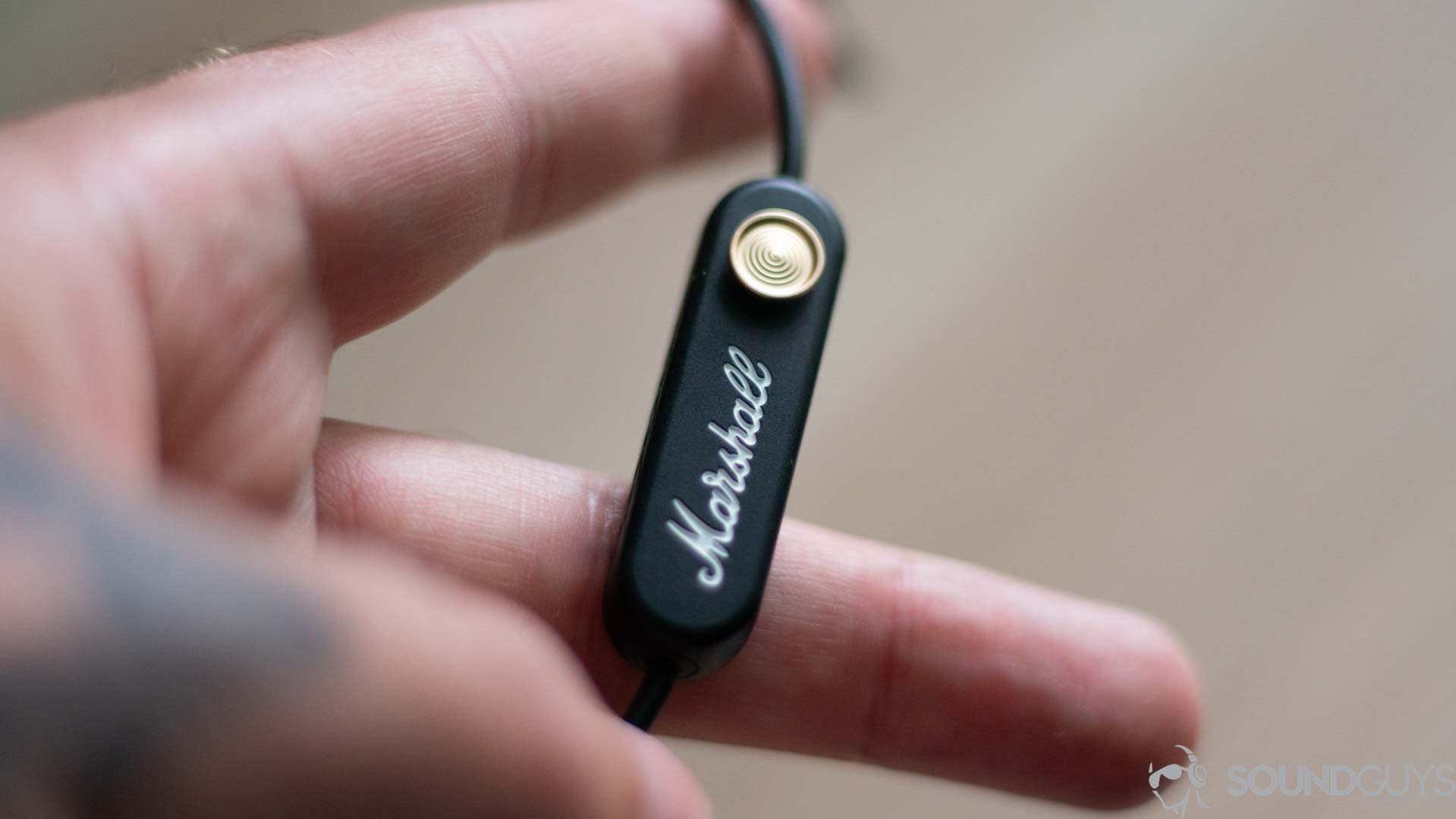 The multifunction knob works surprisingly well once you figure out the orientation.
If you couldn't tell, I'm not a big fan of the build quality of the Minor II Bluetooth earbuds. Thankfully I had no such issues with connection. Marshall made sure these had some of the best tech currently available, and these are rocking Bluetooth 5.0 with aptX compatibility. Of course, we already know that aptX adaptive is coming soon so, unfortunately, it seems these will be out of date soon as far as codec compatibility is concerned. That said, aptX is still better than standard SBC, especially if you're going to be listening to music via most streaming services. Connection strength was solid and I never had an issue with skipping or stutters as long as I stayed roughly within 30 feet of the source device.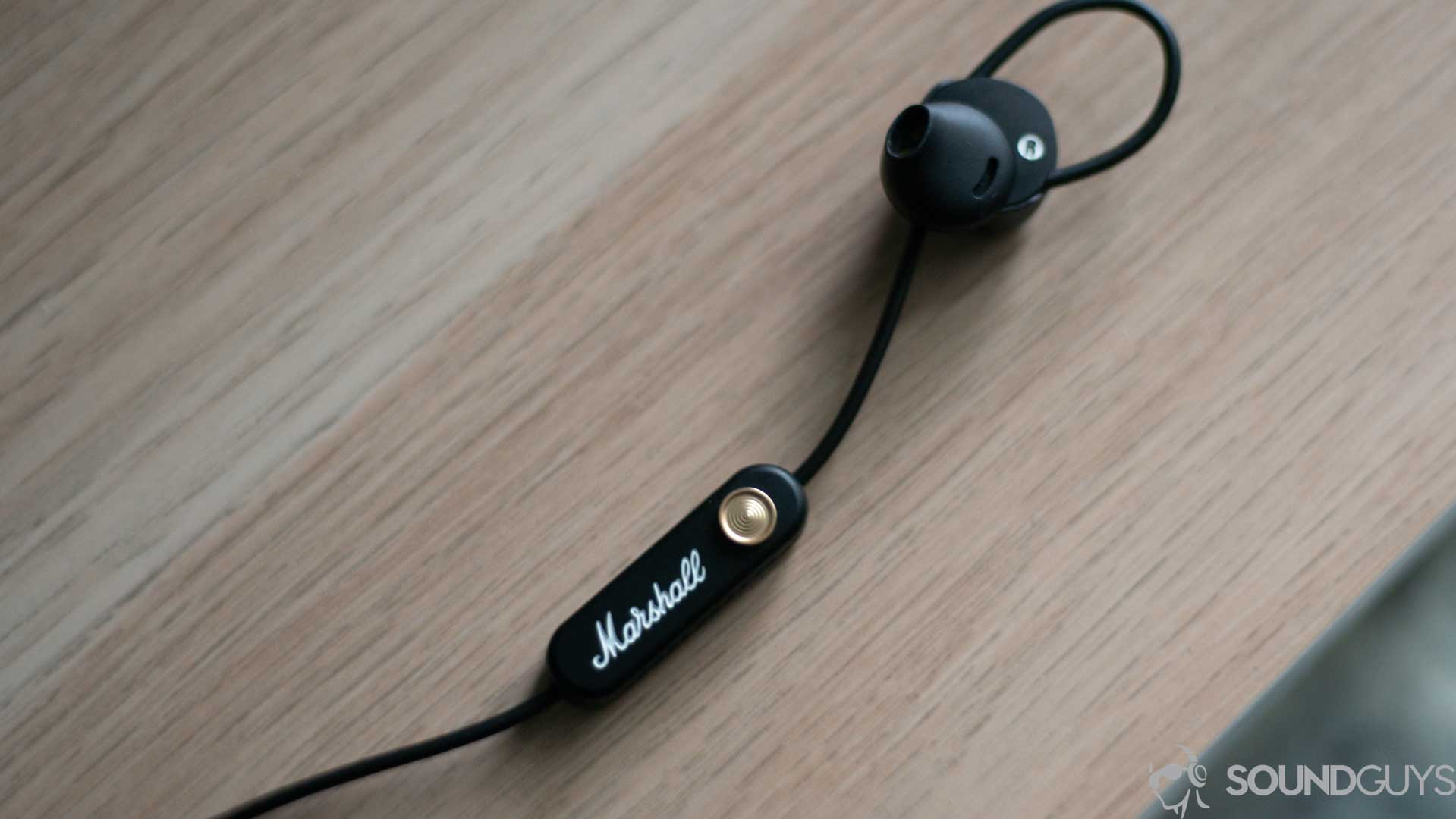 The ear tip is made of plastic, and doesn't offer any additional options for better fit or isolation.
As far as playback controls go, I was super skeptical of the single control knob at first. Usually, when a company tries to forego the classic 3-button control module and simplify controls to a single button, it doesn't work out too well. That isn't the case here. Although it did take a few tries to figure out the orientation of the button, once you figure it out it works perfectly. Pushing the knob up or down adjusts volume, pushing left or right skips between tracks, and pushing it down acts as a multifunction to pause/play music or answer and end phone calls. You can also access your phone's voice assistant with a quick double tap.
The only problem I had with the knob was when powering the 'buds on and off, as you have to press the button perfectly down. If you angle it even a little to any side it will adjust volume or skips tracks instead of turning off. It isn't a big deal, but it was an annoying tidbit I found in my few days of testing.
How long do the Marshall Minor II earbuds last?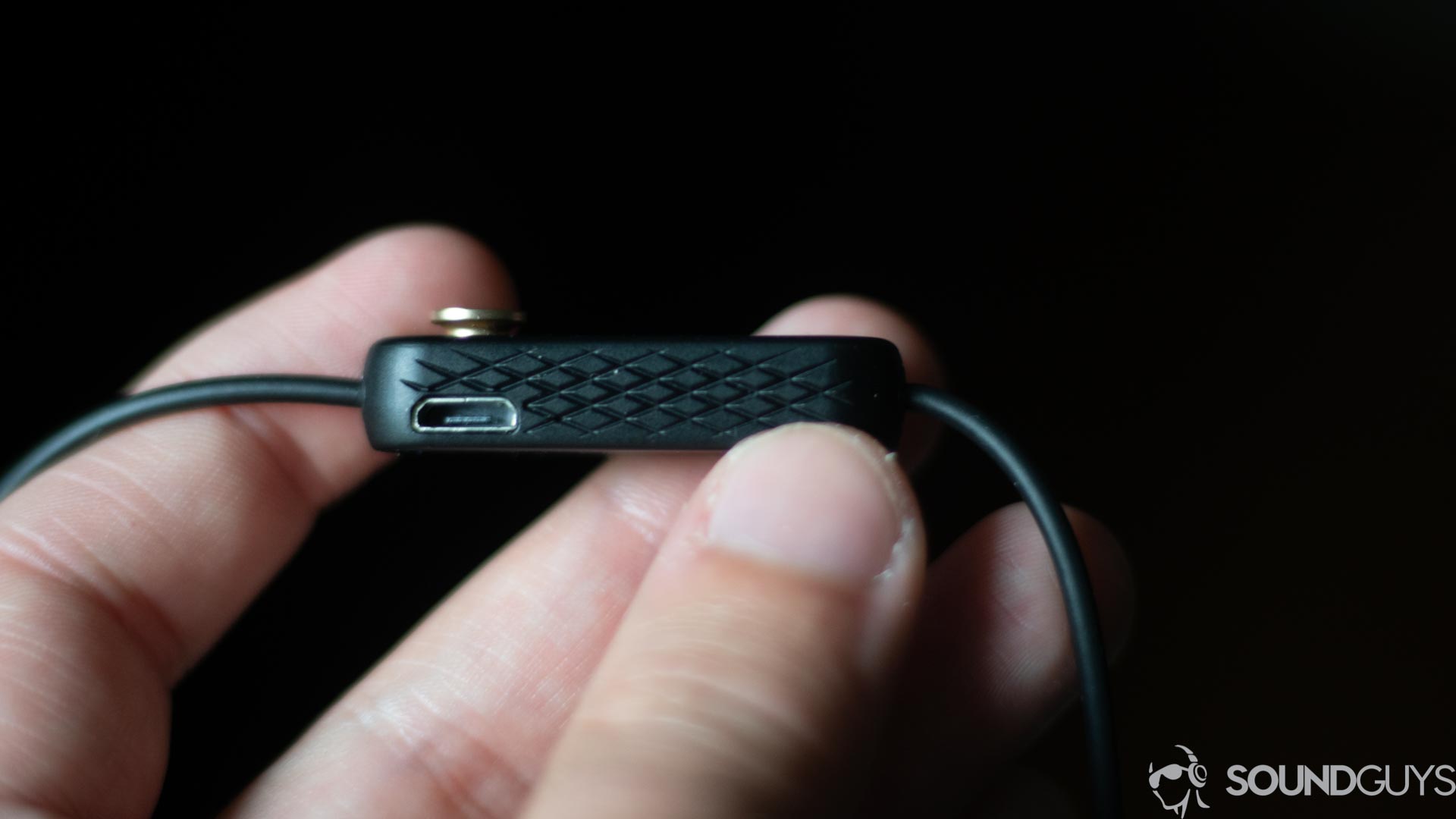 These offer a solid 12 hours of battery life, but charge via micro-USB.
It isn't hard to see that the control module on the Minor II Bluetooth earbuds is bigger than average. Its bulky size reminds of the first wireless earbuds ever that had giant modules and terrible battery life. Luckily, that's only half true here. Though I'll never say that the module here is pretty, at least it serves a function. Inside is a giant battery that Marshall claims will give you 12 hours of constant playback, which is double the battery life of the Jaybird Tarah we recently reviewed. In our testing, we managed to get to exactly ten hours and 48 minutes. Plus, these also have a quick-charging feature which gets you two hours in about twenty minutes on the charger. Sure, the module is large but if battery life is important for you then it's a fair trade.
Speaking of charging, these are unfortunately lacking USB Type-C. You'll have to plug these in via the older micro-USB charging cables which, maybe it's just me, but are becoming harder and harder to locate around my house. Hopefully the entire industry will soon adopt the standard, but for now, just don't lose the cable that comes with these.
What about sound quality?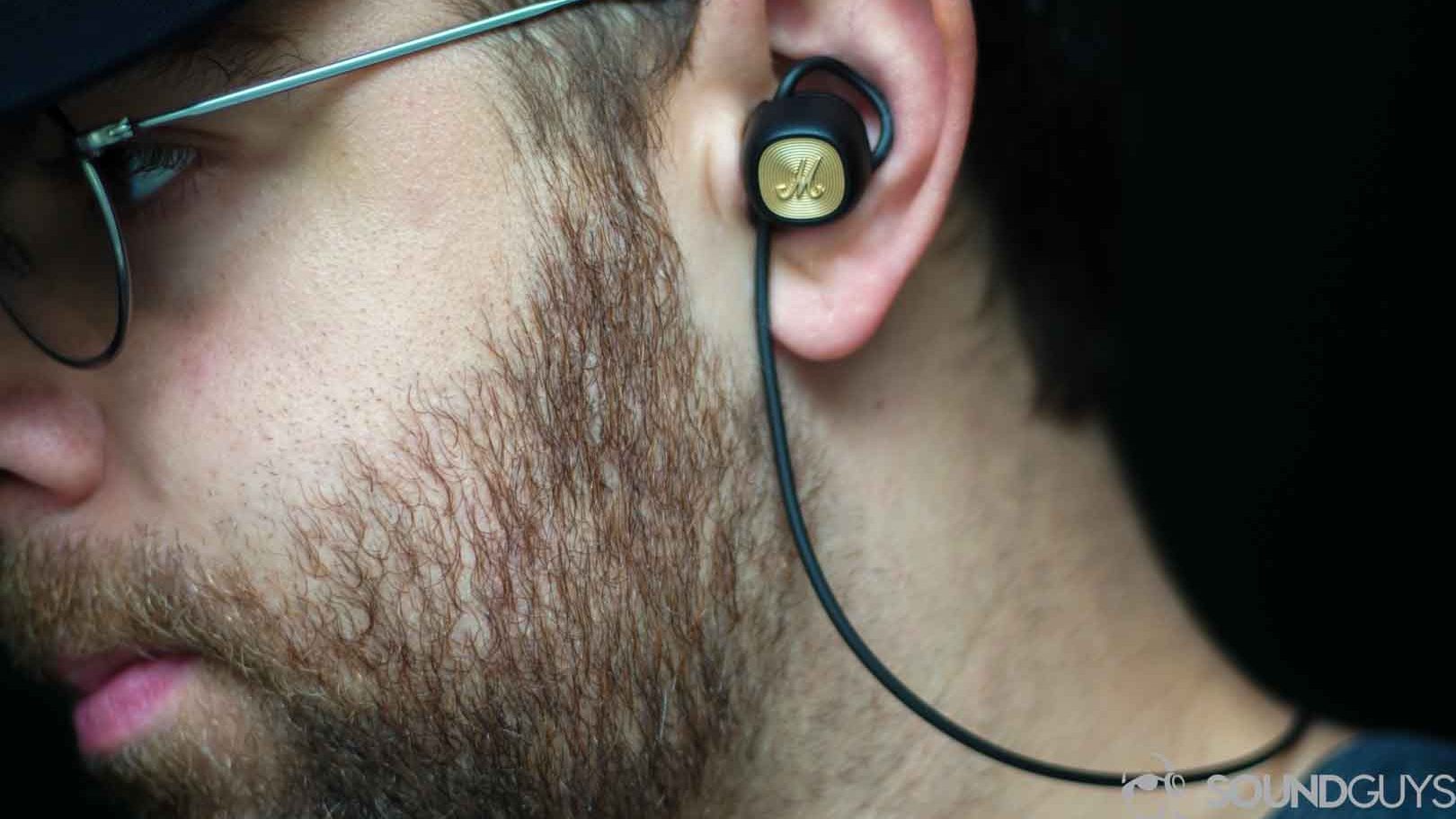 The adjustable design makes it easy to get these in your ears, but it does get uncomfortable quickly.
The one good thing about having giant 14.2mm drivers is that the Marshall Minor II earbuds do sound better than a lot of other wireless earbuds I've come across. The downside is that the build materials take away from what could be a great experience. Sitting in my quiet room I find that the low end is basically exactly what I want from a pair of 'buds.
It slightly emphasizes lower notes, making them strong enough to easily follow the bassline throughout the song Disaster by D.A Wallach, but never enough to mask any of the lower mids. This makes for some great clarity in vocals and background instruments, especially in acoustic or folk music. The downside is that because the 'buds are made entirely of plastic and don't have ear tips, isolation is non-existent. When I was wearing these on the train I heard everything going on around me, and the low humming of the train destroyed any of the nice bass I heard back at home. It became almost impossible to hear bass lines over the sounds of everything happening around me.
Luckily, this wasn't too much of a problem in the highs. Shakers throughout the song God Made the Automobile by Iron & Wine came through loud and clear, and while the fingerpicking didn't have as much detail as I like it was definitely impressive for a pair of earbuds. While I do like how the Marshall Minor II sound under ideal conditions, they suffer greatly while out in the real world. Not a good thing for a pair of wireless earbuds meant for portability.
Conclusion
The Marshall Minor II earbuds are a promising pair of 'buds that could've been great had they decided to do something about the plastic ear tip design. They sound great and have a crazy long battery life, but everything else about them from the fit and lack of isolation to the price of $129 makes them hard to recommend over some of the other Bluetooth earbuds we've tested. While you'd be hard-pressed to find a pair of wireless earbuds that last as long as the Marshall Minor II, it's worth trading a few hours of playback for a more comfortable experience. And if you plan on commuting with a pair of wireless earbuds, the lack of isolation here might be a dealbreaker.