All products featured are independently chosen by us. However, SoundGuys may receive a commission on orders placed through its retail links. See our ethics statement.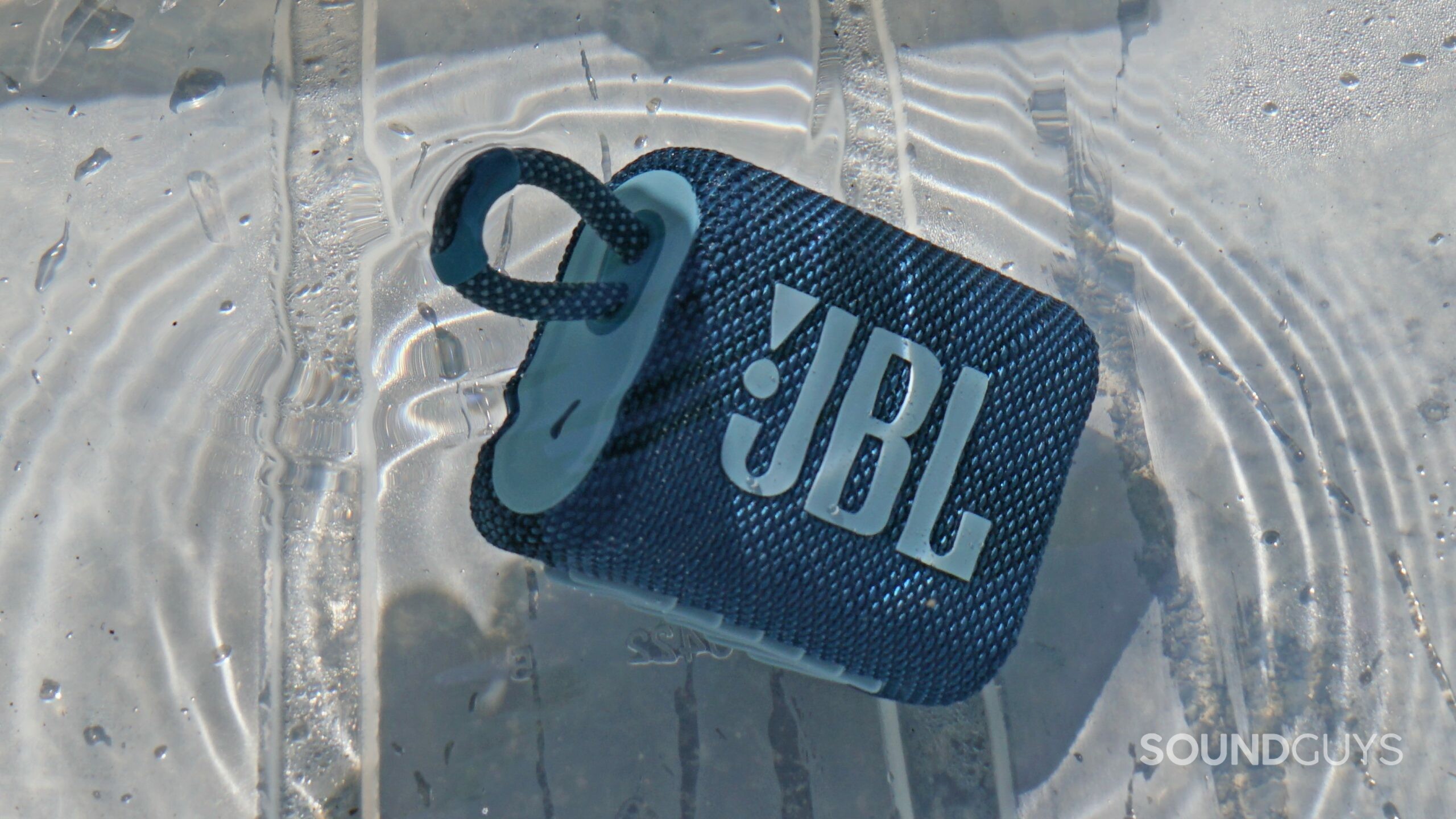 The bottom line
The JBL GO 3 is a cheap and simple Bluetooth speaker built to handle whatever outdoor excursion you want to throw at it. It's a pretty feature-light product, but it works well, the IP67 rating means it's great for the beach or the trails.
JBL GO 3
The JBL GO 3 is a cheap and simple Bluetooth speaker built to handle whatever outdoor excursion you want to throw at it. It's a pretty feature-light product, but it works well, the IP67 rating means it's great for the beach or the trails.
What we like
IP67 rating
Easy to use
Battery life
Price
What we don't like
Sinks in water
Small loop
Rating Metric
Sound Quality
7.0
Durability / Build Quality
9.0
Value
8.0
Design
7.5
Connectivity
5.0
Portability
9.0
Battery Life
7.6
Feature
7.0
JBL has made a real name for itself as one of the big contenders in the outdoor Bluetooth speaker market with its Flip, Clip, and Charge lines, among others. The JBL GO 3 represents a pretty big aesthetic departure from its predecessor. Gone is the anonymous rectangular design, replaced with a rubberized, ruggedized compact little unit, ready to go out on hikes or to the pool.
Is this refresh enough to set it apart?
Editors note: This article was updated on September 8, 2023, to update formatting, verbiage. 
The outdoors-inclined who need something IP67 rated to bring out on the trails or to the beach, anyone who wants something compact that they can leave on their patio or porch, and shower singers who want to hang up something they can sing along to.
What is it like to use the JBL GO 3?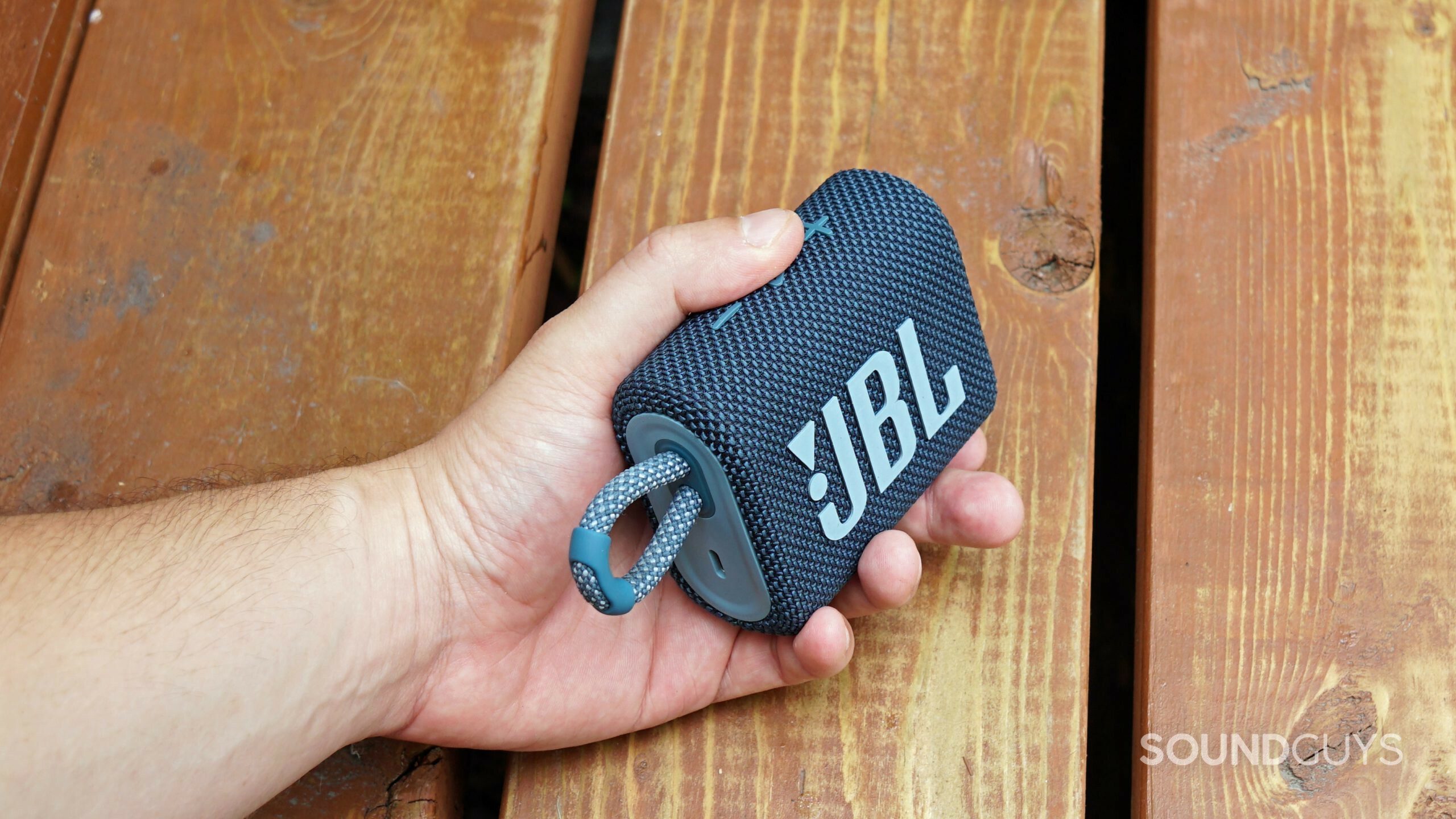 This is definitely loud enough for the patio.
Plenty of Bluetooth speakers make incremental changes with successive entries, so it's a little surprising to see how much of a departure the JBL GO 3 represents. In many ways, this portable Bluetooth speaker has more in common with something like the UE WONDERBOOM line than with the rather plain plastic rectangle that is the GO 2.
The new GO 3 is a mostly plastic affair, as before, but it comes with quite a few new physical features. The speaker is rounded, ovalesque, covered in tight-knit fabric and rubberized plastic. Just like the GO 2, the sound comes out of one side (emblazoned with the JBL logo), with the other covered in a plastic patch so the speaker can lay flat without sliding around. The fabric covering most of the JBL GO 3 brings just the right texture so it's always easy for you to grip.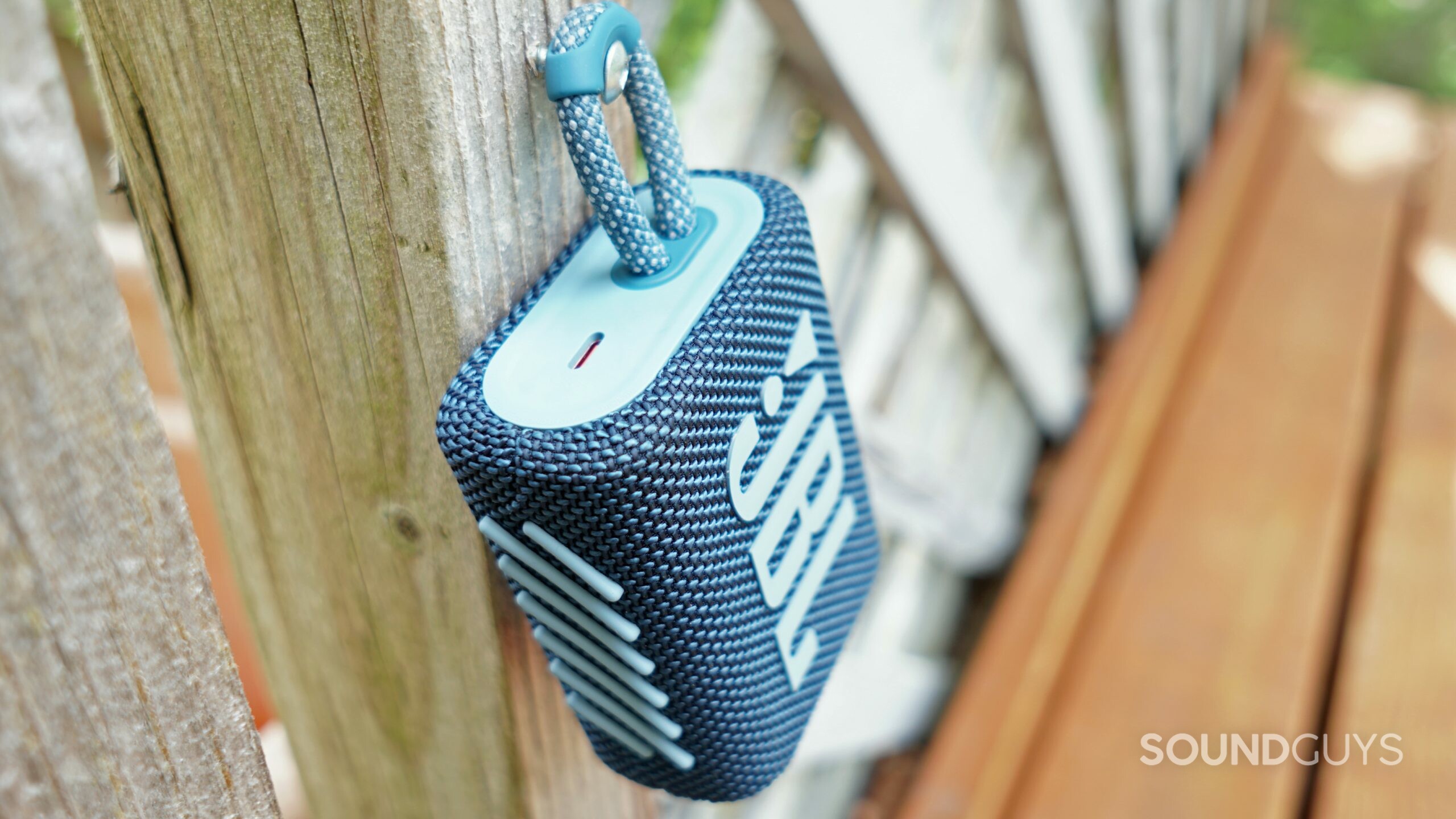 You may have to hunt for the right spot to hang this.
Also new to the JBL GO 3 is a fabric loop for hanging the speaker from a hook, or clipping it to a bag. The loop is permanently affixed to the speaker and is convenient if you want something you can hang up and forget about for an afternoon. Though the loop is small, it's big enough to hang off a shower caddy.
Actually using the JBL GO 3 is a cinch. The cloth edge above the JBL logo sports three rather high-profile buttons for adjusting the volume and playback. Because they're big and distinctively shaped, it's easy to make volume adjustments by feel. Apart from that, the speaker also has two buttons on the end opposite its strap for power and Bluetooth pairing — just tap the pairing button and once you hear the guitar strum, select the speaker in your device's Bluetooth menu. The speaker isn't compatible with the JBL Portable app, so what you see initially is all that you get.
Is the JBL GO 3 waterproof?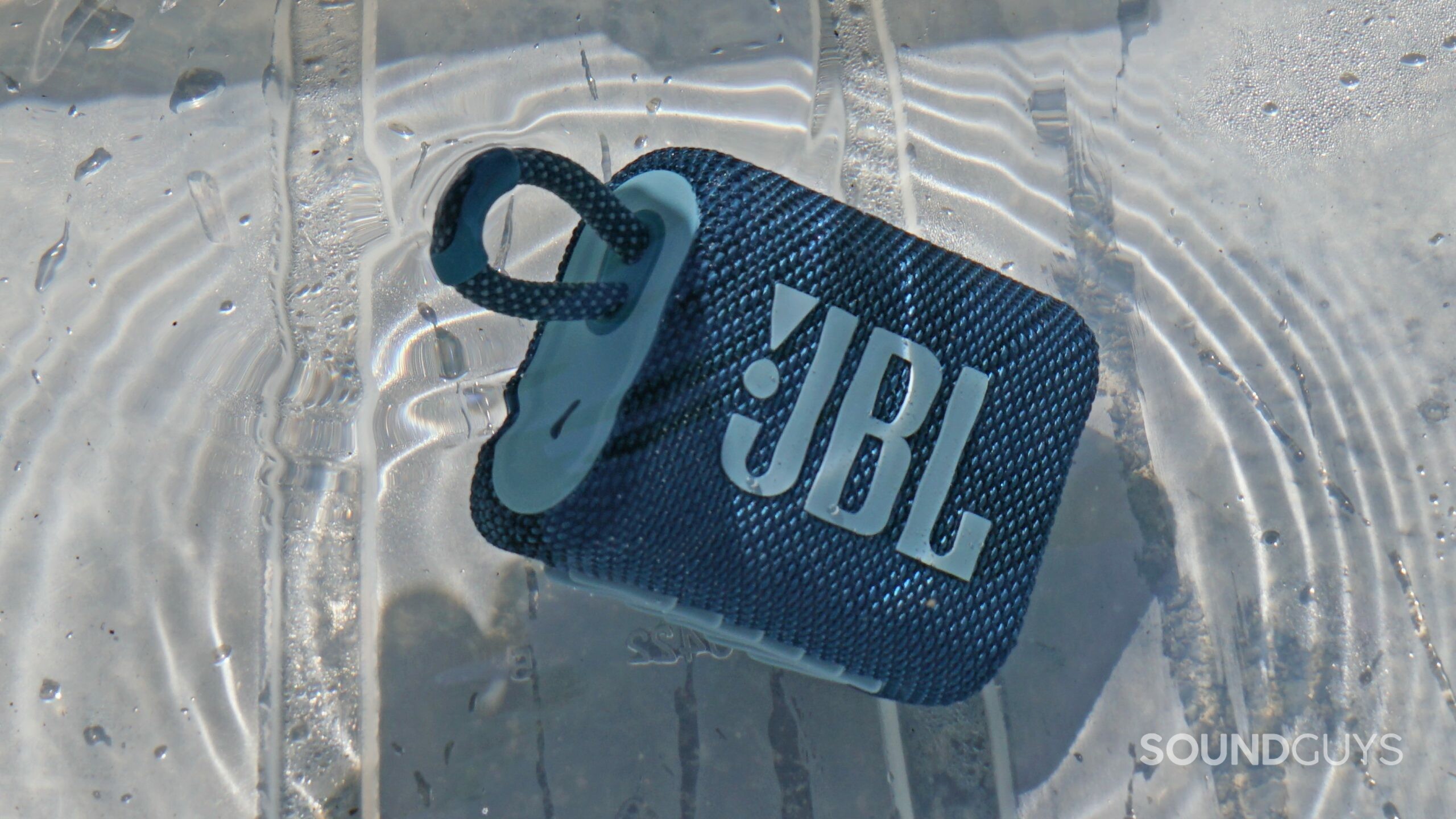 This doesn't float, but it can handle full submersion without issue.
The JBL GO 3 is IP67 rated for dust and water resistance, which means it's reasonably dustproof, and it can handle full submersion in up to one meter of water for 30 minutes. While it's plenty durable, this isn't exactly ideal for someone looking for a pool speaker for one reason: it doesn't float. You can play music all you like, and even when the cloth covering is soaked through the speaker sounds totally fine, but as soon as it goes in the pool it's going straight to the bottom and taking your tunes with it.
How different is the JBL GO 3 from the JBL GO 2?
The JBL GO 3 and GO 2 are very different products, with dramatically different looks and a handful of differences under the hood. As we mentioned above, the JBL GO 3 brings an IP67 rating, a step up from the GO 2's IPX7 rating, which guarantees a great degree of water resistance but offers no dust resistance. The JBL GO 3 also drops the microUSB charging port for USB-C. The fabric loop is also a new addition.
The GO 2 has a microphone so you can take calls, something the GO 3 lacks.
However, it's not all upgrades. The JBL GO 2 is the same price as the GO 3, and supports wired audio over 3.5mm. It also includes a speakerphone, so if you're out at the beach and you get a call you can take it without unpairing your devices (though everyone nearby will hear both sides of the conversation). The GO 2 also comes in a lot more colors, with a total of 12 different options, compared to the Go 3's five colorways.
How does the JBL GO 3 connect?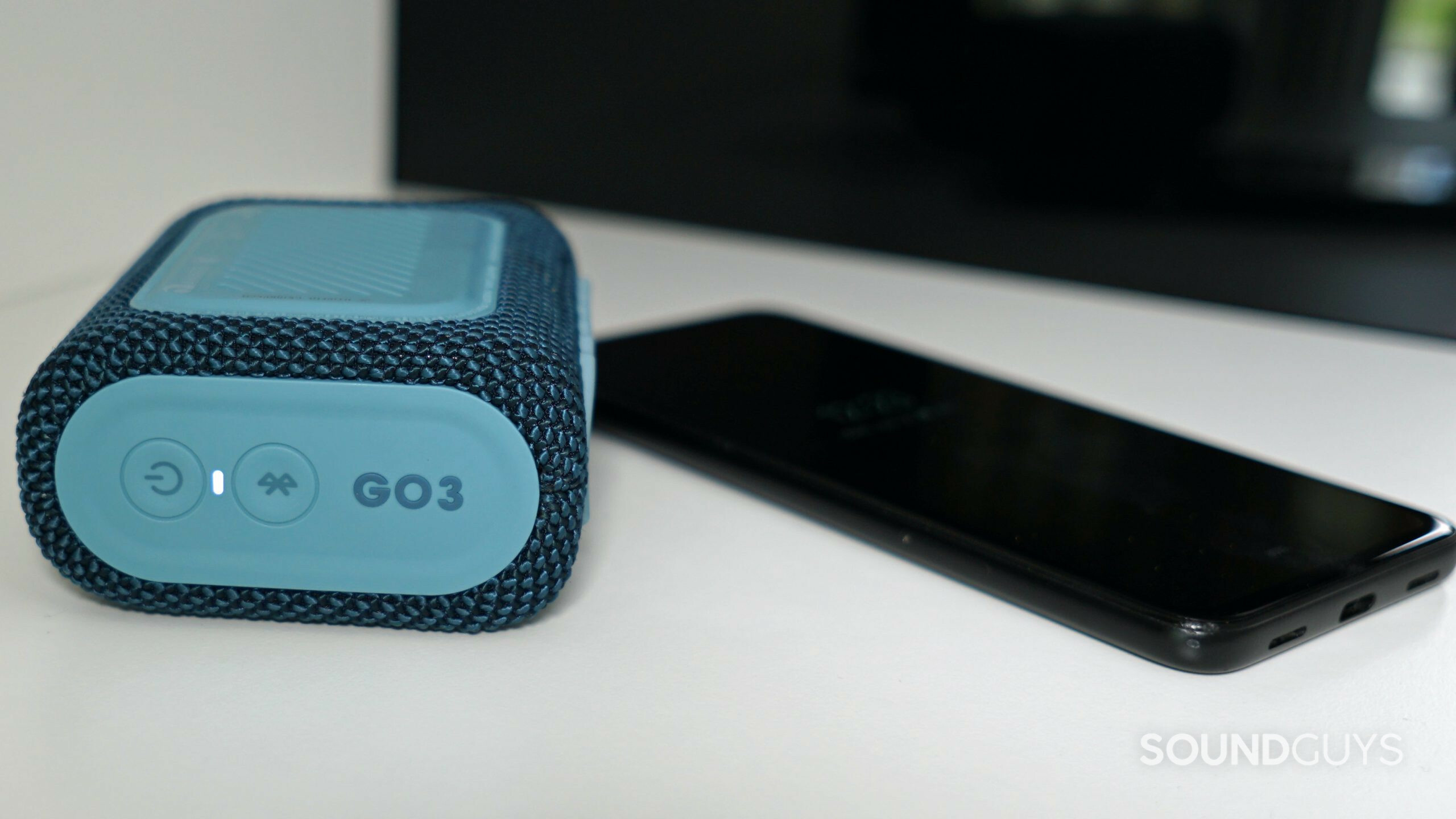 There's a guitar strum sound for pairing and powering the speaker on and off.
The JBL GO 3 is a Bluetooth speaker that uses the 5.1 firmware to connect to your device of choice. It only supports the SBC codec, which is a little disappointing, but not terribly surprising — outdoor speakers rarely go in for high-quality codecs like aptX or AAC. This is fine seeing how the GO 3 serves as an adventure speaker, though you may run into some audio-visual lag if you watch videos while paired to it.
How is the battery?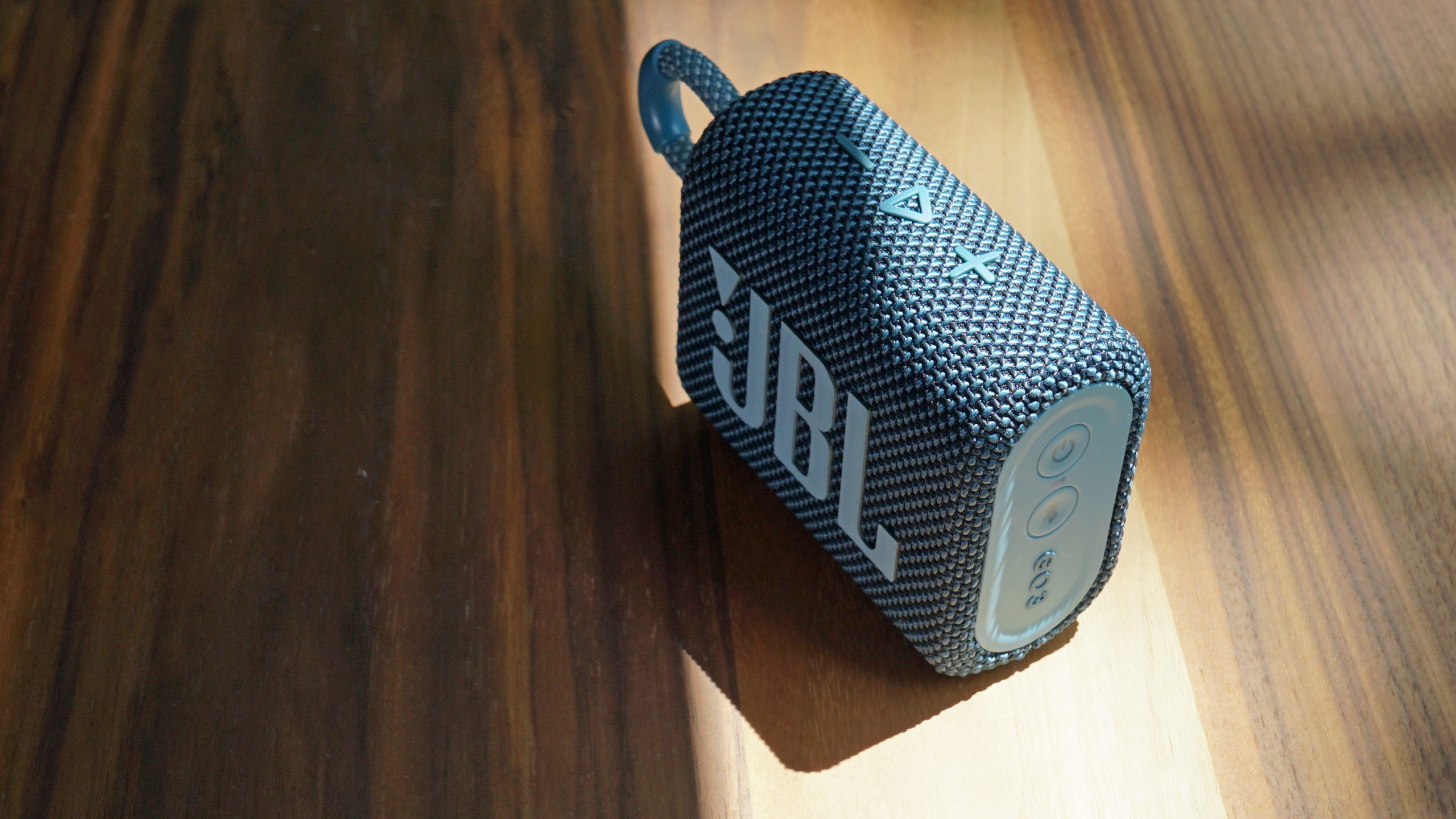 This is a simple speaker, through and through.
JBL claims the GO 3 can last up to 5 hours on a single charge but in our testing, we found it well exceeds that. At a constant output of ~75dB, the JBL GO 3 lasted 10 hours, 14 minutes on a single charge, more than double what was advertised. If you're out in the yard blasting some tunes, you're almost certainly going to have the volume higher than that, which will impact battery life.
The speaker takes about two and half hours to charge over USB-C. It doesn't support fast charging.
How does the JBL GO 3 sound?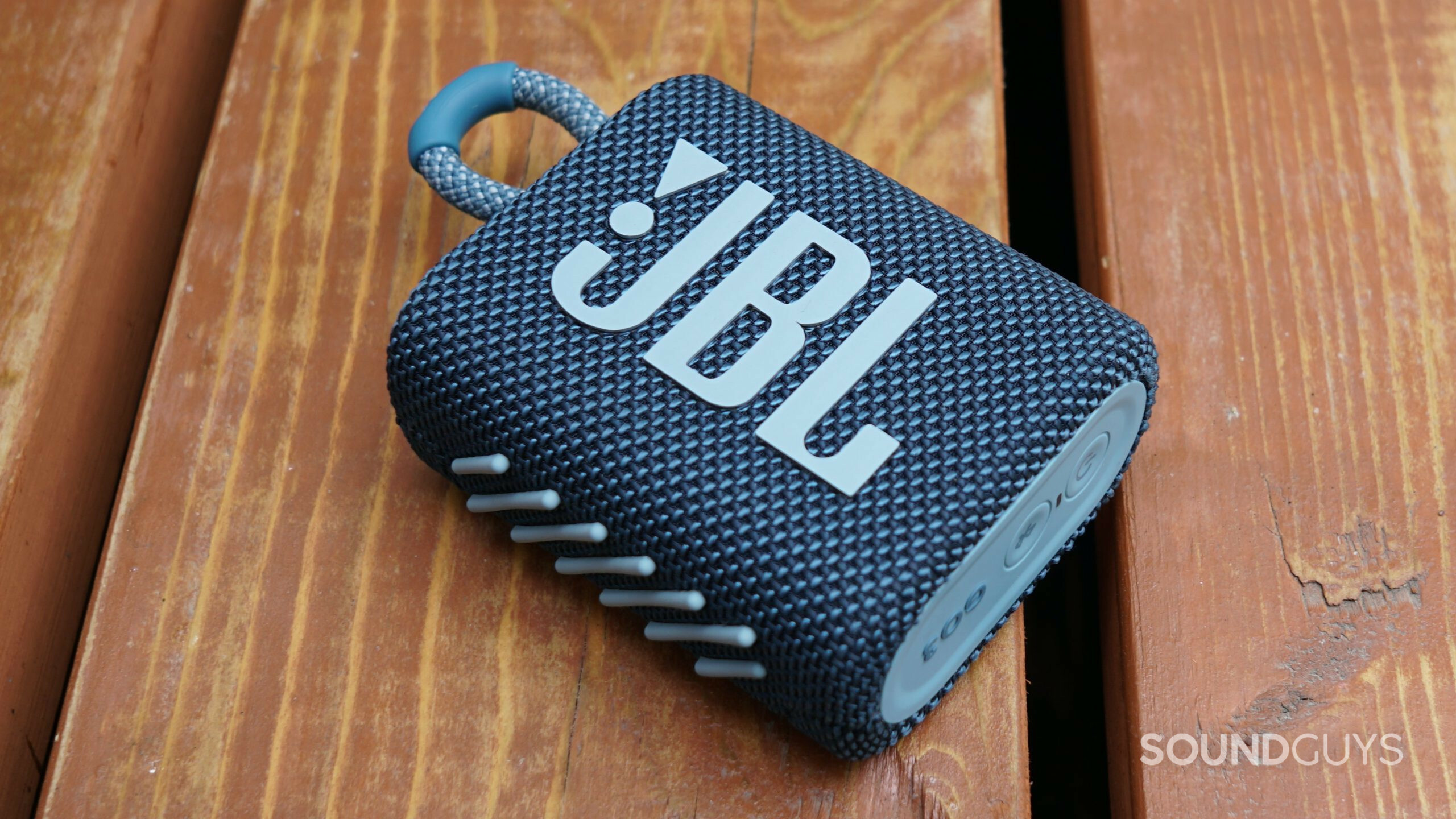 This sounds great outside.
The JBL GO 3 isn't the highest-fidelity speaker, but it doesn't really need to be. You won't have trouble hearing most details in music out on the patio, though nothing will sound perfect. If you're using this in the places it's designed to go, you're going to have to get used to sacrificing nuance for convenience. When you're outside, a lot of the nuances that a very accurate frequency response will bring out are completely lost. Maybe a car drives by, or the wind picks up, or you're just a little too far away — basically, you're only going to get the broad strokes, regardless of a portable speaker's capabilities.
Lows, mids, and highs
The JBL GO 3 generally does a pretty good job of making sure vocals come through clearly. In Superfast Jellyfish by the Gorillaz, the rapping near the beginning of the song is clear and loud, though the bass guitar and kick drum fall a little to the wayside — they're still both plenty audible, but they lack the typical oomph you'd hear listening over a pair of headphones.
However, the nature of outdoor speakers means that, apart from broadly decent sound (which the GO 3 has), the most important thing is volume. Given the size of the JBL GO 3, its volume output is impressive. This should be able to cover most patios and small backyards on its own without issue.
Should you buy the JBL GO 3?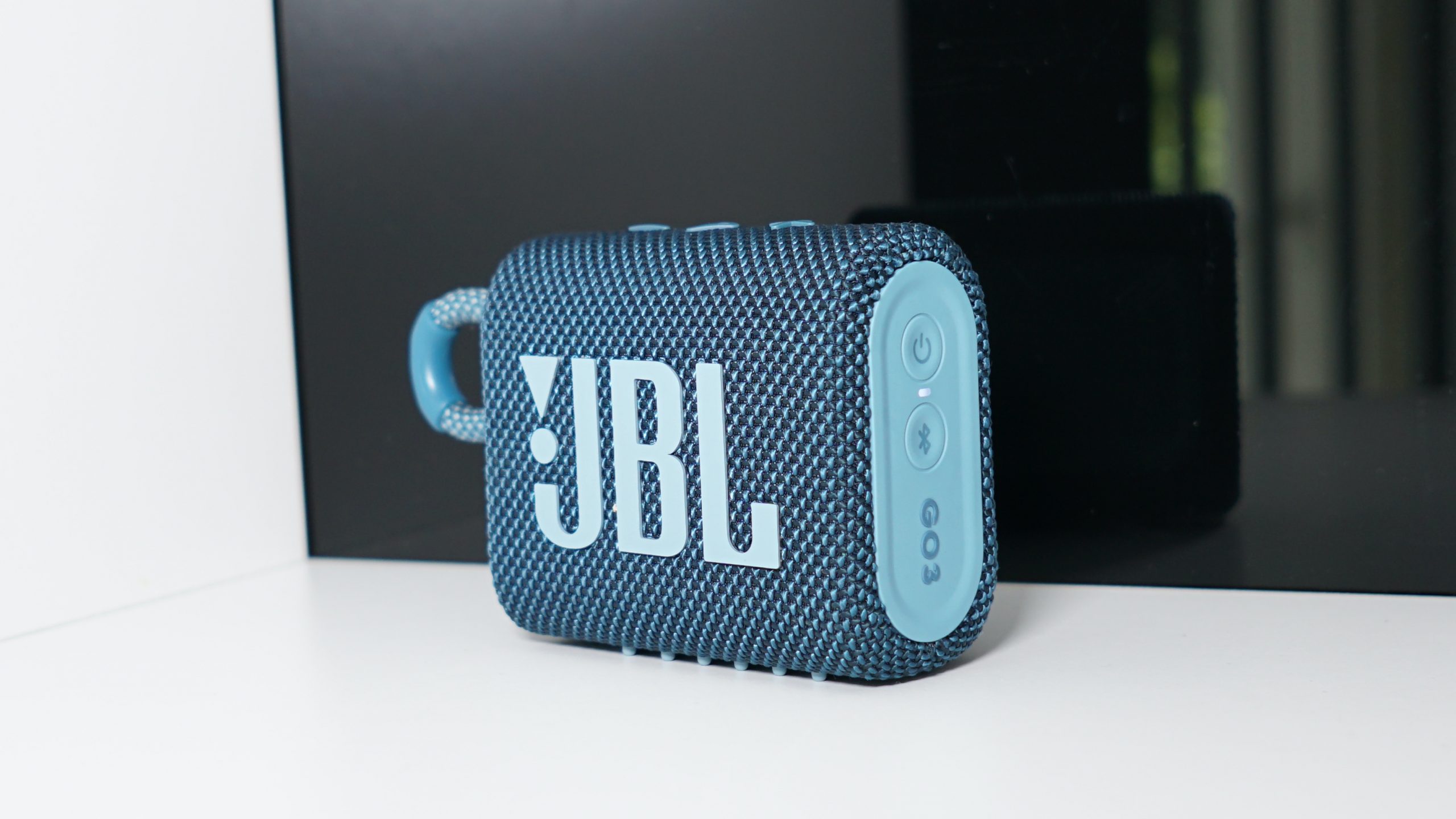 The speaker comes in the blue shown above, as well as gray, red, teal, and black.
If you want a cheap speaker that works pretty much everywhere, with pretty much everything, you should consider the JBL GO 3. It's is a neat little device on premise. For $39.99 USD, you get a loud, compact Bluetooth speaker well-suited to the backyard or the backwoods. This is easy to use, and a big improvement over the JBL GO 2 as an outdoor speaker. However, that doesn't mean it's without quibbles.
It's disappointing that this waterproof speaker doesn't float, but that's a minor issue. If it's something you care about, the UE WONDERBOOM 2 offers pretty much all the same features, and it floats, though it is around $30 USD more expensive. Additionally, the fact that the JBL GO 3's strap is so small limits where you can hang it, and the lack of any sort of clip makes attaching it to something like a backpack a little less convenient than it could be. (Then again, you can always add your own carabiner to the loop.) However, if you're just looking for something cheap and easy for a trip to the beach, you could do a whole lot worse than the JBL GO 3.
JBL Go 3
JBL Go 3
IP67 rating • Easy to use • Battery life
You can take this cheap Bluetooth speaker to the beach or the hiking trails—is that enough?
The JBL GO 3 is a cheap and simple Bluetooth speaker built to handle whatever outdoor excursion you want to throw at it. It's a pretty feature-light product, but it works well, the IP67 rating means it's great for the beach or the trails.
What about the JBL Clip 4?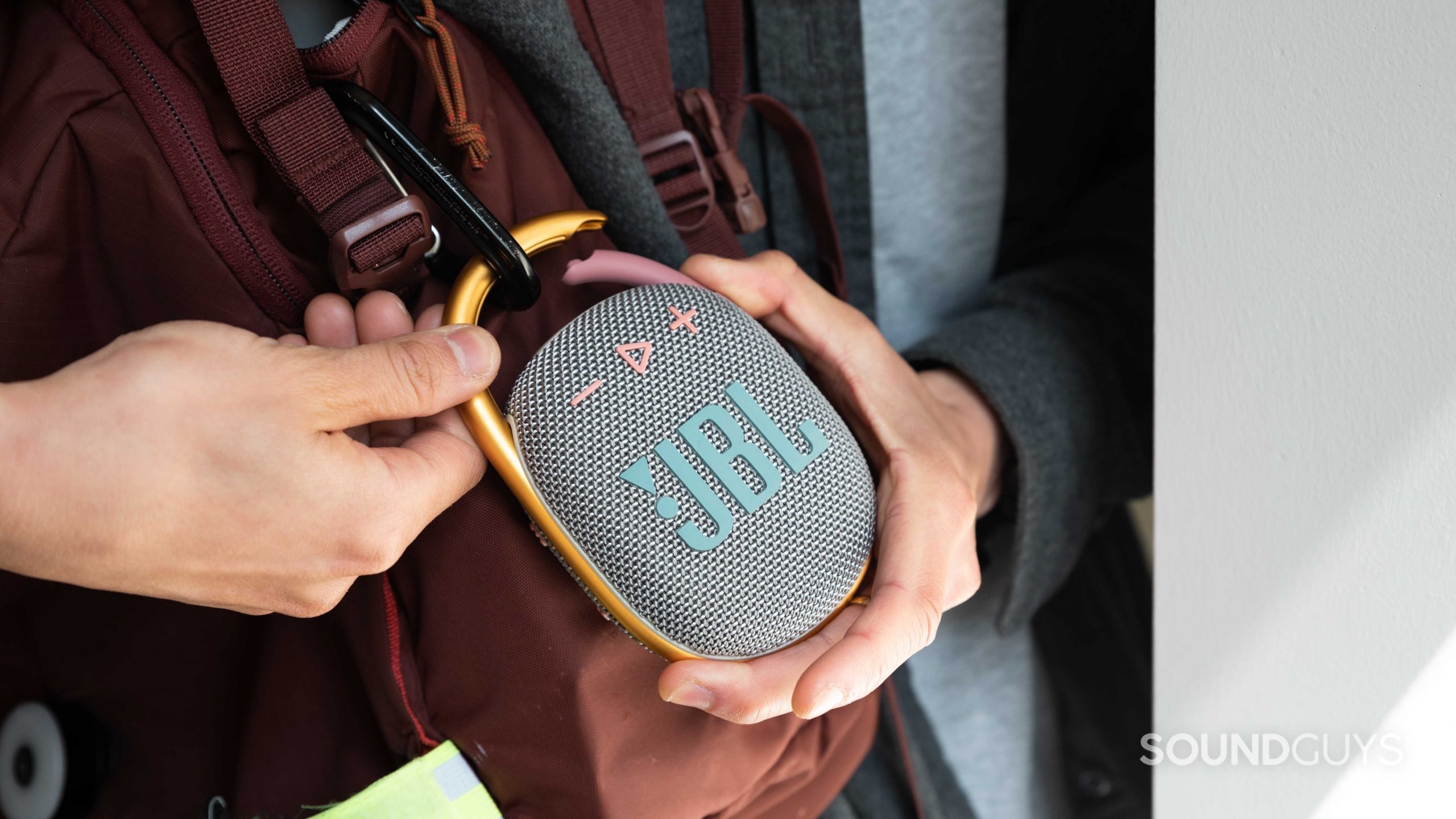 The Clip 4 doesn't include many features but it's a rugged everyday speaker.
The JBL Clip 4 is a great alternative to the GO 3 for listeners who want an even louder output and more robust, versatile carry system. The Clip features an integrated carabiner that's easy to operate single-handedly when placing it onto a backpack. Sound quality is quite good for a speaker this small, and while the bass response won't blow you away, it will satisfy you more than what the GO 3 has to offer. Like the GO 3, the Clip 4 has an IP67 rating and USB-C charging port.
Unfortunately, you still don't get any software features with the JBL Clip 4 and if you want to sync up multiple JBL speakers, you'll need to upgrade to the larger JBL Charge or Flip series. You could also check out the Tribit Stormbox Micro, which is around the same price as the GO 3, with almost all the same features, but it also a microphone so you can answer phone calls.
Frequently asked questions about the JBL Go 3
Yes, after 10 minutes without any activity or being connected to a device, the JBL Go 3 will automatically power off.
You can use any USB-C charging cable to power up the JBL Go 3.
When you see the LED indicator blinking, that means you have less than 20% battery remaining (~1-2 hours) in the JBL Go 3.