All products featured are independently chosen by us. However, SoundGuys may receive a commission on orders placed through its retail links. See our ethics statement.
JBL Clip Review
The JBL Clip is small enough to clip anywhere, and for its small size, how good it can sound is pretty impressive.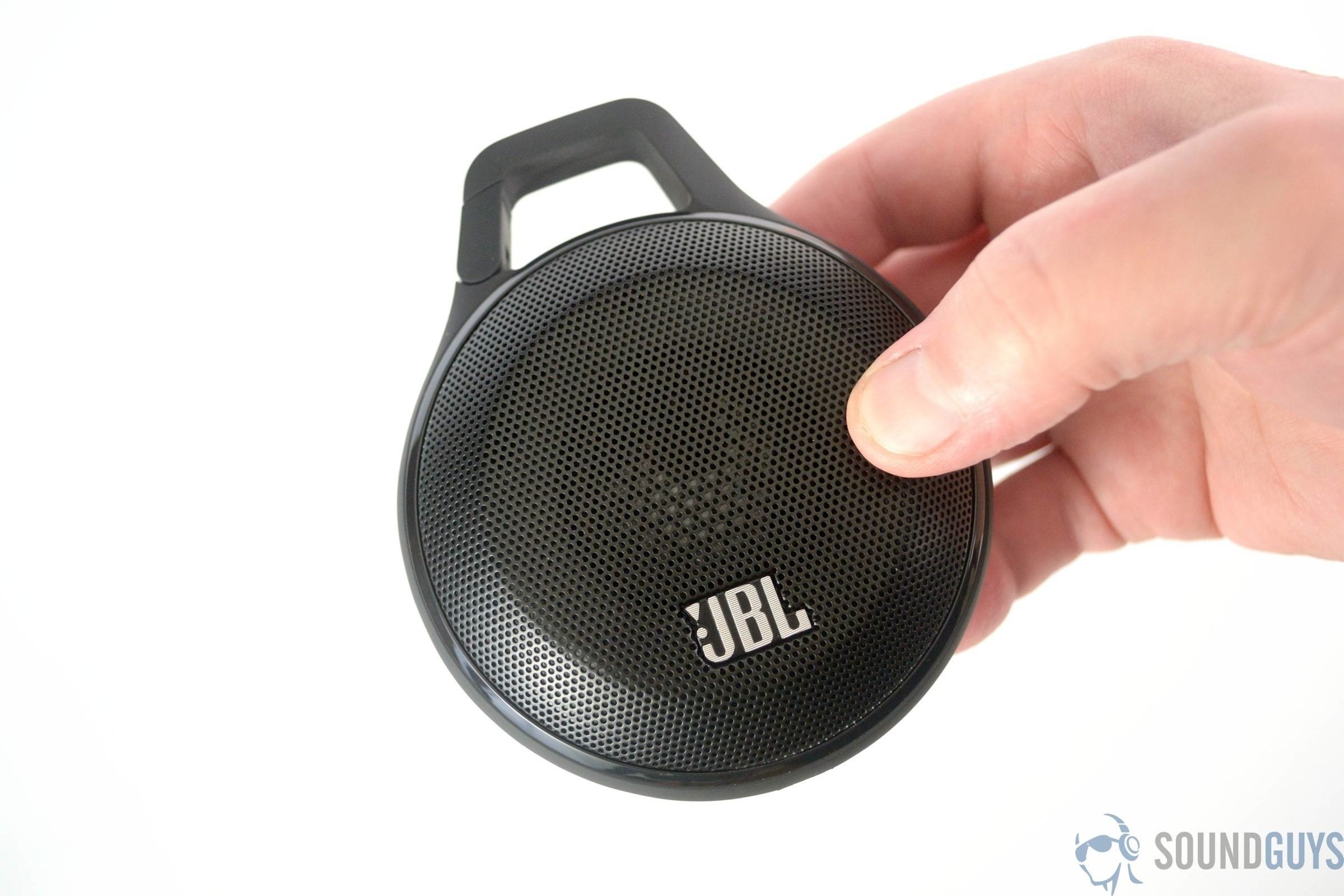 A few months ago, we reviewed the JBL Flip 2 and, like pretty much everyone else who took a look at it, we liked it. While speakers in a similar form factor existed, the Flip 2 stood out from the rest of the crowd with its impressive performance and solid sound. Naturally, when we heard about the JBL Clip — a smaller, even more portable speaker — we had to check it out.
Now having a standout product can be a problem sometimes: put out one great thing, and everybody expects more from whatever you release next. Fair or not, that is exactly the situation the JBL Clip was in when we brought it in for review. So, did it hold up to our expectations?
What's In The Box?
As you might imagine from your first look at the box, there isn't a whole lot inside. Without even opening the box up you can see the speaker, while inside you'll find the USB cable and the manual. That's it. Well, technically, there is a 3.5 mm audio cable as well, but we'll get to that later in the article.
Build & Design
While we're looking at the classy black model, the JBL Clip is available in a few different colors: blue, gray, purple and red are all options. The speaker's design is interesting, but this isn't the first time we've seen it. The Logitech x100 boasted a similar design, though there are a few differences that set the JBL Clip apart. First is the somewhat more understated color options.
The second and more interesting difference is the feature that gives the JBL Clip its name: a built-in carabiner that allows the speaker to be clipped anywhere. This is handy, especially with such a small and eminently portable speaker, though some have gone so far as to declare the speaker 'wearable' because of the carabiner clip. That one we can't really imagine.
Not to say you couldn't do it if you wanted to: the speaker is fairly small at 4.2 x 3.2 x 1.6 inches, with a light weight of around 5 ounces to match.
Connectivity
Bluetooth is so common in portable speakers these days that you just assume it's there and, indeed, it is here. Pairing is fairly simple: power the speaker on for the first time and it immediately enters pairing mode. Once it's on, just pair from the device of your choice. Bluetooth range is standard at around 30 feet and not once did I run into any stuttering or breakups during testing, as long as I stayed within range.
An interesting touch is that the speaker has its very own built-in 3.5 mm cable. Forget to bring a cable for your old, non-Bluetooth iPod? No problem, the JBL Clip has you covered. This, as you might imagine, is very handy. Another interesting touch is that JBL has included a 3.5 mm out jack on the side, meant for daisy-chaining the Clip with another speaker.
Despite the small size, JBL didn't skimp on the buttons. On the right side, you'll find the volume buttons, white the left size holds the power, Bluetooth and call buttons. Speakerphone quality was fairly decent, with both incoming and outgoing voices loud and clear.
Battery
One of the only downsides of the JBL Flip 2 was its 5 hour battery life, so we weren't expecting any huge numbers in the battery department. JBL actually claims exactly the same battery life for the Clip: up to 5 hours, depending on volume and audio content. Luckily, the 600 mAh battery charges fairly quickly, even when charging via a computer with the included USB cable, so you shouldn't expect to go too long between listening sessions.
Sound Quality
When we look at speakers this small, we adjust our expectations accordingly. If we didn't, it would be very likely that nothing this size would get over a 5 when it comes to sound quality, so keep that in mind. We briefly tested via the 3.5 mm cable, but the vast majority of our testing was done while connected via Bluetooth, as this is the way most people will be listening most of the time.
There isn't a ton of bass here, and given the size of the speaker, that makes sense. That said, even as you crank the volume, the bass doesn't seem to push the tiny speaker into distortion. Even more interesting is that the bass doesn't seem too reliant on speaker placement — it sounds nearly the same dangling in the air as it does on a wooden table.
Like the Flip 2, the mids in the JBL Clip escape the boxy sound that plagues so many smaller Bluetooth speakers. This speaker is actually surprisingly full sounding, though again, we're taking the size into consideration.
The highs bring plenty of detail without harshness. The faint hint of FM radio-like static that accompanies the highest notes in some smaller speakers isn't present here, thankfully.
With one speaker, there is obviously no stereo to be had, and the volume doesn't go all that loud, but for what it is, the JBL Clip pushes out respectable sound overall.
Conclusion
To answer the question that kicked off this review, the JBL Clip does indeed stand up to the reputation that JBL has built up from great sound in a small size at a small price. Just make sure to keep your expectations reasonable — a speaker this size is never going to measure favorably against a good larger speaker, but we really shouldn't expect them to.
For $49.95, the JBL Clip beats out the similarly sized and priced Logitech x100 in every aspect. It sounds better, it's ever-so-slightly smaller, and the built in clip and 3.5 mm cable just make it an all-around more useful device. For the price, it's a no-brainer.