All products featured are independently chosen by us. However, SoundGuys may receive a commission on orders placed through its retail links. See our ethics statement.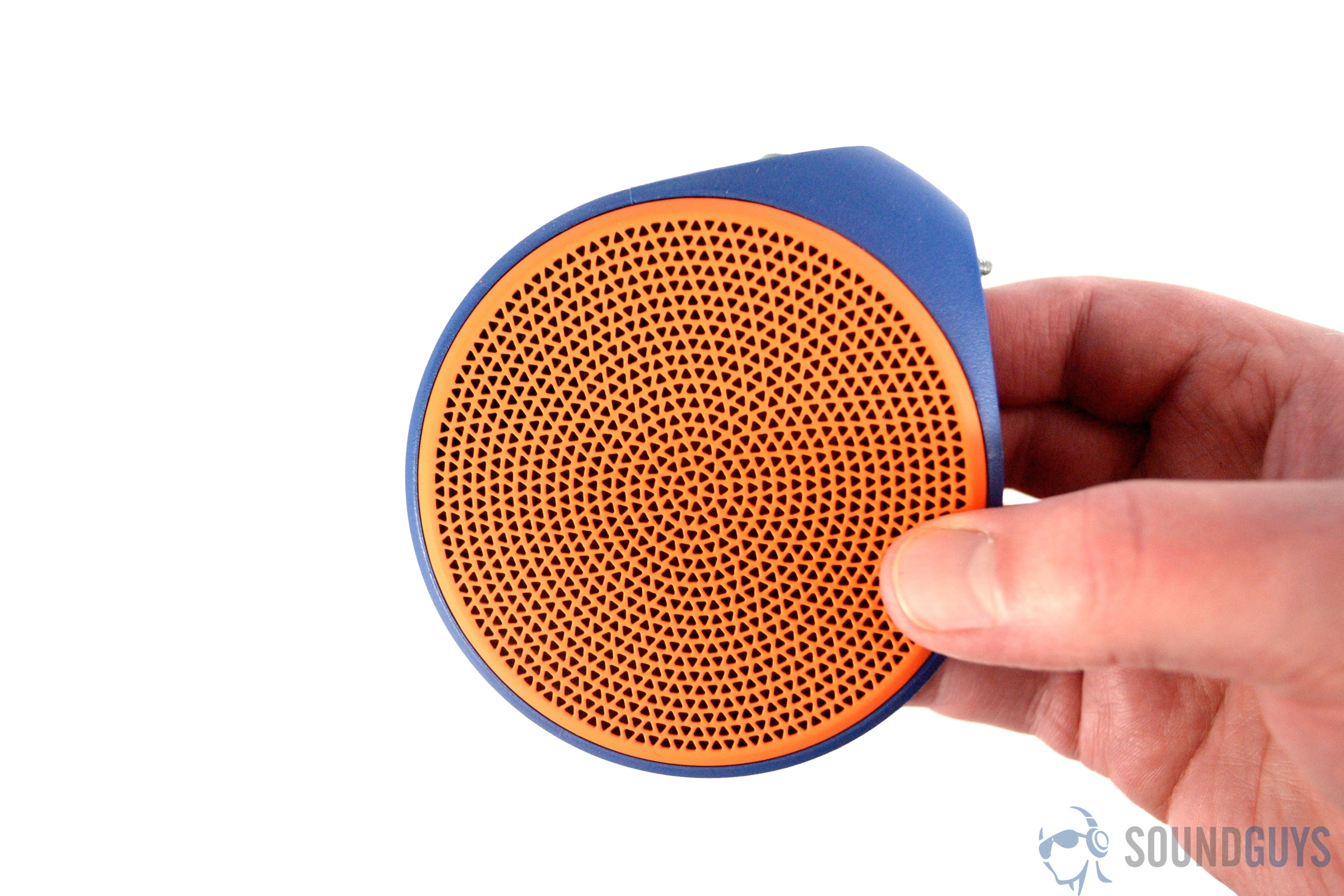 The bottom line
The sound quality of the x100 isn't going to blow you away, but considering it fits in the palm of your hand and weighs about as much as a paperback book, it's still impressive.
The sound quality of the x100 isn't going to blow you away, but considering it fits in the palm of your hand and weighs about as much as a paperback book, it's still impressive.
What we like
Small, light and portable
Great for podcasts & audiobooks
What we don't like
Sound quality isn't great for music
Rating Metric
Sound Quality
6.5
Bass
6.0
Midrange
7.0
Highs
6.8
Durability / Build Quality
8.6
Value
8.5
Design
9.0
Microphone
7.5
Portability
9.5
Bluetooth speakers have been sounding better and better lately, and that's something we can all agree is a good thing, but it also seems to have a downside. It seems that the weights and sizes of these speakers are on the rise, often to the extent that the speakers are pushing the definition of 'portable' pretty hard. We're all for great sound, but do we really want to carry our Bluetooth speakers in backpacks?
Logitech seems to have noticed this trend as well, and sure, they've got their larger portable speakers as well, but they're also producing speakers that are both drastically smaller and dramatically cheaper than much of their competition. The Logitech x100 is one of the smallest we've seen so far. The portability can't be beat, but how does the rest of the speaker hold up?
What's In The Box?
Looking at the size of the box that holds the Logitech x100, you might not think there was anything else inside. You'd be wrong, but only barely. Flipping open the top of the box you'll find a USB cable. Aside from the manual and of course the speaker itself, there's nothing else inside. A 3.5 mm audio cable would have been nice to see, but at this price, we're not complaining.
Build & Design
Our review unit of the Logitech x100 came in a striking orange and purple scheme, but that isn't the only one available. The speaker is also available in gray, yellow, red and green, though the green looks more like a light blue. As simple as it is, the look of it is pretty neat. If it wasn't for the buttons and the USB and 3.5 mm jacks on the side of the speaker, it wouldn't look like a speaker. What it would look like isn't exactly clear, but it certainly wouldn't look like a speaker.
There might be smaller speakers out there, but the x100 is without a doubt the smallest speaker we've reviewed so far. How small? Well, it's just under 1.5 inches thick, and the diameter is just 3.38 inches. Basically, this speaker will quite literally fit in the palm of your hand. It's also fairly light at just 5.7 ounces. If portability is a major concern for you, this speaker might be your best bet.
Despite its light weight and small stature, the build of the x100 feels very solid. We wouldn't suggest using it to build a house, but it feels like it could easily survive a drop or two.
Connectivity
Pairing the Logitech x100 is fairly easy. While it might lack NFC, it's a simple matter of turning it on, waiting for the pairing light to start flashing, and pairing from the device of your choice. Of course, if you're using a device that doesn't support Bluetooth or if you'd just like to save your phone's battery life, you can always plug your music device in via the 3.5 mm auxiliary jack.
Bluetooth range is advertised as 30 feet and that is almost exactly what I found to be the effective range. Much beyond 30 feet and I noticed that the signal wasn't steady enough for uninterrupted listening. In terms of controls, there are a total of four buttons. You have a dedicated power button, + and — buttons that double as volume and skip forward / backward buttons. Finally, there is a multifunction button branded with the Bluetooth icon which is used for pausing / resuming playback, answering and ending calls, and putting the speaker into pairing mode.
Battery
The battery life of the Logitech x100 is advertised at five hours and that seems to be an accurate statement. In testing, I found I got just over five hours of listening at a relatively moderate volume. Though the battery life isn't all that long, charge time is mercifully short. I charged the battery from fully exhausted to full capacity in under between an hour and a half and 2 hours.
Sound Quality
Given the remarkably small size of the Logitech x100, we weren't expecting much in terms of amazing sound quality, and so we weren't disappointed. It's a simple matter of physics that a speaker this small isn't going to be able to produce earth-shaking bass or room clearing volume.
In testing I played a wide variety of music, as well as podcasts and audiobooks. I played lossless audio files and CDs by a computer connected through a Focusrite Saffire Pro 40 to the x100's 3.5 mm jack, as well as Rdio streaming music and MP3s from a Motorola Moto X connected via Bluetooth.
For what it's worth, the Logitech x100 produces what is probably as much bass as is possible for a speaker this size, but that just isn't a whole lot. Songs heavy on low end do hold up fairly well, but you need to keep your expectations in line.
The midrange has a fairly boxy character to it, with a fairly pronounced peak around 1 kHz. This makes the speaker very well suited to the spoken word — podcasts and audiobooks sounded great — but somewhat less well suited to music.
I was a little surprised that the high end wasn't harsh. It's actually fairly subdued in general, and seems like it could be a little more present.
The maximum volume is another surprise. You wouldn't expect a speaker of this size to get much louder than a wristwatch, but it can get quite loud.
Conclusion
It is an undeniable fact that the small size of the Logitech x100 is the biggest point in its favor, but that isn't a bad thing. The sound quality of the x100 isn't going to blow you away when compared to larger speakers, but considering it literally fits in the palm of your hand and weighs about as much as a paperback book, it's still impressive. At $49.99, this is an easy speaker to recommend to someone who just needs to make their device louder, but doesn't need premium sound, and it's great for podcast fanatics and audiobook listeners.
Buy now from Amazon.com ($49.99)