All products featured are independently chosen by us. However, SoundGuys may receive a commission on orders placed through its retail links. See our ethics statement.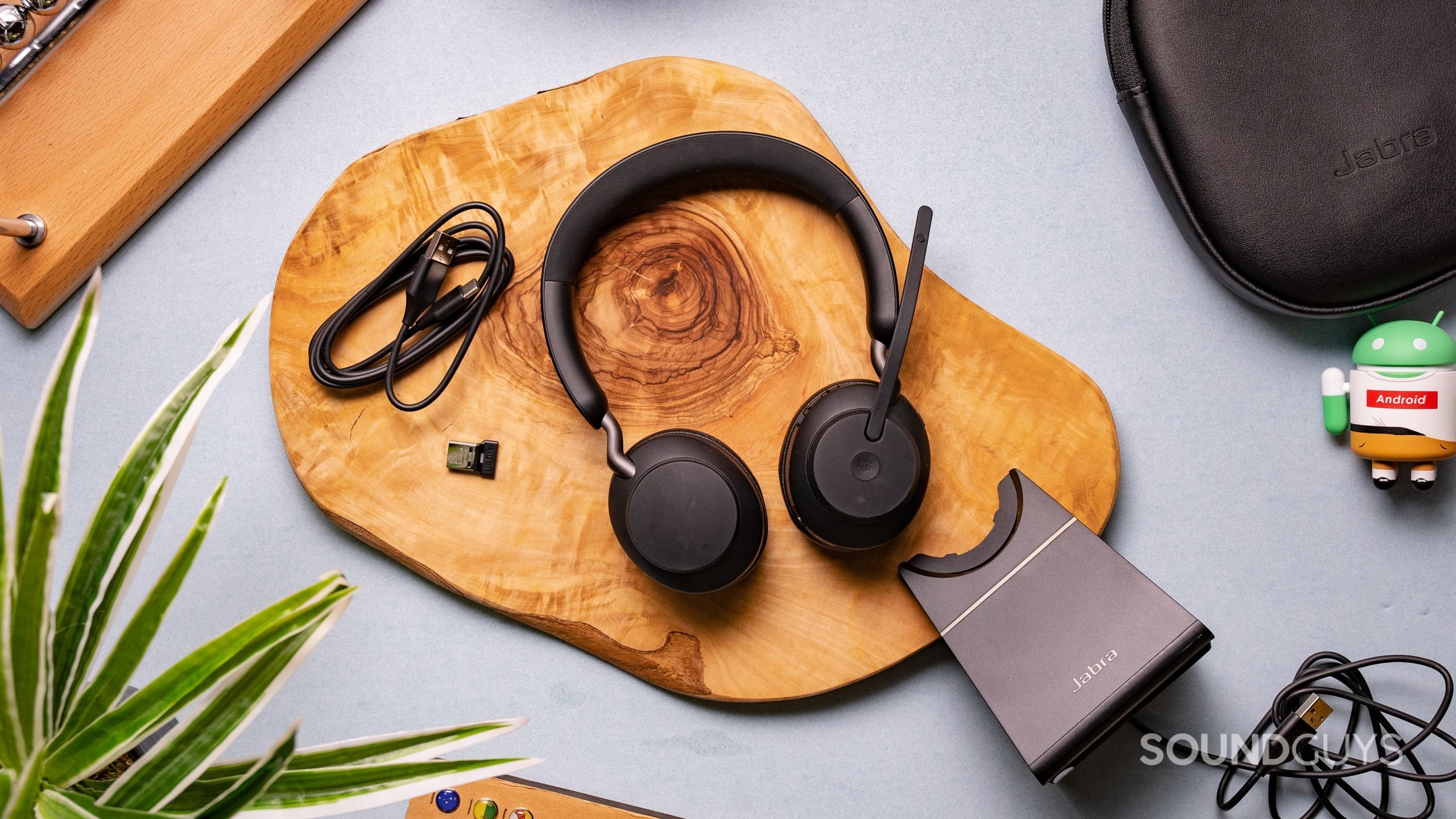 The bottom line
The Jabra Evolve2 65 could be a good headset. It's got a good stable of features and it has quality in its technical aspects. It falls well short when it comes to comfort and usability though. Most damning: it's surpassed by products that are over $100 cheaper.
Jabra Evolve2 65
The Jabra Evolve2 65 could be a good headset. It's got a good stable of features and it has quality in its technical aspects. It falls well short when it comes to comfort and usability though. Most damning: it's surpassed by products that are over $100 cheaper.
What we like
Great wireless performance
Enjoyable sound
Good microphone
Bluetooth multipoint
What we don't like
Uncomfortable
Overpriced
Difficult charging stand
For those interested in wireless headsets, particularly for meetings and Zoom calls more than gaming, there aren't that many fantastic choices. If you're looking to avoid the gaudy RGB lighting of gaming headsets, finding a good headset with a smart look can be difficult. The Jabra Evolve2 65 presents itself as a new option for buyers looking for a headset along these lines. It's one of the most complete packages we've found for this category, but is the high price tag justified?
About this Jabra Evolve2 65 review: We tested the Jabra Evolve2 65 over a period of one week. The company provided the unit for this review.
What you need to know about the Jabra Evolve2 65
Jabra Evolve2 65: $289.99 USD / $379 CAD
The Jabra Evolve2 65 is a wireless on-ear headset. Depending on which model you buy, it comes with a charging stand that makes it easy to pick up and put down while keeping it charged all day long. The package includes the Jabra Link 380 adapter, which allows the headset to communicate with your computer over Bluetooth. Overall it's a premium product, priced high, and targeted for business purposes first and foremost. It features a boom microphone that can be flipped up or down, as well as controls on the right side that allow you to play/pause, fast forward, rewind, and change audio modes. The ear cups and padding on the headband are made of a comfortable pleather material, and the whole thing has an all-black business-like design that works well for what it's going for. Jabra claims a full 37 hour battery life, with only 90 minutes of charging time.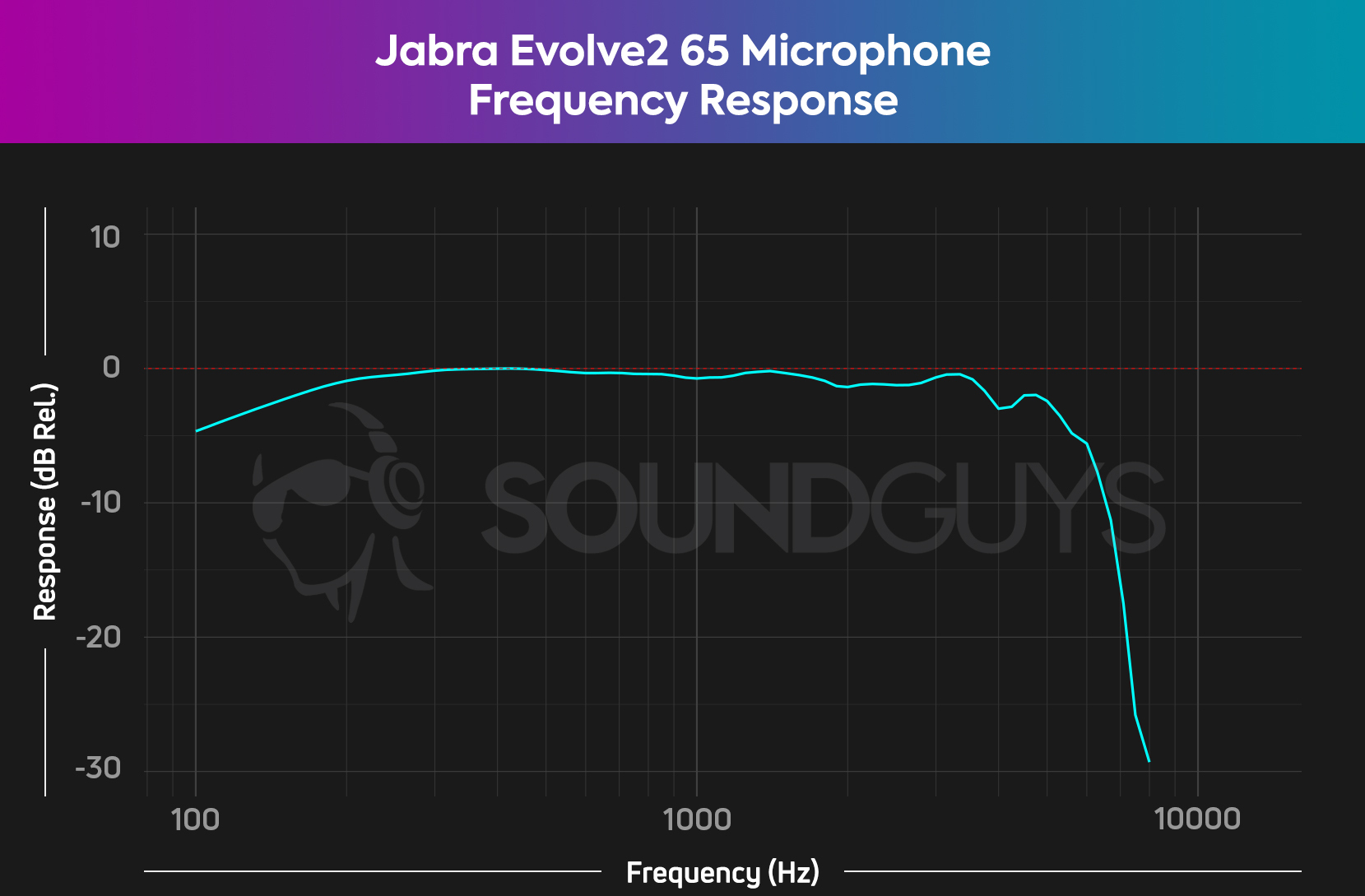 The Jabra Evolve2 65's microphone frequency response is fairly good, the sharp cutoff around 8 KHz is consistent with the majority of other headsets on the market.
The microphone on the Jabra Evolve2 65 is generally pretty good. It has a fairly flat response curve with a sharp cutoff in the high end, which is consistent with the vast majority of headsets on the market. You can listen below to see how it sounds, and vote in the attached poll.
Jabra Evolve2 65 ideal microphone demo
Jabra Evolve2 65 office microphone demo
How does the microphone sound to you?
113 votes
What's good about the Jabra Evolve2 65?
The Jabra Evolve2 65 delivers surprisingly enjoyable sound for a headset that's focused mostly on the voice call experience.
The Jabra Evolve2 65 has fantastic wireless performance, working a good distance away from the computer it's connected to. With the included stand it's a delightful experience to be able to pick it up from its cradle, wear it around your house on call, and then place it back in its charging dock when you're done with the meeting. The microphone automatically mutes and unmutes depending on if you have it flipped up or down, alongside a red light that (in theory) lets your office coworkers know when you're busy with a call. If you're someone that attends remote meetings often and have the money to spend then this might be for you. The addition of buttons and on the right ear cup make it a breeze to control playback and volume. Business users will also likely be swayed by its specialized support for Microsoft Teams and UC-certification.
The Jabra Evolve2 65 also features an app for both PC and smartphones that allows you to control it and ensure it's set up correctly. It supports Bluetooth multipoint, making it easy to switch between your computer and smartphone on the fly. The battery is rated for 37 hours according to Jabra, and with the included charging stand you'll never come close to hitting that limit. It also sounds quite nice when outside of calls too, listening to music is a very pleasant experience here, and the microphone is equally pleasant.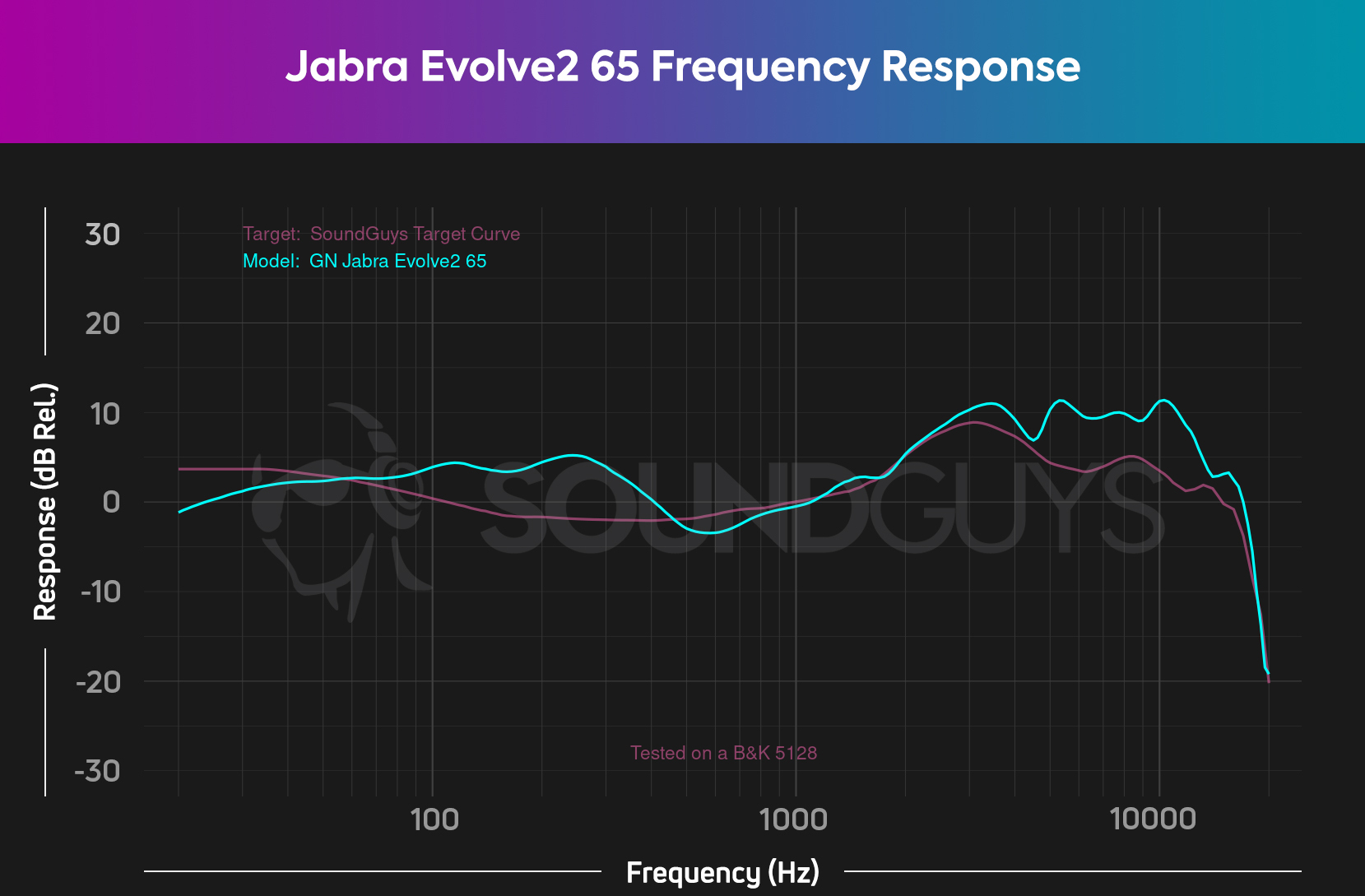 The Jabra Evolve2 65's sound is one of the best things about it, it's not perfect but it's pretty nice!
The Jabra Evolve2 65 actually has a pretty good frequency response curve. Compared to our in-house target curve it has a slight lack of sub-bass, a slight emphasis on the bass and mids, and a slight emphasis at the high end as well. These small deviations from the ideal curve aren't too noticeable, and overall the listening experience here is fairly enjoyable.
What's not so good about the Jabra Evolve2 65?
You will be frustrated every single time you try to attach the Jabra Evolve2 65 to its charging stand, it requires adjustment to ensure it's actually working.
Jabra claims that it's using high quality materials designed to be as comfortable as possible for long listening sessions, but I find it uncomfortable after barely an hour. The clamping force from the on-ear design and the weight of the headset make for a lot of pressure on your ears during use. Despite this the headset is easy to shake it loose—even just tilting to face the ground can make it shift forward or even fall. Wearing the headset around your neck is also a no-go, as the buttons on the side of the ear cup will be pressed at random by your chest. The 37 hour battery life is nice, but likely exacerbates the overall weight of the headset.
The price is also a point of contention here. You can find better wireless headsets for the same money with features like noise canceling, and there are wireless headsets on par with the Jabra Evolve2 65 that cost significantly less. Finally, if you choose to pick up the charging stand (which is not included by default in the already expensive base model) expect to be disappointed by the amount of effort it takes to ensure the headset is properly seated and charging. The charging pins are located inside a ridge that divides the ear pad from the outer shell, and you have to carefully line up the headset and adjust it until the charging light comes on. It's difficult to find the correct charging position on your first attempt, I still can't get it to charge without some coaxing.
The Jabra Evolve2 65 does a mediocre job of blocking out outside noise, likely due to its on-ear design.
The Jabra Evolve2 65 generally doesn't do a great job of attenuating outside noise. It's passable, but it fails to live up to the manufacturer's claim of superior noise isolation. Most on-ear headphones generally perform like this, as they fail to entirely encase your ears.
Jabra Evolve2 65 specs
The Jabra Evolve2 65's specs still tell you a lot about it, and it looks pretty good on paper. We've compiled some of the main details here:
Jabra Evolve2 65

Size


Headset: 186x157x60.5mm
Driver: 40mm


Weight


176.4g


Noise canceling


No


IP certification


No


Connection


Bluetooth 5.0


Controls


Buttons on right earcup


Battery life


37 hours


Fast charging


Yes: 8 hours of battery in 15 minutes


Wireless charging


No


Connector


USB-C


Price


$299 USD

Jabra Evolve2 65 review: Should you buy it?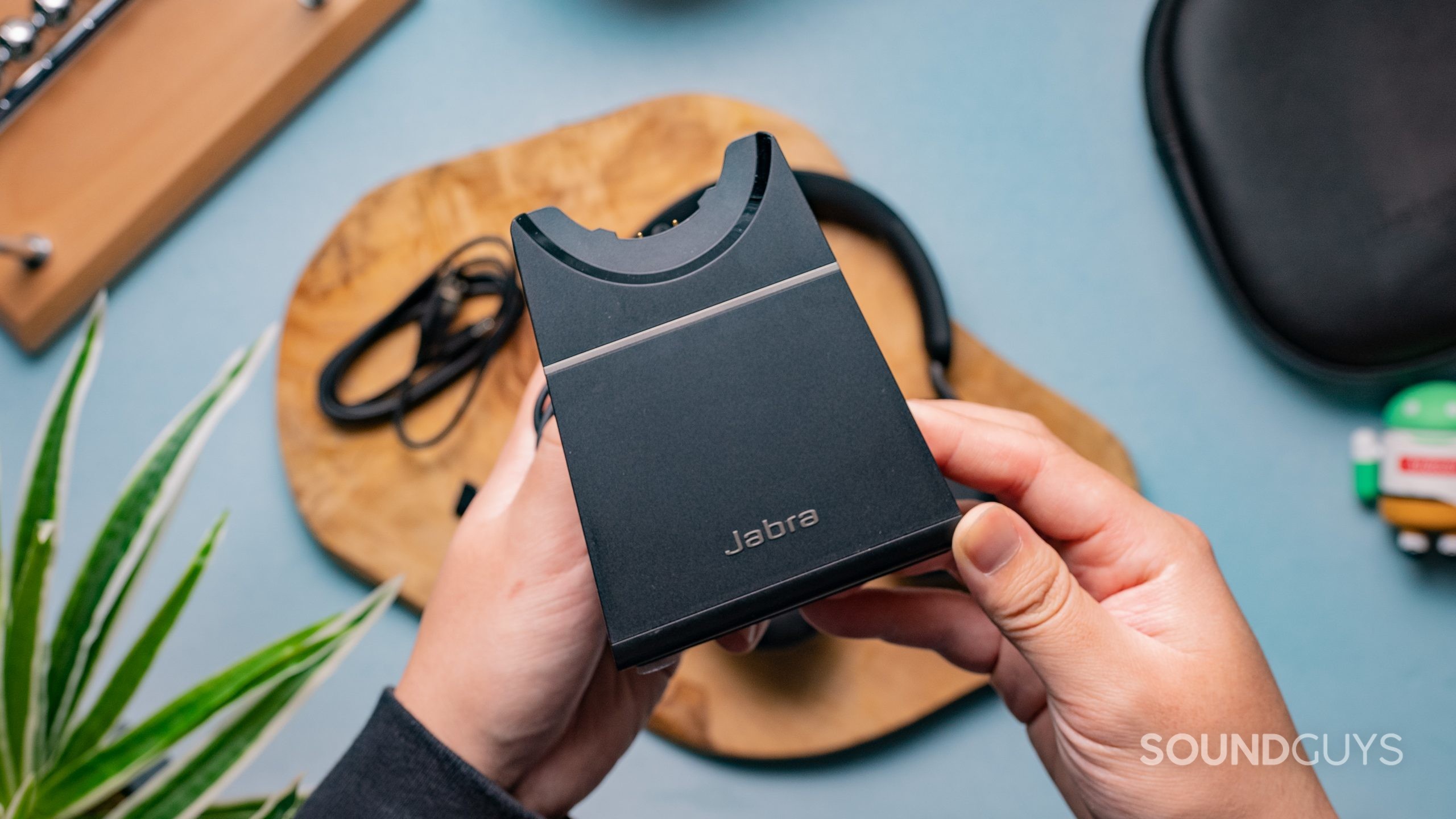 The Jabra Evolve2 65's charging stand doesn't come standard, it can be purchased separately or as a bundle with the headset.
The Jabra Evolve2 65 works really well as a wireless headset. It has great range. It sounds good, both on call and off. The on-ear design makes it easy to throw on and take off at a moment's notice. However, I really wouldn't recommend it unless you get a chance to try it for yourself and decide its flaws don't bother you.
Jabra has made a decent product and priced it like it's one of the most premium options for Zoom calls on the market. It's not. The Jabra Evolve2 65 is uncomfortable, cumbersome, and filled with a handful of questionable design decisions that altogether really fail to justify why it's priced the way that it is. It's clearly aimed at business customers, either people working from home or businesses looking to equip their offices with a trusted product no matter the price.
Jabra Evolve2 65
Jabra Evolve2 65
Excellent battery life • Powerful noise isolating microphones
Huge battery life and noise isolation help you chat for hours
The Jabra Evolve2 65 are business-class on-ear headphones with built-in microphones. This headset is available in mono or stereo configuration, promises 37 minutes of battery life, and focus on isolating your voice in a noisy environment.
Frequently asked questions about the Jabra Evolve2 65
You can charge the Jabra Evolve2 65 using USB-C, located on the bottom side of the right earcup.
The Jabra Evolve2 65 has full support for macOS out of the box. We tested it on Linux as well and found that it worked well, but it did lack support from the official app.