All products featured are independently chosen by us. However, SoundGuys may receive a commission on orders placed through its retail links. See our ethics statement.
How to check your AirPods battery status
It's pretty simple check the battery status of the AirPods on an iPhone, iPad, Mac, or the charging case itself.
Though it might seem simple, forgetting to check the battery life of your AirPods could mean the difference between making it through your commute home or being stuck listening to the squeal of train wheels. Thankfully, it is relatively straightforward to find out how much battery is left in your AirPods, no matter what devices you happen to have on hand.
Editor's note: This article was updated on November 29, 2023, to add a section on third-party apps, add more explanation of the case status light colors, and add relevant interlinks.
How to check AirPod battery life on your iPhone or iPad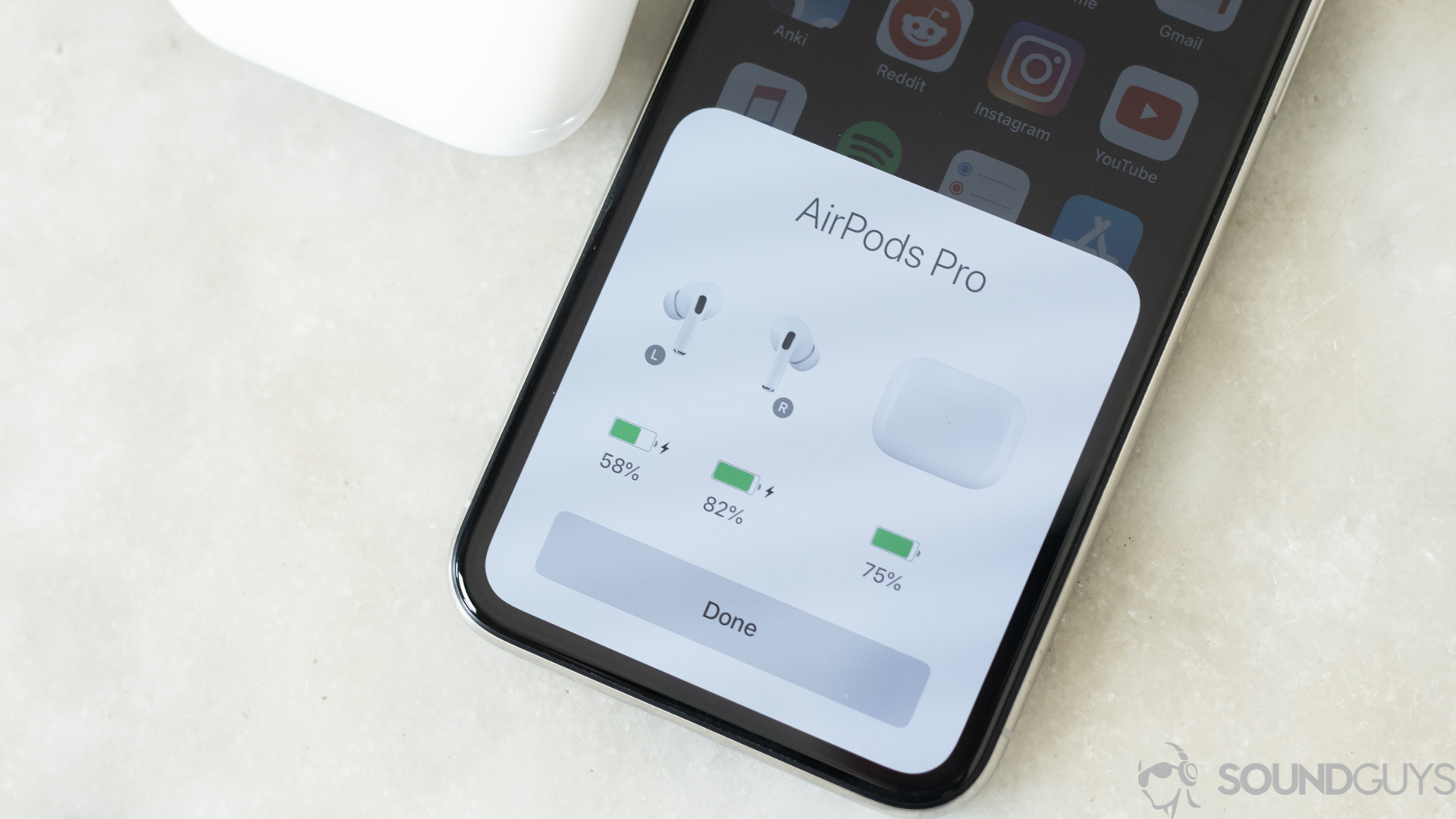 A pop-up card informs you of the AirPods Pro battery life at a glance.
If you own a pair of AirPods, there's a good chance you also own an iPhone or iPad. In this case, you can easily check your AirPods battery because of how Apple optimizes its accessories to work with all its devices. If the earbuds are in the charging case, open the case while holding it close to your iPhone or iPad. After a couple of seconds, a status card will pop up on your screen and show you the battery status of each earbud and the case.
If you're wearing the AirPods, you can still check the battery status easily on an iPhone or iPad. Open the "Widgets" screen, and the battery status of the case and the earbuds will display in the "Batteries" widget. Of course, both of these procedures need everything synced properly. If you're experiencing difficulties, we have a guide to help you out.
How to check AirPod battery life on your Mac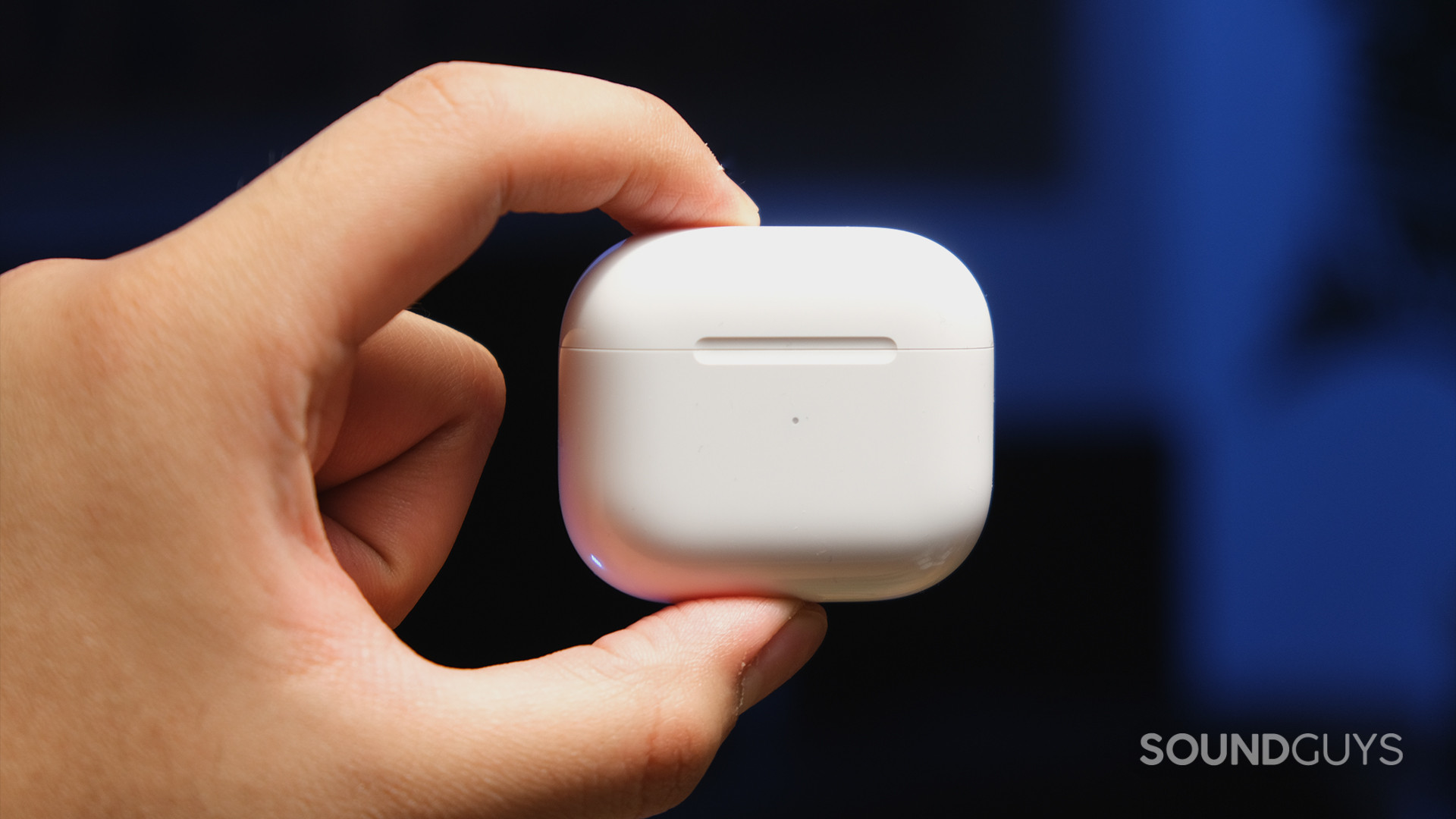 You can use your Mac to check the battery status of the AirPods case and the buds themselves.
Using a Mac to check the battery status of your AirPods is also relatively simple. This time, whether the earbuds are in their charging case or not is less important. Other than that, the steps are easy:
Open the lid of the charging case or take the AirPods out of the case.
Click the Control Center icon on the top right of the Menu Bar. It looks like two sliders going in opposite directions.
Click on the Bluetooth icon in the Control Center menu.
Hover your mouse pointer over the name of your AirPods, and the remaining battery life will appear.
How to check AirPod battery life without using a paired device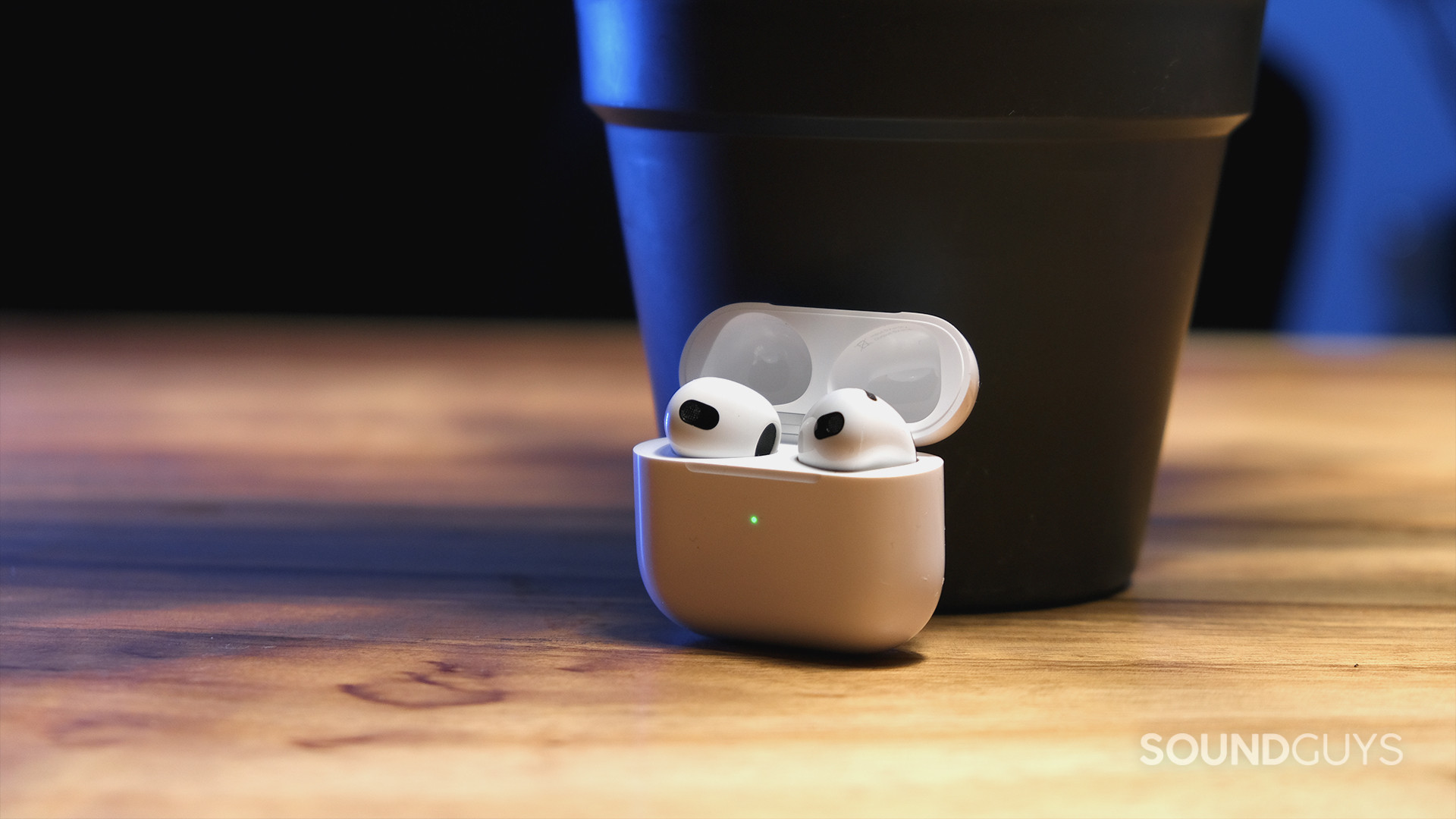 The compact charging case of the AirPods can also be used to check the battery status of the buds or the case itself.
If you don't have any external devices on hand, you can still check the battery status of both your AirPods and the case. If the earbuds are inside the case, the status light on the outside or in between the buds with the lid open (depending on the model of AirPods you own) will show you the battery status. Green means fully charged, and amber indicates that less than one full charge remains.
If the buds are not in the case, the light then indicates the charge status of the case itself. Again, green means fully charged, amber indicates less than a full charge, and if there's no light, it typically means the case is out of charge and needs to be recharged.
For more detailed troubleshooting, especially if your AirPods are not charging as expected, visit SoundGuys' guide on AirPods charging issues. This resource can be particularly helpful for addressing specific charging problems.
Apps for managing AirPods battery levels
While Apple's native options are generally sufficient for basic battery management, third-party apps can offer additional features. However, finding reliable and free third-party apps specifically for AirPods battery management can be challenging, as many apps may offer limited functionality, contain ads, or entail privacy concerns.
Apps like MaterialPods are popular among Android users with AirPods. To use it, simply open the app and tap the red button at the bottom center of the screen. This will open the battery interface, displaying the current percentage. There are other options, such as apps like PodAir and PodsBattery, but these are more invasive to your privacy. Users should exercise caution and check user reviews before downloading.
Frequently asked questions about the battery life of the AirPods
Apple claims that the AirPods (3rd generation) can get up to 6 hours of battery life without Spatial Audio enabled (5 hours with it enabled) and up to 4 hours of talk time on a full charge. Our testing found these estimates to be pretty accurate, too.
For the AirPods Pro, Apple claims you can get up to 4 hours, 30 minutes of listening time, and up to 3 hours, 30 minutes of talk time. Our testing found this claim to be accurate, as well.
Finally, Apple says the AirPods (2nd generation ) can get up to 5 hours of listening time and up to 3 hours of talk time. Our testing, however, found that this generation of AirPods only gets around 4 hours and 7 minutes of battery life on a full charge.
Note that these are battery testing results for the earbuds themselves. Storing the buds in the charging case is what makes true wireless earbuds possible to use throughout the day, but as covered below, there is a catch, too.
It depends. There is a "sweet spot" for charging lithium-ion battery cells that falls in between 20-40%. That is, try and recharge them once the battery level reaches within that range. If it falls too low, you could damage the cells. On the flip side, constantly charging lithium-ion cells above 80% can also shorten battery life, and the charging case of your AirPods won't go over that limit until just before you begin listening to tunes.
If you aren't sure when you will use your AirPods again, there is a way to prolong battery life. Charge the buds to 50%, then remove them from the case and keep them safe in a cool, dry place.
Make sure you follow the best practices around charging as described above and try not to use your AirPods in extreme temperatures. Plus, it helps to store your AirPods outside of the charging case if they are above 40% battery and not being used. If you're afraid that means you'll lose a bud (or both), you can stash your AirPods in an empty mints case or a small drawstring pouch.
As with charging, it depends on what the problem is. To squeeze more battery life out of your AirPods, you can try reducing the volume, turning off ANC (for the AirPods Pro), disabling smart features and Spatial Audio, and using only one bud at a time for phone calls. Plus, if you just want isolation but no playback, then you can turn off the AirPods when not listening to anything.
All true wireless earbuds, including the AirPods, will lose battery life over time, though. It's simply a matter of physics and size, because the tiny cells that fit into such cramped spaces cannot hold too much charge indefinitely. Once this happens, there is not much you can do. It is also very tricky, to the point of impossible, to replace such tiny cells in the glued-together body of the AirPods yourself. Apple and some third-party providers offer services to replace the cells or swap out the buds themselves for a fresh pair, however.
A number of things could be happening here. For example, the charging case could be bereft of power, or the AirPods are connecting to a different device than your phone. You may have to manually re-pair after charging the case to fix this issue.