All products featured are independently chosen by us. However, SoundGuys may receive a commission on orders placed through its retail links. See our ethics statement.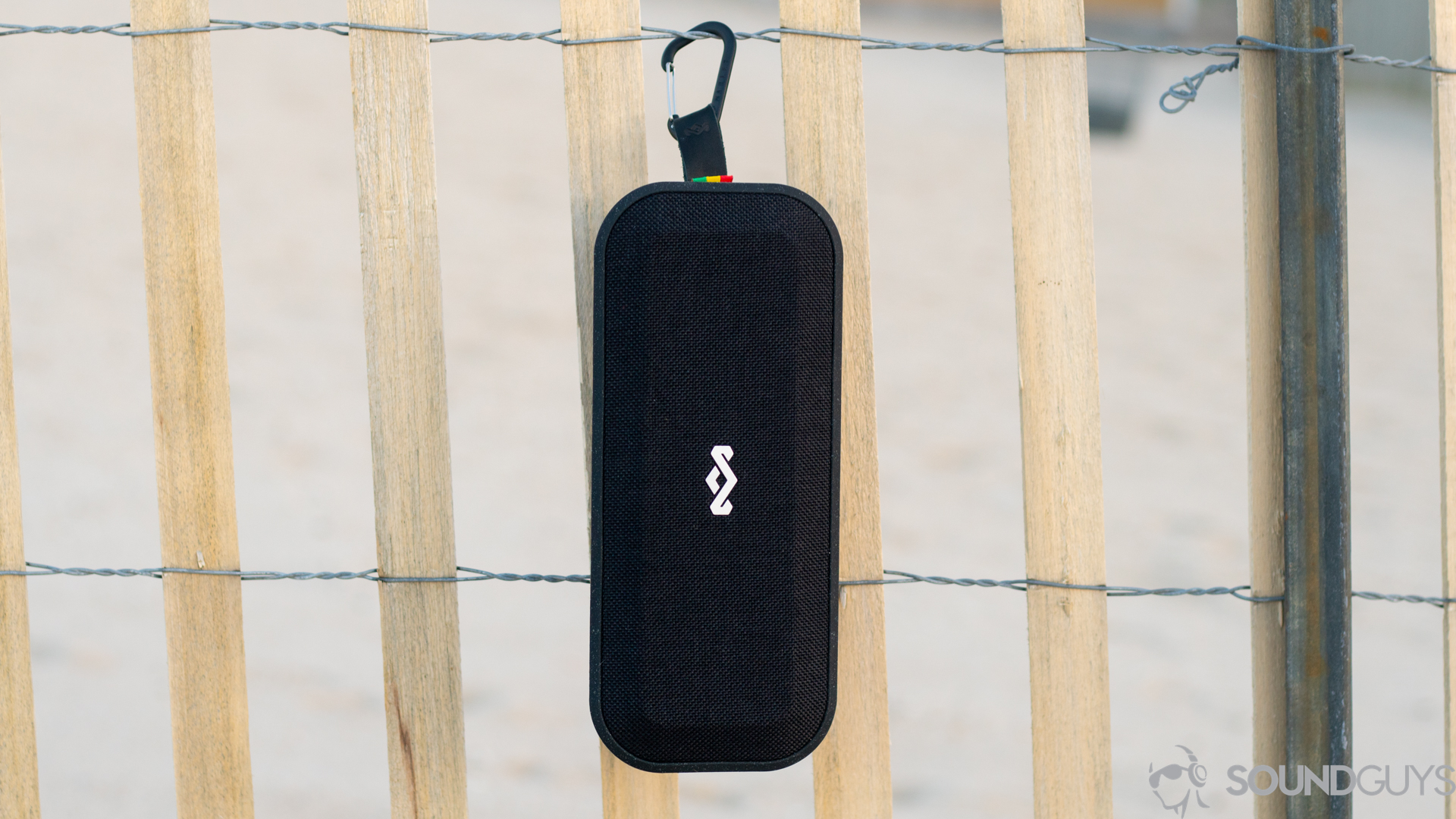 7.4
House of Marley No Bounds XL
The bottom line
While it isn't going to blow any other speakers out of the water, the No Bounds XL is a solid speaker that most will be happy to have. If you can live with a sub-par battery life at least.
House of Marley No Bounds XL
While it isn't going to blow any other speakers out of the water, the No Bounds XL is a solid speaker that most will be happy to have. If you can live with a sub-par battery life at least.
What we like
Solid IP67 build<br>
Decent sound that gets loud<br>
Environmentally friendly recycled materials<br>
Built-in carabiner<br>
Reliable Bluetooth connectivity<br>
What we don't like
Lacking clarity in the mids<br>
Battery life<br>
Large size<br>
Charges via micro-USB<br>
Rating Metric
Sound Quality
7.5
Bass
8.0
Midrange
7.5
Highs
7.0
Durability / Build Quality
9.0
Value
8.0
Design
7.5
Microphone
8.0
Portability
6.5
Battery Life
5.0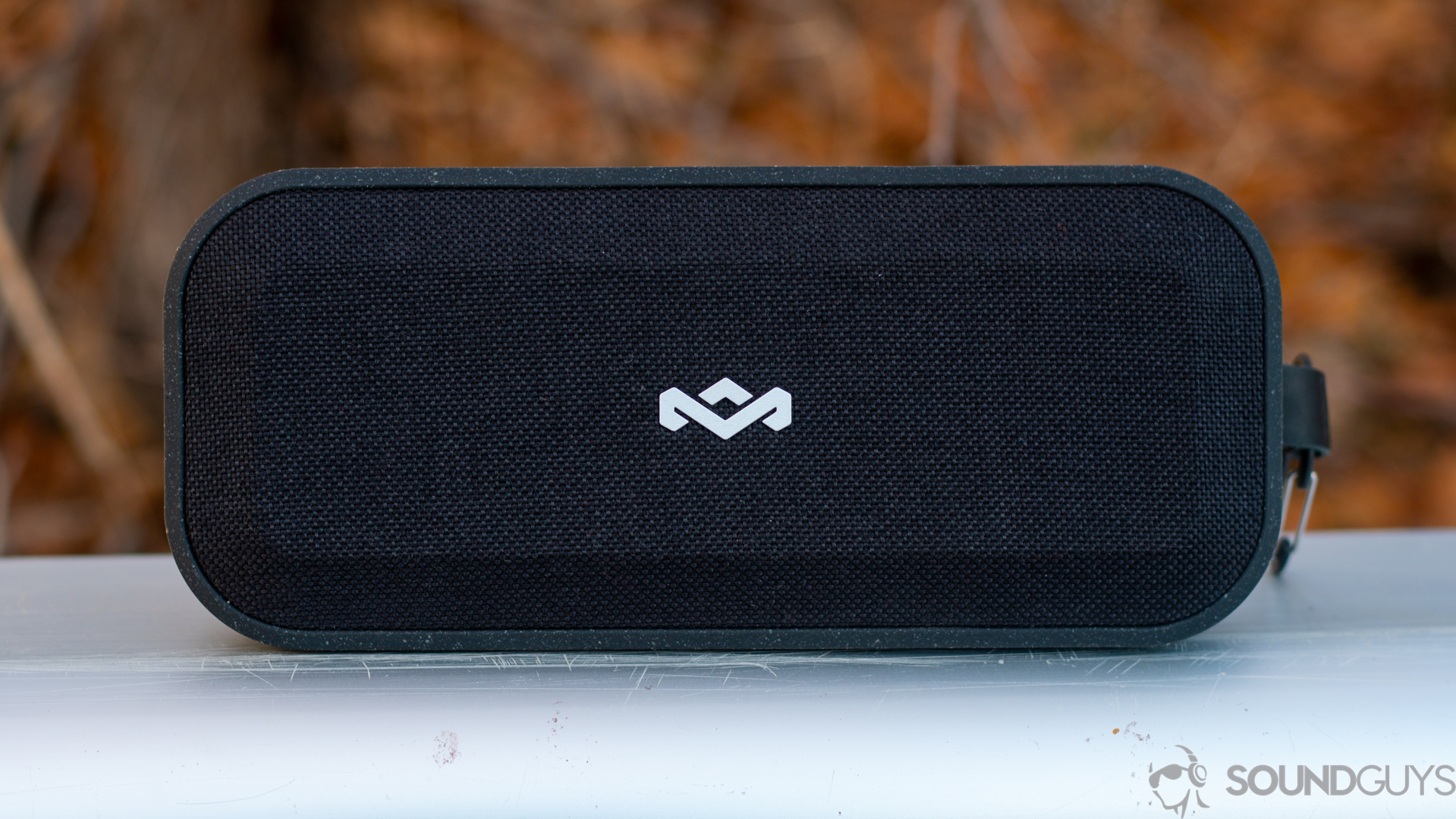 The No Bounds XL is a fairly large speaker and gets plenty loud.
For the environmentally conscious consumer, buying electronics usually doesn't feel like you're helping the planet. That said, House of Marley has made it its mission to make sure that its products are as environmentally friendly as possible, which results in the use of some unique build materials. That remains true with the No Bounds XL Bluetooth speaker and because of the Marley name, the products also have to sound good. It's a lot to live up to, so how does the House of Marey No Bounds XL hold up?
Who's it for?
Beach lovers. With the IP67 certification, this speaker is completely protected against water and dust which makes it great for the beach. Plus, it floats and has a handy carabiner.
Party people. If you're not going to be listening too closely and just want a speaker that gets loud to power your next get together, this is a solid option.
Anyone who doesn't mind a larger speaker. Plenty of waterproof speakers are small in size (i.e JBL Clip 2, UE Wonderboom, UE Roll 2, etc.), but the No Bounds XL doesn't try to be small. It's a large speaker that won't get blown away by the wind, but unfortunately is also a chore to carry around.
Related: Best waterproof speakers
How's the build of the No Bounds XL?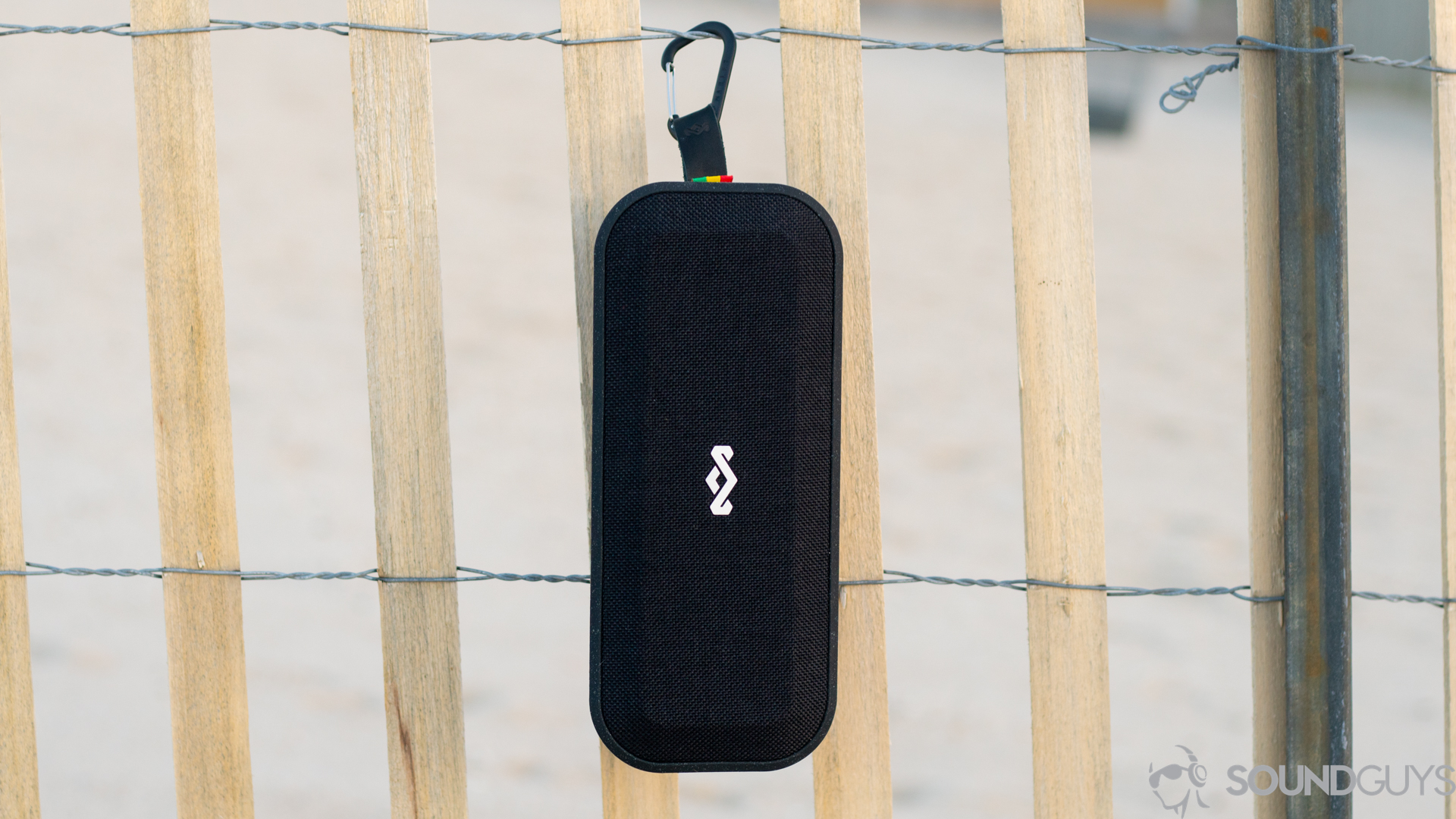 It also comes with a carabiner on the side for hanging from places.
The first thing you'll notice about the No Bounds XL is that, well, it's extra large. This speaker is larger than it appears in pictures and weighs more as well. This is great when it comes to sound, but it makes lugging it around a bit of a pain. Putting it in my backpack took up a good amount of space and forced me to leave some other things behind, and it isn't exactly lightweight either.
Luckily, House of Marley added a small metal carabiner to help you carry it via the attached loop, but I found this is really only useful once you get to your destination. If you're hanging it from your backpack it weighs you down and swings as you walk, making it a little uncomfortable. However, it's great for hanging from a branch or something once you get to where you're going. Still, I'd probably swap out the included carabiner with a better one if you plan on using this feature often.
The speaker has a cork back and a waterproof/dustproof build that makes it perfect for taking to the beach.
The build materials shine with recycled components throughout. The body is made of recycled silicone with some speckled gray dots on the all-black model we checked out, while the backing is all recycled cork. Then there's the Rewind recycled fabric covering on the front, which protects the drivers behind them. Altogether, these materials make for an IP67 waterproof build that's also buoyant, so it'll float if you drop it overboard accidentally. There are a total of five buttons around the speaker—three on top, two on the side—and a small flap on the back that protects some of the ports. You'll get a USB output for charging devices, a 3.5m input for hardwiring in any older audio devices you have, and a micro USB input for charging.
How's the connection strength?
When it comes to connection strength there were only a few minor skips that happened, and it was only because I was intentionally trying to see how far I could get for the sake of testing. I got to around 50 feet with a wall and a floor in the way before the music started to stutter, so if you have a straight shot outdoors you should have no problems with skipping.
The speaker only has five buttons in total: three playback buttons up top and two on the side.
The three buttons up top let you control playback with two for volume and one for playing or pausing music. Then there are two more buttons along the right side of the speaker for powering on the speaker and pairing via Bluetooth which, by the way, is the same standard process and I had no hiccups.
The battery isn't great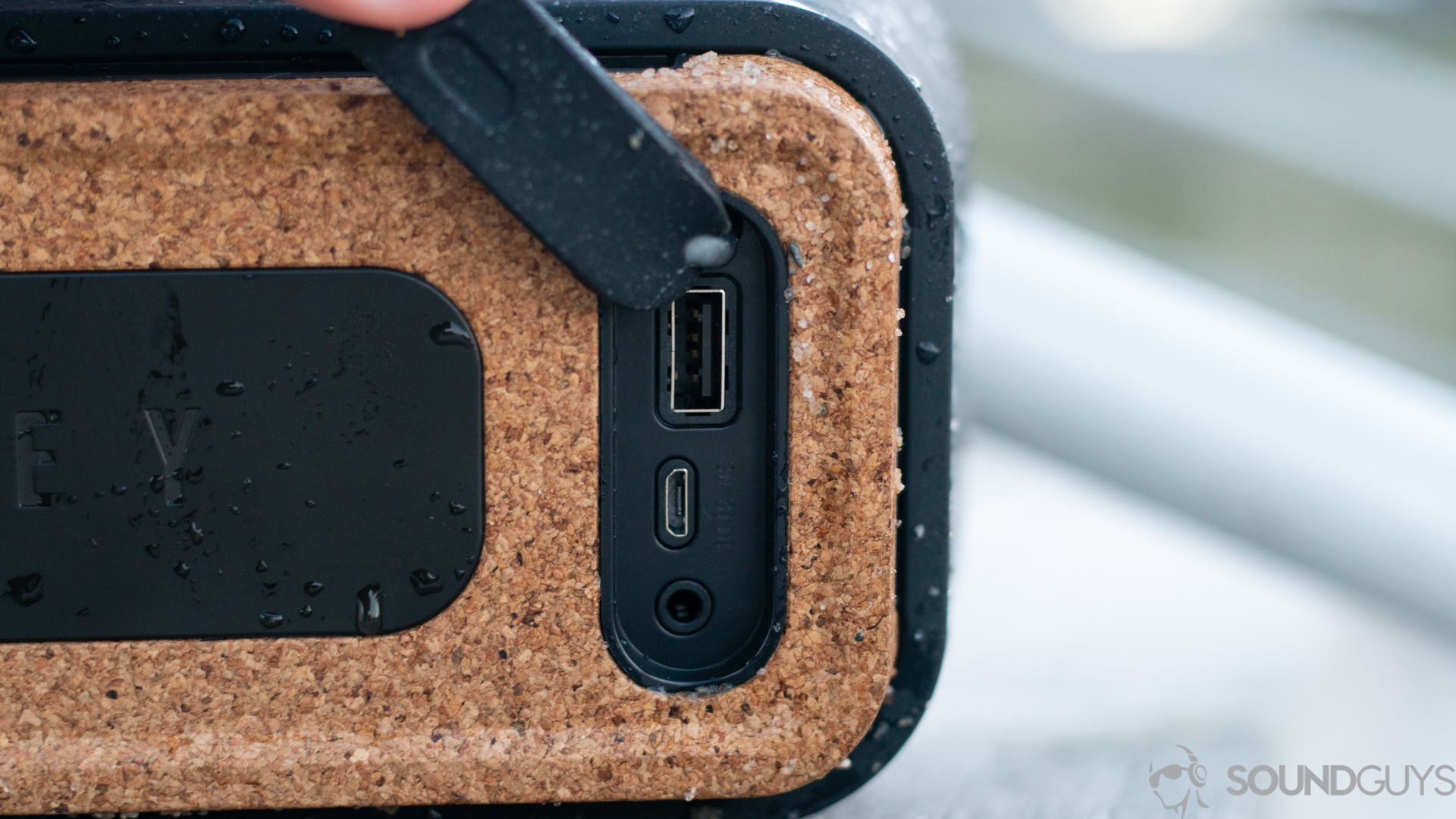 A rubber flap protects its ports from water, which include a 3.5mm input, micro USB input, and USB output for charging devices.
When it comes to battery life, House of Marley packed as much juice as it could into this speaker with enough power to last 16 hours of constant playback and also double as a portable power bank to charge your devices. In our testing, we only managed to squeeze out five hours and eight minutes of juice. which is significantly less than the 16 hours we were expecting. That would be cut even shorter if you decide to charge any external devices with the built-in USB output. Another downside is that this speaker doesn't have a USB Type-C port, so when you need to charge it up you'll need to use the included micro-USB cable.
Sound Quality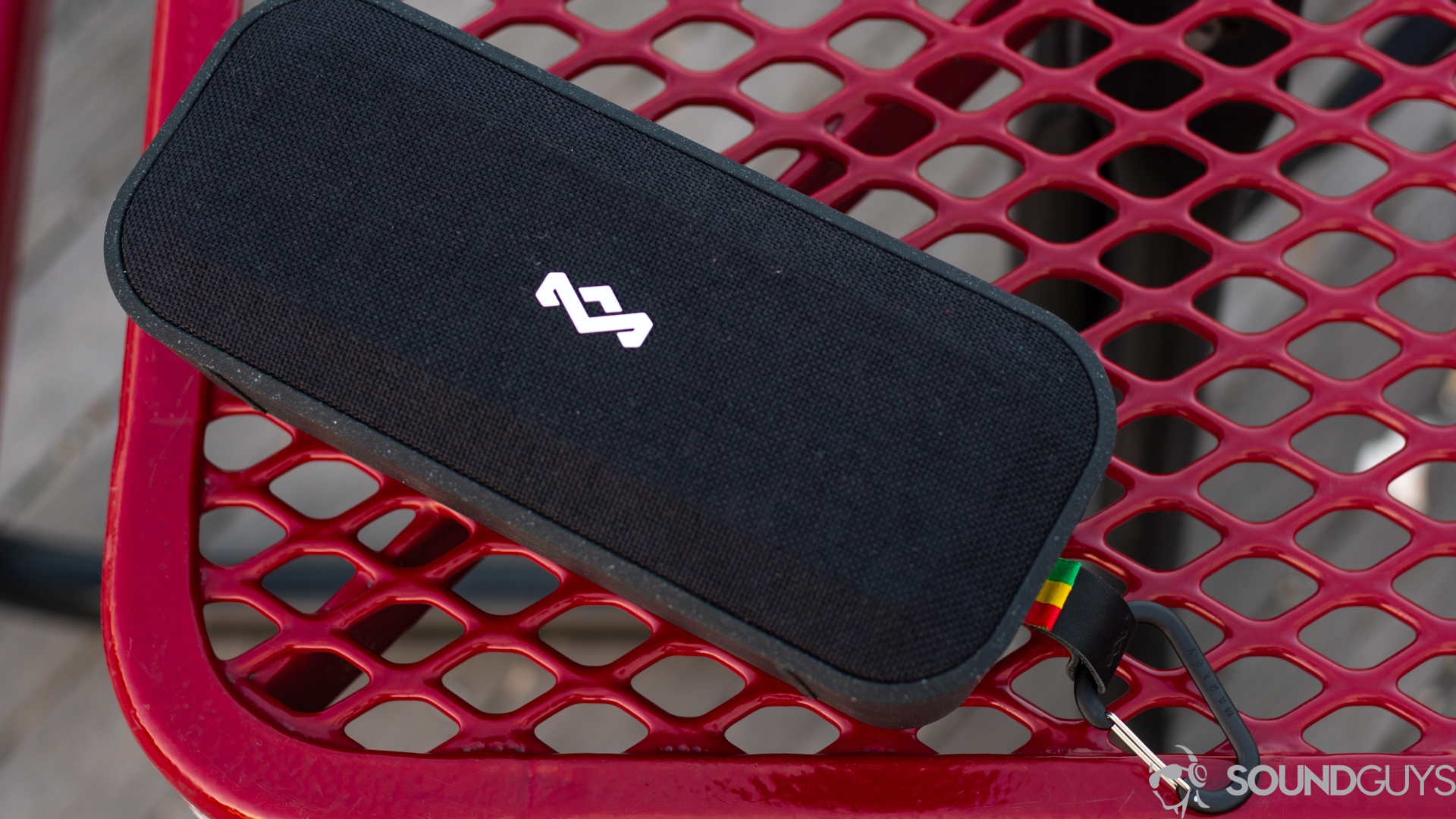 The speaker has a minimal design with only a small logo up front and the colors of the Jamaican flag on a small tag.
While battery life is a bit of a disappointment, I found myself loving how this speaker sounds. It wouldn't be my first choice if I was doing any kind of serious listening in my room, but it's exactly what I'd want while playing the part of a beach bum in the summer. For one, it gets really loud. Not once during testing did I feel the need to max out the volume, but if you're going to be providing the music for a large gathering it's good to have that extra wiggle room if you really need to blast it.
Bass lovers will thoroughly enjoy this speaker as the thumping low end throughout the song Gun by CHVRCHES has just the right amount of power to keep your head nodding. There is a slight emphasis that ends up masking some of the lower mids and makes it a little confusing to try and follow the bassline along with the thumping bass kicks, but it also means that you can more or less hear the bass even if you're outdoors.
That said, in songs with more instrumentation and less synthy sounds like in A Little Honey by Nathaniel Rateliff & The Night Sweats, vocals have a little more clarity and I had no problem hearing them over some of the other instruments that usually reside in similar frequency ranges (like the trumpets during the chorus). My biggest complaint with this speaker pertains to the notes in the higher frequencies.  More than once, certain elements of songs sounded a little harsh to my ears and as I mentioned, I wasn't even playing the speaker at max volume. If you do end up blasting this speaker, I wouldn't advise standing too close as you can do some long-lasting damage if you're not careful.
Conclusion
The House of Marley No Bounds XL isn't my favorite waterproof speaker—that still goes to the UE Boom 3—but that's mainly because of how convenient that speaker is to use. If you're not worried too much about having the most portable speaker and just want something with decent sound, gets loud, looks good, and is waterproof to boot, then this speaker checks all the boxes. While it's battery life is severely lacking, the House of Marley No Bounds XL is a solid larger speaker and the fact that it's relatively affordable just helps its already strong case.