All products featured are independently chosen by us. However, SoundGuys may receive a commission on orders placed through its retail links. See our ethics statement.
The Fluance Fi70 is a Bluetooth speaker for your home
Fluance announces the new Fi70 speaker and takes a fresh look at home audio.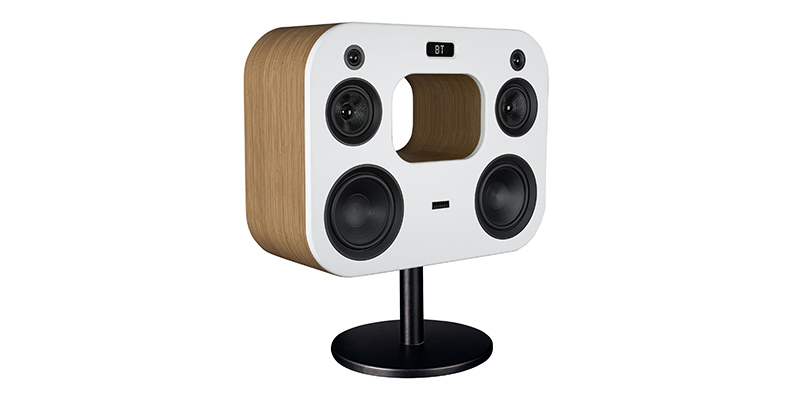 Bluetooth speakers are usually designed for portability, but they don't have to be. Fluance now has the Fi70 speaker which is large enough to be a piece of furniture and intended to be a step into the home audio market. We've looked at some of their products in the past (Fi30 and Fi50) and have always come away impressed. but this is something completely new for the company. Fluance hasn't exactly been the leading name when it comes to portable audio and most of their products have been a little more on the bulkier side, but the Fi70 belongs more in the home audio market than in the portable speakers one.
Fluance aims to redefine home audio with the Fi70.
The speaker has is a large, elegant, and smooth round box sitting on top of a stand. With the stand, the speaker stands 36" tall which is just small enough to remain out of the way but large enough to make its presence known. The design isn't exactly minimal, but there aren't tons of knobs and buttons to take away from the overall modern aesthetic.You'll only find two 8" woofers. two 5" fiber glass midrange drivers, and two 1" tweets up top. It's constructed from wood to help strengthen the rich sound. All together they provide a 30Hz – 20kHz frequency range and have an internal 280 Watt amp to keep it powered.
It uses Bluetooth 2.1 with aptX which has a range of about 33 feet, but you can also connect an auxiliary or even an optical cable to use it with your TV. There's also built-in AM/FM radio antennas along with an LED display so you can see what mode the speaker is in. There are also no buttons on the entire speaker, instead Fluance opted for minimal touch controls on the top of the speaker that allows you to control audio playback as well as change inputs and settings. If you're not too excited about having to get up and go to the speaker in order to do anything don't worry, it also comes with a handy remote control.
Whether you're looking to upgrade your home audio setup or start one, the Fluance Fi70 is an eye-catching take on what home audio should be. If this seems like the perfect piece to your setup, you can get one now for $499 in Black Ash, Lucky Bamboo, and Natural Walnut.