All products featured are independently chosen by us. However, SoundGuys may receive a commission on orders placed through its retail links. See our ethics statement.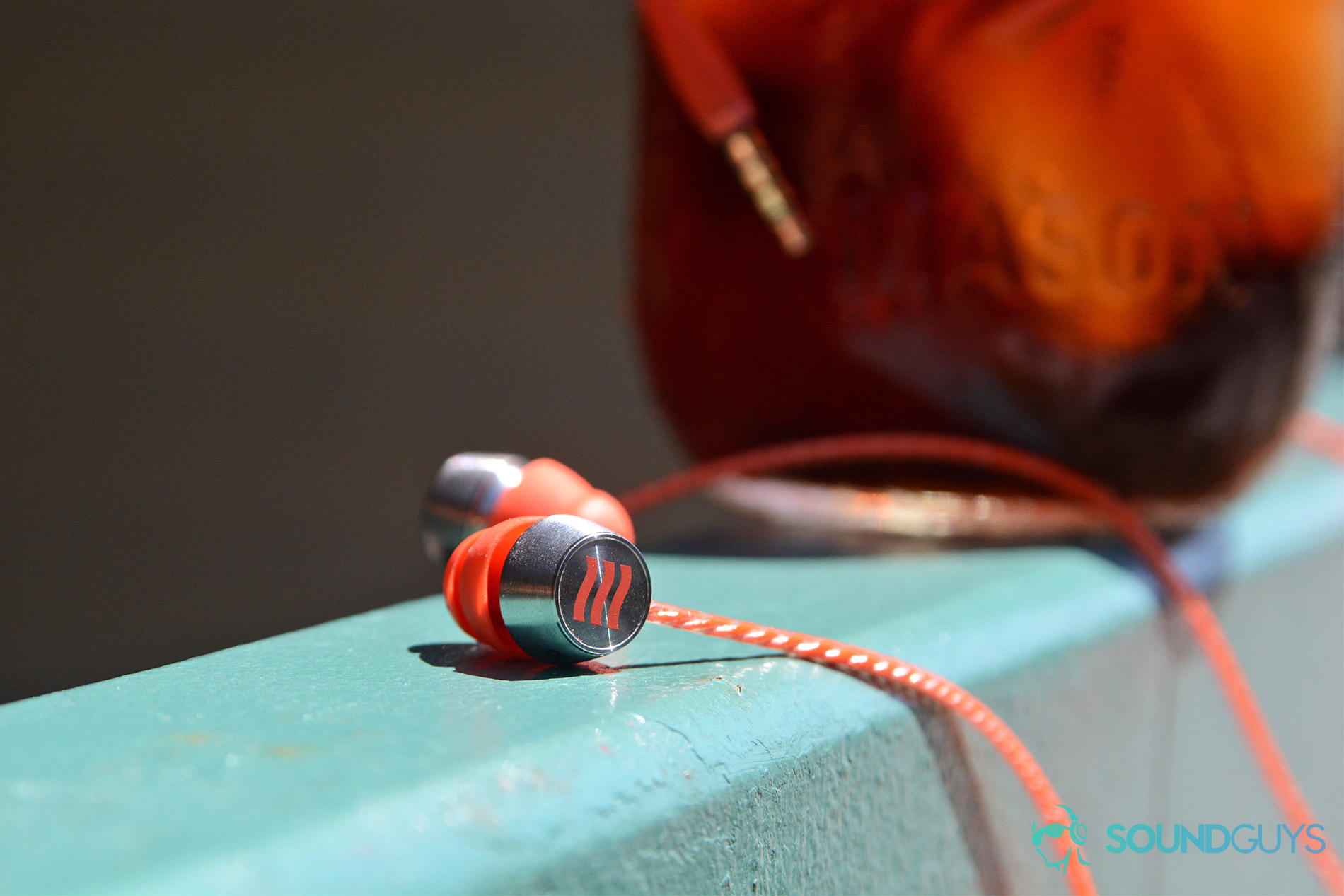 The bottom line
If you're a commuter looking for decent sound quality and impressive durability, these fit the bill nicely. However, they don't isolate all too well—which can be good for a pedestrian, but tragic for those of us looking to block out din when using public transit.
The Traveler
If you're a commuter looking for decent sound quality and impressive durability, these fit the bill nicely. However, they don't isolate all too well—which can be good for a pedestrian, but tragic for those of us looking to block out din when using public transit.
What we like
Portability
Design
What we don't like
Price
Excessive cable noise
Rating Metric
Sound Quality
8.1
Bass
7.8
Midrange
8.7
Highs
7.8
Durability / Build Quality
8.8
Value
7.5
Design
8.2
Microphone
8.2
Portability
9.0
Entry-level earphones tend to break easier than an egg in a pinball machine, just ask my drawer of 2009-2011 Skullcandies. Luckily, Echobox is changing the game when it comes to sleek, durable earphones. For those who haven't heard of Echobox, it's an audio company "founded by music lovers, for music lovers." They pride themselves on offering consumers high-end audio at a cost-conscious price. Dedicated to optimizing the nomadic enthusiast's experience, Echobox has fleshed out the design of the Traveler. With a slight titanium housing and wear-resistant cable, these featherweight earphones are ready to go wherever you are; but do they live up to their heftier $99 price tag?
What's Inside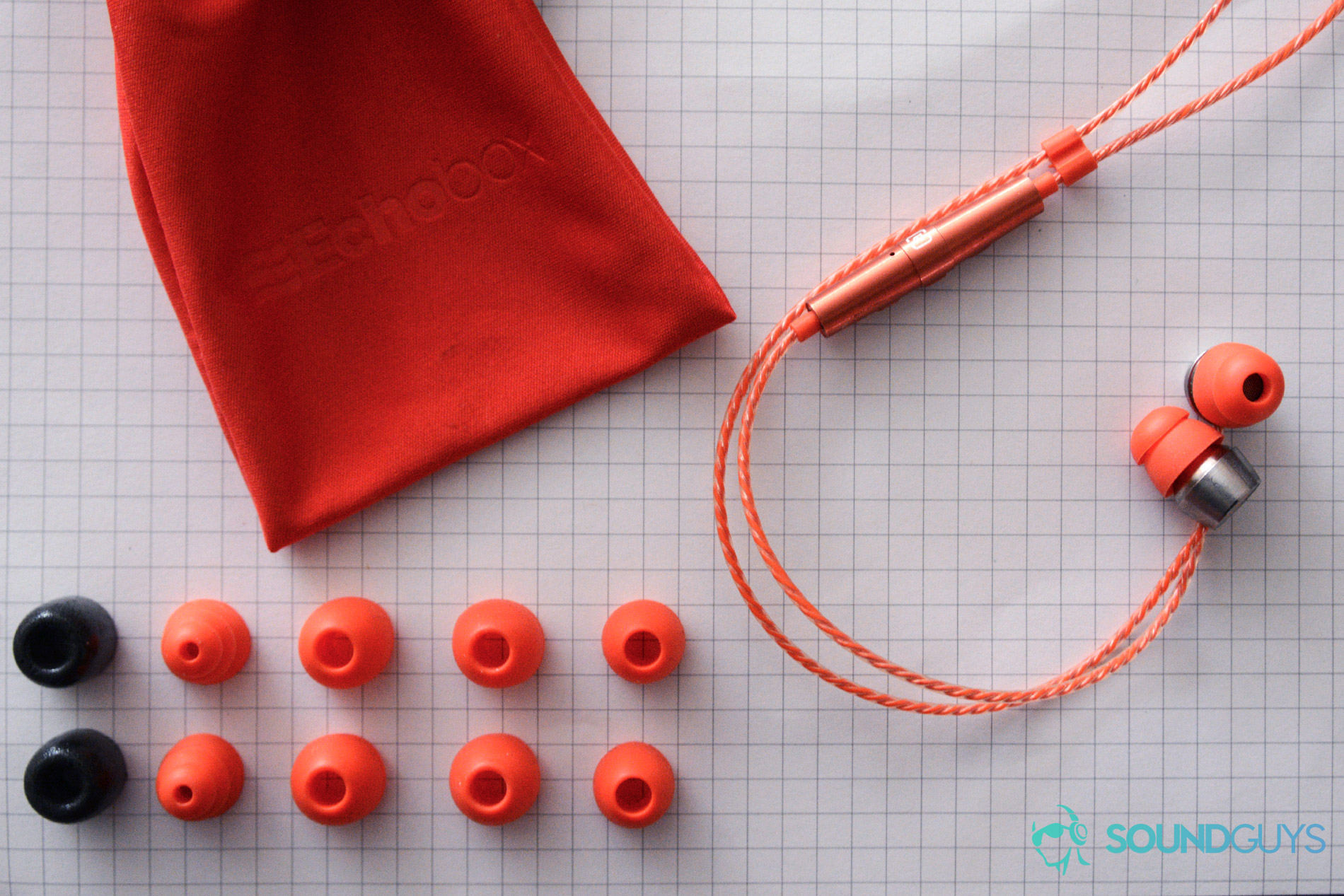 With lots of tips to choose from, these in-ears aren't hard to size correctly.
The Traveler comes packaged with a drawstring pouch and five silicon ear tips, Also included are a pair of Comply medium T-400 memory foam tips to facilitate passive noise isolation and additional comfort.
Build & Design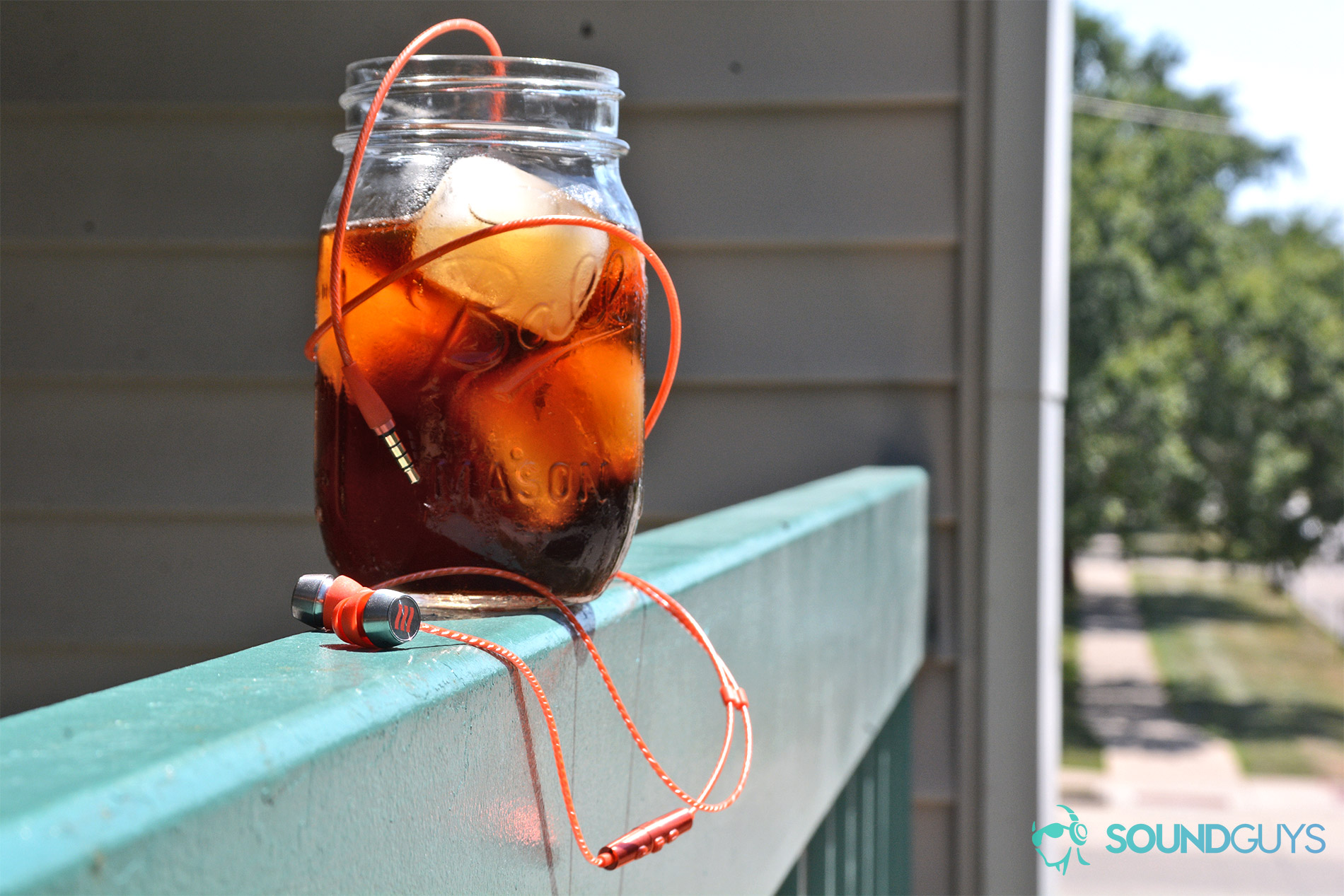 In-ears are great for those looking to avoid heat buildup.
The solid titanium housings are phenomenally lightweight and durable. It should be noted that they sit flush with the ear—allowing for comfortable sleeping and beanie-wearing while enjoying your music. Additionally, the embossed Echobox logo helps to identify the earphones without being shamelessly gaudy. Not only that, but they've added a protective plastic coating to the cable which make these virtually tangle-free. Considering that knotted headphone cables are the bane of every devout audio enthusiast—myself included—this was a greatly appreciated touch.
However, what good is external beauty without the internals to match? Well, the Traveler comes equipped with 9.2mm PEEK dynamic drivers with a low impedance of 22 Ω ‑ great for those of us using our phones to drive audio.
At first, I was worried about their durability due to the lack of stress relievers connecting the cable to the housing. However, I was quickly alleviated of any concerns as the tin plated and plastic layered cable provided enough stiffness and support. That being said, I did have trouble with noise resonating from the cord and diluting the overall sound quality. Luckily, this can easily be remedied by wrapping the cable over the ear when you wear the Traveler. This method of wearing the earphones was more comfortable since the titanium housing didn't rub against my outer ear, as opposed to when I wore them as intended. Because nobody's ears are shaped exactly like anyone else's, your mileage may vary.
Connection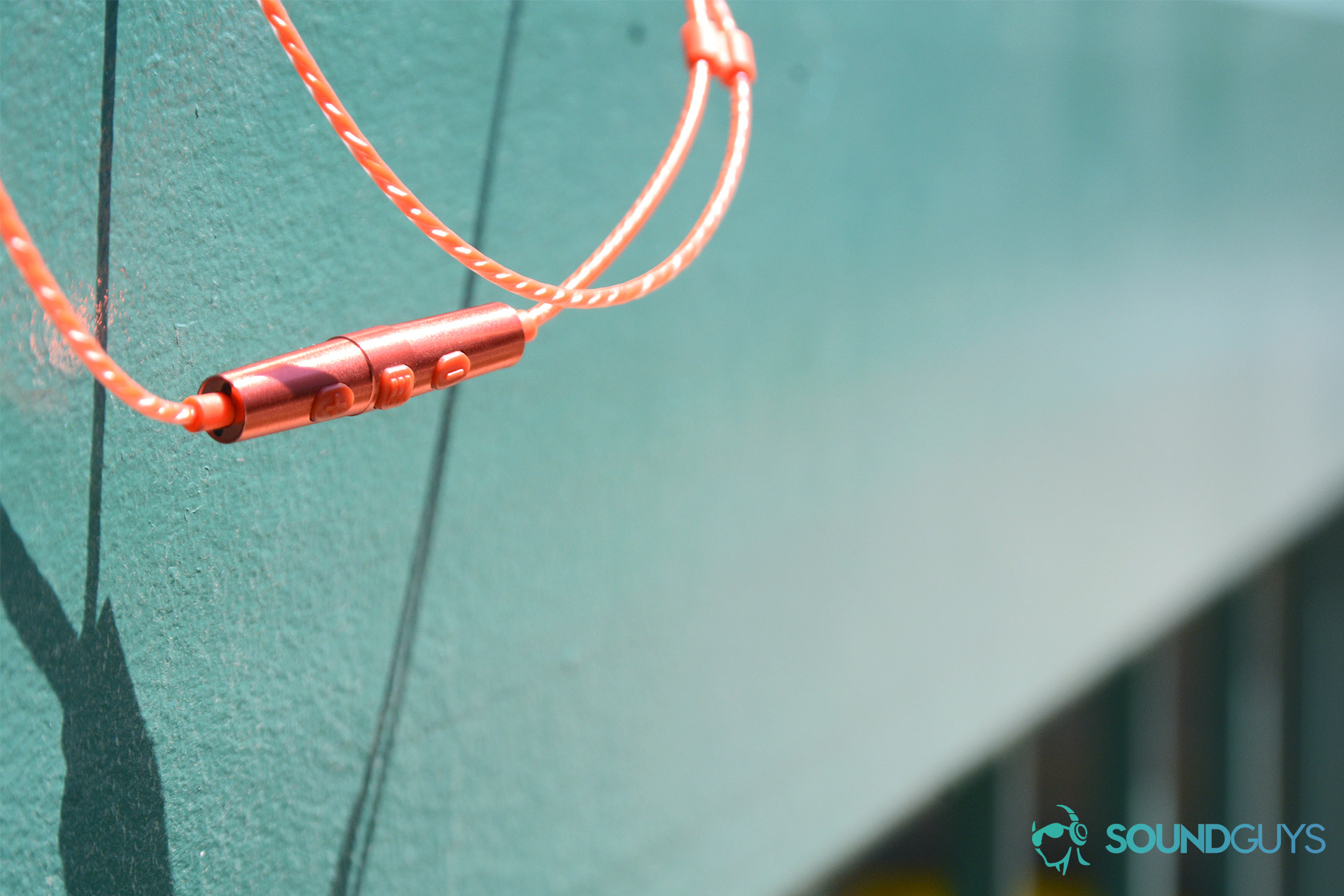 A beefy, yet basic remote is a solid component for entry-level earbuds.
Using the earphones is simple enough with the standard 3.5mm gold-plated connector. Since Echobox supplies two versions – Apple certified and Android certified – you're able to choose the version appropriate for your device to ensure compatibility. After that, it's easy cruisin' for some tunes and made even easier with the in-line mic and remote. Working flawlessly on my LG G6, friends and telemarketers alike could easily hear me gripe about the woes of life. Conversely, I had no trouble hearing theirs as well.  
Sound Quality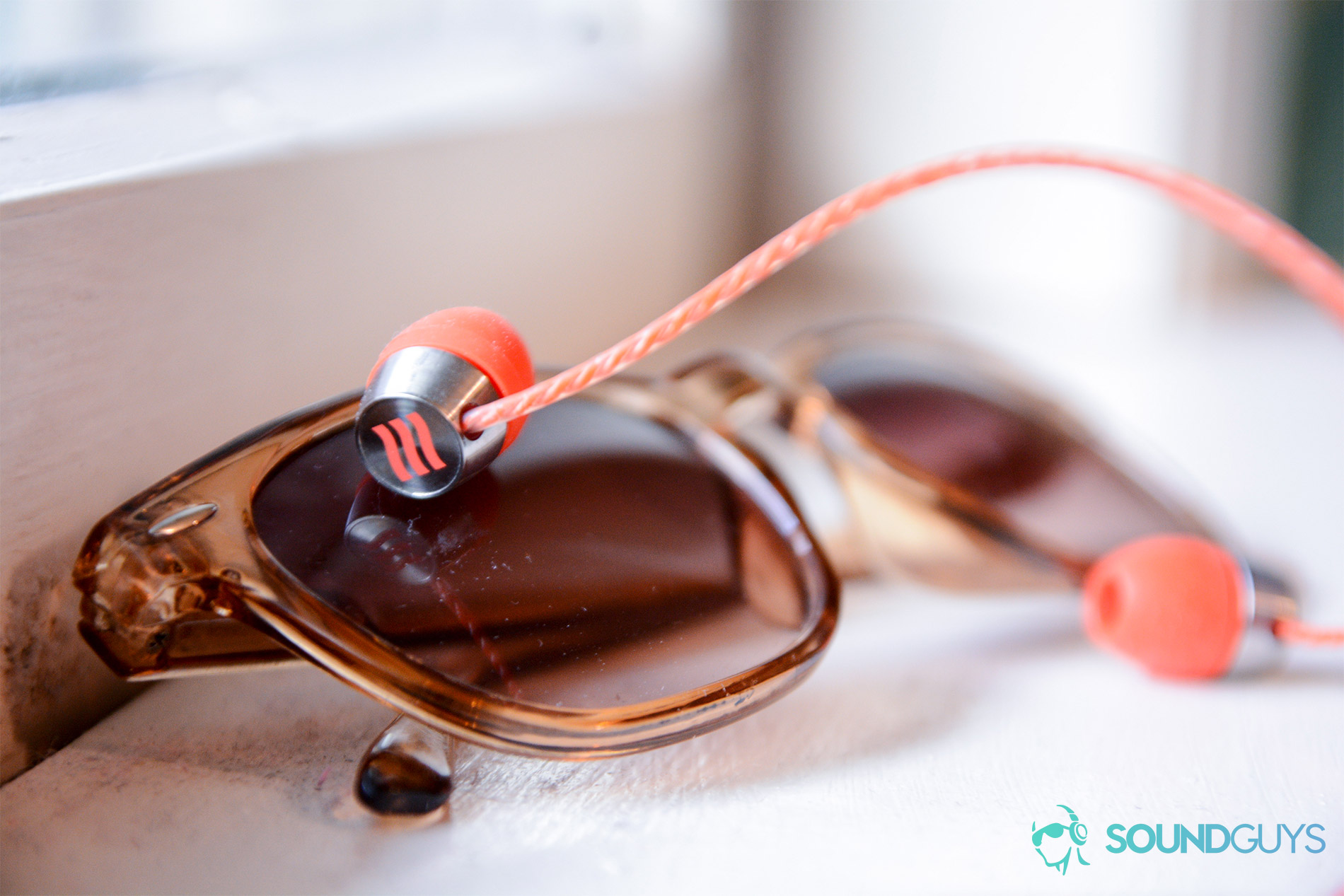 For a sub-$100 set of earbuds, the Echobox Traveler holds up.
The 9.2mm drivers may seem modest to someone coming from the critically acclaimed Audio-Technica ATH-M50x, but they're still able to drum up a solid beat. While listening, I found the flanged ear tips to best suited for how I listen to music on the go. They're low-maintenance (unlike how foam ear tips can be) and offered enough isolation without completely shutting me out from the environment. Seeing as these are commuter earphones, it's important for me to keep up with my surroundings while out and about since I'm not looking to play rock-paper-scissors with Death anytime soon.
Initially, the lows left a bit to be desired. I expected them to be a little more detailed and generally tighter. Once, I switched to the Comply tips for testing, there was a noticeable improvement. Bear Hands' Agora received a good amount of attention when listening for bass. The song's intro had more oomph and reverb with the foam tips. Yet, I was never able to have a skull-shaking moment with the Traveler. On the whole, the bass was still fine as it didn't overshadow the mids or overcompensate by being completely overemphasized.
I found the midrange to be pretty enjoyable, specifically in reference to Drive Darling by BOY, Valeska Steiner's vocal timbre lent itself nicely to The Traveler's sound signature. It was exceptionally clear and impressive for the $99 price tag. It should also be noted that the received more accurate emphasis in this song relative to Agora.
The highs were interesting as I couldn't quite pin them down. In certain songs like Mind Your Manners by Chiddy Bang, highs echoed a bit, save for the high-hats towards the end of the song which sounded sibilant. This threw me for a loop as I'd just spent the past two-thirds of the song listening to muddled highs only to be surprised with highs as shrill as Ms. Frizzle's voice from The Magic School Bus. Still, this will likely still sound better than expected for someone coming from Walgreens earbuds.
Conclusion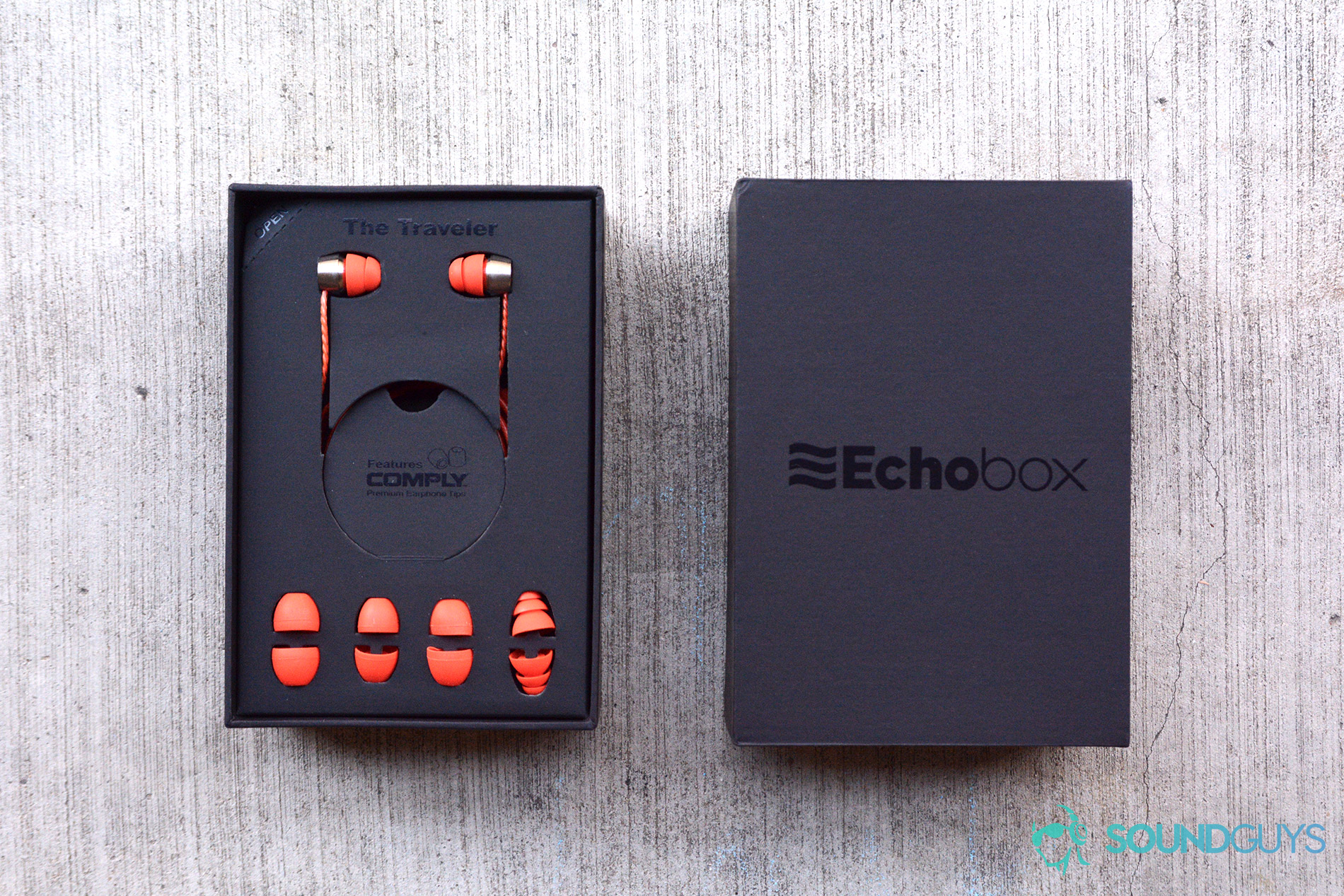 There may not be much in the Traveler's package, but there's a lot to the earbuds.
On the whole, the Traveler is a solid pick for someone looking to dip their feet into higher quality earphones that still bode well for a commuter lifestyle. They tick all the boxes for someone on the go: lightweight, tough, pretty good sound quality, and an easily accessible mic and remote. For the price, I'd personally be more inclined to shell out $13 more for the RHA Ma750i.
That being said, for the sleek style and low-profile, The Traveler is a great earphone and can definitely keep up with and surpass other similarly priced earphones.