All products featured are independently chosen by us. However, SoundGuys may receive a commission on orders placed through its retail links. See our ethics statement.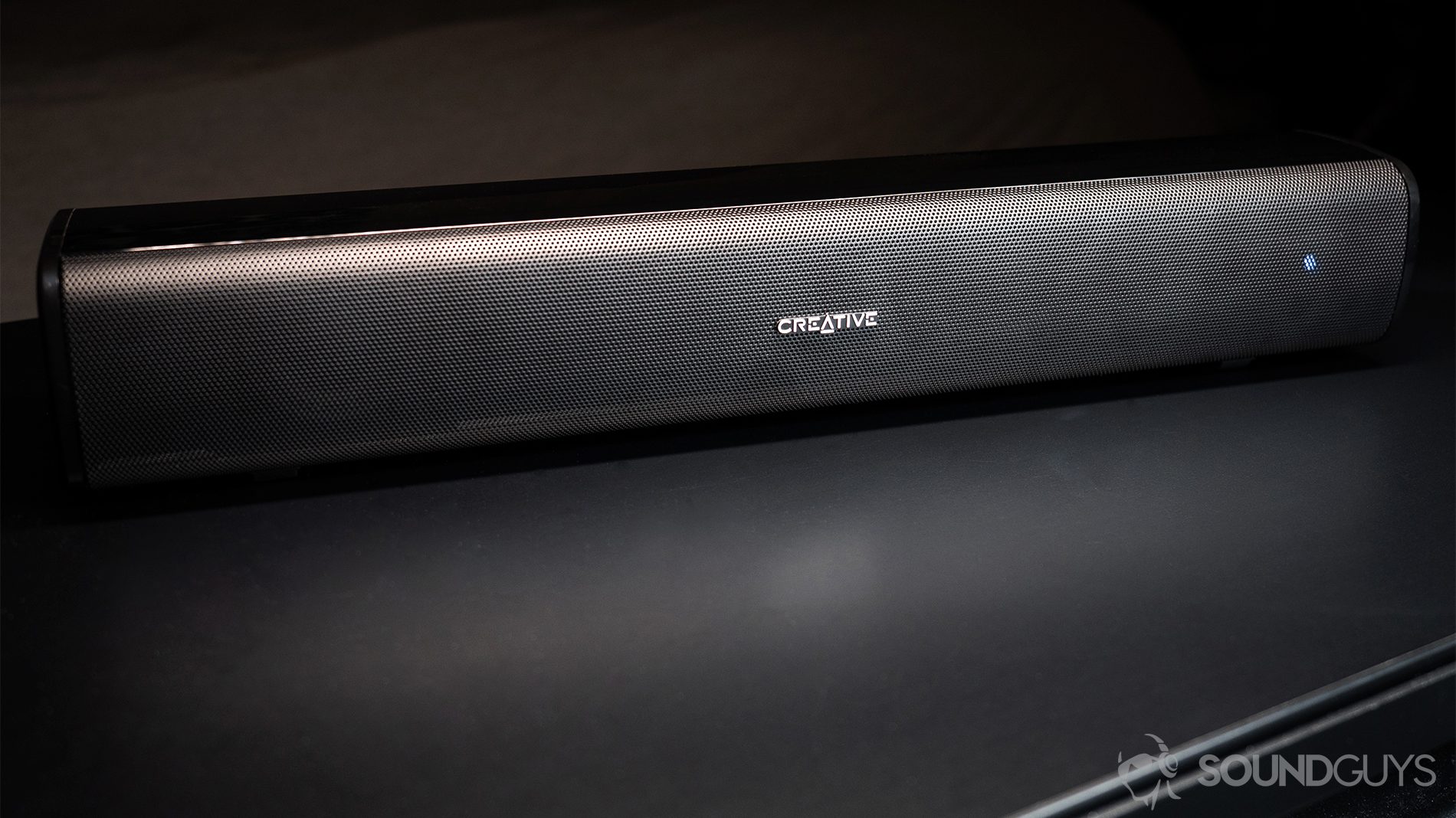 The bottom line
If you just need something to relay sound from your desktop on the cheap this soundbar has you covered. It gets fairly loud for its size and doesn't need to be relegated to the monitor station alone; rather this speaker can blend in nearly anywhere and can entertain a small group of friends, too.
Creative Stage Air
If you just need something to relay sound from your desktop on the cheap this soundbar has you covered. It gets fairly loud for its size and doesn't need to be relegated to the monitor station alone; rather this speaker can blend in nearly anywhere and can entertain a small group of friends, too.
What we like
Compact<br>
Price<br>
Easy setup<br>
Bass response<br>
What we don't like
Micro-USB charging<br>
Short aux cable<br>
Auto-off after 15 minutes even if monitor on<br>
Rating Metric
Sound Quality
7.7
Bass
7.8
Midrange
7.7
Highs
7.4
Durability / Build Quality
8.2
Value
8.8
Design
8.4
Portability
7.5
Battery Life
8.5
Computer speakers are something that you could easily spend a fortune on and still not be completely satisfied with. For most of us, however, we just want something that looks nice enough, works reliably, and is affordable. Coincidentally, the Creative Stage Air, although it has its quirks, checks all of those boxes.
Who is the Creative Stage Air for?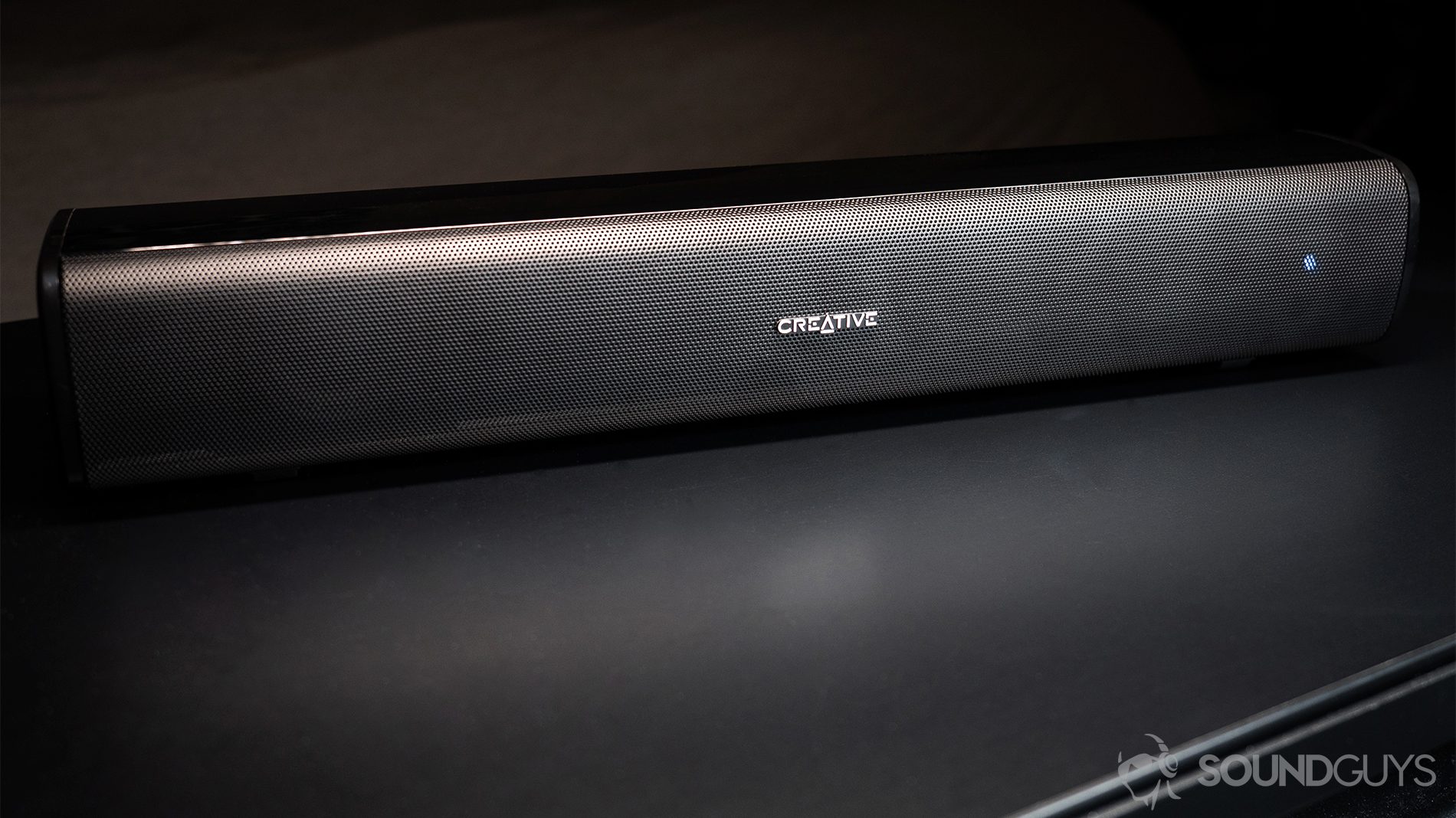 The Creative Stage Air looks more premium than its ~$40 price suggests.
Anyone in need of a cheap desktop speaker

. At the time of publishing, the soundbar includes a $5 discount coupon via Amazon, making it a sub-$40 desktop soundbar. It sounds much better than the price implies and features an inoffensive design.

General consumers will also enjoy the Stage Air as it's lightweight enough that it can be brought to a friend's place without being much of a burden. If you are going to use it in a group setting, just know that it doesn't get very loud as its total output is just 10W; though its peak power is 20W.
What's included
Creative includes a micro-USB and 3.5mm cable, both of which are 0.5 meters long, with the Stage Air. The speaker is flash drive-compatible but doesn't include a flash drive.
How is Creative Stage Air built?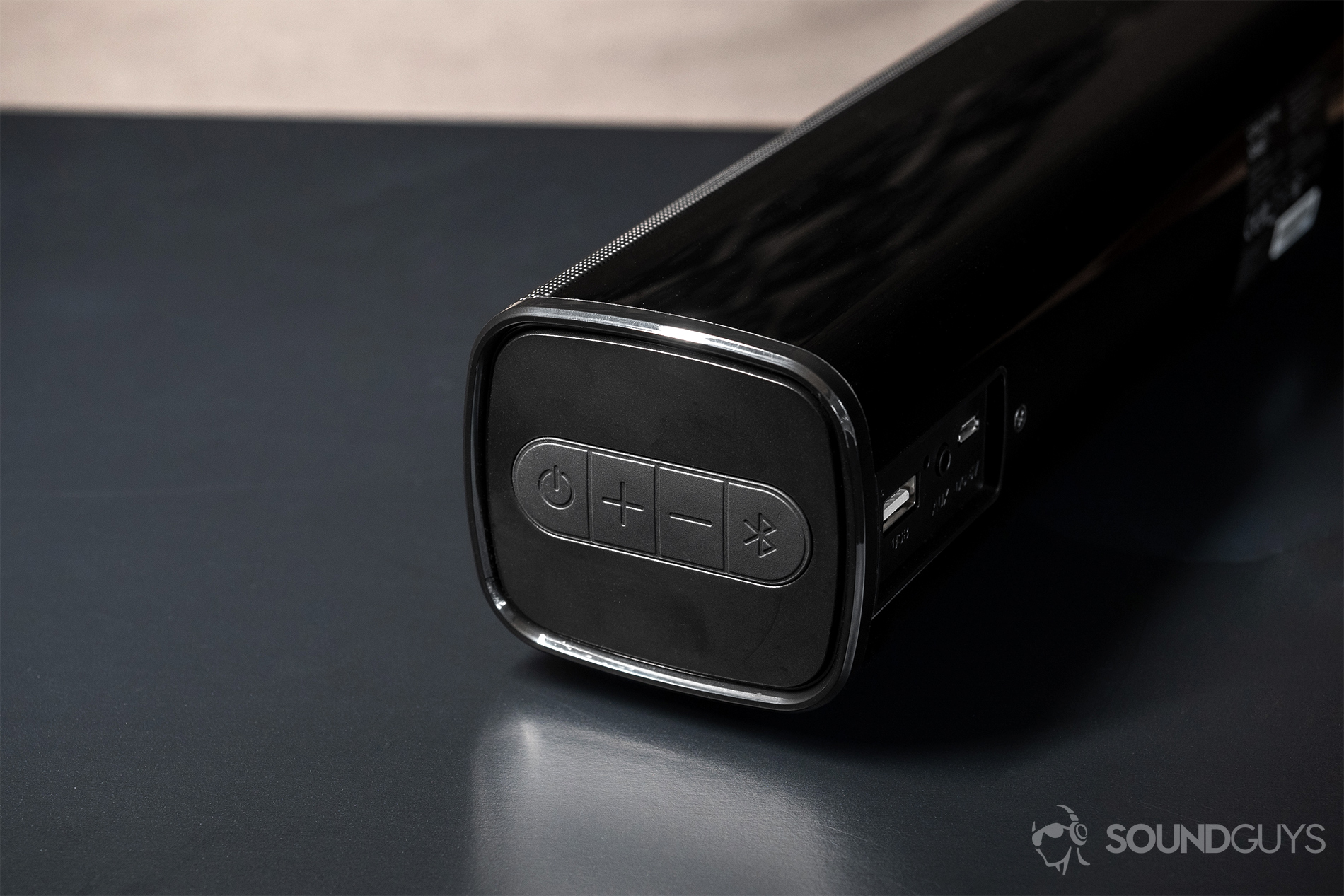 On the left panel of the Creative Stage Air are the playback and connectivity controls.
The chiefly plastic soundbar benefits from a glossy finish and matte sides. A metal grille shields two dynamic drivers and an oversized passive radiator for an emphasized bass response. Adorned by just the Creative logo, the grille remains plain save for the single LED housed beneath it on the left side—stage left that is; no pun intended.
The speaker is surprisingly lightweight and easy to move about an apartment. Even though it's intended as an under-monitor soundbar, I enjoyed using it with my TV too. If you are going to be taking it to and fro, be aware that the glossy finish collects more fingerprints than the FBI.
This isn't a smart speaker and doesn't feature an integrated mic system.
On the left panel rests four rubberized buttons that are nearly impossible to differentiate from one another. The power button serves to alternate between connection modes: Bluetooth or auxiliary. My muscle memory constantly confused the volume up and volume down buttons, mistakenly assuming that the further one would be the volume up command.
Available inputs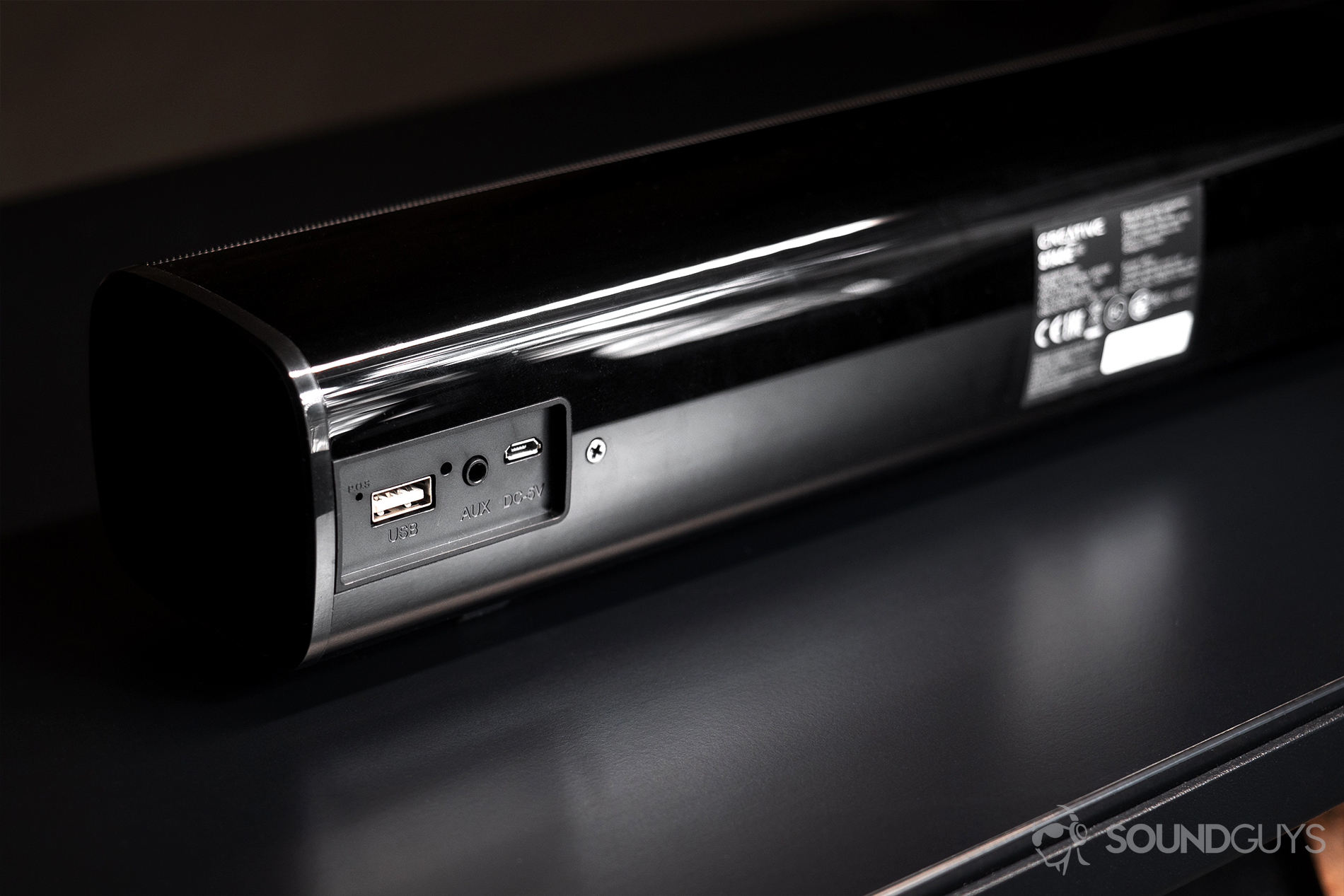 Connecting is as easy as turning the speaker on and opening your phone's Bluetooth menu, or using the included 3.5mm aux cable.
Rounding the curved corner of the speaker reveals an inlet that holds the three inputs.
USB-A: If you have a rocking collection of songs that you want to plug and play from a flash drive, this is a great option. All you do is plug it in and it starts playing.

3.5mm input: Although the included cable is laughably short if used with a desktop resting on the floor, I found it a good length for connecting to my cell phone. That said, it does seem to defeat the purpose of categorizing this as a desktop soundbar if Creative isn't going to include a reasonably long aux cable.

Micro-USB: This is for charging the 2,200mAh soundbar battery.
Battery life is good
The speaker boasts a large 2,200mAh lithium-ion battery that allows for six hours of playback. With a 58dBA output measured from a three-foot distance, I was able to squeeze out just shy of 6.5 hours of playback, not too bad. Completing a full charging cycle, on the other hand, is a bit of a pain via the slow micro-USB method, which requires approximately 2.5 hours.
Connectivity
When wireless, the Creative Stage Air operates via Bluetooth 4.2 and only supports SBC. While this is moderately disappointing, it isn't surprising since this can be had brand new for less than $40. It fulfills the standard Bluetooth range requirements, allowing the speaker to stray up to 10 meters from the source, be it a computer, phone, tablet, what have you.
If your computer is on but not playing music the soundbar automatically shuts off after 15 minutes, which can be quite aggravating.
Again, the included auxiliary cable is comically small for computer use. While it's true that 3.5mm cables are practically dirt cheap, it's strange that Creative provided such a short option.
How does it sound?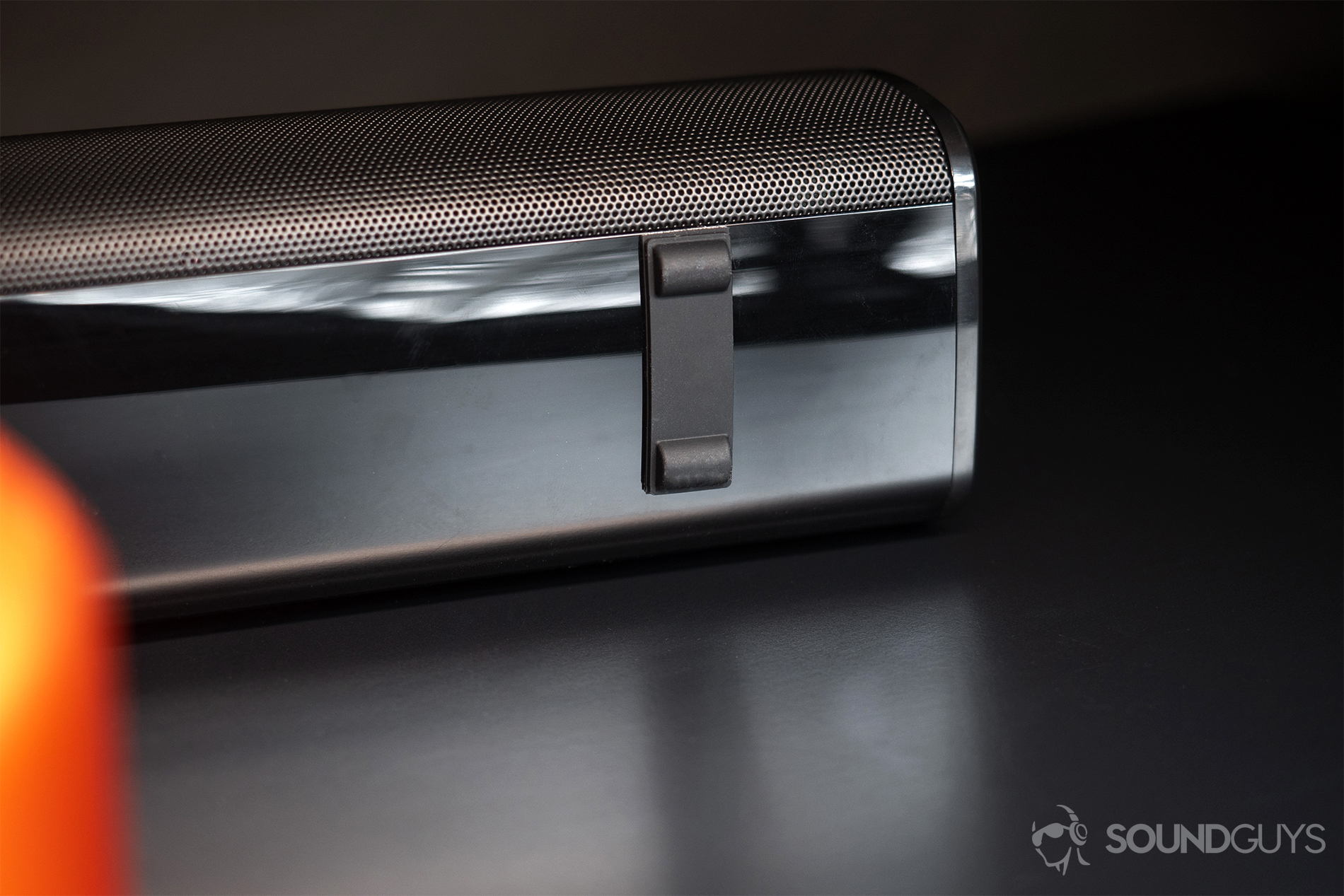 On the bottom of the Creative Stage Air are rubberized feet which prevent the soundbar from sliding about.
The Creative Stage Air is bass-heavy but not to an outrageous degree. The passive radiator, however, does help to emphasize lower notes that the dual 5W drivers may not be able to accurately reproduce. The weakest aspect of the sound is the treble frequency response, which sounds completely masked by the bass and mids and lacks in clarity.
Related: Best Bluetooth speakers under $50
It gets about as loud as you'd expect for an under-monitor soundbar. From three feet away at max volume, the speaker averaged a 77.2dBA output; for reference, three feet is how far I sit from my computer monitor.
In Sia's single Thunderclouds, the bass guitar resonates as the dominant component of the song in the first verse. Its emphasis slightly masks the background clapping and when Sia reiterates the word "trust" at 0:15 and 0:17.  Although the bass response is exaggerated, vocals generally remain audible especially Labrinth's during the song's chorus.
Let It Happen as performed by Tame Impala relies heavily on synthesized noises interwoven between Kevin Parker's vocals and the recurring drum kick and hi-hat pattern. At 2:40, a vocal-free bridge whereby the clapping and hi-hats are rendered nearly inaudible relative to the drum hits. That said, the sound quality is still fun and enjoyable but the Creative Stage Air won't come close to Fluance AB40 sound base's audio quality.
Should you buy the Creative Stage Air?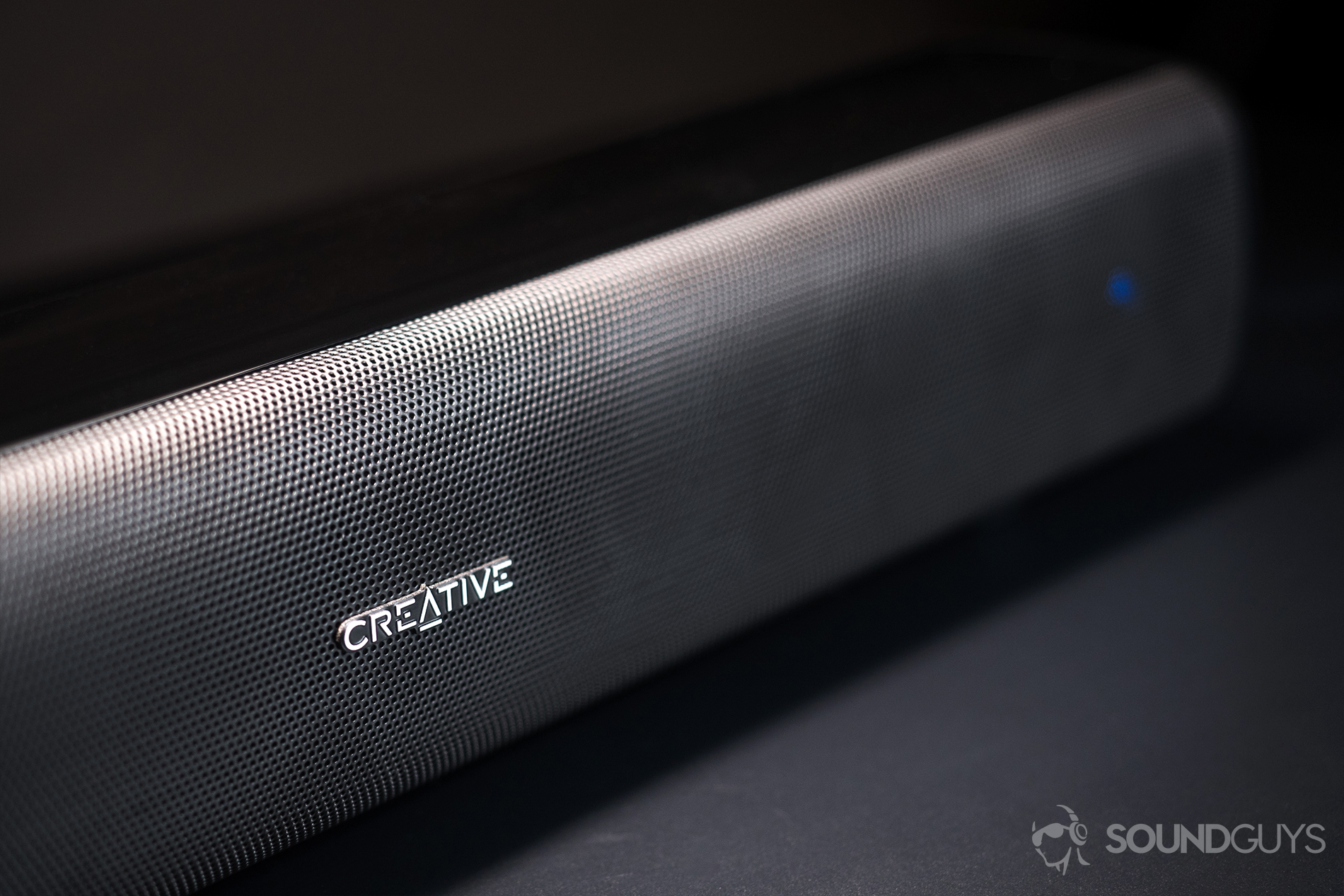 The metal grille covers two dynamic drivers and a passive radiator.
If all you want is a cheap under-monitor soundbar that works, yes. It's a great performer in the $30-bracket and one that's hard to beat for the price. Although there are some strange oversights like the short 3.5mm cable and difficult-to-press buttons, the bass-heavy Creative Stage Air is fine for general purpose listening.
If you're looking for something as an avid and critical movie watcher or gamer, though, you're going to want to keep looking. For the latter, we have a list of gaming headphones to consider and for the latter, well check out the link below. If you do get the Creative Stage Air and maintain realistic expectations, though, you'll be pleasantly surprised by its charm.
Next: Best computer speakers