All products featured are independently chosen by us. However, SoundGuys may receive a commission on orders placed through its retail links. See our ethics statement.
The bottom line
The Creative iRoar is definitely one of the best Bluetooth speakers you can get right now, but at $370 it's hard to recommend. Still, if you do decide to pick it up you won't regret it.
The Creative iRoar is definitely one of the best Bluetooth speakers you can get right now, but at $370 it's hard to recommend. Still, if you do decide to pick it up you won't regret it.
Dimensions
8.19 x 10.24 x 3.46 inches
What we like
Good sound
Plenty of ways to connect
What we don't like
Average battery life
Price
Rating Metric
Sound Quality
9.3
Bass
9.4
Midrange
9.1
Highs
9.3
Durability / Build Quality
8.0
Value
7.9
Design
8.0
Microphone
9.5
Portability
8.3
Battery Life
8.0
Every time we check out Creative speakers we usually fall in love. The Sound Blaster Roar and Roar 2 left a lasting impression and the bar has been set for their newest speaker, the iRoar. This is supposed to be their best sounding and most intelligent speaker with everything Creative had to offer. But at a price of almost $400 is it worth it? Or has Creative finally lost their edge?
What's inside
In the box you'll get the speaker, a pretty nice carrying pouch though it probably won't protect it much though, a micro USB cable, the power supply, and a bunch of adapters so you can use the speaker wherever you are.
Build & Design
The Creative Sound Blaster Roar2 was slightly smaller than the original and still boasted great sound, but the iRoar doesn't try to be small. This speaker is a good amount larger than the Roar2 so if you thought that speaker wasn't easy to carry around, you'll probably feel the same about this one. That said, this speaker isn't entirely meant for portability. Sure it's portable, but in the way that you might bring it to the living room or to a friends house. Creative put everything they could in this speaker, but that makes it fairly heavy at 2.5lbs (1.10kg for our international friends). You can definitely throw it in a bag and be good to go, but you're going to know it's there.
On the front and sizes of the speaker are the grills which protect the clearly visible drivers, but the front is mainly a hard plastic. There is a driver in the middle that's protected from a grill as well, but the rest is covered in a hard plastic that's a fingerprint magnet. Simply taking it out of the box forced me to wipe it down in order to take pictures of it. The sides of the speaker has a golden plastic trim which is a nice touch, especially since you can use this speaker on your desk or with your TV (more on that later).
The speaker is meant to be laid flat on it's back. Doing this orients two 2" drivers towards the listener, one 2.75" driver aimed upwards, and two passive radiators aimed out on either side to increase soundstage. When oriented in this way, you'll find all of the touch controls you'll need on top of the speaker along with a power button in the top left corner. Following that all along the top of the speaker all of the touch playback controls and extra options. There's also dual microphones on either side of the driver in the middle for picking up your voice. On the back of the speaker are the numerous ports you'll need for making full use of the speaker. That's also where you'll find the power input for charging the speaker.
Connection
Creative claims this is the most intelligent speaker on the planet, and this is where it begins to show that. It has NFC and can connect to your device via Bluetooth. It also has the aptX codec for high quality streaming if you choose to, but you can also plug in a 3.5mm audio cable, optical cable, or USB cable to connect it to your analog devices, your TV, or computer. There's even a micro SD card so you can play your own music without an external device. Basically anything that outputs sound can be ran through this speaker for a boost in quality. If you get two speakers, you can also connect the together with a Megastereo cable (sold separately) and use them for stereo sound with your TV.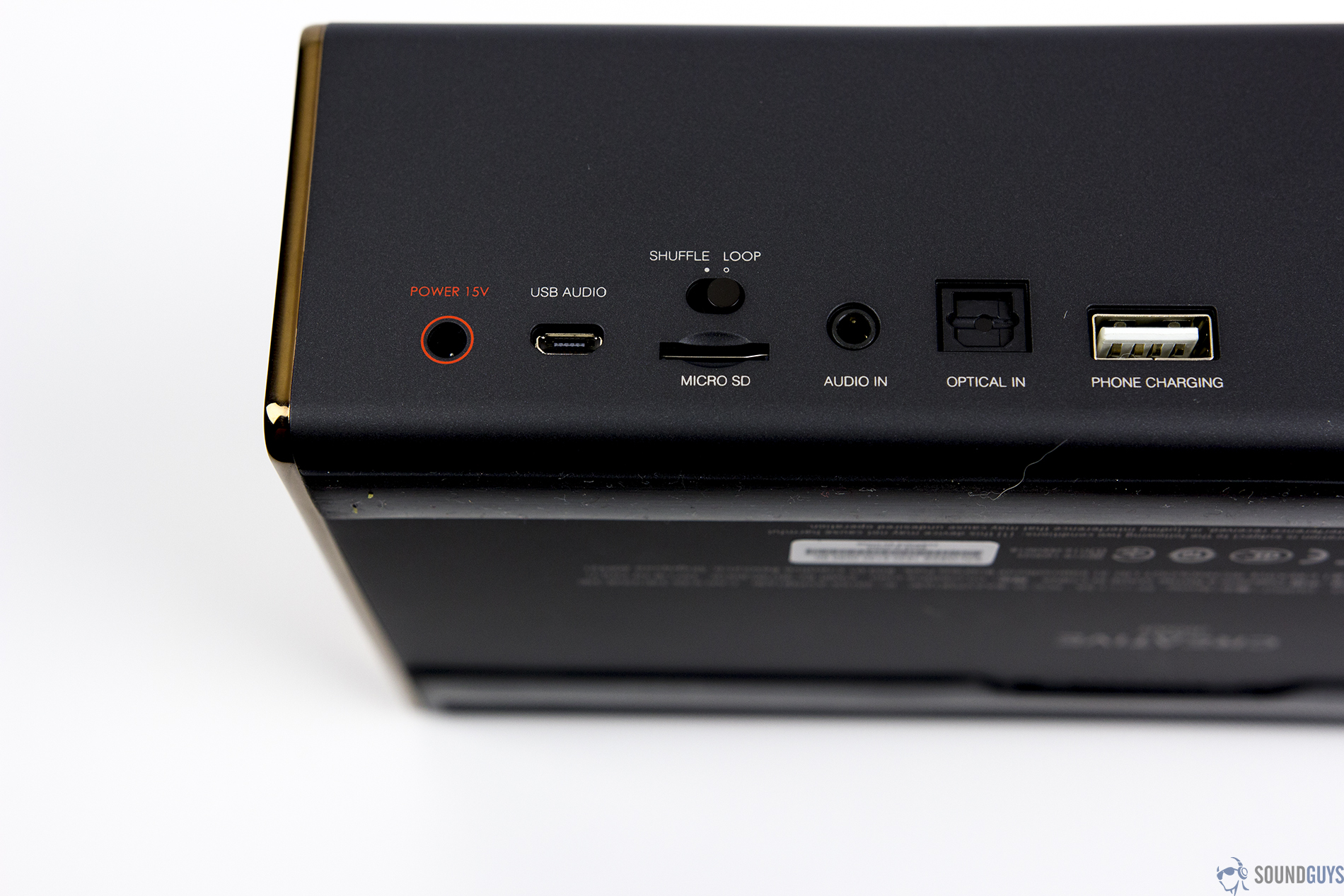 The inputs aren't the only thing that make this speaker special. There's also a number of different touch controls on the front. To the right of the power button you'll find a mode switch button, then playback controls for pausing/playing songs and skipping between tracks. Next to those is a touch sensitive record option because yes, you can use this as an audio recorder if you want to. Then there's the Roar option which automatically boosts the volume of the speaker. After that is a Mic Beam control, Mic mute control, answer/end phone calls button, and finally volume up and down buttons. Again, they're not actually physical buttons but rather touch sensitive controls. Anything you'd want to control with the speaker you can do without touching your source device.
Then there's the app. It's fairly intuitive and easy to get around, but it gives you access to a number of cool features. You can select from a few different EQ profiles or if you don't like any of them, just make one yourself. Then there's all of the add-ons. Unfortunately I only had a 64gb micro SD card and the iRoar requires a 32GB one so I wasn't able to test any of them. But trust me, there are plenty to choose from.
Battery Life
Battery life usually depends on how you use the speaker, and that's definitely the case here. Creative claims a battery life of 20 hours, but on max volume with the Roar Boost turned on we only got about 7. On average volume with the Roar boost turned off we were able to get closer to Creative's claim but still not quite 20. We got about 17 hours, which is pretty good considering average volume is still loud enough for most use cases.
Sound Quality
There's so many ways to test sound quality from this speaker. We did most of our testing via Bluetooth with the flat "Audiophile" sound profile. But there are so many different ways you can connect to the iRoar that it's really up to your preferences. For movies, you might want a little more bass to highlight the explosions while you may want a flatter sound for music. This speaker can pretty much do it all.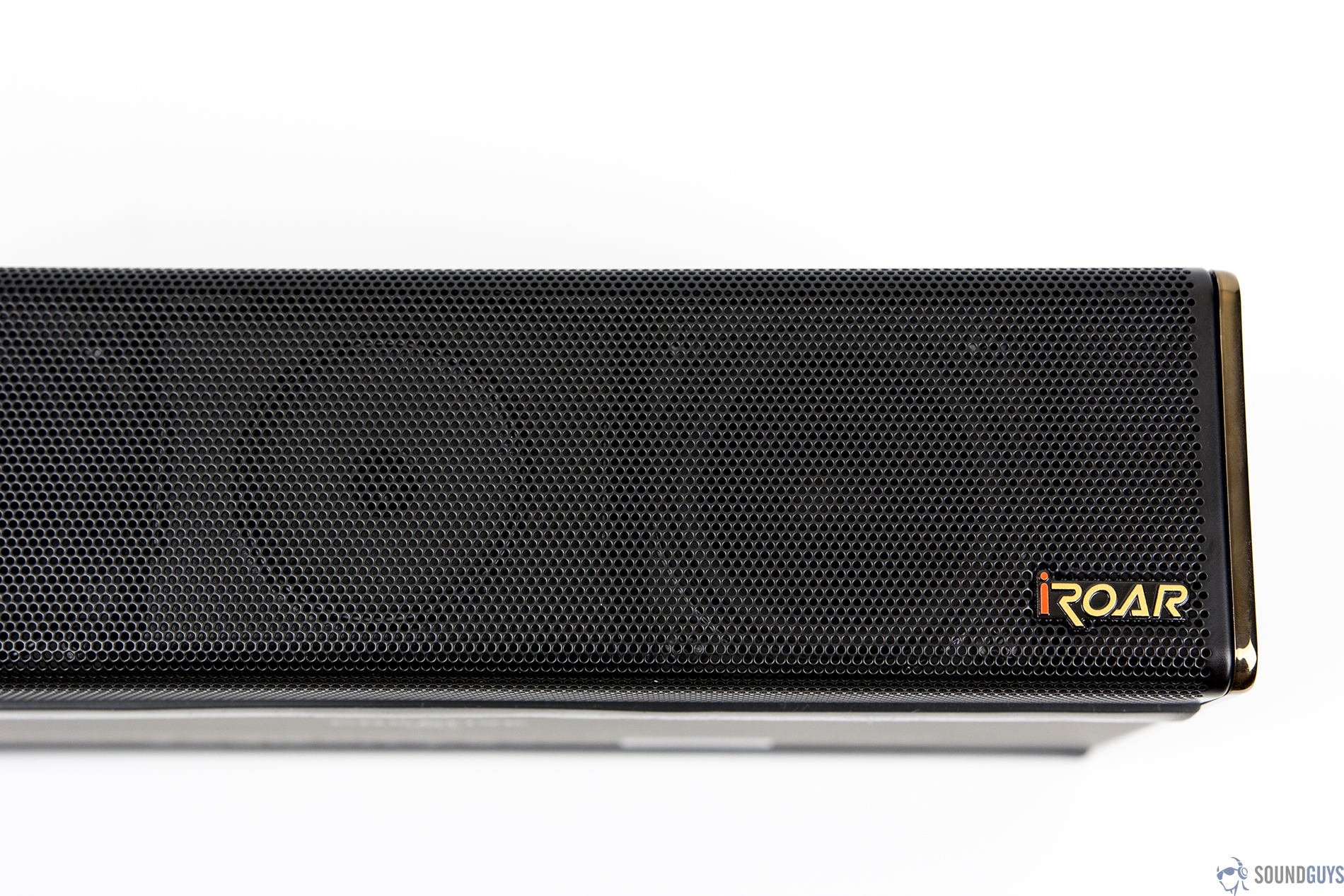 The low end is nice and tight and never became overbearing on the flat profile. Bass kicks and bass guitars stayed neatly behind the vocals but still had enough power to make their presence known. Again, if you like a little more thump in your music you can easily adjust that with the EQ settings via the app.
The mids were equally clear and the guitar in "Dirty Paws" by Of Monsters and Men weaved seamlessly in and out of the vocals. When all of the instruments come in during the chorus it does get very slightly muddy, but not by much and the overall sound is still pretty clear.
The highs in this speaker are equally great. Even on max volume there was never a piercing sound that became painful and many details in my favorite songs easily made their way through. One example of this is in "Winter Prayers" by Iron & Wine. You can hear his fingers scraping over the guitar strings as he picks his way through the song.
Conclusion
If you can't already tell, I loved this speaker. There's just a lot to like about it. The build looks nice enough if you keep it clean and wouldn't look out of place on a home entertainment system and you can connect basically anything you want to it. The app is also intuitive and gives you complete control over a bunch of cool features, but it's the sound that did it for me. This speaker sounds amazing and puts everything I've heard in the past few months to shame. Unfortunately, that's reflected in it's $370 price tag which is almost twice as expensive as the Roar2. That said, I wouldn't say it's twice as good as the Roar2 and as great as it is it's hard to recommend it at that price, but if you do spend the money you won't regret it.