All products featured are independently chosen by us. However, SoundGuys may receive a commission on orders placed through its retail links. See our ethics statement.
Can you shower with AirPods?
It's not a good idea, but it's worth understanding why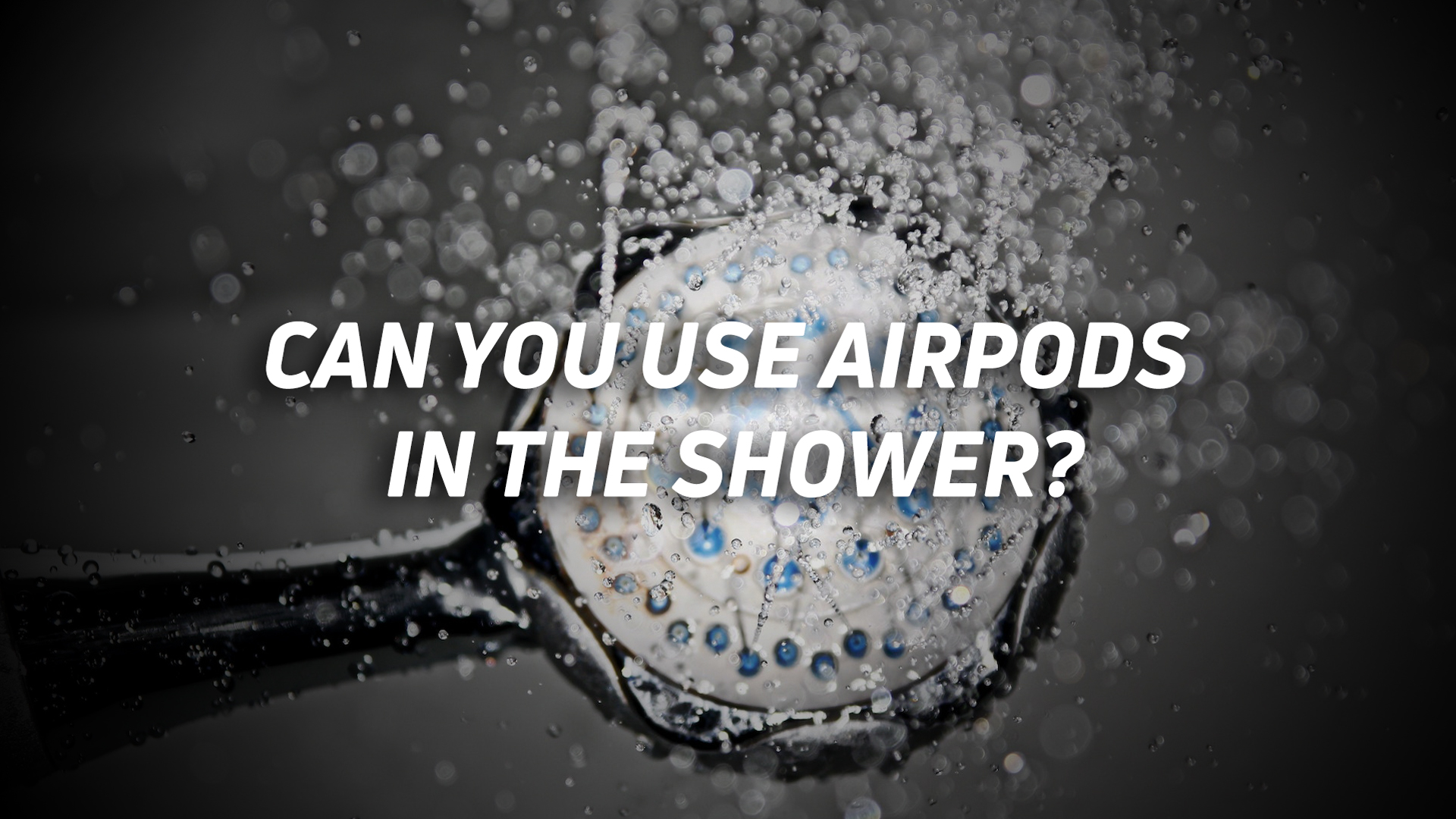 If you're a music junkie or can't stand to miss out on a broadcast, you may have wondered if you can just keep using your Apple AirPods in the shower to avoid missing out. But is it foolish? Should you rethink your brilliant plan?
The answer, as usual, lies in what happens when your plans fail.
Are AirPods waterproof?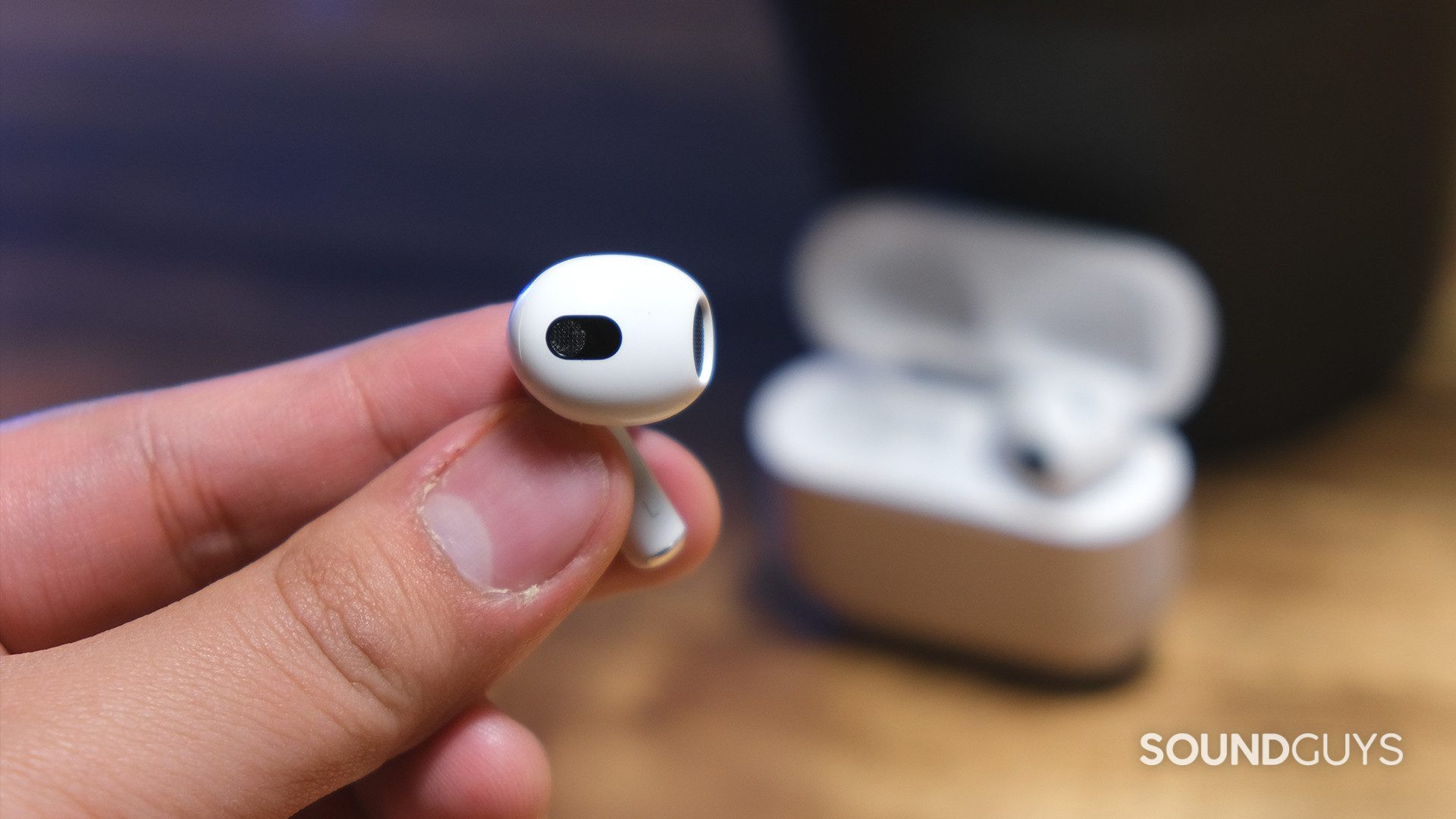 The Apple AirPods (3rd generation) have only an IPX4 rating, meaning these earbuds are not waterproof.
AirPods of any kind are not waterproof. So if you plan to put them in the water's way, be ready for the likelihood that you'll somehow damage them. Apple AirPods and AirPods Pro of the latest generation have what's called an ingress protection rating of IPX4. That may look like a jumble of letters and numbers, but it's not. The "4" at the end there tells us that the products can take the occasional splash, but not from a constant jet of water — you know, just like what a showerhead produces.
Water-resistant
Waterproof
Can withstand

IPX0


Water-resistant




Waterproof




Can withstand

Not water-resistant


IPX1


Water-resistant

✓


Waterproof




Can withstand

Dripping water (1 mm/min)
Limit: vertical drips only


IPX2


Water-resistant

✓


Waterproof




Can withstand

Dripping water (3 mm/min)
Limit: Device max tilt of 15° from drips


IPX3


Water-resistant

✓


Waterproof




Can withstand

Sprays
Limit: Device max tilt of 60° from sprays


IPX4


Water-resistant

✓


Waterproof




Can withstand

Splashes, omnidirectional


IPX5


Water-resistant

✓


Waterproof




Can withstand

Water jets (12.5 L/min)
Example: Squirt guns


IPX6


Water-resistant

✓


Waterproof




Can withstand

Strong water jets (100 L/min)
Example: Powerful water guns


IPX7


Water-resistant




Waterproof

✓


Can withstand

Complete submersion
Limit: 1 m. for 30 min


IPX8


Water-resistant




Waterproof

✓


Can withstand

Complete submersion
Limit: 3 m. for 30 min

As you can see from the table above, the ingress protection rating for water is only a step below where we'd reconsider telling you that AirPods in the shower wasn't a foolish idea. However, that's not the reality of the situation. This rating only applies to the product when its new and water-resistant gaskets and sealing degrade over time. An older product can get damaged by water when its rating says it shouldn't.
Can you shower with AirPods?
While it's within the product's parameters to be able to be used while you're physically in the shower stall, Apple AirPods and Apple AirPods Pro aren't designed to withstand water. Not only do these earphones have very little protection against the elements, but these products do not bear an ingress protection rating sufficient enough (IPX4) to withstand constant streams of water. Apple's support page is extremely clear about this.
You may not be able to shower with AirPods, but you can shower with something made for working out in the rain.
If you were to shower with the AirPods, it would have to be done so that you could guarantee no water came into contact with them. This is a much more difficult thing than it sounds because water also can condense onto cooler pieces of material after getting heated and absorbed into the air — ever notice your plumbing showing excessive condensation? The same thing can happen to AirPods in the right environment, so it's not always guaranteed they will be safe even if they don't get wet from a splash of water.
Despite multiple Reddit threads saying otherwise, subjecting products like the AirPods Pro to casual abuse will void your warranty nine times out of ten. So if you take these sensitive not-waterproof things into the shower with you, you are risking their breakage and an inability to recover any part of what you paid for them. Even if you've tried using your AirPods in the shower before without incident, your luck will eventually run out.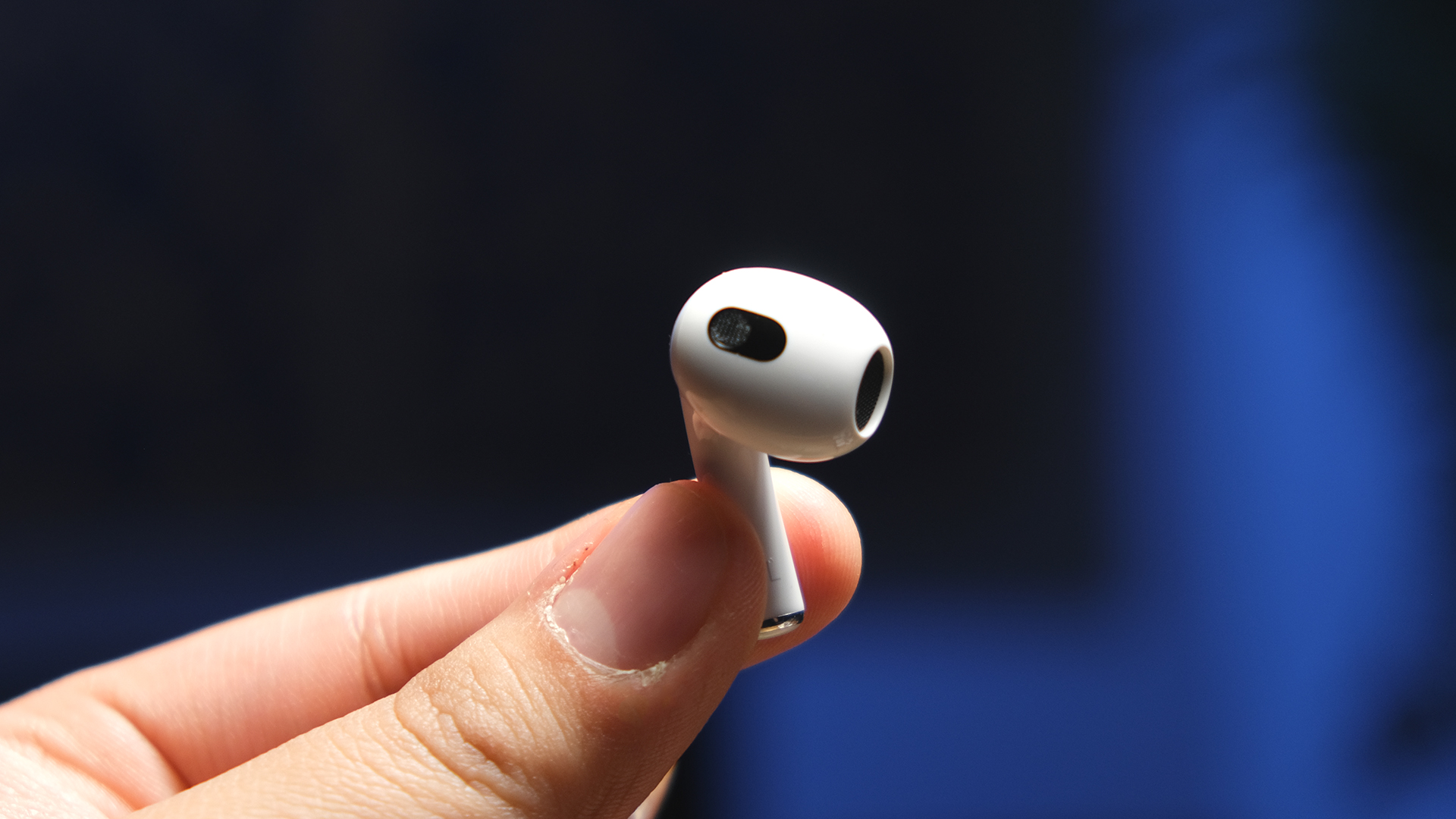 There are plenty of openings for water to get into your AirPods.
Just don't risk it. The cost of new AirPods at full price isn't worth using in the shower for an indeterminate amount of time.
No, there is no safe way to use the AirPods Max in the shower. These headphones are even less water resistant than AirPods earphones and do not have an ingress protection rating.
Are there things you can do to use AirPods in the shower?
You can do several things to prevent water from getting into your AirPods. But as we can't predict how they'll affect the relative humidity within the earphones themselves, we're going to go out on a limb and say that the only time you should ever wear your AirPods in the shower is if most of your body isn't in there — or you can guarantee that your earphones will not come into contact with water.
A shower cap
The obvious solution is a shower cap: as it prevents direct contact with water to your head, and if it can be pulled over your ears, you could potentially prevent direct contact with water. However, it could be better, and thin plastic has a fun habit of tearing easily. Additionally, shower caps often work like a sauna suit. If the shower is hot enough to get you to sweat, the humidity within the cap could find its way into your AirPods and wreak some havoc.
Aiming the shower lower
Another solution is to aim the shower lower. Theoretically, this should work, but not all showerheads create a perfect laminar water flow. Very few do unless you're using a garden hose. Splashes and errant droplets flung every which way fall under the IPX4 use case, but not as a constant thing — eventually your luck will run out if there's enough water.
Taking a bath instead
The last major solution proffered by online AirPods bathers is to take a bath instead of a shower. On its face, the act seems reasonable, but if you're trying to get out of the door in the morning, this is inefficient. There are also several pitfalls here, even worse than taking a shower. For example, if a single earbud pops out, instead of hitting a bathmat that isn't submerged under a couple of feet of water, it is getting submerged in water until you can find it.
What you should do instead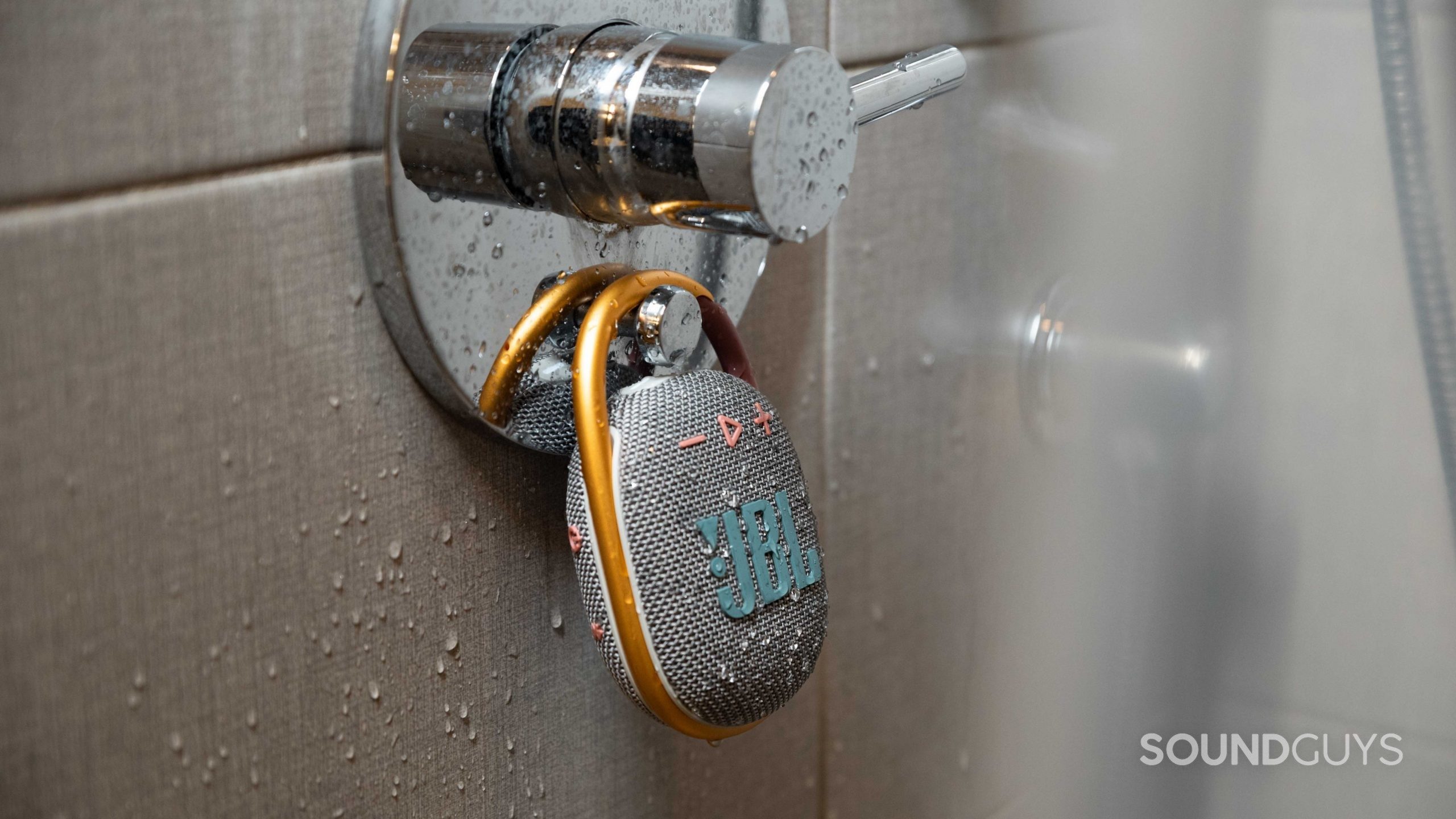 The IP67 rating protects the speaker from dust, dirt, and water.
Sure, it's not actually using AirPods in the shower, but the best way to listen to music in the shower is to use something made for that purpose, like a shower speaker. Plenty of shower-proof speakers on the market will make your washroom sound like a concert hall, so grab one before you toss your AirPods — figuratively or literally — down the drain. AirPods aren't meant to be blasted with water, so don't do that. Plan for your environment.
JBL Clip 4
JBL Clip 4
IP67 rating speaker • Clippable • Improved playtime
A simple speaker made to go anywhere.
The JBL Clip 4 is a rugged-built Bluetooth speaker with a carabiner to clip it safely. It is rated IP67, one of the highest waterproof and dust-resistant rates.
Suppose you're already willing to break your AirPods to listen to music. In that case, chances are good that you may have a few extra bucks lying about — which is good because buying a cheaper speaker is less expensive than having to replace your AirPods and deal with the shower situation. Be sure to look at waterproof speakers, as they can be used anywhere in any condition.