All products featured are independently chosen by us. However, SoundGuys may receive a commission on orders placed through its retail links. See our ethics statement.
Bose SoundLink Mini 2 Review
The Bose SoundLink Mini II isn't a giant leap forward, but it's enough that there is no reason to buy the older model anymore.
What more needs to be said about the Bose SoundLink Mini? No, it wasn't the best speaker out there, but its combination of small size, solid sound, and stylish look made it a popular choice. Still, it wasn't without its failings — namely the short battery life and lack of speakerphone.
Then along came the requisite sequel, the Bose SoundLink Mini 2. This model ups the battery life, adds a mic, and generally adds a basic sheen to its predecessor, but with so many speakers that have come since, does the SoundLink Mini 2 carry the same sort of weigh that the original did when it first arrived?
What's In The Box?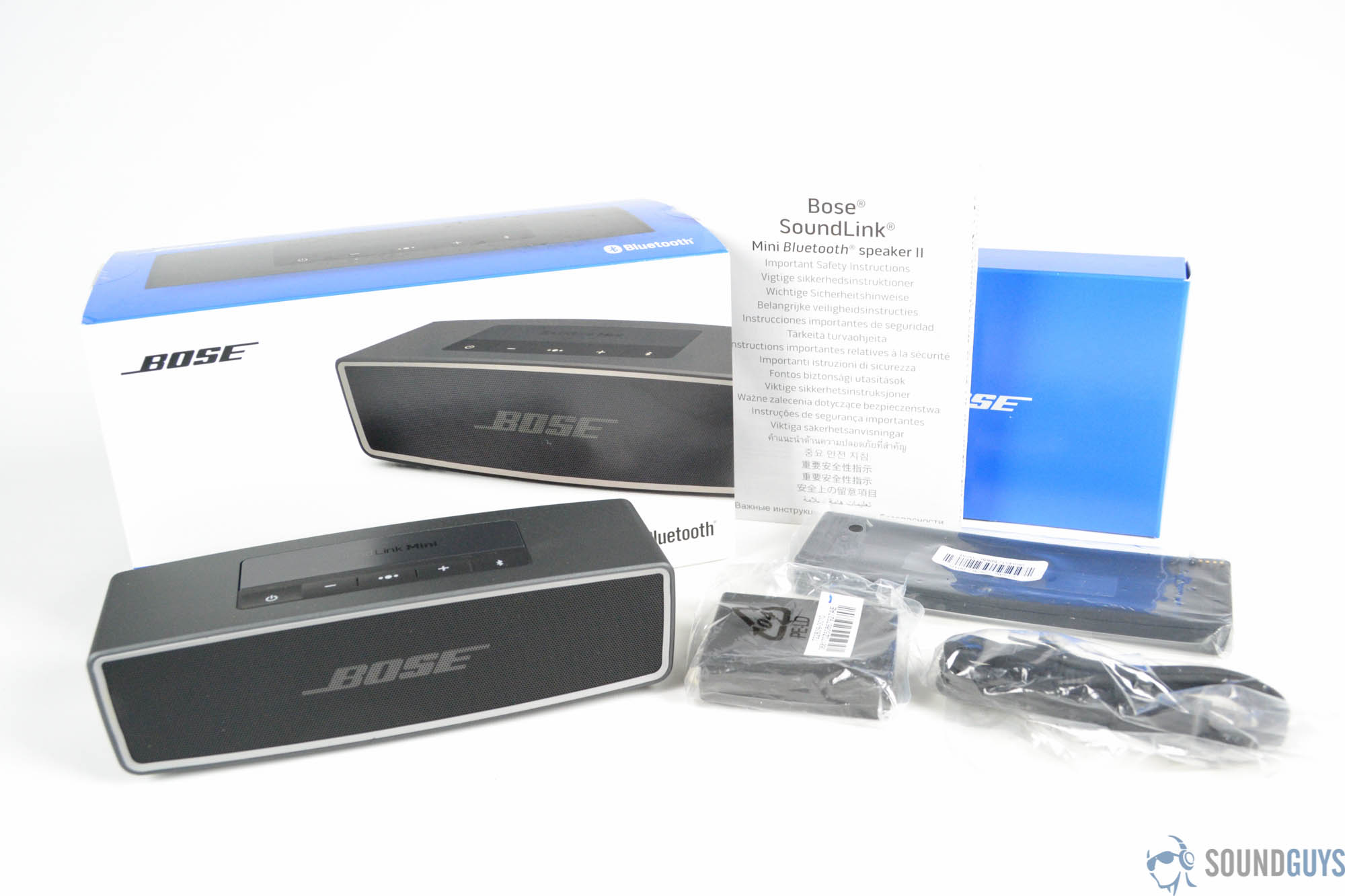 Open up the box and the first thing you'll see is the speaker. Everything else is tucked into another cardboard box underneath. Here you'll find the charging stand, the wall charger, USB cable, and the manual and warranty information.
Build & Design
While the original SoundLink Mini only came in one color, the SoundLink Mini 2 comes in two variations. We're looking at the speaker in Carbon, but it is also available in Pearl, which looks more similar to the original Mini's silvery exterior.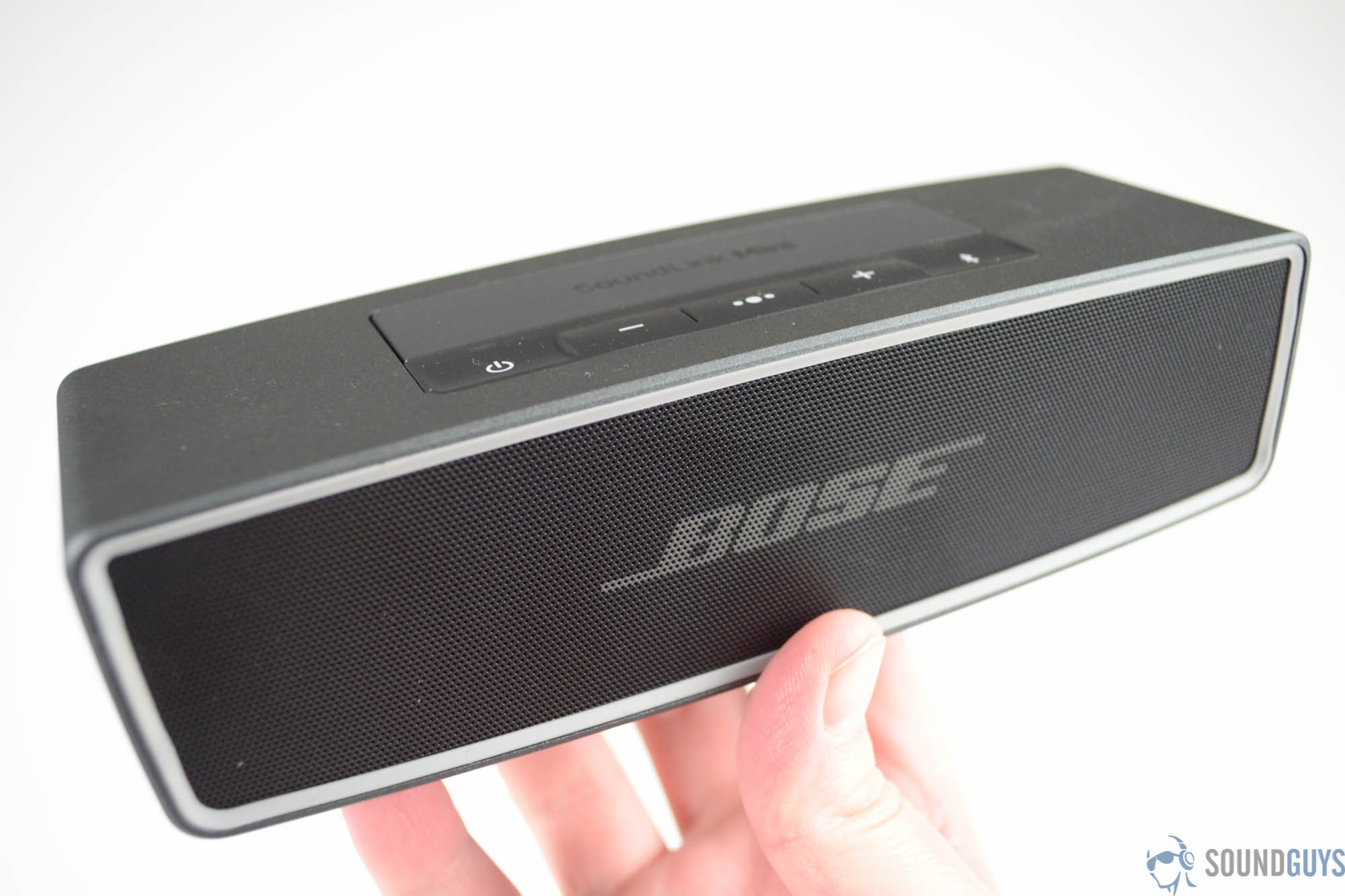 Aside from the colors and updated buttons, the speaker looks quite close to the original. It's not identical, but if you know what the original SoundLink Mini looks like, you'll identify this in a line up immediately. The look is almost too classic — while this is undoubtedly a Bose, it looks almost a little dated compared to some other speakers we've seen in the past year.
That said, the same sturdy build the original was known for is here in full effect — an aluminum build is hard to beat when it comes to sheer durability. If you drop this, it will certainly survive — easily even — but it might get a little scuffed up. To keep that from happening, Bose sells soft covers separately to keep this from happening.
Connectivity
Pairing isn't a particularly difficult task with most Bluetooth speakers, but Bose has gone a long way to make the process as easy as possible, short of automatically doing it for you. Turn the speaker on and it automatically enters pairing mode — you'll know this because a helpful voice will tell you, after asking you which language you want it to speak in.
The speaker will then tell you to pair from the Bluetooth menu on your device. This isn't necessary for many of us, but if you're buying this for a less than tech savvy relative, it could be a huge help.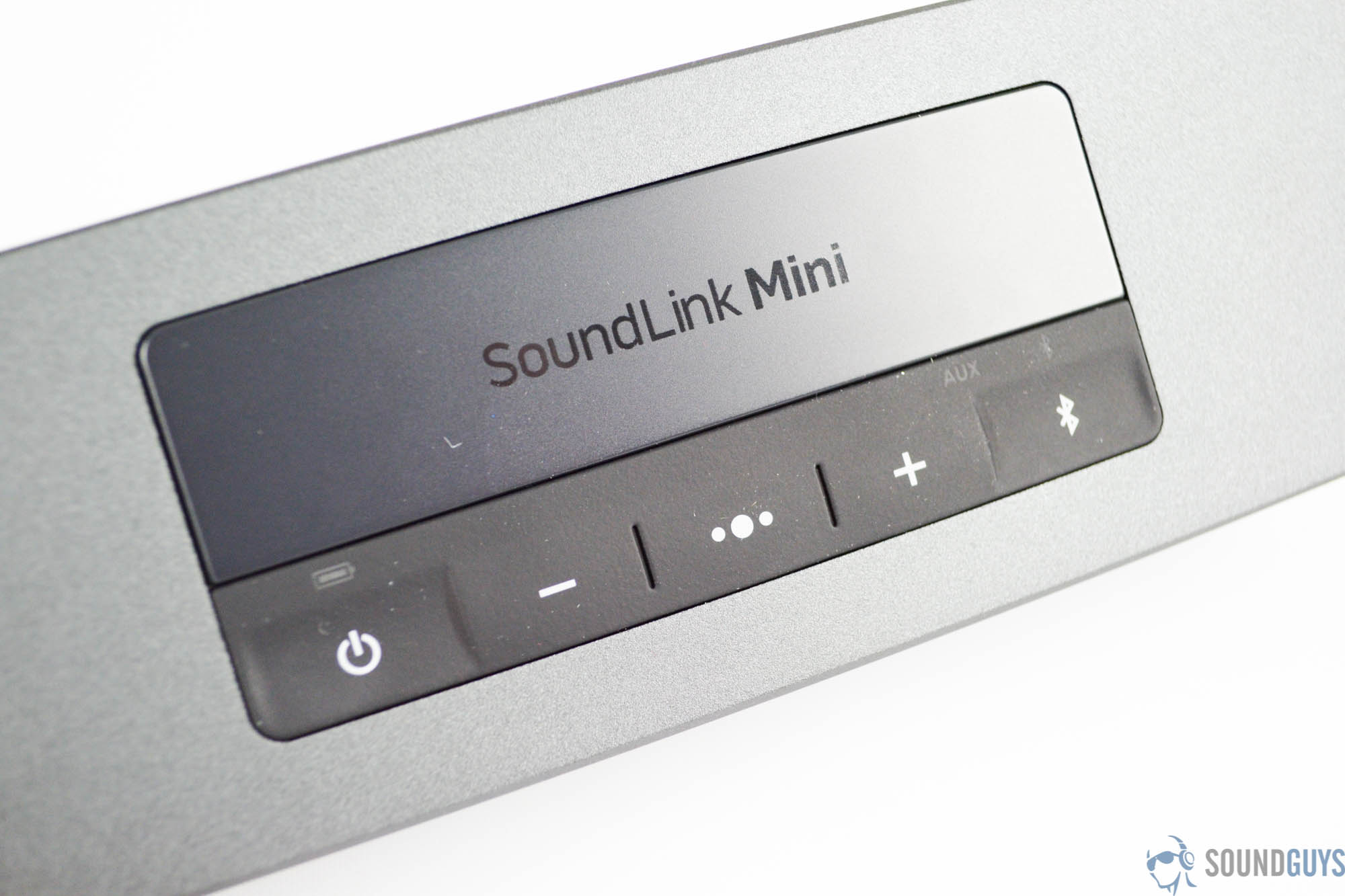 Looking at the buttons, you'll find a power button, volume controls, a multifunction button, and a Bluetooth button. Holding down the power button will prompt the speaker to tell you how much battery life it has left, while pressing the Bluetooth button will tell you what device the speaker is currently connected to.
Unfortunately, playback control is limited to pausing and resuming playback by tapping the multifunction button. The + and – buttons only control volume ie., holding them down won't skip tracks.
As mentioned earlier, the SoundLink Mini 2 includes a built-in mic for speakerphone use. This isn't a big deal for many of us, but if this is a key feature to you, you'll be glad to know it's now included.
Battery Life
One major improvement over the original SoundLink Mini comes in the increased battery life. While the original maxed out at 7 hours, the Mini 2 offers up to 10 hours of battery life.
It's also easier to charge the speaker now. The charging cradle is still included in case you like to keep the speaker in a dedicated spot when it's not in use, but if you find yourself charging on the go, you'll be glad to know that the SoundLink Mini 2 can now be charged via microUSB as well.
Sound Quality
In the past, we've seen that when Bose releases a new speaker, while the outside may be very different, the sonics tend to remain the same. Considering how much the SoundLink Mini 2 looks like its predecessor, we took that as a hint as to how it would sound.
The SoundLink Mini wasn't the bassiest speaker in the universe, but it was impressive for its size, and the remains the case with the Mini 2. This might have a hint more bass, but overall its identical, for better or worse. If you're looking for booming bass in as small a form factor as possible, this will likely be your best bet, especially in this price range, but you do trade off a certain amount of quality for sheer quantity.
There is an audible dip in the mids, though whether or not this is more pronounced than the same dip in the original is hard to tell. Avoiding boxy or woofy sounding mids in a Bluetooth speaker this size is always difficult, hence the dip, but it can lead to certain mids being overpowered by the lows at times. This also leads to some mud between the lows and low mids at times, which was especially noticeable in Black Sabbath's "Children of the Grave."
The same high end roll-off that is present in so many Bluetooth speakers is present here. This might lead to missing some detail, but considering the hissing, ear-shredding highs present in speakers that avoid this roll-off entirely, it's the more desirable outcome. Detail is still fairly decent, especially for a Bluetooth speaker, and harshness is hard to find.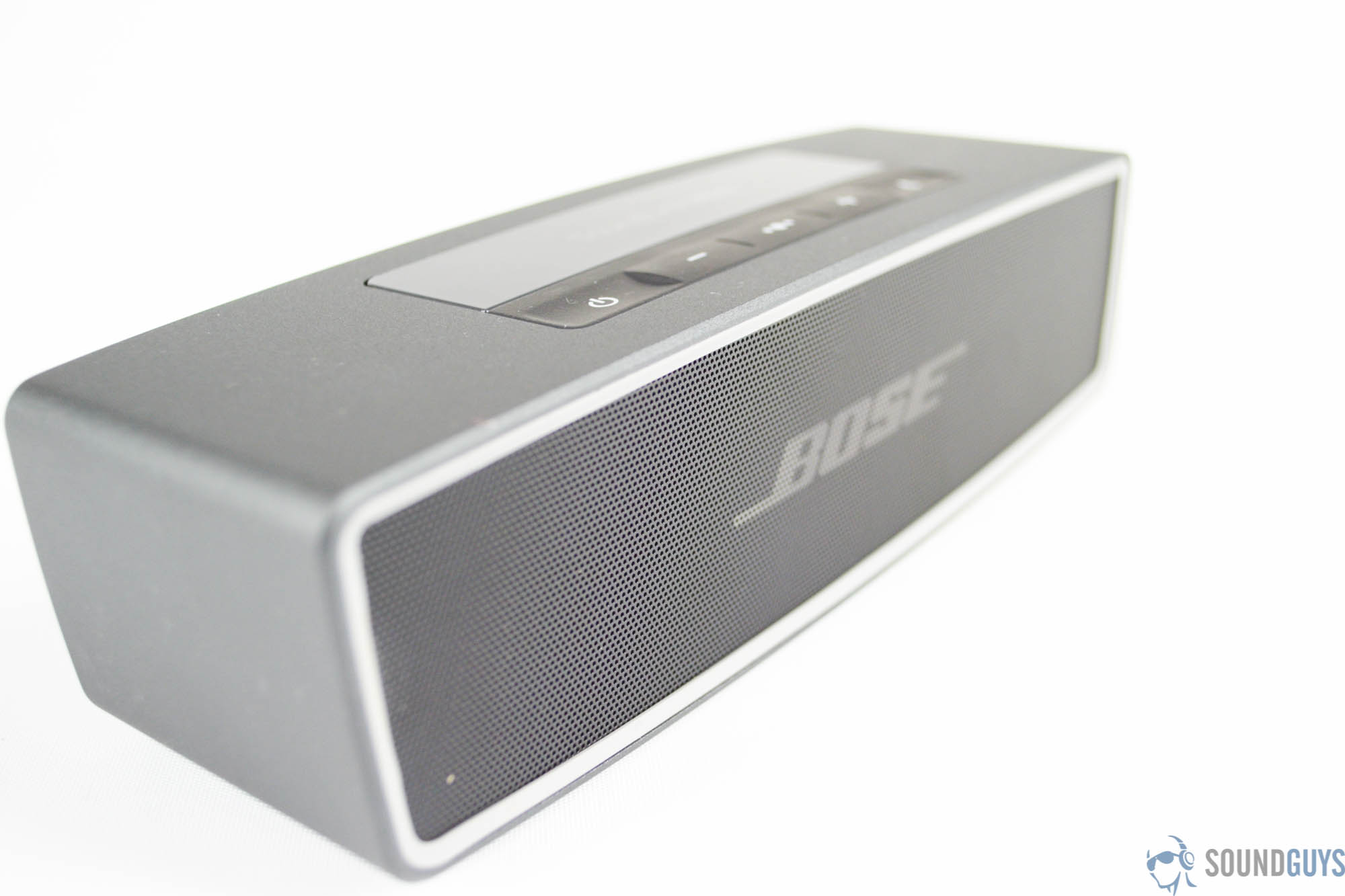 There is no stereo separation here — that's basically impossible in this size — but the speaker does sound a lot bigger than its modest measurements would lead you to believe. It also gets pretty loud, though we did notice distortion at the highest volumes on bass-heavy material or electric guitar-driven rock.
Overall, this doesn't sound all that different than the original, which we expected, but that isn't a bad thing. It's easy to be harsh on the SoundLink Mini 2, which isn't fair. This sounds like a larger speaker and thus is compared to them, but when compared to speakers its size, it often comes out on top.
Conclusion
The Bose SoundLink Mini 2 takes the original speaker and refines it, so in a way, this isn't so much a sequel as it is a "remaster" of the SoundLink Mini. Still, with the improved battery life and added features, this is indeed superior to the original, and leaves no reason to buy that model.
In the two years since the SoundLink Mini launched, the offerings from Bose's competition have dramatically increased in quality, so even though it's clearly better than the first model, the SoundLink Mini 2 doesn't stand out the way the original Mini did. That doesn't say anything bad about Bose — it simply says that its competition is beginning to catch up and even surpass it.