All products featured are independently chosen by us. However, SoundGuys may receive a commission on orders placed through its retail links. See our ethics statement.
The bottom line
The ANC is still one of the best you'll find in any pairs of noise canceling earbuds, but there a few aspects about the headphones in general that shouldn't be as spotty as they are considering the price.
The ANC is still one of the best you'll find in any pairs of noise canceling earbuds, but there a few aspects about the headphones in general that shouldn't be as spotty as they are considering the price.
What we like
Good ANC
Build and design
What we don't like
Price
Connection is sketchy
Rating Metric
Bass
7.9
Midrange
8.2
Highs
8.0
Durability / Build Quality
7.5
Value
6.5
Design
9.0
Microphone
8.0
Portability
8.0
Battery Life
8.0
Bose has been at the top of the active noise canceling game for a while, but now there are competitors like Sony that are coming for their crown in over-ear cans. While you can't go wrong with either the Bose QC35 or the Sony MDR-1000X, Bose still reigns king when it comes to noise canceling earbuds. Their latest 'buds dubbed the QuietControl 30 are a wireless version of the QC20. These now come with a neckband and let you adjust the amount of noise canceling, but are they among the best Bose headphones?
What's inside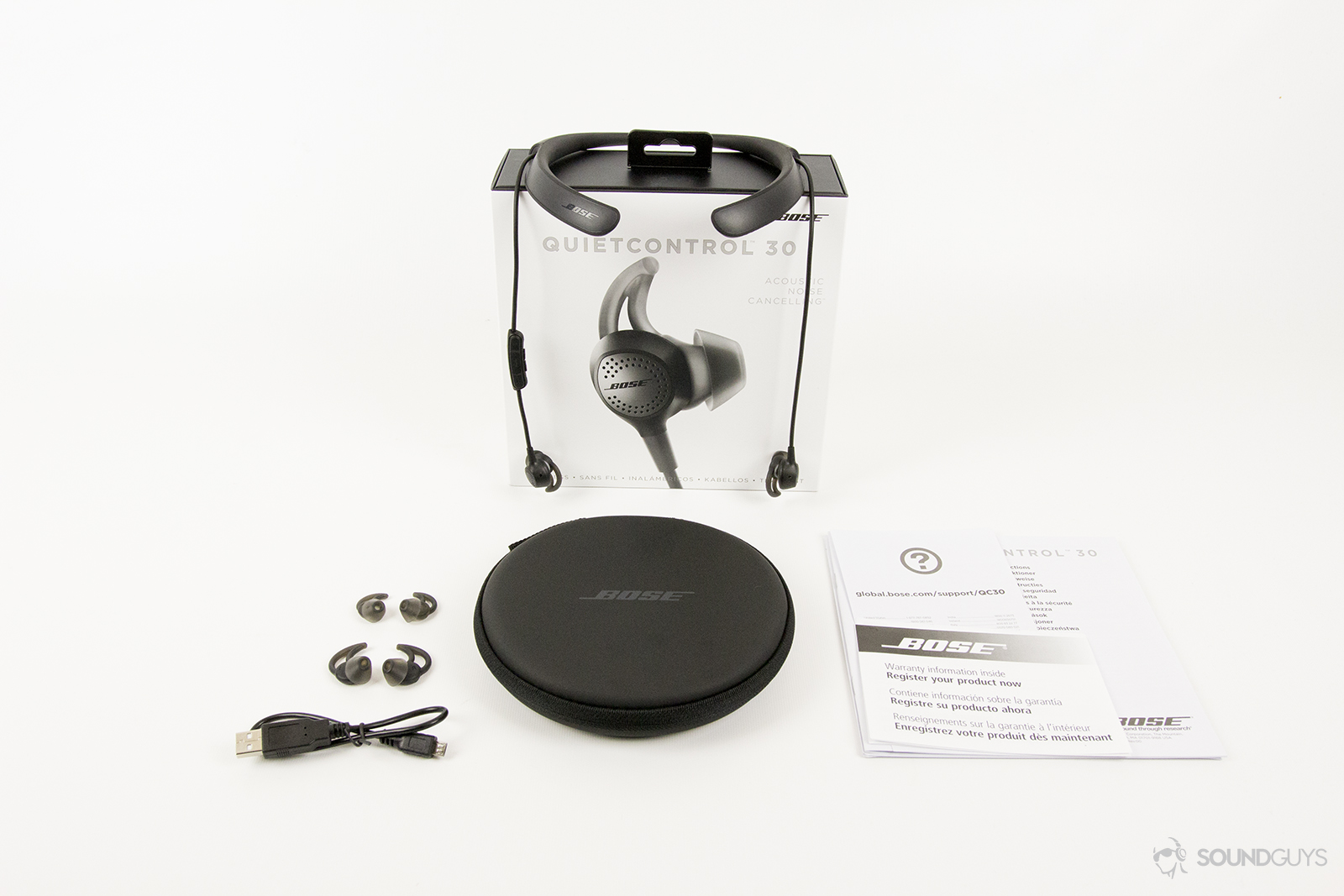 In the box you'll get the headphones, a CD shaped hard-shell carrying case, two extra sizes of ear tips, a micro USB charging cable, and the warranty information and instruction booklet.
Build & Design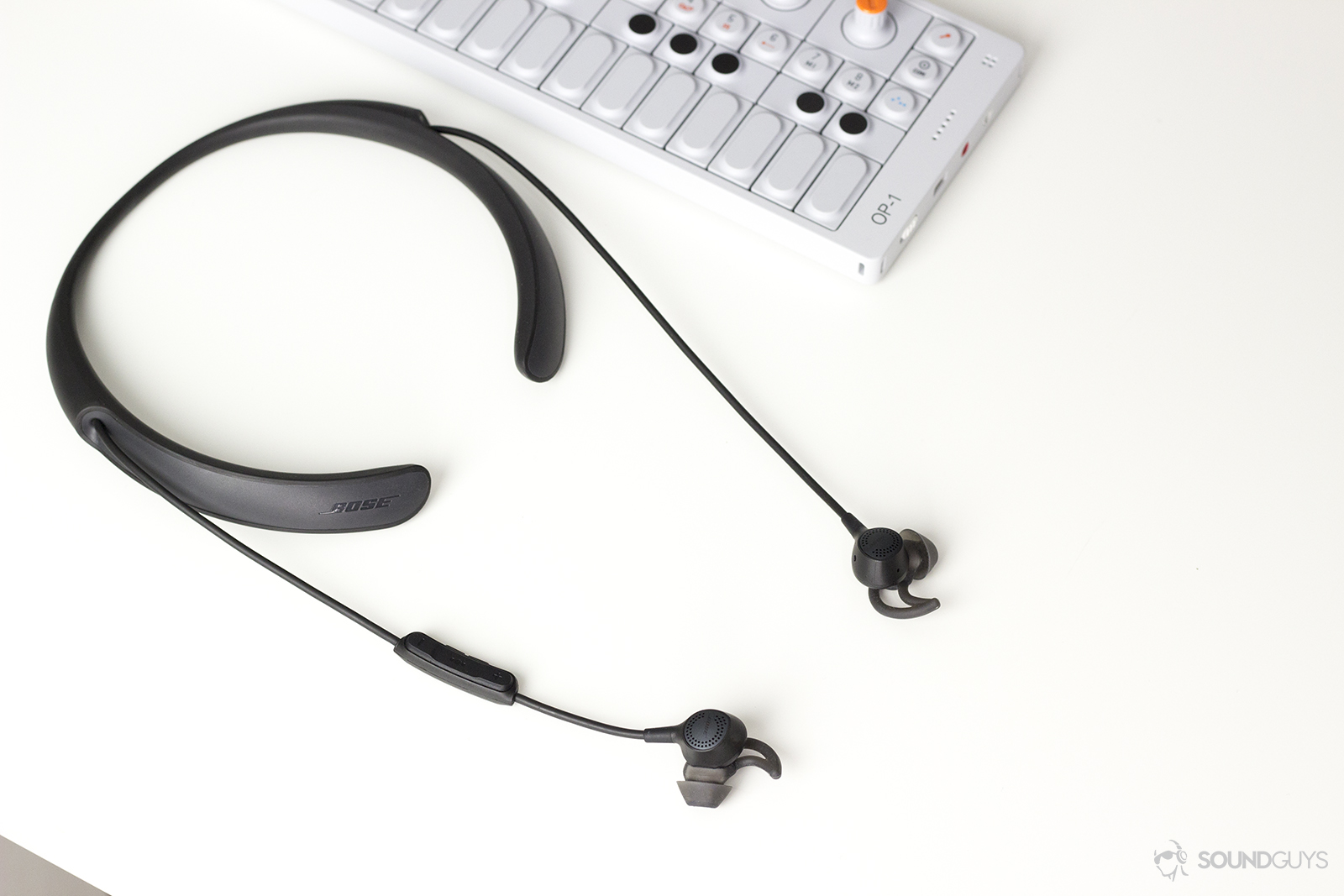 The QC30 are Bose's first attempt at neckbuds. The two earbuds are attached to the collar which has all of the Bluetooth computer components built into it. We've seen this style done plenty of times, especially in the LG Tone series headphones, but I like personally like the design of these better. They have a minimal look to them that reminds me of a mix between the sturdy LG Tone's and something like the Sol Republic Shadow's.
On the inside of the neckband you'll find a single raised button and two small LED indicator lights for battery and Bluetooth pairing. The rest of the soft plastic build is bare, with only a small "Bose" logo on the end which I'm okay with. There's also a small flap that pulls back to reveal the micro USB input for charging, but that's it. The minimal look is definitely my style. The earbuds are attached by two wires towards the back of the neckband so they rarely get accidentally pulled out by anything, because how often do you reach behind your head for anything? One thing I did notice was that the neckpiece doesn't do too great of a job staying in place. It never completely fell off even with a good amount of movement, but it did become jumbled around my neck a few times and I'd have to readjust it.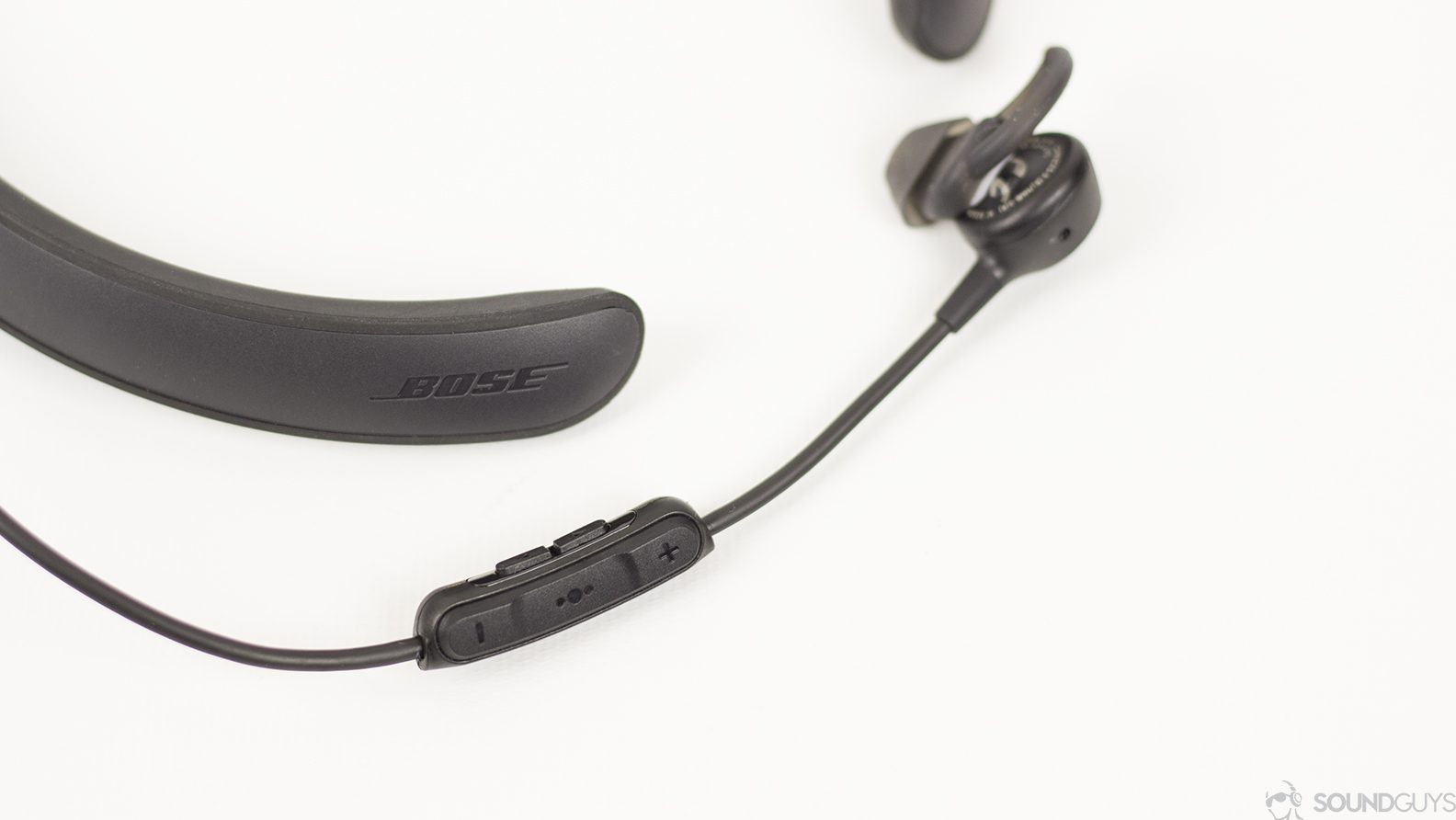 On the wire connecting the right earbud is where you'll find a small control module with a surprising amount of functionality. Like other Bose wires, there's three buttons that let you control playback and a mic for phone calls. What you won't find on other wires are the two buttons on the side of the module. These two buttons let you adjust the amount of noise canceling. If you're in a coffee shop and need to really drown out everything going on you can do that, and then if you're on the train and need to be aware of the announcements you can lower the ANC strength to easily hear. Doing all this without even needing to reach for your source device is kind of great.
As far as fit goes these use the signature Bose StayHear tips which fit my ear perfectly but might not fit yours. Of course, Bose does include two extra sizes to help you get the perfect fit, but if none of them fit it's going to be hard finding any third party tips that fit on the unique earbuds.
Connection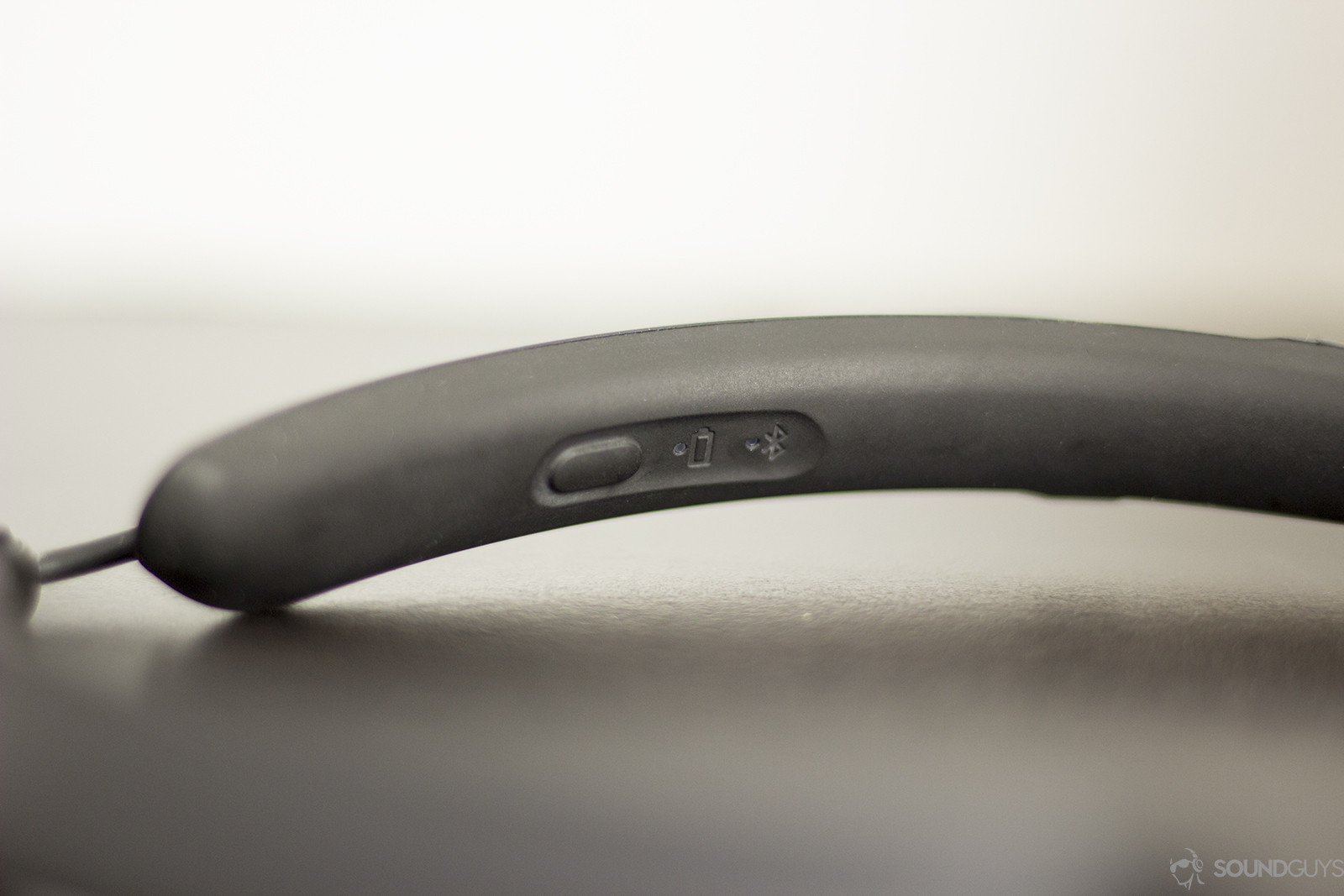 These are completely wireless, so you can only connect via Bluetooth. It should go without saying, but if you use anything with a 3.5mm these might not be for you since you obviously can't plug them in to anything. As far as range goes I've actually had a few more issues with random glitches than I do with other headphones I test. If my phone is in my pocket or I go more than about 20 feet away the music starts to skip slightly. It's not enough to ruin the song but it was annoying enough for me to reconnect to see if that would fix the issue. It didn't. Luckily, these do have NFC so pairing again is easy if you have a compatible device, but playback seems to be a little more rough around the edges.
The single button on the inside acts as both the power button and the Bluetooth pairing button. For most of the functionality you're going to have to reach for the control module on the cable. Here you'll find volume up and volume down buttons sandwiching a multifunction button between them. By tapping the multifunction button once you can pause/play music and answer phone calls. Double tapping will skip to the next song while triple tapping returns to the previous track. Holding down the button will also activate the voice assistant on your phone.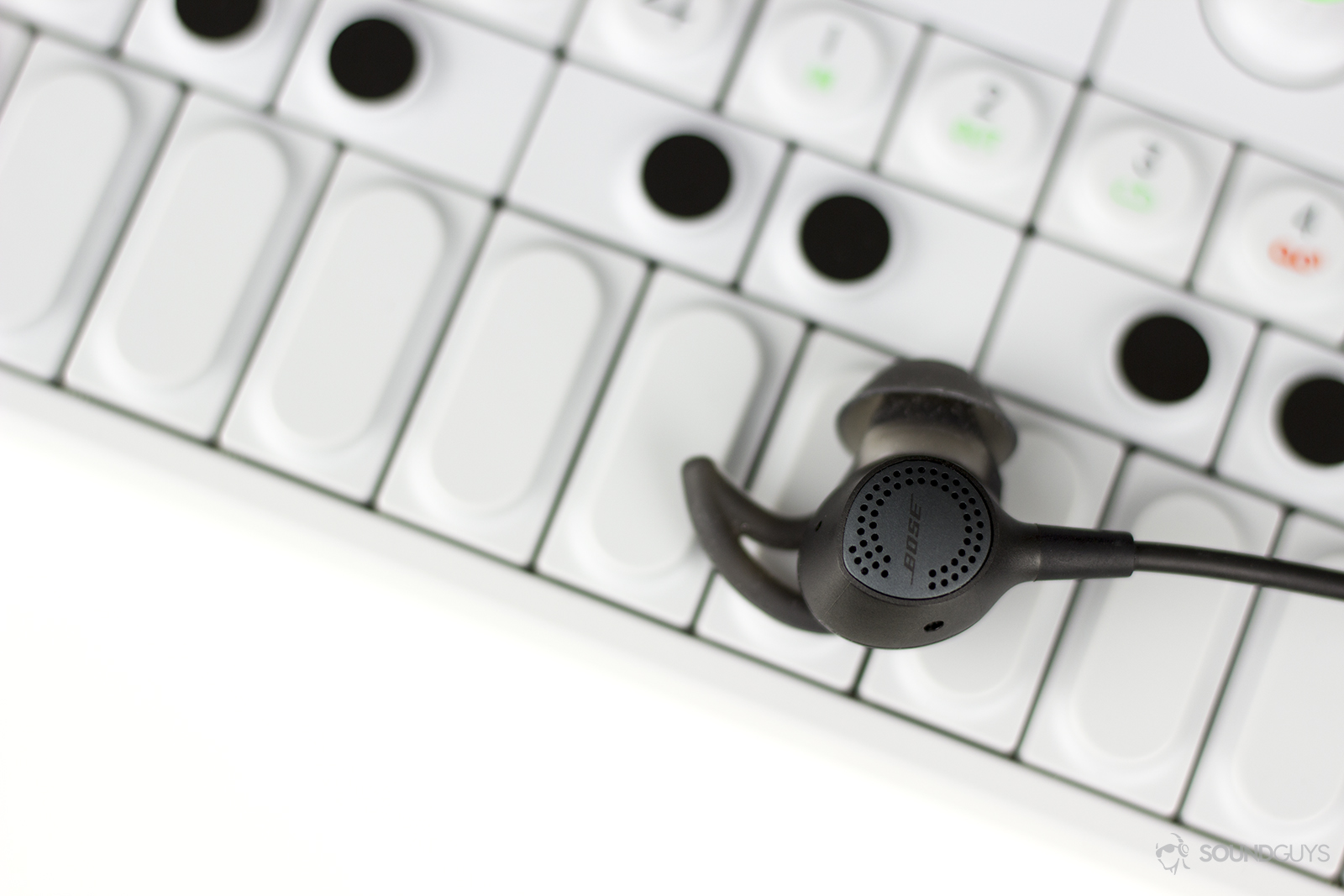 You can also use the Bose Connect app to do all this and even get some extra functionality. Rather than adjusting noise canceling on the headphones you can do this in the app. In the app you'll be able to name your headphones or let the app automatically pick one for you (mine went with Osiris). You can even share your music with a friend using the Music Share feature which streams your music to another pair of Bose headphones.
How good is the battery?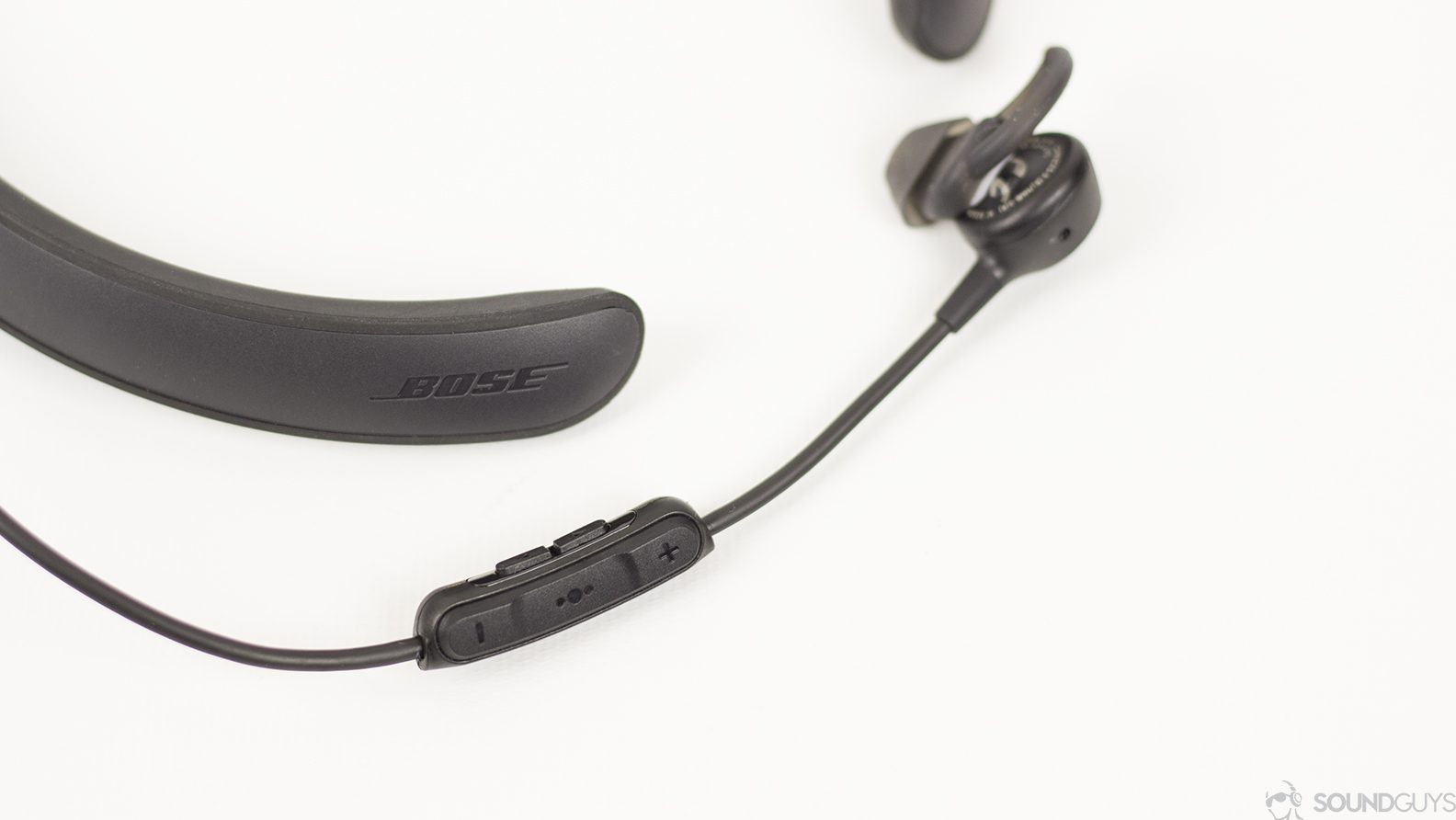 Bose claims a battery life of about 10 hours with constant playback and ANC turned on, and in our testing that was spot on. I literally got exactly 10 hours. A ten hour battery life is above average when it comes to Bluetooth earbuds on its own, but then you throw in the fact that this also includes noise canceling and it's pretty impressive. That said, I have to wonder why they couldn't add more battery into the giant neckband you're wearing to make them last even longer. Don't get me wrong, ten hours is fine for average use but if you're getting on a long flight these might not make it throughout the entire flight.
How does the Bose QC30 sound?
Bose is known for their ANC, and these are no exception. Though the strength of the noise canceling is still really good, I find they're not as strong as the previous QC20. That said, the ability to manually adjust the amount of ANC (hence the name Quiet Control) is well worth the slight drop off in my opinion. I don't always need enough ANC to block out an airplane engine, but it's glad to have that kind of power when I do need it.
As is the case with most of Bose products, there's a heavy emphasis on low end here. Maybe not as much as someone like Beats, but it's enough to make it noticeable on first listen. That said, it's not overbearing so if you like a certain amount of bump to your music these might do you justice. The bass in "Something About Us" by Daft Punk doesn't make your head rattle by any means, but you'll definitely feel it. It's a little loose for my taste, but not bad overall.
Mids sound good in most songs, but I did find there was a little too much on on vocals which kept them from sounding great. In "Nights" by Frank Ocean the vocals cut over the guitar and background elements rather than just float over them.
Highs were rolled off a good amount, and there isn't any harshness to speak of which is what you'd expect from a giant company like Bose. Of course there still isn't a ton of detail but unless you know what to look for you probably won't miss it anyway. It's still a fairly full sound.
Should you buy the Bose QC30?
Overall I think Bose was just slightly off the mark with the QuietControl 30. There are just enough cons to make you really question whether these are worth $299. On one hand, I do like the design and the StayHear+ tips have always fit my ear perfectly, but on the other hand I've had issues with skipping music even when the phone is within arms reach. I would think that since there's a neckband attached to these they would be better with getting a signal, but that wasn't the case.
Again, on the bright side the active noise canceling is still top notch and being able to adjust the strength of your ANC is a feature I actually find extremely useful, on the other hand the neckband is easily disheveled requiring repositioning throughout the day. Then you throw in the $300 price tag and only a decent battery life and it's really hard to recommend these unless you have money to blow. If you want the famous Bose noise canceling and don't want giant over ear cans, there's really no other option. These are without a doubt one of the best, but they're also overpriced. They're definitely cool if you like wireless, but I think I'm going to stick with the previous QC20 because the battery lasts a few hours longer and when it dies, I can just plug them in.