All products featured are independently chosen by us. However, SoundGuys may receive a commission on orders placed through its retail links. See our ethics statement.
Apple AirPods Max tips and tricks
Everything you need to know to use your new Apple headphones.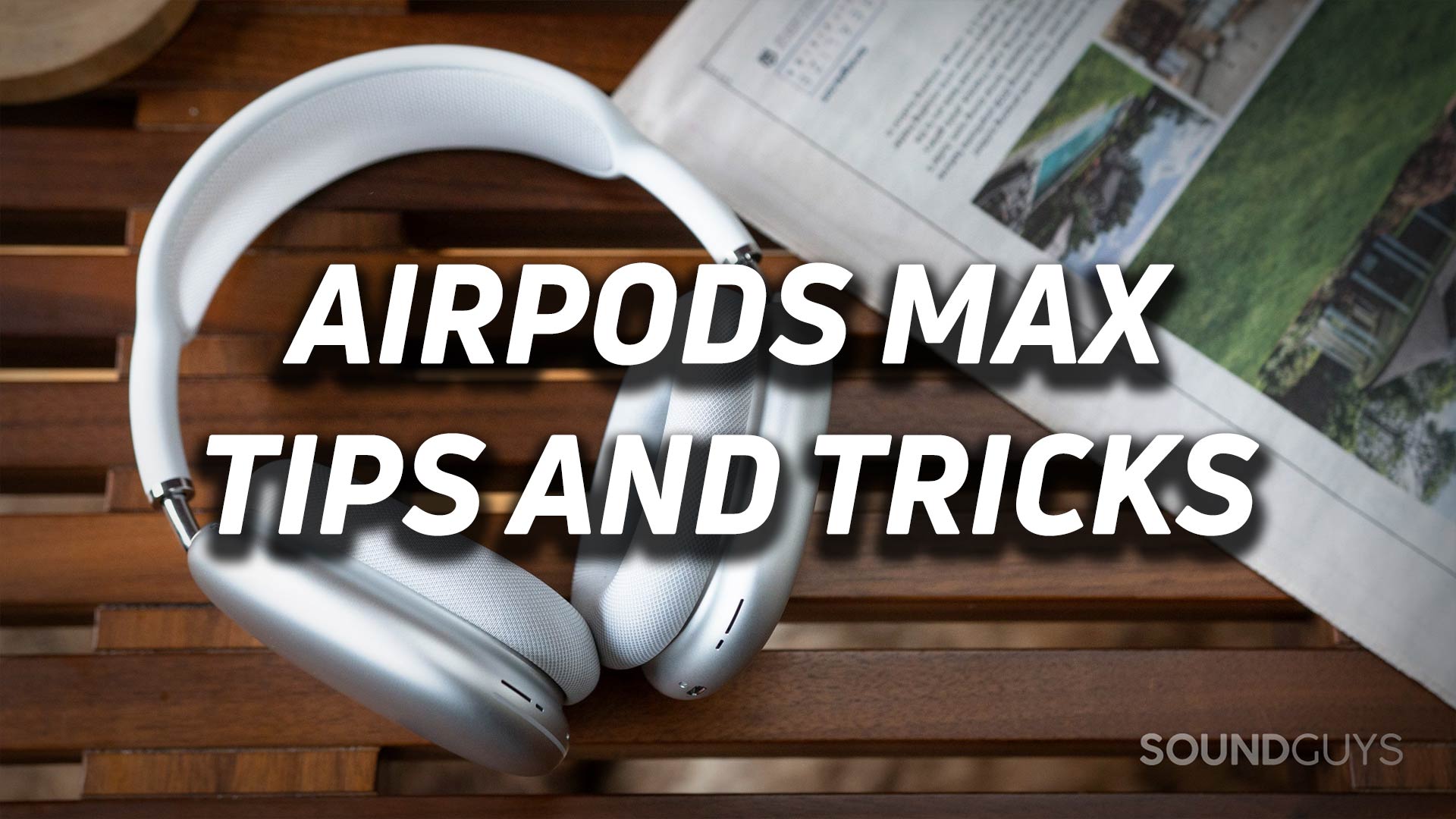 You just got home from your local Apple store and the first thing you do (after ripping off your mask and viciously washing your hands) is unbox your new Apple AirPods Max. The headphones are just as beautiful as you imagined them and you sit, marveling. But then you realize something: you have no idea how to use this expensive electronic device. There are so many futuristic features, and why does the case look like a purse?
We're here to tell you about everything you need to know about your AirPods Max.
Editor's note: this article was updated on August 21, 2023, to remove outdated formatting.
How do you power the AirPods Max on and off?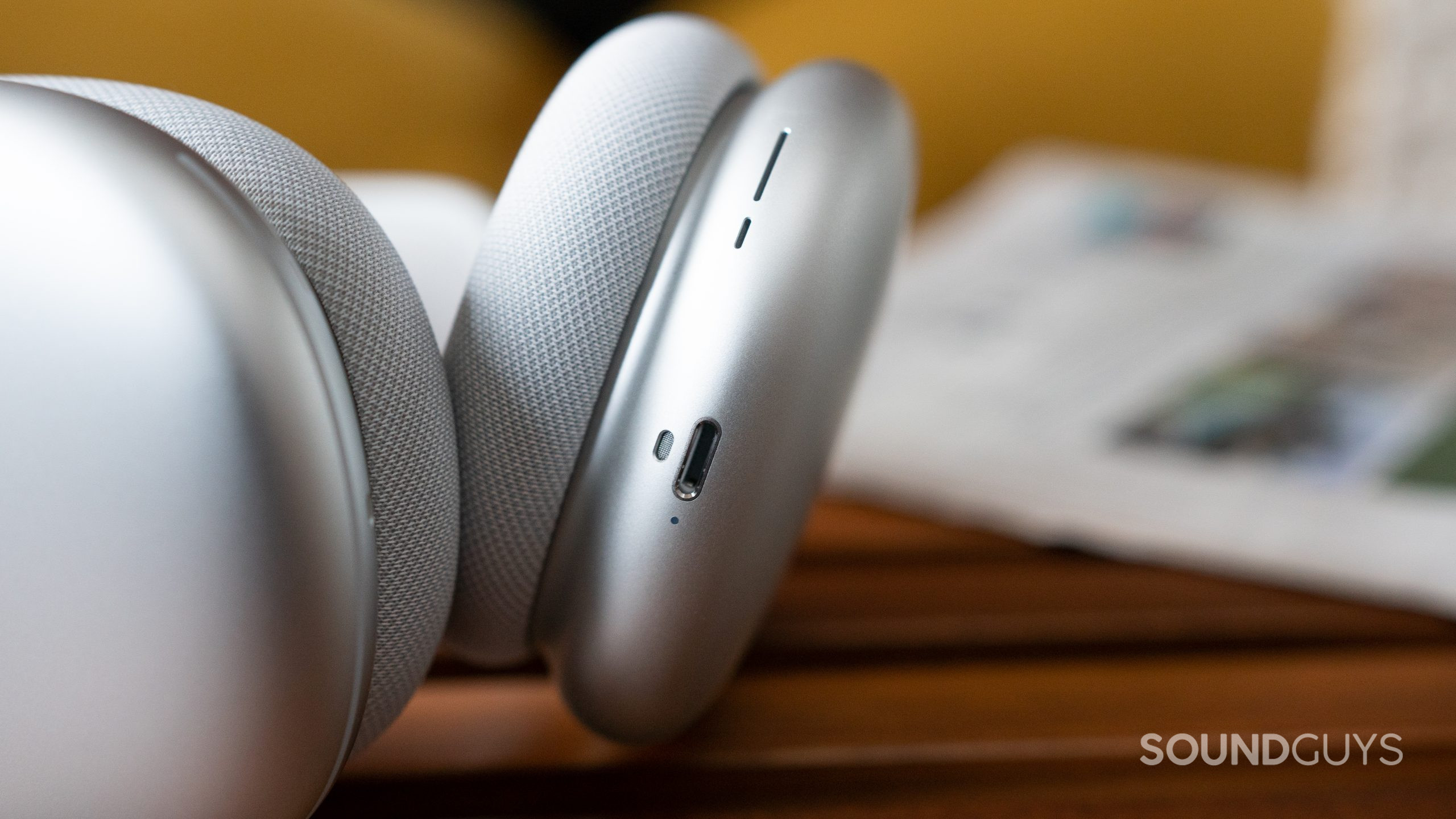 Apple's debut headphones charge via a Lightning cable which is very annoying.
Powering Apple's active noise canceling (ANC) headset isn't as intuitive as you'd expect. The headset, if charged, will automatically stay powered on unless you place it in the included Smart Case.
When the headset is in the Smart Case, it enters a low power mode and never actually shuts off completely. When you remove the AirPods Max from the case, it wakes up and automatically connects to your last-used iOS device. If you don't bring the case around with you, there is no way to shut off the headphones to preserve battery life. This pair of headphones will remain powered on for several hours until entering a sleep mode.
You can pick up a number of third-party cases that claim to enable low power mode, too.
How do you pair the AirPods Max?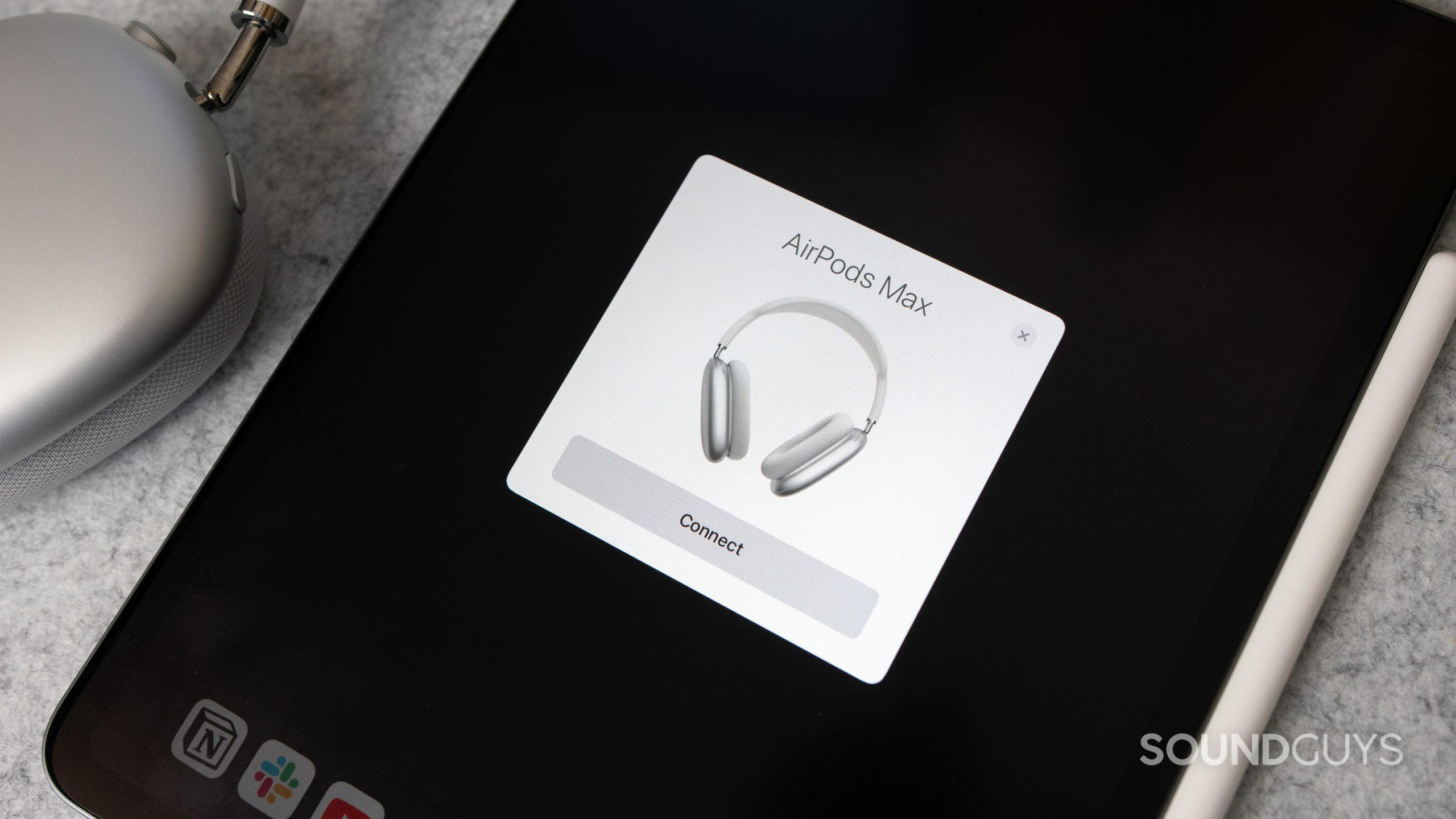 Just tapping connect on an iOS device will pair these automatically to every device on your iCloud account.
If you own Apple hardware, it's easy to connect the AirPods Max to your smartphone, laptop, or iPad. In the case of an iPhone, all you have to do is unlock your phone, enter the Home screen, and then remove your AirPods Max from the Smart Case. A card will pop up on the home screen prompting you to connect the headset. Once you give the AirPods Max permission to pair to your phone, the headset will automatically pair to all of your other Apple devices (as long as they're under the same iCloud account).
If you have a non-iPhone smartphone, you can pair Apple's headphones by going into your phone's Bluetooth settings. Enable your phone's Bluetooth, then press and hold the AirPods Max Noise Control button until the LED flashes white. You can then select the AirPods Max from your phone's Bluetooth menu, just like any other Bluetooth device.
What is automatic device switching?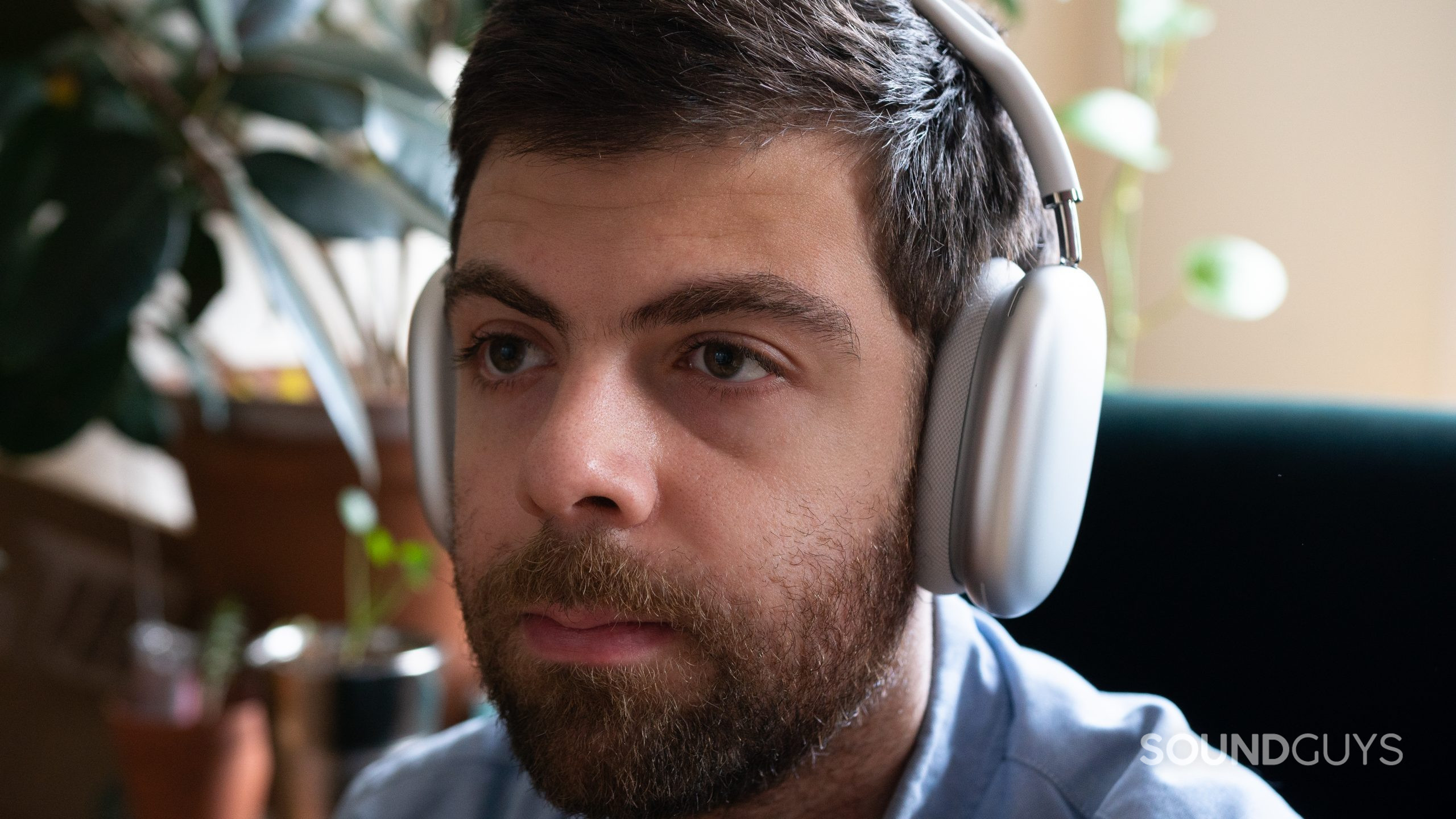 Despite being large and heavy, the ear cups aren't bulky at all.
Once your AirPods Max is hooked up to your iCloud account, you can easily switch between devices. If you are listening to music with your iPad and a call comes through on your iPhone, the headset will prioritize the incoming call audio, so you can answer it hands-free. From there, you can speak through your Airpods Max for the duration of the call.
Every time the AirPods Max automatically switches from one device to another, it displays a pop-up card with a reverse arrow on your device screens. This allows you to revert back to the original source device if you didn't want the switch to happen. You can also disable the auto-device switching function altogether in your Bluetooth settings if you find it annoying.
If you want to manually select the AirPods Max for playback with your iPhone, go into the Control Center (the top-right, swipe-down menu on the home screen) and select the AirPods Max under the Now Playing window.
What are the onboard control for the AirPods Max?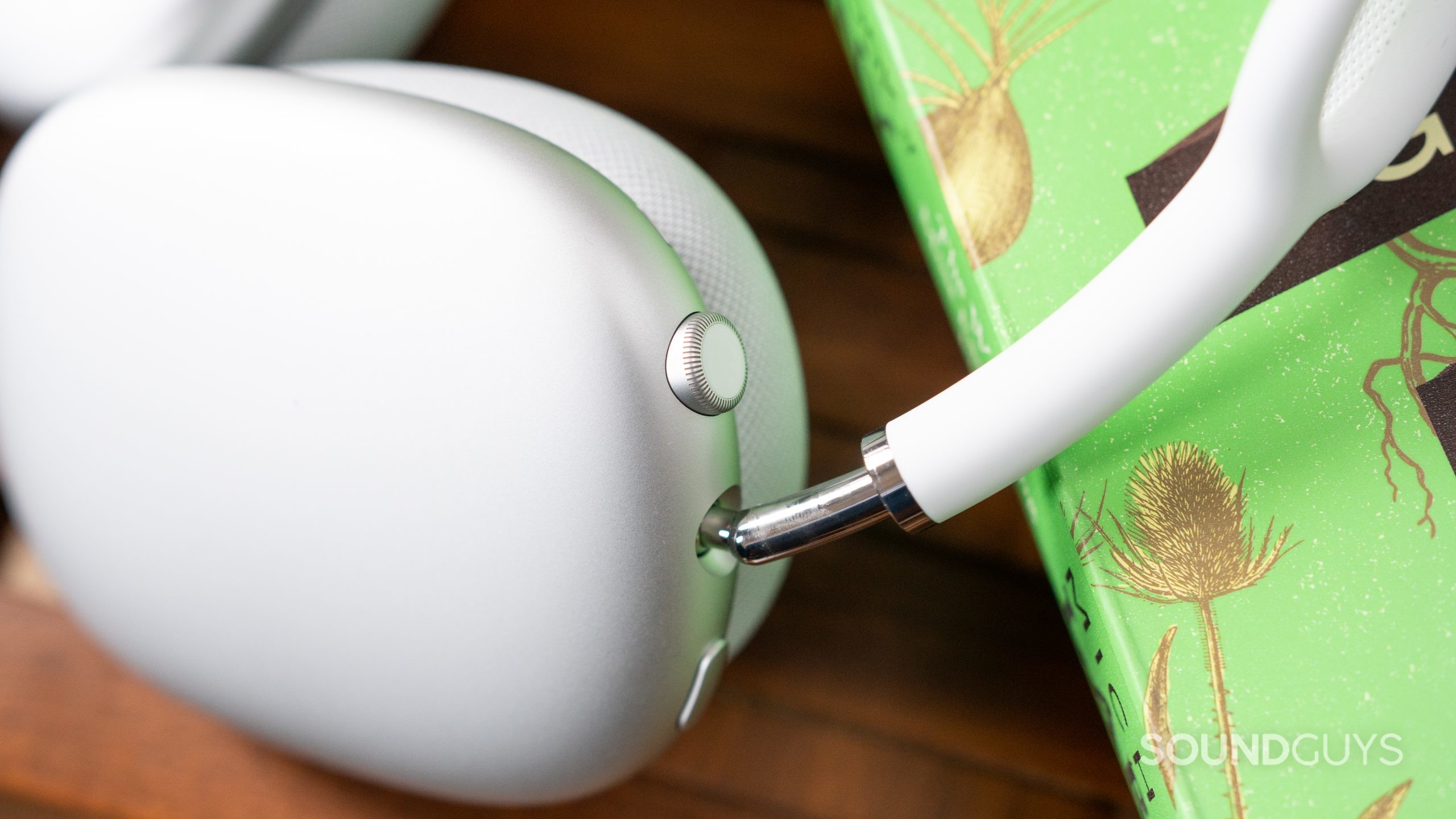 The buttons are both located on top of the right ear cup.
The AirPods Max houses a Digital Crown knob and a Noise Control button. The Digital Crown lets you make volume adjustments, and you can invert the directionality from the iPhone Settings app. To activate Siri, you can either say, "Hey Siri," or press and hold the Digital Crown. With an iPhone, you can program Siri to announce in your AirPods Max when you have an incoming call, and read your incoming text messages to you.
Action
Media controls
Call controls

Action

Noise control button


Media controls

Toggle ANC and Transparency mode


Call controls

✘


Action

Headset: remove/wear


Media controls

Auto-pause/play


Call controls

✘


Action

Digital Crown: rotate


Media controls

Adjust volume


Call controls

✘


Action

Digital Crown: one press


Media controls

Play/pause


Call controls

Answer/end call; answer incoming call and put current call on hold


Action

Digital Crown: two presses


Media controls

Skip track


Call controls

Reject incoming call; answer incoming call and end current call


Action

Digital Crown: three presses


Media controls

Previous track


Call controls

✘


Action

Digital Crown: hold


Media controls

✘


Call controls

Reject second incoming call


Action

Customizable controls?


Media controls

Yes, ANC toggle only


Call controls

No

To pause media playback, simply take the AirPods Max off of your head. Re-placing them on your head resumes playback, so long as you do so within 15 seconds. Alternatively, you can press the Digital Crown once to pause or play music. To skip a track, double-press it and to go to the previous track, triple-press it. As a last resort, you can press play from your device's media player.
How do you control the AirPods Max with your iPhone or iPad?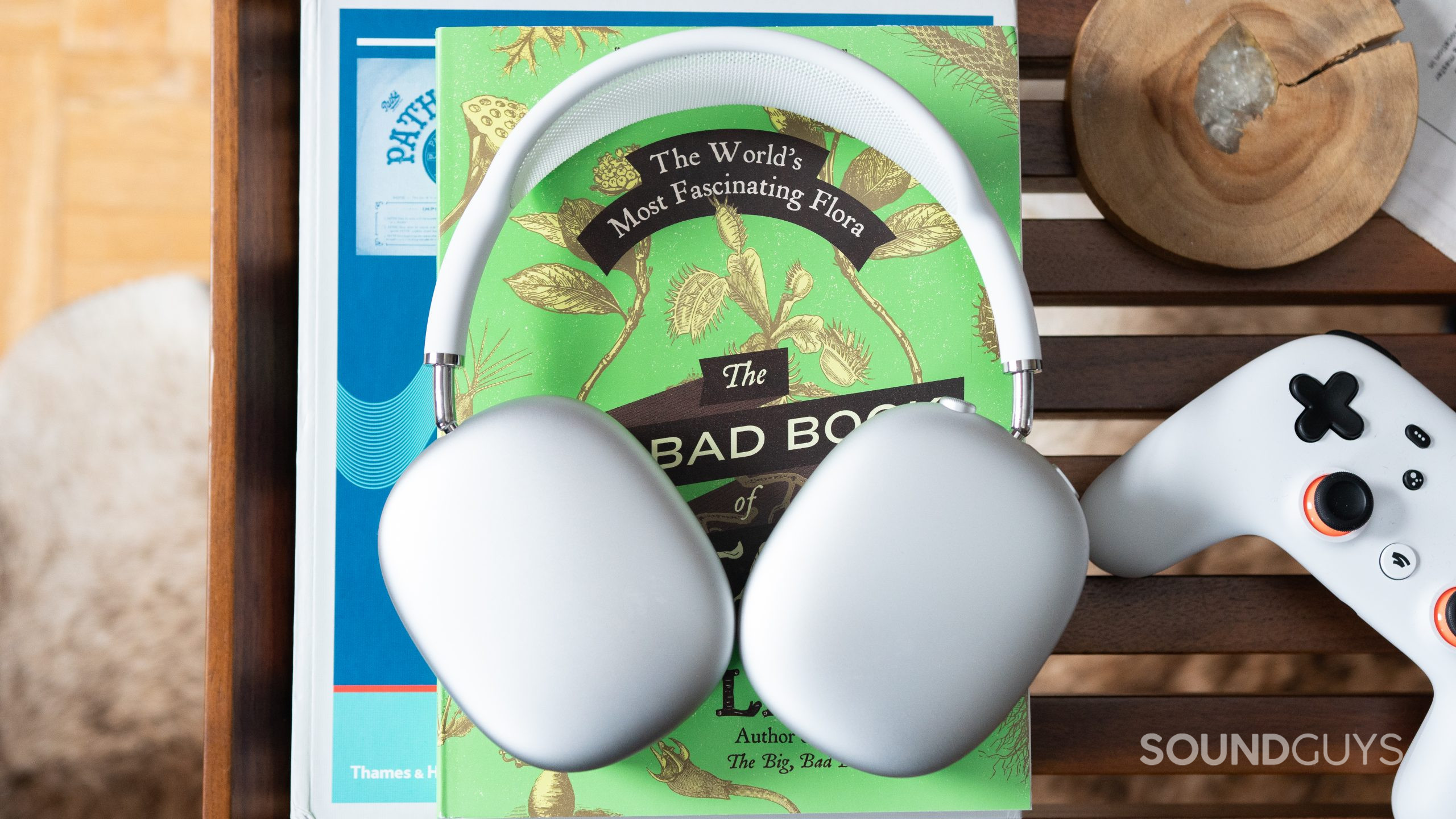 The Apple AirPods Max doesn't have folding hinges which is a bummer, but the ear cups do rotate 90 degrees to lie flat.
If you'd rather control your AirPods Max from your source device instead of directly from the headset, you can swipe down on your iPhone's home screen to access the Control Center. In the Control Center, hold down on the volume slider to access ANC and Transparency Mode adjustment as well as Spatial Audio.
You can also customize more settings by going into your iPhone's settings, tapping Bluetooth settings, and tapping on the "i" next to your AirPods Max. Here you can remap the Digital Crown controls, enable or disable automatic play/pause, control whether or not you want the AirPods Max to automatically connect to that device, and enable Spatial Audio.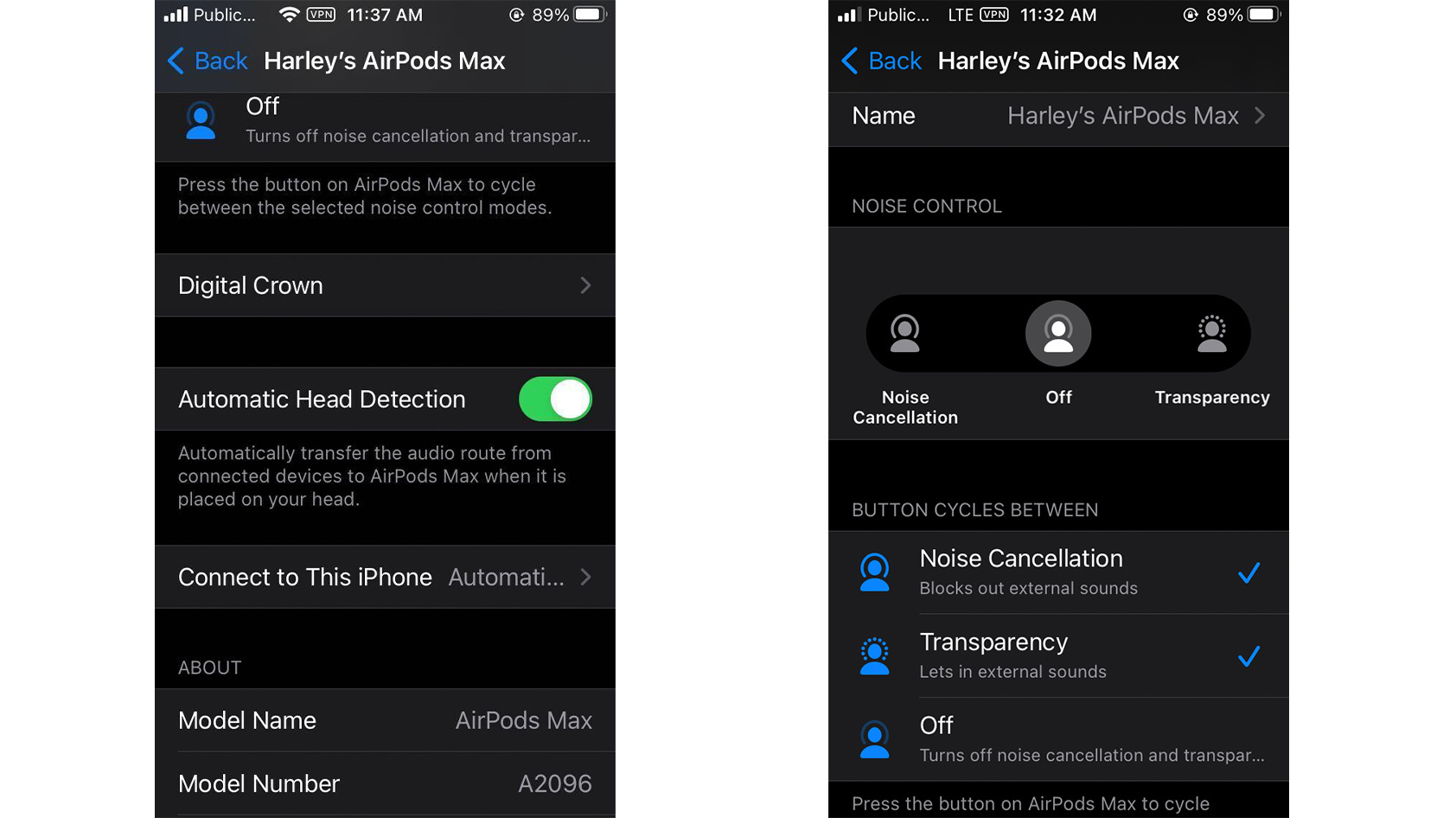 You can manually adjust your AirPods Max settings in your iPhone settings.
In your iPhone's settings, you can view information about your AirPods Max such as the model number, firmware version, and name (which you can change). To download firmware updates, all you need to do is connect the AirPods Max to an iPhone and place them in the case. If an update is available, the headset will automatically download it. You can't update the AirPods Max from an Android device, unfortunately.
How do you perform soft and factory resets?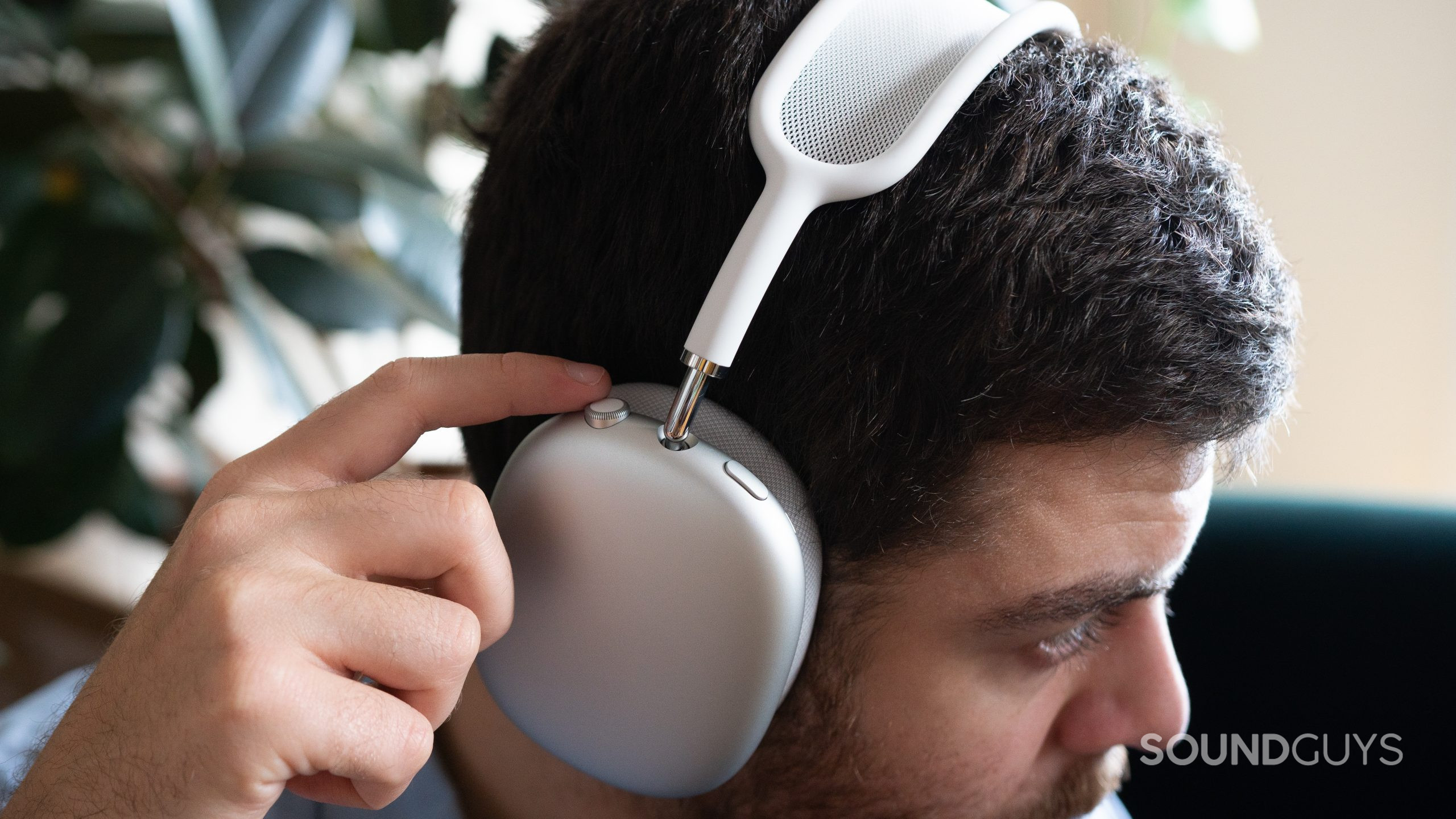 The Digital Crown is smooth and feels great for adjusting volume.
If your AirPods Max is malfunctioning, you might need to reboot it. To perform a soft reboot, which will save all your personalized settings, make sure your AirPods Max is charged. You can then press and hold the Noise Control button and the Digital Crown at the same time until the status light flashes amber.
Performing a factory reset erases all of your personalized settings and will unpair them from your iCloud account. To do this, press and hold both the Noise Control button and Digital Crown for 15 seconds until the status light alternates between amber and white.
How to use Find My AirPods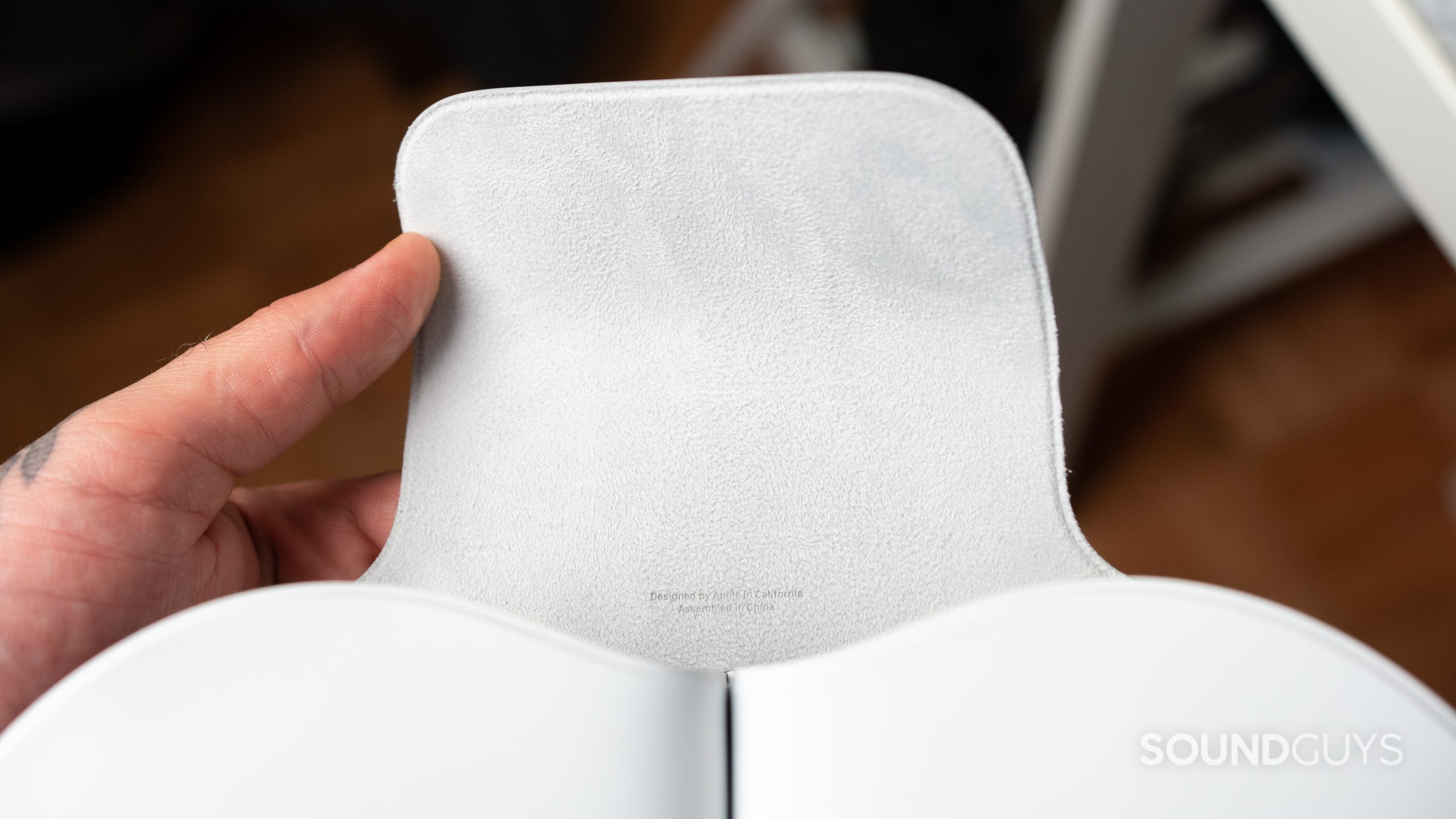 The "Smart Case" is more like a dumb case, amiright?
Find My AirPods is a great feature for the chronically forgetful. To make the most of this feature, your AirPods Max needs to be connected to your iPhone. If you lost your AirPods Max — say, at a friend's house — Apple will still help you, but the results will be less accurate.
A lot of the best AirPods Max features are exclusive to iPhone users.
To enable Find My AirPods, open the Find My app on your Apple device and select "Devices." If you click on your AirPods Max, the app will display a map of the last recorded location of the headphones. You can turn on a loud beep on the AirPods Max to help you locate it. If your AirPods Max is not connected to your iPhone, the app will still display the last recorded location. Once you are close enough to the AirPods Max for your iPhone to automatically connect to them, the app will notify you.
Also be sure to check that your firmware is current, because only since a late 2021 update has the Find My AirPods feature worked with the Play a Sound function. With the latest version it can now emit a sound once you're nearby.
How do you update the Apple AirPods Max?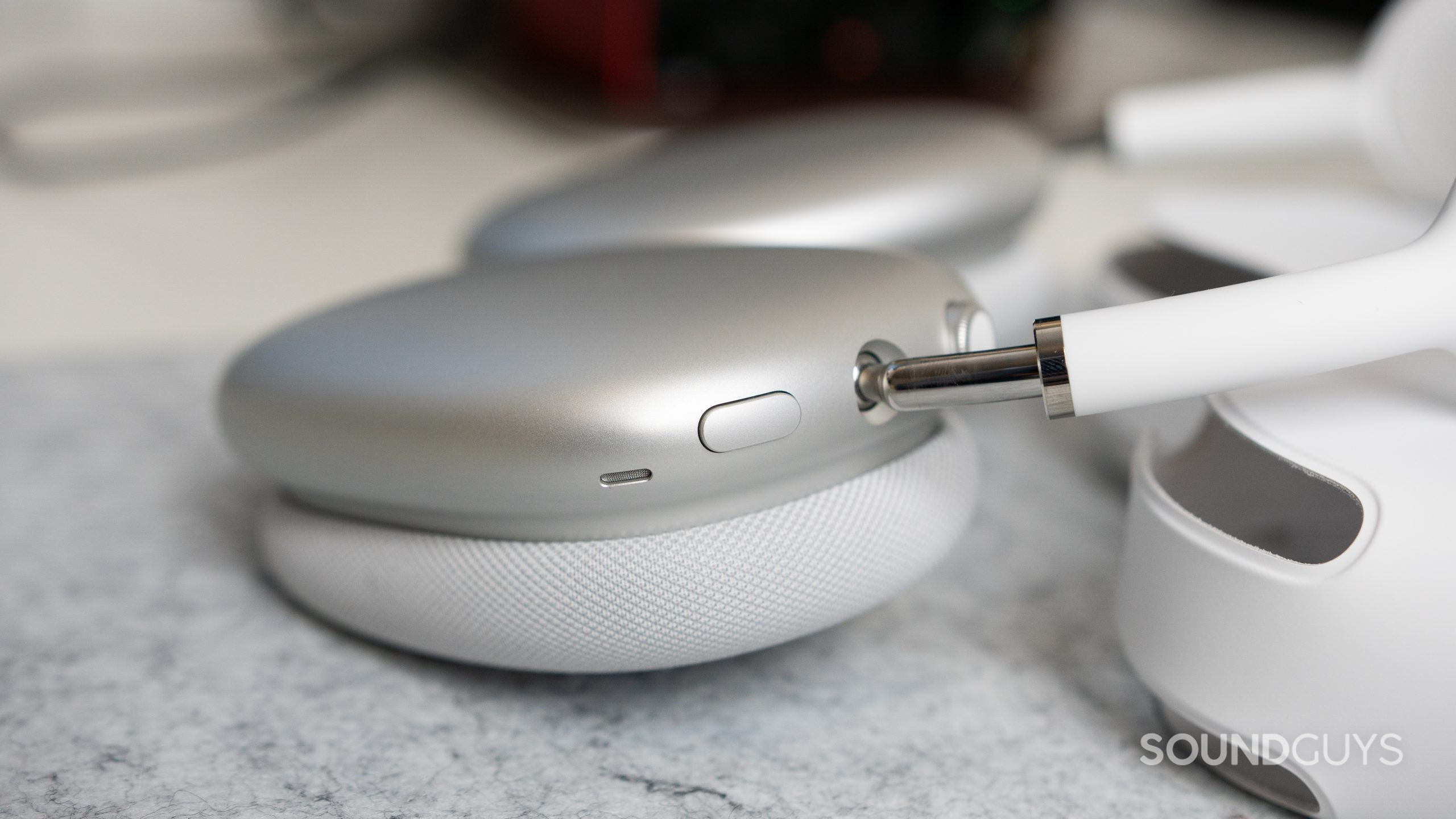 While it has dedicated ANC and transparency buttons, you won't find any obvious way to force an update.
Speaking of updates, you can first check which version your cans run. To do this connect the AirPods Max to your iPhone and open Settings. Choose Bluetooth and tap the "i" icon beside the AirPods Max. This will reveal which version your headset runs. At launch, the version was 3C16, so if that's what you see, for instance, you will benefit from an update.
Unfortunately, you can't really force an update in any conventional sense with Apple. It should occur automatically in the background when connected to your iPhone over Bluetooth.
Some users have experimented and found success by connecting the headset to their iPhone. From there, listen to some audio for around a minute and hit pause. Replace the AirPods Max into the Smart Case and connect it to a charging source. Finally, leave the iPhone nearby, and maybe cross your fingers. The idea is to ensure optimal conditions to allow for an update, such as a power source, stable connection, and having your device in proximity to send the update. It's not much of a method, but it won't hurt anything to give it a go, if you haven't got the most recent update yet.
How do you enable Spatial Audio?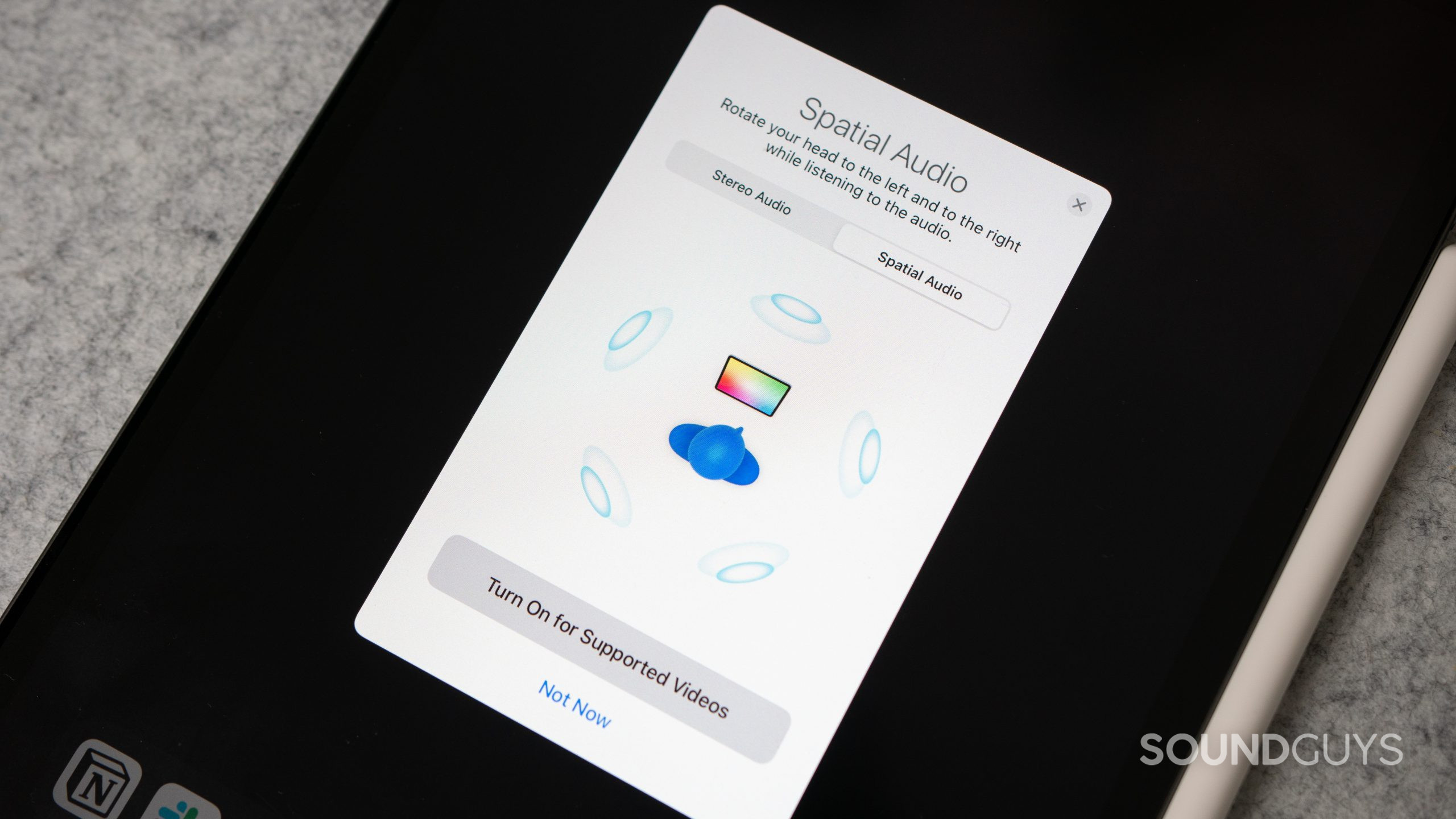 Like the AirPods Pro, these are compatible with Apple's own Spatial Audio.
The AirPods Max Spatial Audio feature mimics surround sound and automatically adjusts every time you move your head. When you initially pair the AirPods Max to your device, you're prompted to test out Spatial Audio, but you can also test it out by going into your device settings.
Spatial Audio only works with Dolby Atmos content, some of which can be found in the Apple TV app, as well as a few streaming services like Disney+. Spatial Audio is also only compatible with iPhone 7 or later, as well as newer iPad models, and you need to have iOS 14 or iPadOS 14 installed. Spatial Audio doesn't work with any Mac computers or Apple TV.
Here is a full list of the services that support Apple's spatial audio:
Apple TV
Netflix
Disney+
HBO Max
Hulu
Plex
Peacock
Discover+
Paramount Plus
Here is a full list of the source devices that support Apple's spatial audio with head tracking:
iPhone 7 or later
iPad Pro 12.9-inch (3rd generation) and later
iPad Pro 11-inch
iPad Air (3rd generation)
iPad (6th generation) and later
iPad mini (5th generation)
How do you share audio with the AirPods Max to another headset?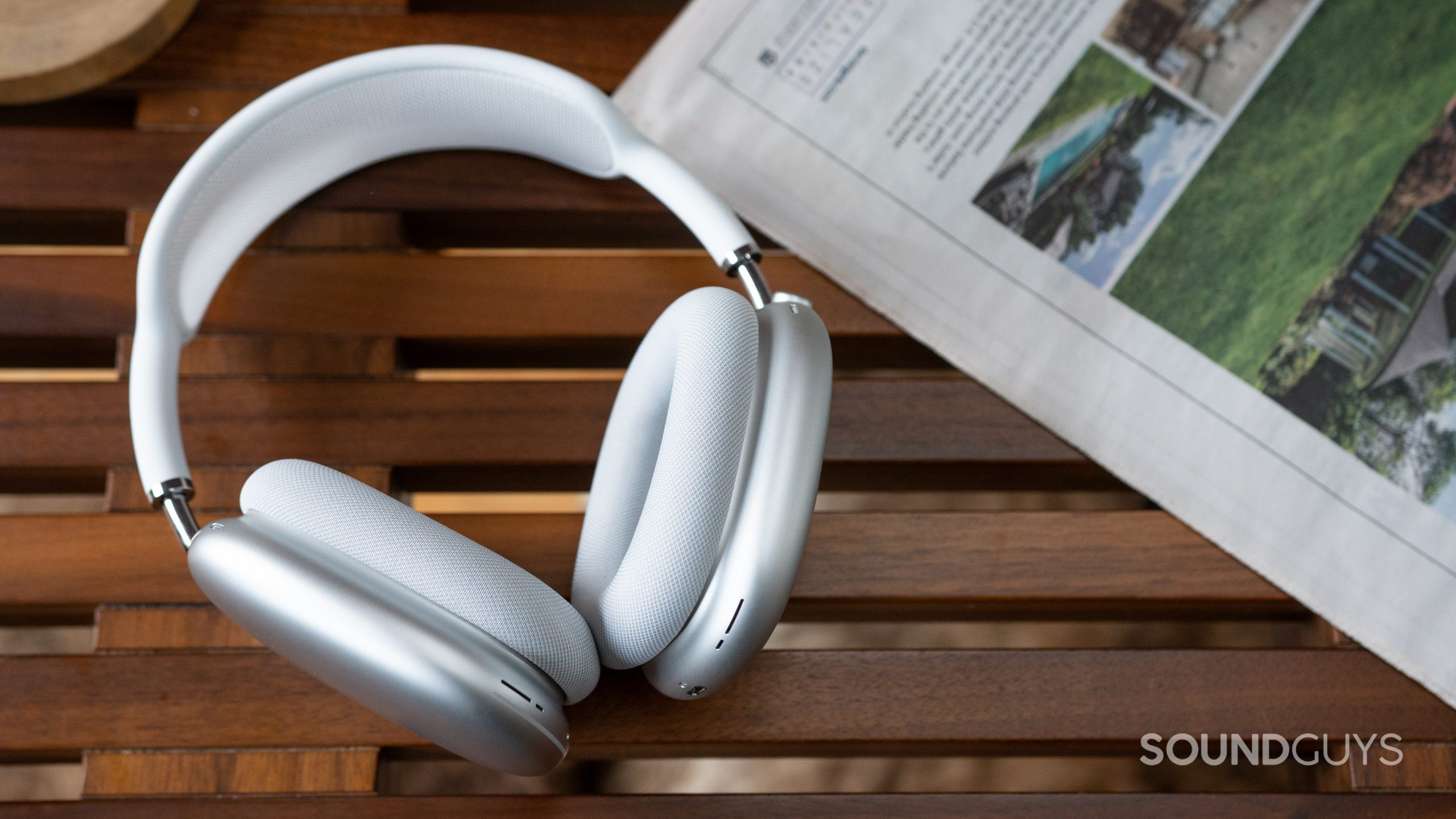 The headphones play nicely with other Apple and Beats products.
The AirPods Max, alongside other members of the AirPods and current Beats family, has a feature that allows two devices to listen to the same audio source simultaneously. So say you and a friend are on a bus and you've both got your headsets handy, you can show your buddy a song or a video.
First off, this requires you're using a compatible Apple device (sorry, Android users). Open Airplay and tap Share Audio. At this point, you put the second headset into pairing mode and hold it close to the Apple device. It should appear on the device's screen, at which point you may tap "Share Audio." That's it; you're good to go.
Hopefully, this AirPods Max guide gets you off to a running start with your new headphones. If you have any questions, be sure to submit them in the FAQ below. Otherwise, time to enjoy your music.
Frequently asked questions about the Apple AirPods Max
It sounds like you may have an issue with condensation. Other users have reported this problem. Over long listening sessions the condensation can build up on the internals of the AirPods Max, causing a whooshing sound with ANC and Transparency mode on.
The only ways to avoid it are to use the headset in dry conditions and not super cold conditions, or shorter listening sessions in less ideal climates. The AirPods Max has no IP rating so it isn't safe against these kinds humidity issues.
I recommend taking it to Apple, because while some people have had mixed success with different solutions, there is no clear cut fix and you might as well use that warranty. Perhaps, be careful how you talk about the problem to Apple because they also might not honor the warranty if they suspect the problem is caused by user error in wet conditions.