All products featured are independently chosen by us. However, SoundGuys may receive a commission on orders placed through its retail links. See our ethics statement.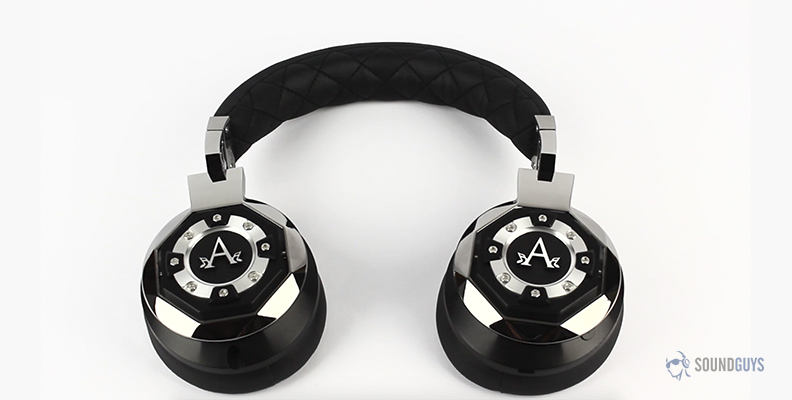 The bottom line
The Icon Wireless headphones have a good sound and a fantastic build quality, but we wouldn't exactly consider them a good 'bang for your buck' option.
Icon Wireless
The Icon Wireless headphones have a good sound and a fantastic build quality, but we wouldn't exactly consider them a good 'bang for your buck' option.
What we like
Very comfortable
Good sound
Durable
What we don't like
Expensive
Poor design
Rating Metric
Sound Quality
8.7
Bass
8.4
Midrange
9.0
Highs
8.6
Durability / Build Quality
9.4
Value
7.0
Design
5.0
Microphone
8.5
Portability
8.2
Battery Life
8.9
Buy now from Amazon ($379)
Earlier this year we reviewed the A-Audio Legacy headphones and even though they sounded good, we couldn't justify the asking price of $299. Now the company has made the move to wireless with the Icon Wireless headphones and we had to see for ourselves if the higher price tag equated to a better pair of headphones.
What's in the Box?
When you open the box you'll find, another box. More specifically a hard-shell carrying case with a carbon fiber design that has everything you'll need inside. Displayed front and center are the headphones, and in the small pouch that's included comes a bunch of other goodies.
In said pouch you'll find a nice looking warranty card, a microfiber cleaning cloth, two audio cables (one with a remote and mic and one without), an A-Audio branded charging block, micro USB cable, and even a spare external battery in case the headphones die when you're nowhere near an outlet. How thoughtful.
If A-Audio was aiming for spoiling the customer they certainly achieved it with more accessories than I've seen come in any other pair of headphones. That's all well and good, but what about the headphones?
Build & Design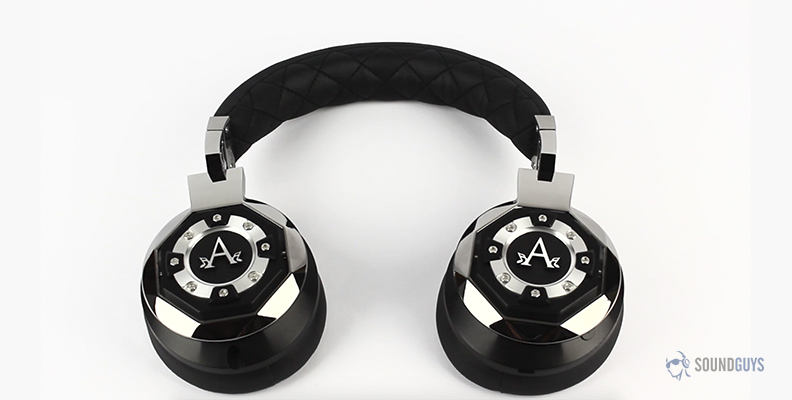 Starting with the design, these are definitely made with a particular type of style in mind. They're certainly not modest looking and go in the exact opposite direction of the minimal look I usually prefer. This is 100% dependent on personal taste, but I must admit that I was not a fan of the design at all. The ear cups have an industrial look that makes me very aware of the fact that I have a large piece of machinery on my head. To be fair though, they also come in all-black which does come off as a slightly more subtle.
Now that the subjective criticisms are out of the way, I can say with confidence that the build quality in these is top notch. From the moment I took them out of the box I was surprised at how sturdy they felt in the hand and even more surprised at how comfortable they fit on my head. The ear cups have some serious padding that allows them to be worn for long periods of time.
The headband itself also has this same padding and I was literally able to wear these for hours at a time without feeling like my ears needed to breathe. They do get a little warm, but not enough to cause any discomfort. Still, if it's 100 degrees out you're probably going to notice. As far as portability goes, I found that the included carrying case (as nice as it is) was more of a nuisance to carry around then just the bare headphones.
At almost 1 pound, these are not the lightest of headphones. That said, A-Audio made a great decision to give these hinges and rotatable ear cups for easy folding. As big as these headphones are, they can still easily fold to a size that's half of their original footprint. I was able to toss these into my backpack on my way to class without a second thought. The rotating ear cups are also handy for when you don't immediately require headphones, but don't want to (or in my case are too lazy) to put them away.
I should warn you that wearing them folded flat against your chest is not beard-friendly and I've painfully lost many a chin hair this way. Besides that don't let the sheer size of these fool you, these are a really compact and portable pair of headphones.
Connectivity
The A-Audio Icon headphones connect via Bluetooth 4.0 to any able device. On top of that they also come with two 3.5mm audio cables so if they die or you just need to plug into a non-Bluetooth device you won't have a problem. The left ear cup has the power button discretely on the bottom while the right ear cup is where you'll find the three playback buttons. The topmost button enables you to raise the volume while the bottom button lowers it.
The A-Audio logo of the right ear cup in the middle is also a multifunction that allows you to play or pause music as well as skip or replay tracks. Give it a double click and you'll skip to the next song and triple clicking it goes back to the previous song. During testing, double clicking to skip worked flawlessly but triple clicking to go back to previous songs was a hit or miss. It could be that I was doing it wrong, but I found myself consistently skipping tracks instead of returning to a previous song.
On the bottom of the right ear cup is also the 3.5mm input for either of the two included audio cables. One of the cables is simply a standard aux cable while the other has an in-line microphone and playback controls that play nice with iDevices. If you're rocking an Android you will only able to pause and play music or skip to the next song by double tapping. Volume control and going back to previous songs via a triple click is reserved for Apple devices only. In terms of Bluetooth we found that the connection held strong up to and around 30 feet, though skipping and stuttering became commonplace once you began to push that limit.
Battery Life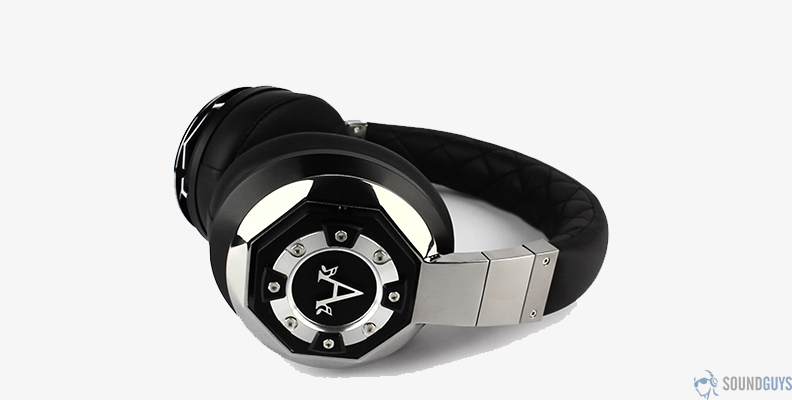 A-Audio claims a battery life of 12 hours and that was pretty spot on. During an average week of commuting to the city (a trip of about an hour each way) and wearing them around the house I got around 11.5 hours of continuous usage, that's with Bluetooth and active noise cancellation.
Charging time was also a plus. A-Audio says that they charge in 2 hours, but they were wrong. I was able to charge these back up from zero in about 1.5 hours which is a mistake I wish more companies would make. If you're ever not sure how much battery life you have left, clicking the power button once will light up the 5 tiny LED lights that let you know how much juice remains.
Sound Quality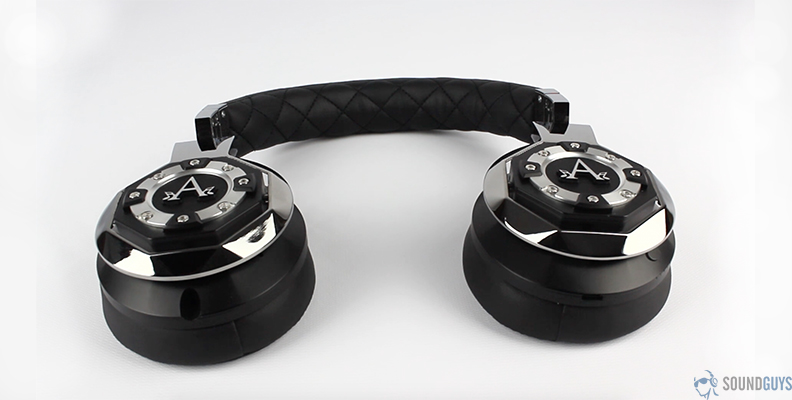 Sound quality is without a doubt the most important factor when it comes to headphones, and the Icon Wireless don't disappoint. When it comes to listening A-Audio allows you to switch between two modes by double clicking the power button. This allows you to choose either from active noise canceling (ANC) or a bass boost mode. For testing I mainly used ANC, though the bass boost mode did have an unexpected appeal of it's own (more on that later).
As far as bass goes, these definitely bump more towards the harder side. Whether that's a good thing or a bad thing depends on what kind of music you'll be listening to. On acoustic songs like 'Rolling Stone' by Passenger, I found that the bass kicks and the subtle rumble of the bass guitar fit perfectly underneath the vocals and main guitar.
That said, genres that had a little more going on like hip-hop and electronic music yielded different results. The bass was overly felt and couldn't decide whether it wanted to help the track or take away from it. In some cases, 'Unnecessary' by Childish Gambino for example, the bass was well represented through the verses but then overpowered everything but the vocals during the chorus.
Even though the bass sometimes rose into the lower mids, it didn't do too much damage to the mids in general. For example, 'Mary' by Kings of Leon has fairly consistent bass throughout but it never got in the way of vocals or any of the guitars. The strumming pattern for the guitar definitely comes through clearly, but still manages to fit snugly behind the raspy vocals.
These headphones do a particularly good job at smoothing out the highs to prevent any harshness from seeping through. In 'Dirty Paws' by Of Monsters And Men the crashing symbols and hi-hats  in the chorus never overdo themselves to the point of discomfort. To that same point you can hear the fingers sliding over the guitar strings during the intro without them ever feeling cringeworthy which is always good.
The ANC isn't the best, but it definitely gets the job done. Loud noises will still seep through but it does a good job at canceling out the low rumble of riding in trains and a good part of the babble of large crowds. The bass boost option does just that, boosts the bass. I found myself using this a lot simply because I felt like ANC sounded a little too narrow for my liking and the bass boost gave everything a lot more room to breathe.
Though it did up the low end significantly, it also pushed on everything else which in my opinion provided a slightly better soundstage that acoustic songs greatly benefited from. That said, it's worth keeping in mind that songs with bass that were already knocking on the door of uncomfortable get pushed up to unpleasant in bass mode.
Conclusion
Overall these are definitely a premium feeling pair of headphones with great sound quality. If you're looking for headphones to use in the studio you might want to look elsewhere, but if you just want a good pair of headphones to casually enjoy music these are a great option. That said, the high price of $379 might be a deterrent for some people and rightfully so. If you enjoy the design, have the money, and are in desperate need of a very comfortable pair of headphones then these are not a bad option at all.
Buy now from Amazon ($379)