All products featured are independently chosen by us. However, SoundGuys may receive a commission on orders placed through its retail links. See our ethics statement.
A-Audio Legacy Review
The A-Audio Legacy headphones pack noise cancellation and good sound into a nice build, but we'd like them better for a slightly lower price.
UPDATE [January 2022]: This product is no longer available. Have a look at our selection of the best over-ear headphones instead.
For a company that has only been around since 2012, A-Audio has gained a lot of ground in terms of brand recognition while garnering some fairly glowing reviews in the process. The Miami-based company only has a few offerings, and unlike the seemingly endless waves of products pumped out by some other new companies, it seems that a lot of attention is paid to every detail of each of their products. Nowhere is this more apparent than their flagship wired headphones, the A-Audio Legacy Over-Ear.
Reading the product page on the company's website feels more like reading the feature list of a high end sports car than it does headphones, though that could be due to the amount of sports car analogies used on said page. Still, this is a serious-looking pair of headphones, and if they can really do everything they claim to at a price of $299, consider us impressed.
What's In The Box?
Open up the box and you'll find the headphones tucked inside a clear plastic tray. Underneath is the hard-shell case, which contains everything else. Open it up and you'll find a pouch. Tucked inside the pouch are a cleaning cloth, plastic bag containing two cables and a 1/4″ adapter, two AAA batteries, and the warranty card and a quick guide on installing the batteries. Underneath the pouch, you'll find the proper manual.
Build & Design
The A-Audio Legacy Over-Ears are available in two colors. In this review we're looking at the Phantom Black model, though a Liquid Chrome option is also available. Both are quite nice looking, with the Liquid Chrome pair tending toward the flashier side. This isn't a subtle looking pair of headphones, but if you prefer the look to be slightly more subdued, you might want to go for the Phantom Black option.
The materials list immediately makes the headphones' chunky, semi-industrial look make a lot more sense. The headphones use anti-vibration aluminum for the ear cups, while the build is steel with zinc hinges and chrome plating on the outside. That reads like the headphones should weigh about 25 pounds, and they certainly aren't light as a feather, but they weigh in at a modest 11.2 ounces.
The use of almost over the top materials extends to the ear pads as well, which are made using memory foam. This turns out to be absolutely worth it, as my first thought when trying the headphones on for the first time was "wow, these are really comfortable." Luckily, this didn't wear off over time either — the headphones remained very comfortable throughout testing.
Connectivity
While these headphones only offer connectivity of the wired variety, it's far from the barebones approach taken by many headphones. Two cables are packed into the box: one cable with mic and remote, and another simple cable without mic and remote. This is fairly common, but with the A-Audio Legacys you have the option of using both cables at once.
Each earcup has its own multi-use 3.5 mm jack. You can plug the cable running from your music source into either of these to listen to music and either will work. The jack that is left free then becomes a line out, allowing you to run the other cable to another pair of headphones or (as I did in testing, for example) a pair of monitor speakers with an aux in jack. I'm hard pressed to think of a situation in which I'd need to do this, but it's nice to know that I can.
The remote has three buttons, but with an iOS device, it works a little differently than most. The + and – buttons only control volume, while the middle button controls everything else. Tapping it once with pause and resume music playback or answer and end calls, tapping it twice skips music forward and tapping it three times skips backward. Call quality using the built-in mic was decent — roughly what you would expect from the earbuds included with most phones.
Battery Life
The A-Audio Legacy Over-Ears allow for three different playback modes via a selector on the right earcup. There is a passive mode, marked as "Audio" on the selector, ANC mode, and finally a Bass Enhancer mode. The latter two options require two (included) AAA batteries to be inserted into the left earcup. The passive mode, of course, will work without any batteries.
We've seen this before: the Bose QuietComfort 25s, for example, will work without any batteries included. Still, the ability to use the headphones sans batteries is a major plus, and a big part of why the Battery score for this review is so high.
Because batteries differ and A-Audio doesn't offer its own estimated playback time, it's tough to pin a number on battery life for the Legacys. What I can say is that the included AAA batteries lasted through the entire testing process and then roughly a week of listening on and off, but because how often I used what mode wasn't measured, I can't say for certain how long I was draining the batteries during my usage. Still, it seems that two batteries should get you a decent amount of playtime.
Sound Quality
As mentioned above – the A-Audio Legacy Over-Ears offer three different audio modes. During testing, most of my listening was done in passive mode, though any differences I noticed in other modes will be noted as such. Most critical listening was done through a Focusrite Saffire Pro 40 audio interface, though I did also test the Legacys with an iPhone 5s and Nexus 5. Both phones powered the headphones just fine, and though (as with nearly all headphones) you'll hear some minor benefits from using a headphone amp, it certainly isn't a necessity.
In passive mode, lows are still quite powerful, providing a nice foundation to the rest of the frequencies without becoming overly boomy or mushy. Activating the ANC thins the bass out a bit, but flipping the switch to the Bass Enhancer brings back the bass and then some, making the sub-bass a bit more powerful without adding mud.
The guitars on Sleater-Kinney's "No Anthems" sounded great in passive mode, but activating ANC or even the Bass Enhancer robs a little of the low-mid character. Vocals in the same song got a boost with both ANC and Bass Enhancer, and the vocal fry on the end of certain bits came through more than it normally would. This comes from a boost in the 1 – 1.5 kHz range when ANC is activated — likely because this is the range where most voices (and therefore most office noise) can be found.
The highs provide a nice amount of detail but are still quite smooth. The multilayered percussion on Tobin Sprout's "Martini" are nicely represented. Even when activating ANC I never heard much harshness in the highs.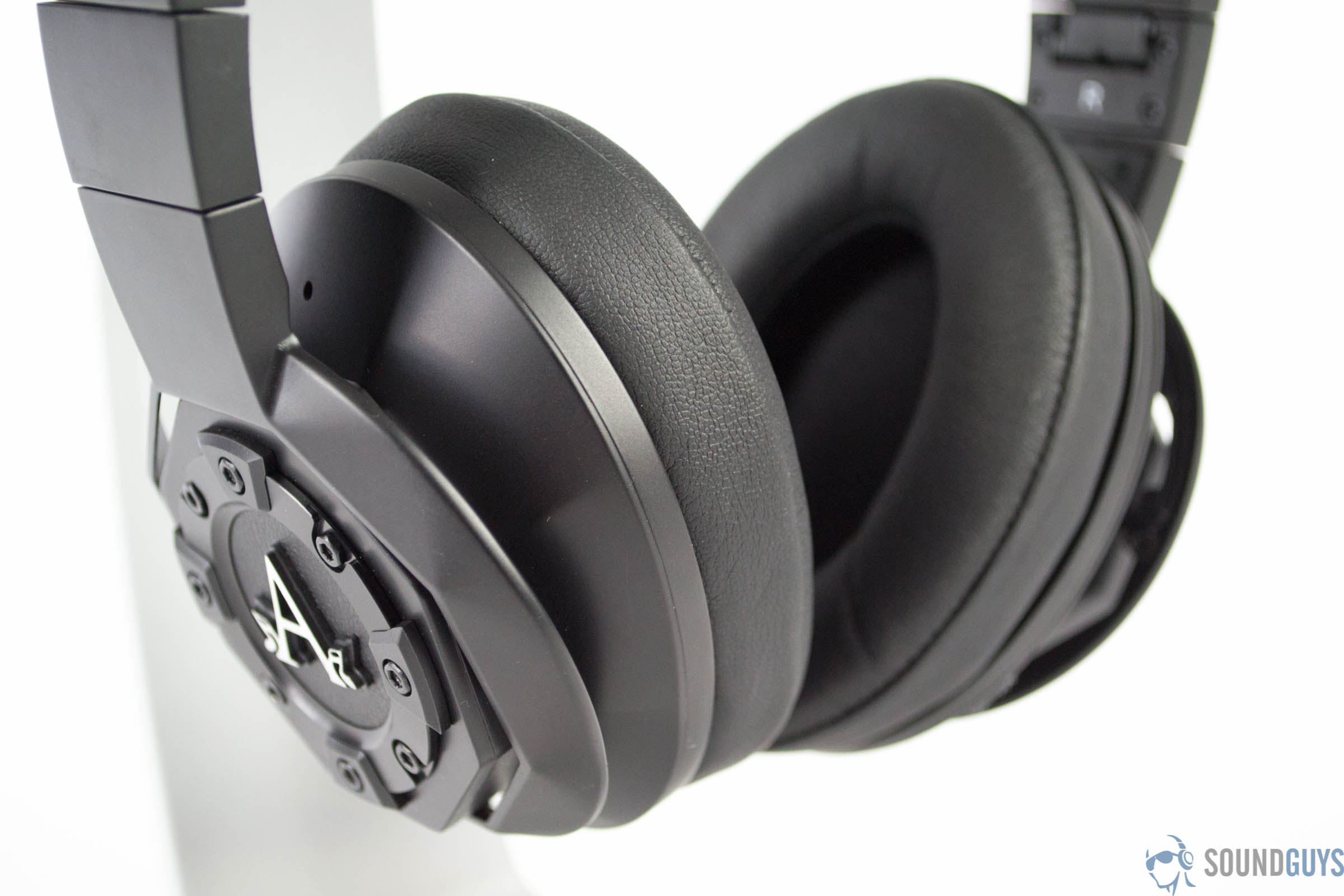 Soundstage is very nice in passive mode. Turning on either ANC or Bass Enhancer seems to narrow things out a bit, but not too much. Because of this along with the numerous issues I mentioned above, my preferred listening setting was passive mode, which is a far cry from headphones like the Bose QuietComfort 25 which are just okay when unpowered.
The noise cancellation wasn't very effective when music wasn't playing. It thinned out the sound of a nearby TV, but I could still hear dialogue very clearly. With music playing, ANC cuts sound dramatically compared to playing music at the same volume in passive mode. The Bass mode on the switch keeps ANC turned on, and this makes sense because by itself, ANC thins out the sound considerably. I would have been fine with just including the bass enhancement in the ANC circuit, but I can see why the additional processing it made optional, since it probably drains the battery faster.
Conclusion
There is an awful lot to like here — the overall sound is very good, and even though we've seen better adaptive noise cancellation, it's always nice to see. The problem is that while the Legacys do what they do very well, we've seen other headphones do the same for less money. If you're looking for better noise cancellation, the Bose QuietComfort 25 cost the same amount of money and perform far better.
Take the batteries out of the equation and suddenly the A-Audio pair is looking much better, but suddenly the price doesn't make as much sense, as you can get a better sounding pair of headphones without ANC for less than $200. The problem here isn't exactly a lack of quality in the A-Audio Legacy Over-Ears, it's just that there are so many good competitors. Still, if you like the look of them, they're absolutely worth a try.