All products featured are independently chosen by us. However, SoundGuys may receive a commission on orders placed through its retail links. See our ethics statement.
8.3
Forza Metallo Wireless
The bottom line
At $169 the Forza Metallo Wireless aren't cheap which makes them hard to recommend to anyone that doesn't have some money to burn. But if you do buy them these could be the headphones you take with you everywhere.
Forza Metallo Wireless
At $169 the Forza Metallo Wireless aren't cheap which makes them hard to recommend to anyone that doesn't have some money to burn. But if you do buy them these could be the headphones you take with you everywhere.
What we like
Comfortable
Great design
Strong bass
What we don't like
Lacking in mids/highs
Price
Rating Metric
Sound Quality
7.7
Bass
8.4
Midrange
7.5
Highs
7.0
Durability / Build Quality
8.5
Value
6.7
Design
9.2
Microphone
9.0
Portability
8.5
Battery Life
6.7
In the last year or two, V-MODA has made some impressive moves to broaden their product line-up. First there was the company's first Bluetooth speaker the REMIX, and now we're looking at their first pair of wireless earbuds: the Forza Metallo Wireless. I recently reviewed the standard wired Forza Metallo headphones and I came away really impressed, so is the wireless counterpart just as good? Or is wireless not the way to go?
What's Inside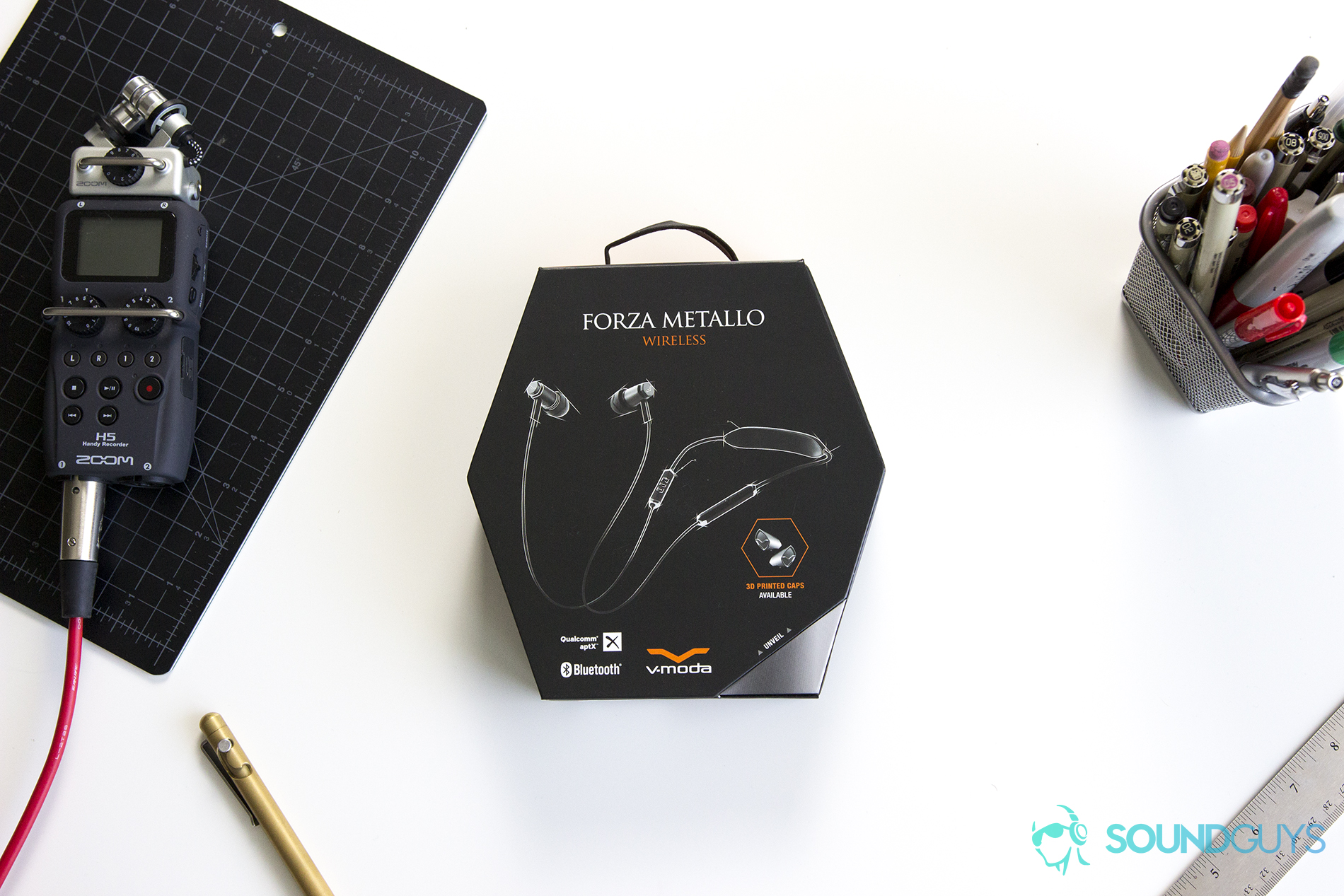 In the box you'll get the headphones, four sizes of sports fins and four sizes of the standard ear tips, a one meter long micro USB charging cable, and a portable pouch.
Build & Design
It's fitting that the build and design section comes first in our reviews, because they're probably my favorite two aspects of these headphones. Unlike something like the LG Tone's we recently unboxed, these lose the giant neckpiece for a slimmer and more ergonomic design. The plastic piece that fits around the back of your neck is the largest part of these headphones, with thin cables connecting it to the two control modules on either end and even thinner wires connecting those to the metal earbuds.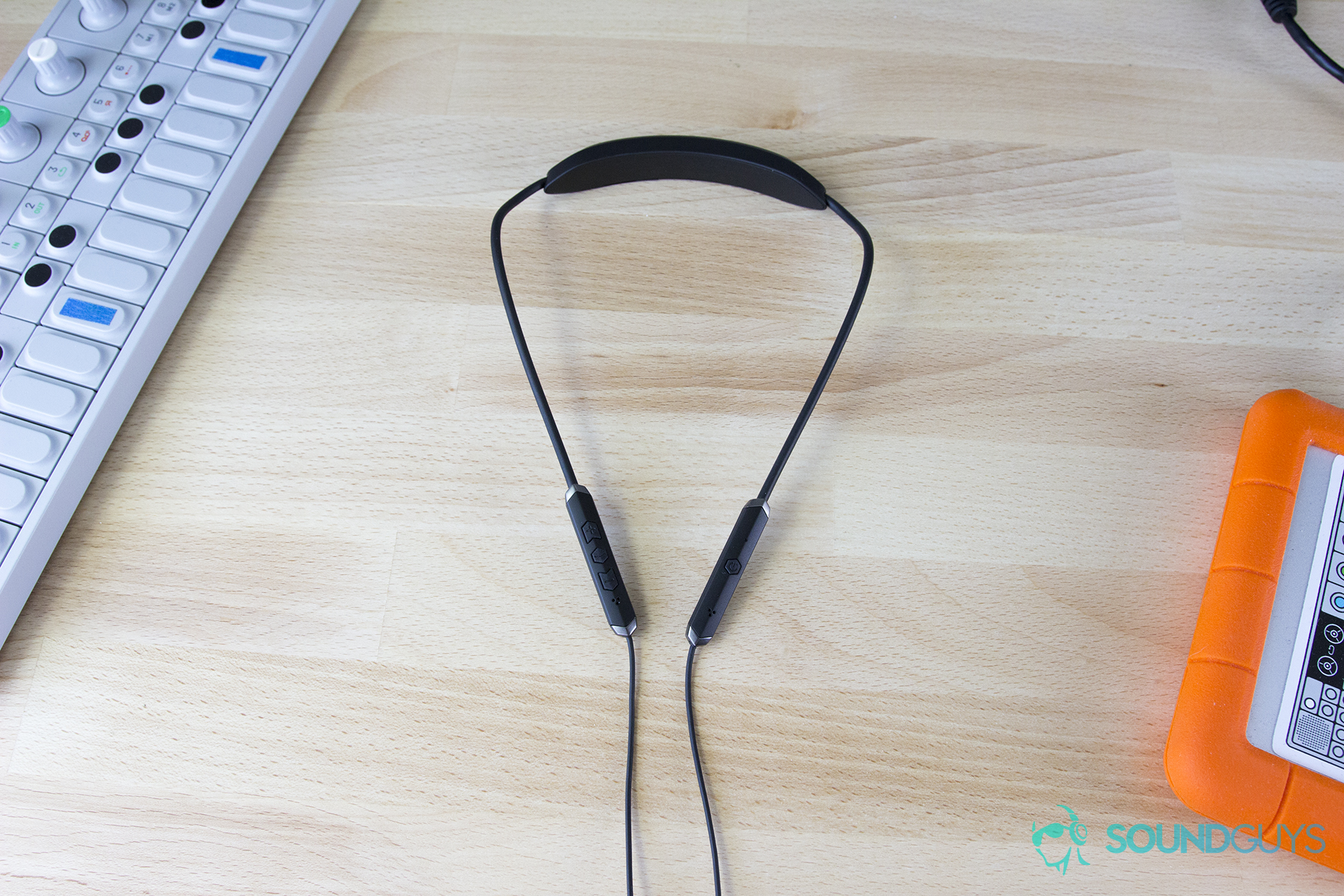 Even though most of the headphones are made of plastic, they're shaped in such a way that the neckpiece fits easily around the back of my neck and the cables don't feel cheap or flimsy. The neckband also fits perfectly underneath the collar of a dress shirt, making it a pretty cool way to discreetly wear headphones. To make things even cooler the neckpiece vibrates when you get a call so you won't miss any important  calls. This feature was surprisingly useful when my phone wasn't immediately on me. On the downside, I do wish the wires connecting the earbuds were just a little shorter. Wearing them loosely means that they fly all over the place and get in the way of things far too often unless you tuck them into your shirt or something.
On the neckband you'll find a small flap that hides the micro USB port. Normally this would lead you to believe that maybe the product has some kind of IPX rating against water and sweat, but you'd be wrong. Kind of. Although these don't have an official IPX rating V-MODA claims they were made to withstand sweat and water damage thanks to a sweat-proof coating. So feel free to use these at the gym. That said, I can't vouch for any degree of resistance other than to say that during testing I used these at the gym and in the rain and haven't had any issues. Who knows how long the coating will last but for now, so far so good.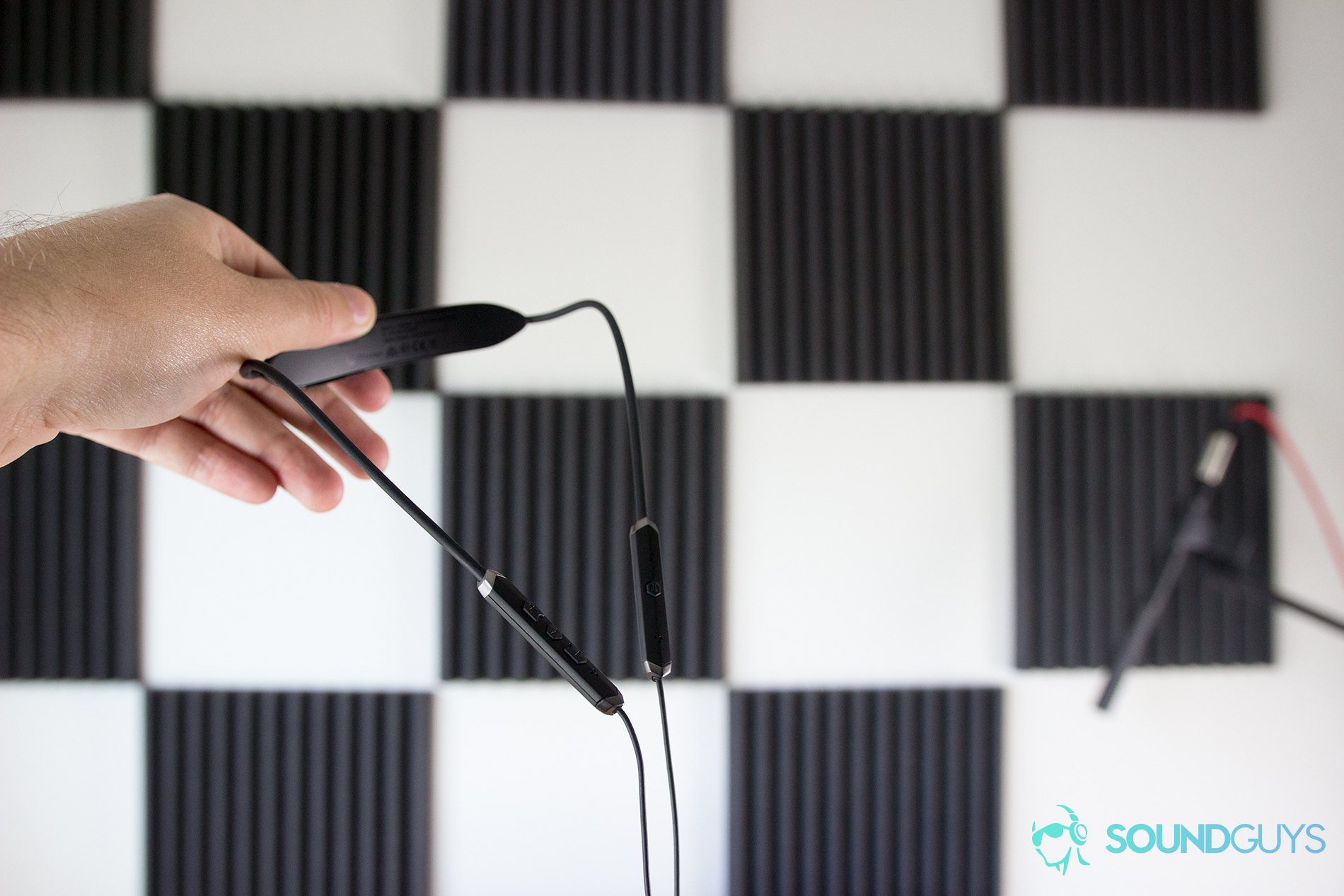 Normally, control modules are a bit of an eyesore to me. A giant bump of plastic on a thin wire is never pretty, but having two identical ones with a bit of metal trimming like this gives the headphones a symmetrical and balanced look which I can really appreciate. They have a minimal look to them that I really enjoy, especially if you get the all-black ones like I've got here. If all-black isn't quite you, you can also get them in white and like any other V-MODA headphones customize them with bling.
Connection
Connection strength was a mixed bag of results. The headphones seem to have a seriously strong connection but with limited range. While walking around on my daily activities, running at the gym, or sitting in airplane with my source device under the seat in front of me I never had a connection drop. As long as my phone was within 10 feet I never had a single skip. But with my phone charging in the room about 15 feet away with a wall in the way I experienced enough annoying skipping that I was forced to move my phone to charge in the living room. So if you tend to leave your phone charging at your desk or in another room this could pose a bit of a problem. But as far as when you're commuting or on the go you shouldn't have any issues.
Now that we've got the negatives out of the way we can move on to the positives, which are those two control modules. Not only do the buttons have a nice tactile click to them to let you know you've pressed them, the back of the module is flat and sits flush against your chest making it easier to press the buttons. Normally with headphones I have to fumble around with the module and feel around before I get the finger placement right, but with these I was able to find the correct buttons with ease.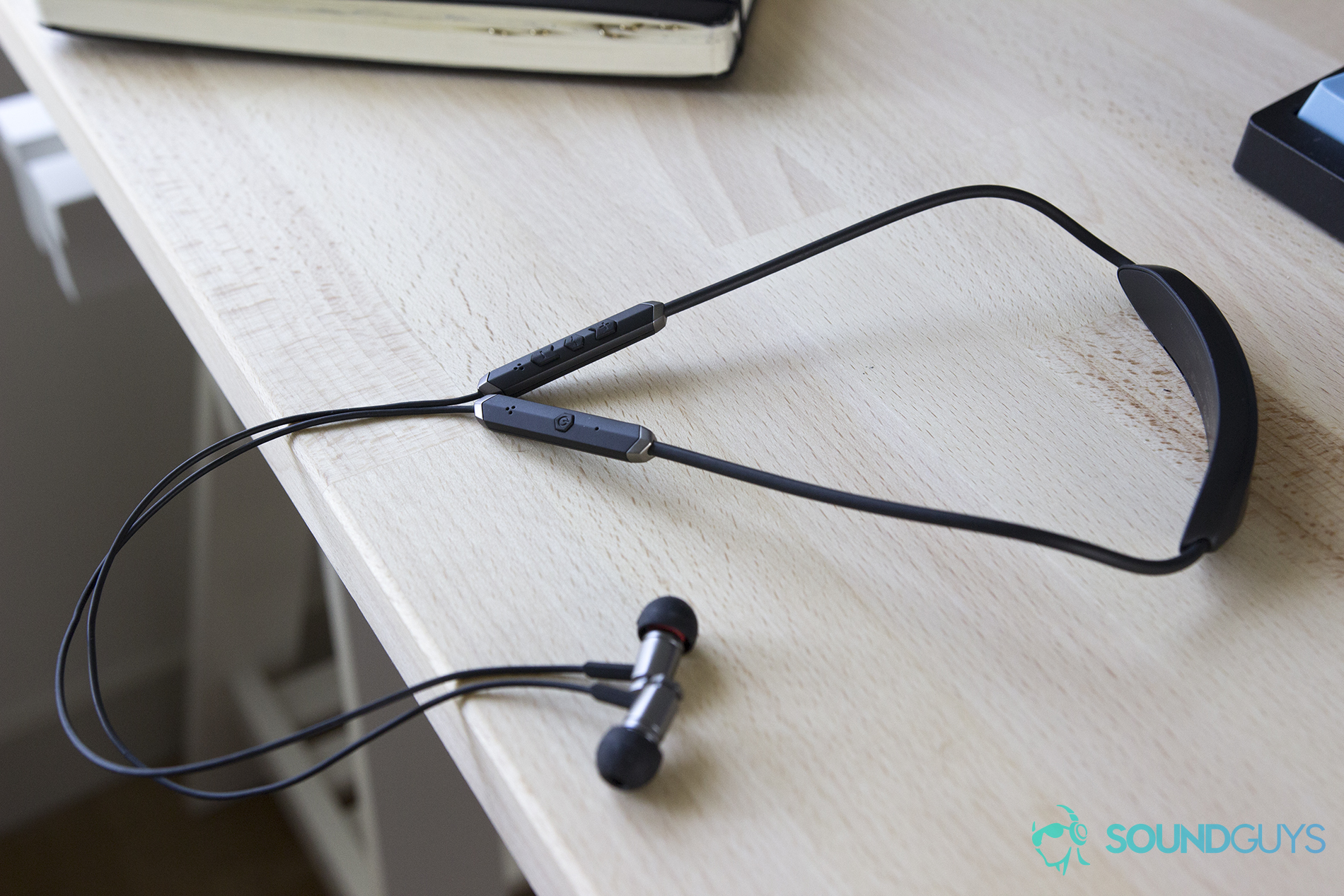 The left module has a single button that's responsible for powering on the headphones. On the right module you'll get two volume buttons and a multifunction button in the middle. You'll be able to do everything from adjust volume to skip between tracks with a few simple clicks of the buttons. You can also answer or end phone calls and access Siri or the Google Assistant with the multifunction button in the middle. On both modules you get tiny noise-canceling microphones that result in clear calls. I took multiple calls on these and no one even guessed that I wasn't on my phone.
Battery Life
V-MODA claims a battery life of 10 hours, which is cutting it close in terms of being usable during the average workday. In our testing we got a little bit more than that at 11 hours. The regular 9 – 5 plus the commute to and from work for most people means that you'll be plugging these in every night to charge.
Of course that assumes you're listening to music constantly throughout the day. Not the most realistic scenario but still, it would be nice to have a bit more of a cushion before needing to plug these in. On the bright side they do come with a FastCharge feature that will give you about two hours of playtime in 15 minutes of charging.
Sound Quality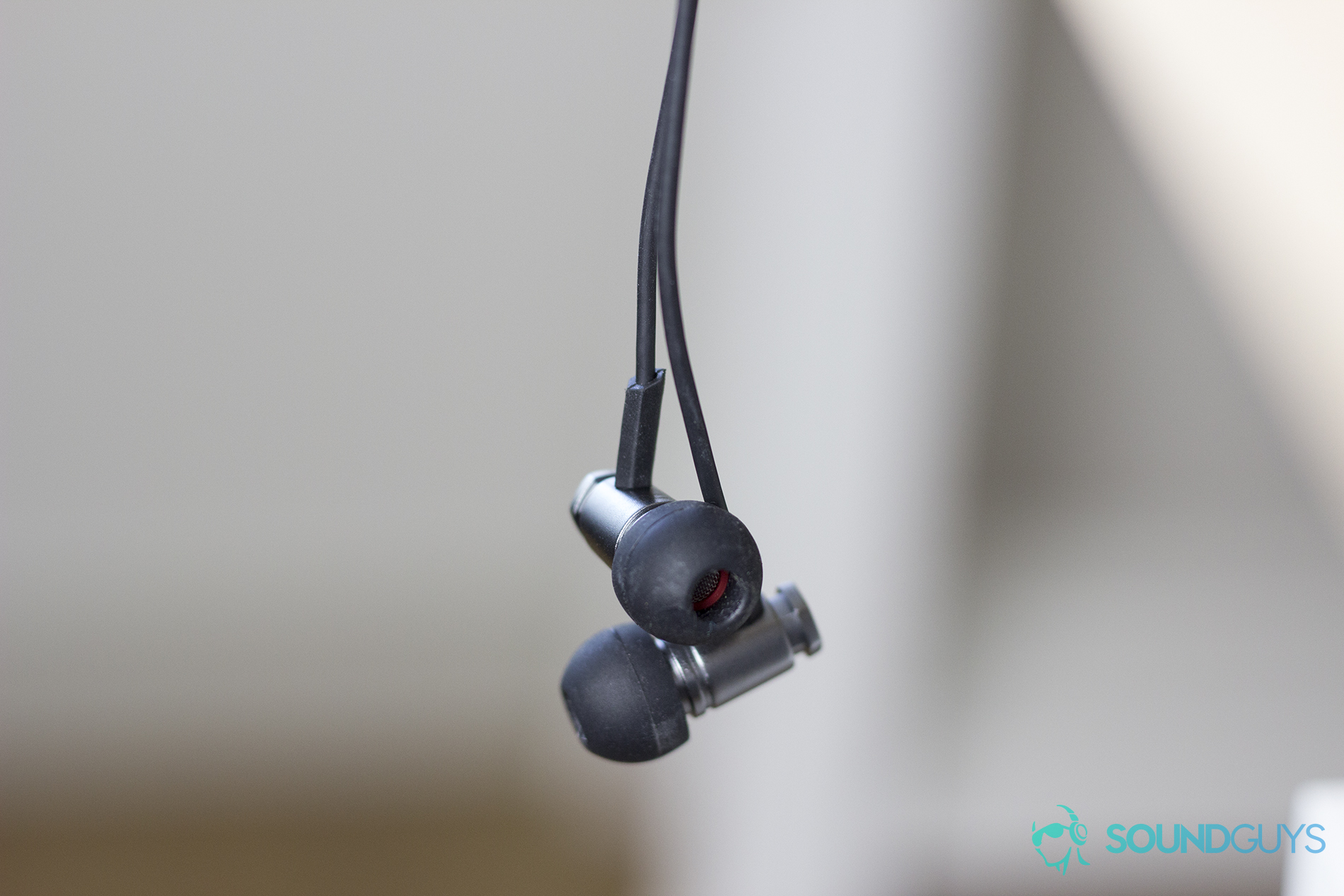 One thing I noticed right from the start is that these don't get too loud. Normally that would be a negative, but they do such a good job at sound isolation that even while I was on an airplane I was able to hear my music without any trouble.
Bass notes in the song "Less I Know The Better" by Tame Impala came through loud and clear, but the same cannot really be said for vocals. It's not that they sound weak, but they're not as forward as I'm used to. Bass seems to be the main priority of these headphones which is good for certain kinds of music, but when listening to podcasts I definitely had to max out the volume.
The high end does have a slight push to them, but not enough to make me happy. Some people like bass, but I love the highs. I enjoy a nice airy sound and the highs here have enough to make the hi-hats and cymbals noticeable in the song "Run Baby Run" by Toro y Moi, but not enough to make them sound great. They're a little too muffled and thrown into the background for my liking.
Final Thoughts
Although I personally prefer the sound of the wired Metallo in-ears better, the Forza Metallo Wireless are fine if you're looking for a wireless option. The build quality is just as tough and the design is even better in my opinion. They're comfortable, lightweight, and have just enough battery life to make it through a full day. Ten hours of jamming is fine, but it's always nice to have a bit more room for error, like if you forget to charge them one night. A little more battery would've been a huge plus for me.
Besides that I have few negative things to say about these save for the price. At $170 these are very hard to recommend to anyone who doesn't have a little money to burn. Though they are expensive, they're also worth it. They're versatile enough to wear all day whether you're commuting, at work, or at the gym which makes them a great pair of everyday 'buds. When it comes to daily use, the Metallo Wireless get everything right.