All products featured are independently chosen by us. However, SoundGuys may receive a commission on orders placed through its retail links. See our ethics statement.
Turtle Beach Ear Force XP Seven Review
The Turtle Beach Ear Force XP Seven allow you to customize nearly everything, but how much is too much?
It may seem that any decent pair of headphones will make for a good gaming headset, but this is only true part of the time. A built in mic can be essential, and players who take their ranking seriously care much more about precise positional cues than they do warm midrange.
The Turtle Beach Ear Force XP Seven was one of our picks for the best gaming headsets out there, and while the sheer amount of features might be enough to make it an instant buy for some, others are more curious. With that in mind, it's about time we gave the headset a proper review.
What's In The Box?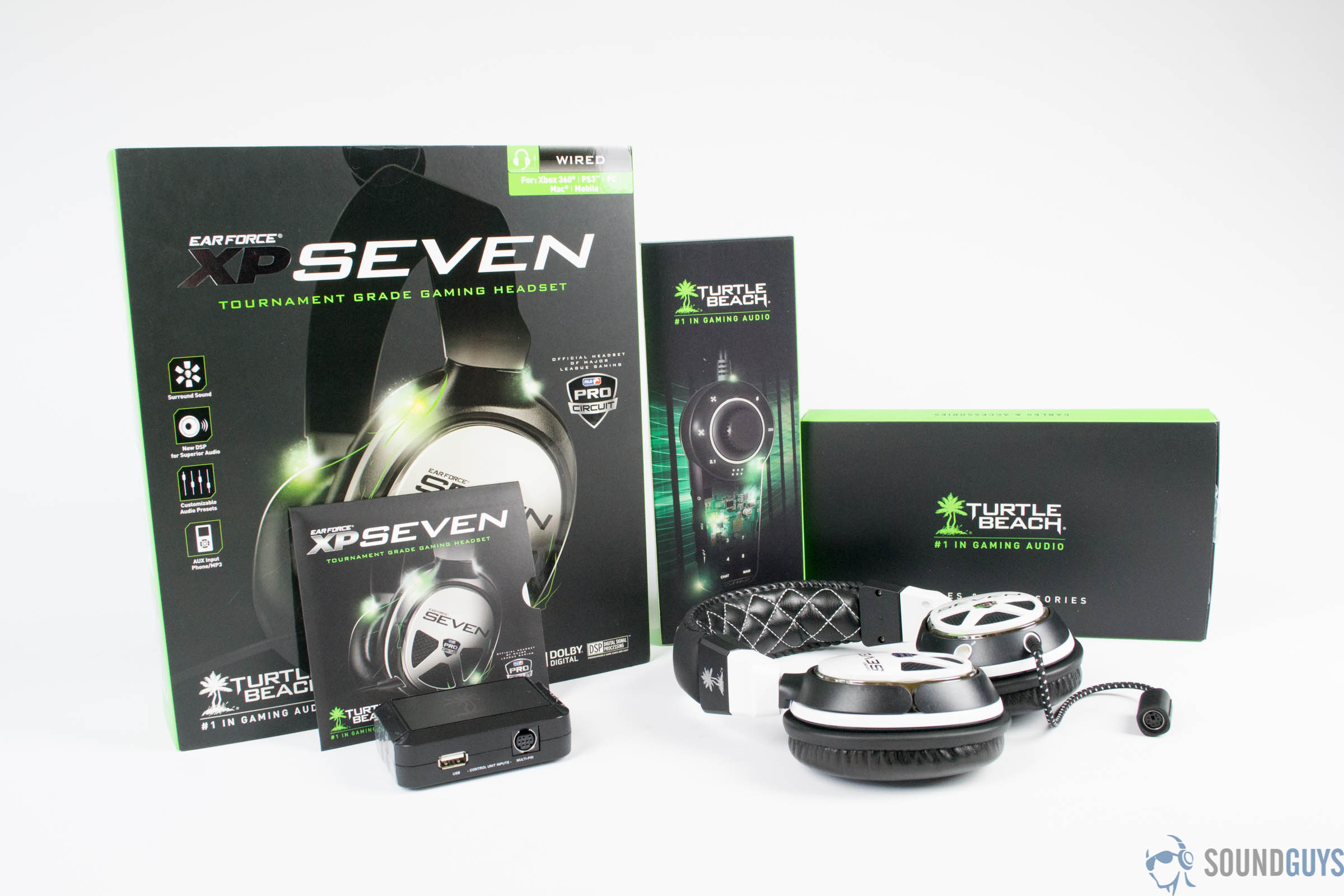 Opening up the box, you'll first find the headset itself, and next to it you'll see the interface for connecting your game consoles. Next up is the audio control unit and the accessories box which contains every cable you'll need. Finally, you'll find the manual, and believe us: you'll need it.
Build & Design
The Ear Force XP Seven only comes in one color option, a fairly flashy and somewhat guady looking back and white design. If you're the only one who will see these you'll be fine, but if you're streaming and concerned with your appearance, this could be an issue.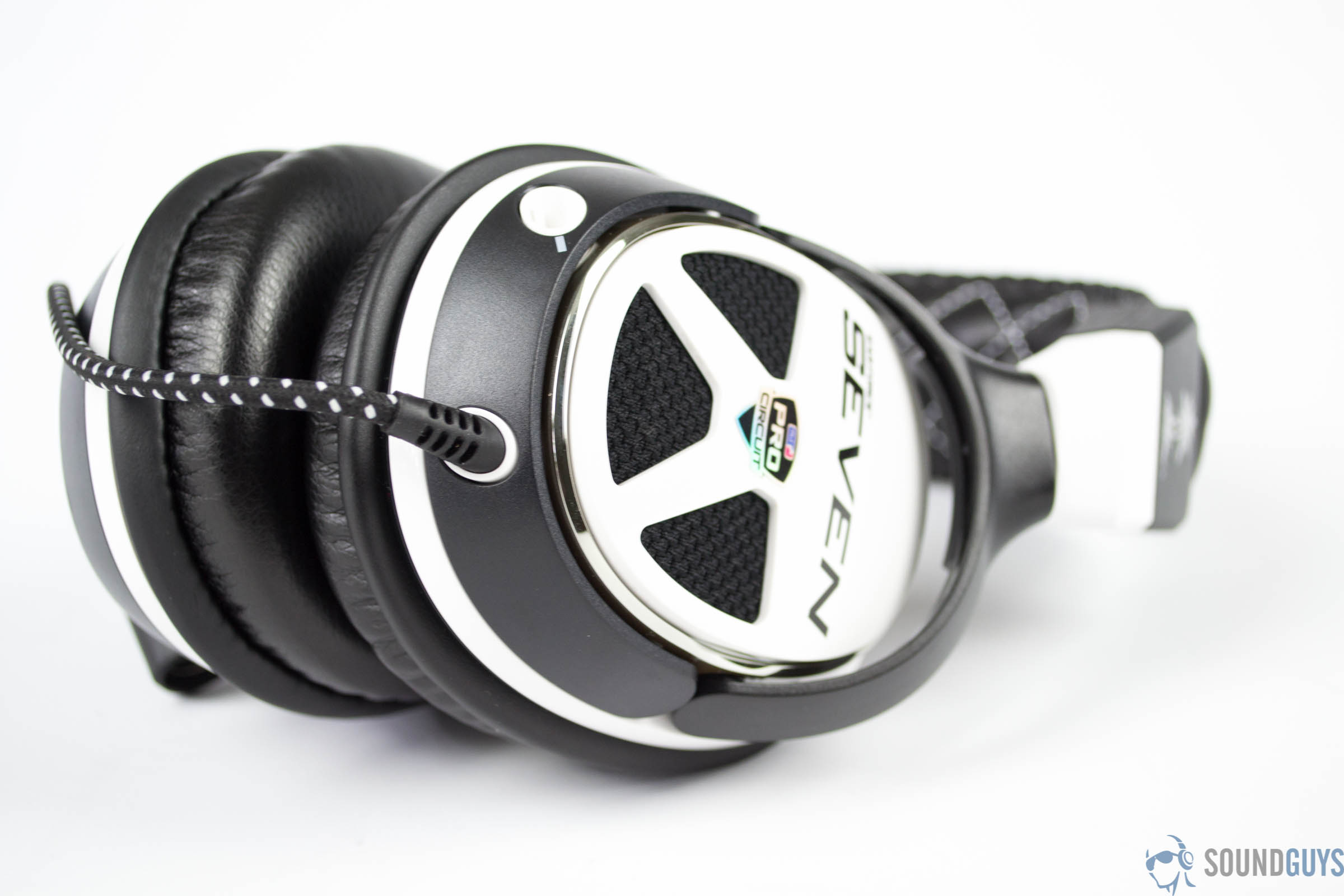 The headset itself is large and fairly heavy, but I found it fairly comfortable, even for longer sessions. This is apparently not the case for everyone, as there are some comments about the comfort (or lack thereof) on Amazon. The best bet here is to try them on and see for yourself, assuming that's an option.
The build feels fairly solid and considering the price, it should be. I didn't notice any creaking or any signs of stress while adjusting them.
Connectivity
The box only mentions the PS3 and Xbox 360, but the Turtle Beach Ear Force XP Seven also works with the PlayStation 4 and Xbox One. This is in addition to PCs and Macs as well as mobile devices. To put it more simply: the headset probably works with anything you're interested in using it with.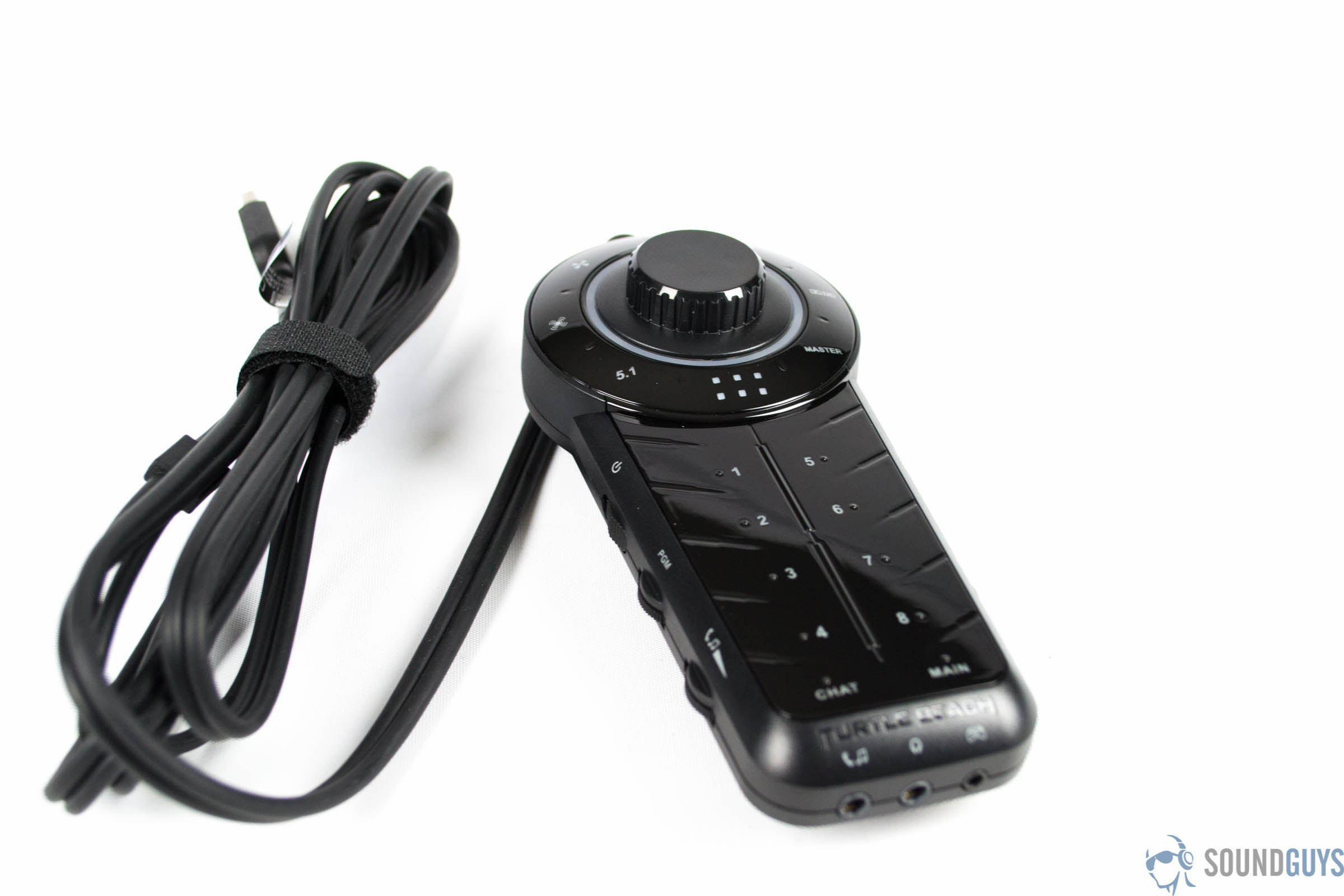 Hooking up the headset can be daunting, and picking your way through the accessories box you might find yourself wondering if you've got the right cables, but once you get past the initial learning curve, it becomes easier. That said, the initial hookup is only one of the Ear Force XP Seven's more cryptic aspects.
The heart of the XP Seven lies in the audio control unit which, as the name implies, controls everything from volume to EQ to the positioning and angle of the virtual surround sound speakers. There are simply too many options to cover in the space of this review, but again, which the help of the manual, you'll soon find yourself switching between audio modes and presets like a pro.
Sound Quality
While there are plenty of people who use gaming headsets for everything, they generally serve a different set of needs, so while we'll briefly cover the sound as usual, we'll also touch on other aspects.
The lows provide a nice weight to footsteps and lend the appropriate boom to explosions whether you're playing a game or watching a movie.
The mids carry voices, gunfire, and other sounds you'll need for positional cues very well, though they can occasionally be drowned out by the lows.
The highs are crisp and help rainfall or the movement of grass as you pass though it sound much more realistic.
The Turtle Beach Ear Force XP Seven has a ton of features meant mainly for gamers, like the ability to eliminate background noise in voice chat and limit the volume of explosions to prevent hearing damage. One of the most useful of these is the ability to widen or narrow the sound field to help you make better use of positional audio cues.
Overall, the sound is great for games and movies, but quite lacking when it comes to music. This is likely to be expected, but it's worth mentioning.
Conclusions
If the ability to customize every single thing is of the utmost importance to you, this headset might be worth the money if only for the audio control unit and connectivity options. If you're just looking for a headset with a built-in mic, this is probably overkill.
Comfort is apparently an issue for some users with this headset, so the best way to see if it's right for you might just be to see if you can try one out for a bit. If you're on the fence, there are plenty of cheaper options that will probably work just fine.