All products featured are independently chosen by us. However, SoundGuys may receive a commission on orders placed through its retail links. See our ethics statement.
6.6
Treblab X5 true wireless earbuds
The bottom line
For the price, you won't be too let down with the Treblab X5 as long as you don't expect to get a great user-friendly experience. They sound fine, have fairly average battery life, fit well, and are sweat-resistant, but everything from the pairing process to putting them back in the case is unintuitive.
Treblab X5 true wireless earbuds
For the price, you won't be too let down with the Treblab X5 as long as you don't expect to get a great user-friendly experience. They sound fine, have fairly average battery life, fit well, and are sweat-resistant, but everything from the pairing process to putting them back in the case is unintuitive.
Weight
Case + earbuds: 52g
Earbuds: 7g each
What we like
Price<br>
Good fit<br>
IPX4 sweat-resistant<br>
Thin and easy to pocket charging case<br>
Auto-disconnet works nicely<br>
Sound is decent<br>
What we don't like
Doesn't always fit in the charging case<br>
Charges via micro-USB<br>
Pairing process is weird and unintuitive<br>
No auto-connect feature when taking them out of the case<br>
Average battery life<br>
Rating Metric
Sound Quality
6.3
Bass
9.3
Midrange
7.1
Highs
2.2
Isolation / Attenuation
2.5
Durability / Build Quality
7.5
Value
7.0
Design
5.0
Microphone
9.2
Portability
9.0
Battery Life
5.0
Comfort
8.5
With so many true wireless options available, it can be hard to find a pair that offers everything you want at a price you can afford. We have a list of some of the best you can get but that doesn't stop others from trying to enter the market. Take the Treblab X5 true wireless earbuds, which offer decent battery life, an IPX4 certification, and a unique design that relies on physical buttons instead of finicky touch controls. But is that enough?
Editor's note: This review was updated on January 27, 2021, to match formatting to SoundGuys' current style.
Who are these for?
People who can't have nice things. If you know that you're just going to break or lose your earbuds, these might be for you. While $60 certainly isn't throw-away money, it isn't overly expensive where you'll be kicking yourself should they break.
What's it like to use the Treblab X5 true wireless earbuds?
The charging case of the Treblab X5 provides up to four extra charges.
When you open up the box you're greeted with a thin rectangular charging case. This case has a matte-black smooth finish that feels nice in the hand but is also a fingerprint magnet. On the front are two small LED lights that tell you how the battery is doing along with a micro-USB input and a small button that also lights up. Pressing the button will show you how much battery life is left on both earbuds, and above all of that is a small lid that opens to reveal the earbuds.
The downside is that the lid doesn't pop open or rely on magnets to stay shut like some others do. Instead, it just clicks into and out of place and feels cheap and flimsy. It isn't anything super sleek or fancy and at times I found myself needing to use two hands just to open it. One confusing thing that I noticed is that when you open up the case, the right earbud fits into the left slot, and the left earbud fits into the right one. Why they didn't just make them fit into their appropriate sides is beyond me. It isn't a big deal, but it is definitely not intuitive or natural when you're taking the earbuds out of the case or putting them back in.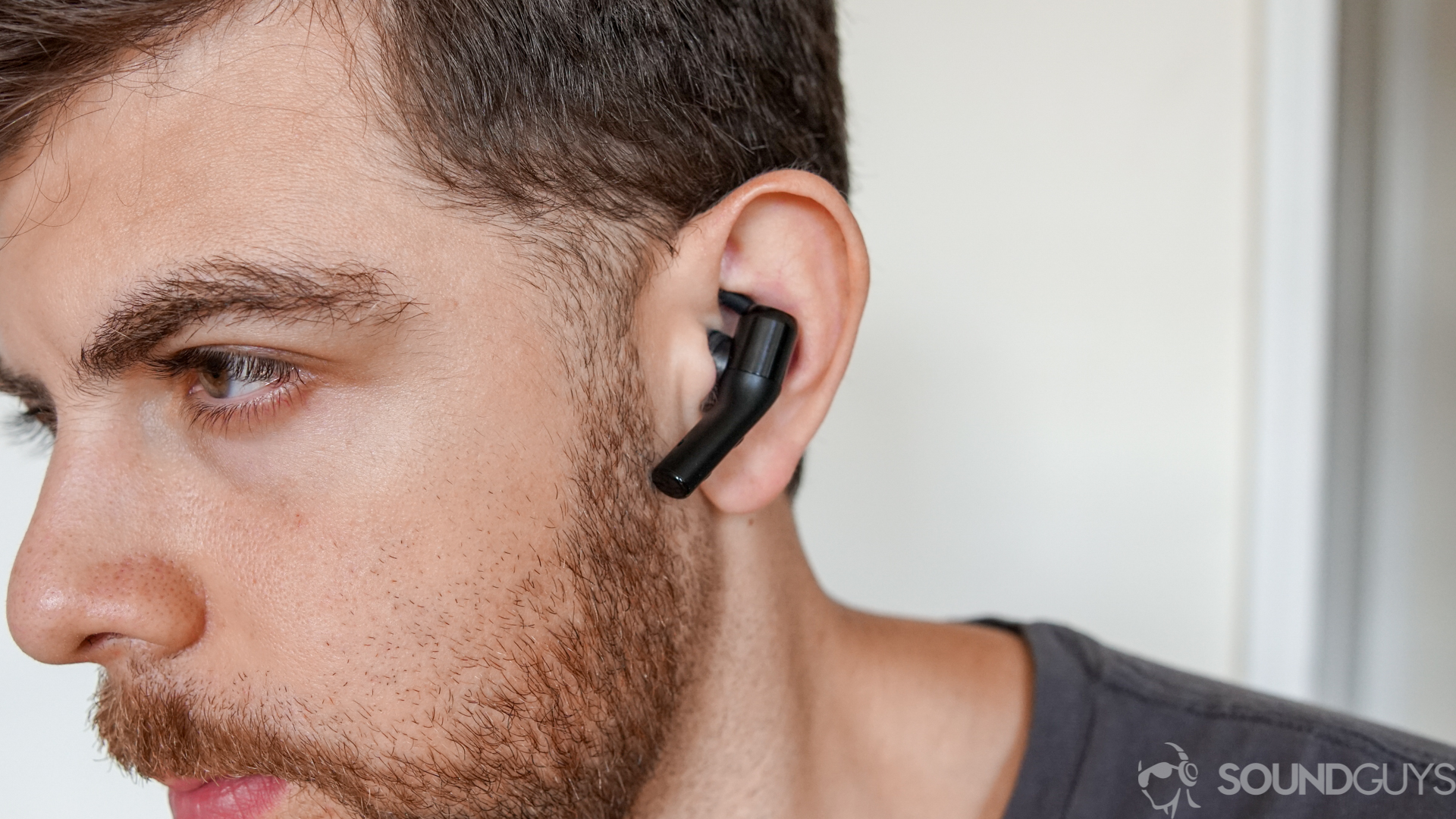 There's no way around it, these are enormous and the complete opposite of discreet.
The earbuds themselves are thick stems that jet out of your ears similar to the AirPods but not as sleek looking. Both earbuds feature two buttons on the back of them. They also come with multiple eartip and ear wing options so you can find the best fit. I had no problem getting these to fit in my ears and even while I was exercising they stayed put which is a definite plus. Speaking of exercise, these have an IPX4 certification making them completely sweatproof and in my testing, I had no issues. The earbuds don't feel terribly made even if they are bulky, and while they do feel somewhat heavy in the hand you don't really notice that weight while wearing them at all. You can just hook them in and forget about them.
The 'buds come with multiple earhooks and eartips so hopefully you can find a combination that fits your ears nicely.
I had little to no problems while wearing these earbuds despite their weird and bulky aesthetic, but I do have a complaint with the charging case. It feels less like a part of the overall design and more like something that was added as an afterthought. Besides the earbuds going into the case backward, they also don't entirely fit perfectly. If the earwings are just slightly out of place, the lid won't close forcing you to sit there and try to adjust the silicone wings into a position that will allow the lid to snap shut.
How's the connectivity of the Treblab X5 earbuds?
The Treblab X5 earbuds are rocking Bluetooth 4.2, which means that they don't have the same great connectivity that some of the more expensive models on the market have. That said, I didn't have any problems with stutters or drops while using these headphones. The biggest issue that I had was the initial pairing process which can be confusing as heck if you don't read the manual.  In order to pair, you have to remove the right earbud from the charging case and hold down the volume button which also doubles as the power and pairing button. After holding it down for a few seconds you will hear an answer pairing mode. From here you can connect with any device whether it's Android or iOS fairly easily.
Both earbuds have two buttons which let you do everything from control music to access Siri or the Google Assistant.
Once you have accomplished this the next step is to pair the left earbud which requires you to remove it from the case and hold down the button as well. Once it turns on, release the button and it will automatically pair with the right earbud. Holding down the button for a few seconds even longer will force it to enter pairing mode so that you can connect it with another device should you choose to, though I don't know why you would want to.
Playback controls are less confusing to use, though it does take some getting used to. I initially accidentally lowered the volume instead of raising it or restarted a song instead of skipping multiple times. The right earbud has the volume controls while the left earbud allows you to skip between tracks, but that's not all they're responsible for. You can also pause/play music by tapping the volume up or the previous track button while holding down the volume down button will activate the personal assistant on your phone. These also don't have any higher-quality streaming codecs, so watching video resulted in a slight lag between the lips of the person speaking and what I was hearing.
Battery life is average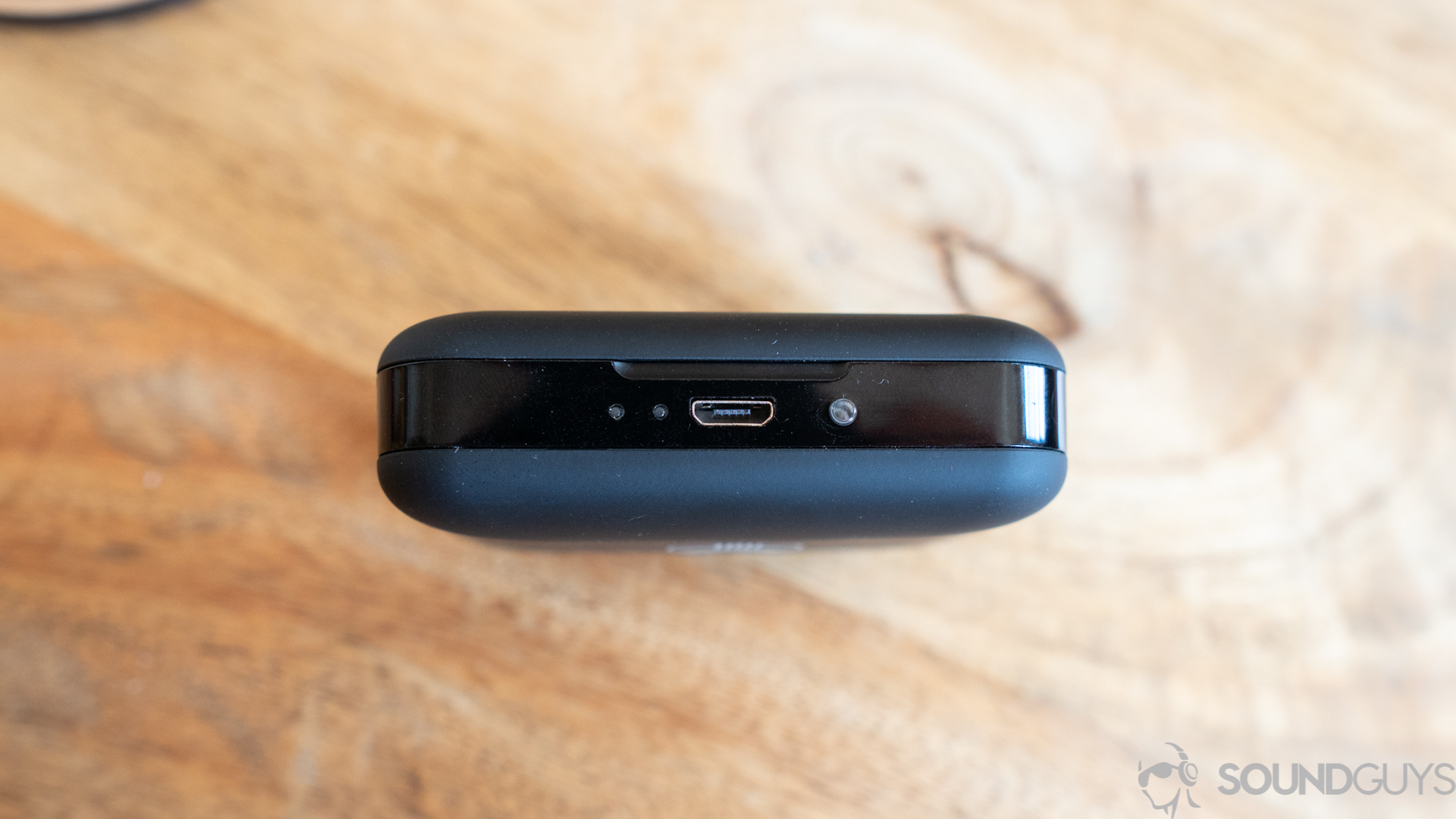 Unfortunately, there's no USB-C here and you'll have to reach for the older micro-USB cable to charge the case.
Treblab promises six hours of constant playback, and in our testing, we got four hours and four minutes. That doesn't hold up to the six hour claim, but it's pretty average compared to some of the other true wireless models we've tested. The charging case does add four additional charges which is impressive considering how slim it is. However, it also charges via micro-USB which is a bummer for anyone hoping to USB-C everything.
How do the Treblab X5 sound?
Surprisingly, the thing I liked most about the Treblab X5 true wireless earbuds was how they sound. They're not going to compare to your favorite pair of over-ears by any means, but for a pair of inexpensive true wireless earbuds, they weren't half bad. The frequency response slightly underemphasized the lower notes which was fine considering I'm not a big fan of thumping bass kicks, but if you're into exaggerated bass these might not be for you. The thumping bassline when the beat drops about 0:42 seconds into Attak feat. Danny Brown by Rustie didn't have the same eye-shaking effect that it does in some other headphones.
The Treblab X5 slightly underemphasize bass notes and boost midrange notes.
The mids (green) do have a bit of extra emphasis given to them, but I think this was a good move especially if you're going to be using these while on the go. It makes notes that lie in the mids slightly louder, and this is noticeable in vocals. I found that while waiting for a train, the lower notes in whatever I was listening to immediately disappeared, but I was still able to make out the singer even with all the loud noise. That was also true with podcasts where listening to people speak is practically the whole point. On the downside, some of this extra emphasis also leaked into the highs and while snaps and hi-hats throughout the song You and I by Toro y Moi sounded fine, some of the higher synths tended to come through a little harsh. Isolation also isn't great in the lows, but it does pretty well with the highs. So you won't get too much outside noise interfering with vocals or instruments in the mids/highs.
How's the microphone on the Treblab X5?
Voices won't sound too weird when speaking through these headphones thanks to a response that howers around 0db.
Treblab X5 microphone demo:
How does the microphone sound to you?
13 votes
Microphone quality on these earbuds are surprisingly good, with most of the notes hovering around 0db (meaning no emphasis). While there was a slight dip in the far lows (pink) it wasn't as drastic of a drop as we've seen in other headphones. This means that the lower notes in some people's voices won't sound too much quieter, resulting in a nasal-y sounding voice that typically happens here.
Should you buy the Treblab X5?
If you want something that sounds surprisingly good for only around $65, this is a perfectly serviceable option. That said, I personally hate the "stick" design of the AirPods—and these evoke the same reaction from me. Thankfully, they have better isolation and sound than the aforementioned Apple produst, but they're also fatter, stick out of your ears more, and come with a charging case that's anything but easy to use. While they do work and get the job done, you may be better off spending just a little more and picking up something with a better design.