All products featured are independently chosen by us. However, SoundGuys may receive a commission on orders placed through its retail links. See our ethics statement.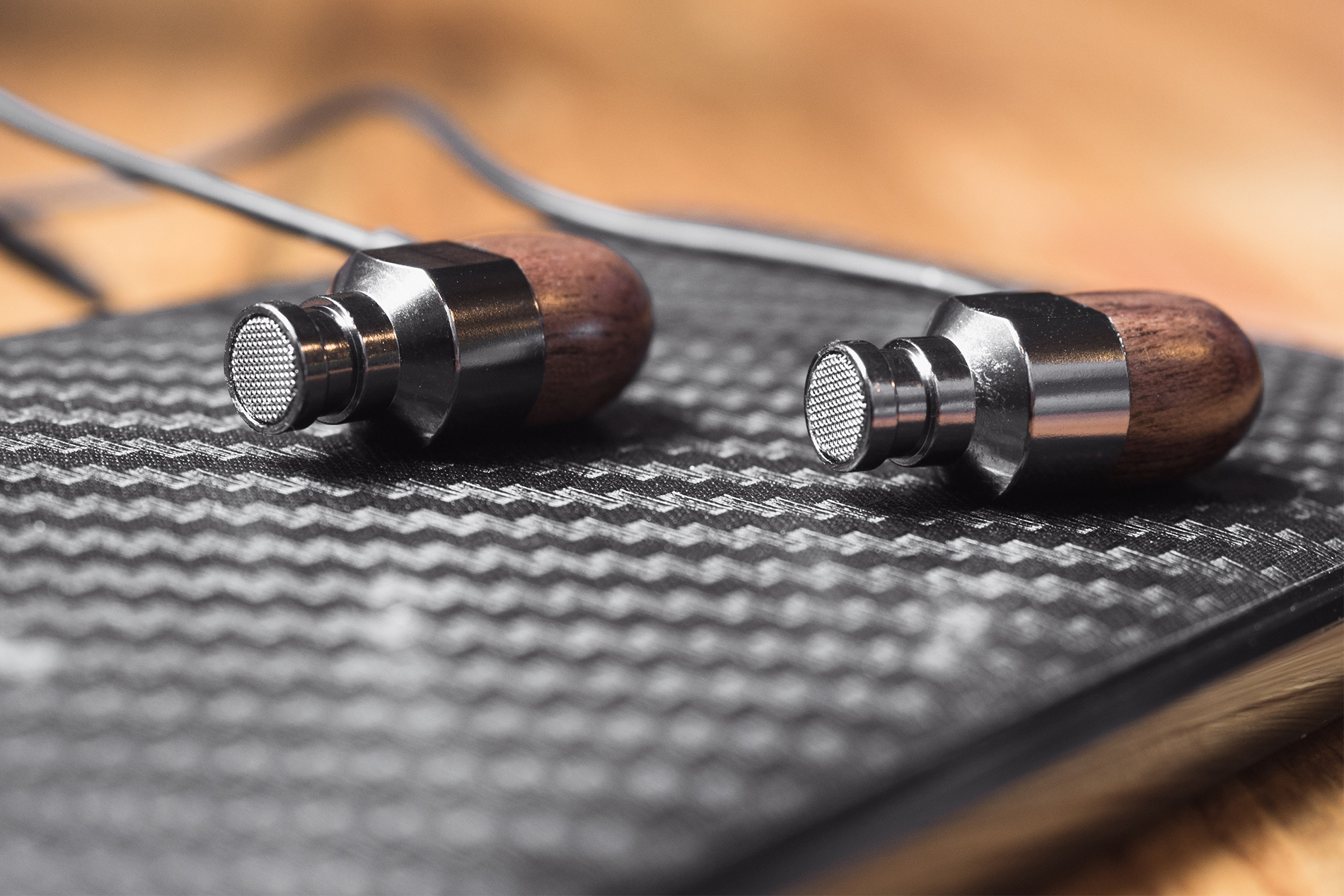 The bottom line
"Reduce, reuse, and recycle." The Thinksound ts03+mic certainly reuse and recycle, thanks to the use of reclaimed stained-walnut for the earbud housing. If you want to reduce your carbon footprint while listening to quality audio, you'll like these.
Thinksound ts03+mic
"Reduce, reuse, and recycle." The Thinksound ts03+mic certainly reuse and recycle, thanks to the use of reclaimed stained-walnut for the earbud housing. If you want to reduce your carbon footprint while listening to quality audio, you'll like these.
What we like
Lightweight<br>
Consumer-friendly sound<br>
Virtual assistant access<br>
Sweat-resistant<br>
What we don't like
Polish and veneer make 'buds look cheap<br>
Price<br>
Tangles easily despite being tangle-resistant<br>
Rating Metric
Sound Quality
8.2
Bass
8.3
Midrange
8.0
Highs
8.2
Durability / Build Quality
8.5
Value
7.7
Design
8.2
Microphone
7.7
Portability
8.7
The Thinksound ts03+mic are made from reclaimed walnut-stained housing and aluminum housing. The earbuds' cable is Kevlar-reinforced and the whole thing is sweat-resistant. Though this sounds great on paper, you may be quick to judge the Thinksound ts03+mic when you pick them up. I know that I was. At first-glance, they look and feel like cheap earbuds, but reading into the Thinksound backstory, that's clearly not the case. However, for $120 are the ts03+mic fairly-priced or should you look elsewhere?
Who are the Thinksound ts03+mic for?
The ts03+mic are for listeners who want to minimize their environmental impact. With Thinksound, you know that the company went to ridiculous lengths in order to mitigate the carbon footprint of its production process. For the curious, aside from the ear tips and the tin packaging, everything is made in Somersworth, New Hampshire.
Inside each wooden housing is an 8mm dynamic driver.
Prior to looking up the price, I was blown away by their sound (which we'll get to later). I thought, "Wow, for $25, these sound unbelievably good!" Lo and behold, however, these are ~$120 earbuds, making the sound signature less impressive.
Of course, supporting domestic small businesses is great, but not everyone has the budget to do so. If sustainability is your thing, let me direct you to our review of the House of Marley Uplift 2 Wireless; they're Bluetooth earbuds that are constructed from aluminum and wood panels that result in a similar final product. Oh, and the Uplift 2 are $40 less than the ts03+mic.
What's Inside
Thinksound provides five pairs of interchangeable ear tips for listeners along with a shirt clip.
Before looking at what's inside, let's look at what the Thinksound ts03+mic come packaged in: an unbranded Altoid tin. This kitschy packaging is adorable and doubles as a storage place for small odds and ends. Inside the tin are the earbuds, five pairs of silicone ear tips (2x S/M/L/XL), a cord clip, and a drawstring, cotton carrying pouch.
Build & Design
Thinksound uses reclaimed walnut-stained wood, which benefits the environment by opting to reuse and recycle. What's more, the 1.25-meter cable is Kevlar-reinforced. This is the good stuff, friends. The only other true competition in this price bracket are the V-Moda Forza Metallo in-ears, which are going to run you an extra $10. Though some may pay no mind, I love that the headphone jack is set to a 45˚ angle, and it's well-reinforced, unlike the dubious stress relievers near the wood and aluminum housings.
The angled headphone jack is a great feature that prevents the jack from breaking under minimal torsion or pressure.
Though, I'd love to continue to heap on the praise, the included silicone ear tips poorly isolate noise and feel like they could easily tear, which compelled me to swap them out for Comply's lauded ear tips. Additionally, the earbud nozzles, in-line mic/remote, and cable splitter all appear to be made from the same polished aluminum. Though the consistency is nice, the polish gives the pieces a plastic feel, cheapening the appearance of these environmentally-friendly 'buds.
Despite the use of premium materials such as Kevlar and reclaimed walnut-stained wood, I couldn't shake the feeling that these look much cheaper than they are.
For some, the 10-gram weight is a great feature, but I feel that this weightlessness in combination with the aluminum and veneer on the walnut-stained wood do the earbuds a disservice. Instead of feeling like you've purchased a premium set of earbuds, which these really are, it feels like you've made a $25 investment. That's not to mention that they still manage to wad up into a tangled ball despite their Kevlar-reinforced, tangle-resistant build. Perhaps a flat cable would be more effective. Regardless of the critique, it's worth condoning Thinksound for its efforts to reduce its carbon footprint.
Microphonics are an issue, here's a quick-fix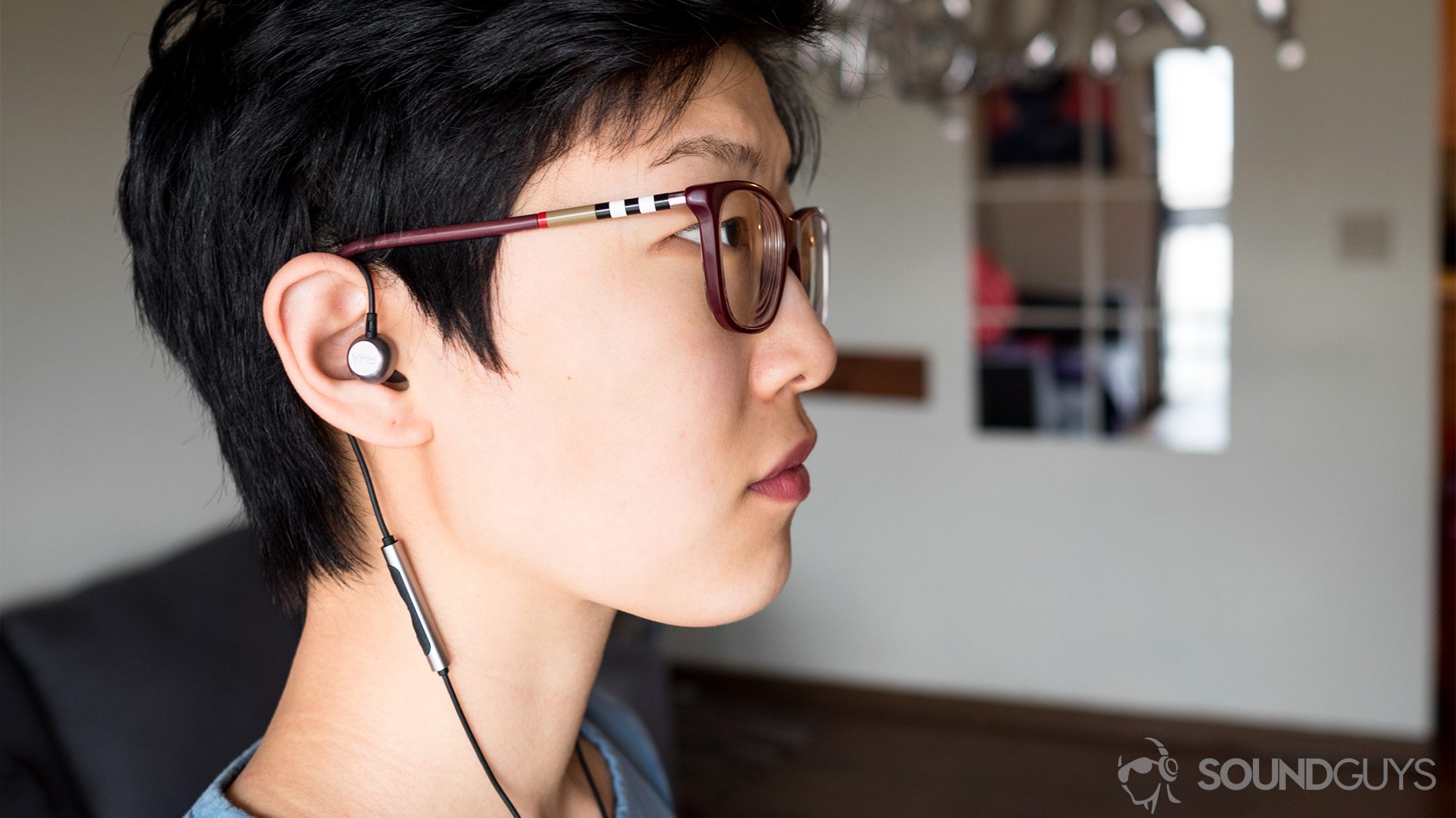 Thinksound isn't the only company with products that suffer from microphonics; the RHA MA650 benefit from being worn around the ear as well.
First, let's cover what microphonics are: It's when unwanted vibrations travel up through the cable and into the earbud housing, masking the detail from your music. So how do you fix this? Try and wear them like over-the-ear earbuds. This serves two purposes: 1) it mitigates microphonics, and 2) it shortens the length of the wires so that they're less prone to get caught on stray objects or people.
Connectivity
It would've been a great addition had Thinksound included a cable-zip mechanism at the Y-splitter.
These are wired-only earbuds, so if your source device suffers from lack-of-3.5mm-headphone-jack syndrome, then you're either going to need a dongle or to start looking for Bluetooth 'buds instead. That said, the 16-ohm impedance and 45˚ jack are both much appreciated features of the Thinksound ts03+mic. The low impedance combined with a sensitivity of 99 ±3 dB @ 1KHz 1mW makes these compatible with nearly any device sans amp/DAC setup.
"How is the in-line mic and remote?"
The Thinksound ts03+mic mic quality is surprisingly good; it's able to clearly relay a voice in quiet environments. Granted, in coffee shops or even libraries with plenty of rustling papers, the mic registers nearly all ambient noise and relays it clearly to the person on the other end.
The one-button in-line mic/remote is useful but sometimes takes a few tries to get Google Assistant to work.
For general use, the mic is fine, but if you're looking for a professional headset, the Plantronics Voyager 6200 UC are a much better investment.
By holding the multi-function button down for two seconds, you can access your respective virtual assistant. During testing, I occasionally had to perform the good ol' press 'n hold dance a few times before Google Assistant pulled up. Once I was granted access to Google Assistant, the mic was always able to pick-up my inquiries.
Sound Quality
Here's where things really look up for the Thinksound ts03+mic. If you're one for bass-heavy earbuds that pander to the consumer audience, then the Thinksound ts03+mic dish up a wonderful sound. The lows and highs are overemphasized with minimal distortion to the vocals and midrange instruments. The only thing disappointing about the sound is the reproduction of perceived 3-D space. In other words, the soundstage isn't great.
You may also like: Why you don't need studio headphones
The bass-heavy sound signature of the ts03+mic will please most consumers.
Admittedly, anytime I see a pair of wooden, eco-friendly earbuds, I assume that the bass is going to be weak. That said, the ts03+mic completely disprove this unsubstantiated reasoning. Bass receives the most emphasis within the 20Hz–20kHz frequency response range. Though this may be frowned upon by certain sects within the audio community, there is a great deal of enjoyment to be had from non-studio headphones.
In Coffee by Sylvan Esso, the lows are especially boosted during the chorus. This is the only point in the song where the low-end masks the midrange. This shouldn't bother you too much if you fall within the general consumer category; however, if you're an enthusiast or professional, you'll probably find the bass to be too distorted.
Contrary to the laid-back, earthy look of the ts03+mic, the sound signature is bass heavy with some treble emphasis.
Vocals are sidelined relative to the bass. In Coffee, this is most noticeable during Amelia Meath's ghostly refrain toward the end of the song. The low-pitched synth tones mask Meath's voice, making her sound too quiet and distant. For the  majority of the song and in general, the midrange is reproduced clearly though.
The reclaimed wood of the Thinksound ts03+mic is impressive but the veneer detracts from its beauty.
Just like the lows, the highs are overemphasized. Fortunately, though, this doesn't reach the point of sibilant-inducing fatigue. Throughout Coffee, repeated chime tones are sharply reproduced, shifting the listener's ear from Meath's voice to the chimes.
Plenty of headphones and earbuds are inclined to recreate this emphasis with low and high frequencies, because it reproduces that extra oomph that we consumers love, while simultaneously adding perceived detail with emphasized treble. It's kind of like adding saturation and sharpening to a digital photo; it looks good to a lot of people at first glance, but it doesn't accurately represent the scene.
Should you buy these?
The included drawstring cotton carrying pouch is nice but a tight squeeze for the earbuds.
Admittedly, my first and second drafts of this review were brutal. I harped on the cheap look and feel of the headphones, saying how most would feel disappointed that this is the look they paid $120 for. But after further contemplating the environmentally-sound sourcing of the earbuds and the expense that the Kevlar alone adds to the complete package, I have no qualms with recommending these to you if you place a great deal of importance of reducing your carbon footprint.
If that sounds like you, then absolutely go for it. These are the result of a proper negotiation between eco-friendliness and respect for audio quality. That said, if you're not one for tree-hugging (to each their own I suppose; trees give great hugs), then you can get a better bang for your buck with other earbud options.
If you're not sold on the Thinksound ts03+mic
Best workout earbuds
The best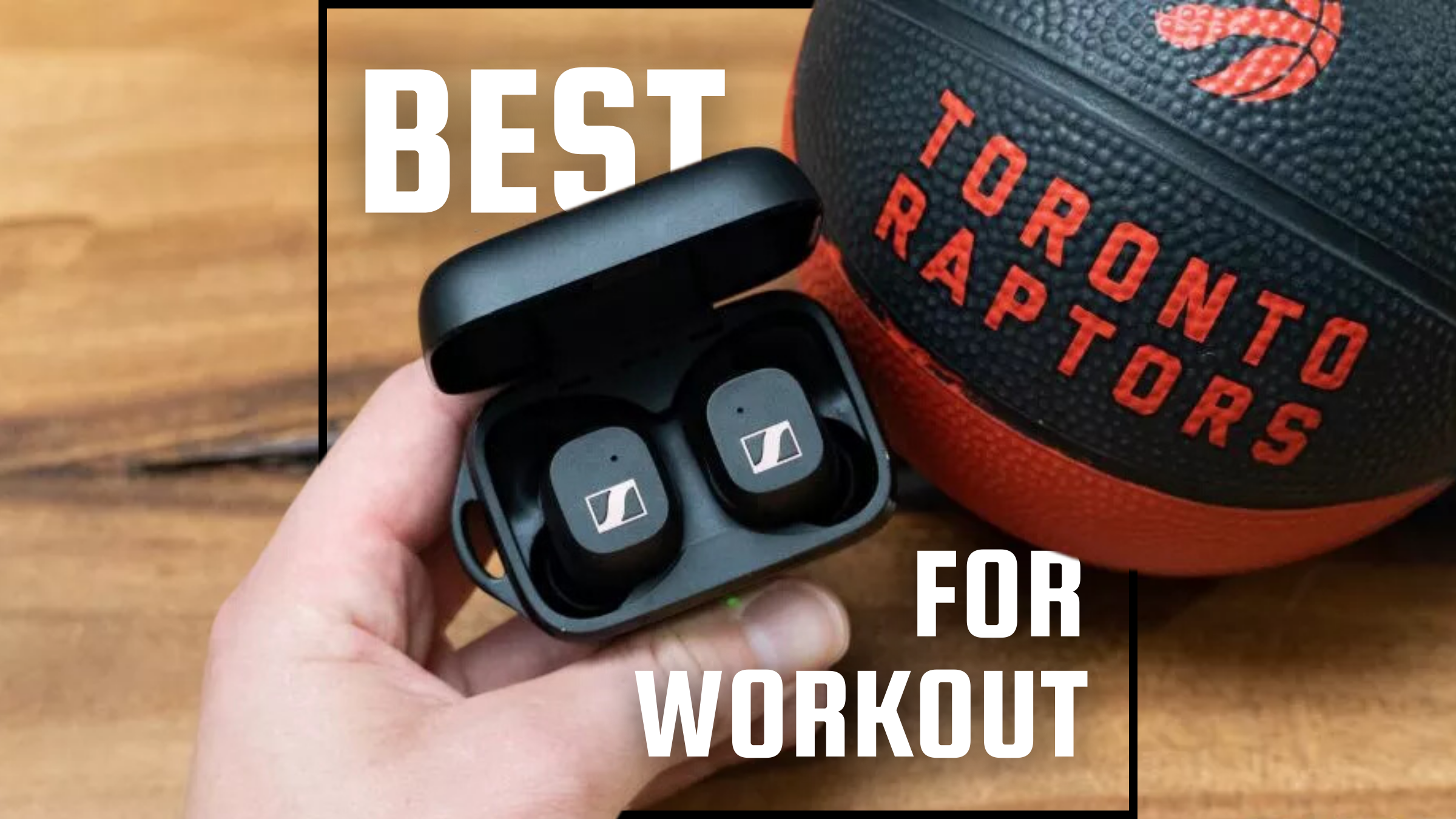 If you need earbuds for working out and are okay with keeping a $120 budget, spend a few minutes with our list of the best workout earbuds. Most of the headphones there fall below the $120 budget and are much more feature-packed than the Thinksound ts03+mic.
And if you're really invested in eco-friendly headphones, definitely check out House of Marley, specifically, the aforementioned Uplift 2 Wireless or—if you're set on wired—the Uplift 2 earbuds.